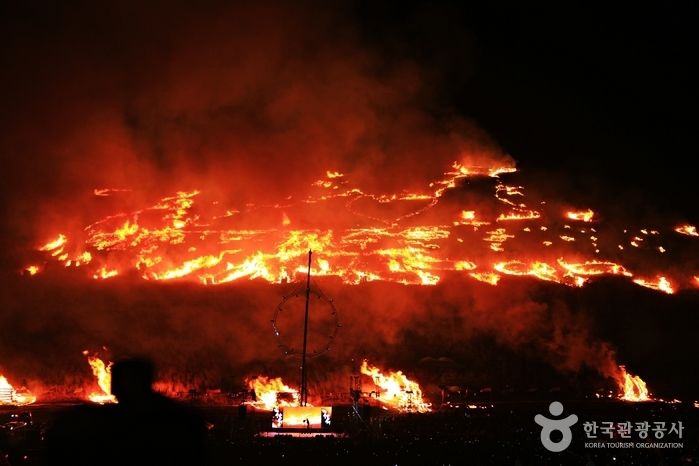 Canon EOS 5D Mark II | f/2.8 | iso 250 | 2015:03:07 20:01:36 | Flash did not fire, compulsory flash mode | 55mm
Introduction
Jeju Fire Festival is held to pray for a good harvest and good health in the new year. Various folk games and hands-on programs are available, and the beautiful natural environment of Jeju Island makes the festival even more enjoyable.
Programs
[Celebratory event]
- Opening event and torch-lighting ceremony
- Congratulatory message & hope message
- Guest torch-lighting and sheaf burning


[Performance]
- Music concert for success of the festival
- Opening performance & Jeju-do Firework Fringe Stage
- Special performance for hope
- Special performance for world culture exchange (Jeju·China·America·Germany)
- Concert and firework music concert, etc.


[Hands-on event]
- Torch marching for good fortune
- Putting the torch to the Oreum
- Walking Jeju Sori-gil (road of sounds)
- Traditional Jeju food
- Field fire flying kite
- Oreum hiking
- Horseback riding


[Contest activities]
- Youth Community Festival
- Deumdoldeulgi Contest (stone lifting) (for tourists, foreigners)
- Neokdungbegi Tournament (traditional Korean dice)


[Others]
- Café for foreigners
- Oreum Laser & Graffiti Show
- Jeju Fantasy (firework show at the peak of Oreum)
- Sharing seeding


[Folk Market]
- Agriculture, Fisheries, Livestock market
- Local products promotion booth
- Local food restaurant


* Programs are subject to change.



Admission/Participation Fees
Free
Age Limit
Open to visitors of all ages
Transportation
[Bus]
From Jeju International Airport, take Bus 100 to Jeju Intercity Bus Terminal.
From Jeju Intercity Bus Terminal, take an intercity bus bound for Pyeonghwa-ro Road.
Get off at Hwajeon Village .


* Shuttle buses available during the festival period.
* Transportation inquiries:
Tourism Policy Division (+82-2-64-728-2751), Air Traffic Division (+82-2-64-728-3191), Information Officers (+82-2-64-728-2021)



Homepage
buriburi.go.kr (Korean, English, Japanese, Chinese)
Period
03.07.2019 ~ 03.10.2019
Address
San 59-8, Bongseong-ri, Ayeol-eup Jeju-si, Jeju-do
제주 제주시 애월읍 봉성리 산59-8
Location
Saebyeol Oreum
Telephone
• 1330 Korea Travel Hotline: +82-2-1330
(Korean, English, Japanese, Chinese)
• For more info: +82-64-728-2751
Referred from : KOREA TOURISM ORGANIZATION http://visitkorea.or.kr