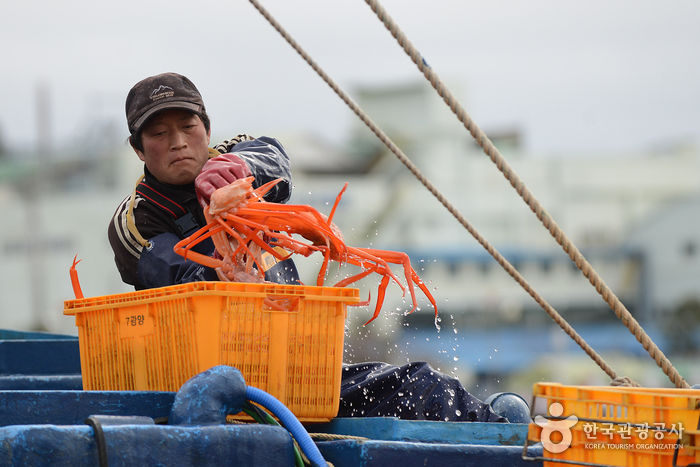 NIKON D800 | f/4.0 | iso 200 | 2013:02:06 09:27:36 | Flash did not fire, compulsory flash mode | 200mm
Introduction
This festival celebrates Uljin's famous local specialty, snow crabs. Visitors can taste fresh seafood caught from Uljin's Hupo Port and participate in a variety of crab-related events, including a snow crab eating competition or fishing for snow crabs.
Duration of Performance
Varies by performance
Transportation
[Bus]
From Dong Seoul Bus Terminal, take an intercity bus to Hupo.
From Hupo Bus Terminal, cross the road and take a bus bound for Uljin-Pyeonghae.
Get off at Hupo Suhyup Bus Stop.
Homepage
www.uljin.go.kr/crab (Korean only)
Period
02.28.2019 ~ 03.03.2019
Address
Hupo-ri, Hupo-myeon, Uljin-gun, Gyeongsangbuk-do
경상북도 울진군 후포면 후포리
Location
Area of Hanmaeum Plaza & Wangdolcho Plaza at Hupohang Port, Uljin-gun, Gyeongsangbuk-do
Telephone
• 1330 Travel Hotline: +82-2-1330
(Korean, English, Japanese, Chinese)
• For more info: +82-54-789-5485,
+82-54-789-6851, +82-54-789-6901
Referred from : KOREA TOURISM ORGANIZATION http://visitkorea.or.kr