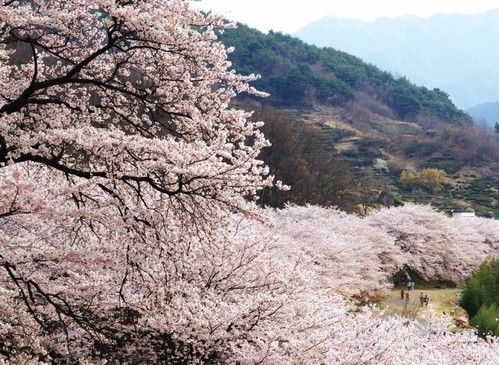 Introduction
When April arrives, Hwagae region looks as if it is carpeted in snow. In fact, it is the region's beautiful white cherry blossoms that transform the landscape into a soft, downy wonderland. One of the most popular attractions of the festival is "The 10-ri Cherry Blossom Road" (ri is a traditional Korean measurement unit; 10-ri is equal to approximately 4km). It is also known as the "marriage road," as legend says if lovers walk down this road while holding hands, they will get married and live happily together forever.


Apart from the stunning beauty of the cherry blossoms, there is a series of exciting seasonal programs and cultural events for visitors to enjoy. Nearby attractions include the historic Hwagae Market and numerous restaurants that serve the province's traditional cuisines, such as euneo hoe (sliced raw sweetfish) and chamge tang (spicy mitten crab stew).



Programs
Ssireum (traditional wrestling) contest, talent show, local products exhibition, etc.
Admission/Participation Fees
Free
Homepage
tour.hadong.go.kr (Korean, English, Japanese, Chinese)
Period
03.29.2019 ~ 03.31.2019
Address
Maekjeon-gil, Hadong-gun, Gyeongsangnam-do
경상남도 하동군 화개면 원탑1길 6
Location
Hwagae-myeon, Hadong-gun, Gyeongsangnam-do
Telephone
• 1330 Travel Hotline: +82-2-1330
(Korean, English, Japanese, Chinese)
• For more info:
+82-1588-3186 (Tourism Information Center)
Referred from : KOREA TOURISM ORGANIZATION http://visitkorea.or.kr