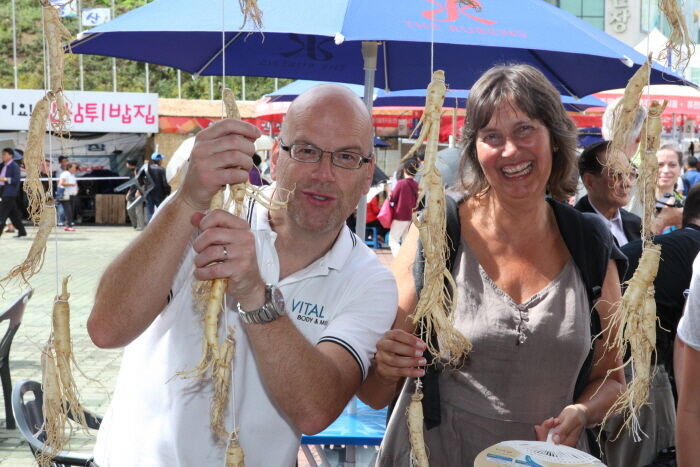 Canon EOS 5D Mark II | f/20.0 | iso 800 | 2013:09:14 13:42:53 | Flash fired, compulsory flash mode | 66mm
Introduction
Geumsan Insam Festival is held annually in Geumsan-gun, the largest production region of ginseng in Korea. Growing both in content and in size, the festival was selected as a cultural and tourism festival by the Ministry of Culture, Tourism, and Sports in 1996 and became established as a national festival. With the rising popularity of the festival, the marvelous effects of Geumsan ginseng have become known throughout the nation, drawing an increasing number of local and foreign tourists every year. The festival also holds special exhibitions and sets up booths where people can try some of the various health therapies. Aside from the exhibitions, exciting events, performances, and delicious food are sure to please visitors.
Programs
Health Experience Hall, Digging up ginseng, Nostalgic Ginseng Street, Geumsan Self Studio, Children's Healing Playground, Health and Longevity Hall, National Ginseng Medicial Cooking Contest, Healthy Dance Competition, National Creative Music Competition, Geumsan Traditional Folk Performance, Musical Gala Concert, Health and Beauty Concert, Geumsan Ginseng Concert, etc.


* Programs and schedule subject to change.



Performance Times
10:00-21:00
Admission/Participation Fees
Varies by program (free/paid)
Duration of Performance
Varies by program
Age Limit
Open to visitors of all ages
Transportation
[Express/Intercity Bus]
Take a bus from Seoul Express Bus Terminal to Geumsan Bus Terminal.
From Geumsan Bus Terminal, walk approx. 5 min to the festival venue
Homepage
www.insamfestival.co.kr (Korean only)
Period
09.27.2019 ~ 10.06.2019
Address
30, Insamgwangjang-ro, Geumsan-gun, Chungcheongnam-do
충청남도 금산군 금산읍 인삼광장로 30
Location
Areas of Geumsan Ginseng Museum and Ginseng & Herb Street
Telephone
• 1330 Travel Hotline: +82-2-1330
(Korean, English, Japanese, Chinese)
• For more info: +82-41-750-4147
Referred from : Korea Tourism Organization http://visitkorea.or.kr