1. Ingredients

- Main ingredients: bones and flesh of pig
- Side ingredients: rice, green onion and salted shrimp
2. Taste Evaluation

- Spicy taste: ☆☆☆☆☆
- Salty taste: ★☆☆☆☆
- Sweet taste: ☆☆☆☆☆
- Sour taste: ☆☆☆☆☆
- Aromatic taste: ★★★★☆


3. Introduction to Dwaeji-gukbap(Pork and Rice Soup) 돼지국밥

I introduced noodle soup with pork as the local food of Jeju. In this time, I will introduce the local food of "Busan" where many foreign tourists visit.
Busan has many foods that is made of seafood. However, the local food of Busan is "Dwaeji-gukbap(Pork and Rice Soup)". When you have Dwaeji-gukbap, you will have the broth made of pig bones and flesh, and rice together. Rice is used instead of noodles.
Dwaeji-gukbap has some origins. Most people say the refugees around the country went to Busan, the southernmost region of Korea during Korean war in 1950s. They had little thing to eat. So people made Dwaeji-gukbap with pig bones dumped by the American army base.
Other people say Busan is very close to Japan. Japanese Donkocheu ramen, which is made of pig bones, was introduced Busan. Since then, Korean people started to put rice instead of noodles.
Anyways, Dwaeji-gukbap is popular food for common people in Busan.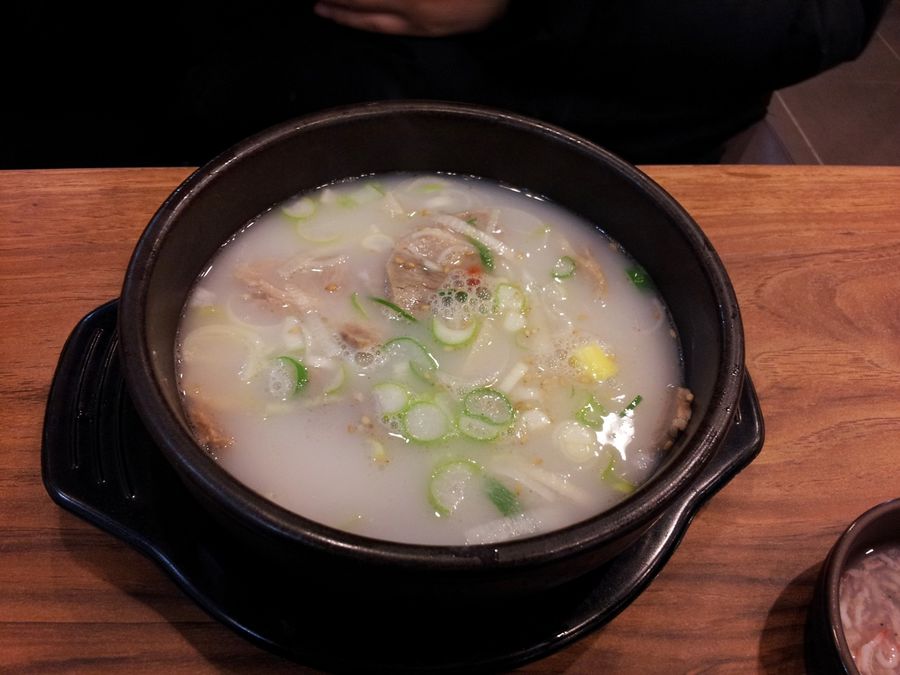 SHW-M250L | f/2.7 | iso 80 | 2013:02:13 16:16:28 | Flash did not fire, compulsory flash mode | 4.03mm

To make Dwaeji-gukbap, you should pour the water into by-products of pig
like bones, meat and guts, and boil them for long. Then put rice into
the soup, and put sliced pork and chopped green onion on it. The soup
is deep and aromatic. Some people add chives to make the food
fragrant.
Dwaeji-gukbap is not common in that it is served without seasoning. So you should
season on your own with salt or salted shrimp. Salted shrimp is more
recommendable since it makes the soup be tasty.


You can meet Dwaeji-gukbap restaurant almost everywhere in Busan. Most of
them are shabby and simple. But they are the most common restaurants
for ordinary people.
I recommend you have a bowl of Dwaeji-gukbap, one of the most
representative Korean foods.


4. The kinds of Dwaeji-gukbap
It is not various. Rice, pork and green onion, that's it. But you can
change the taste with red pepper sauce, salted shrimp or salt, chives
and bean sprouts.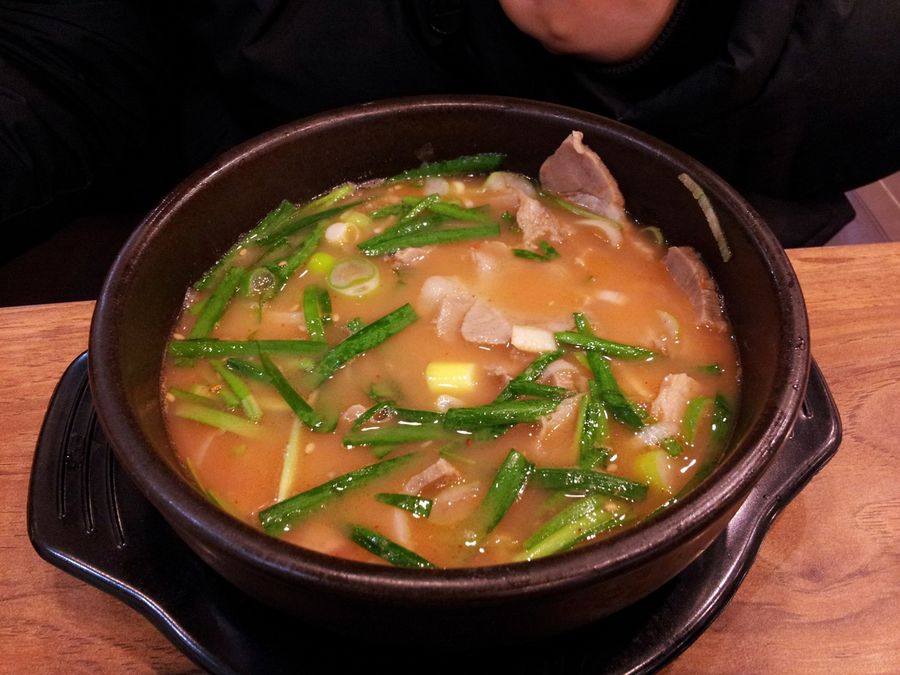 SHW-M250L | f/2.7 | iso 160 | 2013:02:13 16:18:30 | Flash did not fire, compulsory flash mode | 4.03mm

5. The way to enjoy more delicious Dwaeji-gukbap
When you order Dwaeji-gukbap, you will be served with the soup, kimchi and
various ingredients like salt, chives and chili. You can eat kimchi
with the soup separately, or put it on the rice.


You should put salted shrimp, chives and red pepper sauce. You should
season the soup since it is served without seasoning. Salt makes just
salty taste, but salted shrimp makes different taste. So I recommend
you season the soup with salted shrimp.

If you put hot red pepper sauce, you can enjoy the spicy Korean food.
Lastly, why don't you put a lot of green chives? Fragrant chives promote your
appetite, and drown the unpleasant smell of meat.