Hampyeong

Hampyeong is World Festival City. It has beautiful nature and every May, there is butterfly festival. The World Butterfly Insect Expo is held for 45 days since April 18, 2008. There are a green barley field and a light pink blossom of a Chinese milk vetch in spring. There is a beach facing with cooling blue sky in summer. There is a sound of harvest in fall. There is white snow on the branches on the Susanbong peak in the winter. Hampyeong is recognized for the Ecology experience with butterfly and has even hidden beauty.
Hampyeong Expo Park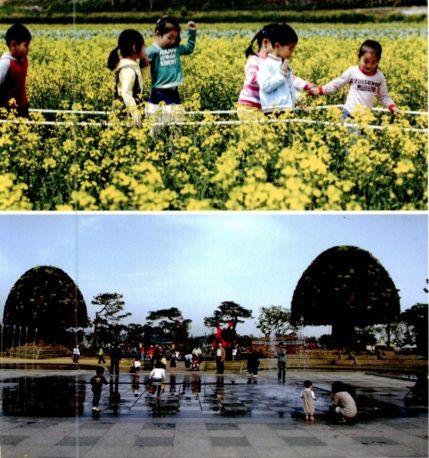 Hampyeong Expo Park is ecological learning center with rural experience.

It is so beautiful that there are many butterflies in the flower bed of milk vetch, canola and gound pink etc.
It offers field study chance with butterfly, Insect Ecology cetner, Nature Ecology center, Gold Bat Ecology center, Insect Village in the forest, fossil gallery, and Freshwater Fish Museum etc. It recalls the childhood for the parents.
Hampyeong butterfly festival is held every May. And
This ecological park is a reserve for rare species of butterflies and local flowers. It was designed with the family in mind. It offers hands-on programs for the public to experience nature. Hampyeong Grand Chrysanthemum Festival is also held in October.



27 Gonjearo, Hampyeong-eup Hampyeong, Jeollanam-do

Hampyeong Eco Park



Hampyeong Eco Park is Mecca of environment-friendly ecological tour. It allows four seasons learning field trip and Ecological learning.
There are Eco pond, butterfly, insect specimens, Larva ecological center, Beetle experience center, Mugunghwa Dongsan Observation way, Junk art sculpture park, aquatic insect observation center, Ground Fountain, Byeokcheon Falls and observatory.
These are attracting tourists' attention.
It is also flower ecological learning center like Orchid Exhibition Center.
Tourist can enjoy special experience with camping trailer.

1398-77 Hakdong-ro, Daedong-myeon Hampyeong, Jeollanam-do


Hampyeong Living Relics Exhibition Center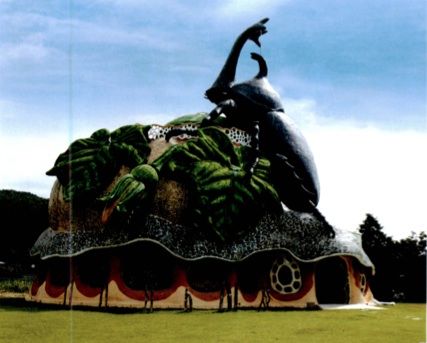 Hampyeong Living Relics Exhibition Center is like a beetle. It has 10,000 living relics displayed for example of loom, sewing machine, a treadmill, water-carrying yoke, brassware, fishing gear, a harrow, a wooden rice chest, and phonograph etc.
The merit is that you can touch and experience those. Likewise you can wear the bride's headpiece and use the farming tools.
This is a place where our ancestors life and wisdom are still alive. It may allow you to understand our traditional culture.
112 Munhwa-ro, Nasan-myeon Hampyeong, Jeollanam-do

Ilgang Kim Cheol Memorial Hall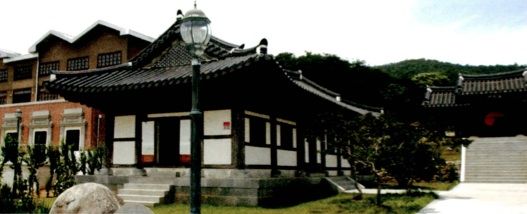 Ilgang Kim Cheol Memorial Hall was located on 10,770sqm in Hamjeong-ri, Singwang-myeon Hampyeong-gun. It has shrine, memorial hall, administration office etc.
It has revival of Shanghai provisional government complex in here.
He dedicated his entire life to the independence of Korea. In order to commemorate his patriotic spirit, a shrine, statue, memorial hall, training center and management office were established.
Gubong Village Hamjeong-ri, Singwang-myeon Hampyeong-gun, Jeollanam-do


Yongcheonsa Temple Red Spider Lily Park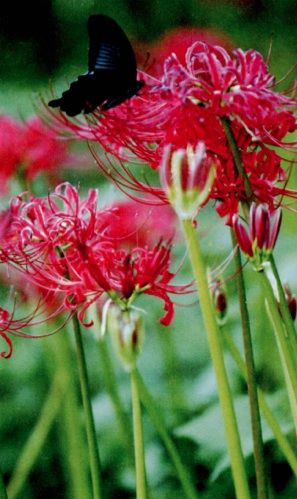 Yongcheonsa Temple is located in the Moaksan mountain. Haengsajonja established the temple in the middle of 8 century. The name "Yongcheon" means that dragon ascended to heaven from front of Daeungjeon Hall.
At the time of construction, Yongcheonsa Temple and Bulgapsa Temple were typical temple of West Sea area.
Gotmureut (cluster-amaryllis) Park located near Yongcheonsa Temple in Haebo-myeon, Hampyeong-gun is not a leisure complex but a tourist site and an ecological experience site.
As the name of the park indicates, there are a lot of cluster amaryllises in forests near Yongcheonsa Temple creating the largest natural colony in Korea.
Cluster-amaryllises fully bloom in September and October, and a cluster-amaryllis festival is held in mid September when they are at their most beautiful.
Cluster-amaryllises are red flowers that create beautiful scenery when the entire park is shrouded in red flowers. It looks so beautiful that it is cited as one of the 100 most beautiful landscapes in Korea.


Yongcheonsa-gil Haebo-myeon Hampyeong-gunk Jeollanam-do

Dolmeori Beach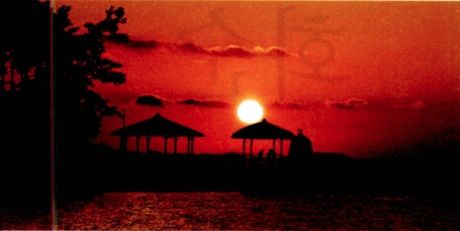 Dolmeori Beach is a rias coast of the West Sea with fabulous scene. You can forget your sorrow here for awhile to watch the sunset in the wondumak(lookout hut on stilts).
The mud flats in the beach is the place to have a variety of experiences while enjoying the feeling of the mud under the feet. For this, the beach is frequented by a variety of visitors, particularly families with children. It is the place to learn by experience for students who wonder about the importance and function of the mud flats. This area also has the log bridge that runs across the mud flats.
The learning center is run for experience for origin, change, natural filtering ability and the living environment of mud flat which allows to see the living organism.

203 Seokseong-ri, Hampyeong-eup Hampyeong, Jeollanam-do


Haesujjim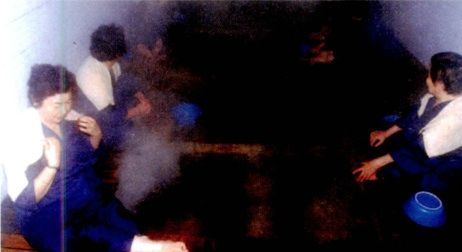 Hampyeong's 'Haesujjim' is a medical treatment method that has been widely used ever since the 1800's. Nutrients are added to seawater, which is then heated for bathing, creating a "Haesujjim (seawater bath)" that combines the benefits of hot springs and bathing. This is especially popular among housewives since it is proven to be an effective treatment for neuralgia, post childbirth discomfort, arthritis, and dermatitis.


Data Source : Namdo Travel(published by Jeolla provincialgovernment)