Yeongju-si is located in the north of Gyeongsangbuk-do in Korea. Bordering Bonghwa-gun, Gyeongsangbuk-do in the east, Yecheon-gun in the west, Andong-si in the south and Maguryeong in the north, it is adjacent to Danyang-gun, Chungcheongbuk-do. It is famous for Punggi ginseng, Sosuseowon confucian academy, Buseoksa temple and Sobaeksan national park.(Data source : Wikipedia)
Yeongju-the region of classical scholars
Yeongju is famous for Confucianism and Buddhism culture in Gyeongsangbuk-do. It has Buseoksa temple that is the foundation of Sosuseowon confucian academy, traditional culture resources of Confucianism and Buddhism and natural resources of Sobaeksan and the eastern coast of Korea. It has become the popular tourist attraction since Jungang expressway was open. Yeongju has produced a number of historical people such as Buddhist monk Uisa who establish Buseoksa temple, and An Hyang who establish the foundation of Korean Confucianism.
Indigenous products are Punggi ginseng, Yeongju apple, Yeongju Korean beef, Dansan grape and Punggi artificial silk.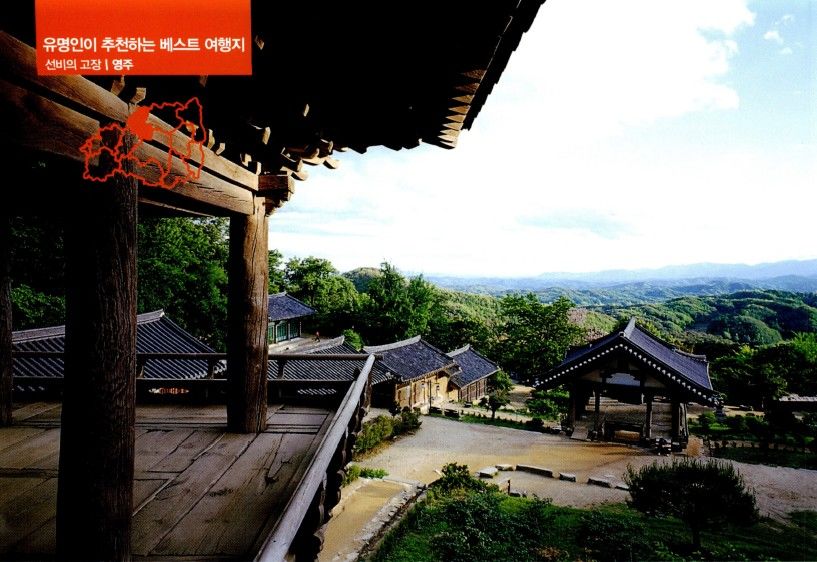 Buseoksa, the most beautiful temple in Korea
Buseoksa temple was built by Uisang, the founder of Huayan school in 676, by order of the King. It was established in order to prosper Silla, and guard the country against Tang Dynasty. It is the origin of Korean Hwaom Idealism.

Sonjinchaek/ director
Born in 1947 in Yeongju
The representative of theater "Michoo"
Selected as the best artist of the year by art critics in 1987
General manager of culture art festival of Seoul Olympic in 1988
Recipient of the 13th Iwhirang play award in 2002
Director of opening ceremony of the 2002 Korea-Japan World Cu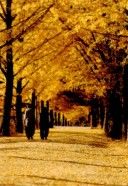 -Writer Sonjinchaek-

Buseoksa temple has stood for a long time in the foot of Sobaeksan mountain.
Unlike other temples that are located in basin of the mountain, Buseoksa temple is situated in the mountainside. It seems a little bit weird, but it is so elegant. The temple is filled with beautiful flowers in spring, and leafy trees in summer. Leaves turn red in fall, snow covers the field. It is wonderful all year around, but it is the most beautiful in the evening.
Why don't see the sun set beyond the mountain on the opposite side of Buseoksa temple?

Boom-boom. The sound of a bell rings the precincts of a shrine. In time, the sound of a bell spread out beyond the range of Sobaeksan. The precincts of a shrine is filled with warm and peaceful atmosphere. Buddha rescues the world saba.
Buseoksa temple was built by Uisangdaesa, the founder of Haedong Huayan school, in 676. It was established in order to prosper Silla, and guard the country against Tang Dynasty. It is the origin of Korean Hwaom Idealism.
As the temple was built for national purposes, it has an old legend. When Uisangdaesa studied in Tang Dynasty, Seonmyo who loved him took a suicide. But her spirit helped Uisangdaesa who had a difficulty in establishing the temple due to thieves. Her spirit lifted big stone in front of them, so they ran away. So Uisangdaesa could built the temple. According to the legend, the temple was named Buseoksa which means "floating stone".
Ginkgo road at the entrance of Buseoksa temple is one of the most beautiful places in Korea. In particular, the sound of ginkgo biloba leaves is clear in the wind. Why don't you think of the tale of Uisangdaesa after passing by peaceful Buddhist bell at the end of Ginkgo road?
When you climb narrow stone stairs under Anyangnu, you can find Muryangsujeon hall finally. It is No. 18 national treasure, which is the oldest wooden architecture along with Gukrak-Pavilion of Bongjung-Temple. It is known as the origin of Korean the gambrel roof, and famous for Baeheullim pillar. As it is, Muryangsujeon hall is one of the best Korean old architectures.
Muryangsujeon hall houses Buddha of neap tide, which is the oldest and biggest statue of the Buddha in Korea.

In front of Muryangsujeon hall, there is Silla stone lantern that is No. 17 national treasure. It is simple but elegant. On the left side of it, the rock carved with "floatstone" is located nearby. Seonmyo, the Chinese woman in the legend, lifted the stone to the sky.
These are not the only ones to see in Buseoksa temple. It houses a number of treasures like Josadang Shrine that is the oldest wooden building mural, Bukji-ri Seated Rock-carved Buddha, Three-story Stone Pagoda, Seonmyogak and Flagpole Support.
You cannot say that you have seen the whole Buseoksa temple by just looking around it. You should carefully look around national relics, and each pillar and eaves.
And there is something that is the highlight of Buseoksa temple. Someone said overlooking the foot of Sobaeksan in the temple is the picturesque. Buseoksa temple is definitely dazzling.
Address: Bukji-ri 148, Buseok-myeon, Yeongju-si, Gyeongsangbuk-do
Contact information: 054-633-3464

-History tour with children-



Sosuseowon Confucian Academy
It is the first Sosu confucian academy that is located in dense forest of Naejuk-ri, Sunheung-myeon, Yeongju-si, Gyeongsangbuk-do. Sosu confucian academy is state certified organization, which means that it was recognized by the King. "Sosu" means "putting one's efforts into a field of failed study". So you can find classical scholars' efforts to revive study.
Country governor Jusebung built shrine building in 1542 in order to honor An Hyang, and establish Baegun-dong seowon in 1543 to teach the students of Confucianism. These are the origins of Sosuseowon confucian academy. It became Sosu confucian academy by the order of the King Myeong jong when Teogye Lee Hwang was newly appointed to country governor.
As a matter of principle, after it became Sosu confucian academy, Jikppangjae and Ilsinjae where director and professors stayed were arranged in the west, and Hakkujae and Jirakjjae where the students of Confucianism stayed were arranged in the east. Jangseogak Library, on the west side of Jikppangjae, houses 3,000 books.
It is a serious mistake if you just think Sunheungyeon as a stop in the way to Sosu confucian academy. Sunheung was the center of the region in the Joseon Dynasty period. It was designated as "Protectorate General" as it was buried three kings' afterbirths including that of King of Chungnyeol. It was, so to speak, the metropolitan city of the modern era.
Address: Naejuk-ri 151-2, Sunheung-myeon, Yeongju-si, Gyeongsangbuk-do
Contact information: 054-639-5852

Seonbichon (Confucianist Village)

-The highlight of Korea tour in 2012-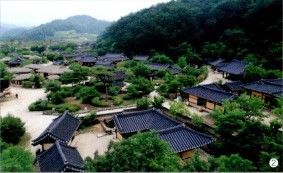 Yeongju, Gyeongsangbuk-do, which has Taebaeksan mountain, is the region of classical scholars. An Hyang, the confucian scholar who introduced Neo-Confucianism into the Joseon , was born in Sunheung, Yeongju. Baegun-dong seowon, the first preparatory school of Korea, was established in Yeongju.
Yeongju Seonbichon was built for those who want to experience old life style and inherit the traditional heritage and spirit. It has reproduced 12 old houses to its original state, and has been decorated with tile-roofed houses like Haeudang and Koam old house, and a straw-roofed house, pavilion and watermill.
Each room has furniture, three story clothing chests, cabinet inlaid with mother-of-pearl and Korean full-dress attire on the wall. There are dolls that show the life style of yangban like neat brassware, classical scholars and maiden. It is total 57, 520 ㎡ and has 76 architectures including attached buildings.
You can enjoy folklore experiences such as Lecture Hall, making hanji, Tuho and Dakppon with your children.

Address: Cheonggu-ri 357, Sunheung-myeon, Yeongju-si, Gyeongsangbuk-do
Contact information: 054-638-6444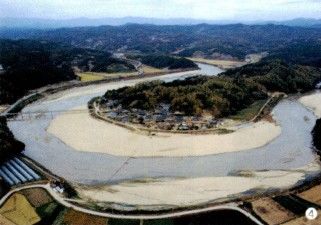 Korean classical scholar culture training center
Korean classical scholar culture training center is the cradle of whole-person education for succeeding the spirits of old scholars, and reproducing the study of ancient sages and life styles. It has restored 99 rooms of old protectorate generals, so it named the buildings from epigrams and Myeongjam.
In order to make Yeongju to the hall of Confucianism culture, locals have focused on going global of classical scholar culture, and operated various traditional culture programs and educational programs.
Korean classical scholar culture training center was open in October 2008, and built tourism belt like Sosuseowon confucian academy, Seonbichon (confucianist village) and Buseoksa temple. It is popular with many tourist as the cradle of traditional culture and moral education of classical scholars.

Address: Cheonggu-ri 389, Sunheung-myeon, Yeongju-si, Gyeongsangbuk-do
Contact information: 054-631-9888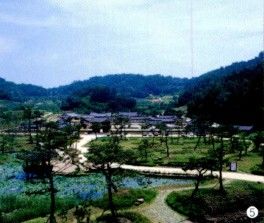 Mooseom Village
Mooseom village is located in Sudo-ri, Munsu-myeon, Yeongju-si, Gyeongsangbuk-do. It looks as if it was "the island on the land" because Naeseongcheon flows around the village. It is located in the ideal spot which is called "Japanese apricot flower nakji" or "Lotus boksu". Mooseum means "water island".
When you overlook Mooseom in the front mountain, it seems like the ranges of mountains embrace the village. Even if you are not a geomancy expert, you can find out the village is exceptional. Elegant old houses of the village resemble those of Hahoe village. Therefore, although it is not crowded, the village is graceful.
Broad sandy beach in the riverside of the village and dense forest on the opposite side of the river look like a beautiful painting. The speed of cars becomes slow when entering Munsu-myeon from the downtown of Yeongju. It is not because it is an unpaved road, but the scenery attracts the attentions of drivers. There are a number of old houses which were listed on cultural assets such as Haeudang old house(No. 92 folk material) and Manjukjjae old house(No. 93 folk material), so you would feel like visiting old home town. In Mooseom village, time does not go on.
Address: Sudo-ri, Munsu-myeon, Yeongju-si, Gyeongsangbuk-do
Contact information: 054-634-0040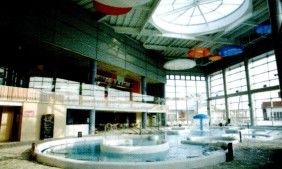 Sobaeksan Punggi Hot Springs Resort
It is 26~27,8 degress Celsius natural hot water from under 800m, which is alkaline sulfur spa with a lot of fluorine.
It is known that 100% natural hot spring is effective for skin care by neutralizing acidified skin. This hot spring center has special courses like ginseng sauna room and theme bath with local specialty.
Moreover, it shows outstanding effectiveness for chronic arthritis, neuralgia, metal poisoning, arteriosclerosis, diabetes and chronic bronchitis.

The hot spring center can accommodate 2,000 people, and you can take a view of beautiful natural landscape of Sobaeksan mountain in the guest room. It is equipped with various amenity like sulfur spa. In particular, it is easily accessible to Buseoksa temple, Sosuseowon confucian academy and Seonbichon (confucianist village) after Jungang expressway was open. It is the best place to take a rest after the climbing of Sobaeksan mountain.

Address: Changnak-ri 430, Punggi-eup, Yeongju-si, Gyeongsangbuk-do
Contact information: 054-604-1700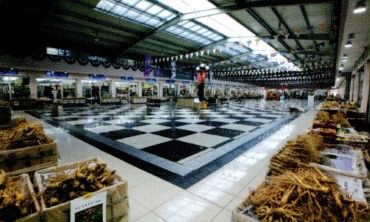 Punggi Insam(ginseng) Market
Punggi-eup, the northern part of Yeongju, Gyeongsangbuk-do, is one of the famous ginseng production areas in Korea. Punggi Insam has been renowned since 1,300 B.C. According to "The Chronicles of the Three States", the Goryo dynasty presented 200 geun of wild ginseng to Danghyeonje in 734.
In the middle of the Joseon dynasty period, Jusebung searched for the places that have similar soil and climate for cultivating wild ginseng all around the country in order to meet the large demand for wild ginseng. Meanwhile, he was newly appointed to Punggi governer in 1541, so he examined the soil and climate of Punggi. Then he found out the best place to cultivate ginseng, so he started the development. After that, the Joseon government only used Punggi Insam. It has the best quality since it grows in the soil with plenty of organic matters of Sobaeksan, and has strong ginseng scent and high level of saponin. These are the main distinctive characteristics of Punggi Insam. Donguibogam describes that it is greatly effective for metabolism.
Various events like digging up ginseng, cooking ginseng food are held in Punggi Insam Festival on every October. You can purchase fresh ginseng and white ginseng in the daily market whenever you want.

Address: Seobu-ri 145-3, Punggi-eup, Yeongju-si, Gyeongsangbuk-do
Contact information: 054-636-7948

-The journey with story-


The Sobaeksan Jarak-gil
Taking a walk has a great meaning. But you can employ your leisure wisely while walking the Sobaeksan Jarak-gil. It is filled with history and cultural ecology. It is a trail connecting three do and four si and gun around Sobaeksan, which stretches over 170 kilometers. And it keeps twelve stories.
It has kept almost perfect natural landscape in Korea. While walking the forest and valley of Sobaeksan, you can learn its history and culture.
The introduction to the trail
The trail has been open in Yeongju, which is total 110 kilometers with two part, eight part, ten part, 11 and 12 parts among 12 parts.
The first part(Sanbi Avenue, Gugokkil and Dalbatgil) 15.6km, four hours and twenty minutes
-Samga Parking Lot→ Geumseongdae gunshindan→ Jukgyegugok Valley→ Choimsa Temple→Dalbatkkol→ Birosa→ Samga Parking Lot
The second part(Hakkyogil, Seungigil and Bangcheon-gil) 15.6km, four hours and twenty minutes
-Samga Parking Lot→ Geumgeyho→ Geumseonjung→ Jeonggamnok village→ Poongi Fire Station→ Sobaeksan Punggi Hot Springs Resort→ Sobaek Mountains
The third part(Old Jungnyeong Road) 2.8km, forty minutes
-Sobaek Mountains→ Old Jungnyeong Road→ Jungnyeong Maru
The eleventh part(Gwasuwon-gil, Olmanggil and Subyeongil) 13.8km, three hours and forty five minutes
-Buseoksa Temple→ Sokttudeul→ Sobaeksan Art Village→ Forest Room→ Sageurei→ Yangjima→ Namjeol→ Mosan→ Dansanji→ Gwhaseok(intersection)
The twelve part(Jajaejijil, Seonangdang-gil and Baejeomgil) 8.0km, two hours and twenty five minutes
-Gwhaseok(intersection)→ Jagaejigae→ Duregol(Jangansa)→ Jeomma→ Deokhyeon→ Baejum→ Baejum Parking Lot

Old Jungnyeong Road
The first road cultural assets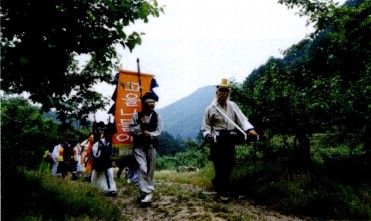 Jungnyeong, which is in the range of Sobaek mountains between Chungcheong and Gyeongsang, was the gateway that was crowded with classical scholars and merchants in 1910. Due to the development of transportation, however, it has been uninhabited and only filled with weeds. But it has become popular with many people after 2.5 km old uphill path was open in 1995, and signboards have been set up everywhere.

The starting point of old Jungnyeong road from Yeongju is the backside of Huibangsa Station. After passing by 300m asphalt road, there are Cheonha imperator and Underground
Woman general. It takes one and half an hour from here to the peak of mountain. And you should walk for two hours more from the top of the hill to Yongbuwon-ri, Danyang-gun.
You can enjoy your free time and see beautiful natural landscape while climbing the mountain with flowing stream. There are cute mountain birds and squirrels, and the habitat of tall fir trees. The dense forest tunnel with shrubs and vines looks so interesting. It has turned into orchard, so you can taste a mood of fall with your family while watching red-ripen apples.



Address: Sucheol-ri, Punggi-eup, Yeongju-si, Gyeongsangbuk-do