Sangju-si is located in the west of Gyeongsangbuk-do, Korea. It is adjacent to Seongun, Guri-si in the east, Boeun-gun, Okcheon-gun, Yeongdong-gun and Goesan-gun, Chungcheongbuk-do in the west, Gimcheon-si in the south and Yecheon-gun, Mungyeong-si in the north. Sangju-si was the location of Gamyeong, Gyeongsang Provinces in the early Joseon dynasty period, so it served as the capital of Gyeongsang-do. It is a historic city which was the origin of Gyeongsang-do with Gyeongju-si. Dried Persimmon is the regional product, and it is known as the city of bicycle. City hall is located in Namseong-dong, and the administrative district is 1 eup 17 myeon 6 dong. (Data source : Wikipedia)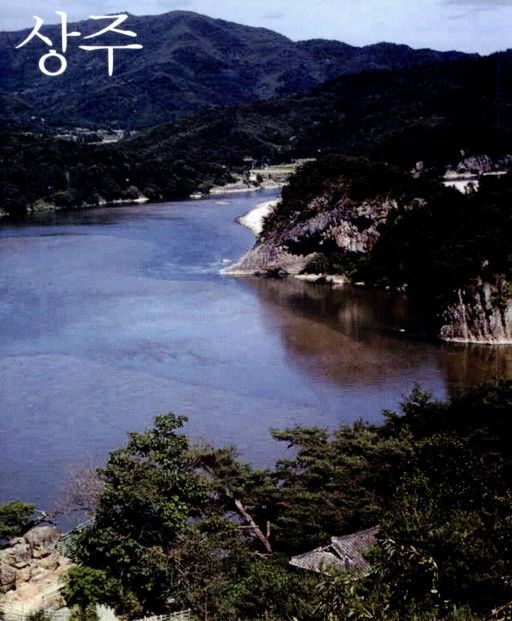 Sangju- the city of dried persimmon and bicycle
Sangju, the sixth largest city among local governments of Korea, has been called "the region of Sambaek" as it is famous for rice, cocoon and dried persimmon. It is also well known for clean city and urban environment city since it has plenty of mountain, water and natural resources.
It had been the center of political economy of Yeongnam until the middle of the Joseon dynasty period along with Andong. It has preserved precious Confucianism cultural heritages like Seowon and Hyangyo.
Interestingly, it is the most famous city for bicycle all around the country. Since it has the greatest number of bicycles in Korea, many citizens often use bicycles. Sangju dried persimmon, Hamchang silk, Sangju rice, Sangju grape, Sangju peer are the regional specialties.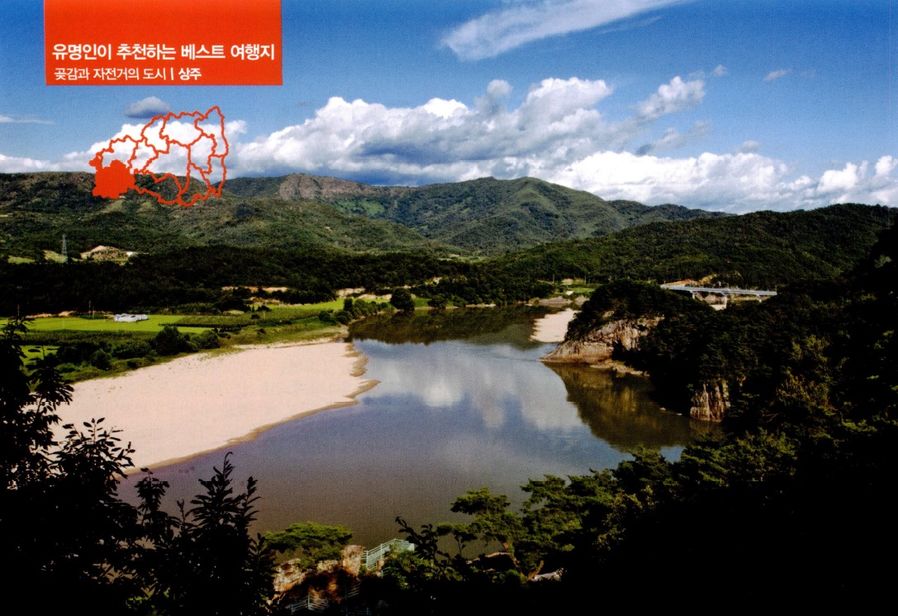 Gyeongcheondae Terrace, the spirit of classical scholars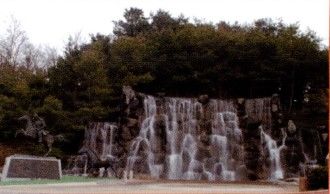 Remarkable atmosphere of the great spirit is filled with Gyeongcheondae terrace. The renowned general Jeong Ki-ryong trained with his fine horse in Japanese Invasion of Korea in 1592. And the feed bucket for horse made by him with rock has been passed down.


Seongseokjje, the novelist
Born in 1960 in Sangju
Received Korean Daily Report's literary award, Dong-in literary award and Contemporary literary award
Works: "The power of human being", "Funny life", "Hwangmangeun said like this", "Pleasant dancing" and "the mother's song", etc.
-Writer Seongseokjje-
In Gyeongcheondae Terrace, where even the heaven admired for its beautiful landscape, you would fall in love with the clean nature. The vertical cliff and dense pine forest look like a beautiful painting. It has been called "Jacheondae" as the heaven came down on its own.
To the way to Gyeongcheondae Terrace, there is an amusement park for children. It is not huge, but it is equipped with various play equipments. It is so crowded with many family tourists from Sangju and the regions near Gyeongsangbuk-do on weekends. The artificial waterfall with three stages is popular with many children. After passing by child amusement park and climbing an uphill road, you can find dense pine tree forest.

I would recommend you the observatory that you can overlook around Gyeongcheondae Terrace. The road toward the observatory is so cute that it is good to look around with your children. By breathing out, you can get rid of your stress with the fragrance of pine trees.
Stand on the observatory. Watch the beginning of 700 ri Nakdonggang river flowing around Gyeongcheondae Terrace. Nakdonggang river looks like a blue silk belt. You can feel the dignity of the river. At the observatory on the second floor of the building, you can overlook Gyeongcheondae Terrace, the downtown of Sangju and filming site.
When overlooking from the observatory, you can see a small path toward Gyeongcheondae Terrace and Muujeong. When looking at the waterway of Muldori village between pine forest, and going through the byway, you can see the steep Gyeongcheondae Terrace as high as the clouds. You would give an exclamation of surprise for the amazing atmosphere. Gyeongcheondae Terrace with dense pine forest on the steep cliff makes a beautiful picture along with blue river and gold sandy beach.
Gyeongcheondae Terrace is located in the middle of 1300 ri of Nakdonggang river that originates from Taebaekhwangji and flows away. The water of Nakdonggang river which seems to stop has preserved a long history of the region. Rather than just watching the rugged precipice with rocks of fantastic shape around, you'd better ruminate the old memory in order to appreciate the beauty of Gyeongcheondae Terrace.
Remarkable atmosphere of the great spirit is filled with Gyeongcheondae terrace. The renowned general Jeong Ki-ryong trained with his fine horse in Japanese Invasion of Korea in 1592. And the feed bucket for horse made by him with rock has been passed down.
There is Muujeong on the opposite side of Gyeongcheondae terrace. In the antique Muujeong, Udam Chaedeukki retired from the world after following Crown Prince Sohyeon and the prince Bongrim who were taken to Shenyang, the qing dynasty in the Manchu war of 1636. I admire the lofty spirit of the classical scholar.
King Hyojong, who cherished Chaedeukki, presented public office to him but he refused. The King sent a painter to him since he was so curious about his retiring place. King Hyojong so admired the drawings of the painter that he made folding screen with it and put it in his bedroom. And he missed the faithful subject Chaedeukki, and the landscape of Gyeongcheondae terrace. The story of them would move your mind.
A group of people gather around Gyeongcheondae terrace. They are driven by their enthusiasm. Old people seem to forget about the troubles of life. It is like an immortal world.
Taoist hermit with miraculous powers enjoys beautiful and peaceful landscape.
It is beautiful all the year around, but human beings and the nature mix with each other in Gyeongcheondae terrace in the season of verdure. It is not crowded with many people, but just shows off beautiful landscape. It is the best place to visit for families and friends.
-The historic tour with children-
Sangju, the pride of Confucian scholars
Simple but spirited Donamseowon Confucian Academy overlooks the stream of Nakdonggang river.
Sangju Confucian School has endured the painful history of Korea. The pride of Sangju Confucian scholars is still alive.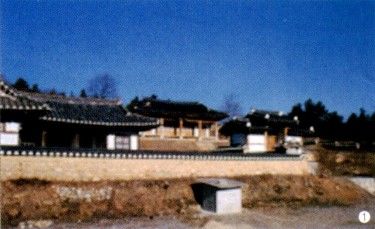 Donamseowon Confucian Academy
Simple but spirited Donamseowon Confucian Academy overlooks the stream of Nakdonggang river. It was built by Sangju Confucian scholars in 1606 since they were proud of Confucian tradition of the Joseon Dynasty. "Donam" was named after Jeongja of the Song Dynasty sent his disciple Yangsi to his hometown by saying,"Our morality would spread out in the south region in the near future." Eight people including Songryang established shrine in 1605, and decided to built Seowon. In the next year, they chose the building site to Muimpo, Nakttongsan, and enshrined the pirated edition of Dr.O, Sangryang-si.
It is the best Seowon in Yeongnam districts, which has strong traditions of Confucianism. It became Saaek Confucian academy in 1676. It enshrined Jeong Mong-ju, Hanhwondang, Gimgwangpil, Ding Ruchang, Yi Eonjeok and Teogye Lee Hwang in 1797, and Nosusin, Yu Seong-ryong and Jeonggyeongse thereafter. It played a pivotal role as the best Seowon with traditions of Confucianism in Yeongnam. Rural Confucian scholars made an effort to restore Donamseowon Confucian academy. It was demolished by the order of Emperor Gojong in 1871, but has restored since 1992 by rural Confucian scholars. So it has taken back dignity, and turned to precious heritage of Confucianism cultural area of Gyeongsangbuk-do.
Address: Donam-dong 175, Sangju-si, Gyeongsangbuk-do.
Contact information: 054-535-8648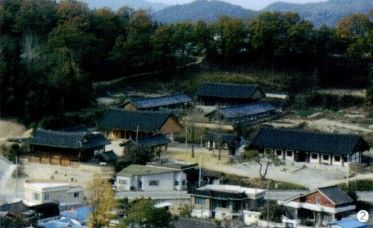 Sangju Confucian School
Sangju Confucian school, which was built in the Goryo dynasty, is a large-scaled hyanggyo as big as Seonggyungwan. It was burnt out in Japanese Invasion of Korea in 1592, but rebuilt in 1619. As a national school, it kept ancestral tablets, and worked hard to train the upcoming generation. There are Daeseongjeon Shrine, Dongmu, Seomu, Myeongnyundang lecture hall and Dongseojae in the precincts of Sangju Confucian school. It is not certain, but it has been told that Confucian school was moved from the northern side of Guwolbong to the south.
According to the document, Panmock Gochi established Namroo from 1426 to 1439. After that, Mocksa Ganggwison rebuilt Daeseongjeon shrine and Jaeru in 1485, and Sain Song I hae buried five ancestral tablets in holy place in Japanese Invasion of Korea in 1592. But the buildings were all burnt out.
Sangju Confucian school has been drawn into a whirlpool of history. North Korea's people's army who occupied the school all burned out things for ceremony in 1950. And it was used as a refugee evacuation center in 1.4 retreat. Since then, Namsan middle school was built in the site, so Dongseomu was used as a class, and Daeseongjeon Shrine was used as a lecture hall. Myeongnyundang lecture hall was burnt out in 1961.
After that, Myeongnyundang lecture hall and Dongseojae were restored in 1190. The precincts have been rebuilt since 2000 as a part of Gyeongbu northern culture business. Sangju Confucian school will operate its original function as hyanggyo by educating teenagers, and being the place for traditional culture experience.

Address: Sinbong-dong 203-1, Sangju-si, Gyeongsangbuk-do
Contact information: 054-535-0451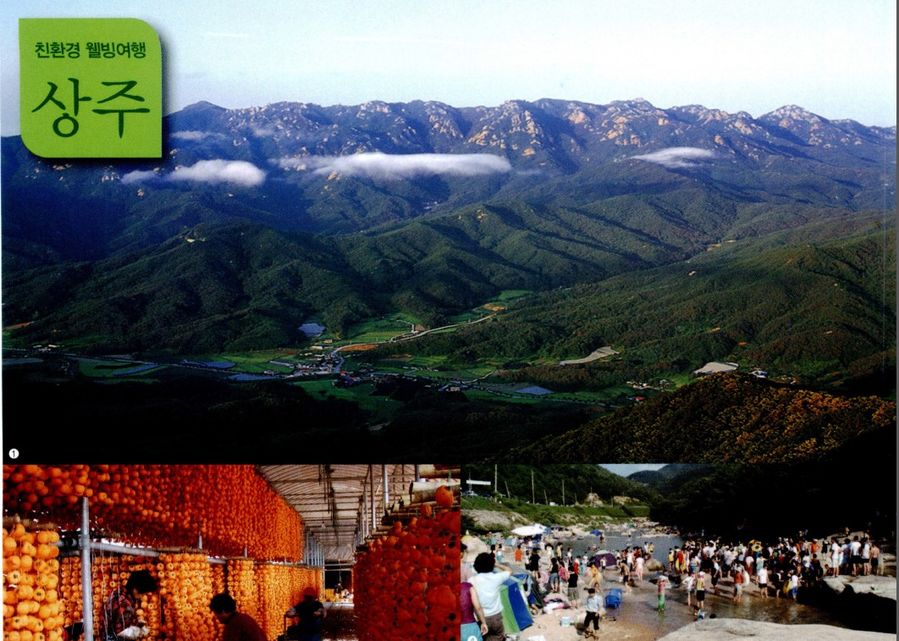 -Eco friendly well being journey-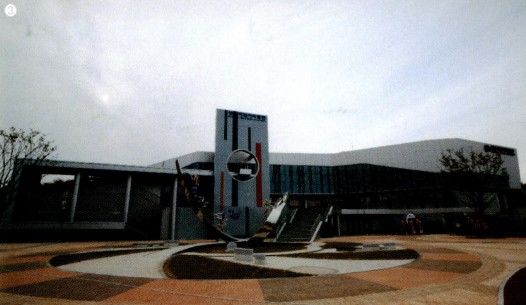 Bicycle Museum
Bicycle museum, the unique museum in Korea that shows the history of bicycle, is located in Donam-dong, the river shore in Nakdong river. 60 kinds of rare bicycles are exhibited from " draisienne" of Germany to high-tech automatic bicycle. You can ride 200 bicycles for free. There are Donamseowon Confucian Academy, Gyeongcheondae Terrace, Sangju Museum and International Equestrian Center nearby, so you can enjoy funny travel.
Address: Donam-dong mountain 3-4, Sangju-si, Gyeongsangbuk-do
Contact information: 054-534-4973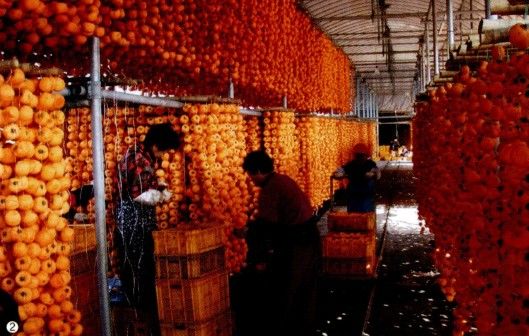 Dried Persimmon Village
Dried persimmon village is located in Namjang-dong where there is Namjangsa temple that has a long history. Unlike other persimmons, those of this region are soft and have few seeds. The village with 120 houses has attracted people's attentions for persimmon flowers in spring, yellow persimmons in fall and dried persimmons in winter.

Address: Noryu-ri 700, Naeseo-myeon, Sangju-si, Gyeongsangbuk-do
Contact information: 054-532-2267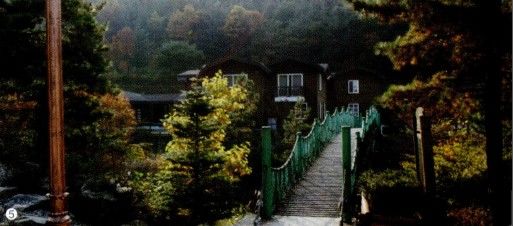 Seongjubong Natural Recreation Forest
It is fresh in summer and colorful in fall. A legend says great commander of China, Jojaryong, was born here.
The story might be fake, but you would admire the vicinity of mountains, oddly formed rocks and strangely shaped stones and clear water of valley. In the 412 hectare area with dense needleleaf trees and broadleaf trees, there are wild flowers, arboretums, a therapeutic walking trail and rock climbing courses. So it is like playing a treasure-hunt game. It is the best place for families and group tourists since there are also forest house, oriental medicine recreation center, campground and forest training place.
Address: Namgok-ri mountain 50, Euncheok-myeon, Sangju-si, Gyeongsangbuk-do
Contact information: 054-541-6512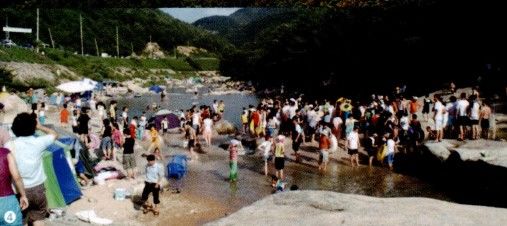 Songnisan Mountain and Yongyu Valley

Songnisan mountain, which is located between Gyeongsangbuk-do and Chungcheongbuk-do, is steep but picturesque. Munjangdae peak is the best among them. It rises 1,054 meters out of the sea. The legend says King Sejo recited a poem everyday when he cured his disease.
In fall, colorful autumn leaves are magnificent sights in scenic spots and places of historic interest like Janggak falls, Seongbulsa temple and Gyeonwon mountain fortress. If you want to visit cool valley, Yongyu valley would be the best. It is good to enjoy swimming since even white bedrock has been underlain with swallow water hole.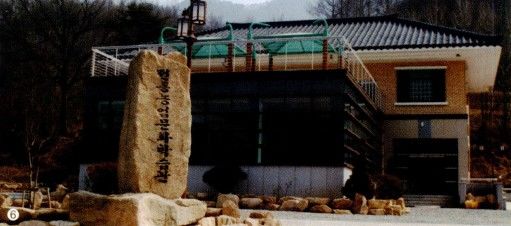 Hwabuk Byeongcheon Green Village
This village has preserved clean water and beautiful natural landscape. In his book "Taengniji",
Cheongam ijunghwan called the region as "Ubock valley" or "Ubock town" as there is Cheonghwasan mountain. It shows off the gift of nature since it has beautiful mountains and clean water all the year around.
Experience Programs
Spring: making wild flower pot, making wild flower tea, collecting spring greens and riding an ox cart
Summer: collecting and observing insects, catching freshwater fish, enjoying native pig barbecue, picking powdered medicine and enjoying swimming
Fall: gathering acorn, picking bean, picking sweet potato and potato, enjoying buckwheat flower festival, collecting pine mushroom and making scarecrow
Winter: cultivating organic agricultural products, going on a field trip, learning microorganism
compost agricultural techniques
Contact information: 010-3517-0176, 010-8431-6826
Website: http://yesgreen.or.kr
-A walking tour with the story-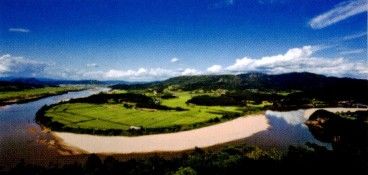 MRF story trail
MRF story trail, which connects mountain, river and field

MRF means the walking course consisted of mountain road, river road and field road. Sangju-si connected old road and new road, and created 19 stories by using sculptures. 13 courses in three rage spheres which had been developed chose the concept of "Let's go! Let's ride! Let's walk! Here we go!". There are four courses in Nakdonggang river, four courses in Sangju downtown and five courses in Iancheon.
Nakdonggang trail in Bibongsan mountain and Sumsori trail in Nagaksan mountain are the famous MRF story trails. On the background of Gyeongcheondae terrace, the first famous spot of Nakdonggang river, Nakdonggang trail in Bibongsan mountain has dense pine forest, gold sandy beach, Sabeol and many stories. Moreover, "Sumsori trail in Nakdonggang river" is the best place to enjoy tracking since river road, field road and mountain road are connected each other, and you can go back to the starting point.
Transportation
Nakdonggang Road, Chowon Road, Ajagaeseong-gil Road, Mulsori-gil Road, Sumsorigil Road→ Sangju IC, Namsangju IC, Gaya-gil, Igeon-gil→ Sogom-gil, Booksangju IC
Chilbaekri-gil, Jangseobang-gil, Baramsori-gil→ Booksangju IC, Sangju IC, Namsangju IC
Ddonggogae-gil, Cheonyeon-gil, Jasansansung-gil, Nuchuri-gil→ Booksangju IC, Sangju IC, Namsangju IC
Saemaeul tourism department of Sangju city hall: 054-537-7118
Trail Outline

The first course(Chilbaekri-gil) 9.2km, 2 hours 59 minutes
-Nakdonggang River→ Chilbaekri sign stone→ Toeong rock→ Marasan→ Yonghaesa Temple forked road→ Ganggil→ Nakdonggang River Chilbaekri sign stone
The second course(Chowon Road) 19.6km, 5 hours
-Gyeongcheondae Terrace→ Gyeongcheongyo Bridge→ Deogamsan→ Sangpumgyo→ Maehyeop embankment→ Gyeongcheondae Terrace
The third course(Nakdonggang Road) 10.8km, 3 hours 15 minutes
- Gyeongcheondae Terrace→ Bibongsan Mountain→ Filming site→ Gyeongcheongyo Bridge→ Gyeongcheondae Terrace
The fourth course(Ajagaeseong-gil Road) 23.1km 3 hours 15 minutes
- Gyeongcheondae Terrace→ Donamseowon Confucian Academy→ Byeongseonggyo Bridge→ Ajagaeseong→ Gangchanggyo Bridge→ Joongdong embankment→ Cheongnyongsa Temple→ Filming site→ Gyeongcheongyo Bridge, Gyeongcheondae Terrace
The fifth course(Mulsori-gil Road) 15.9km, 4 hours
- Gangchanggyo Bridge→ Jangcheon→ Geunmusugol→ Sandy beach→ Joongdong bridge→ Joongdong hill→ Jugam village→ Gangchanggyo Bridge
The sixth course(Sumsorigil Road) 7.7km, 2 hours 10 minutes
-Nagdong hanwoo Village→ Nagaksan Mountain→ Ganggil→ Nagdong hanwoo Village
The seventh course(Gaya-gil) 6.7km, 2 hours
-Sinheunggyo→ Obongsan Mountain→ Bongujae→ Saemal→ Sinheunggyo
The eighth course(Igeon-gil) 8.13km, 2 hours 13 minutes
-Yebugyo→ Cheongam Seowon→ Ian bridge→ Kwaejaejeong→ Jooam pavilion→ Seongwhangdei hill→ Yebugyo
The ninth course(Sogom-gil) 8.4km, 2 hours 25 minutes
-Joongso 2gyo→ Sogomjae→ Yejugyo→ Jamsugyo→ Jipyeonggyo→ Joongso 2gyo

The tenth course(Jangseobang-gil) 8.5km, 2 hours 25 minutes
-The entrance of Anjangseobang→ Norumok→ Seoman Saeteo→ The entrance of Anjangseobang
The eleventh course(Baramsori-gil) 11.1km, 3 hours
-Yangdalma→ Gogetmaroo→ Yeui village→ Yangdalma
The twelve course(Ddonggogae-gil) 9.9km, 2 hours 40 minutes
-Bukcheon public park→ Servo bridge→ Ddonggogae-gil→ Gaeuncheon→ Bukcheon public park
The thirteenth course(Cheonyeon-gil) 16km 4 hours
-Bukcheon public park→ Yeonwongyo→ Servo bridge→ Namjanggyo→ Namjang temple→ Yeonsuim
The fourteenth course(Jasansansung-gil) 6.6km, 1 hour 40 minutes
-Bukcheon public park→ Yeonwongyo→ Jasansansung-gil→ Imnan Bukcheon Battlefield → Bukcheon public park
The fifteenth course(Nuchuri-gil) 7.4km, 2 hours
-Bukcheon public park→ Dongsu tree→ Yeongamgak→ Bukcheon public park