Uljin-gun is located in the northernmost of the east coast of Gyeongsangbuk-do, Korea. It has been transferred from Gangwon-do to Gyeongsangbuk-do in 1963. Country office is Uljin-eup, and the administrative district is 2 eup 8myeon. (Data source: Wikipedia)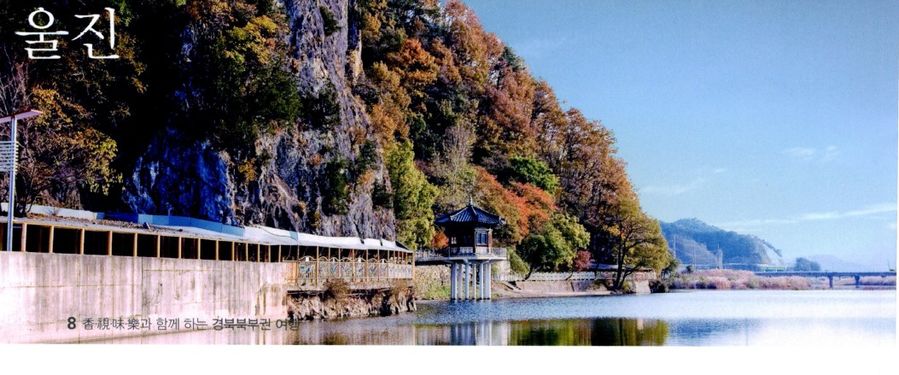 Uljin, the city of ecology, culture and tourism
Like the place name, Uljin is famous for beautiful natural landscape. Along with Seongnyugul Cave, Baegam Hot Springs and Deokgu Hot Springs have been popular with many tourists for a long time. Six beaches are also famous tourist attractions all the year around. In particular, Sogwang-ri Pinus densiflora forest, the largest habitat of the specie in Korea, has been recognized as the best forest. Moreover, Uljin has Wolsongjeong Pavilion and Mangyangjeong Pavilion. It has a number of tourism resources like Deokgu Valley, Sinsun Valley, Buryeongsa Temple, Jukbyeon and Hupo port.
Uljin Saengtomi, Uljin snow crab, Uljin red snow crab, Uljin Geumgang pine and Gopo sea mustard are famous regional products. Recently, Uljin held international yacht festival in Korea and national wind surfing contest. It also opened Uljin ocean leports, the largest scuba pool in Korea. So it has become the Mecca of ocean sports.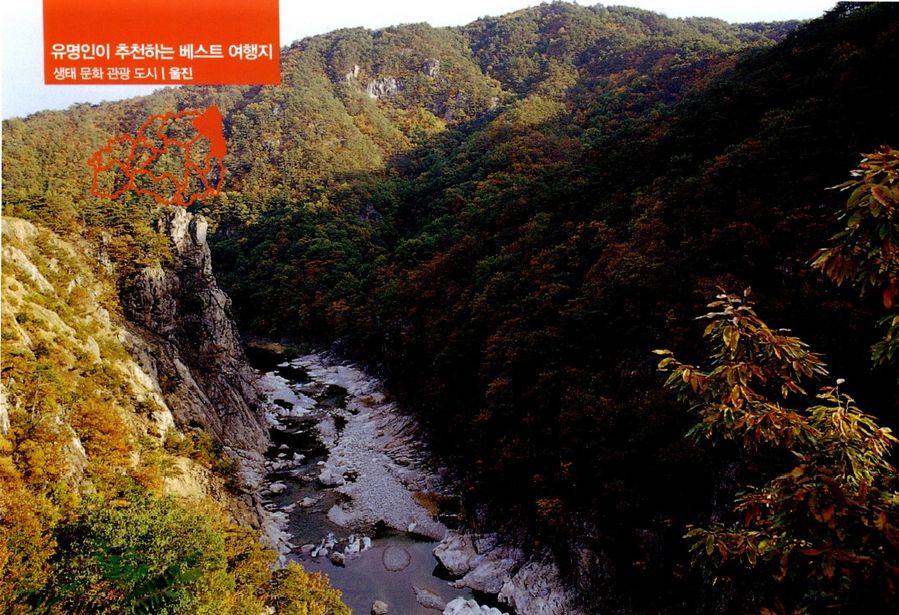 Buryeong valley, the Grand Canyon of Korea
It has been selected to "the tourist attraction in the nation that Koreans must visit" by Korea Tourism Organization.
Buryeong valley reaches from Susan-ri to Hawon-ri, about 15 kilometers. It looks so primitive. Buryeongsa temple in the valley is welcoming tourists.

Born in 1958 in Uljin
Took a doctorate of philosophy in graduate school of University of Delhi
Buddhism department professor of Dongguk University(India philosophy)
Wrote "The beautiful destruction", "If you fear, you will be locked", "Pilgrimage of India temples by Lee Geo-ryong", "The country of the seeker of truth" and "India philosophy history 1~4"
-Writer Lee Geo-ryong-
I came from the east coast, but fell in love with mountain and valley. Uljin has surprise. The rock face with wild wave and coast line is wonderful. But the mountain and valley are also amazing.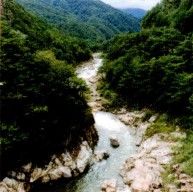 Buryeong valley has been called Grand Canyon of Korea. Buryeong valley has been known as the remote area with poor road. But it has shown off the dignity after No. 36 national highway was open.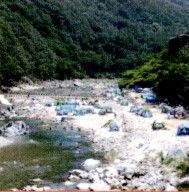 Buryeong valley reaches from Susan-ri to Hawon-ri, about 15 kilometers. It looks so primitive. Around Buryeongsa temple, which is old temple of Silla, odd Ambong peak and steep cliffs stretch out.
While driving along No. 36 national highway, you can see dense Uljin Geumgang pine trees standing on the steep Ambong peak. Not only that. The names of rocks like Gwangdaeko rock and Jujeoly rock are so friendly. They are shown and gone over again. So it is more exciting to drive along the road of Buryeong valley.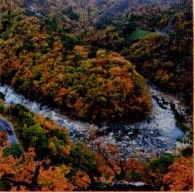 About 30 beautiful spots like Changok wall, Myeonggyeongdae, Uisangdae Pavilion, Santaegeuk and Sutaegeuk of Buryeong valley have a number of mysterious legends. When the water level is high, clean mountain stream and colorful rocks are well mixed each other so you can feel ancient mysteries.
The valley is so huge that you would experience of its own all the year around.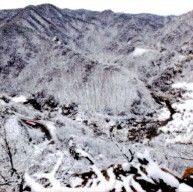 Buryeong valley is full of verdure and slopping water sound in spring. But it is crowded with many people who visit it for vacation in summer. You would be lost for words when you see colorful autumn leaves in fall. Winter is elegant with a white world.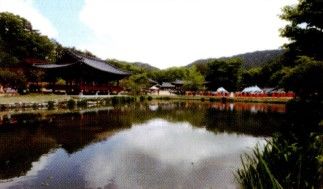 Buryeong valley makes people bear awe to magnificent nature, and Buryeongsa temple in the valley is welcoming the visitors. You can overlook the panorama of Buryeongsa temple after passing by Uljin Geumgang pine forest at the entrance of the temple. Unlike other temples in Korea, it is so peaceful and comfortable with the mountain and valley. Maybe there is a valley on the backside of the temple.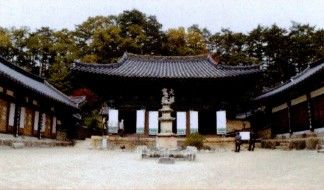 Buryeongsa temple was established by Uisang, the great monk of Silla, 1300 years ago. It was once called as "Cheonchukssan" because it looked like Cheonchukssan of India with mysterious mountains. It was also called as Guryongsa temple as the temple was built in the pond where the nine dragons had failed to fly up to the sky. It became Buryeongsa temple since the shadow of Buddhist rock on the top of the mountain was reflected in the pond.
Ginkgo tree toward Buddhist sanctuary and turtle stone supporting the terrace of the main temple are other tourist attractions. Maybe it is because it is peaceful and cozy unlike other temples. While you look around the temple, you would have composure.
-The history tour with children-
Uljin, the city of ecology, culture and tourism
The region with Korean tradition! You can enjoy happy journey with love and romance.
Why don't you follow the trace of ancestors and appreciate beautiful natural landscape in Uljin, the region of the nature?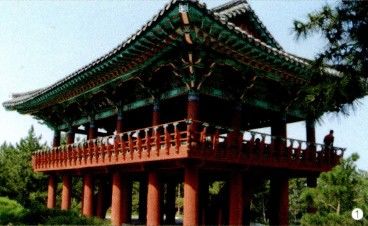 Wolsongjeong Pavilion
It was built in the Goryo dynasty period, but restored in 1980s. Choi Kyu-hah, the former president, wrote the signboard. There are two stories about the name of Wolsongjeong pavilion. One is that it was originated from the meaning of pine tree forest with moonlight. The other is that it was originated from Taoist hermit with miraculous powers flying over the pine tree forest. King Seongjong requested the painter to draw the most beautiful pavilion in the country, so he drew Wolsongjeong pavilion. It has been selected to one of "the eight famous spots in Eastern Korea" for the beautiful landscape.
Address: Wolsong-ri 362-2 , Pyeonghae-eup, Uljin-gun, Gyeongsangbuk-do
Contact information: 054-782-1501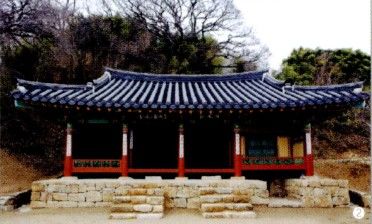 Daepungheon
Daepungheon is the critical evidence of the fact that Dokdo Island belongs to Korea. In Gusanpo, Pyeonghae, the east coast of Korea in 1851, Sutosas who moved from Gusanpo to Ulleungdo Island and Dokdo Island waited for gentle wave in the place.


Address: Gusan-ri, Giseong-myeon, Uljin-gun, Gyeongsangbuk-do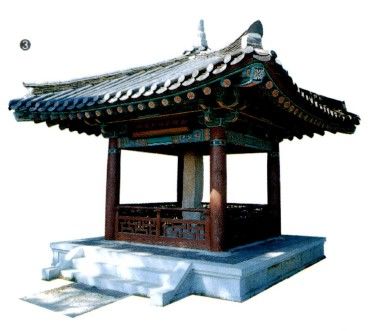 Bongpyeong Sillabi Exhibition Hall
Bongpyeong Sillabi Exhibition Hall was created to properly preserve Uljin Bongpyeong Sillabi, No. 242 national treasure, and develop it to tourism resources. It is a building with two stories above ground and one underground levels. It is equipped with three exhibition halls, pavilion, pond, Inline Skating Rink and concert hall.
The first exhibition hall displays real Sillabi, and describes the discovery and interpretation of it. The second exhibition hall displays main memorial stones of Baekje, Goguryeo, and Silla. The third exhibition hall explains the genealogy of Korean epigraphy, the style of memorial stone by ages, Chinese character and Hangul. Moreover, 45 commemorative monuments of Uljin are being displayed at the entrance of the gallery. It is the first memorial stone exhibition hall in Korea in which you can see the Korean culture of memorial stones.
Address: Bongpyeong-ri 521, Jukbyeon-myeon, Uljin-gun, Gyeongsangbuk-do
Contact information: 054-789-5460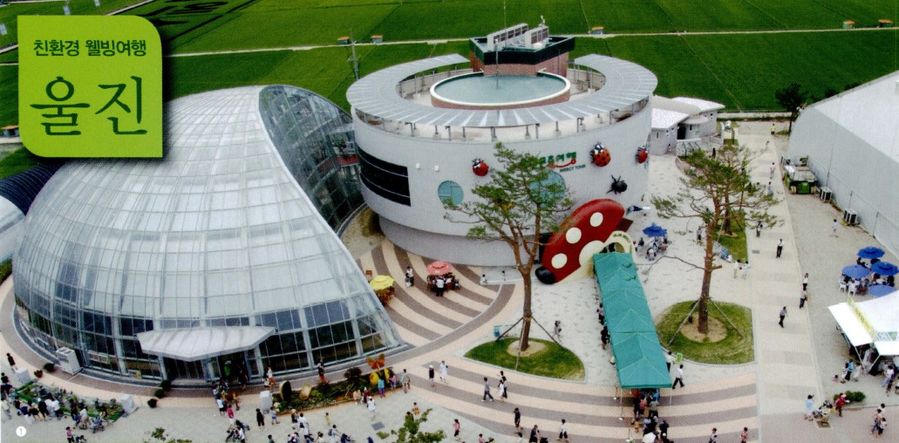 -Eco-friendly well being travel-
You can enjoy wood bathing, sea bathing and spa in Uljin with the sea and hot springs.
Uljin Expo Park
Eco-friendly agriculture center recognizes the importance of agriculture and the nature to people, and describes the information about safe food. You can take part in various programs so that you can observe and experience a number of insects in Uljin insects yeosaeng. Moreover, about 5,000 fishes including sea horse have been displayed in the third largest water tank in Uljin aquarium.
You can observe living marine lives that you can barely see in your daily life. Moreover, you can see water plants and wild flowers in Wangpicheon outside the park.
Address: Susan-ri 346, Geunnam-myeon, Uljin-gun, Gyeongsangbuk-do
Contact information: 054-789-5500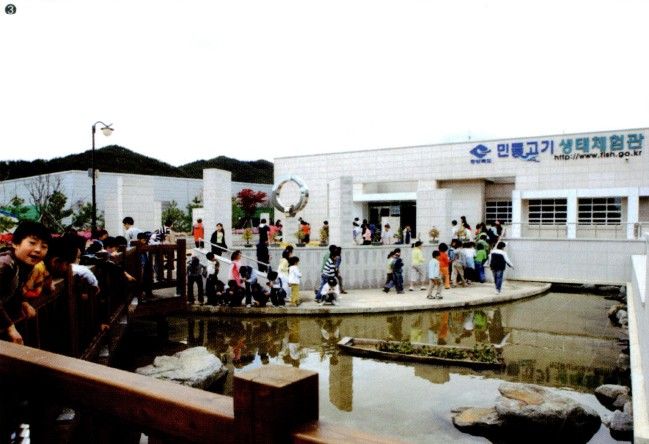 Freshwater Fish Ecology Experience Center
The samples of Korean fishes like Coreoleuciscus splendidus, Pungitius sinensis and Masou salmon, and the map that shows the return path of collocation are installed in freshwater fish ecology experience center at the entrance of Buryeong valley.
It is the best place to visit with children as there are various programs like fish farm in which they can observe wintering and hatch of carp and echolalia, and feed the fishes. It is a good tourist course since it is adjacent to tourism resources like expo park and Seongnyugul.
Address: Haenggok-ri 228, Geunnam-myeon, Uljin-gun, Gyeongsangbuk-do
Contact information: 054-783-9413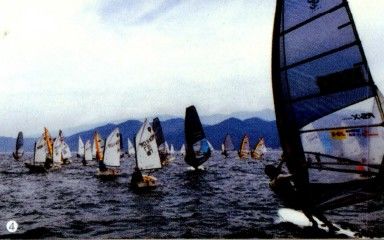 Uljin-gun Yacht School (yacht experience center)
Uljin-gun Yacht School held Korea yacht contest, Seonguk wind surfing as the hub of ocean leports. It is supposed to hold various contests including Korea yacht contest. It is going to popularize yacht by operating yacht class that tourists can easily enjoy.
Address: Hupo-ri 624-38, Hupo-myeon, Uljin-gun, Gyeongsangbuk-do
Contact information: 054-788-4777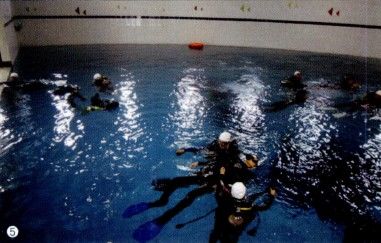 The Ocean Leports Center
The ocean leports center, which has utilized the gift of nature of Uljin, is the largest scuba pool in Korea. It is equipped with auditorium, lecture room, meeting room, accommodation, restaurant, cafe, foot volleyball court and Futsal stadium. It is the ocean sports experience tourist attraction which can accommodate 200 tourists, and best educational training center.
There are all courses from beginning level to advanced level, and you can receive a license on the spot. The center teaches lifesaving in the water and underwater shooting. You can enjoy sport tourism with skin scuba. Moreover, the center has operated various programs like ocean sports academy and ocean camp for companies and students. There are Giseong Mangyang beach and Mangyangjeong pavilion nearby. You can also enjoy MTB along the coastal road.
Address: Osan-ri 931, Wonnam-myeon, Uljin-gun, Gyeongsangbuk-do
Contact information: 054-781-5115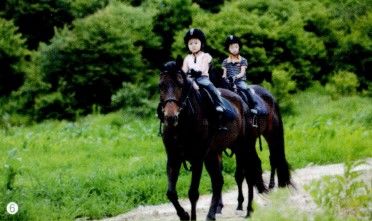 Camp Horse(Riding experience center)
It is a stay type tourist resort complex where you can take a rest with cool sea and beautiful natural landscape. It is equipped with indoor and outdoor horse riding courses, family camp ground, farm village experience center and various riding bicycles. It is supposed to hold national leisure sports competitions.
Address: Myeongdosan mountain 149-1, Uljin-eup, Uljin-gun, Gyeongsangbuk-do
Contact information: 054-781-7885
-The walking tour with the story-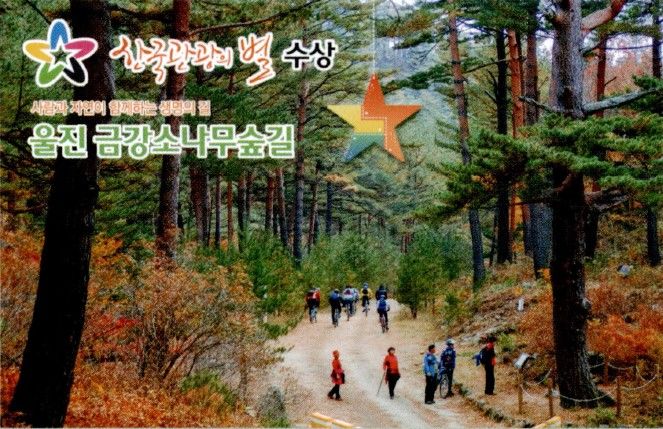 Uljin Upright Korean red pine Road(Sipiryeong old road)
Sogwang-ri forest was designated to Hwajangbongsan to supply woods to the Joseon royal family. It is so steep that it has not been damaged during the wars.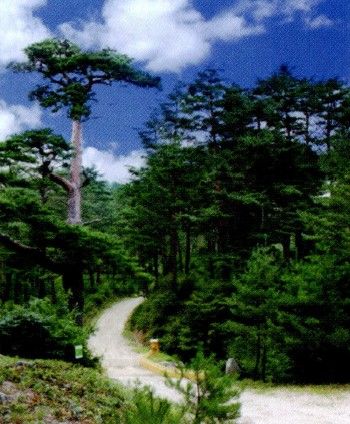 It has high preservative value, so it has been pushed ahead with being registered to the world natural heritage. The local government has operated the woodland path visitor service in order to inform the importance and value of the forest. You can enjoy healing in the nature with phytoncide of Upright Korean red pine.
Among five sections, only the first and the third sections are open. The number of visitors are restricted a day for the protection of forest. You should visit after making a reservation at least three days before.
Trail Introduction
- [The first section]: total 13.7 kilometers(7~8 hours)
- [The third section]: total 18.7 kilometers(7~8 hours)
Caution
- Free tour is prohibited. You must go with the guide. It is a direct course without an escape.
- It is closed on every Tuesday. You cannot enter the forest during the period for preventing forest fires.
Transportation
[Public Transportation]
-Uljin Bus Terminal→ Ducheon 1ri(intra-city bus leaves at 06:35)
-Uljin Bus Terminal→ Sogwang-ri(intra-city bus leaves at 08:05)
-Sogwang-ri→ Uljin Bus Terminal(intra-city bus leaves at 16:40 and arrives at 17:30)
[Car]

-Departure place: The first section-Bukmyen Ducheon-ri 232, the third section-Seo-myeon Sogwang-ri 657
-Sogwang-ri→ Ducheon 1ri(intra-city bus leaves at 06:35 and arrives at 17:55)

Contact information: 054-781-7118
Website: www.uljintrail.or.kr