Gangjin (강진군)

Gangjin is located in the southwestern part of the Korean peninsula toward the end of the earth. And is famous for its uncontaminated area. There is Goryeo Celadon Kiln Site and a beautifulscene of Gangjin Bay, There are also Charming strange rocks and bizarre stones extended in Mt. Seongmun and Mt. Manduk. In these mountain, there are House of Dasan where the Jung Yak-Yong(scholar who studied practical matters in the late period of Joseon Dynasty) was exiled and Baengyeonsa Temple of camellia flower. Gangjin is quiet, 0tranquil and cozy place which is hometown of poetKim, Young Rang of Morani Pigiggajineun(the name of his poem).


Goryeo celadon (고려청자)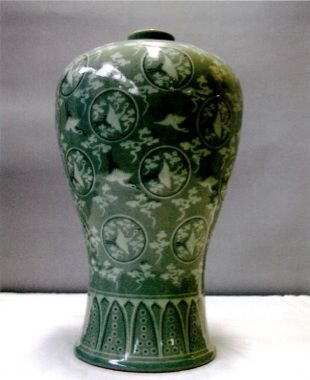 The china craftsmen who lead the celadon products also considered Goryeo celadon as the best celadon, praising its beauty.
Especially Gangjin Goryeo celadon has special technique and splendid pattern. In Goryeo period for 500 years, Gangjin had 200 kiln sites in places and the 80% of the national treasures was made in Gangjin.


Celadon Museum (청자박물관)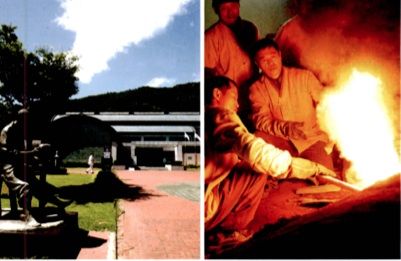 The celadon Museum opened in September 1997 for the systemic preservation and study of Goryeo celadon.
This is one and only celadon museum in the Korea. And It is promoting for succeeding development of the Goryeo celadon by collecting, displaying, studying, and educating etc. It's a good example of public museum by differentiated display away from ordinary display method and its historic site beside museum.
And also there is a workshop for reproducting Goryeo celadon near the museum to show the past and present of Korean celadon.

Location
33 Cheongja-ro, Daegu-myeon

Gangjin-gun, Jeollanam-do

South Korea



Dasan cho dang ; Thatched House (다산초당)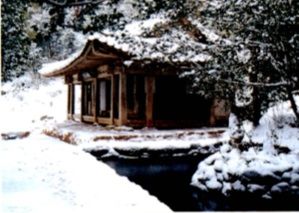 This is the place Yak-yong "Dasan", Jeong spent more than 10 years in exile after he was banished to Gangjun for being influenced by Catholism.
While living here in exile Jeong compiled the Realist School of Confucianism in the late Joseon Dynasty in 500 or more books including Mokminsimseo, Gyeongseyupyo, and Heumheumsinseo(the name of his famous books).
There are Jungsuk stone which Jeong carve the character "Jungsuk), Yakcheon(medical spring), Dajo(a stone for boiling tea), Yunjisukgasan(a small mountain at middle of the pond) and Cheonilgak(a pavilion which Jeong used to stay for forgetting the anxiety in this place.

Location
68-35 Dasanchodang gil

Doam-myeon

Gangjin-gun, Jeollanam-do

South Korea



Dasan Relic Museum (다산유물전시관)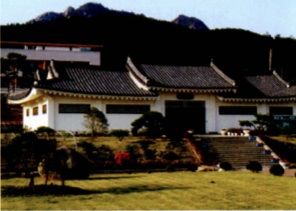 Dasan Relic Museum is located 800 m away from Dasan cho dang. It displays his chronology, family tree, a scholastic mantle, achievement, and relic. It helps to understand his life.

Location
33 Dasansuryeonwon-gil

Doam-myeon

Gangjin-gun, Jeollanam-do

South Korea



The house of Yoon-sik "young rang" Kim's birth (영랑김윤식선생생가)


This house had been sold several times since Kim moved to Seoul. Gangjin gun bought and have managed it. The main building was recovered as it was in 1992 because it was partially transformed.
The building beside entrance which had been demolished was recovered in 1993 according to his family's advice.
There are Spring, camellia tree, persimmon tree, and platform for crocks of sauces and condiments which are used in his poem. And tree peonies are planted all around. Kim His spirit is still alive in this house because it is well preserved and managed as it was.

Location
15 Yeongnangsaengga-gil, Gangjin-eup

Gangjin-gun,
Jeollanam-do, South Korea

Muwisa temple (무위사)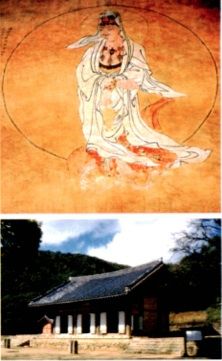 According to the books in Muwisa temple, Muwisa temple was founded by Saint Wonhyo. And It said that Saint Dosun remodeled it. The history of Muwisa was started the time when Saint Hyungmi
remodel it early 10th century.
Muwisa temple was famous for temple of the Zen sect in early Goryeo period but It was famous temple for ceremony which is appeasing the manes of dead body.
The main building, so called Geungnakbojeon, serves AmitabhaBuddha who controls the heaven.


Location
308 Muwisa-ro, Seongjeon-myeon (1174
Wolha-ri)

Gangjin, Jeollanam-do

South Korea



Baekryeonsa Temple (백련사)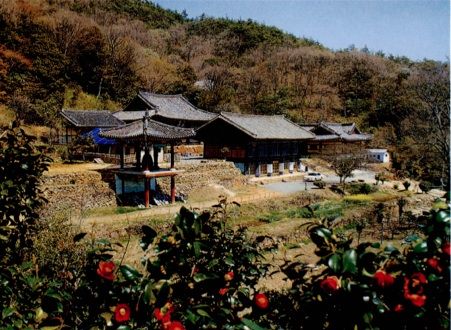 The original name of Baekryeonsa Temple is Manduksan Baekryeonsa temple. It was called Manduksa Temple in late period of Chosun.
Nowadays it is called Baekryeonsa Temple. The 8 national leaders are from this temple in late period of Goryeo and the 8 saints stayed in here.
It is historical temple for national leader WonMyo the 3rd. Daewoongjeon is built in late period of Chosun, and it has 3 rooms at front and 3 rooms at sides with special roof which has special pillar at the edge to support the roof better.

There are 7,000 trees of camellia in the slope land about 5.2 Hectare around Baekryeonsa Temple.
It is 7m tall and It makes good view. And there are also nutmeg trees, the silver magnolia trees, big bamboos, and tea plants.It is 7m tall and It makes good view. And there are also nutmeg trees, the silver magnolia trees, big bamboos, and tea plants.

It has 300 years of history to serve the guest or consume for the snacks with Dongbaekhwajeon(a traditional pancakes which is made of camellia leaf, green tea, wheat, glutinous rice, and barley.

Location
145 Baekryeonsa-gil, Doam-myeon (246
Mandeok-ri)

Gangjin, Jeollanam-do

South Korea



Sauijae (사의재)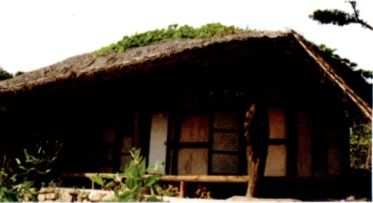 Yak-yong Jeong was banished in November 23, 1810 to Gangjin Jeong named this place Sauijae which means the house of upright person in thoughts, appearance, word, behavior.
While he was staying here for 4years, he wrote Gyungseyopyo, Aejulyong(name of his book) Gangjingun recovered the tavern and inn as it was before at the part of east inside in
2007 early summer.
At this place, There is "Dongmoonmaebanga" which is for modern tavern and inn.

Location
27 Sauijae-gil, Gangjin-eup (495-1
Dongseong-ri)

Gangjin, Jeollanam-do

South Korea



Nammireuksa TempleNammireuksa Temple (남미륵사)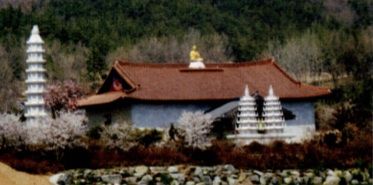 Nammireuksa Temple as a main temple of Mireu Buddhism in the world was founded by Saint Bubheung.
And then he built new building and take care of the garden inside and outside of temple. It made a magnificent view and a spectacular scene.

There is a statue of the Amitabha Buddha in the Nammireuksa Temple which is the biggest bronze statue in the east Aisa. And from the Iljumun gate to the precincts of a shrine, there are 500 Nahan Statues.

location
24-13 Pungdong-1gil
Gundong myeon
Gangjin, Jeollanam-do
South Korea



Jeolla Naval Fortress Site (전라병영성지)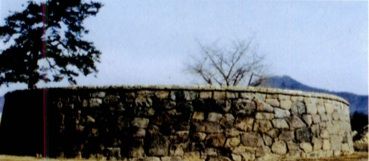 Jeolla Naval Fortress Site was made in 17th year of Chosun's King Taejong.
Jeolla ByungYeong was the main base of the Jeolla Army for 500 years during the Choson Dynasty. It was moved from GwangSan-hyeon in 1417, the year of King TaeJong's 17.

Its First commander, General Ma-ChunDeuk, built it and people called it "Snowy ByungYeong," because of General Ma's dream.
It was constructed on flat ground and was a long, vertical shape with a total
length of 1,500 meters.

Governor KwonYool's appeal in 1599, the year of King SunJo's 32, caused it to be moved to JangHeung temporarily but it was returned in 1604, during the Dutchman, Hamel's 8 year stay.
In 1894, in the late Chosun period, the DongHak Revolt destroyed ByungYoung and it was demolished in 1895, the year of King KoJong's 32. The Jeolla barracks has been appointed and
managed as Jeolla Monument No.140 since March 9, 1992 and was designated as a
National monument in 1997.

Location
175 Byeongyeongseong-ro,
Byeongyeong-myeon

Gangjin-gun, Jeollanam-do

South Korea



The Hamel Memorial (전라병영성 하멜기념관)


The Hamel Memorial Hall located at Jeolla Byeongyeongseong is a tribute to Hendrik Hamel (1630~1692), who was the first person to tell of Korea's existence to the western world through his book "Coree-Korea 1653-1666."

To commemorate this, Gangjin-gun set up a sisterhood relationship with Gorinchem, Netherlands, the birthplace of Hamel, in 1998.
Afterwards there were active exchanges of culture between Gangjin-gun and Gorinchem, and
on December 3, 2007, the Hamel Memorial Hall opened.

The Hamel Memorial Hall is made out of wood. The oval-shaped exhibition hall represents the island on which Hamel had drifted ashore. The square-shaped building on the opposite side
represents the ship De Sperwer, which had shipwrecked in the boundless ocean.
The memorial hall exhibits about 200 relics. The exhibition rooms are divided
into different categories, such as the "Coree-Korea 1653-1966," Hamel's life, the socio-cultural situations and life styles in Joseon and the Netherlands in the 17th century, and the sisterhood between Gangjin-gun and Gorinchem.

The Hamel Memorial Hall helps the search for the historical significance of Hamel's stay in Joseon. It will also support research about international exchanges in the 17th century, provide education though the exhibition of relics, and furthermore, put its effort into increasing cultural
exchanges between Korea and the Netherlands.

Location
180 Byeongyeongseong-ro,
Byeongyeong-myeon

Gangjin-gun, Jeollanam-do

South Korea



MaRyang port (마량항)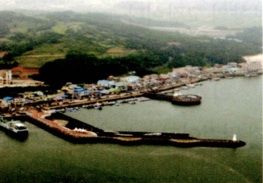 It's made in early period of Chosun. It's very strategic location during Japanese Invasion of Korea in 16 centuries.
Because there is Manho ruined castle, Ggamak Island, Gogeumdo and Yaksando blocking the strong wind from everywhere.
It's often held the concert every Saturday to mingle tourist with beautiful port at much beautiful night.

Location
Maryang-ri, Maryang-myeon

Gangjin-gun, Jeollanam-do

South Korea



Referred from : Namdo Tour (published by Jeolla provincial government)