Jeondong Catholic Cathedral
Jeonju reminds me of many things but the first thing that pops up in my head would be of course bibimbap followed by Hanok Town, Jeondong Catholic Cathedral and Gyeonggijeon Shrine.

In order to stay in one of Hanok Town on Saturday night, you're going to have to hurry and make a reservation. But as I decided to leave Seoul early in the Sunday morning and coming back to Seoul on Monday, I could check the house, choose one and even got a discount of tens of thousands won.

The first place I visited was Jeondong Catholic Cathedral. As the oldest church in Honam region, this resembles Myeongdong Cathedral in Seoul and one of the reasons is that both churches were designed by the same person, Father Poisnel. Yun Ji-chung (Paul) and Gwon Sang-yeon (James) who died during persecution of Catholics in Jeongjo period, the first year of Sunjo period (1801), Yu Hang-geom (Augustinus), the first apostle in Honam area, Yun Ji-heon (Francisco) and others were persecuted here. During Catholic Persecution of 1801, Yu Hang-geom (柳恒儉) and Yu Gwan-geom brothers' heads were cut off after death, Yun Ji-heon, Gim Yu-san, Yi U-jib and others were hung here.

In order to praise their spirits of martyrdom, Father Baudenet from France bought the land in 1891 (28th year of King Gojong), started to build it in 1908 and finished it in 1914.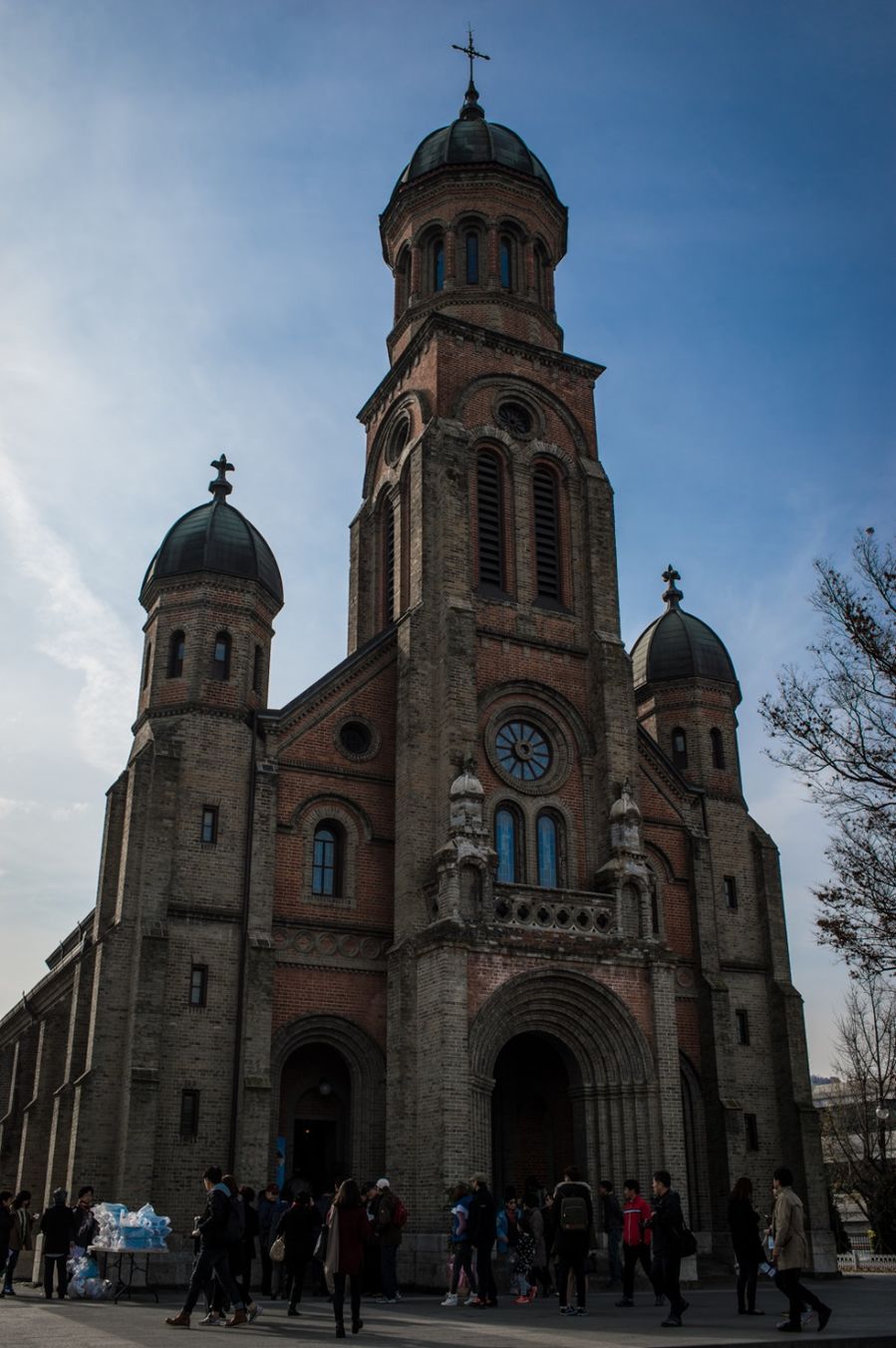 The external appearance of building looks like the Myeongdong Cathedral in Seoul and it's regarded as one of the beautiful early Catholic churches. As it's designed with Byzantine style mixed with Romanesque style, it's one of the most beautiful architectures in Korea.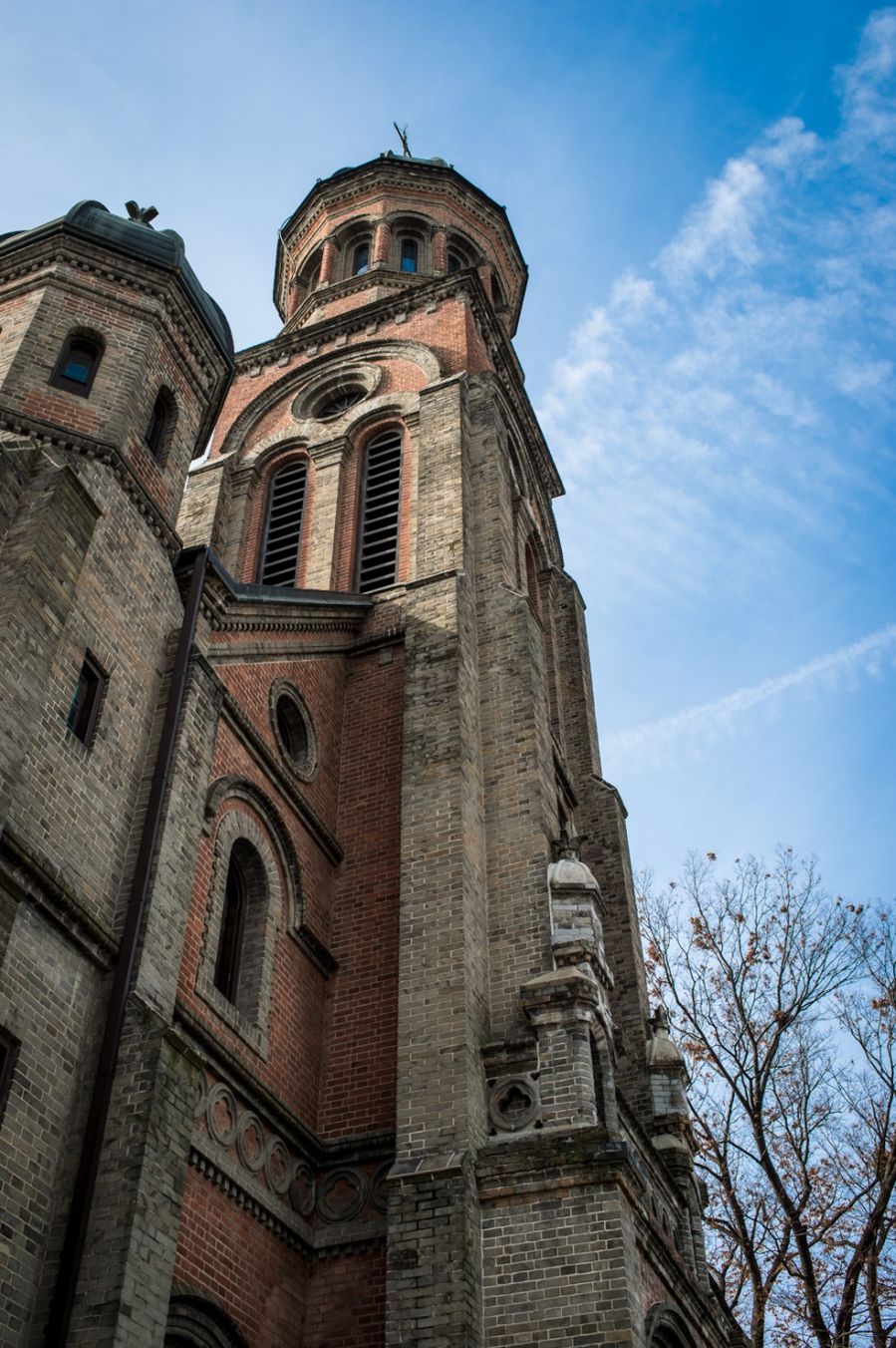 As the first Romanesque style building built in Honam region, the rectangular walls consist of bricks outside and there's Byzantine style belfry in the middle, on the right and left. It has vaulted ceiling inside, and above the passage on both sides is a cruciform vaulted ceiling.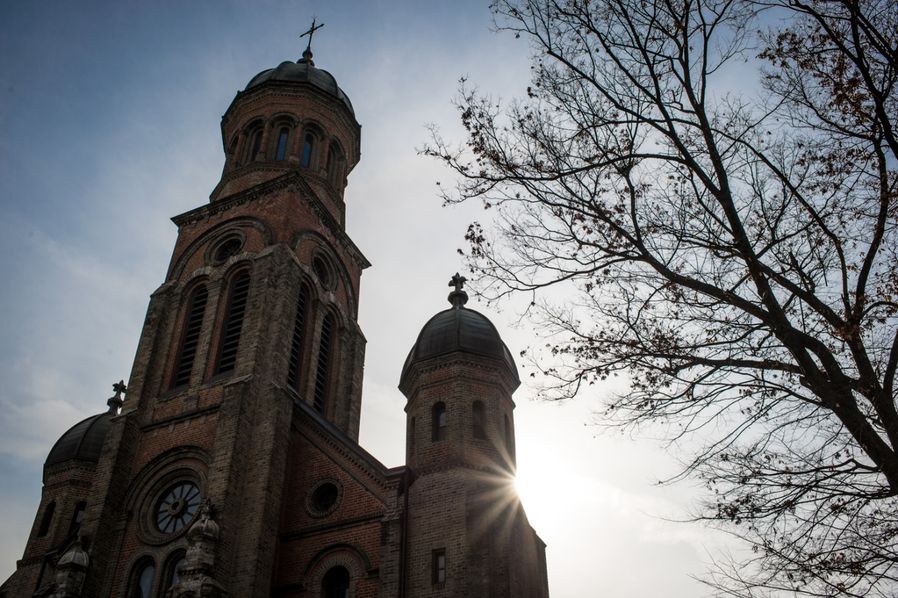 The sun in winter was in hurry to set just in time and to lean its shoulder to diagonal line of light.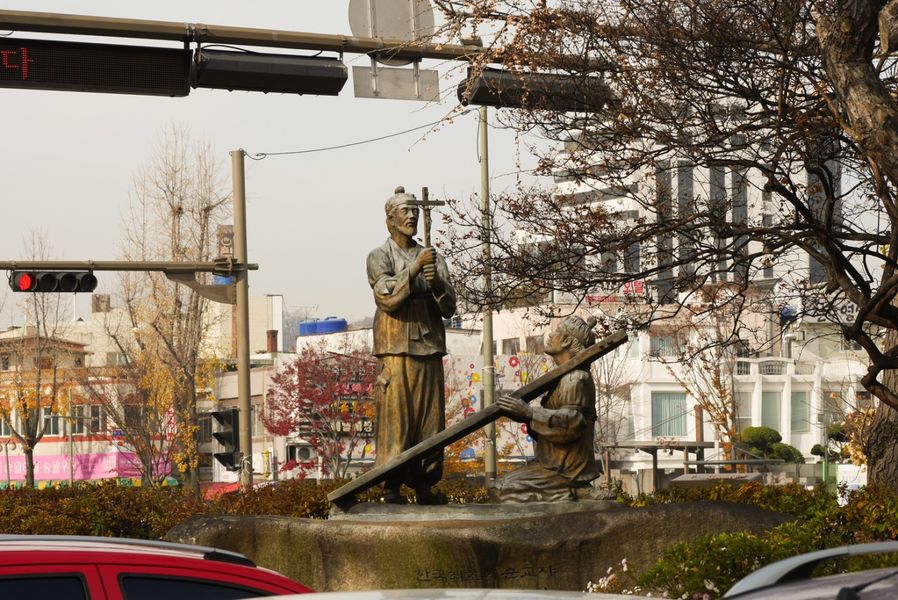 The statue on the right corner inside the church that shapes missionary who were persecuted during Jeongjo period makes the people sad who watch it. I believe it's their sacrifices and red heart that made this country a model religious country that is recognized by the whole world.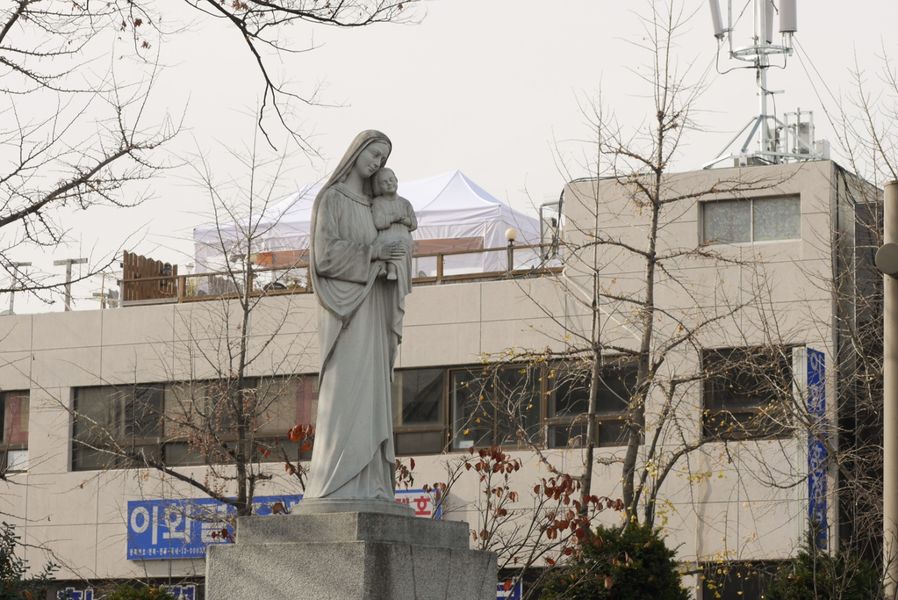 There is the Virgin Mary outside the church like any other church but she is holding a baby instead of praying.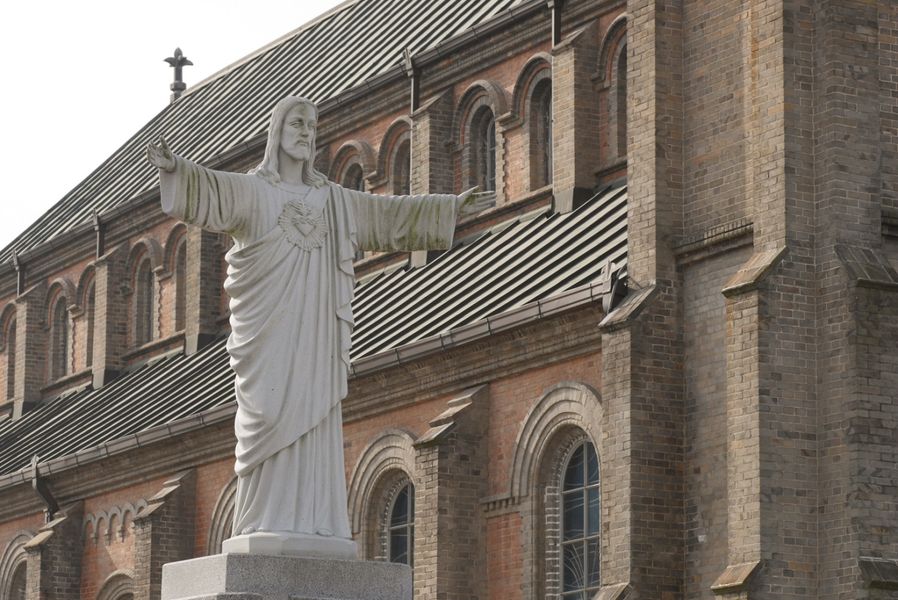 Under the Jesus statue that looks like he's going to hug us with his open arms says a phrase from Gospel of Matthew, 'come to me, all you who labor and are burdened, and I will give you rest.' The phrase makes me more peaceful and relaxes me.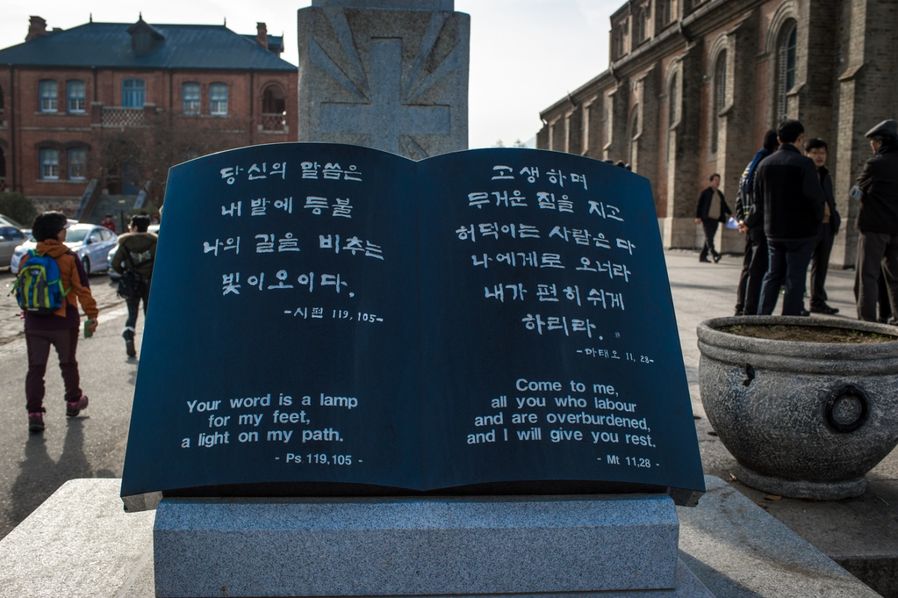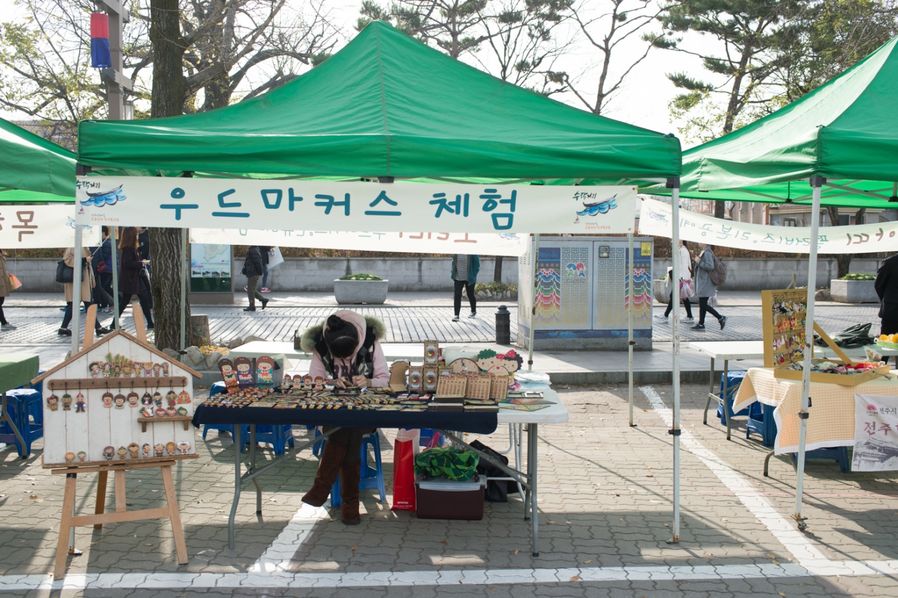 On the opposite side of the church, you could experience different things and buy various handicrafts from dozens of stands.


Address : 200-1 Jeon-dongWansan-gu, Jeonju, Jeollabuk-do (전북 전주시 완산구 전동 200-1)


Gyeonggijeon Shrine 경기전

The first building I visited was Gyeonggijeon Shrine. This was built in 1410, the 10th year of Taejong era, where the picture of Yi Seong-gye King Taejo is shrined. Inside the Gyeonggijeon, there is main hall which has the National Treasure No.931, the portrait of Yi Jeong-gye (portrait of the king) and Jeonju Historical Library in which Annals of the Joseon Dynasty (Joseon Wangjo Sillok), and relic including Placenta Chamber where umbilical cord of Yejong is buried.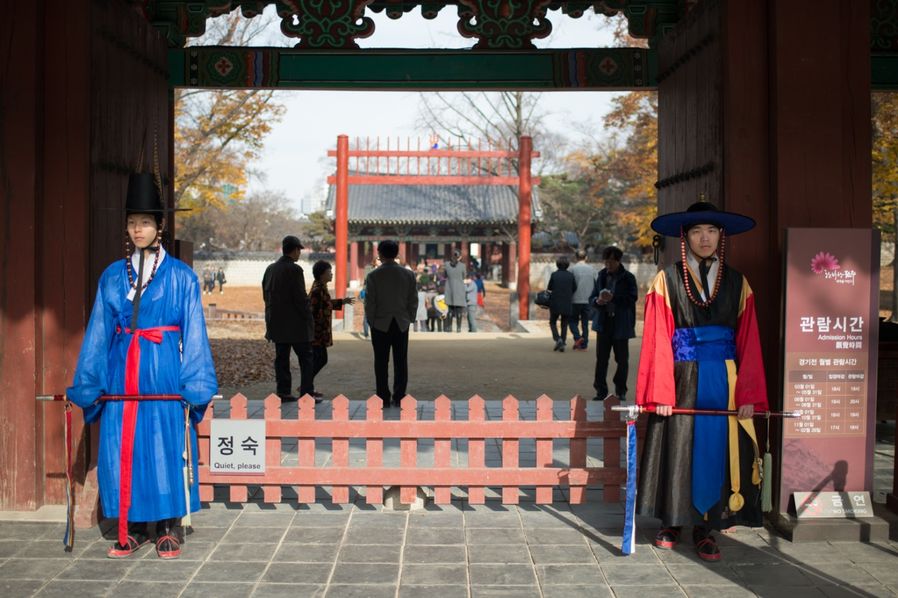 Just like the entrances of Deoksugung Palace and Gyeongbokgung Palace, the warriors in traditional clothing are guarding the place.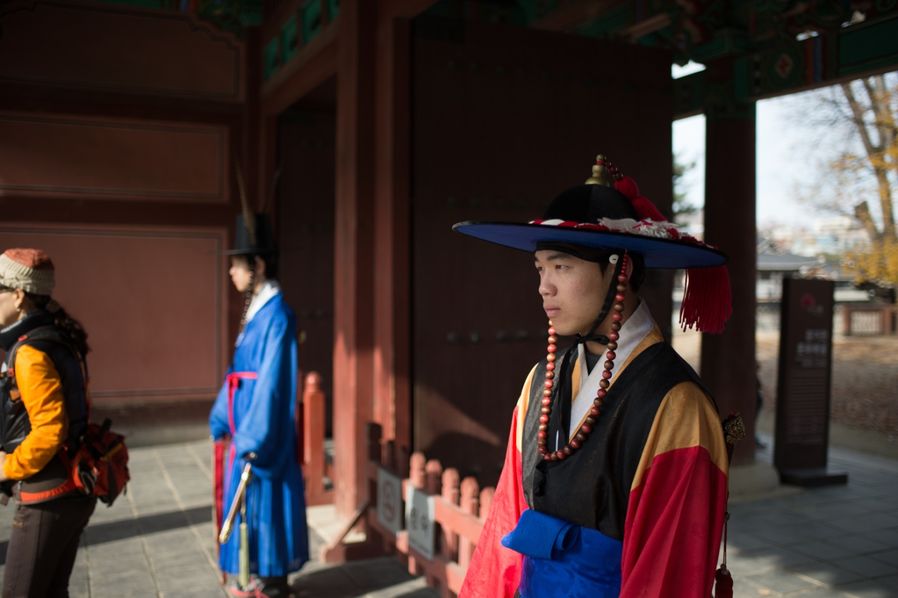 Let's compare their faces with warriors of Deoksugung Palace that I took a few days ago. Gyeonggijeon Shrine warriors look a little tense compared to those from Deoksugung Palace. So I would have to take photos with happy face.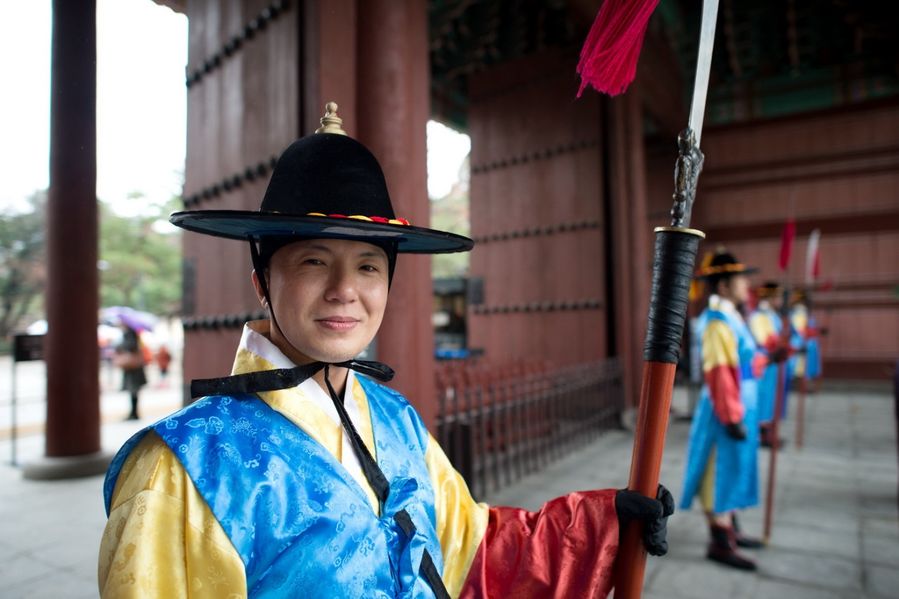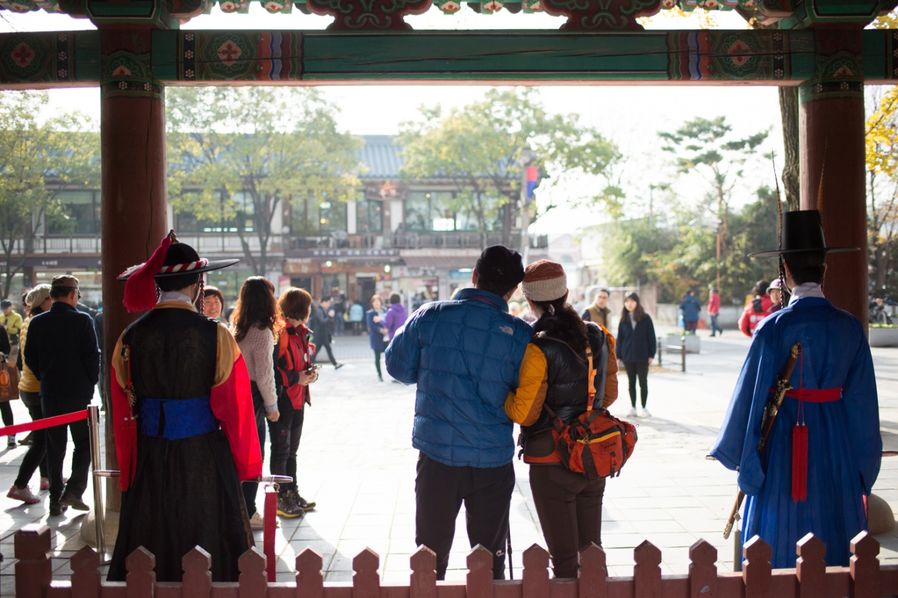 This place seems like to be popular among tourists for photo shoot. Frustrated young guys' faces look very different from tourists' postures that look so free.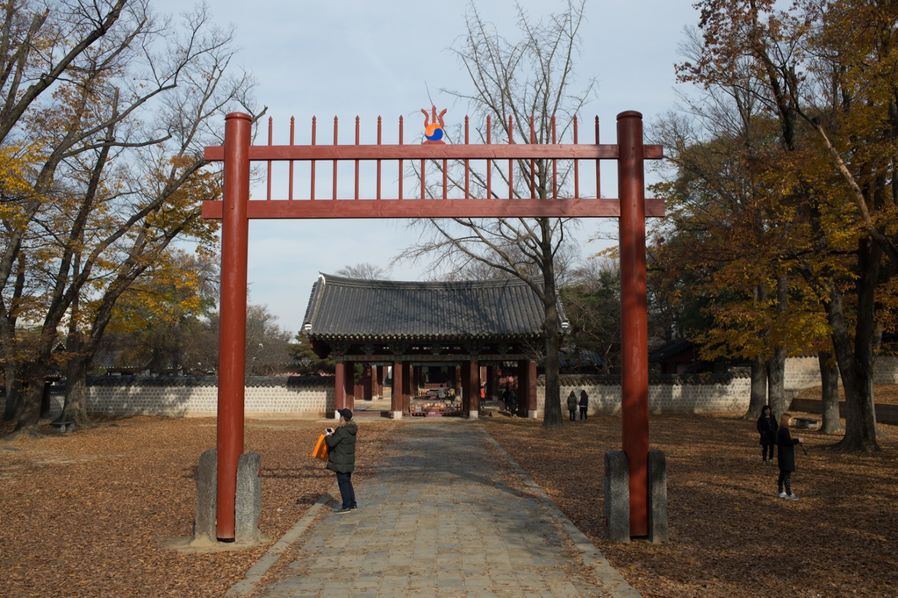 After I entered, I saw another entrance to the Gyeonggijeon Shrine where the portrait of the King is kept.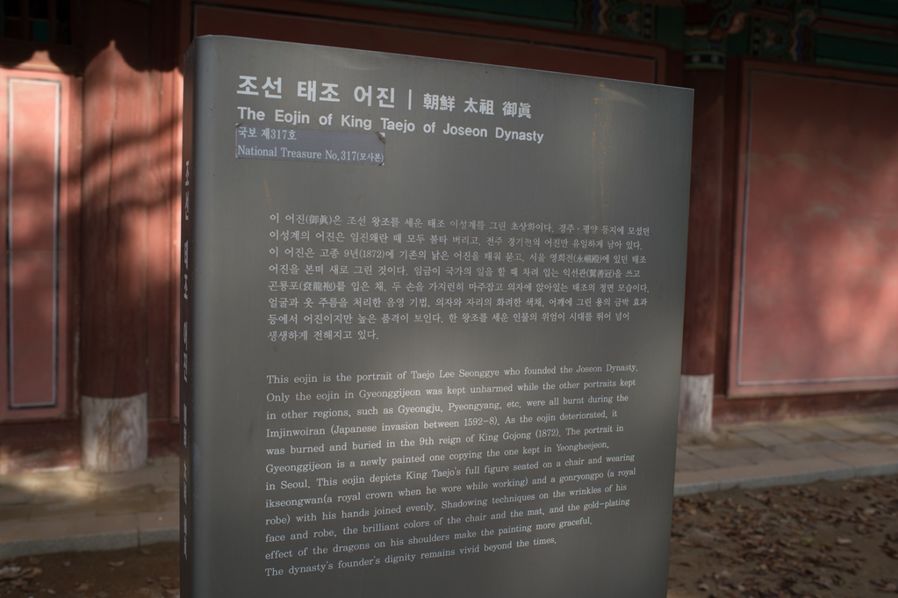 There are comments on the portrait of Yi Seong-gye King Taejo at the entrance.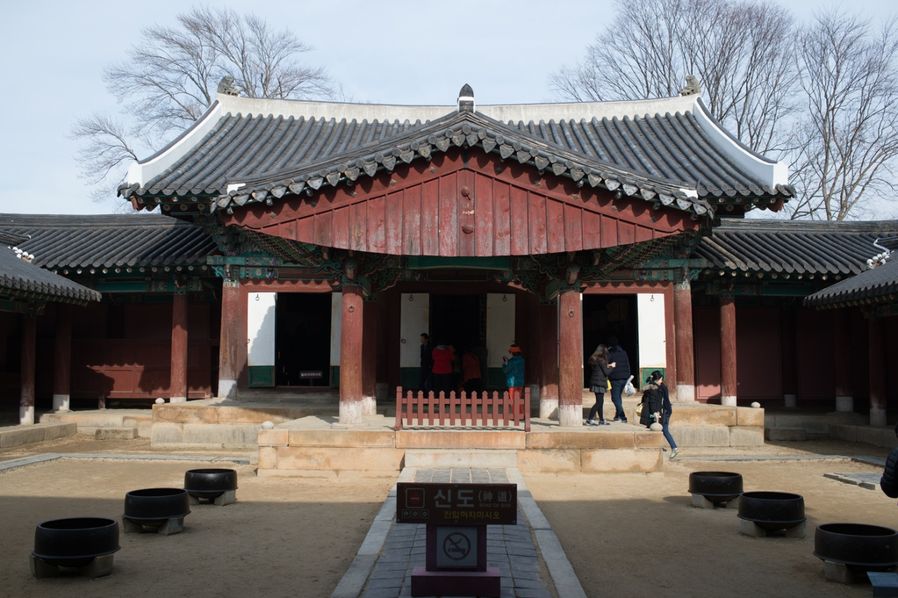 God's path, which is the path for Gods only, in the middle path that leads to the building is not allowed to public according to the sign.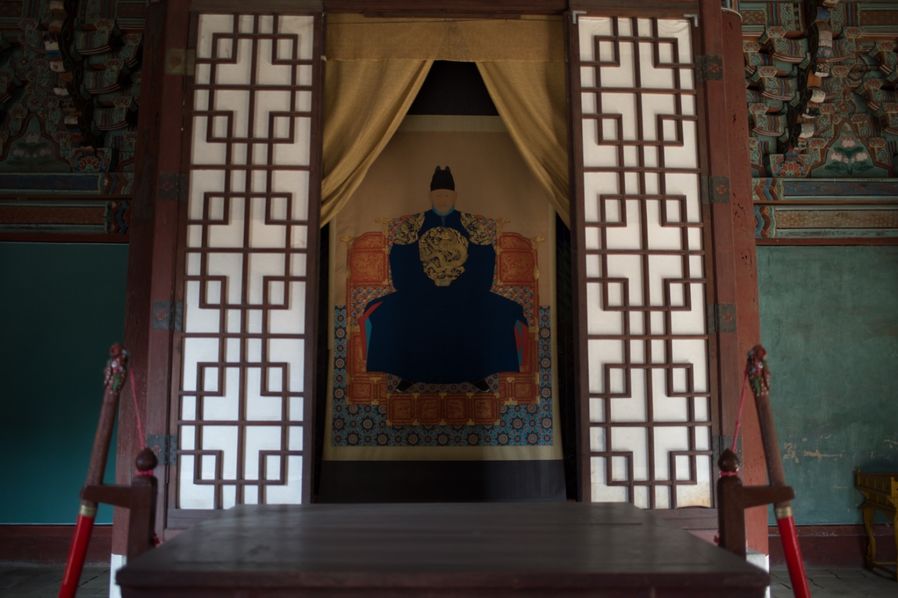 This is the portrait. It's located in the middle of the building and on the right side, there are long folding fan with a chicken and phoenix paintings drawn that probably symbolize the King's dignity.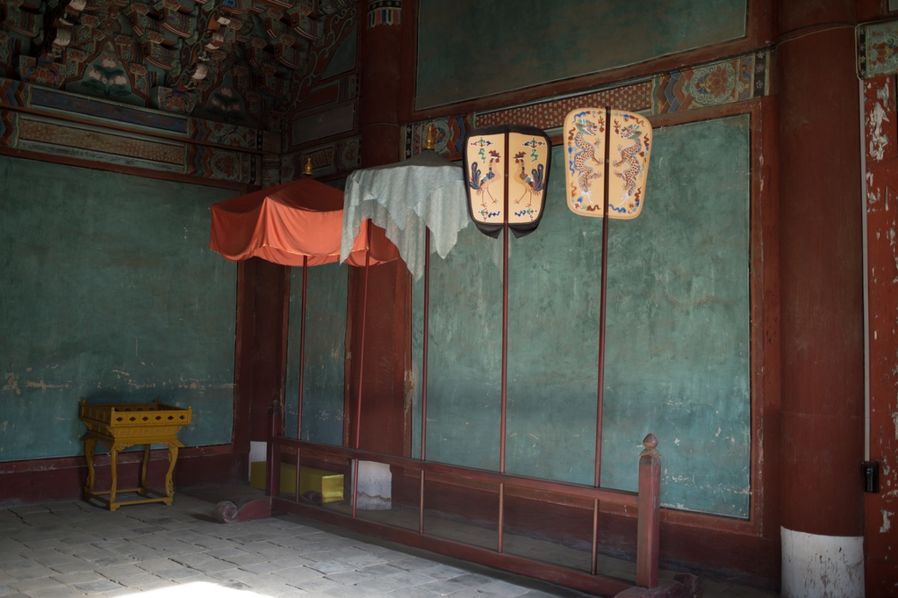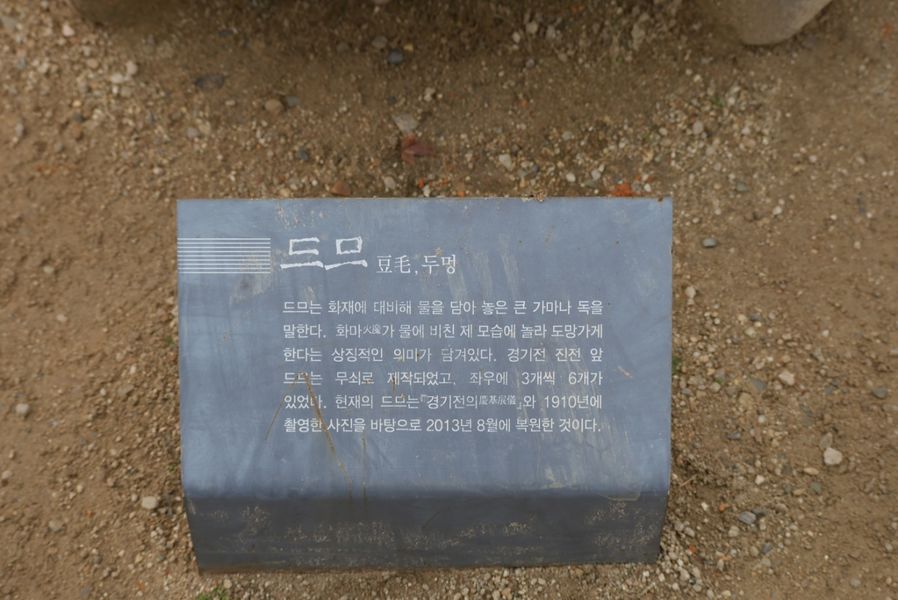 On both sides of the way to the building where the portrait is kept, there are three sots(Korean traditional caldron made of cast iron) on each side. This is called duimui(드므) where the water is kept for fires which seemingly is a very practical way to put them off in an urgent situation while it also has a story that fight comes here and runs away frightened to see itself reflected on the water.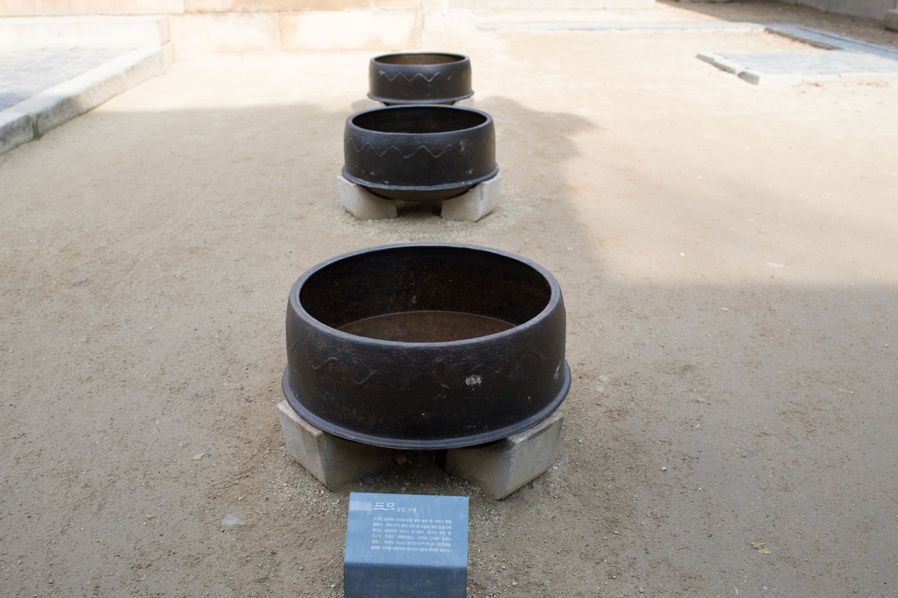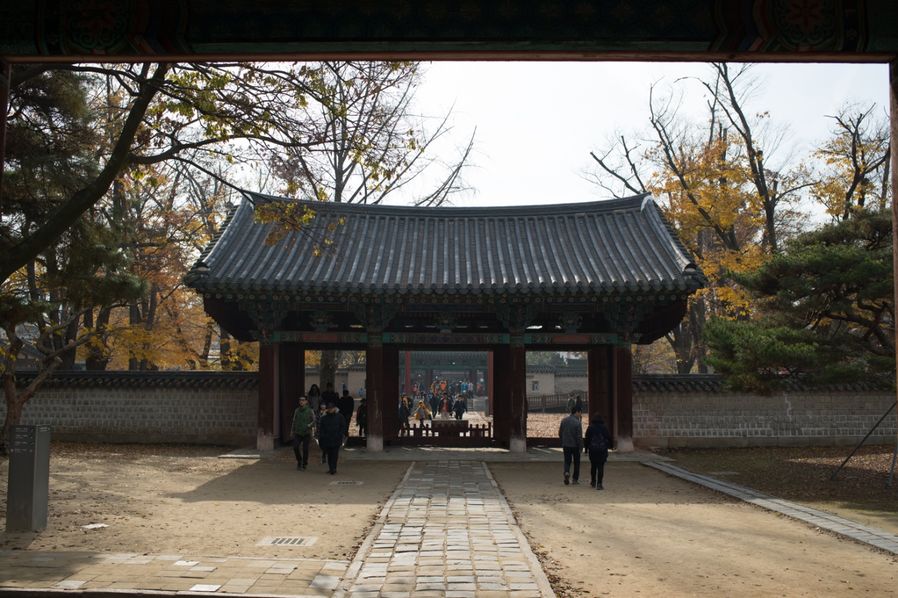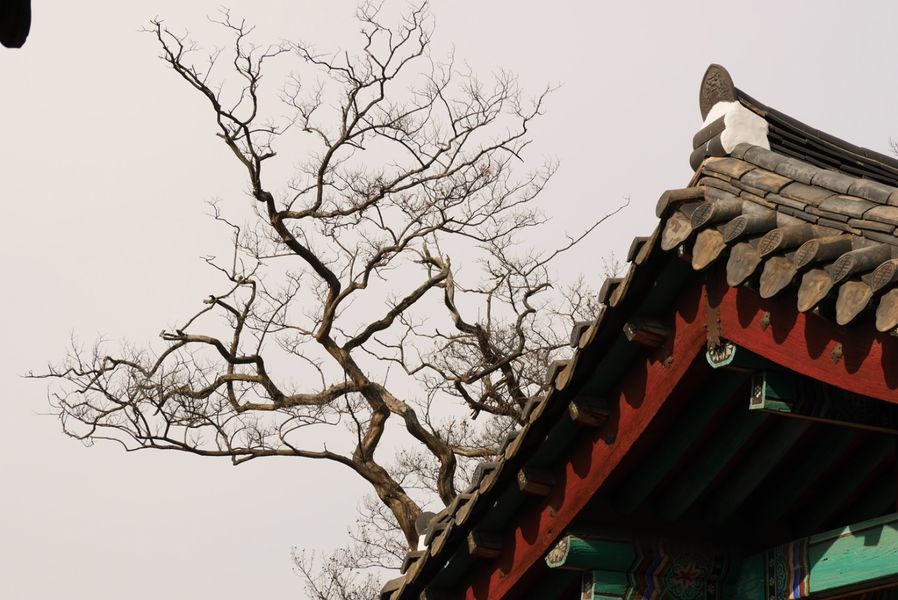 When I visit the Palace or historical relic, I find the trees as old as the building represent the hardships of long history so I take photos of them with the shape of the roof.


This one is also the ensemble of the roof and tree. The trees and roof that must've watched all the hardships, glory and shame from Joseon Dynasty era...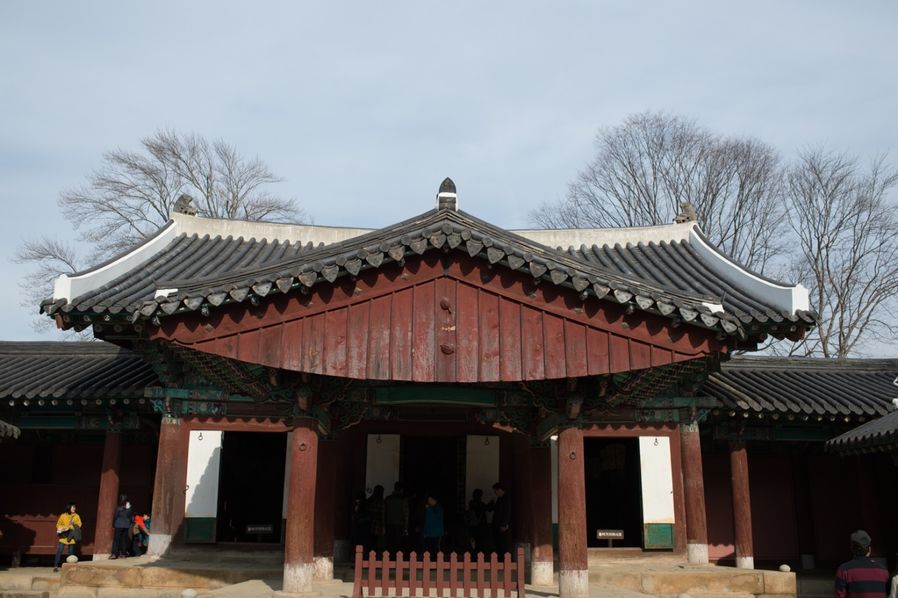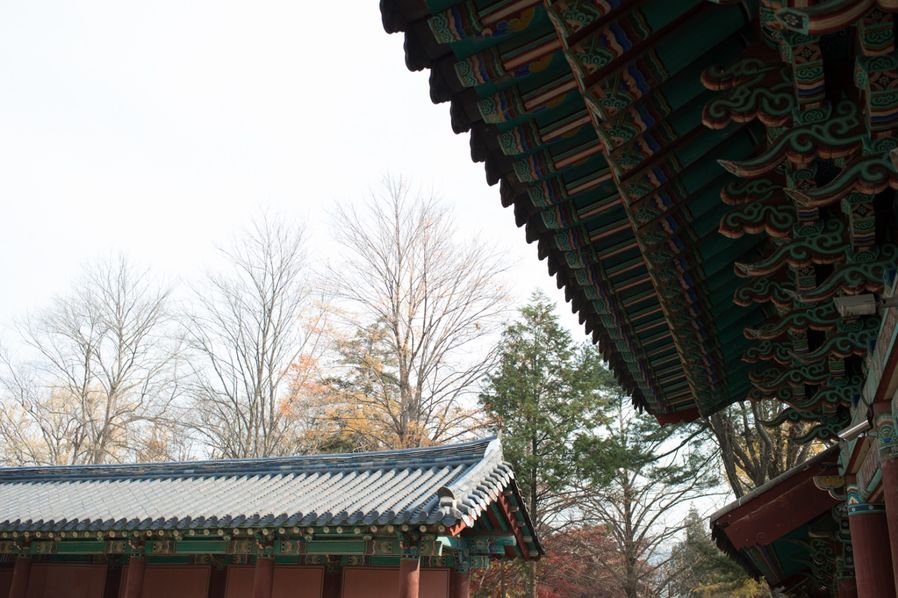 After I took a look around Gyeonggijeon Shrine, I headed for Portrait Museum where I can listen to the detailed stories and see things related to the portrait.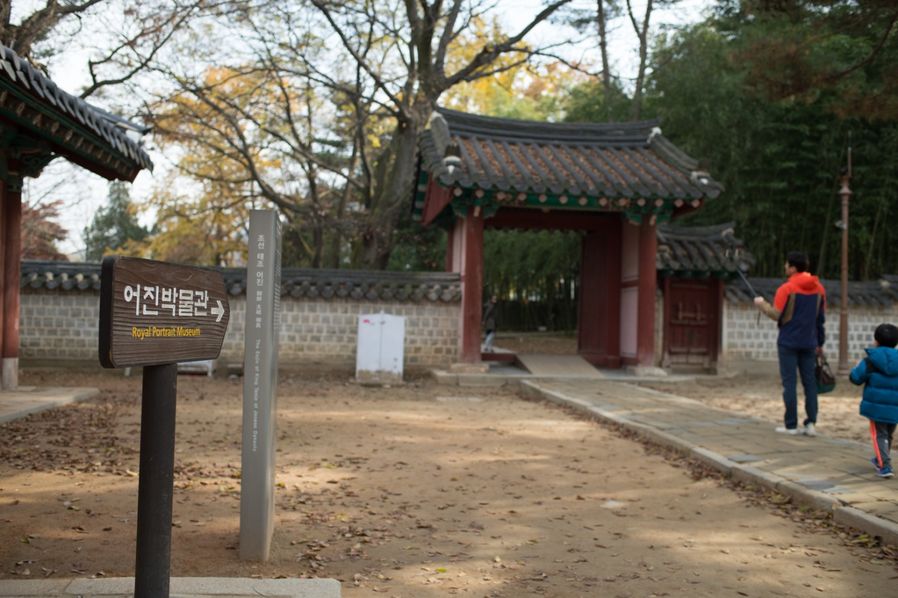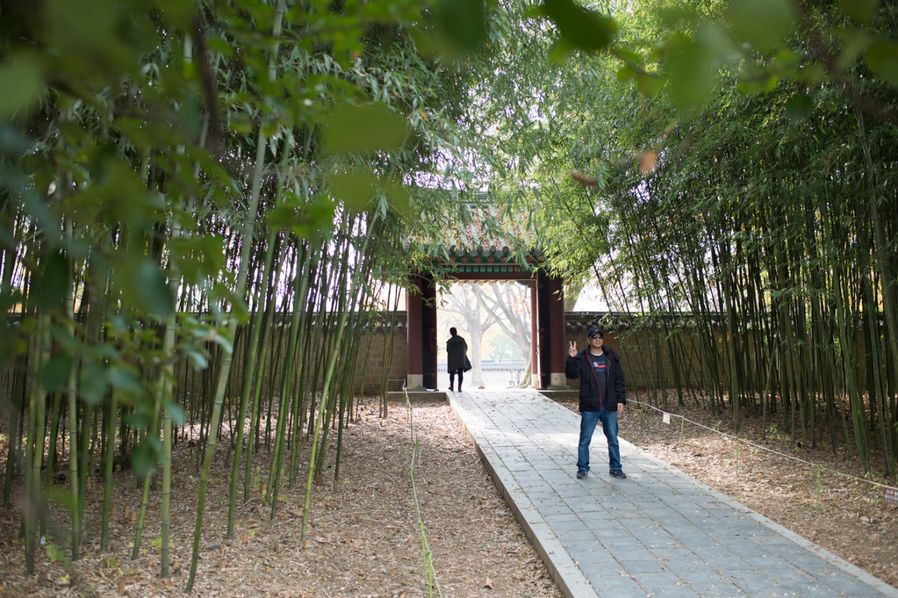 After I took a look around Gyeonggijeon Shrine, I headed for Portrait Museum where I can listen to the detailed stories and see things related to the portrait.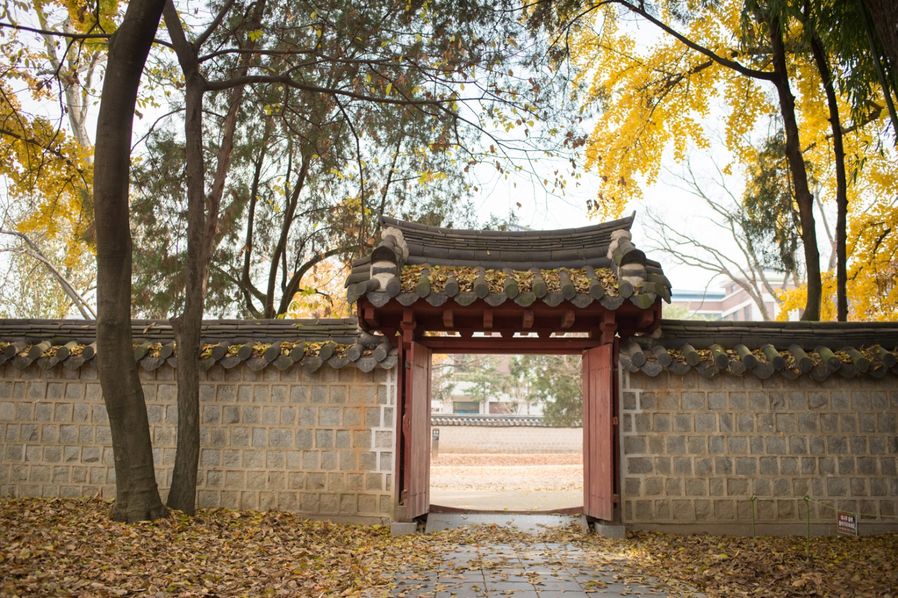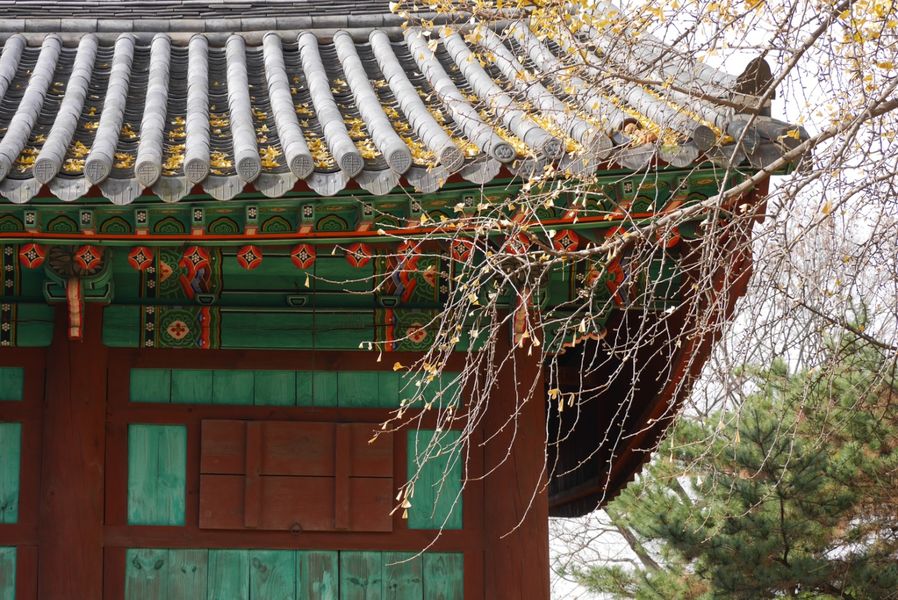 The ginkgo leaves were covering the roof and they looked beautiful together with red autumn leaves.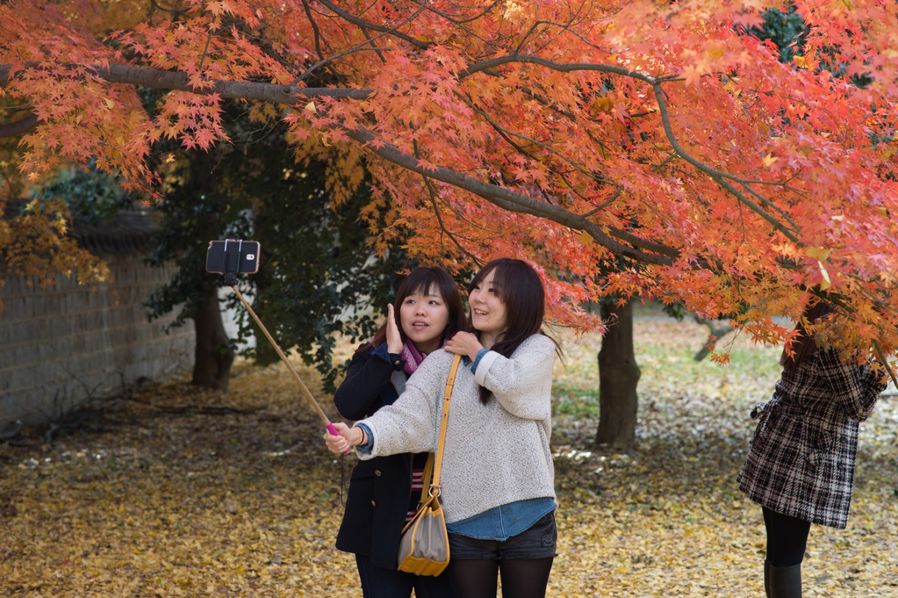 Young girls are capturing the moment of autumn using a selfie stick. Wherever you go, Korean tourist attractions are full of young people who hold selfie sticks these days.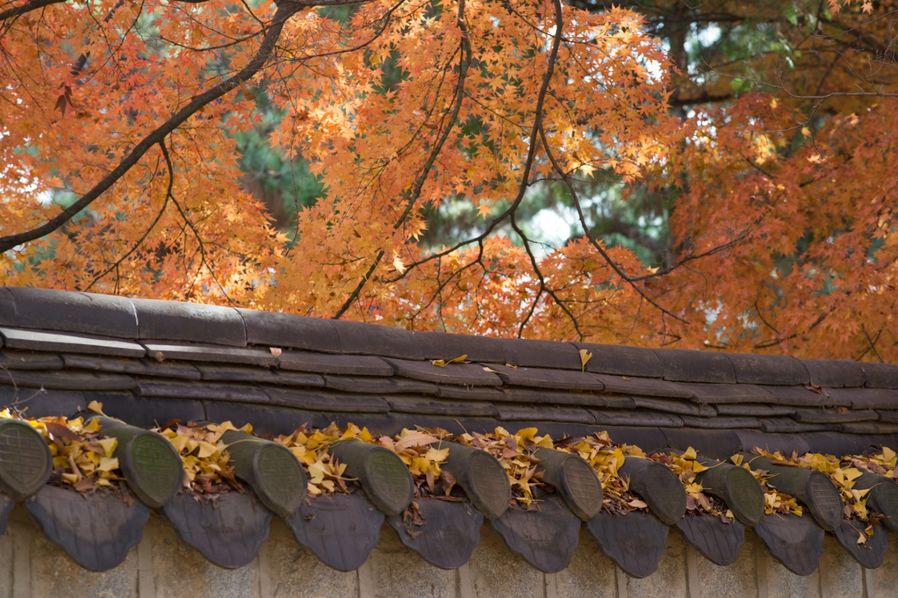 Autumn leaves lightly sitting on the walls surrounding ancient palace brought out the best of autumn season.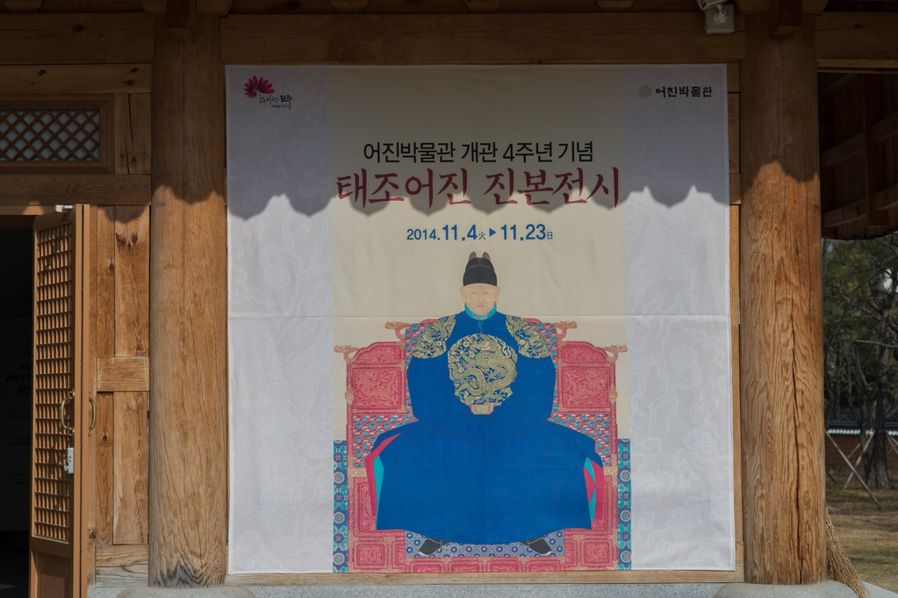 We arrived at Portrait Museum where the original Taejo's portrait is displayed. It says it's the only Taejo's portrait exist.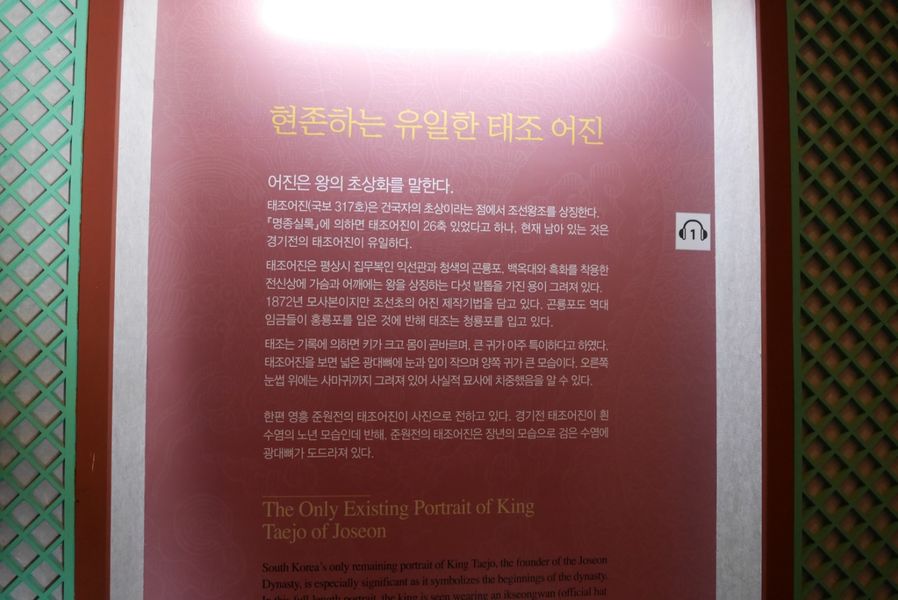 Taejo's portrait describes two persons, one is young man who built Joseon and the old man version who shows maturity which is in Gyeonggijeon Shrine.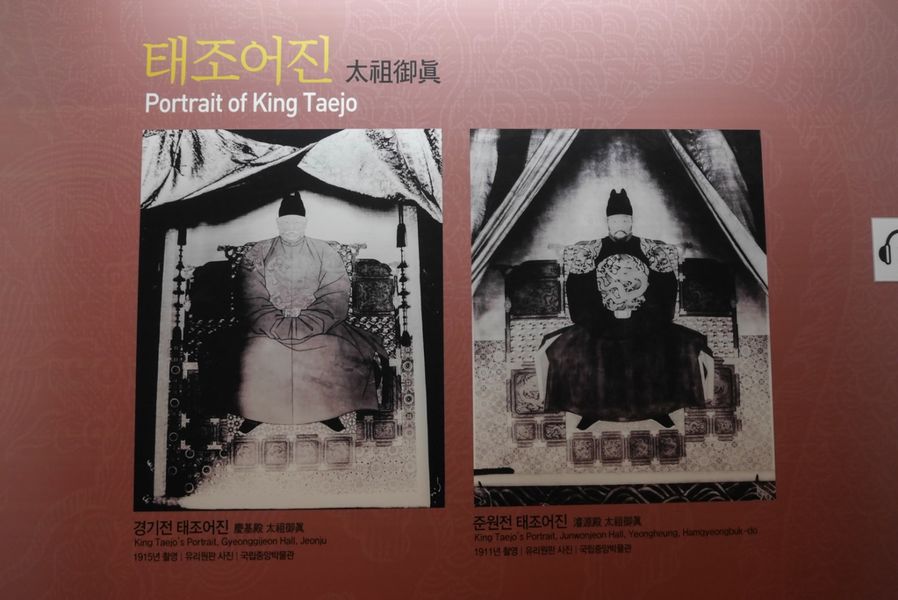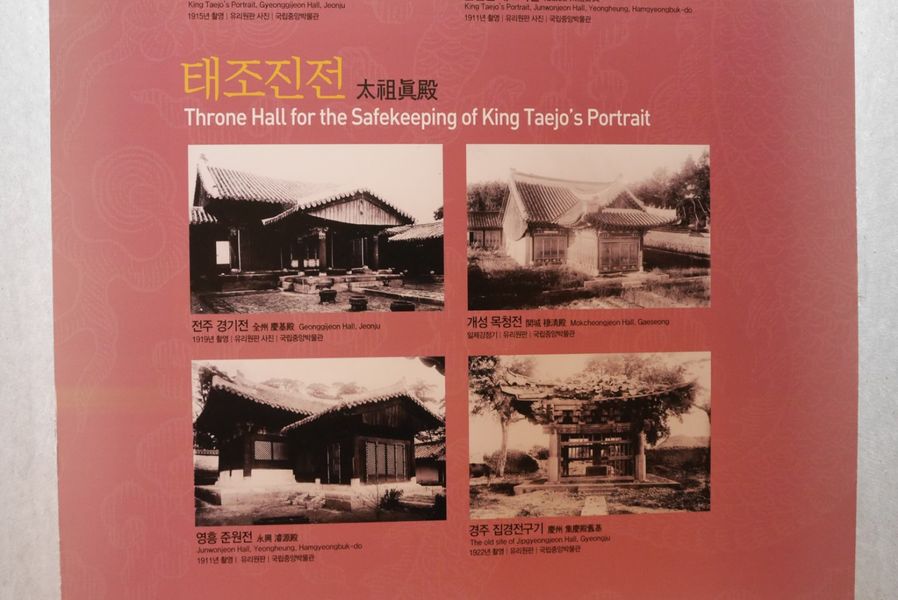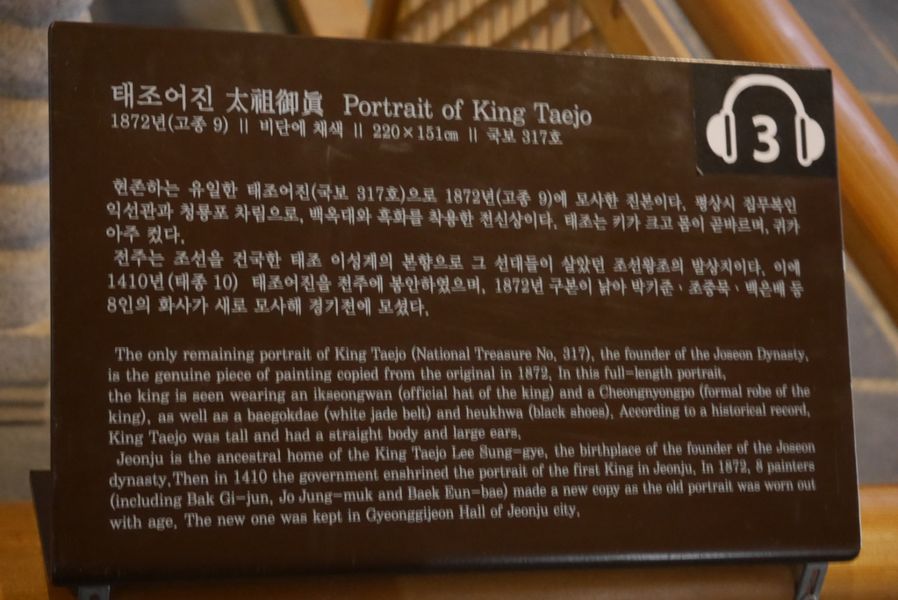 This is a comment on the portrait. It says this one was copied in 1872, 9th year of King Gojong. King Taejo was tall, had a fit body and big ears. I guess it kinda makes sense for a person who built a country.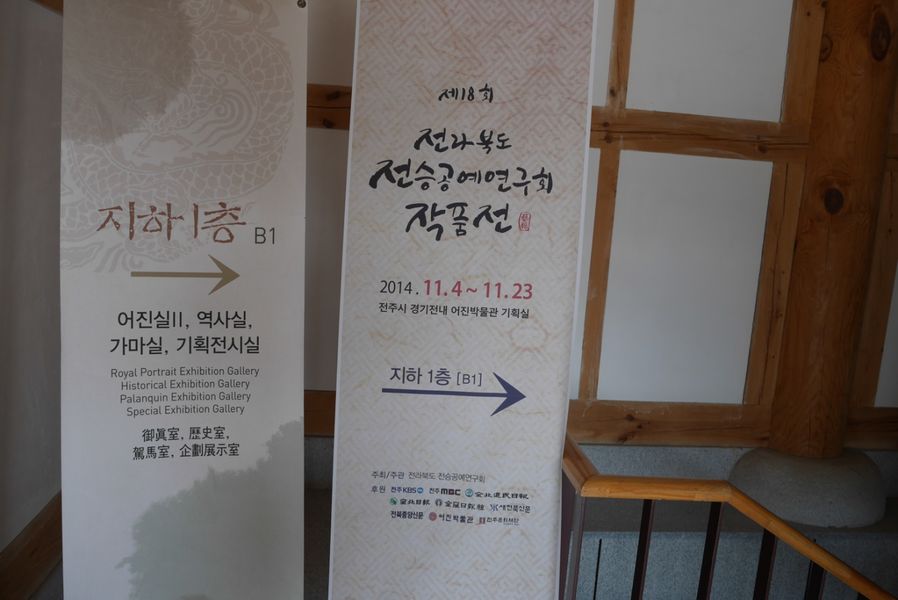 On the 1st basement level, handicrafts symbolizing the victory were displayed.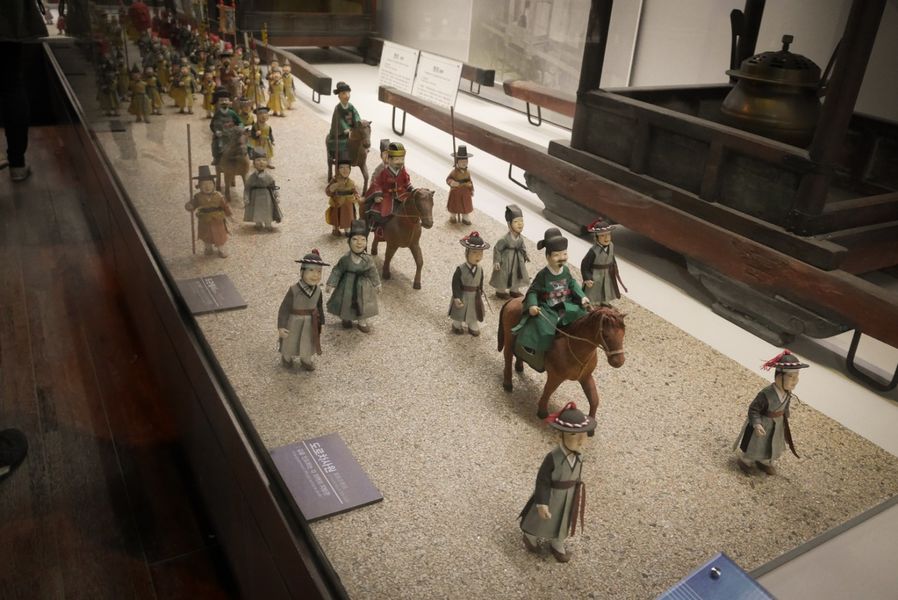 The King's ceremonial walk was expressed with cute small dolls.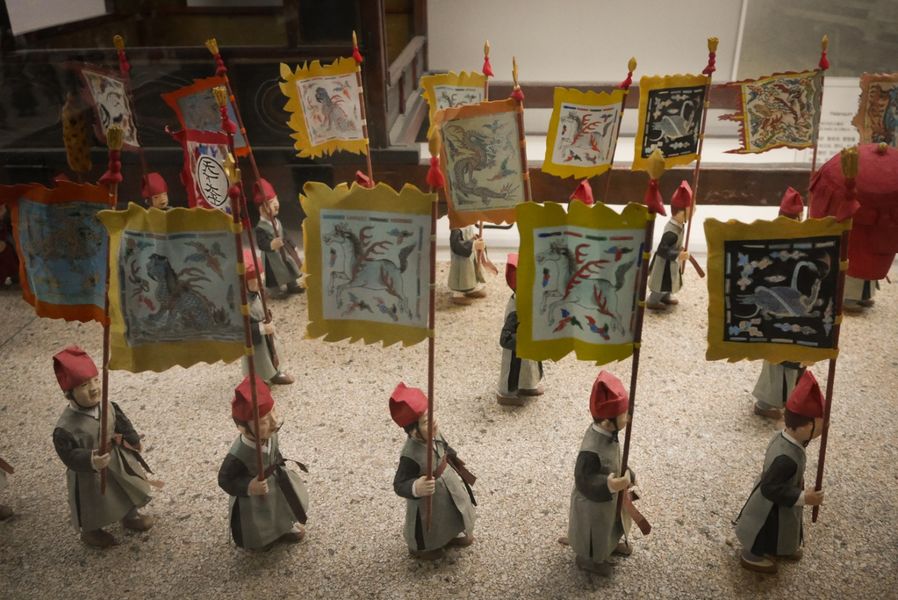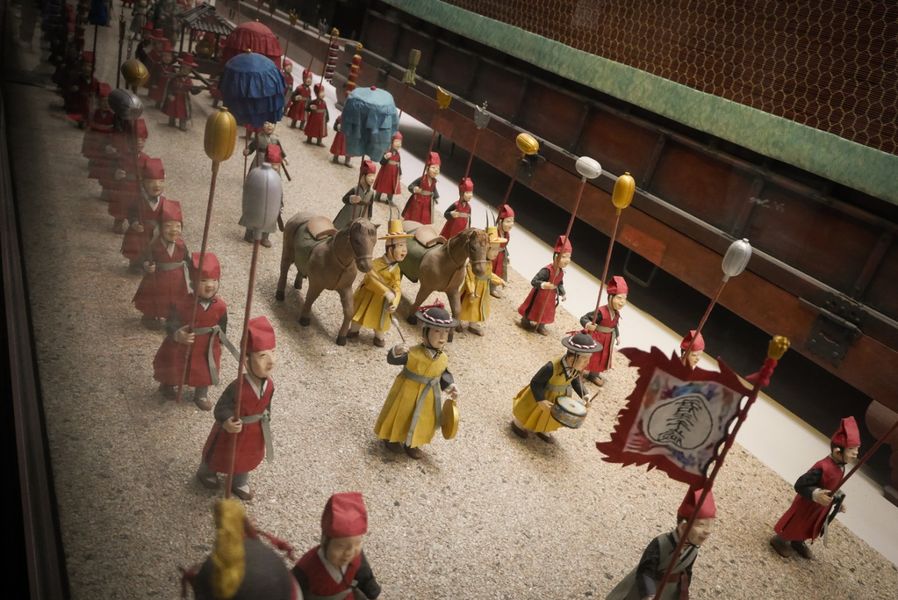 It's funny to see kids playing drums amongst the people in the ceremonial walk.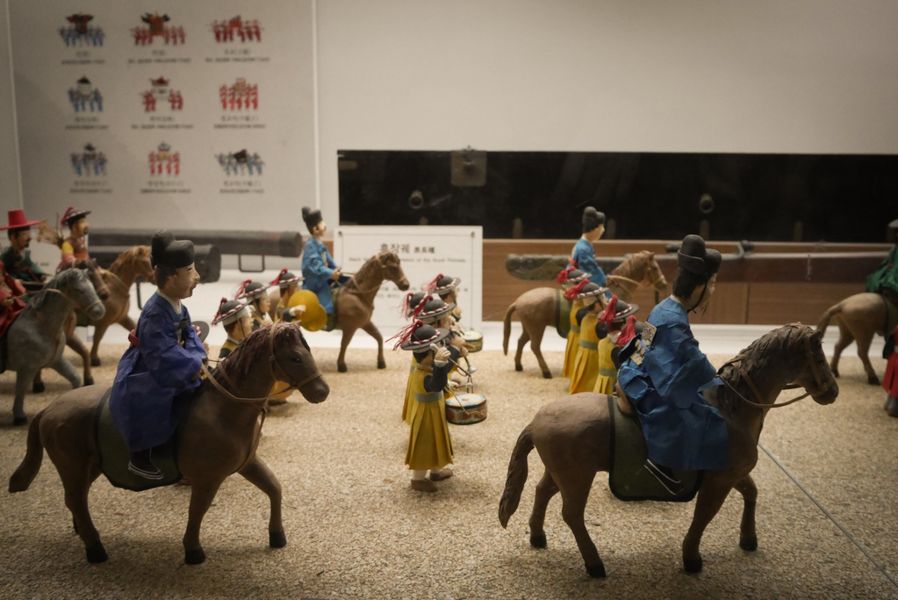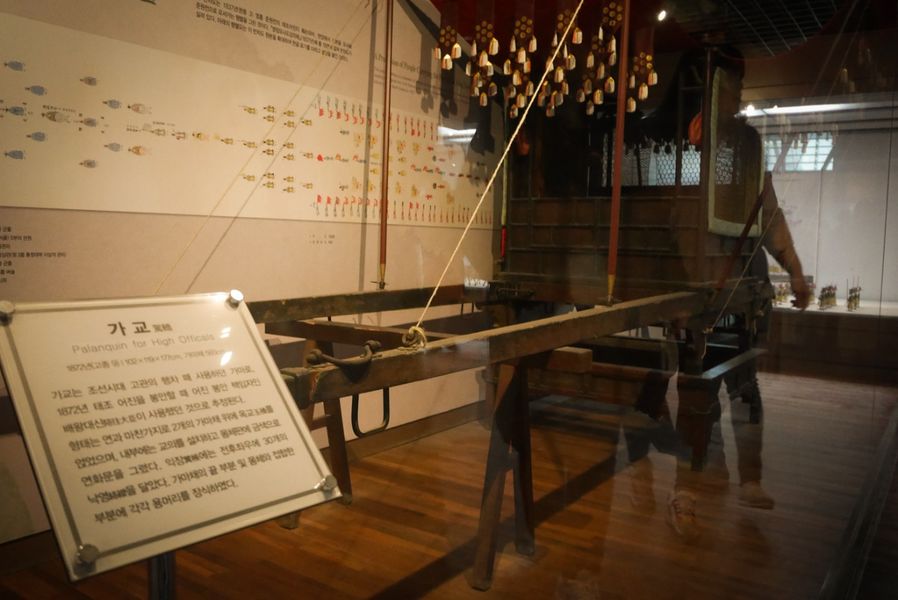 This is a palanquin that carried the King, which is called Gagyo.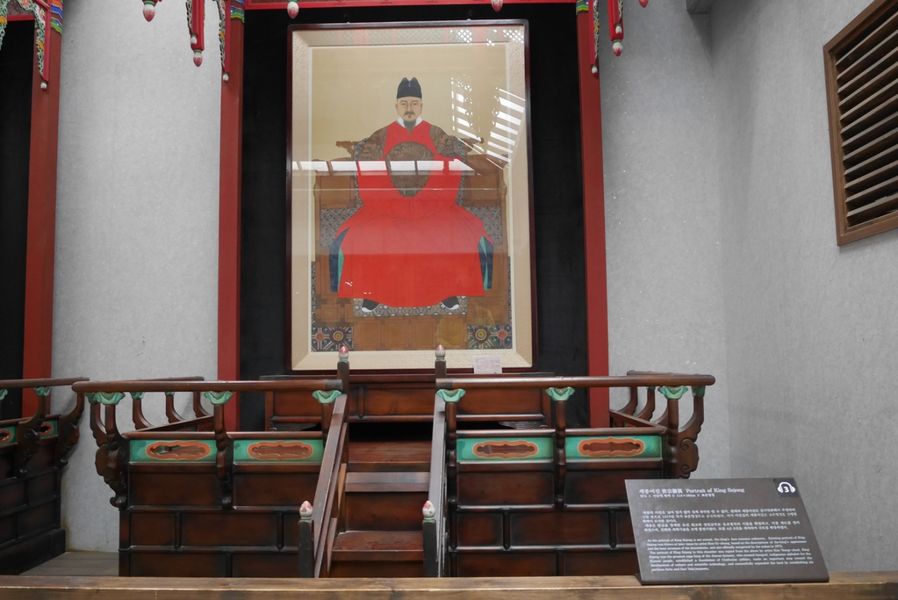 There are portraits of the Kings(called Eojin) of Joseon Dynasty era and Sejong the Great caught my eyes so I took it.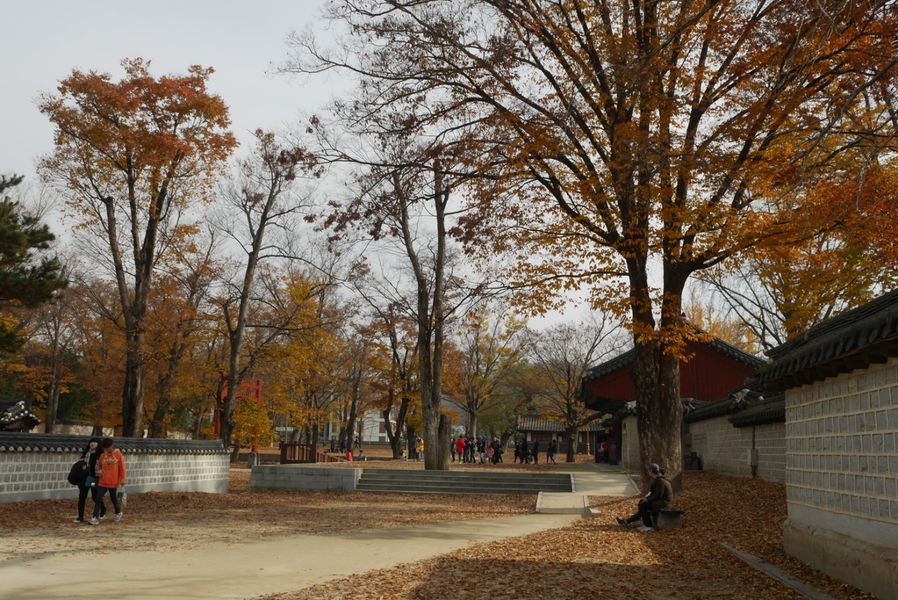 After I finished all, I felt like autumn was calling me to see its last views on my way out to the entrance of Gyeonggijeon Shrine.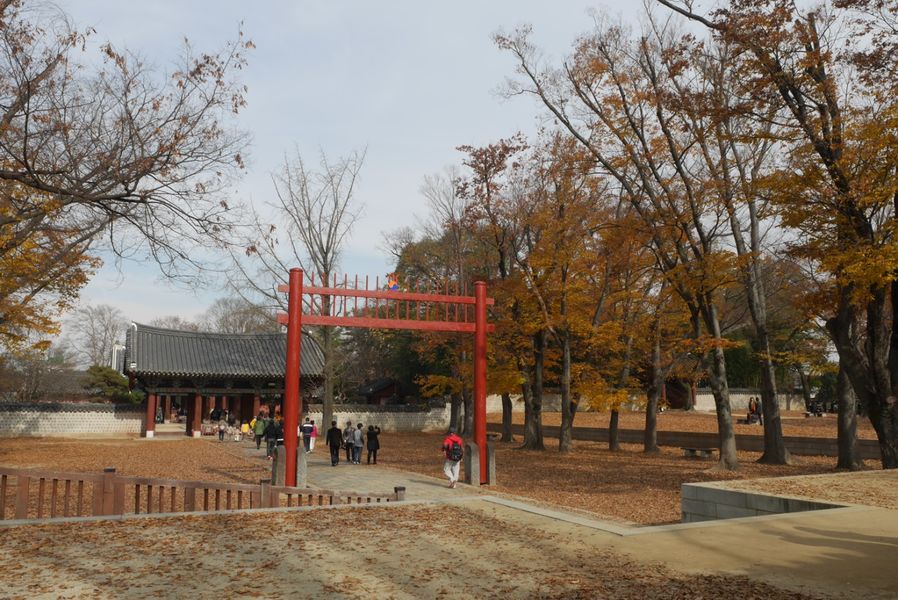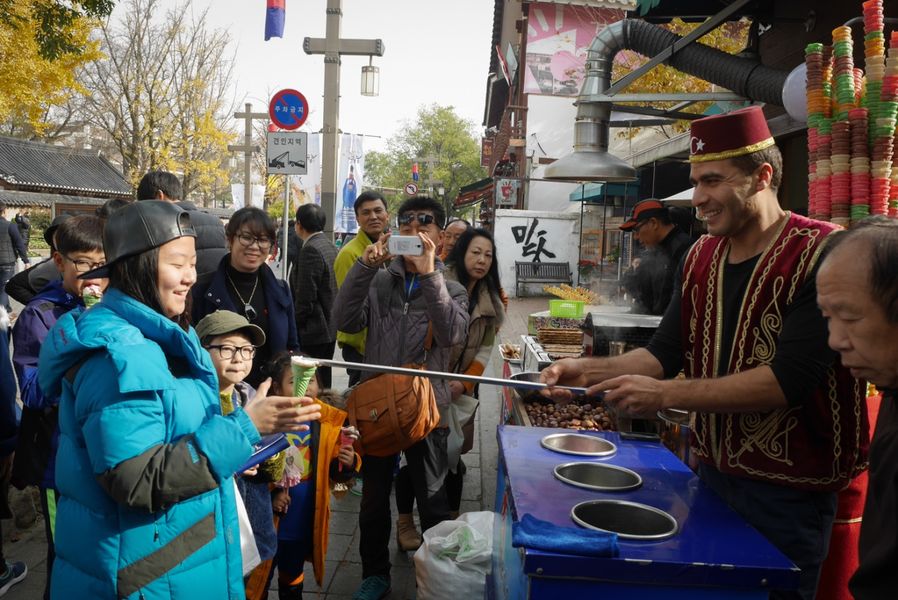 Turkish ice-cream guy's messing with a little girl and she smiles by his joke.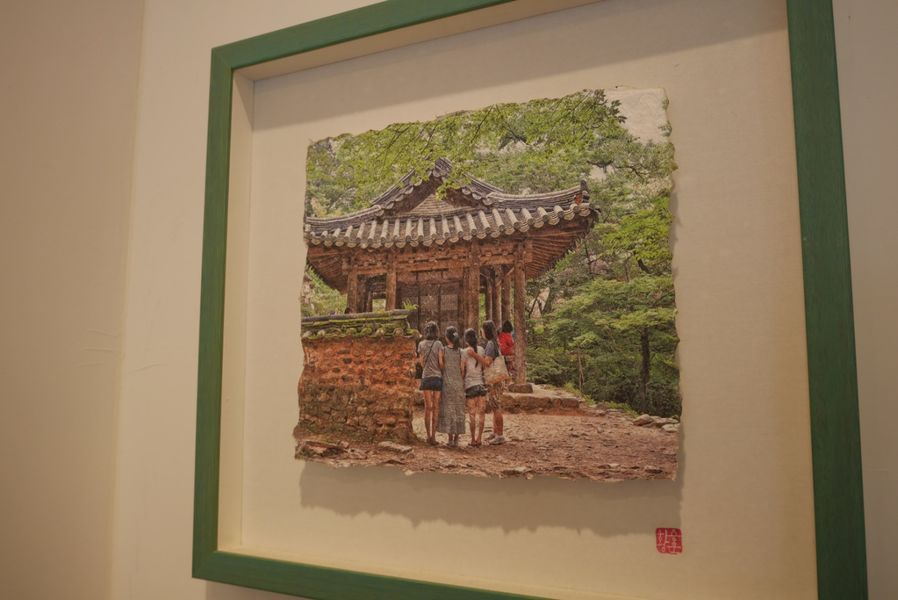 This is very new. I printed the photos on hanji (traditional Korean paper handmade from mulberry trees) to give different effects on them. If you send a file, they provide printing and mounting services by themselves. During the trip, you could take photos, select the best ones on that night, give them next day and get the final ones through mail.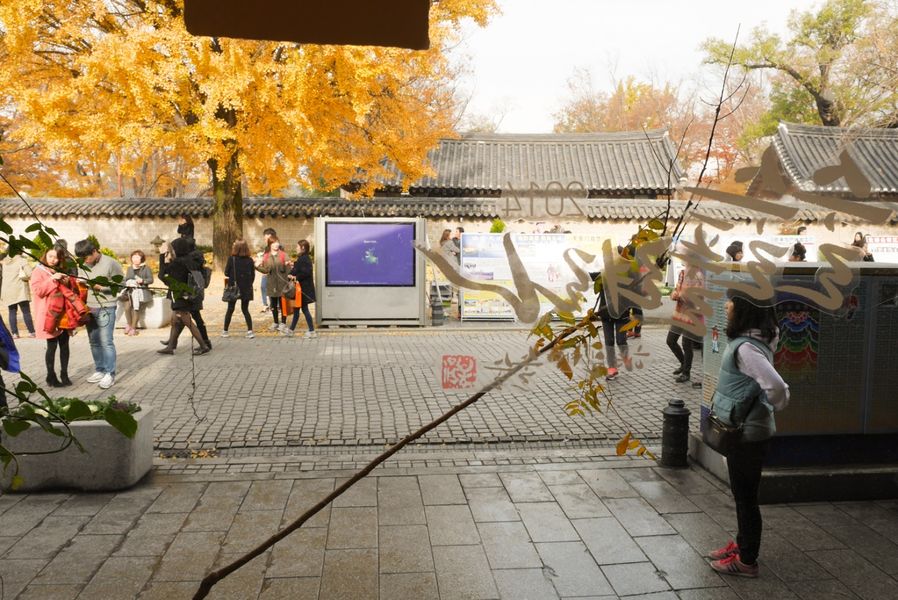 This is the view from photo print shop of yellow ginkgo leaves in front of Gyeonggijeon Shrine and people who are enjoying the autumn.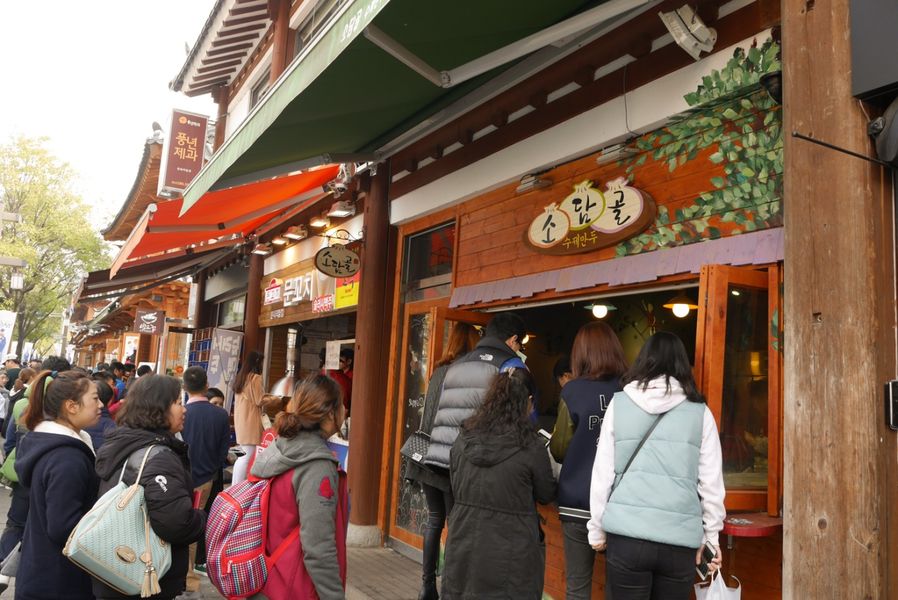 The line to buy Daurang handmade dumplings was too long that I was looking for another handmade dumpling shop (called Sodamgol) but this one also had a long line so I couldn't taste tofu from Jeonju.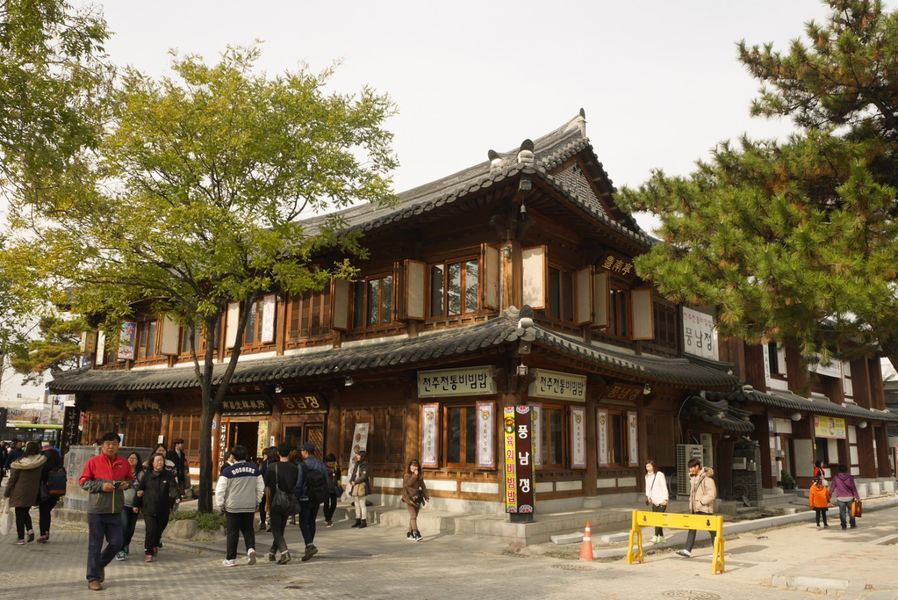 On the opposite side of Jeondong Catholic Cathedral, there is a traditional bibimbap restaurant called Pungnamjeong. It shows its attraction as an antique Hanok (Korean-style house).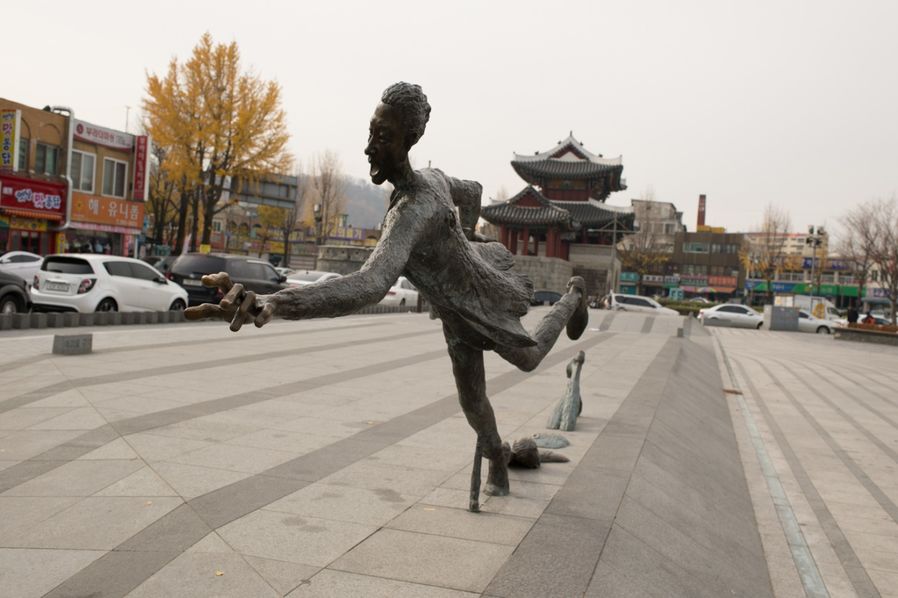 If you cross the street from Jeondong Catholic Cathedral, there is a way to Pungnammun and there was a status of a person who is running scared to the cathedral. Why and where is it running to? I believe it's a self-portrait of us who have no idea where we are going but are busy all the time.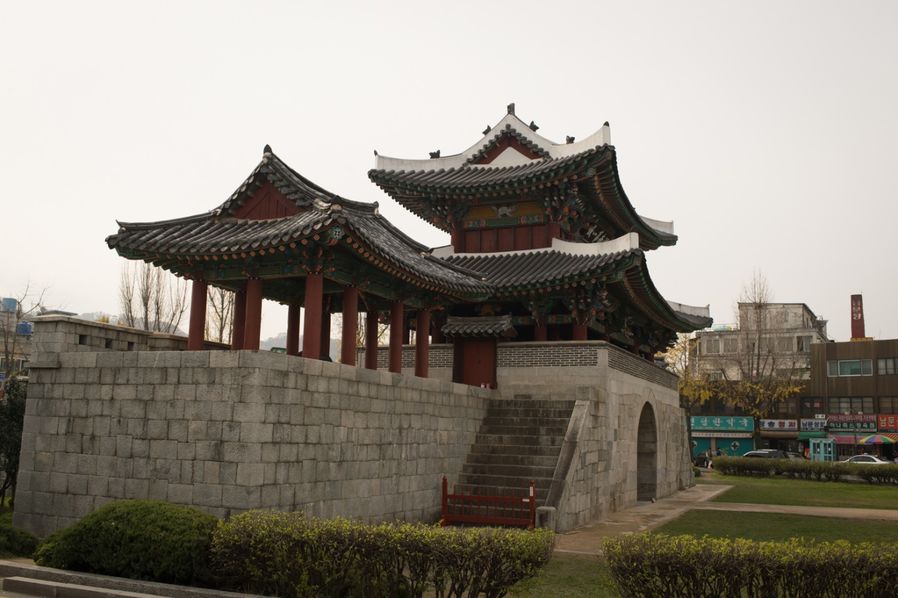 Pungnammun located in Jeon-dong, Jeonju-si. It was South Gate of old Jeonju Eupseong (which destroyed during Japanese Invasion of Korea in 1592 but remodeled under the order of King Yeongjo in 1734. It was destroyed by fire in 1767 but remodeled by Hong Nak-in of the provincial officer and named it Pungnammun. It is Jungcheungmunru(multi-floored gates) Paljak roof with 3 blocks on the front on 1st floor, 3 blocks on the side and 1 block on the side on the 2nd floor, which is the National Treasure No.308.


Address :102 Pungnamdong 3(sam)-gaWansan-gu, Jeonju, Jeollabuk-do (전라북도 전주시 풍남동3가 102)