Seongsan Sunrise Peak 성산일출봉
We were so disappointed that we couldn't go to Seopjikoji so we had to get on the car to get to the next destination, Seongsan Sunrise Peak, and luckily Seongsan Mountain was close enough to see it from Seopjikoji parking lot.
In 15 minutes, we arrived at Seongsan Sunrise Peak (Natural monument No. 420), the best tourist attraction in east area of Jeju-do and the place which is registered as UNESCO World Natural Heritage along with Hallasan Mountain Natural Reserve and Geomun Oreum Lava Tube System.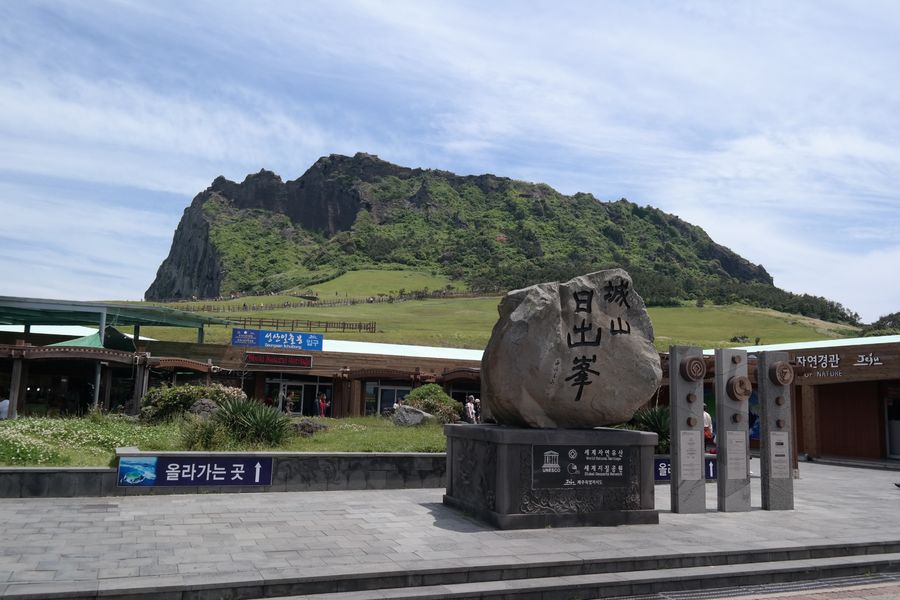 Seongsan Sunrise Peak is a product of volcanic activity that is a shape of a big crater and it was separated from the land at first but the eastern part of the island was extended and eventually connected to Jeju-do. The three sides of the island facing the ocean is surrounded by seashore cliff that looks like it was cut and the top of crater is surrounded by 99 rock mountaintops that makes it look like a castle(城) so that people started to call it Seongsan(Seong: castle, San: mountain). As its view at sunrise watching from the observatory of Seongsan early was selected as one of 10 great views of Yeongju (瀛州) since a long time ago, it's also called Sunrise Peak and became another place representing Jeju-do.
It's 25 minutes distance on foot from the entrance to the observatory. The place was already crowded with people that we had to avoid visitors even from the parking lot.
Especially there were so many foreign tourists that we heard foreign languages in each step. Majority of them were Chinese.
That's why we found it so exotic because the shop owners in front of the ticket office were naturally speaking foreign languages including 'Haenyeoui Jib(House of female diver)' in Seongsan.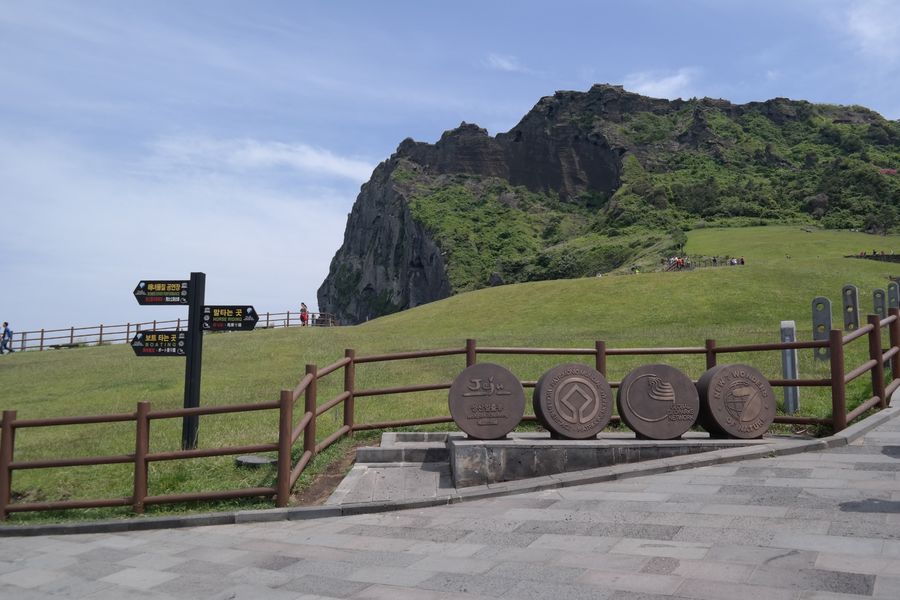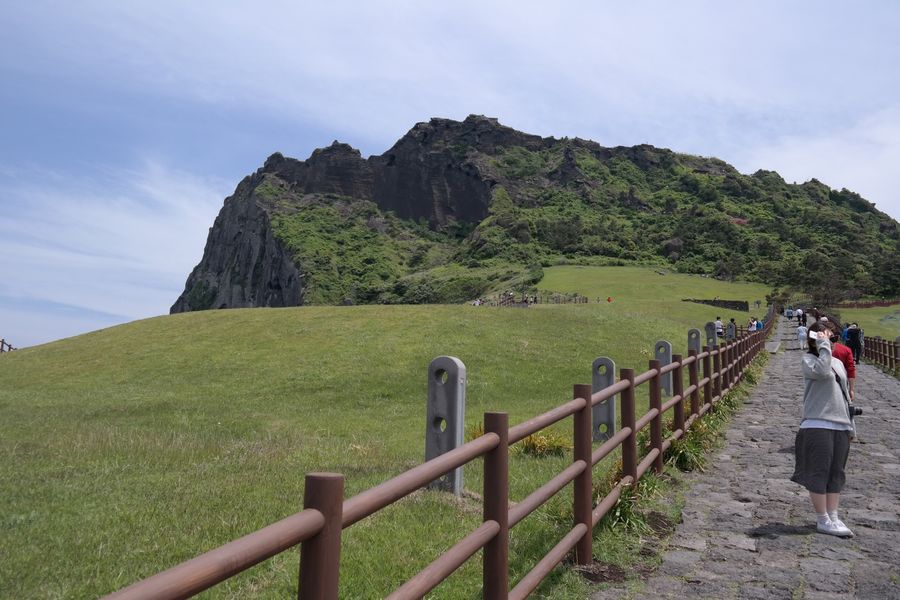 On the right, there was a high uphill that leads to Seongsang Observatory. Probably because of hot weather, I found that most of them were heading down to 'Haenyeoui Jib' direction instead of climbing up to the observatory.
I came to Seongsan every time I was in Jeju but I never had a chance to go up to the observatory so this time, I wanted to try but people around me left me no choice but to choose the left path.
'Next time, I will definitely bring my running shoes and climb Mount Sanbang and Seongsan Sunrice Peak..'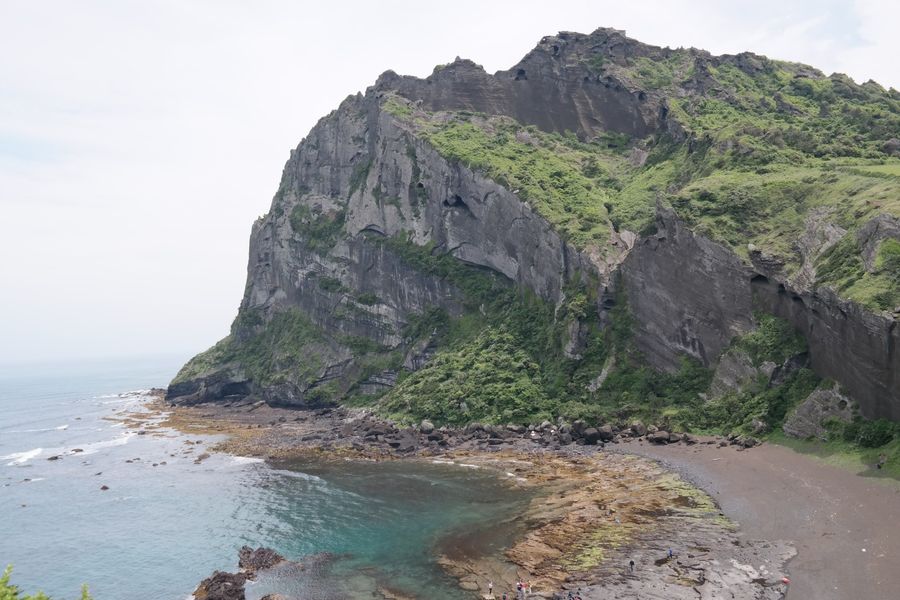 When we got to the top and walked around to the left, an enormous sea wall surface of Seongsan showed up like it's floating on the water.
Grey cliff that is more likely to look like a crown than a castle was so pointed and green trees were climbing up like moss everywhere.
Plus ocean spreading out down there, the scenery of Seongsan Mountain from the side was great even when we didn't go up to the observatory.
If you take a closer look at the cliff of Seongsan, you will see diagonal layers and these are volcanic ashes since the eruption of a volcano have been piled up,coagulated and turned into tuff.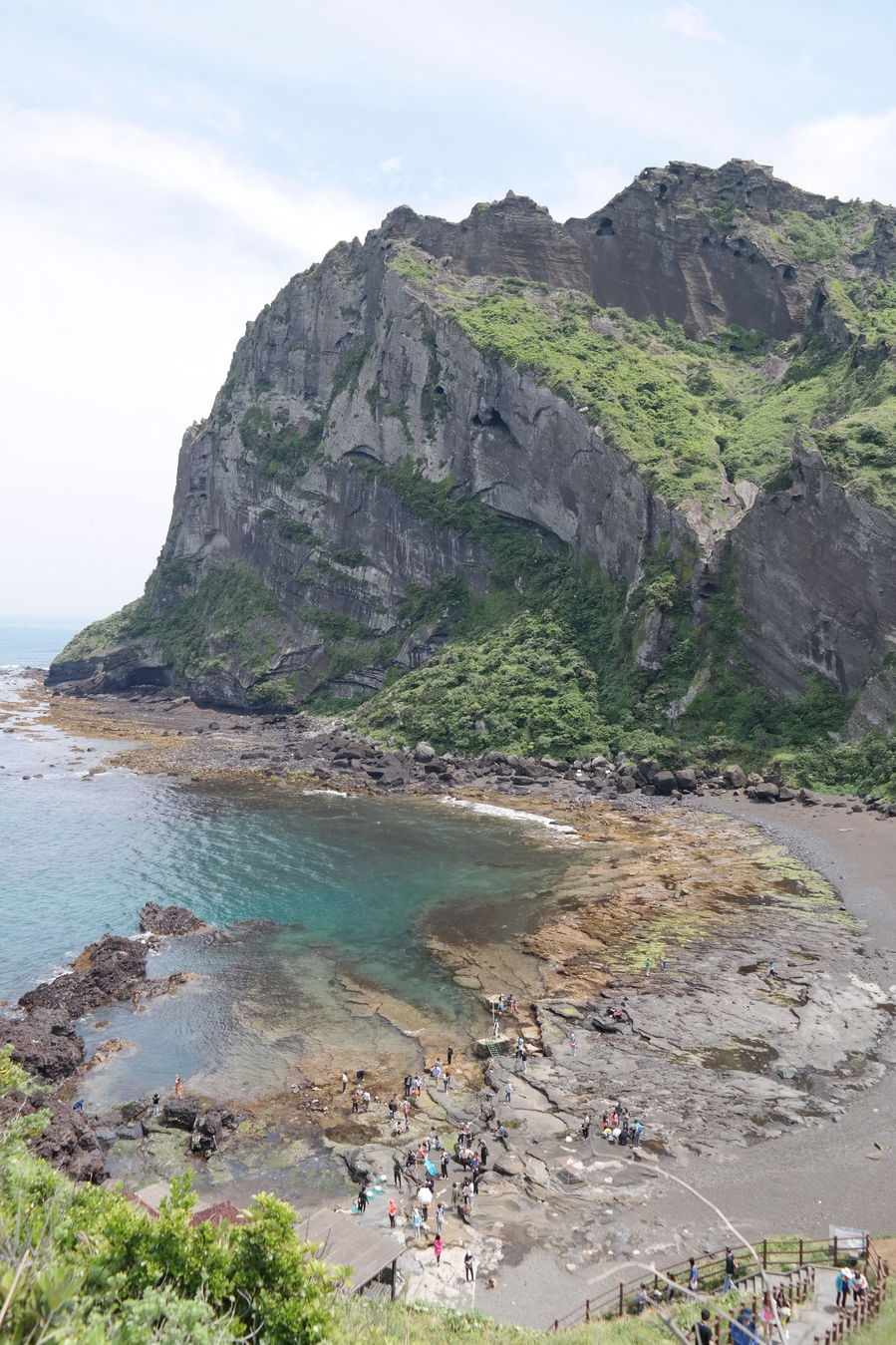 NX300 | f/6.3 | iso 100 | 2014:05:12 22:34:48 | Flash did not fire. | 18mm
Under the Seongsan Mountain, blue sea was waving at us that made me want to touch it right away. At the moment, local haenyeos(female divers) finished their speech in Korean and Chinese then started to sing a traditional folk song, 'Ieodosana' which is a song they sing before they take the ship to the ocean.
Their voices were spreading so loud through the speakers installed nearby so that everybody around the area could hear it.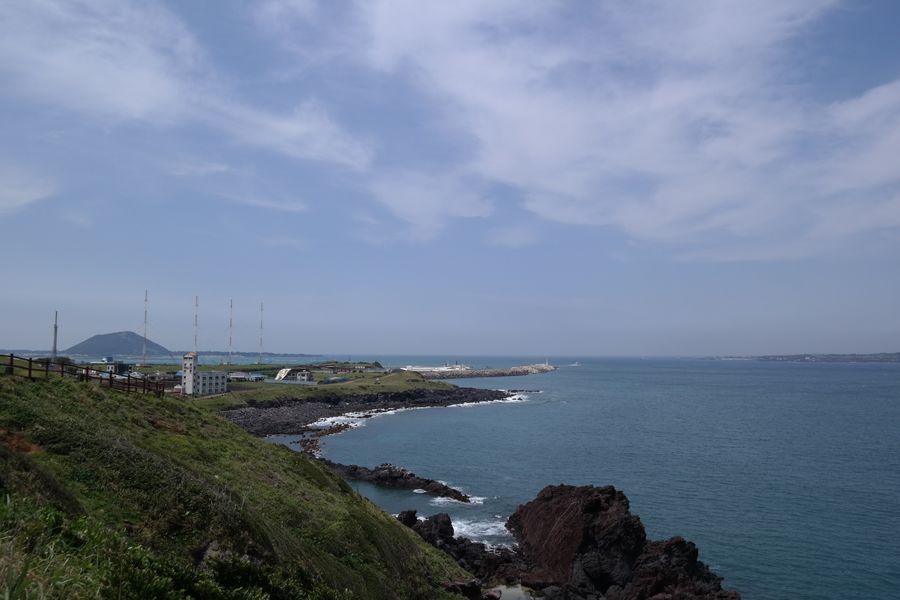 As I turned my head to the north ocean where the Seongsan was facing, pastel tone ocean and land meets causing white waves to the breakwater in Seongsanpo far away.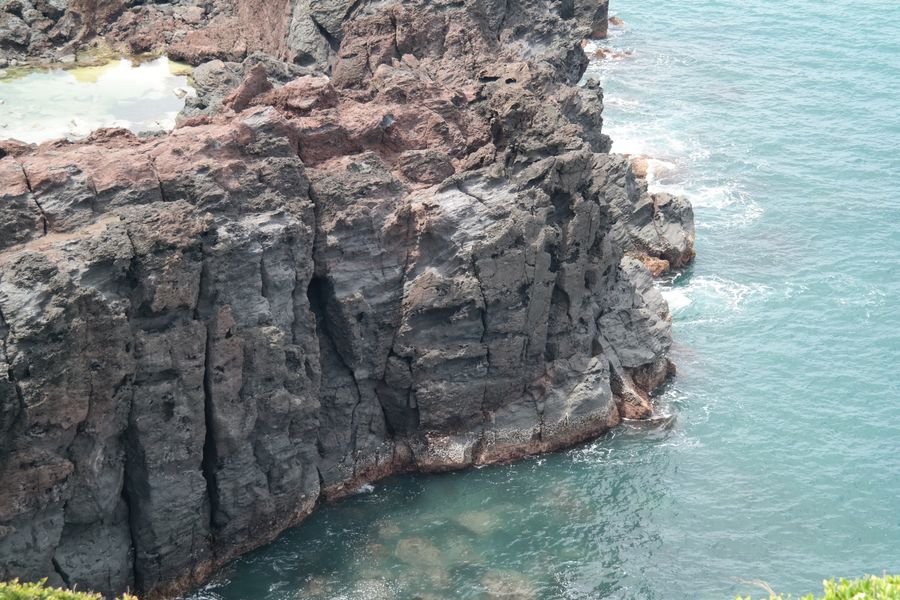 Each rock nearby was delicately sculptured that we cannot see on the land at all and they were just a part of beautiful beach.
Ah, I would die to fish now but I shouldn't right?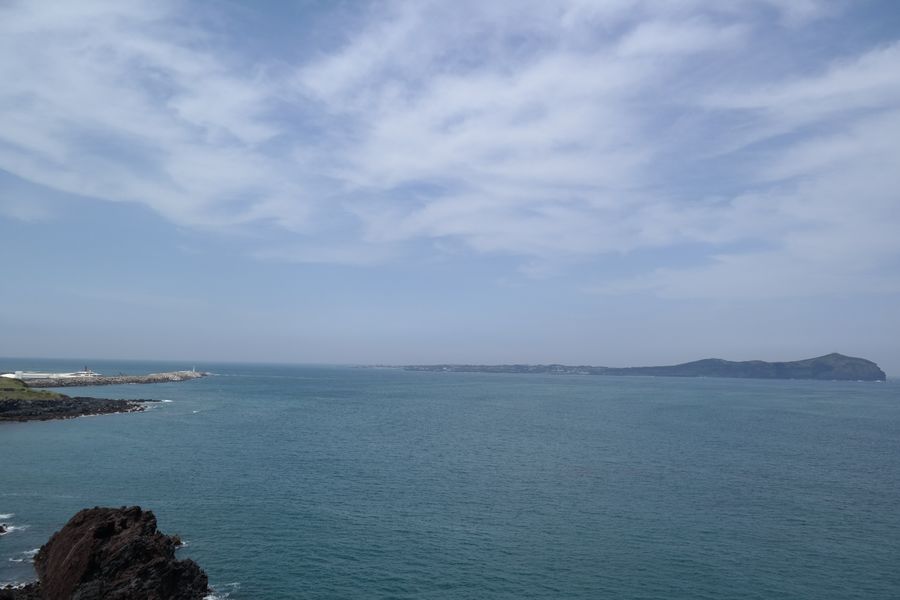 I see an island laid in the middle of the ocean. That is the second biggest island of Jeju and also called Udo since it is a small island that looks like a cow(우; /wu/) laid down.
You could get to the island on a post-boat departing every hour, and it is a famous that a lot of tourists come to Jeju to see this island.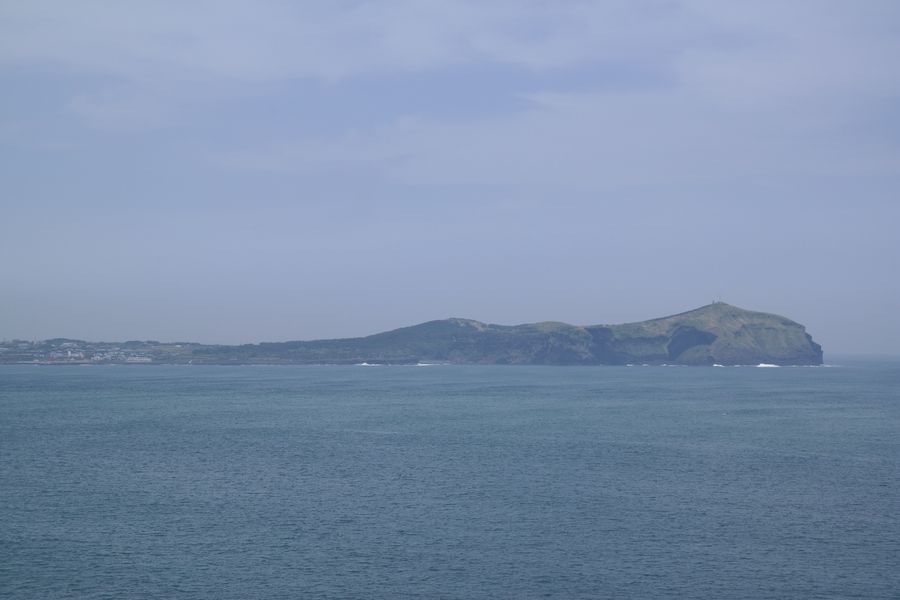 Udo has extraordinary views of Dongangyeong Cave, one of seven tourist attractions and one of 1001 places in Korea you should visit before die, and the Jeju people call it Gorae Kotgumeong(whale's nostril) which means it is a cave that a whale could live in.
The entrance disappears by the time of high tide and shows up at low tide, and in front, the Geommolle (black sand) beach spreads out that is made of broken basalt.
Strangely enough, the other side of Udo has white beach that is covered with broken coral just like Boracai of Philippines so you could enjoy different aspects of ocean in one place.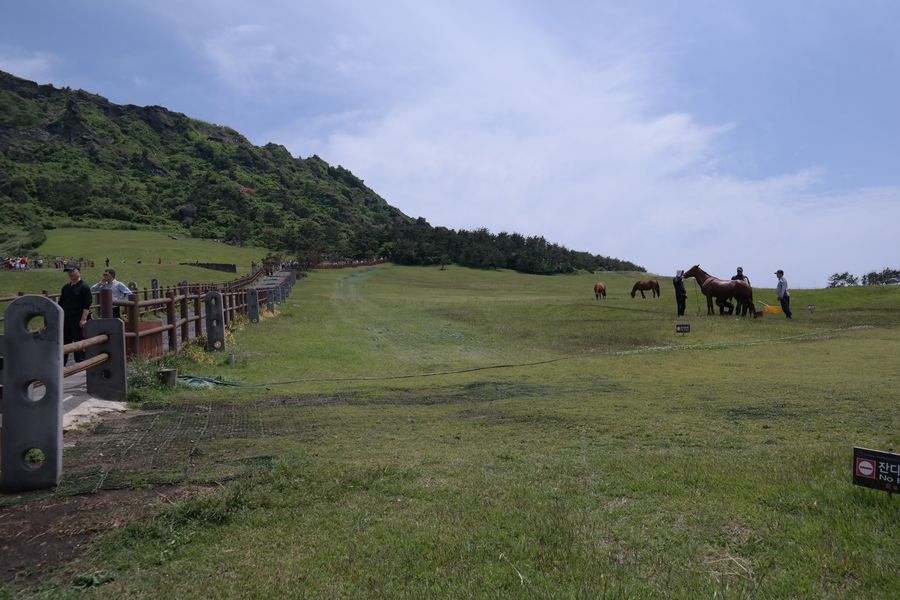 After peeking out at Seongsan and Udo on the hill, when we got back to the forked road, a few horses ruffling hair on the yard behind the fences were getting ready to have people on their backs.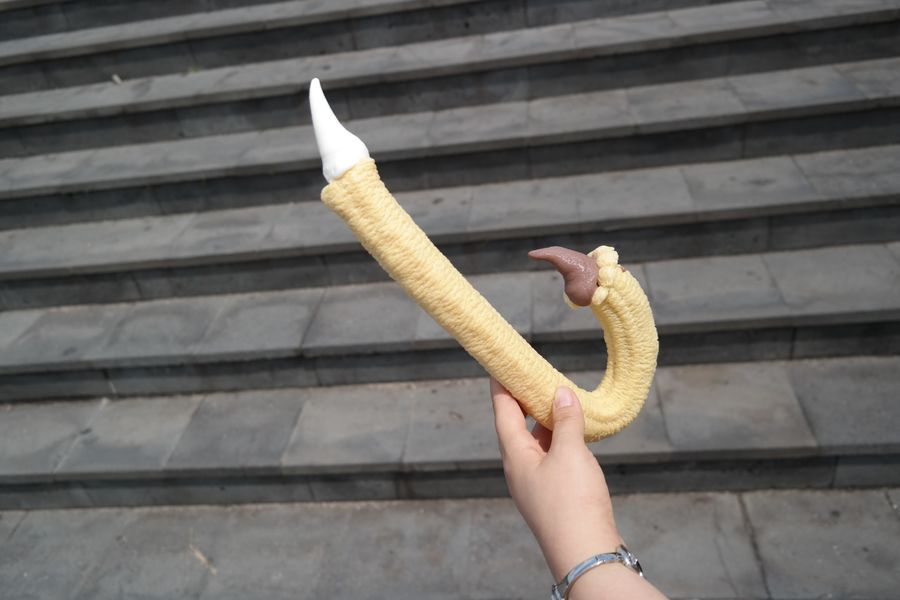 Near the ticket office, we had cane ice-cream in mouth watching the pictures of Seongsan Mountain that we might not be able to visit again anytime soon then headed back to the parking lot.
On our way to Seongsan Mountain from Seopjikoji and at the top of Seongsan Sunrise Peak, the view was so amazing that you could easily find photographers with big cameras since the area is famous for the field of reeds and rape flowers in each season.
For me, Seongsan area is the first thing that pops up in my head when I think of Jeju where you could feel the scent of Jeju so Seongsan Sunrise Peak must be a must-see place, not an optional, if you are planning to go to Jeju.


Address : 114, Seongsan-ri, Seongsan-eup, Seogwipo-si, Jeju-do (제주특별자치도 서귀포시 성산읍 성산리 114)
Telephone : 064-710-7923
Opening Hour : 1 hour before the sunrise ~ 1 hour after the sunset
Haenyeo Sundeoginae 해녀 순덕이네

We were about to try 2-hour fishing course on a ship near Seongsan Mountain and eat fish we caught for lunch but they had to cancel the fishing because of high waves.
So we walked along the seashore to the north a little from the entrance of Seongsan Sunrise Peak.
When we could hardly see Seongsan Mountain, we started to look for a restaurant to eat something that's only on Jeju Island since the fishing was canceled as well.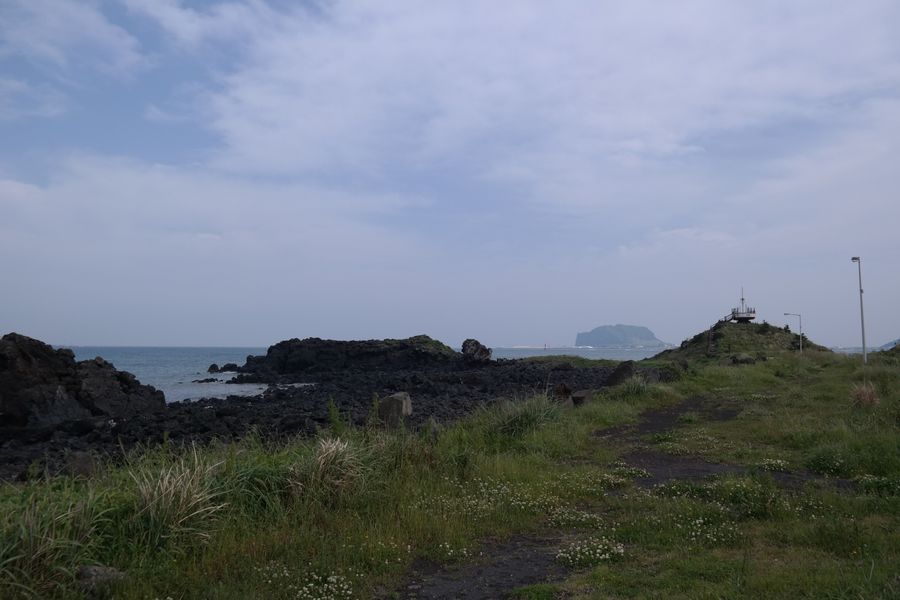 As we looked around the beach, 'huh? is that a small boat on the hill?'
I'm hungry and the fishing was canceled…and I was feeling more upset to see that boat. Arrrrggg
'What is this place?' Just in time, I saw a sign so I had to run to check.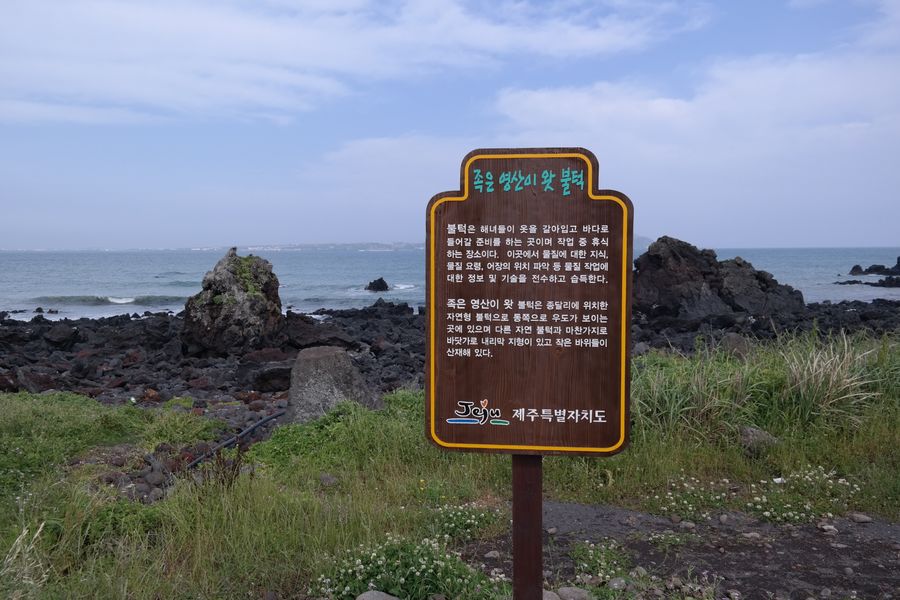 'Jogeun Yeongsanee Wat Bulteok'. ?????? The name on the signboard confused me more. Is that even Korean? Anyway, this strange name called Bulteok is like a waiting room for haenyeos(female divers) to change their clothes before they get into the water and to exchange information about the ocean.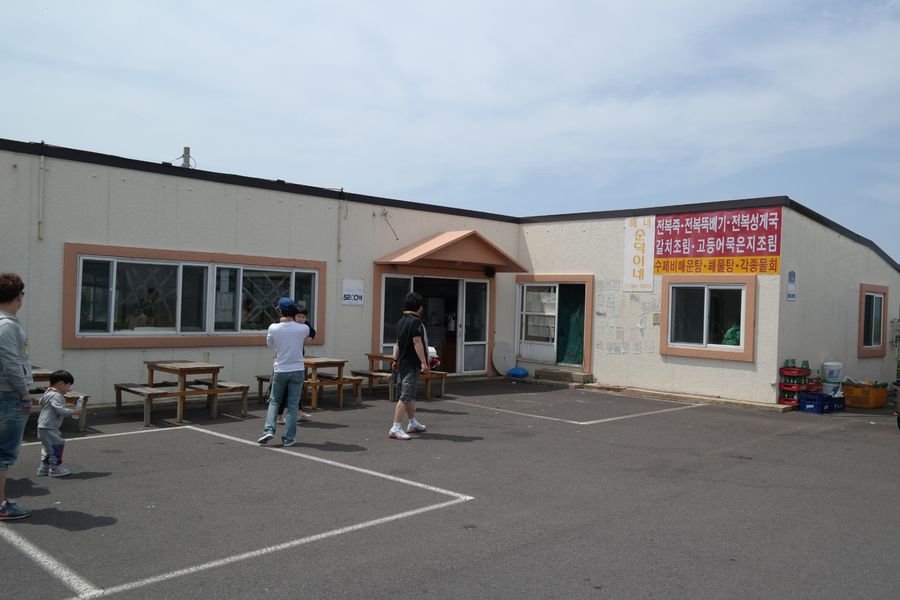 Haenyeo (female diver) who dives into water with no special equipments and collects seafood. I was told that this career might be registered asUNESCO world heritage as it is only found in Korea and a few areas in Japan in the whole world.
Behind the Bulteok, a regular restaurant called 'Haenyeo Sundeoginae' run by Jeju haenyeo was standing alone and we had to rush in to get in starving and drooling with the thought of fresh seafood.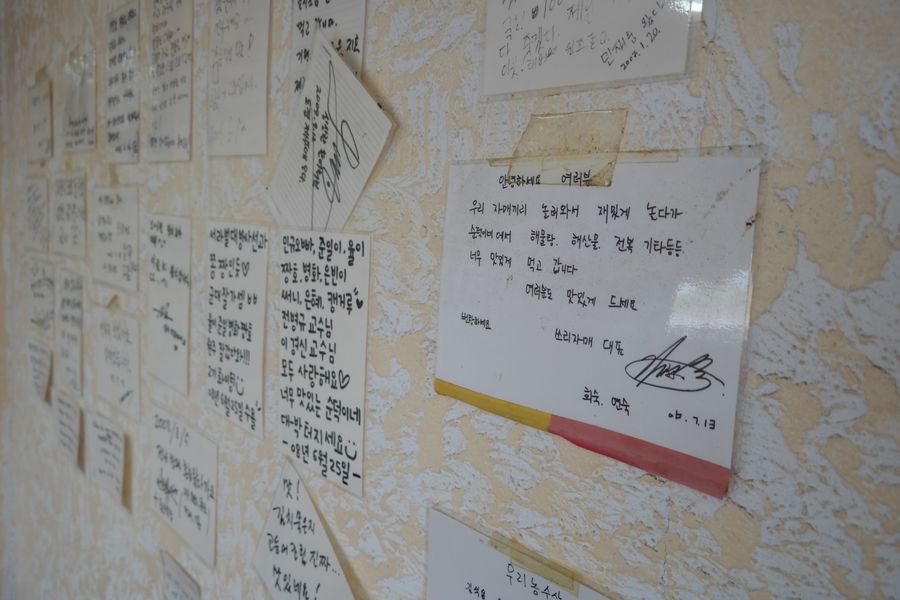 The walls were covered with the memos and papers left by dozens of customers who'd been there.
It's quite different from Yurinae in Jeju downtown that had a bunch of famous people's signatures. But the dates on the papers convinced us that the restaurant was old so that the food must be good as well.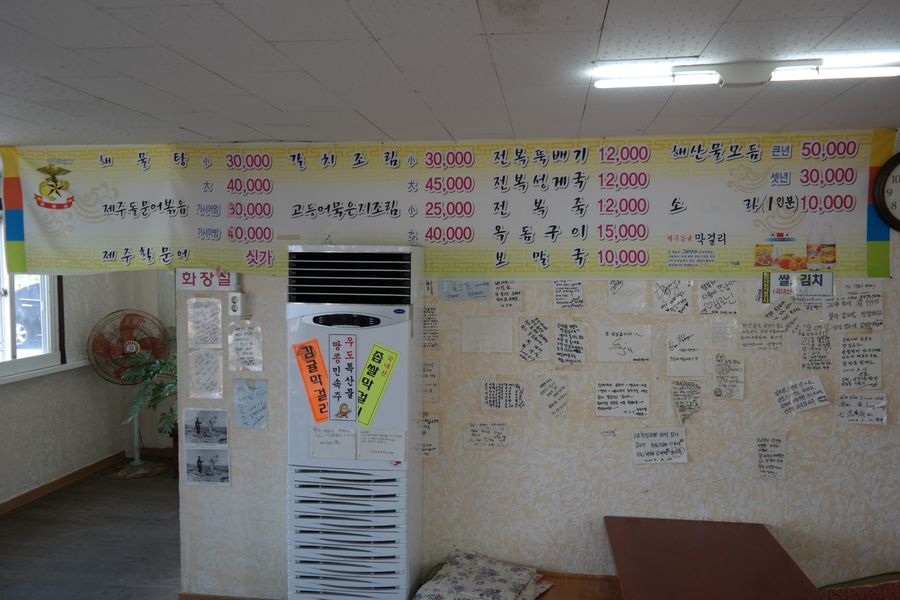 So we were sitting and drinking a cup of water and when we tried to order… the woman who runs the place said something and we nearly got the half of what she said.
The only words I could understood was that we have to order rice separately whatever we order.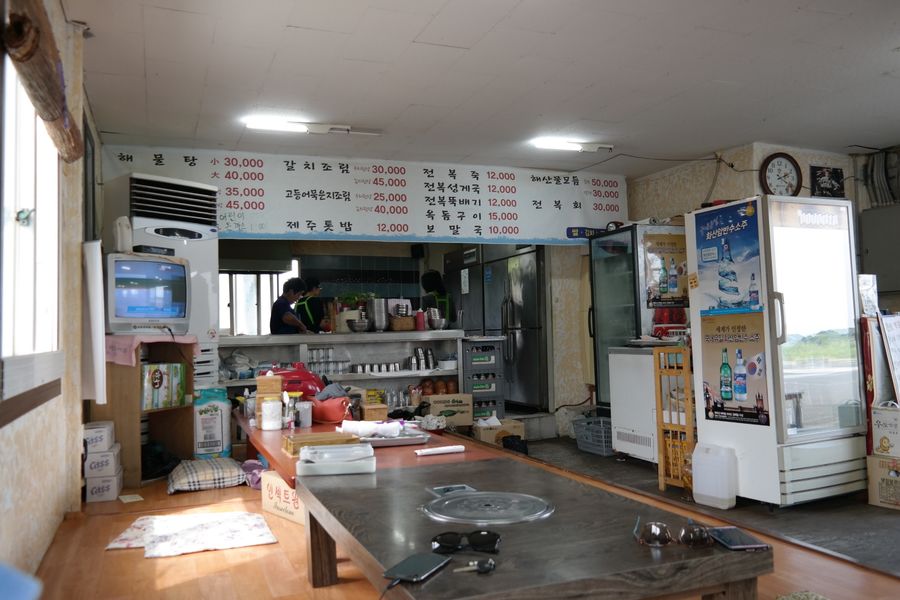 We checked the menu on the wall and saw some strange words like Urigwendang, Namuigwendang, Keunnyeon, Setnyeon etc.
Then I was told that Keunnyeon, Setnyeon, Maljetnyeon and Jjogeunnyeon is to call daughters in order so they respectively refer to the first, second, third and fourth daughter.
Anyways, we assumed the size based on price. Finally we ordered Haemultang, Godeungeo Mugeunji Jorim(braised ripe kimchi and mackerel) and the representative food of Jeju-do, Okdom Gui(grilled sea bream).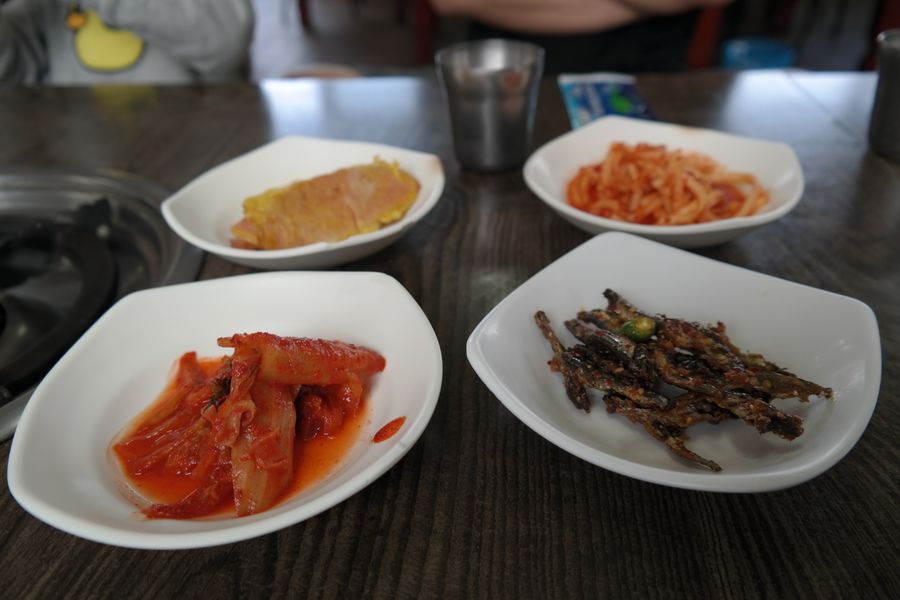 It took a longer time than other restaurants and I assume it was because she starts cooking and clean after she gets an order,and long before she served the main menu, she offered us common dishes.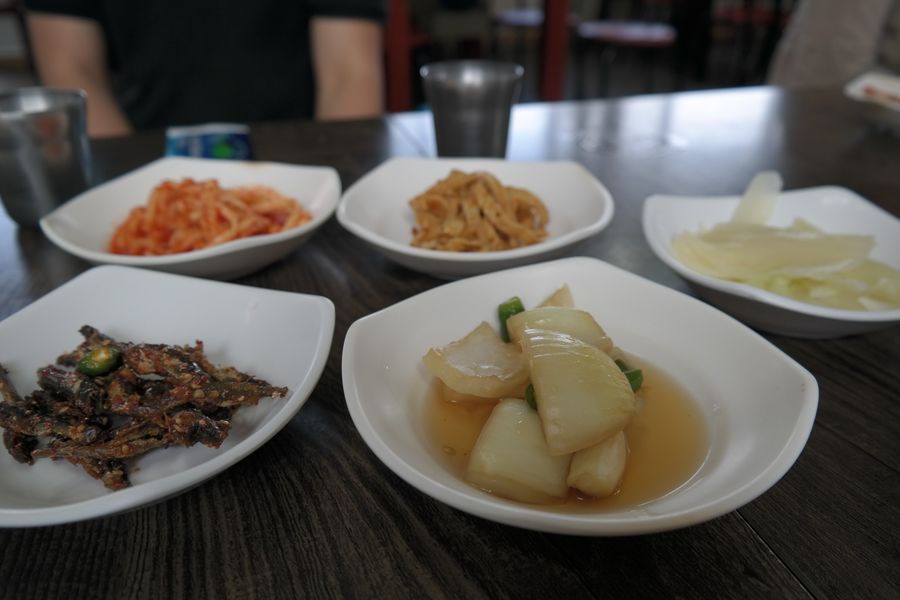 The common dishes were similar to the ones that we usually had except big anchovies. When we were about to think if we made a mistake by coming to the restaurant spontaneously…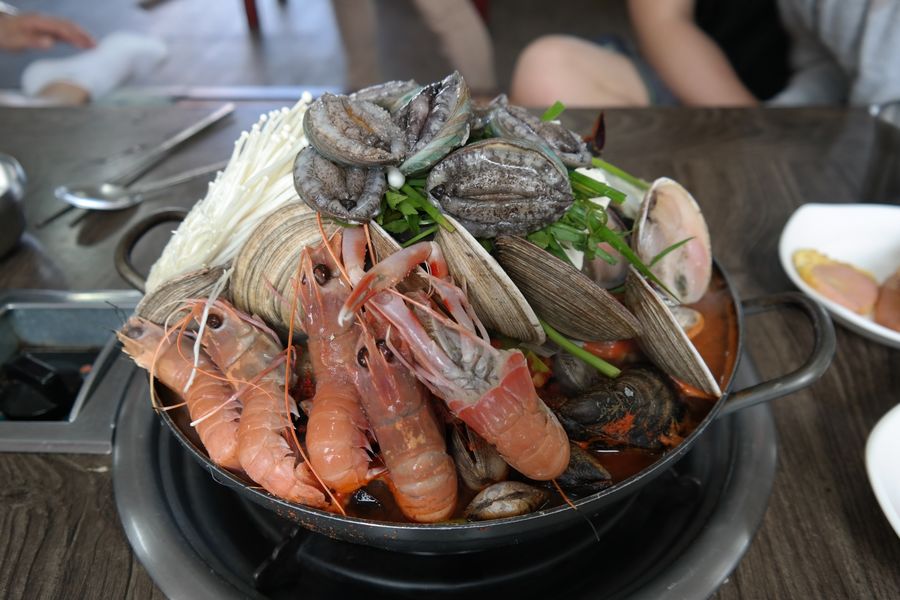 First food we ordered, Haemultang with fresh seafood in a big pot, was served on the table. Wow, the look was amazing~!
On the top, small abalones were wriggling and spinning around because of hot steam from the bottom and as I took a sip of soup after it was boiled enough, the refreshing taste moved me.
In the pot, I saw so many top shells, mussels, different kinds of clams, crabs and shrimps that we had to take most of them out and boil them separately. However, the seafood has salt inside them so if you cook them over high heat, it might get salty instantly so you'd have to control it with caution.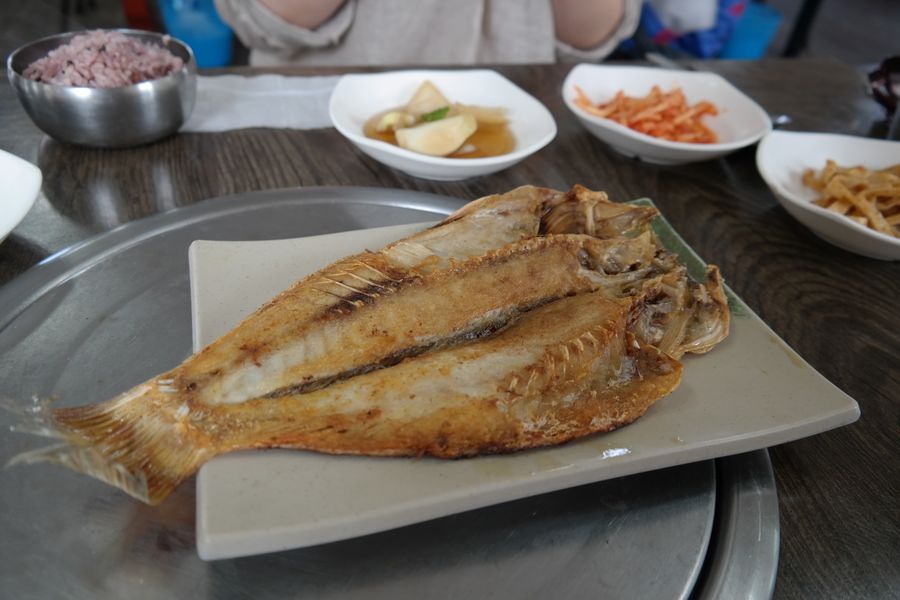 Next one was Okdom Gui from Jeju-do. It was not alive but it was cleaned and seasoned with salt, dried and grilled with charcoal fire so it does not smell fishy butit tasted light and real good.
This is famous enough to be called the queen of sea ream and you have to try it since it is one of the fish that represents Jeju-do along with sawedged perch and damselfish.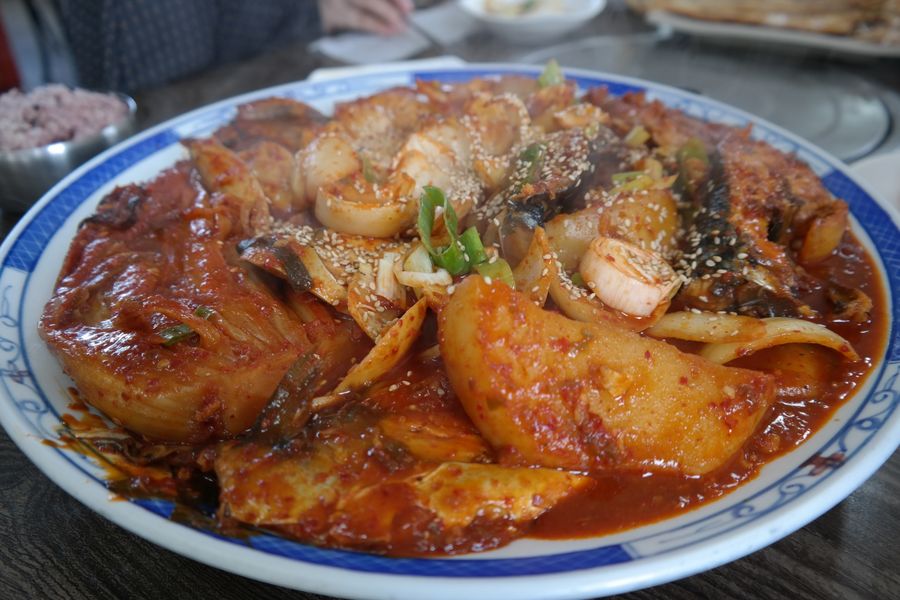 Lastly, my favorite food in Jenu, jorim(food boiled down in sauce). Godeungeo Jorim soaked in red pepper sauce was served with steam.
Everybody was like WOW. Mackerel's fat and white fish skin was covered with big pieces of ripened kimchi.
I guess there were 4 or 5 mackerels so we had more than enough and the sauce killed me when I ate it on a spoon of riceor mixed with properly cooked white radish.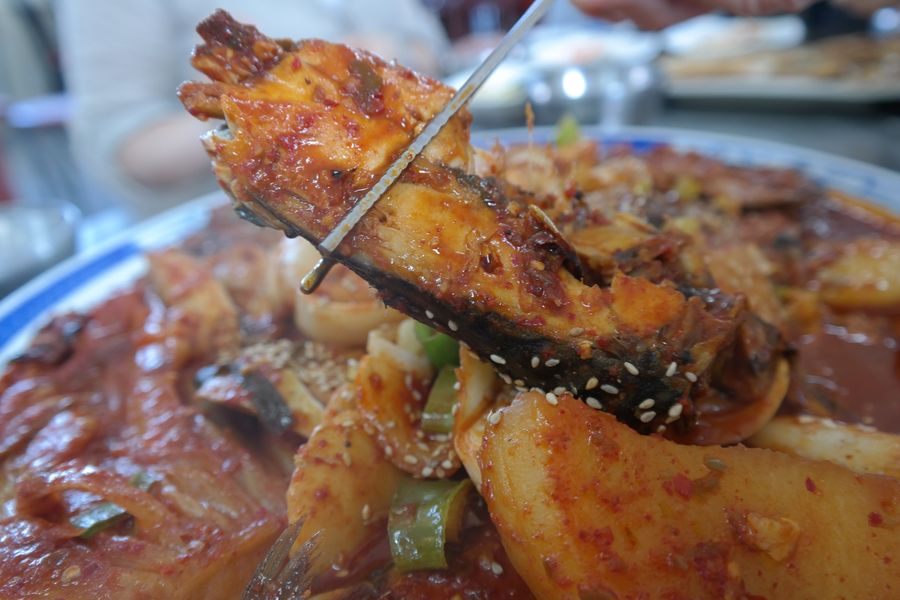 Normally one bowl of rice is enough but I had to order one more because of this jorim (food boiled down in sauce) and I left the restaurant with my fat belly.
Unintended visit to 'Haenyeo Sundeoginae' was the best choice during our trip whether it is famous or not.
Especially Haemultang(spicy seafood stew), tile fish and Godeungeo Mugeunji Jorim we ordered are all seafood caught in the sea but none of them smelled fishy at all.
Plus, I have to say that you could enjoy the taste of Jeju ocean since you can try various and fresh seafood caught by haenyeo right in front.


Address : 42-5, Jongdal-ri, Gujwa-eup, Jeju-si, Jeju-do (제주특별자치도 제주시 구좌읍 종달리 42-5)
Telephone : 064-784-0073
Opening House : 09:00 ~ 20:00
Woljeong-ri Beach 월정리 해변

After we filled our stomach we went to ride a Jeju horse nearby, then we moved to the beach to have a cup of coffee.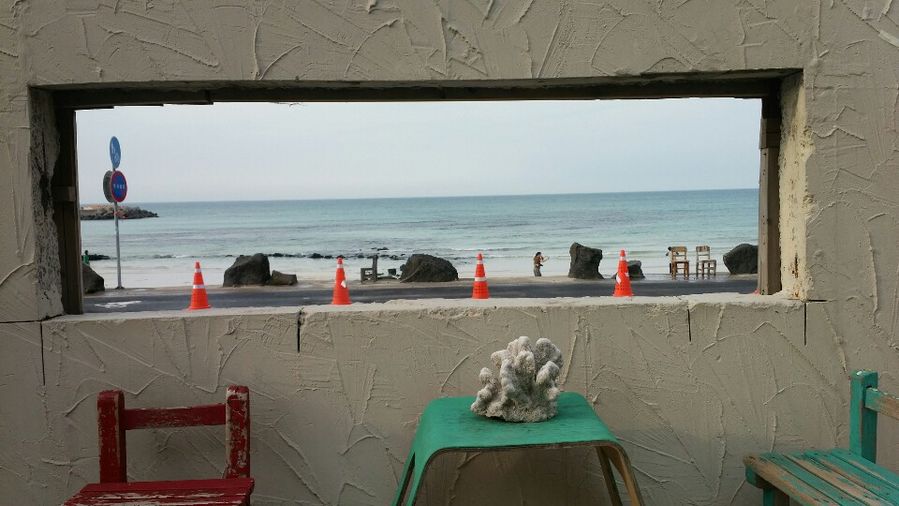 There are a few beaches in the north of Jeju including Gimnyeong Beach with so many yachts and Hamdeok Beach with large sandy beach, but where we decided to go was Woljeongri Beach with emerald ocean where you could feel like you are in the south.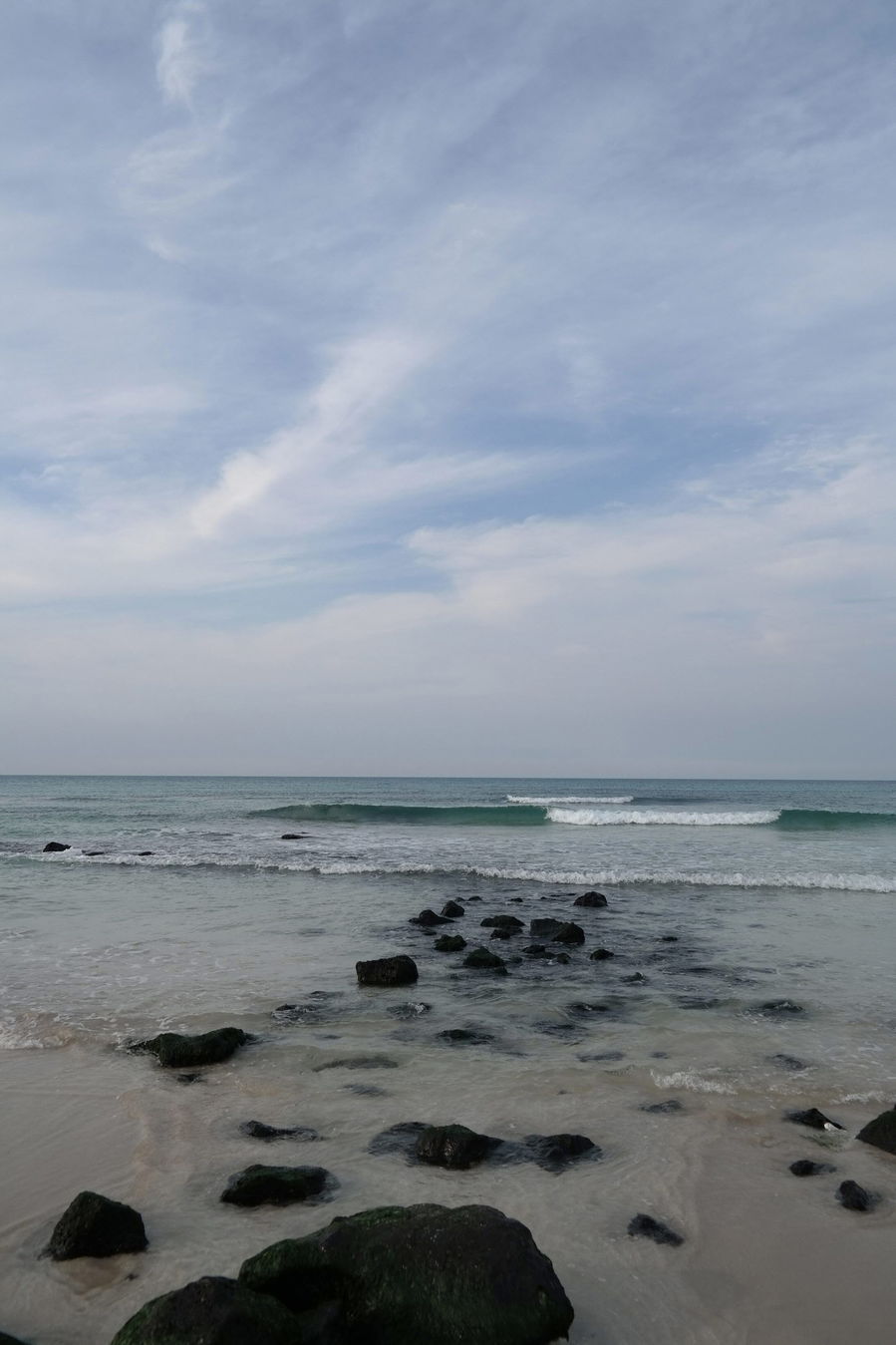 NX300 | f/7.1 | iso 100 | 2014:05:13 02:41:10 | Flash did not fire. | 18mm
Woljeongri Beach is not as big as other beach so it was not designated as a beach so thankfully, it is clean and quiet so it's the best place to enjoy coffee watching the great scenery.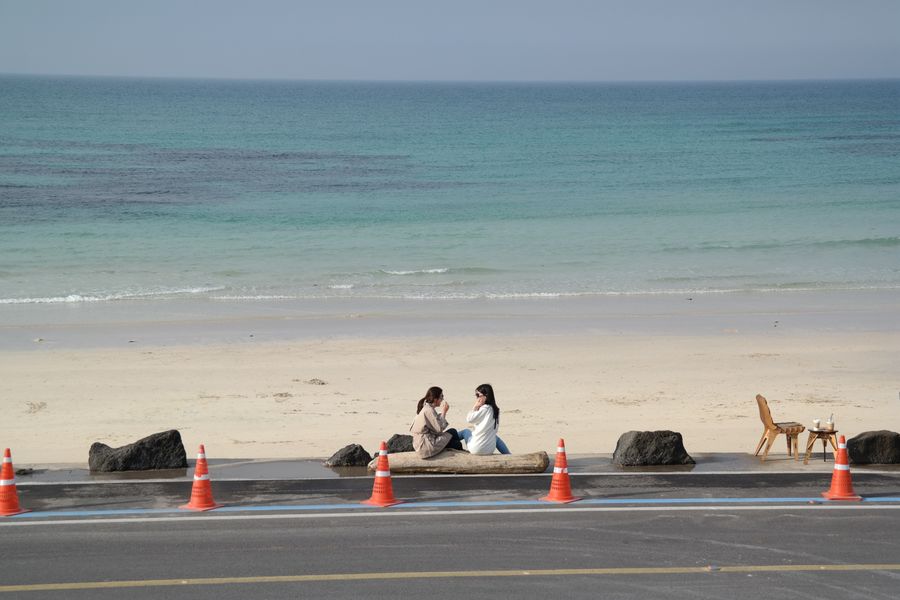 That day, we couldn't clearly see the ocean because of waves from bad weather but still, exotic emerald ocean was attractive enough to catch our eyes.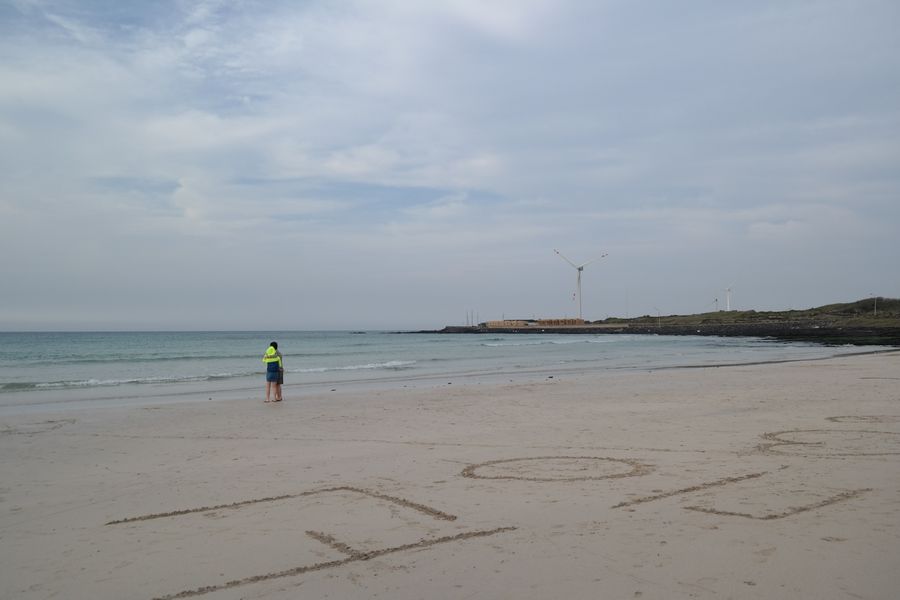 On the beach under the slowly spinning aerogenerators, couples left their names on the sand and approached the waves facing the ocean.
I kinda envied them…but I shouldn't because I would lose if I do, lol. So we had to leave something on the beach as well.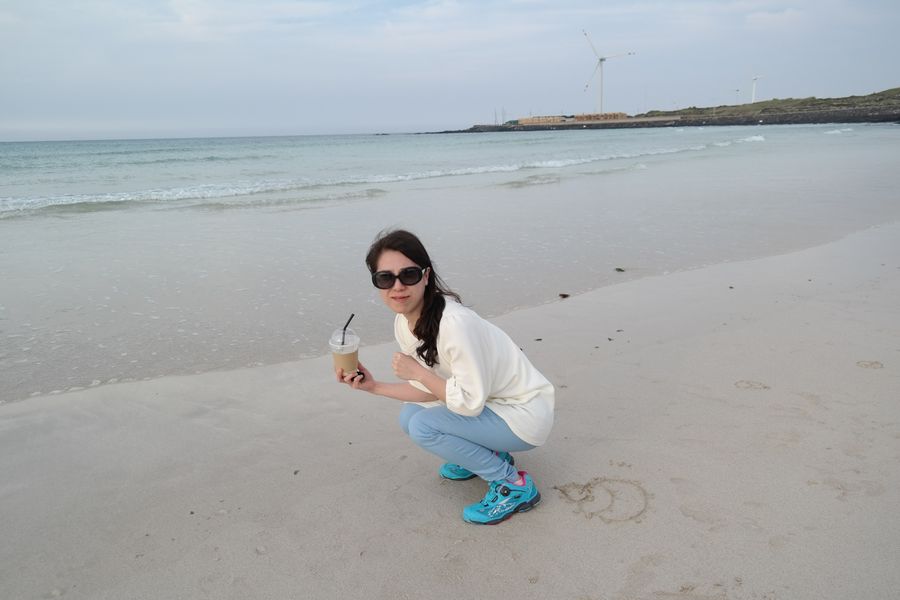 Ah, beautiful. Of course painting is always better than letters on the beach. So we took photos of this elementary schooler with beautiful (?) poop under his ass.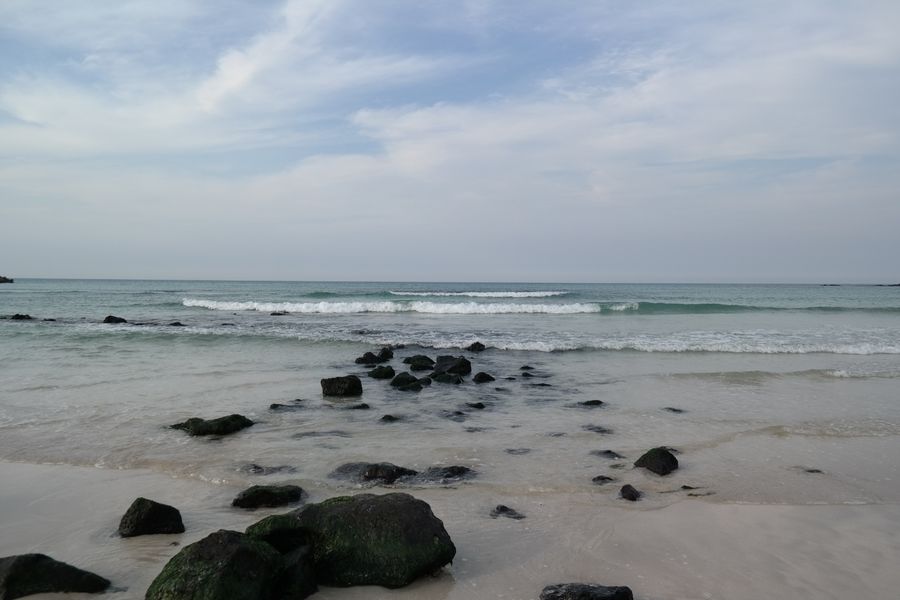 While we, sensitivity destroyers (?) were playing, the sandy Woljeongri Beach did not even rest a bit and white waves were constantly breaking on the shore.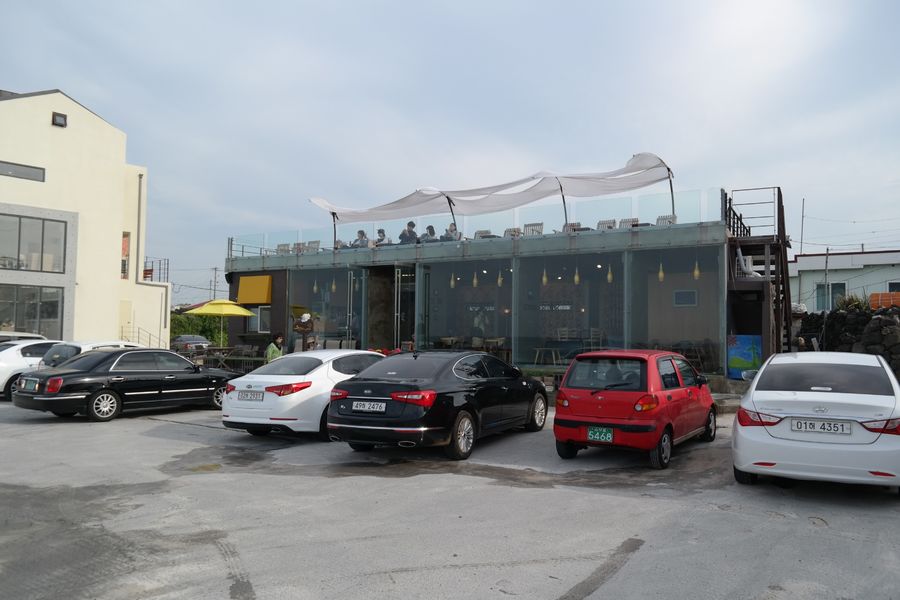 On the seaside of Woljeongri Beach, there were a few restaurants, pensions and cafes. Among them, we found a two-story cafe where we could get the whole view of the beach quietly.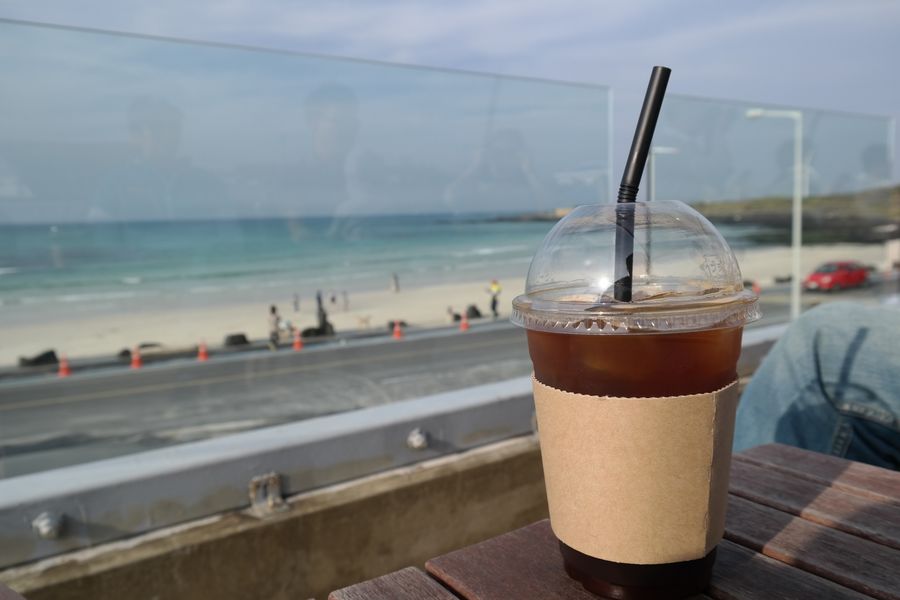 We ordered a cup of americano with ice for each, went up the stairs, and watched the ocean sitting on comfortable wooden chairs set on the rooftop.
A drink that would wet my thirsty lips, fresh wind, the emerald ocean spread out before my eyes, this was the heaven, I was sure.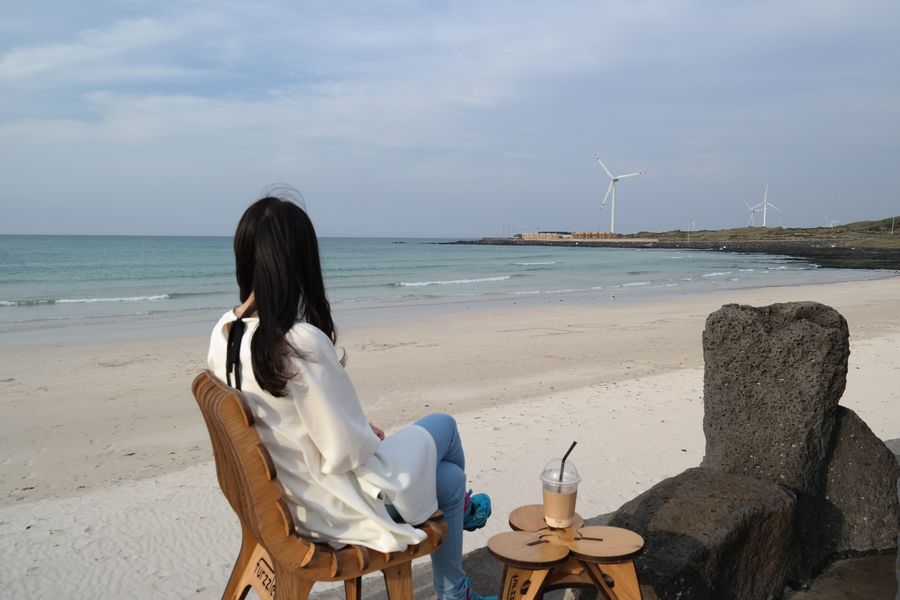 Probably because the Woljeong-ri Beach is our last destination during our trip, there was nothing special that caught our eyes but we stayed for long to watch the sea, then again on a small basalt chair on the beach until we finally decided to go back to our reality.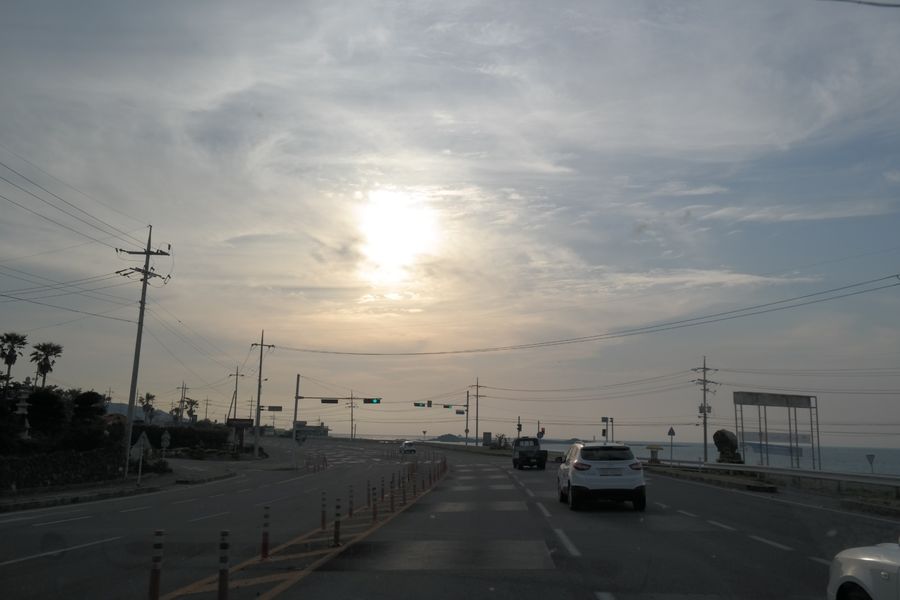 While we got on the car and drove to the airport, the sun was setting so we were sitting tight to remember everything we had and did on Jeju Island.
Among so many tourist attractions on Jeju Island, we failed to do or see some of them because of bad weather but we could enjoy the food that we wanted to try so bad while feeling so relaxed under the exotic atmosphere.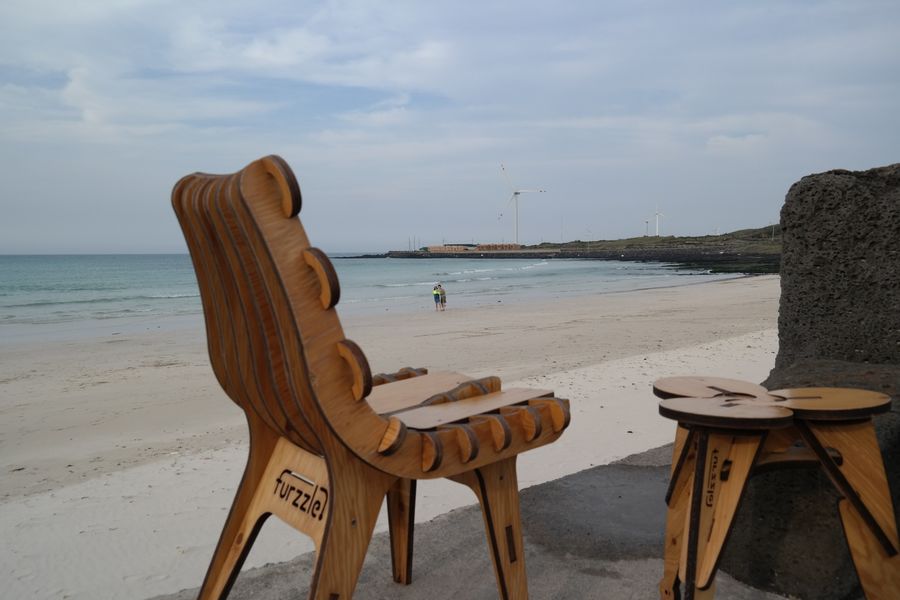 Unlike other tight and busy travel schedules, we had so much free time so that we call this trip 'healing trip' that make us remember every beautiful thing through our bodies and eyes.
There might be another couple sitting on that basalt bench facing the ocean at Woljeongri Beach and admiring the beautiful scenery on Jeju Island hoping their souls to be healed.
If you have a chance to go to Jeju in the upcoming vacation, why don't you drop by and feel it yourself as well?
Address : 652-4, Woljeong-ri, Gujwa-eup, Jeju-si, Jeju-do (제주특별자치도 제주시 구좌읍 월정리 652-4)