Hwaseong Haenggung Where You Can See the Late Joseon's Cultures 화성행궁
Along with Suwon Hwaseong, another place you can't miss is Hwaseong Haenggung(Hwaseong Temporary Palace). 'Haenggung(行宮)' means a temporary palace where the King stays when he needs to go to another city other than the capital city. The 22nd King of Joseon Dynasty, Jeongjo, used to be Hwaseong Haenggung often in order to visit his father's tomb, Hyeonryungwon(Yungreung, currently Yunggeonreung) in Hwaseong, Gyeonggi-do. Until his death in 1800(24th year of the King Jeongjo era), he visited here 13 times in 11 years. It means he'd been here at least once a year.
Why was his father's tomb named Won(園) at first then renamed to Reung(陵)? Won(園) is a tomb of the King's descendants or parents. As he later honored his father by calling his title Jangjo(莊祖), the tomb was named Yungreun(隆陵). Reung(陵) is a tomb of the King or Queen. Now the King Jeongjo is buried next to his father so his father's and his' tombs are called Yunggeonreung altogether. Oh, I've lost track of topic.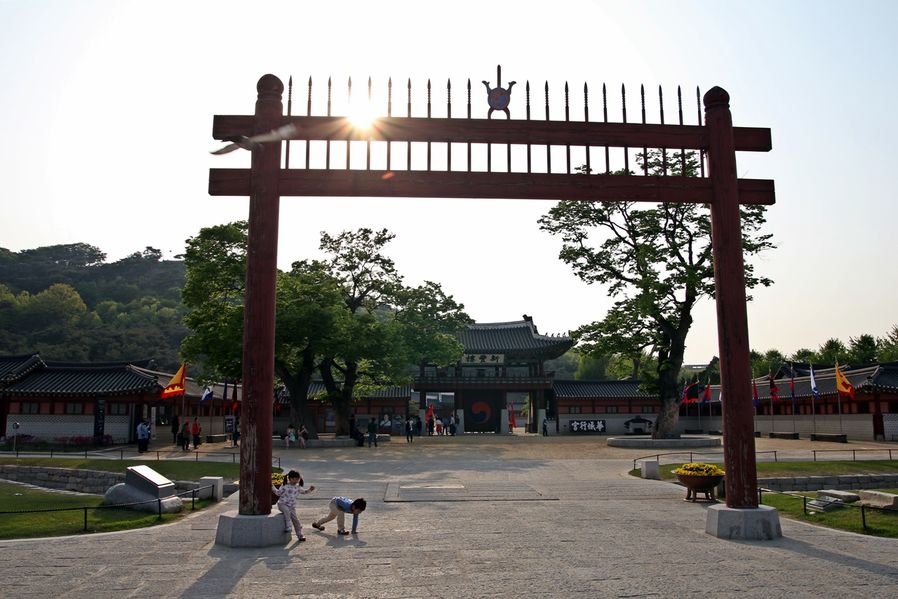 This is the entrance to Hwaseong Haenggung, Hongmun(紅門; red gate). This wooden structure painted in red is called Hongmun or Hongsalmun which means arrows are stuck on the gate, and it says you need to express your respect to the area behind this gate.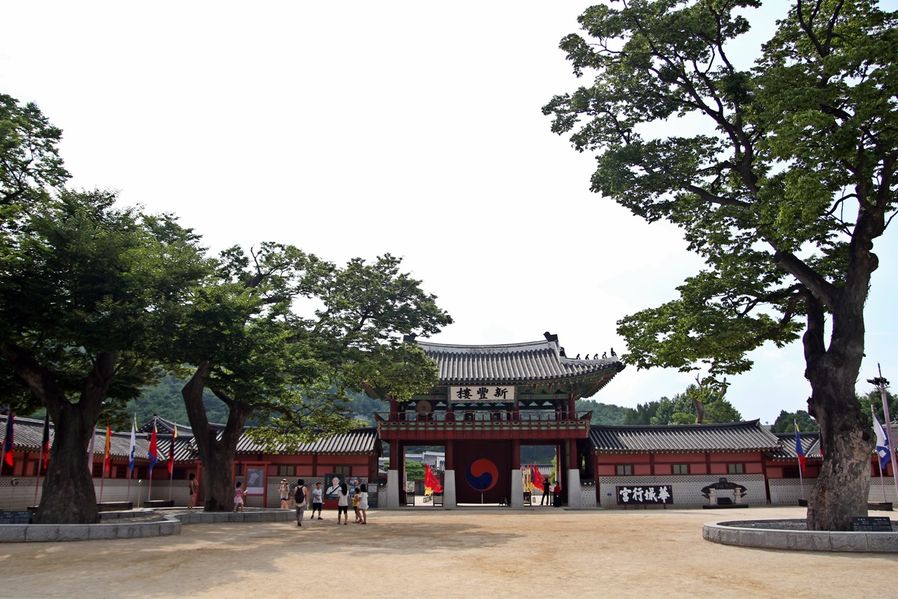 Let's get in to Sinpungru, the front door.
As soon as you enter the gate, there's an old tree with so much spirit to the right. This zelkova tree is more than 600 years old that's been living until now since it was planted when the Joseon Dynasty era began. This tree must've seen all the history of disgrace and slaughters in this country. But now it's in peace and well known for its miraculous power as it's called 'Prayer Tree'. Next to the zelkova tree, there's some space for prayers so you could write your prayers on a note.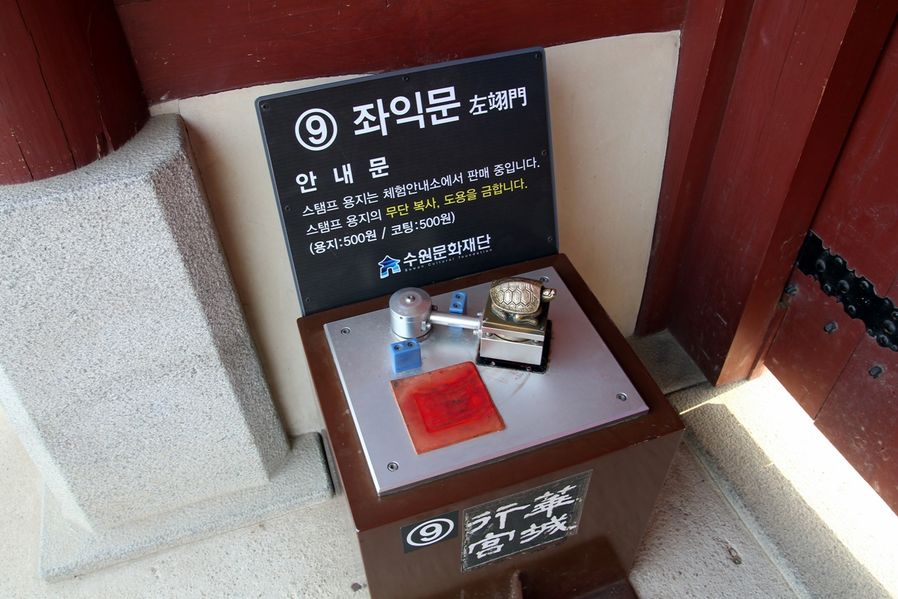 There are 8 places where you can get stamps that have a shape of royal seal, the King's seal, in Hwaseong Haenggung. And you could get a collecting paper for 500 at the ticket office or experience centre in Haenggung. I've brought my cousins sometimes and they really enjoy getting stamps. I also remember getting stamps on the TV show '1 night & 2 days', KBS entertainment program. Getting the stamps and listening to explanations would be informative, wouldn't it?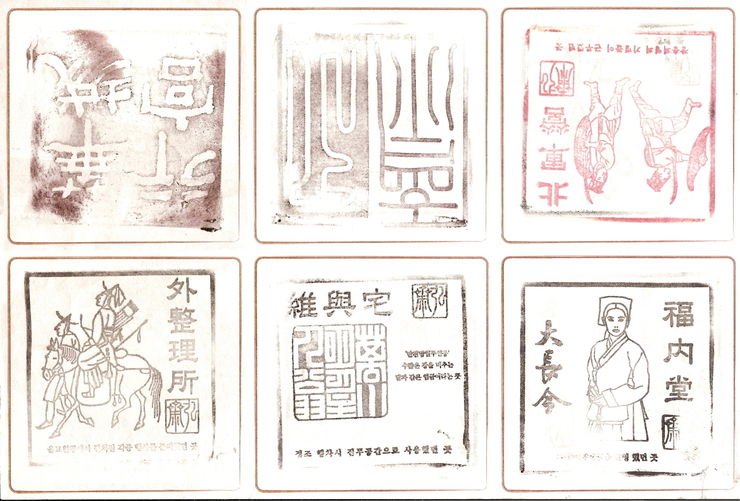 HP psc1600 | 2008:02:21 01:21: 0

You'll get stamps like this. Every spot had a royal seal with its own characteristic.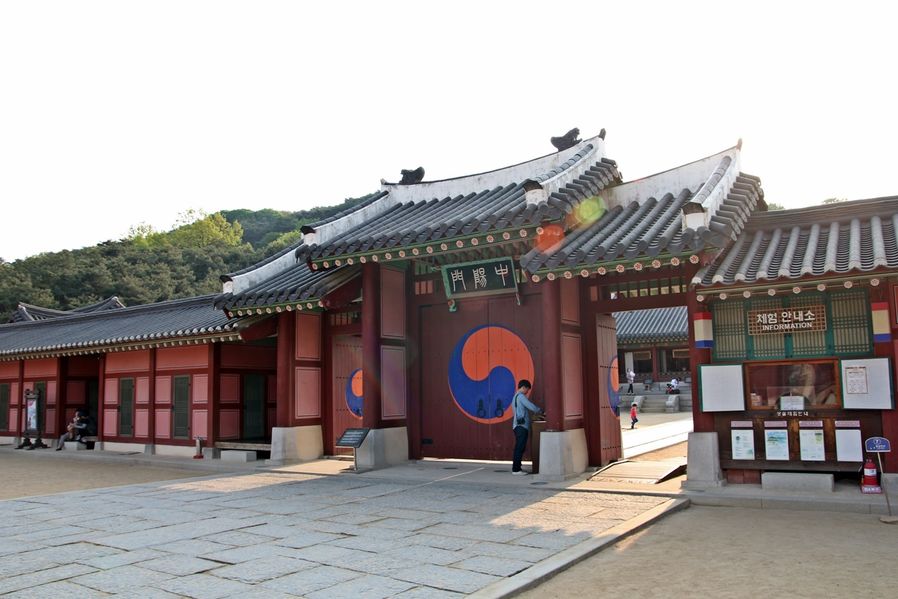 This is the center gate located in the middle of Haenggung, and you could see many activities around here on weekends. You could buy tickets at the experience centre in the picture and join the activities.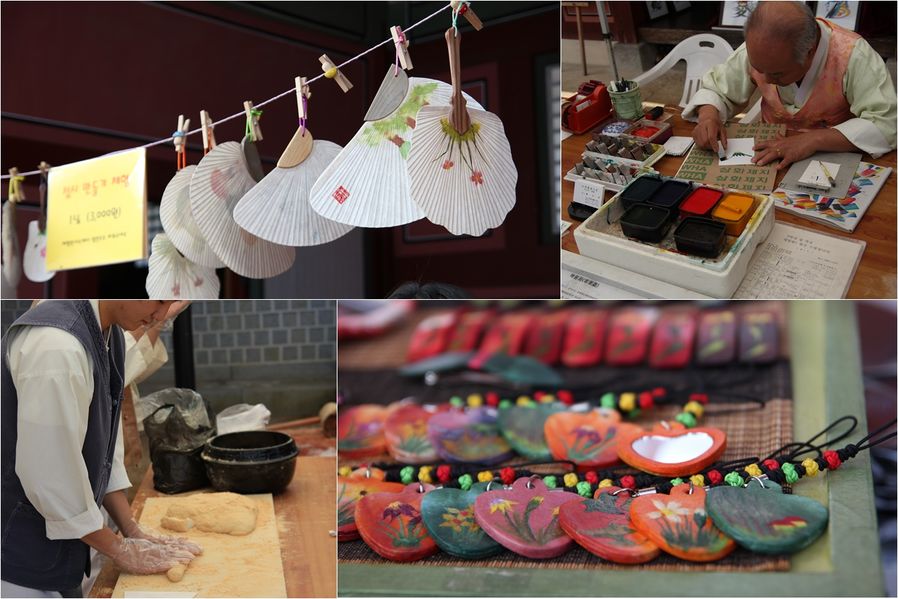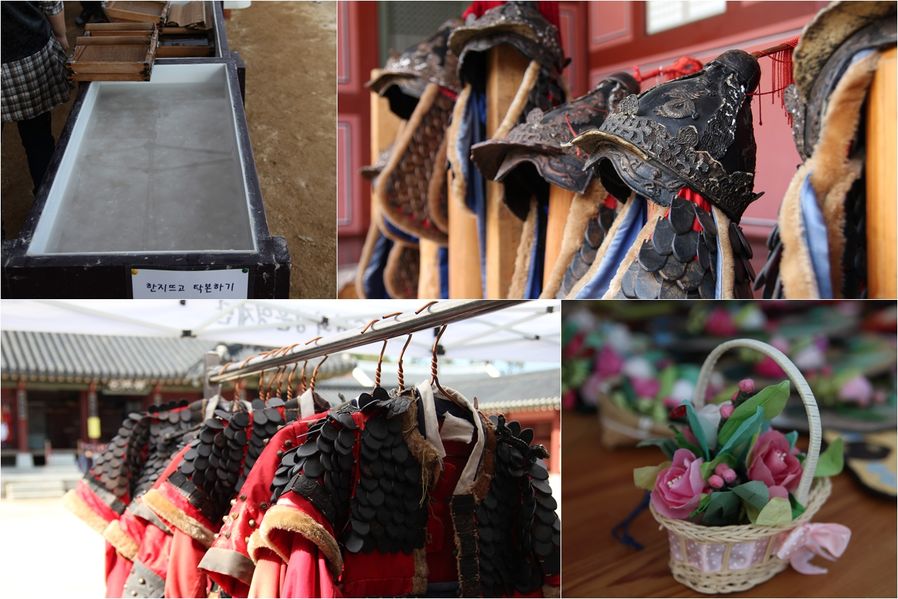 Activity programs change in every week, month or season. Normally, you could wear old clothes, learn Korean paper art, make rice cakes, make boudoir handicraft or pottery. It will be more memorable if you join the activities especially with your kids.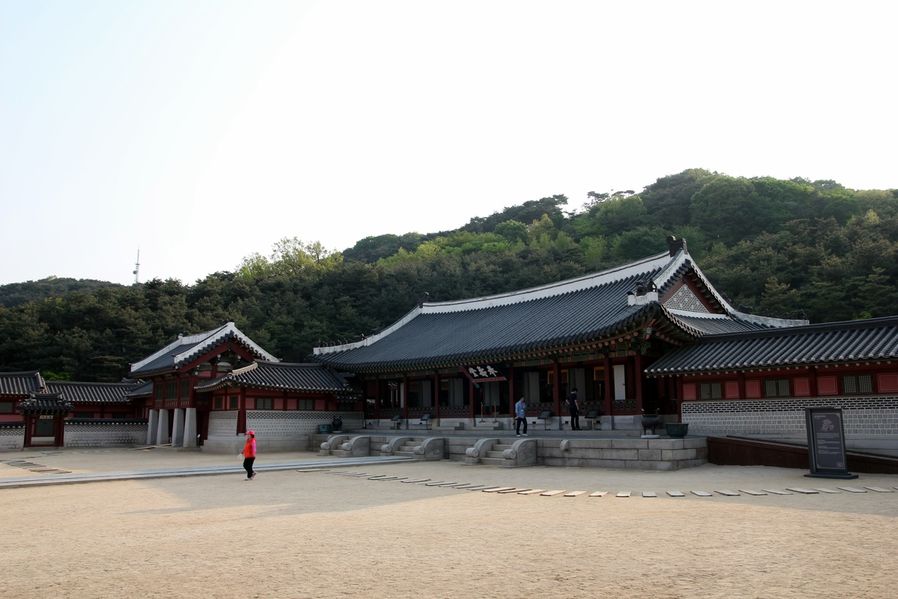 Right past the center gate, you'll see Bongsudang(奉壽堂) that surrounds the mountain at the back like folding screens. This is called Jeongdang(正殿), where the King Jeongjo's mother, Hyegyeonggung Hong's 60th birthday was held. Bongsudang(奉壽堂), which means praying for ten thousand years (萬年) of long life(壽), shows the son's hope for his mother's long life.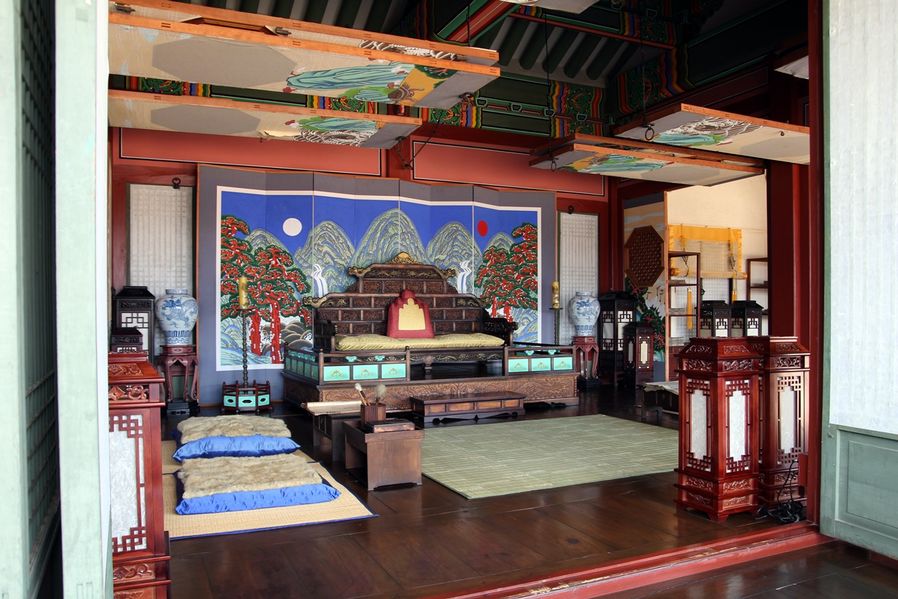 Inside the building, the products that were used in those times are displayed.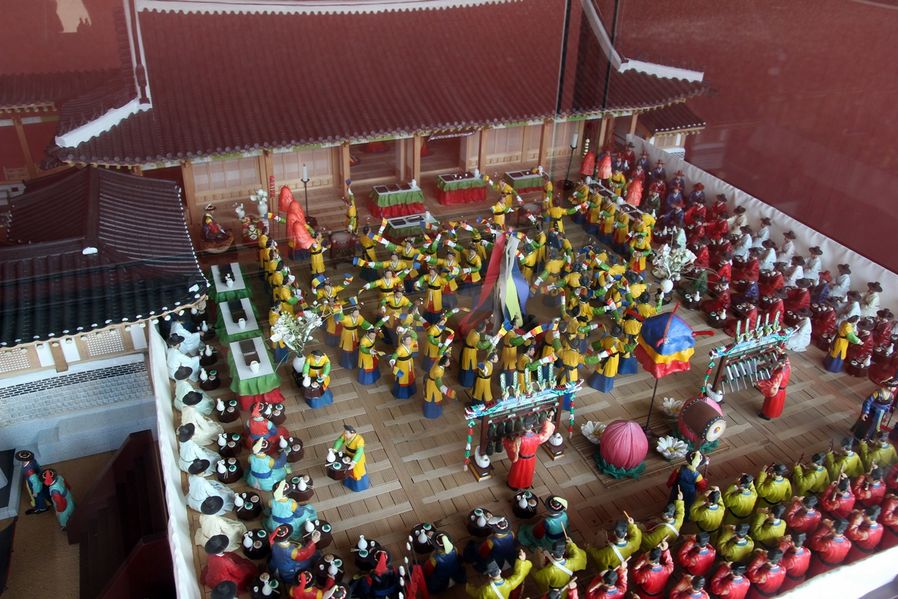 This is a small version of 60th birthday of Hyegyeonggung Hong at that time. I was really wondering what 60th birthday was like in the golden era of late Joseon. Will there be techniques that might bring me back to those times?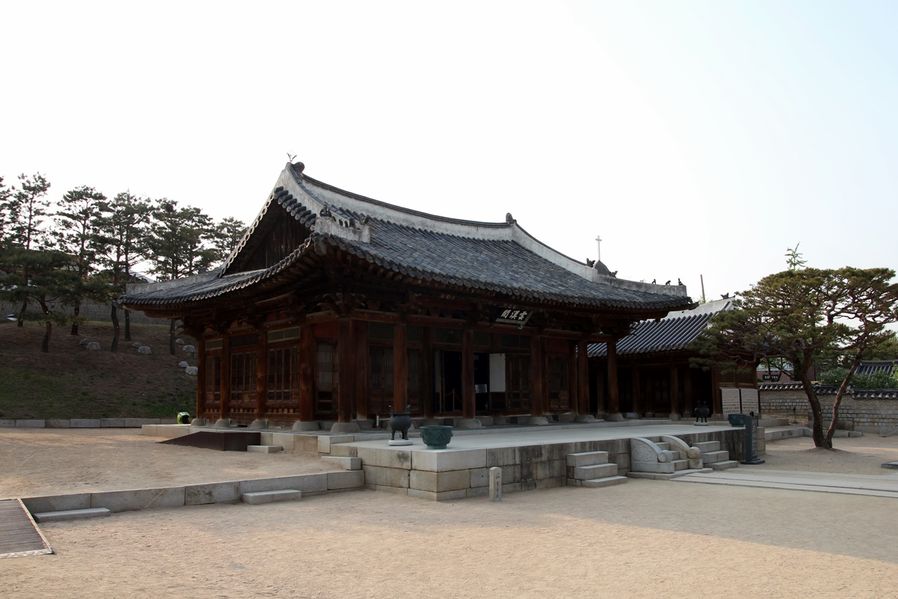 The most impressive place in Hwaseong Haenggung is Hwaryeongjeon. It has a portrait of the King Jeongjo. It was closed even a few years ago for reconstruction but it opened to the public now.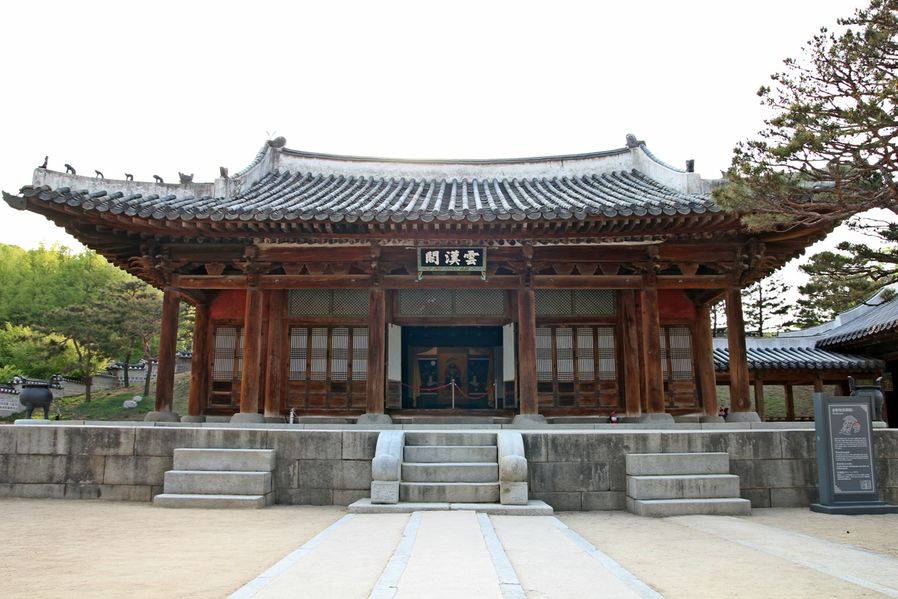 Hwaryeongjeon seems like old woods without traditional multicolored paintwork on wooden building. This building was built to respect the King Jeongjo's love for his parents and virtue by the next King Sunjo in 1801(first year of the King Sunjo era). Hwa in Hwaryeongjeon is from Hwaseong, and Ryeong was named from 'go back and ask after your parent's health(Gwiryeongbumo)' in the Book of Odes of the Four Books and the Three Classics. A framed picture with Unhangak letters on it was written by the King Sunjo.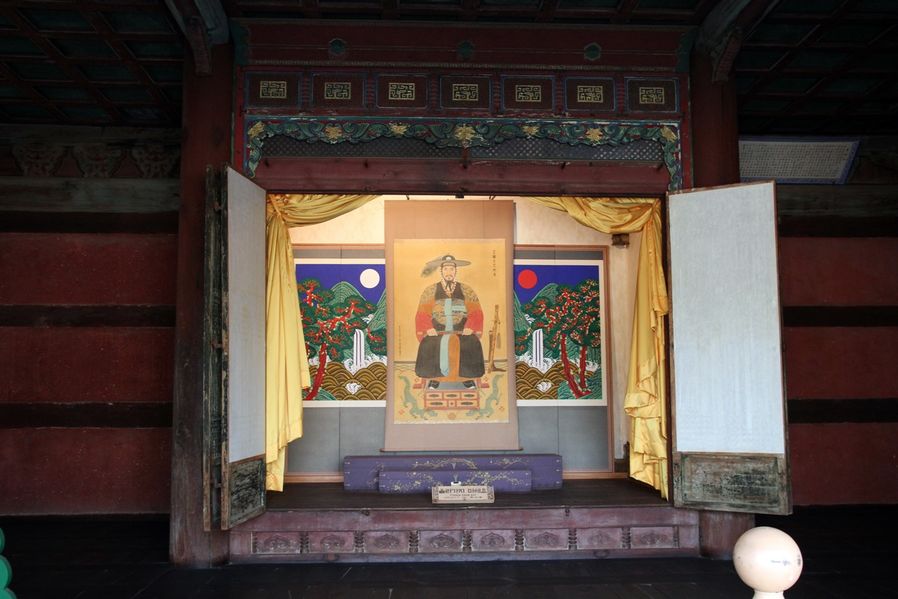 Inside Unhangak, they enshrine a camp for the King Jeongjo(current portrait was newly made in 2005) and hold sacrificial rite every year. To the right of Unhangak, there's a building called Punghwadang where the King Sunjo used to enjoy traditional music, but as I saw it, I felt like it's a place for him to miss his father like the King Jeongjo did. Other than that, it is more likely to be a royal tomb since it has Yiancheong(where it honours), a house built with used timbers, and Jeonsacheong(place to make ritual food) as well as the same shape of stone-made oedo and shindo paths used in a sacrificial rite.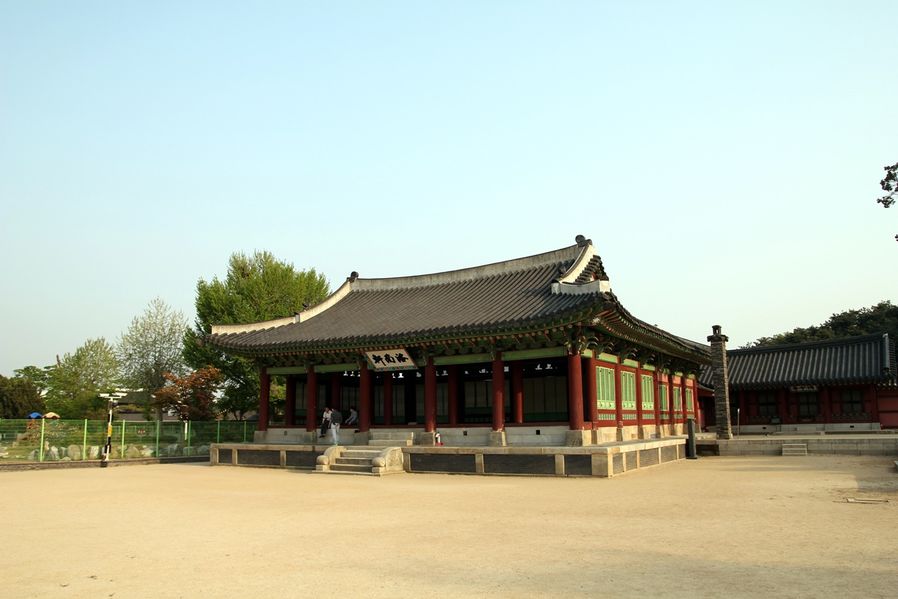 Before the entrance to Hwaryeongjeon, Naknamheon was there and it broke my heart. Hwaseong Haenggung had 567 blocks so it was a very big palace but except for Naknamwon, everything was destroyed by Japanese national culture and history destruction policy under their colonization.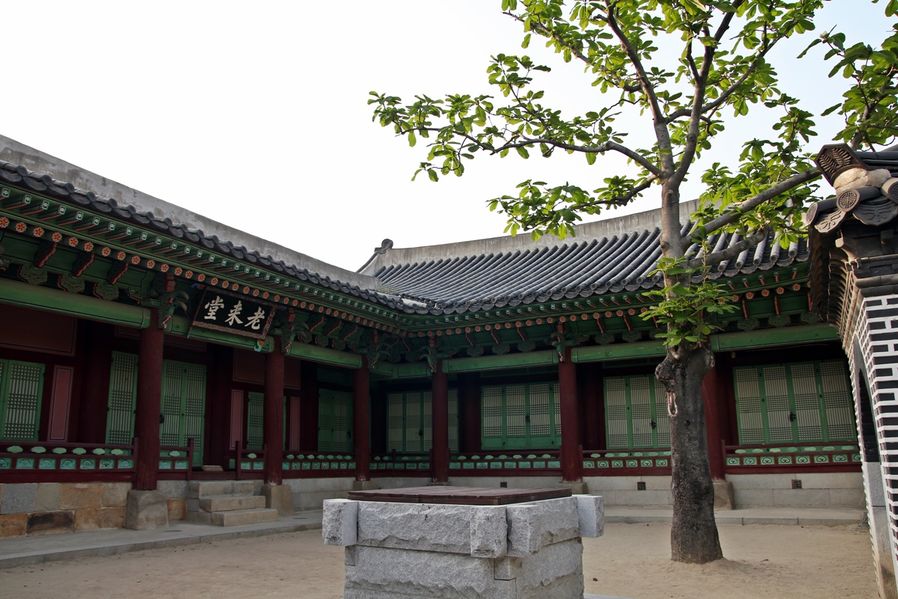 This building is called Noraedang(老來堂). Assuming from its name, it was built while he was dreaming his old life after he renounced the throne. A well and a tree looked so friendly.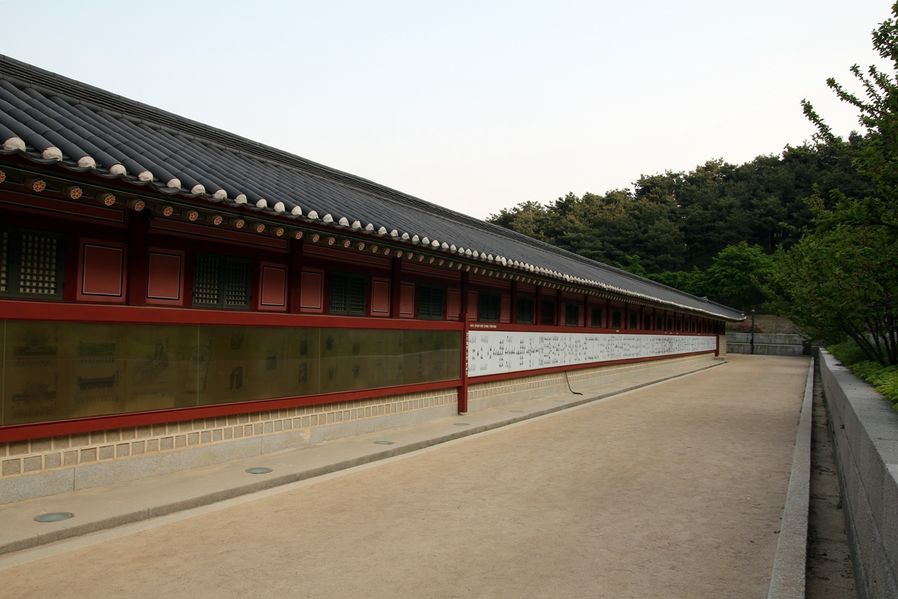 On big walls behind Bongsudang, there's a very long painting. This is painted by Kim Hong-do to express the King Jeongjo's parade. It's not original of course, it was recreated. If you walk along the street, you'll see how amazing it is.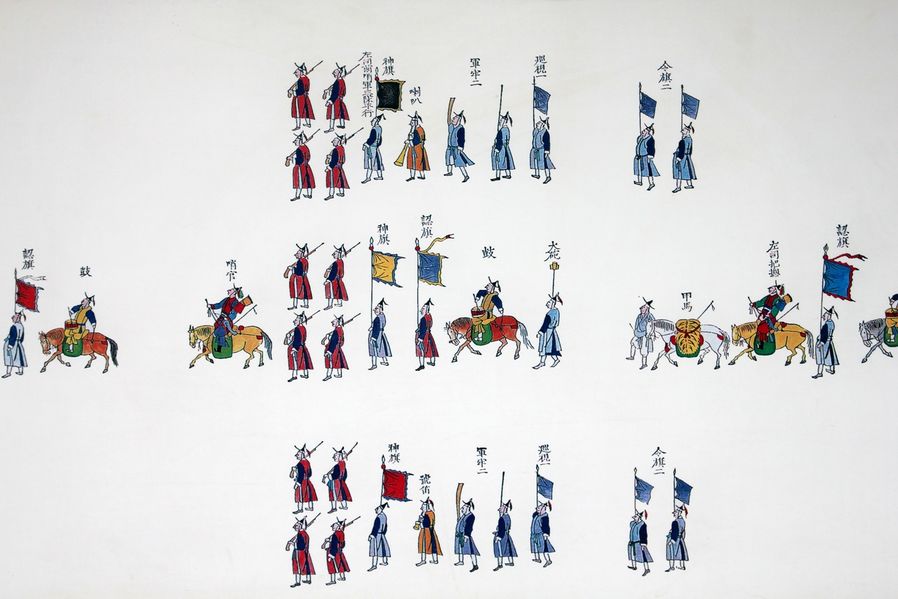 So in the pictures, they look like this. The funny thing is that he drew so many people and everyone has different facial expressions and gestures. It allows you to see how much he tried to finish this portrait.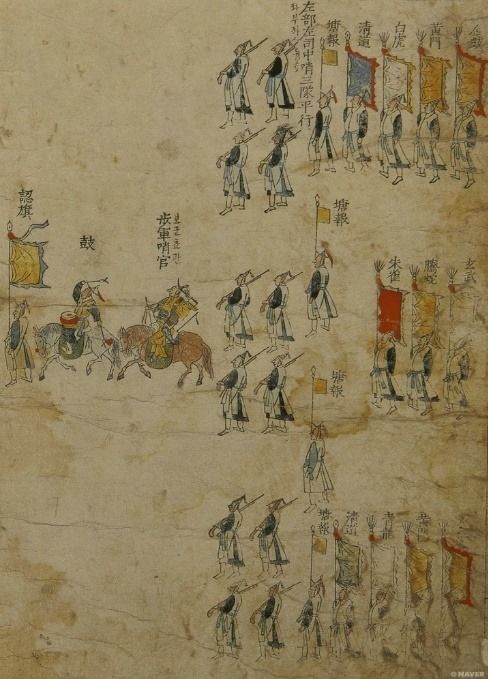 The real painting looked like this but it's privately owned now.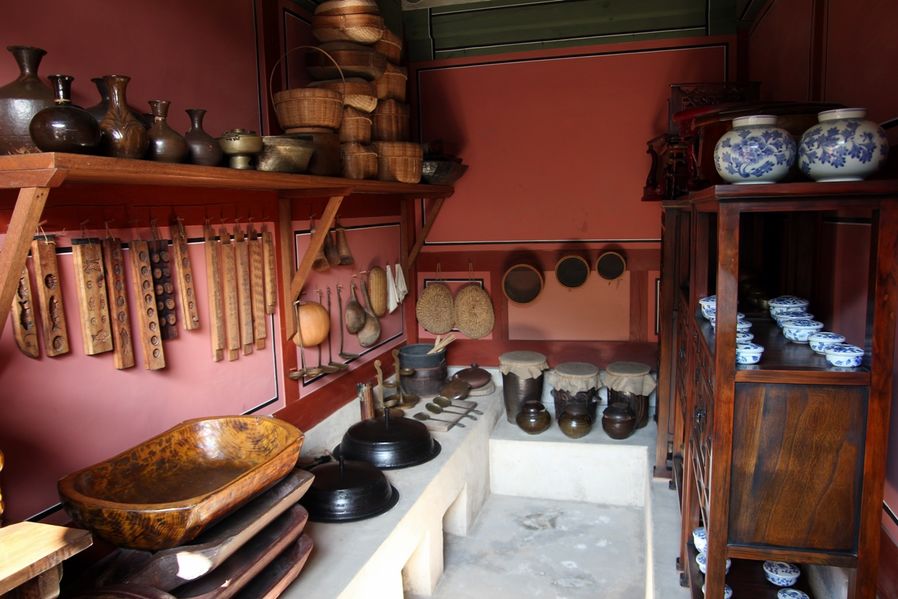 Let's take a look more. Inside and around Boknaedang, kitchen appliances of those times were displayed.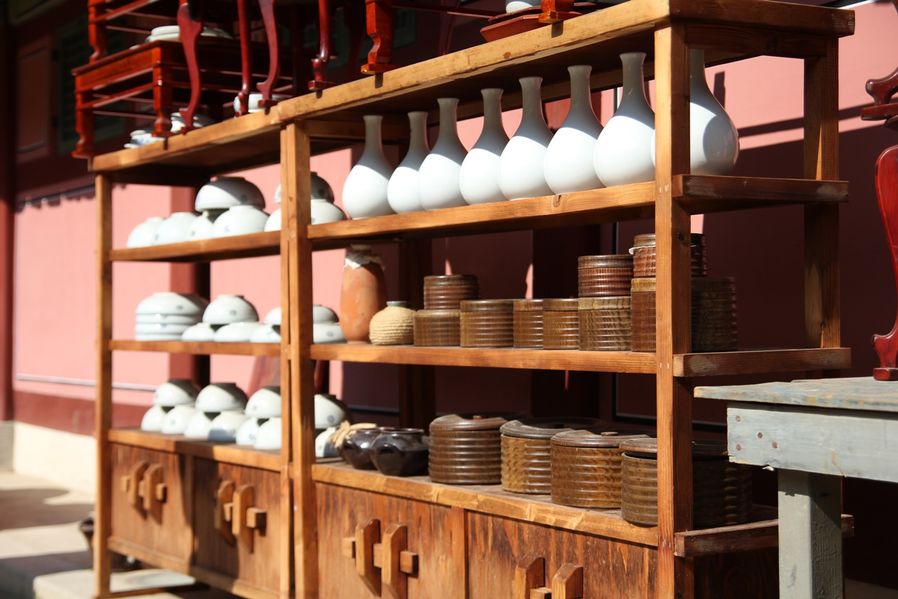 To think of how they must've prepared for food for the King when he gets out of the palace once or twice every year, it makes me laugh.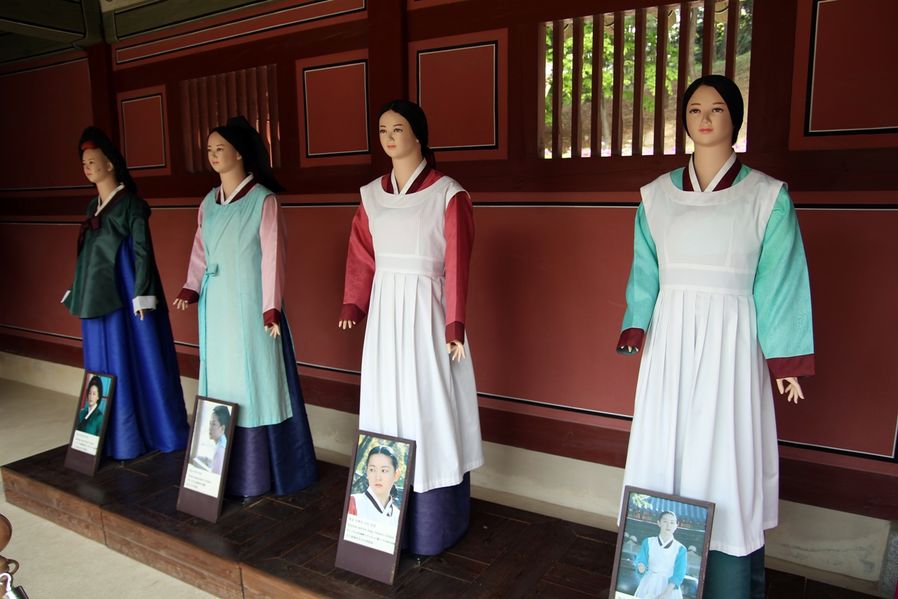 In Boknaedang, the drama Dae Jang Geum was filmed. The clothes were also displayed with the ones used in the drama.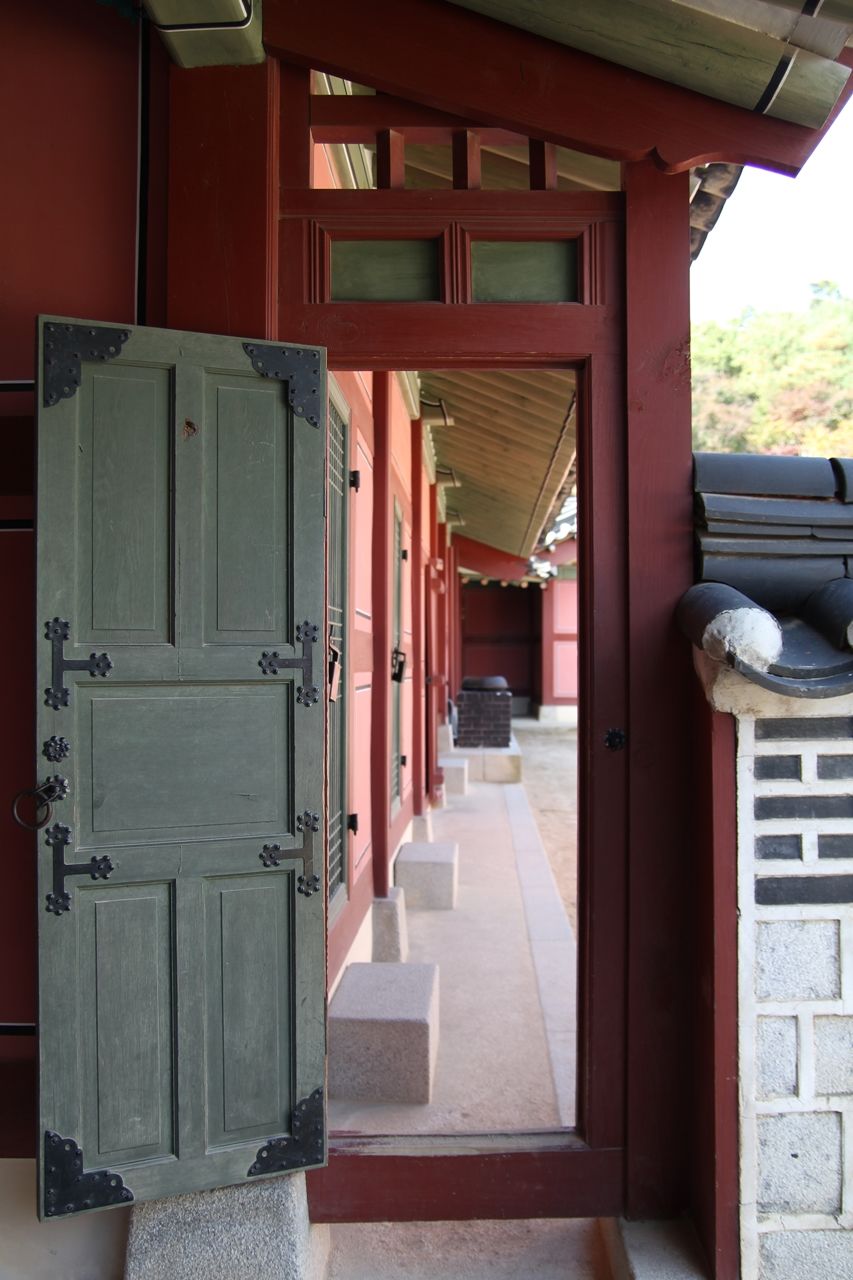 Can you guess how difficult the women's life when they had to pass through this small door that a man cannot even walk straight?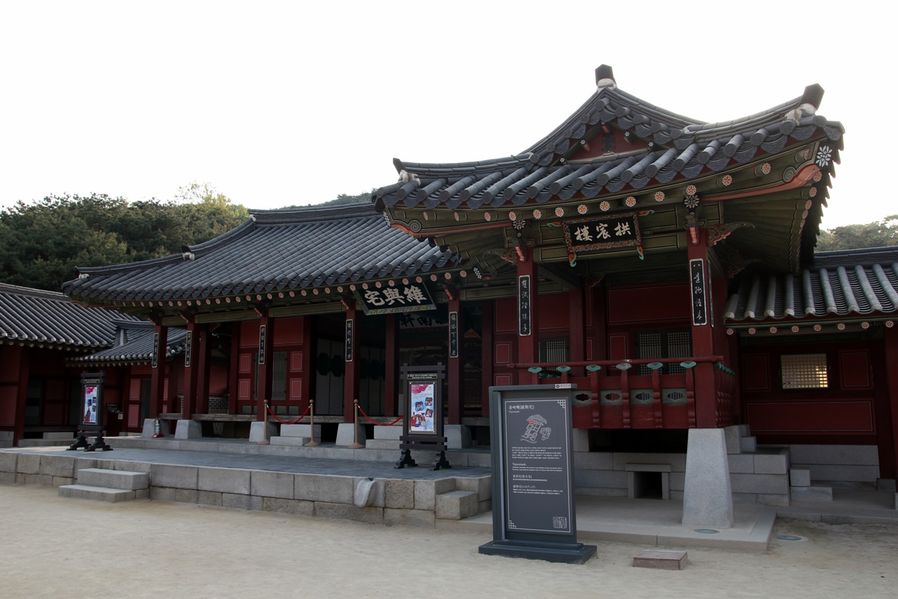 Getting out of Bongnaedang, the place with a signboard written Yu Yeo-taek is a building where the King Jeongjo used to have a chat with retainers. On the weekends, you could wear old clothes and pretend to be in that era.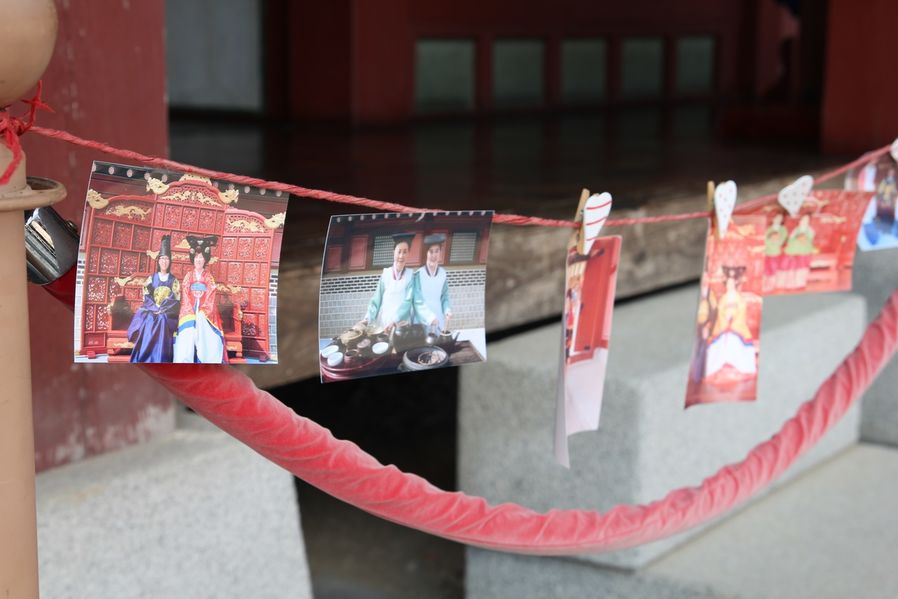 A mother and a daughter, sometimes like friends, must've made a memory with pictures.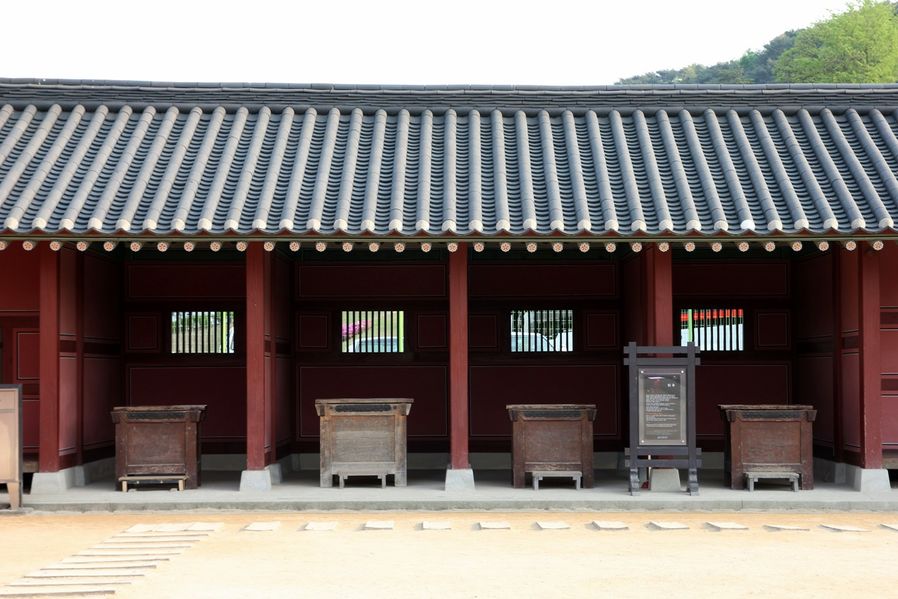 You could try wooden rice chest like Crown Prince Sado. Or you could get behind the wooden rice chest. I don't know why they should try but everybody gets in there somehow.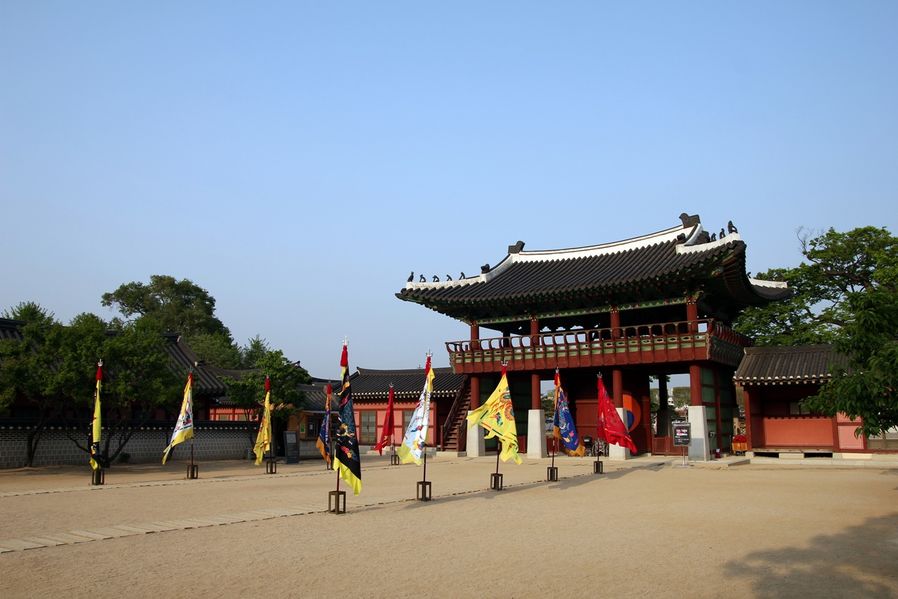 Oh, since the flags were fixed around Sinpungru, 24 Martial Arts show must begin soon. I'll show you that soon enough.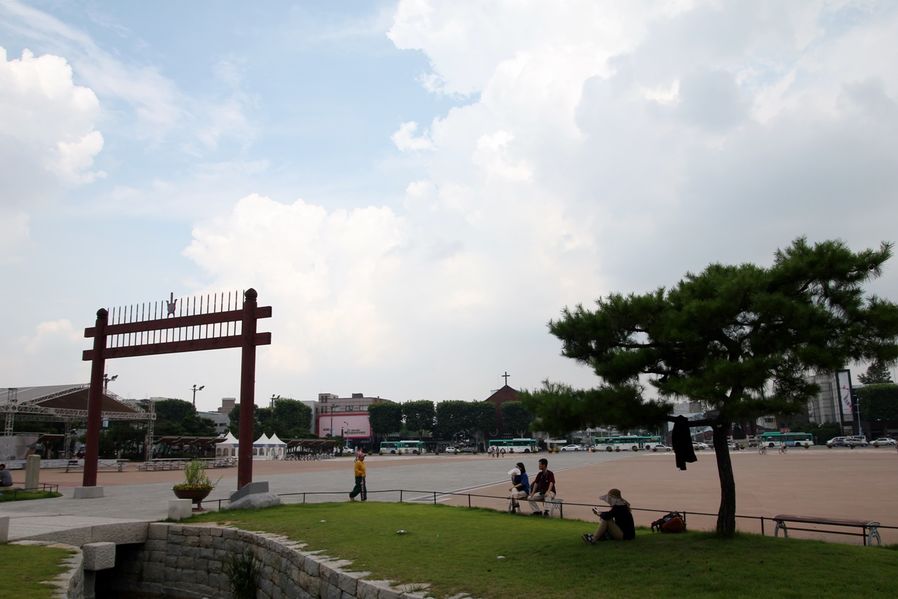 There's a big square in front of Haeseong Haenggung where you can rent a bicycle for 1,000 won. To the left in the picture above, you see white tent? That's where you should go. It would be also fun to take a look around Suwon by bicycle. Use it all day and take the bicycles back by 6 in the evening.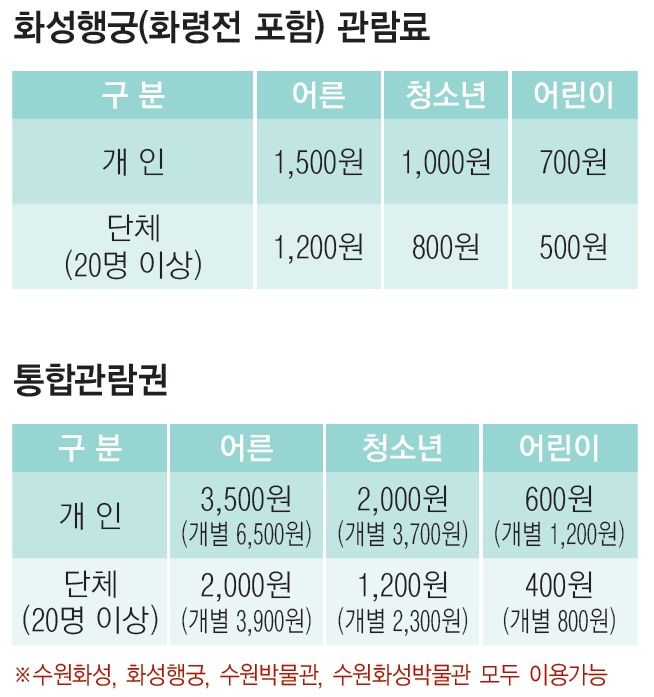 Free Performance '24 Martial Arts' in front of Hwaseong Haenggung Sinpungru 무예24기
If you think UNESCO world heritage, Suwon Hwaseong Fortress, is the only thing to see in Suwon, you're wrong. It also has the best temporary palace from Joseon Dynasty, Hwaseong Haenggung(Temporary Palace), and the front gate of Haenggung, Sinpungru, where you can enjoy the beautiful performance twice every day called '24 Martial Arts'.
Some of Suwon citizens haven't heard of this performance although it's been going on for over 10 years at the same place. Just because they don't know about this, it doesn't mean it's not worth to watch. People from all over the world have been here and moved by the performance so I'll show you a few photos.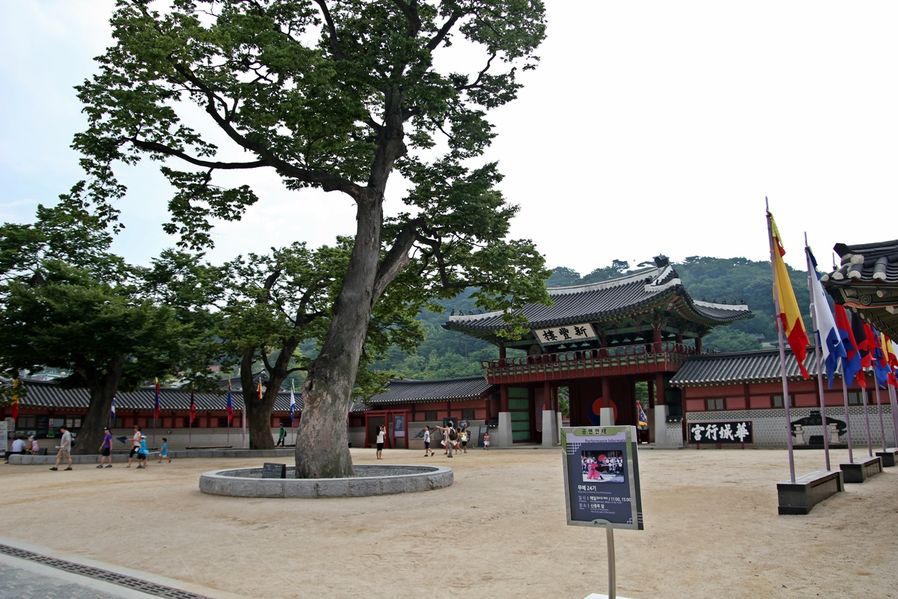 24 Martial Arts show is on at 11 a.m. and 3 p.m. everyday in front of Singpungru, the front gate of Hwaseong Temporary Gate. There's no show on Mondays so save your breath.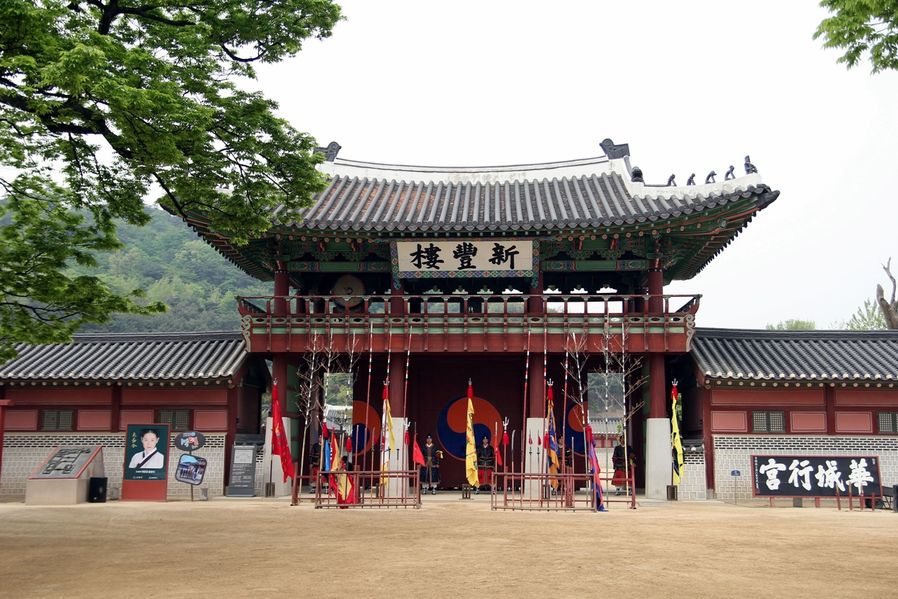 This show was based on historical research. Silhak scholars, Lee Deok-mu and Park Je-ga, and the master of martial arts, Baek Dong-su, created Muye Dobo Tongji(A Comprehensive Illustrated Manual of Martial Arts) under the command of the King Jeongjo by taking advantage of Joseon, Japanese and Chinese martial arts. 24 martial arts that the military of Jang Yong-yeong, elite troops for the 22nd King Jeongjo, used to train these.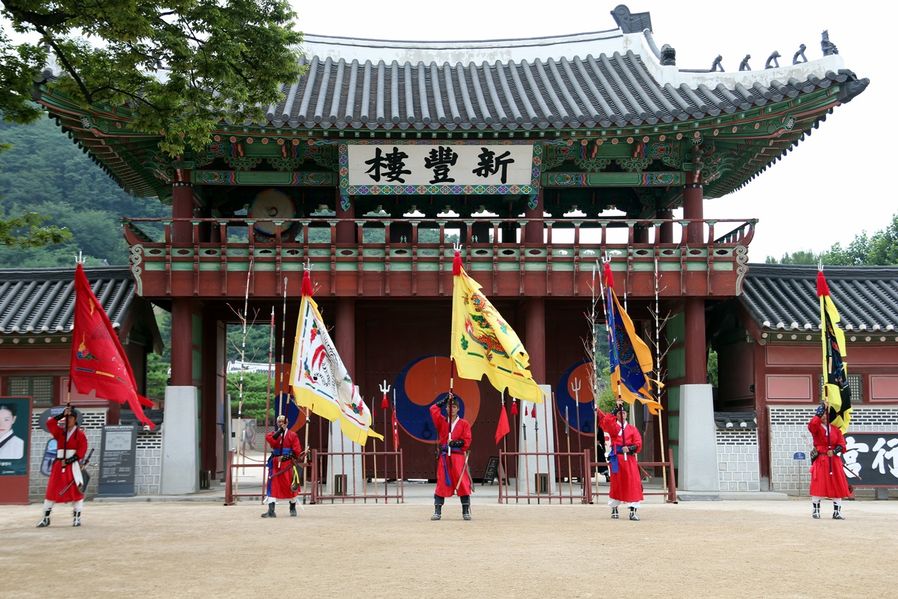 The masters of martial arts, the military troop, showed up and let everyone know that the show started. The announcer gave explanations in Korean, English, Japanese and Chinese languages for a long time.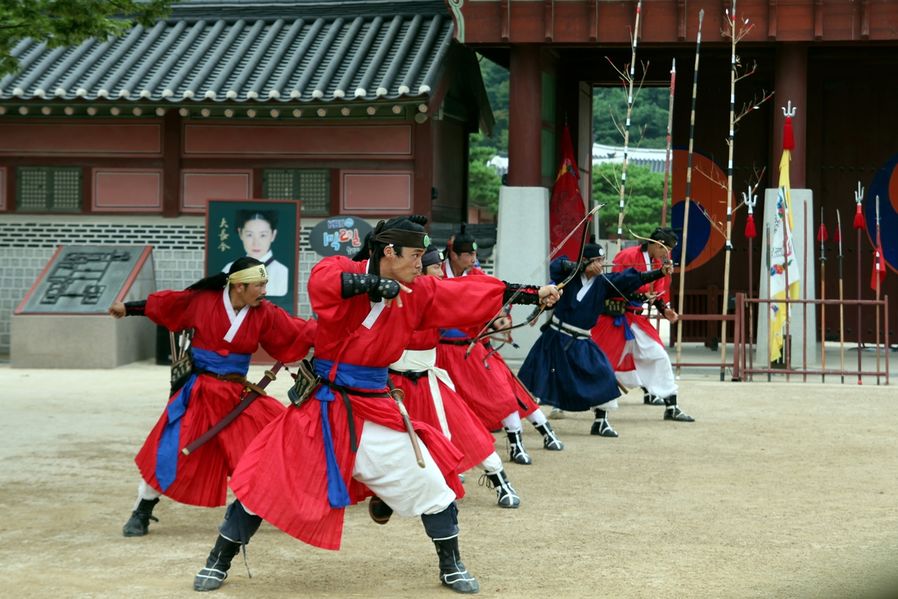 They gave demonstrations with weapons used by Joseon military. These people drawing bows look soooo cool that they hit the face of bear 100%. It was so fast and accurate, so dynamic.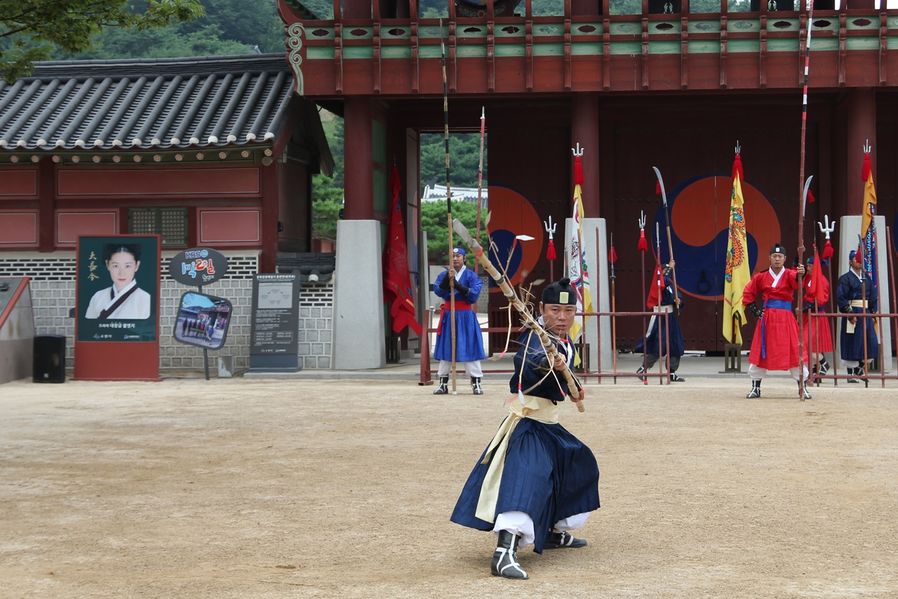 And the long spear performance started,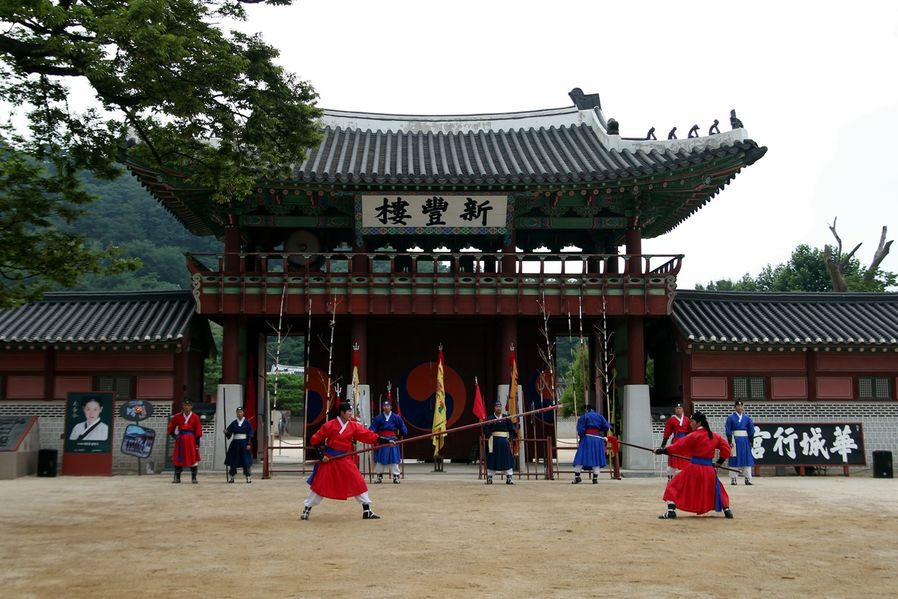 and the soldiers with long spears and short spears fought as well.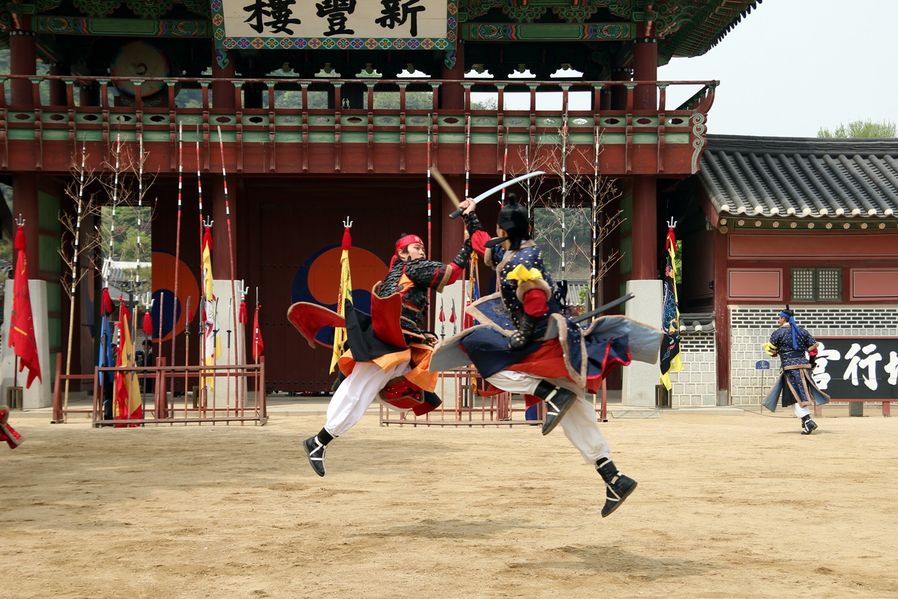 Another real sword show started that's seemingly sharp that it can cut anything just by touching it.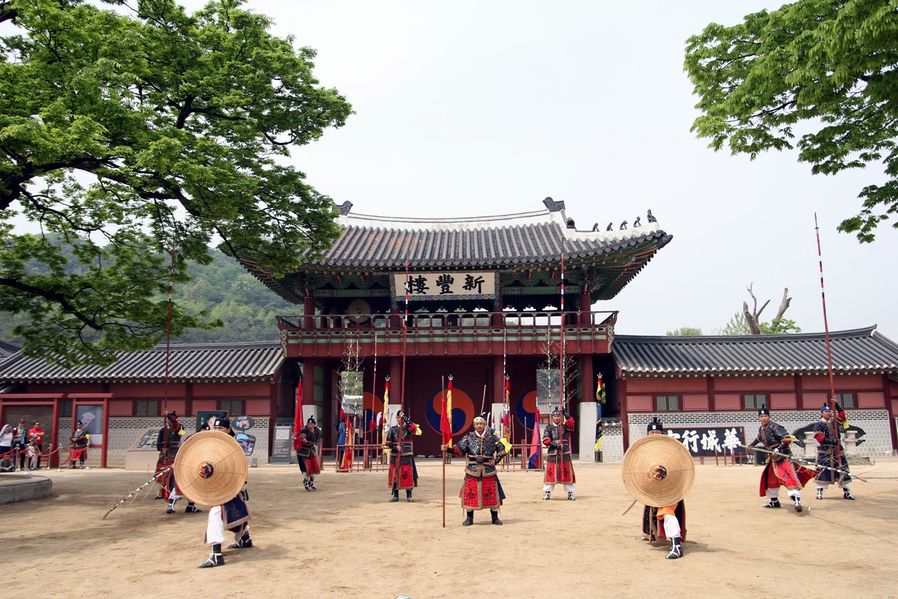 And there was a martial arts performance called Wonangjin(鴛鴦陣) by a team consisting of 12 people. Wonangjin is fight of a team with soldiers with short weapons and long-distant weapons and if one of 12 members died, they blamed the rest and killed the rest 11 people. So they can't let anyone die orit would be collapsed so I say it is the best battle strategy.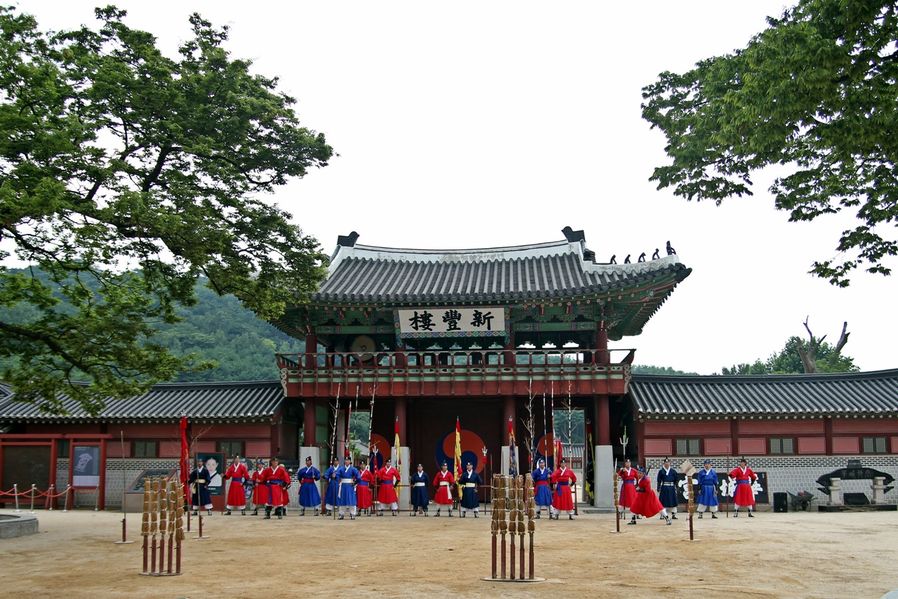 And the last one, the flower of the 24 martial arts, cutting bundles of straws with a real sword.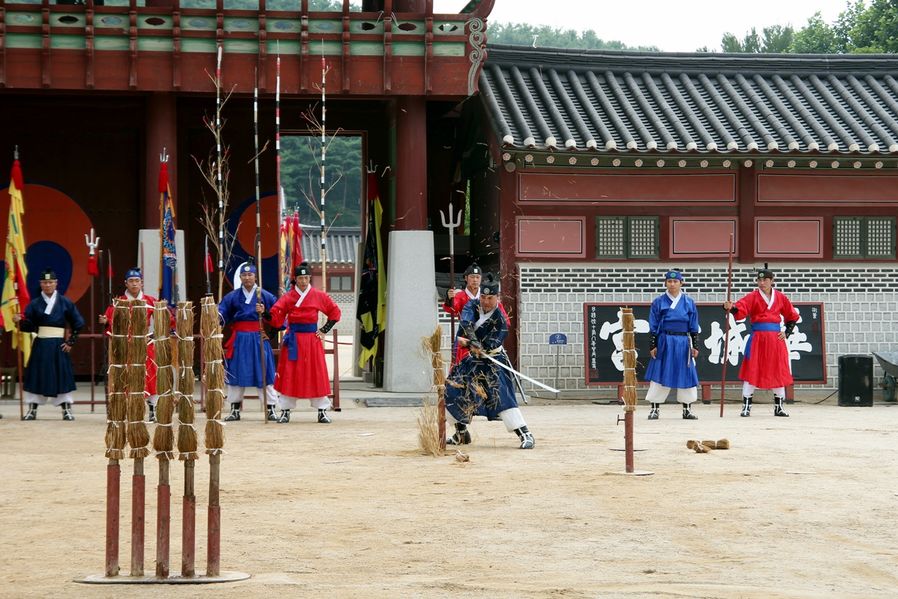 They did a demonstration of 3:1 battle to cut 3 bundles of straws one by one,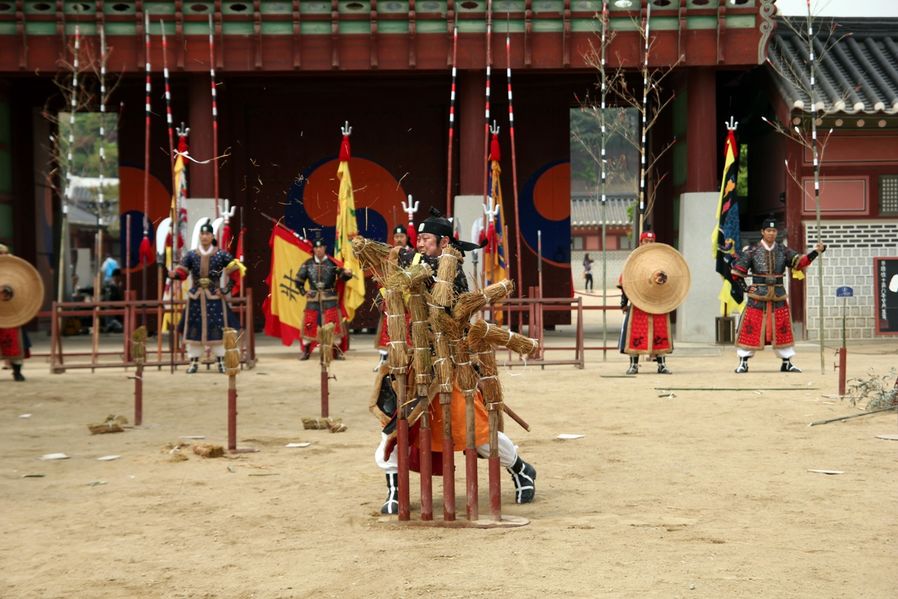 and the most difficult martial art, cutting 5 bundles of straws at once.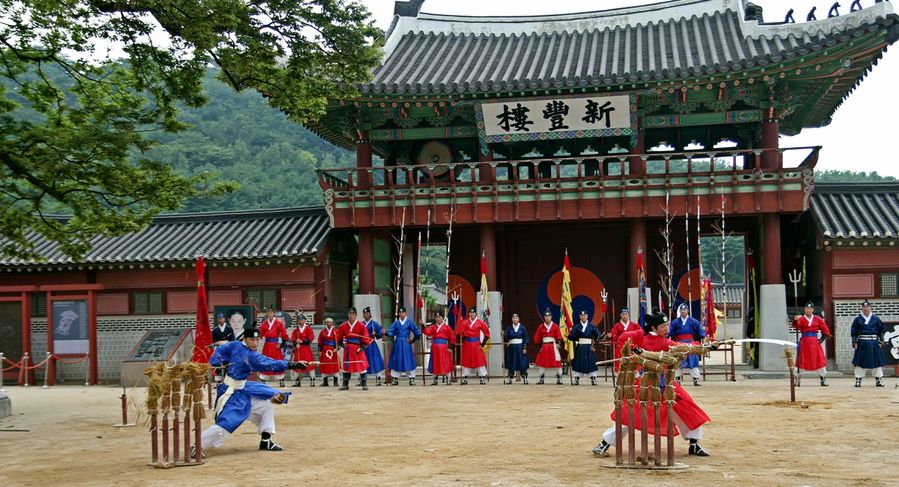 Oh and there was one more trial that I didn't see in spring. It's cutting a bundle of straw with a long spear. It's hard enough to hold a long spear but it could cut it twice. It was amazing.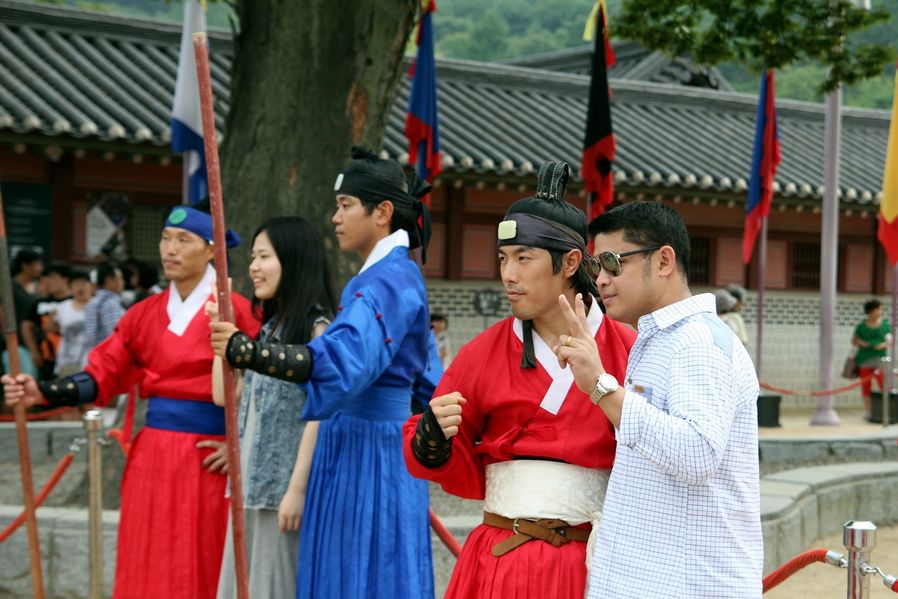 After the show, they allowed the audience to take pictures of them. They were cool.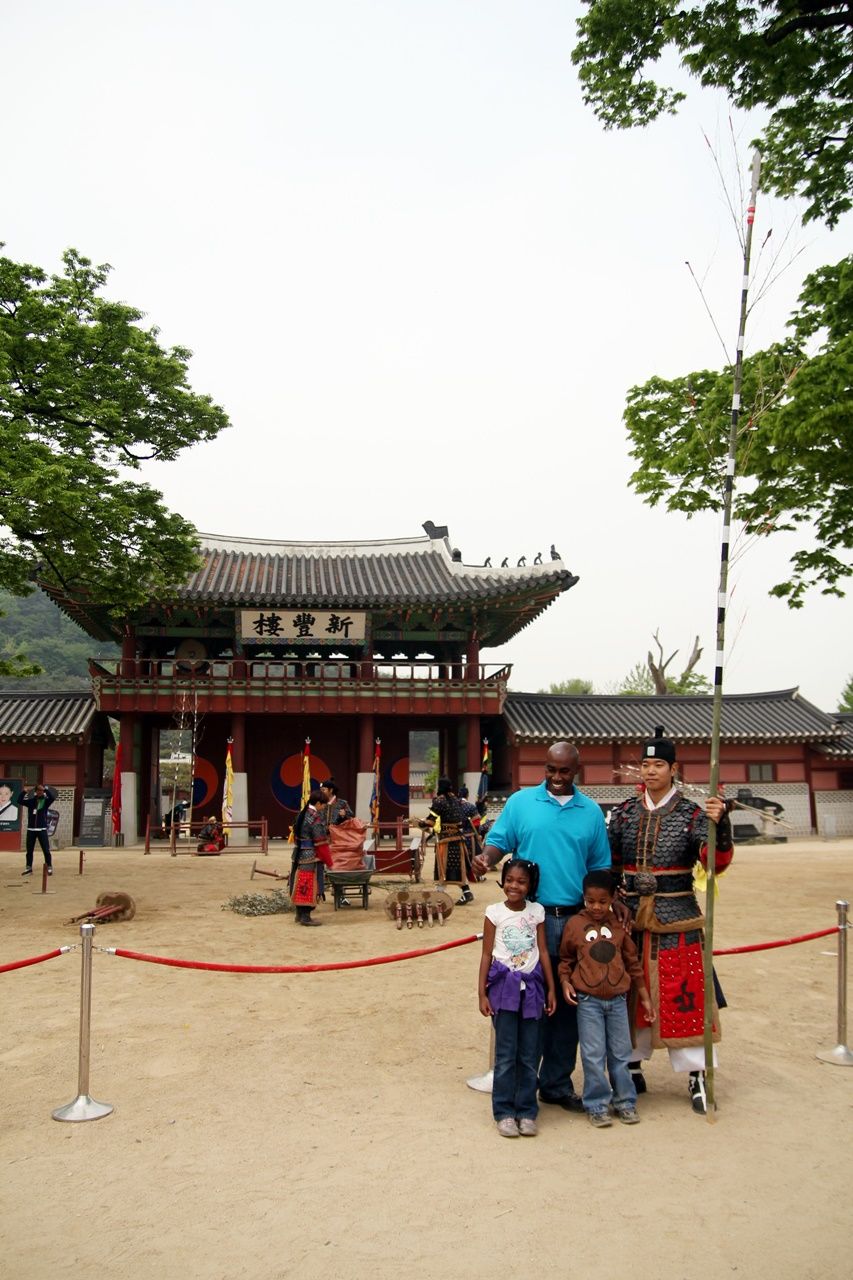 When the show's over, I felt like the people from all over the world became one. Age or gender didn't matter, all the people from the world were happy which made me think non-verbal performance has a strong power to move people. And the content of performance changes periodically so keep that in mind. If you ever go to Suwon, I hope you watch the 24 Martial Arts show in front of Sinpungru, the front gate of Hwaseong Haenggung.

Address :825, Jeongjo-ro, Paldal-gu, Suwon, Gyeonggi-do (경기도 수원시 팔달구 정조로 825)

Telephone : 031-228-4677
Performances : 11:00 and 15:00 everyday (Closed on Mondays)