Whangje seafood octopus bossam
Even though gyungchip was over, cutting wind is still flowing in the middle of February. Then I thought Iksan would be the great place to visit. I totally forgot about Iksan since Mireuksa Temple Site of Iksan was under reconstruction for a long time. I found out on the Internet that it is the best place for one night two days journey.

I am going to see Yun Jeung old house in Nonsan the middle of the road to Iksan. It is famous for old house which is harmonized with Jangdokdae(platform for crocks of sauces and condiments) and old tree. I am going to look around Nabawi Catholic church and Doodong church in the road to Iksan. I heard that it is a shabby church, but has interesting structure. And then, I will appreciate Wanggungri Five-story Stone Pagoda in the sunset. I want to visit Geumsansa Temple next day, but probably I should leave that for another time.
Yun Jeung old house(Gyochon-ri 308, Noseong-myeon, Nonsan-si) :
It is also called as Myeongje old house. You must visit here in the road to Iksan. It is the house of Yun Jeung, the leader of Soron in King Sukjong period. It is located in front of Noseongsan mountain. This village is the stronghold of "Chungcheongdo yangban" where a lot of politicians and scholars lived in the Joseon dynasty period. Hyanggyo, Yun Jeung old house and Gwollisa Shrine around the village led the Neo-Confucianism of Chungcheongnam-do.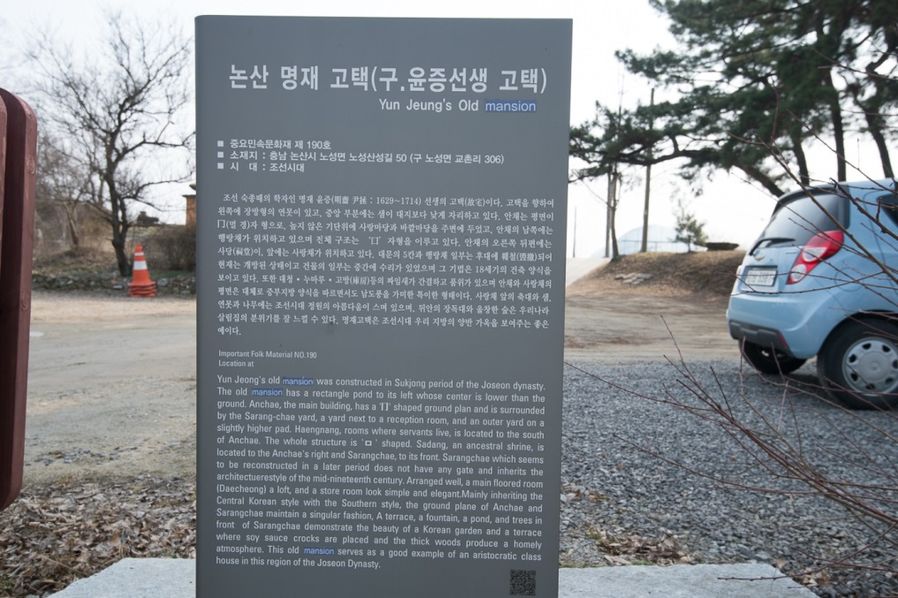 Yun Jeung devoted himself to his studies after he saw her mother took a suicide when he was 7 years old. He said, "I cannot protect my country since I even couldn't protect my mother." King Sukjong granted official rank to him, but he refused it. People called him "Baekuijeongseung(the minister with white clothes)" as he became a high ranking official without a government post. He worried about party strife even when he was dead. And he asked his offspring that only the word "Good scholar" to be written on his tombstone. King Sukjong wrote a poem for Yun Jeung after he was dead.
I praise the virtue of Yun Jeung. I adored him, too. But I couldn't see his face in my life. I am sorry that he passed away.
[Naver encyclopedia]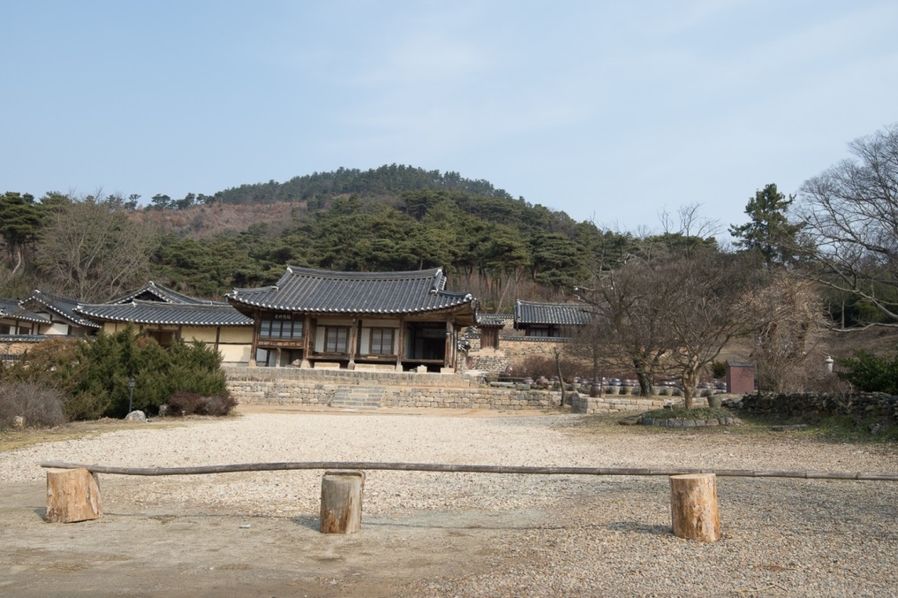 Old tree is protecting Yun Jeung old house and hundreds of pots.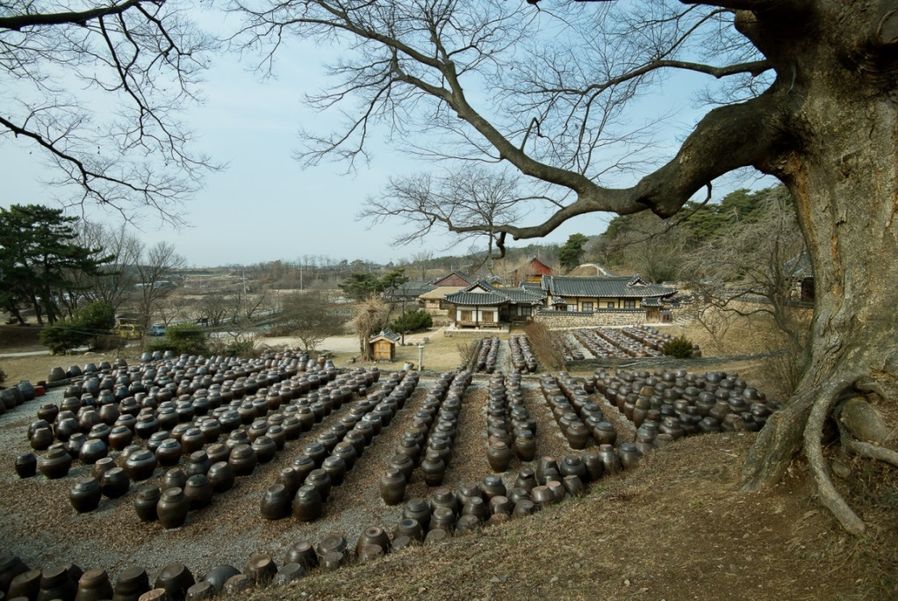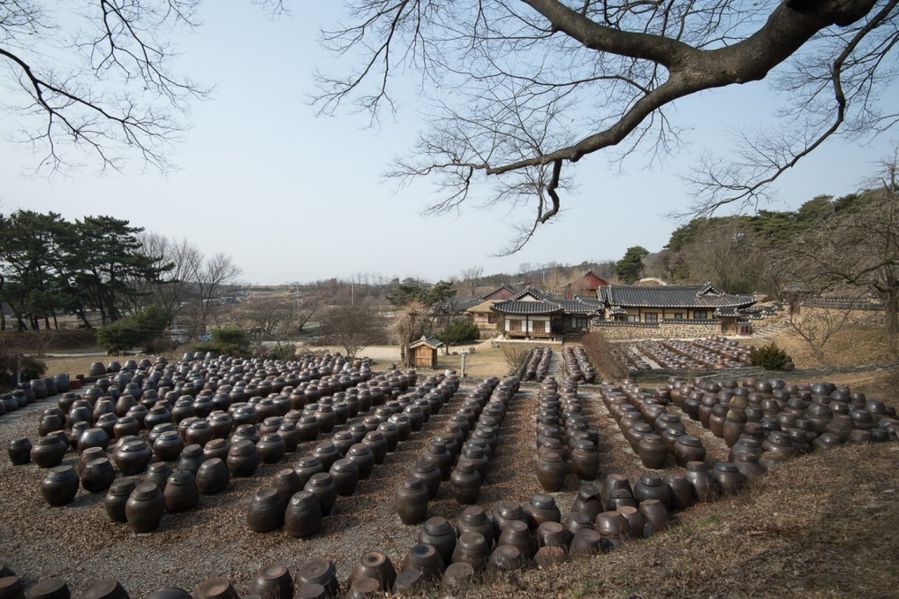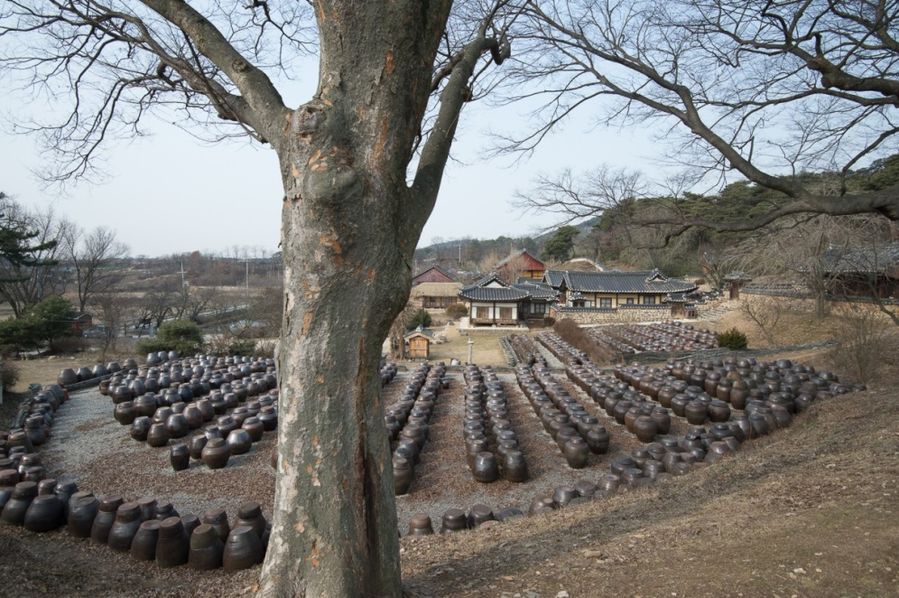 The detached house is built on the second floor of stylobate.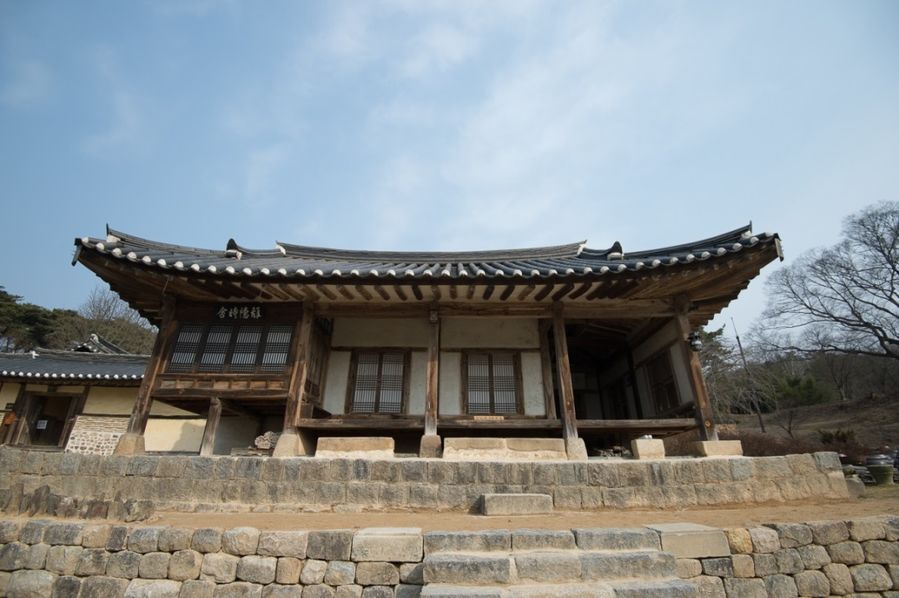 The house was built by Yun Jeung, the sholar in King Sukjong era. It consists of an artificial pond, an artificial hill, the detached house, the main building and Gwangchae. It is a typical house facing south.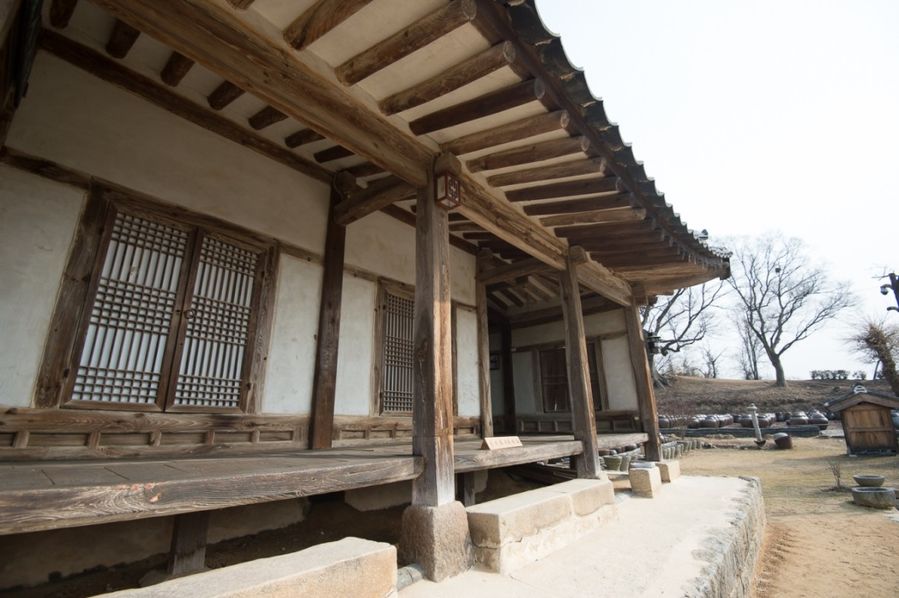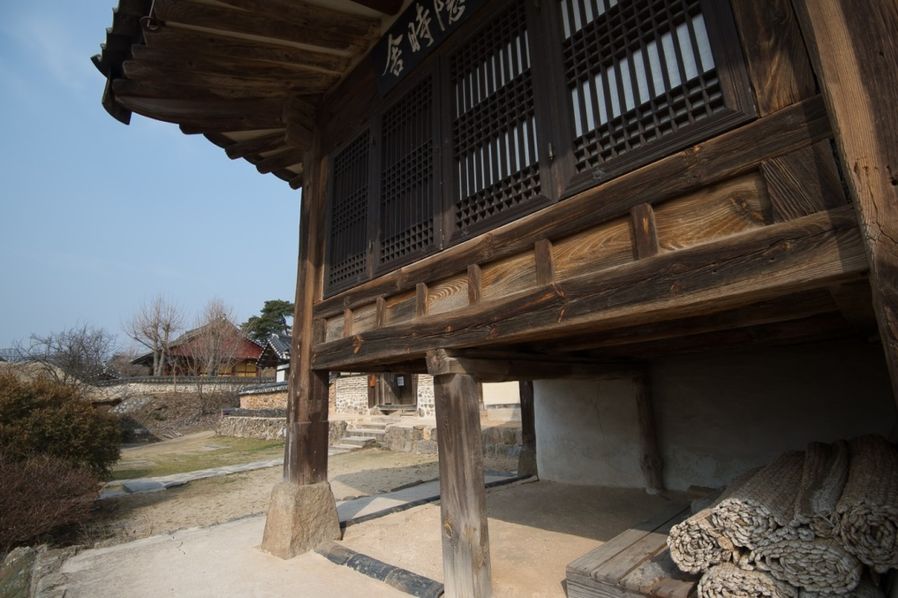 I wanted to look around the inside of the main building. But I couldn't because offspring is living there. So I just took a picture of it from the far distance.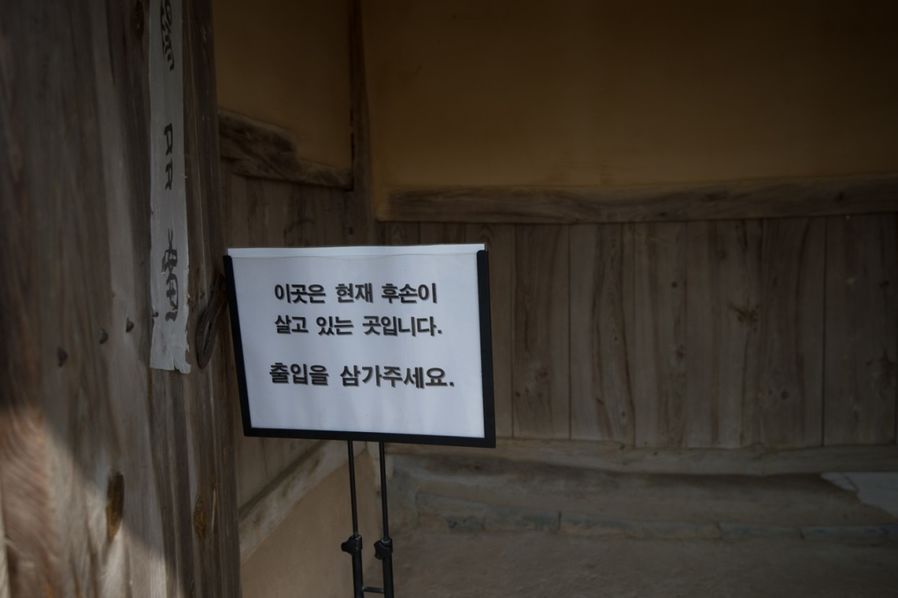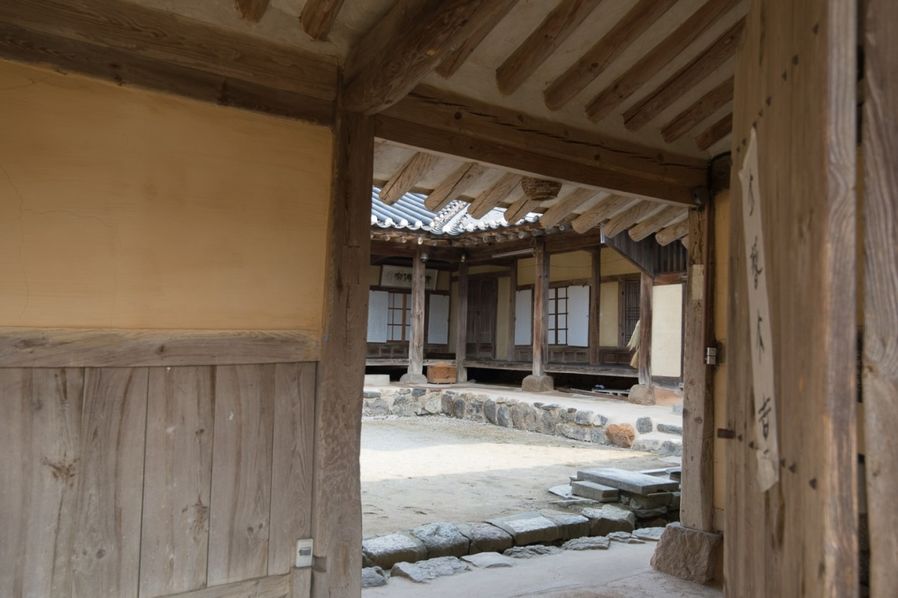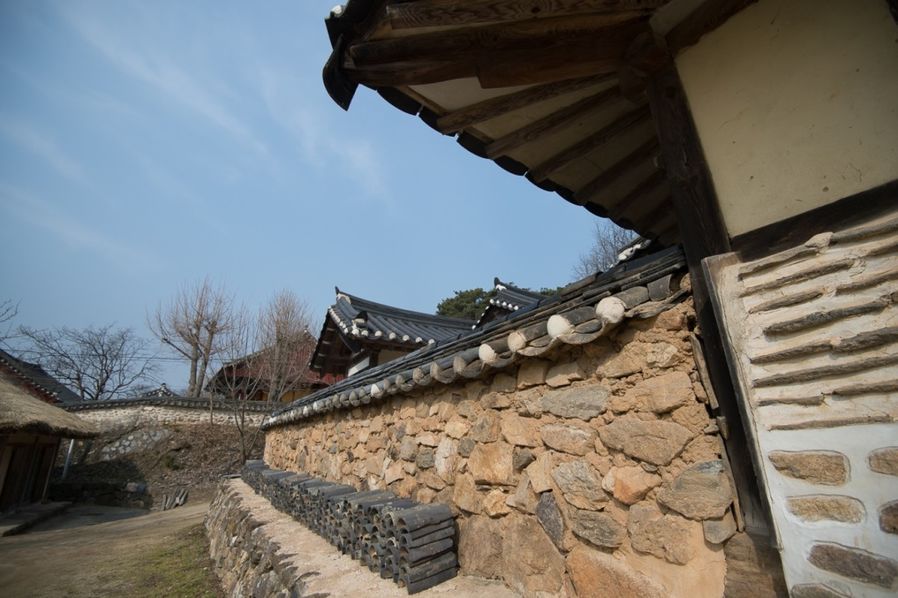 There are round pots in Jangdokdae(platform for crocks of sauces and condiments). Bamboo trees and pine trees which look like a folding screen make comfortable atmosphere.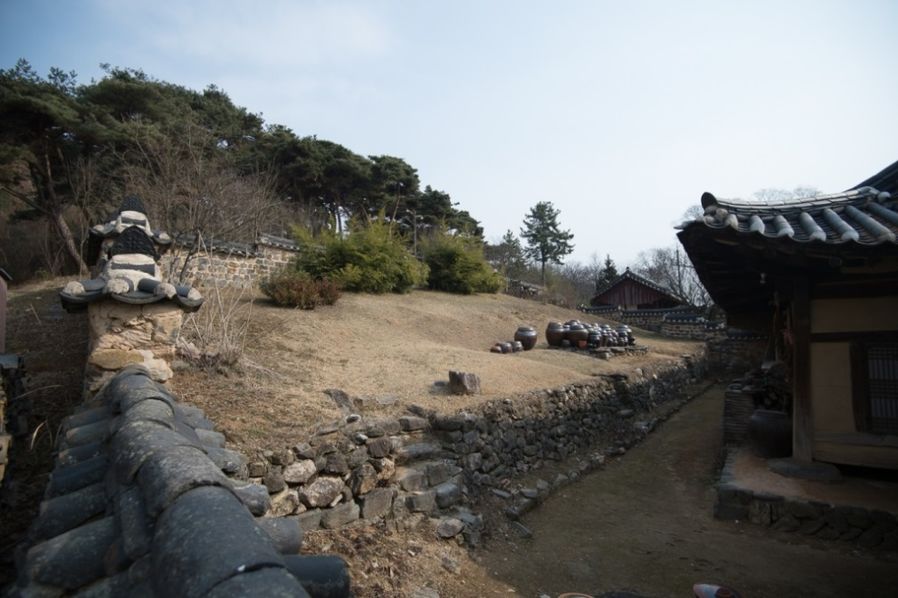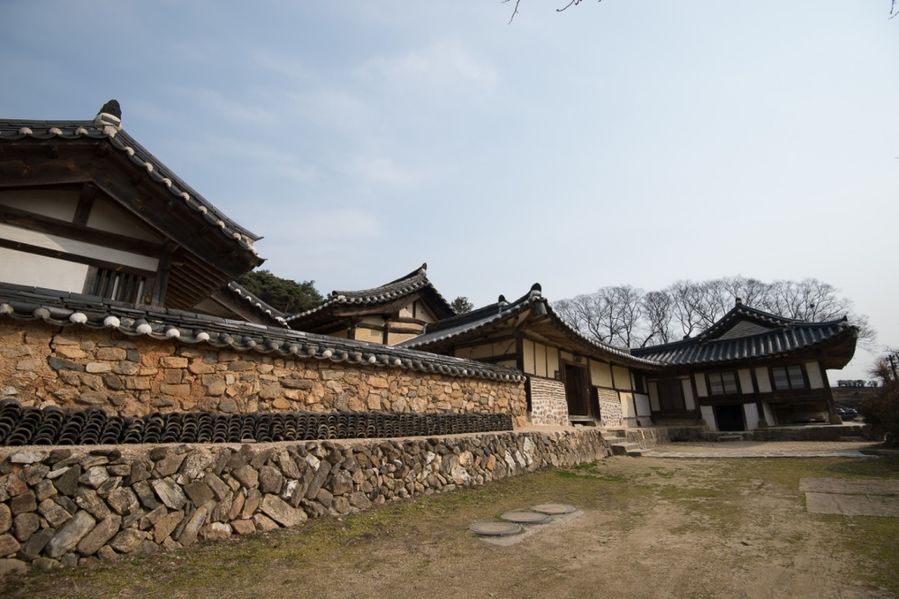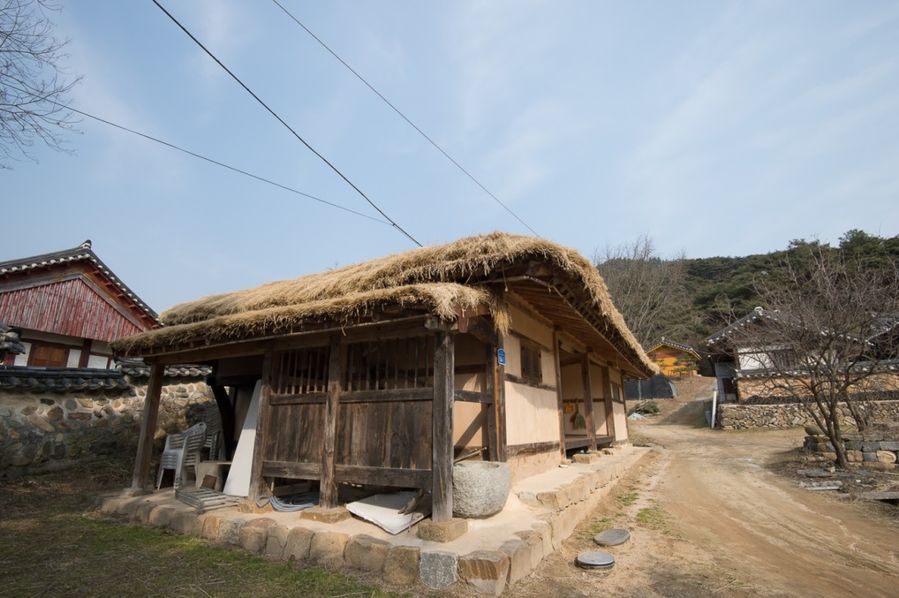 The water flowing from Jineungsu stops in front of the artificial pond. And it joins with various water branches originated from Backhoe and Cheongnyong. And the water flows to Noseungcheon after passing by Wuimyeongdang. Noseungcheon makes a big flow, and flows to Geumgang river.
[Naver encyclopedia]
Noseong Hanggyo :
I couldn't go inside of Noseong hanggyo as it was closed. But I could look the inside of the building beyond the low wall. This is the information from encyclopedia.
Noseong hanggyo is located in Gyochon-ri 308, Noseong-myeon, Nonsan-si along with Yun Jeung old house. It was originally built in near Wolmyeonggok, Songdang-ri, Noseong-myeon(Now Nosung Elementary School). It is assumed that it was built in 1398. It was moved to Gyochon-ri in 1700s, but the reason is unknown. Ancestral tablet was enshrined, and Confucian scholars hold sacrificial rite in every spring and fall.
[Naver encyclopedia]