Whangje seafood octopus bossam
Nabawi Catholic Church(No.318 state-designated cultural property)
Nabawi is the land that priest Kim Dae-gun firstly reached after he returned from China. He departed Korea in December 1836, when he was 15 years old. He returned Nabawi, Korea in 12th October in 1845. In 1906, the building started to be constructed in order to praise priest Kim Dae-gun, and it was built in 1907. The pries Peuwanel designed the building, and Chinese workers constructed it. Architecture style was from traditional Korean-style house.
Nabawi catholic church is selected as the sacred place by Korean catholic church. It is the early cathedral which combines western cathedral style and Korean architecture style.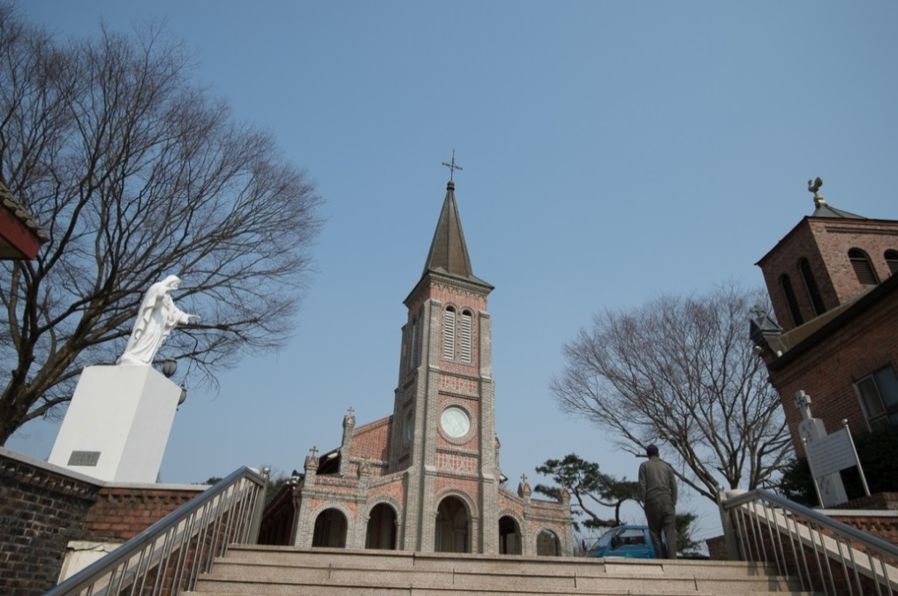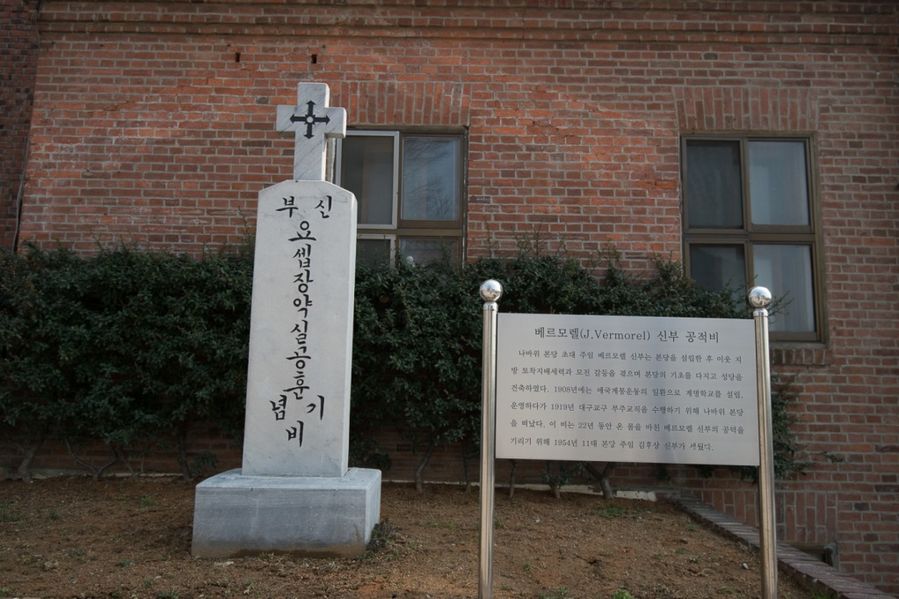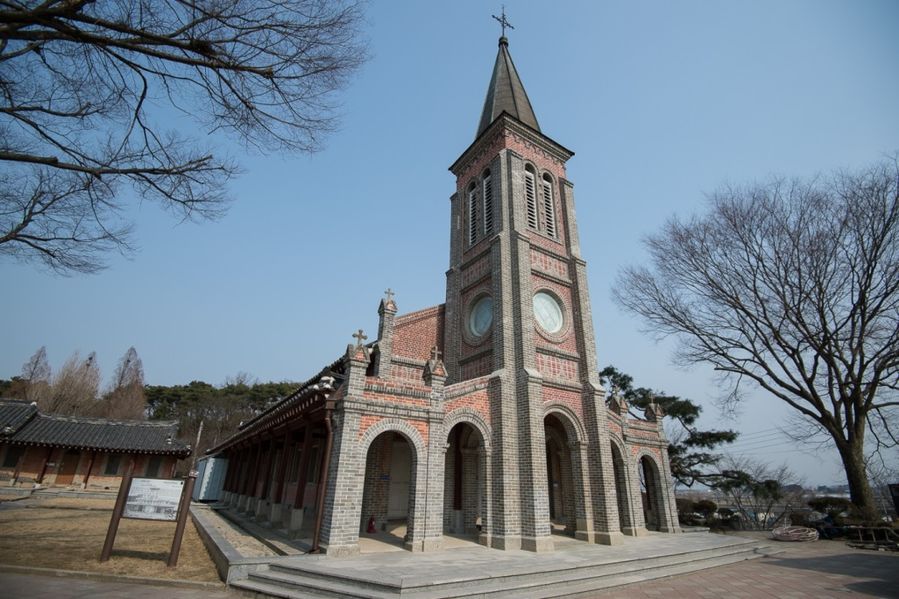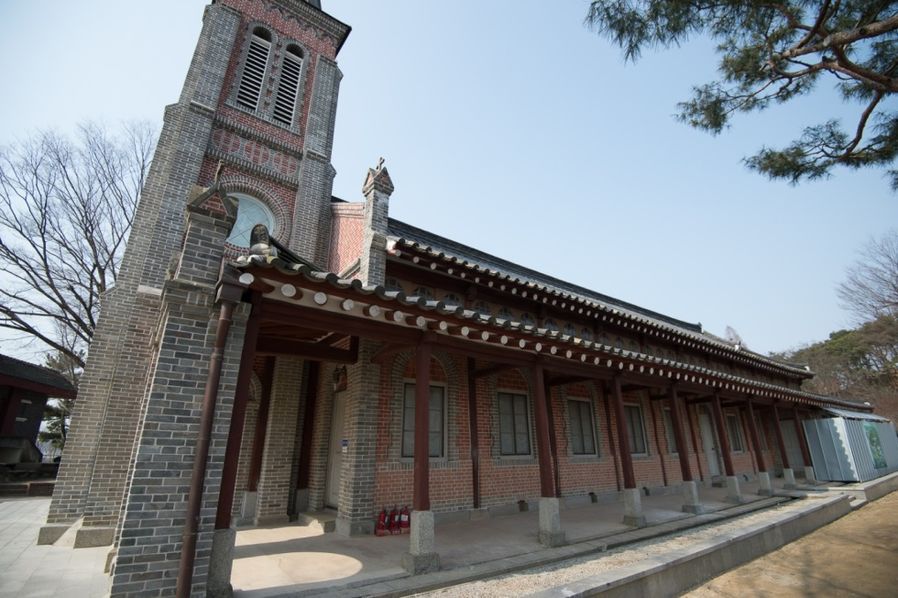 In particular, the gallery of Nabawi catholic church shows the beauty of Korea. The combination of octagon window and pine tree is perfect at night. The name was originally "Whasan catholic church, but its name was changed to "Nabawi catholic church".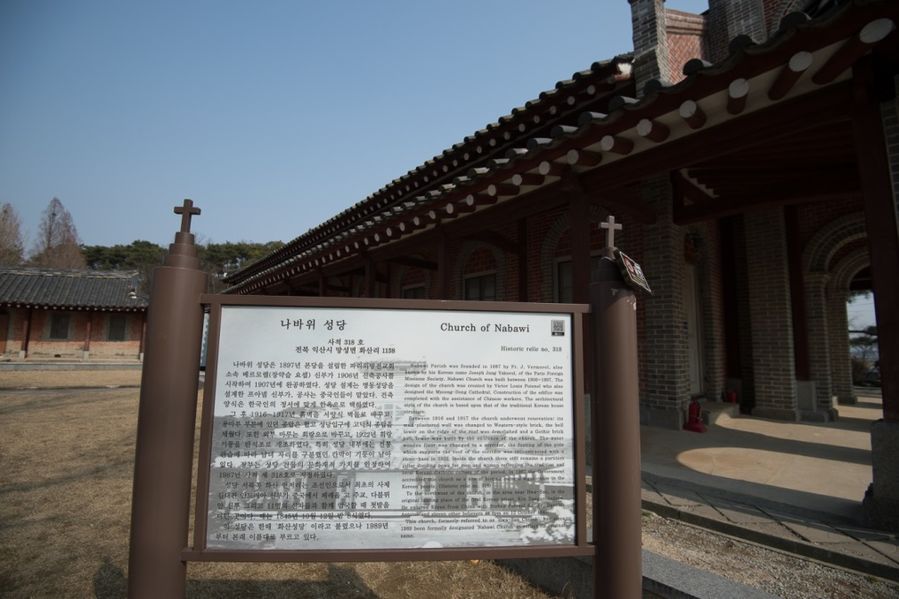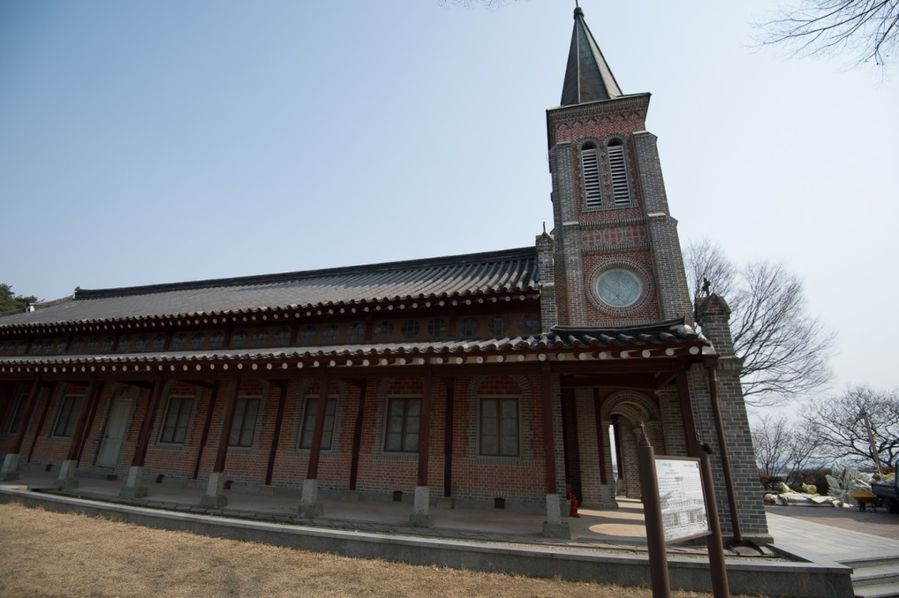 This building with tiled roof and red brick is priest's office.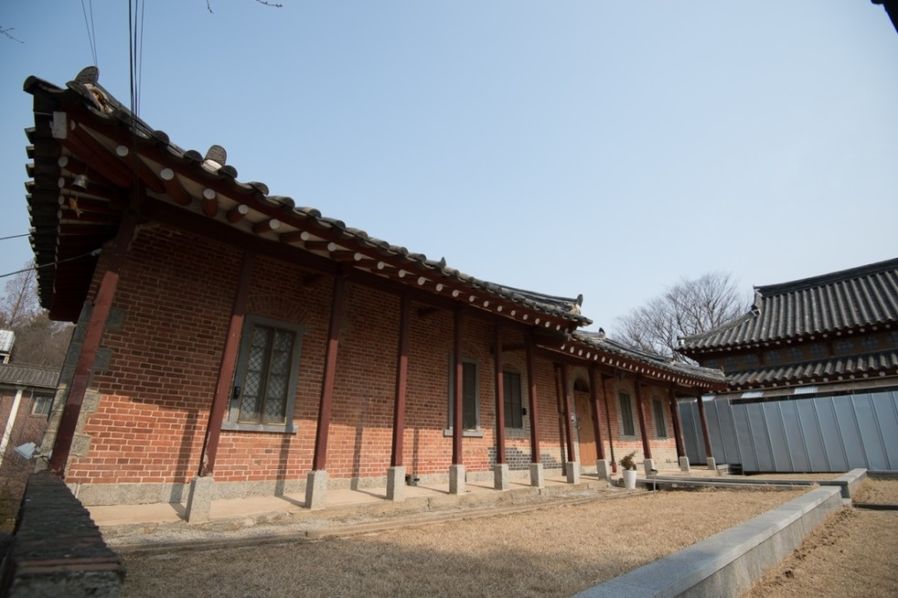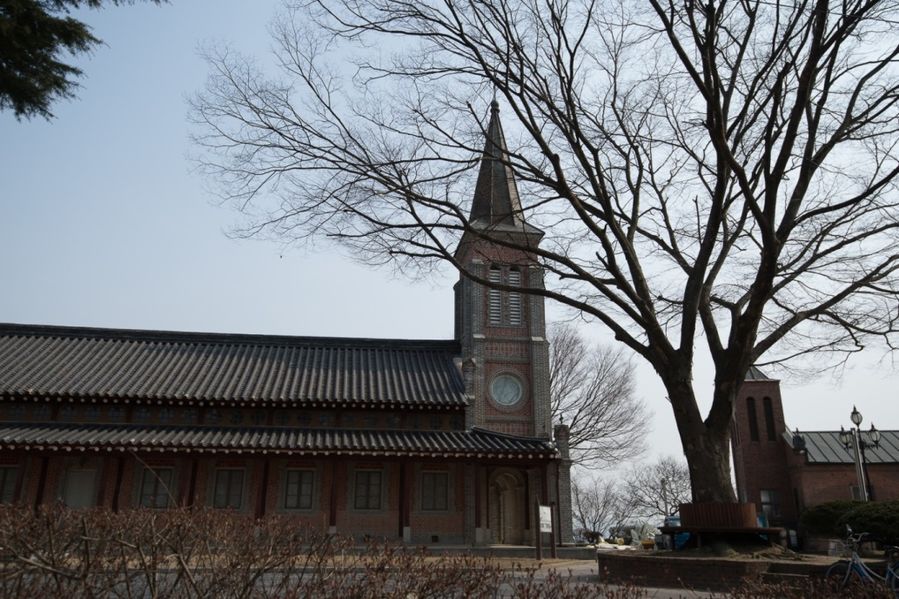 After going down to the stairs of priest's office, you can find the Host worship room in the basement.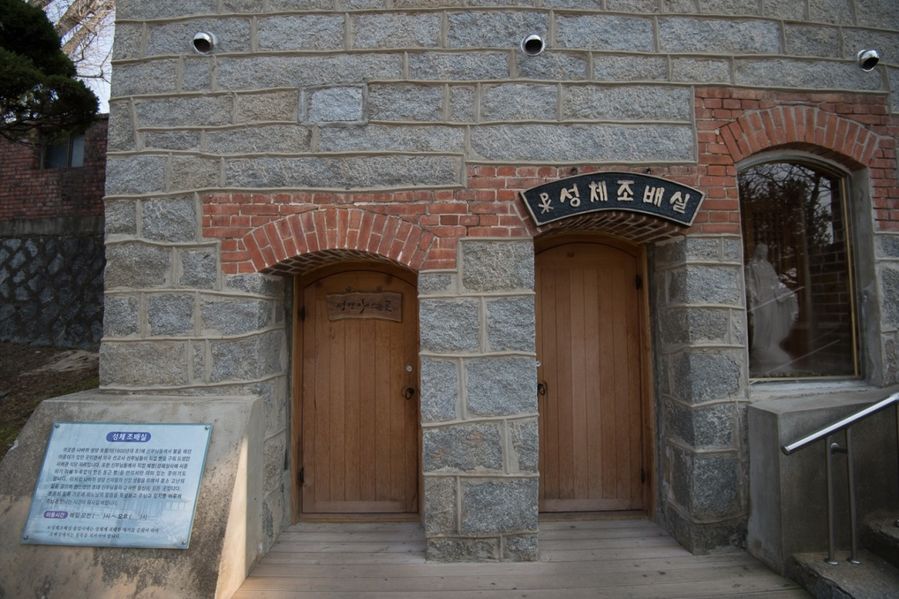 And there is a training center nearby, and the bronze statue of priest Kim Dae-gun on the right side.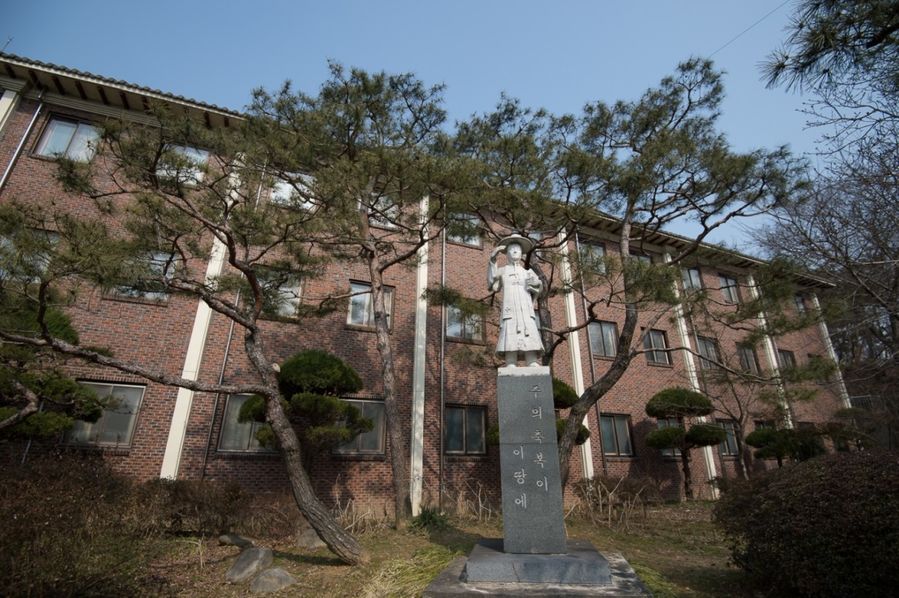 The classical bicycle is standing in front of the cathedral. Even though it has passed 50 years, old scenery looks so natural.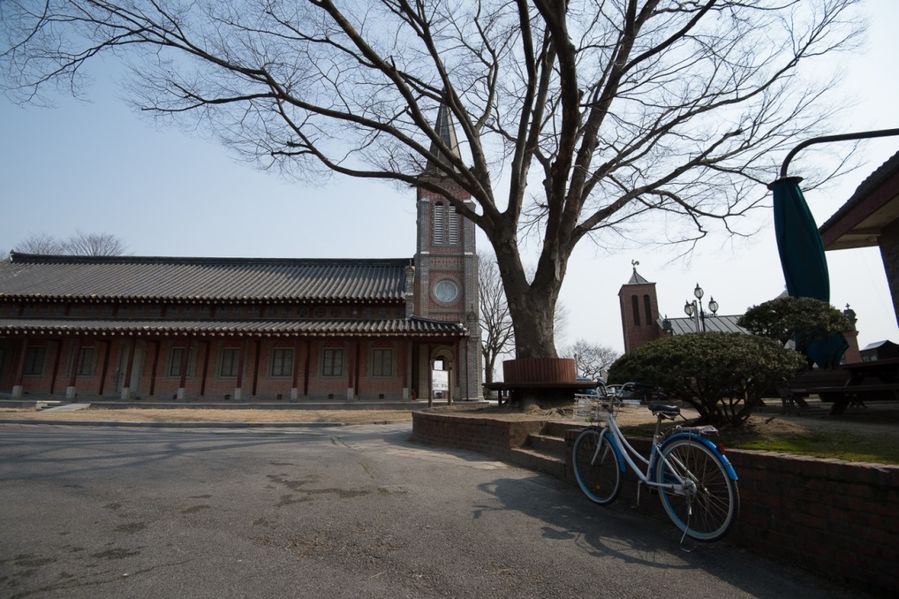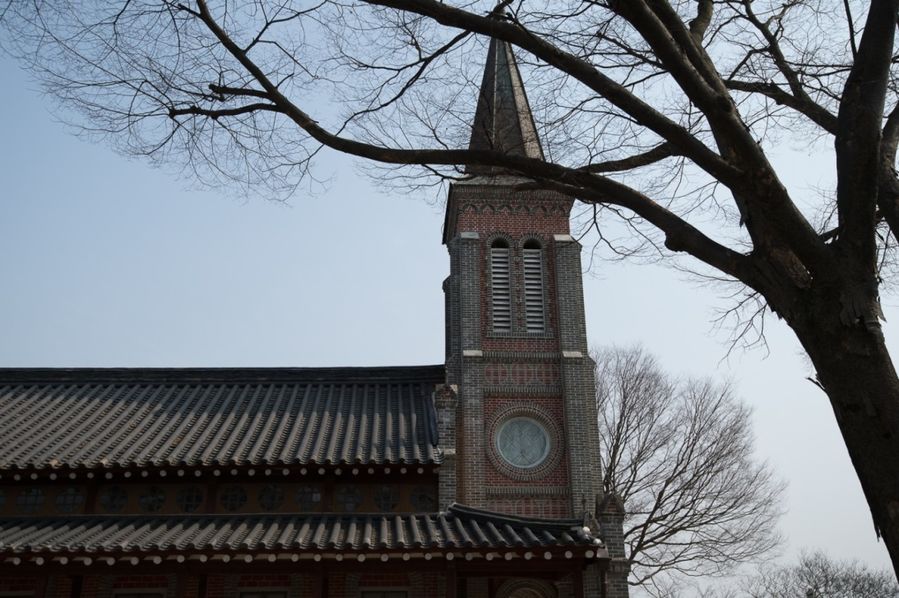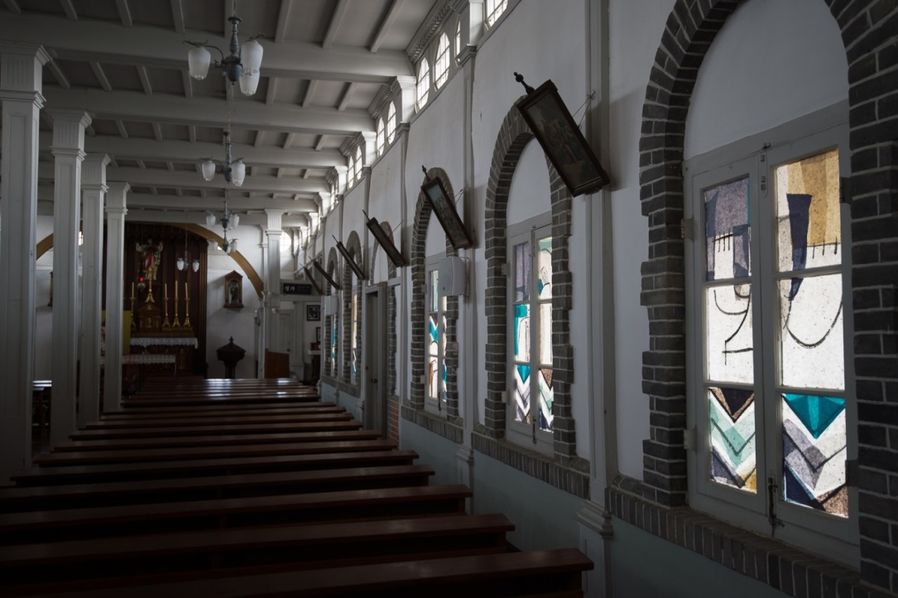 The divider pillar which separates male and female still remains in the cathedral.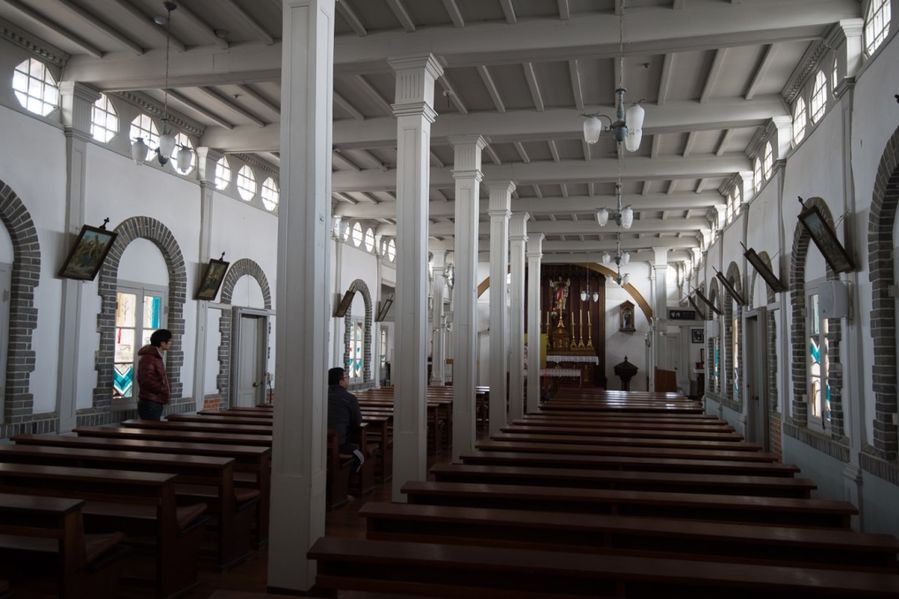 Usually, colorful stained glass expresses the hardship of Jesus Christ. But there are some abstract paintings painted on the paper weather strip. The pattern and the color of them remind me of white porcelain of the Joseon dynasty period.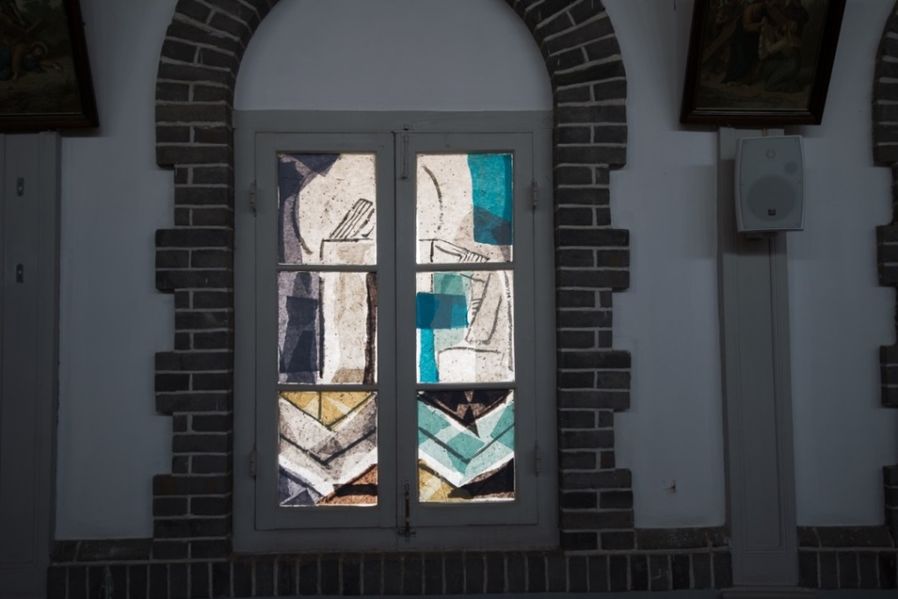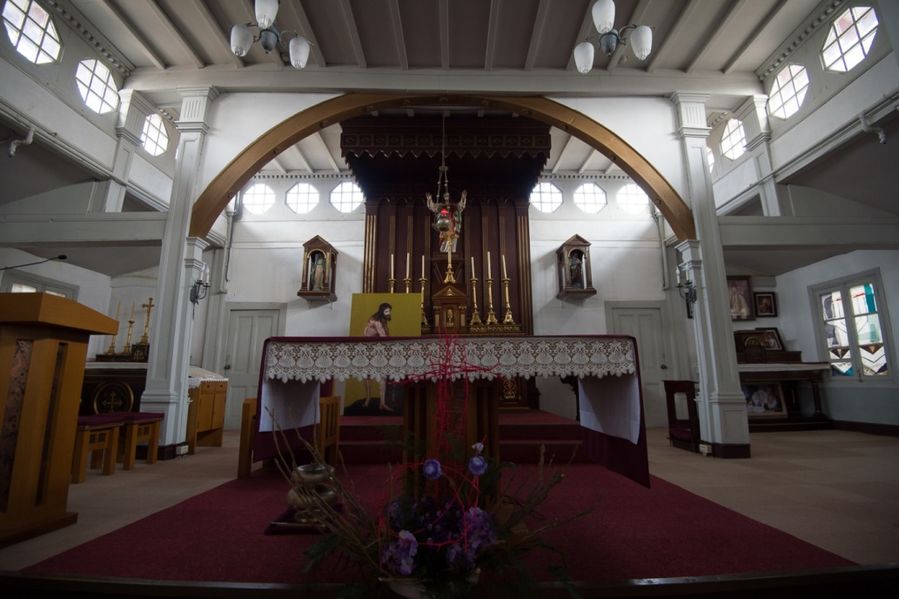 Some neck bones of the priest Kim Dae-gun and the remains of the priest Marie Antoine Nicolas Daveluy are enshrined in the tabernacle of the cathedral. Baptism board and sacred images were made in São Lázaro monastery in Nanjing , China.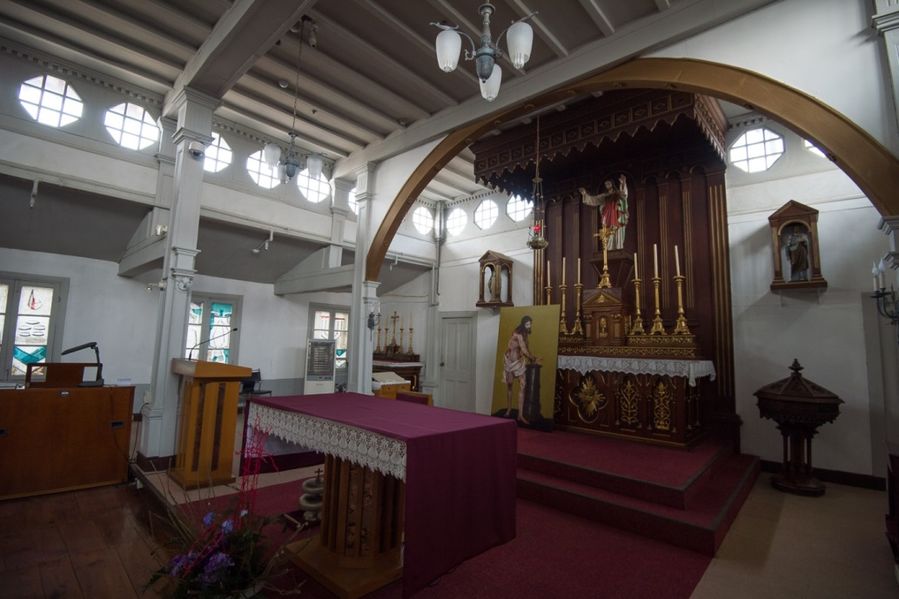 The word says Korean paper art of the cathedral window was proceeded delicate ly, and the ownership belongs to Nabawi Catholic Church.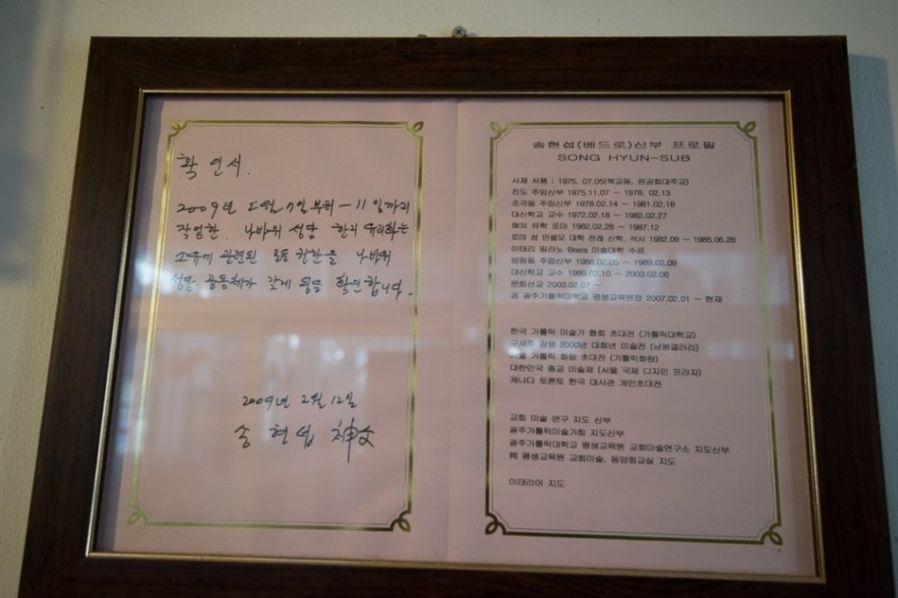 I went upstairs to the second floor through the stairs on the backside of the cathedral. You can read mass by sitting on the floor.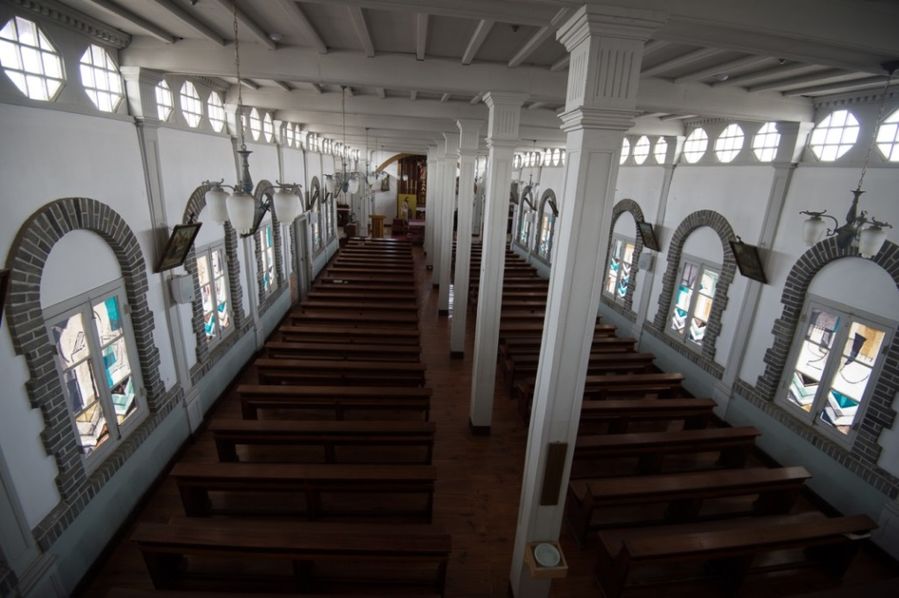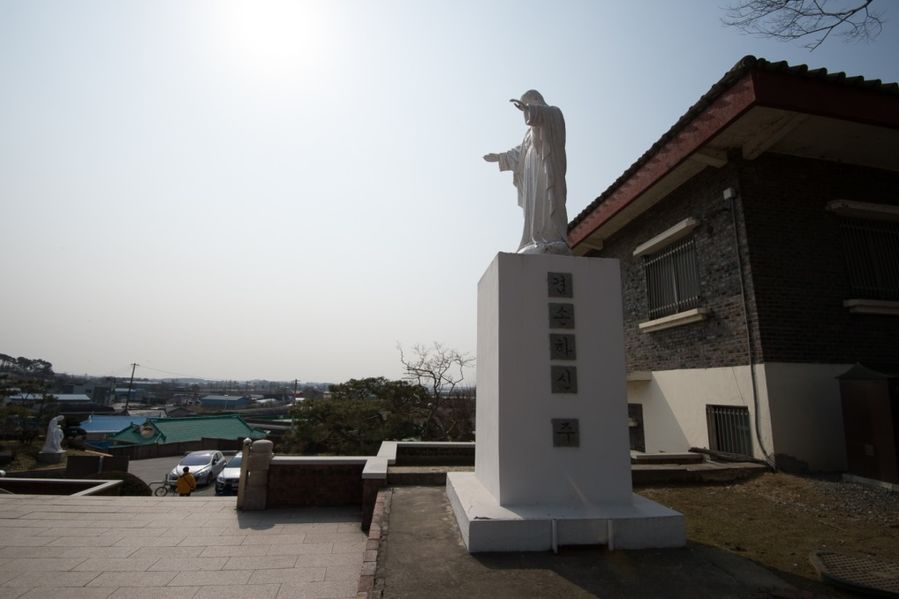 Jesus Christ welcomes visitors with his arms at the entrance of the cathedral.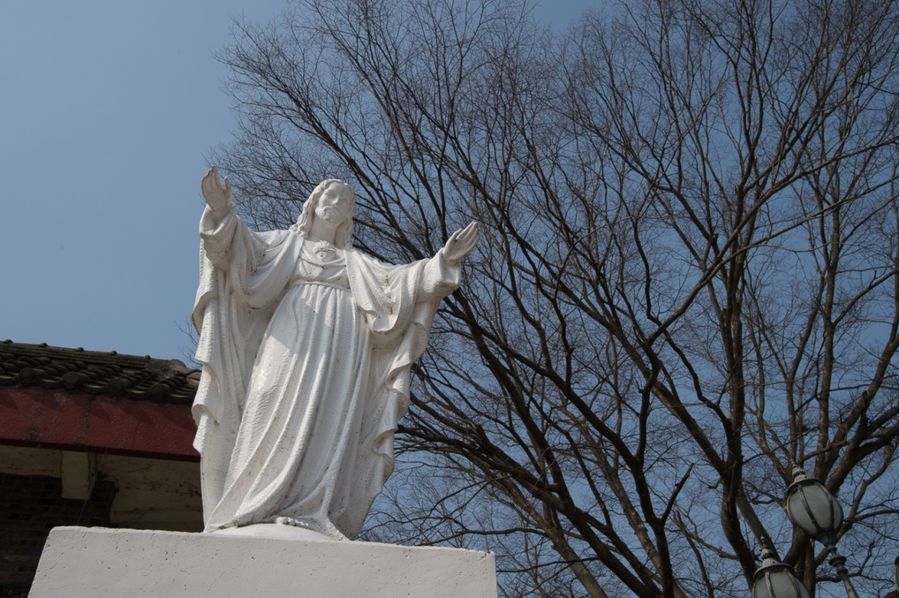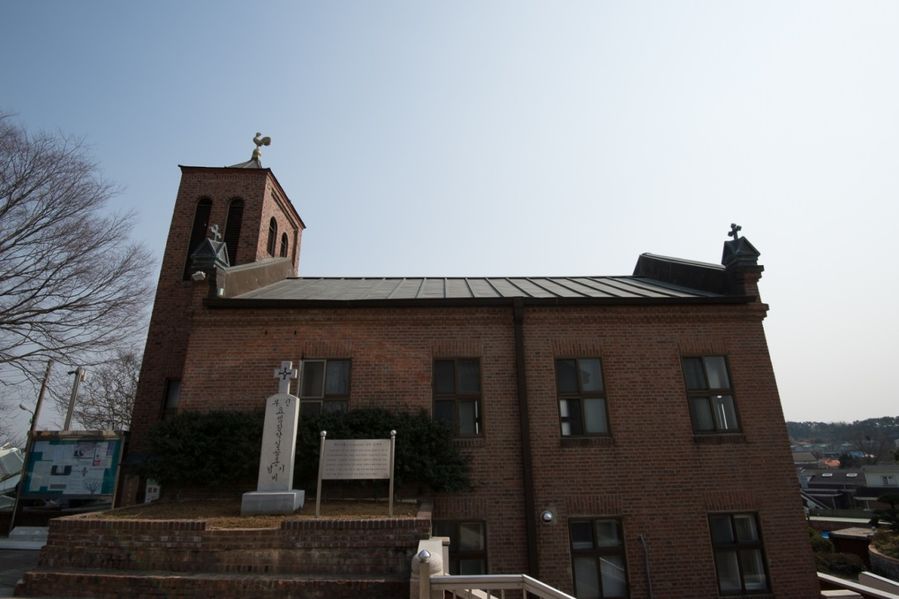 Three cement crosses are standing on the main entrance of the cathedral. It looks crude, but elegant. It would be strange if gold cross is standing here.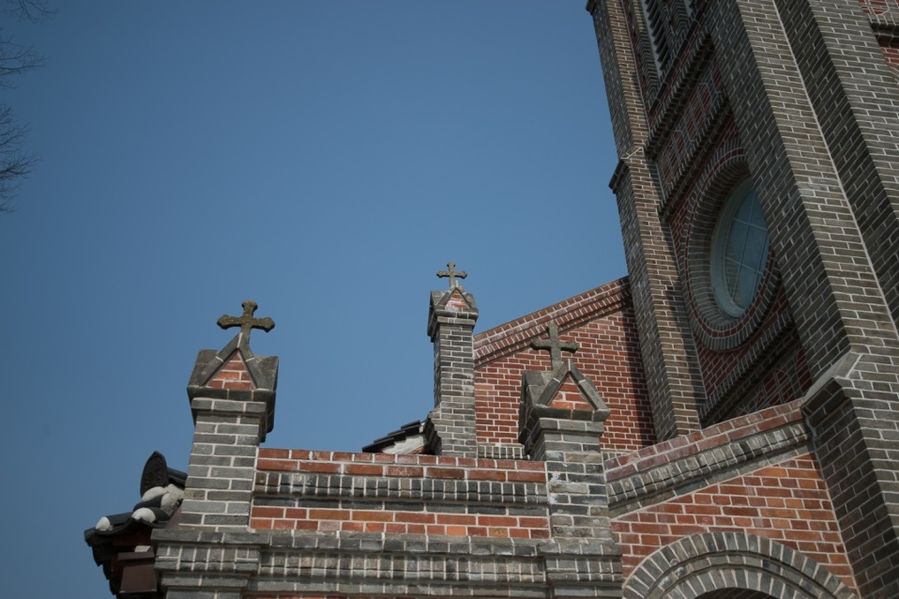 Maria is looking at Jesus Christ who is falling after getting wounded. I got out of Nabawi Catholic Church while feeling the love of Maria and getting blessed.