Buyeo Hall of Korean traditional music

Revival of Baekje's history
Baekje Wangreungwon 백제왕릉원
If you go to the east of the downtown for 10 minutes from Baekje cultural land, you will see Baekje Wangreungwon.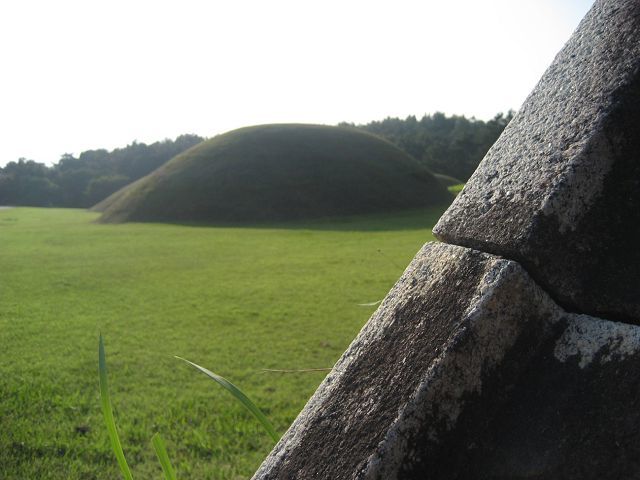 Baekje Geumdongdaehyangro I saw in the museum was found here in Neungsanri-gobungun. You can see the digged parts on one side. You will see gallery on the left and Gobungun on the right as you enter. I decided to go to the gallery first.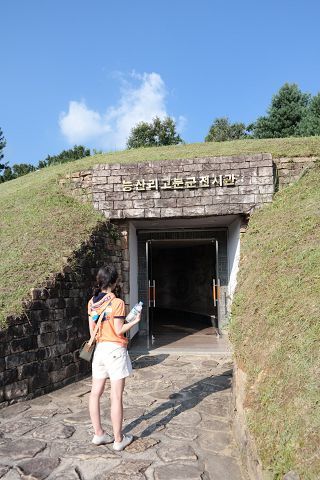 It's explained here that how they discovered Baekje Keumdongdaehyangro. It's just small place so I suggest you go there first.
I found something surprising. The one who is responsible for cultural tourisum explanation is Japanese. She's good in Korean and was very kind even though there were only five people. Ask her to tour you around if you visit here.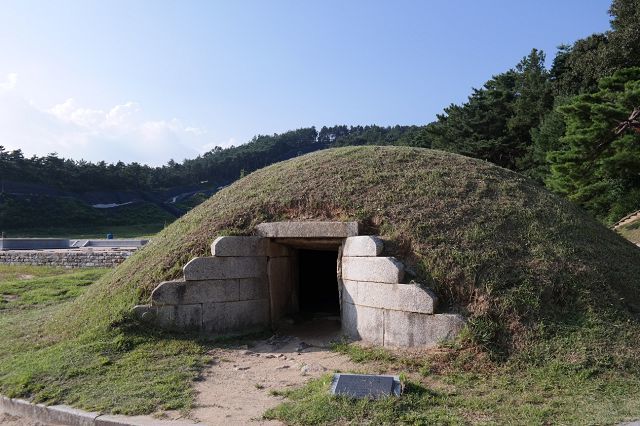 You can see Sinamri ancient tomb at the exit of the museum although you can't see the inside of it.
Excavation of Naseong which is the ramparts of the Sabi palace's exterior is on-going. It's not yet completely restored, but if it gets finished, I think there will be a lot more spots to see.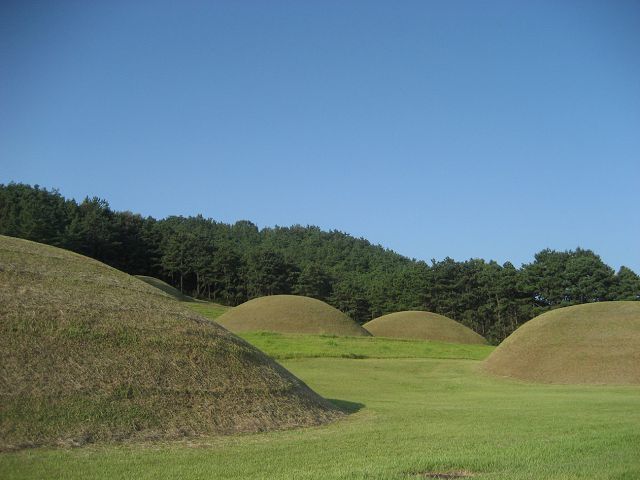 There are total 7 tombs and all of them are predicted to be kings' tombs. But they were all robbed by a theft before they were discovered. Only debris of potteries and mural are left.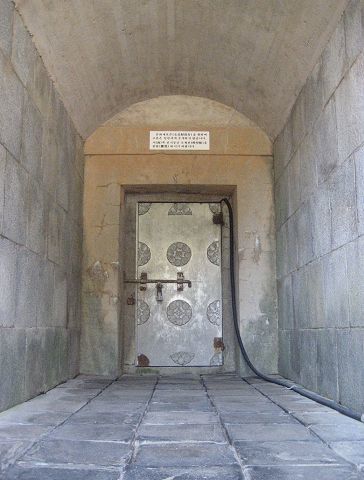 Canon DIGITAL IXUS 65 | f/2.8 | 2013:08:31 17:28:01 | Flash did not fire, auto mode | 5.8mm
This is the actual inside of the king's tomb. It got destroyed by tourists before so it's now closed to protect it from people. Therefore, not many tourists go inside anymore.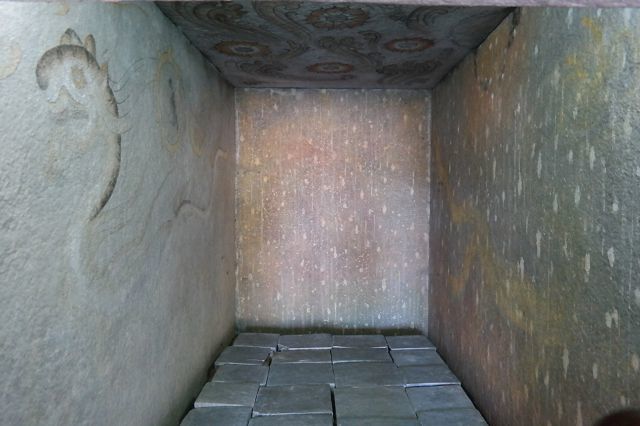 Instead of it, I looked around the duplicated ancient tomb at the back of the gallery. You can see a blue dragon on the left, a white fox on the right, jujak on south, hyenmu on north, and mural on the ceiling.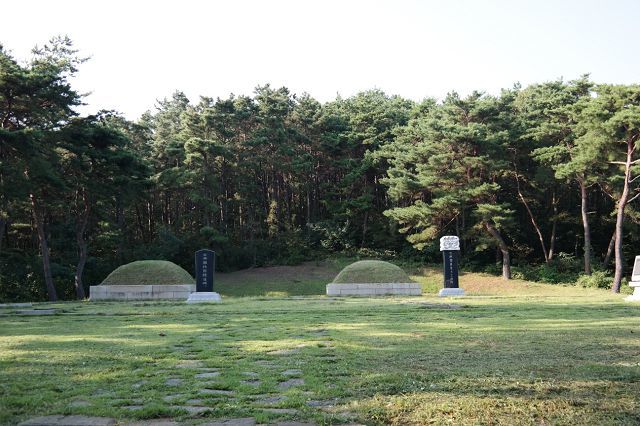 There are two small tombs on the hill beside Gobungun. It's tombs of King Euija (who was the last king of Baekje) and Buyeoyung, his son.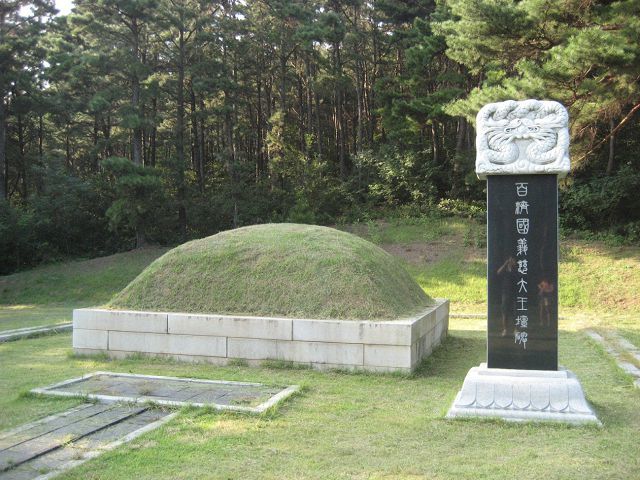 Actually, only record that it's buried in Bukmang Mountain in China is found; hence, they got the soils from there and made a family shrine. Every October, there is a memorial ceremony. You could feel the sadness of a ruined country.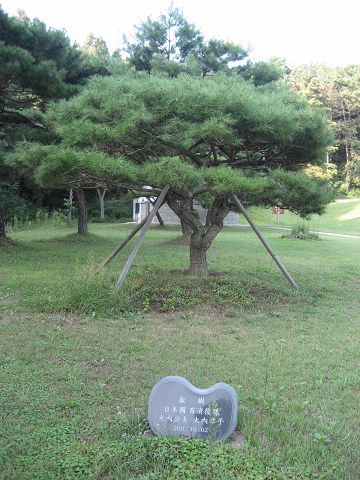 Canon DIGITAL IXUS 65 | f/2.8 | 2013:08:31 17:25:18 | Flash did not fire, auto mode | 5.8mm
『日本國百濟後孫大內公夫, 大內高子』

I was about to go to my lodging for today. But wait!! I found this shiny tombstone at the corner while I was going down.
I saw this few years ago in TV. A Japanese couple, Ouchigimio and Ouchidakako, went here and revealed themselves as the descendants of King Seong. They gave a memorial ceremony and donated a tree.
Address : San 16-1, Neungsan-ri, Buyeo-eup, Buyeo-gun, Chungcheongnam-do, Korea (충청남도 부여군 부여읍능산리 산16-1)

Telephone : 041-830-2512

Operating hours: 09:00~18:00(Winter season ~17:00)
Buyeo Samjeong youth hostel 부여삼정유스호스텔

Before sun sets down, we went to Samjeong youth hostel.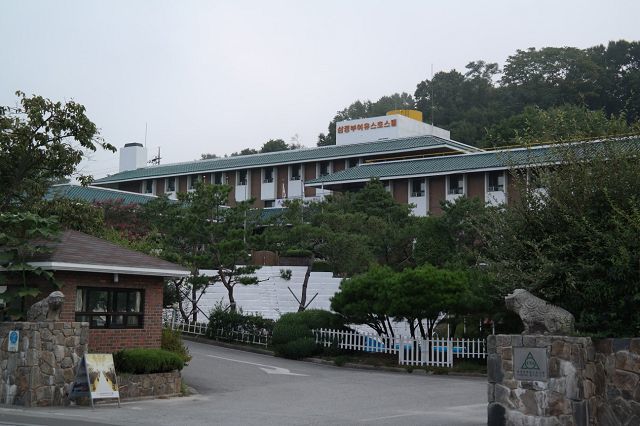 It's located in the area that is very convenient for traveling. It has a good road to go to the downtown. Furthermore, it's connected with three places namely Gudre sculpture park (in front), Busosanseong (at the back), and Gudre dock (beside).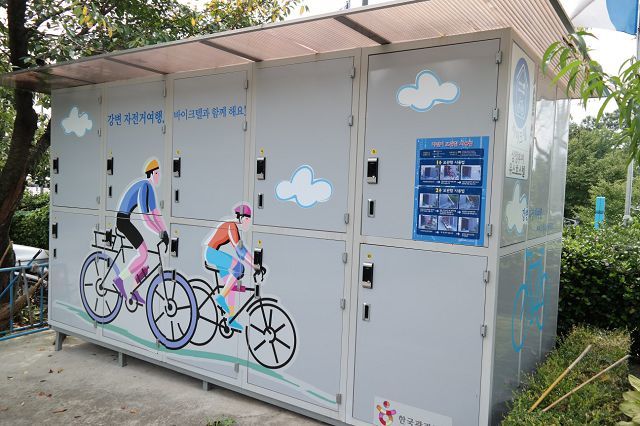 They are lots of people using bicycles as transportation so there is a locker for bikes (so called bike-tel). A youth hostel is usually for groups. There is also a pension ready for non-group guests.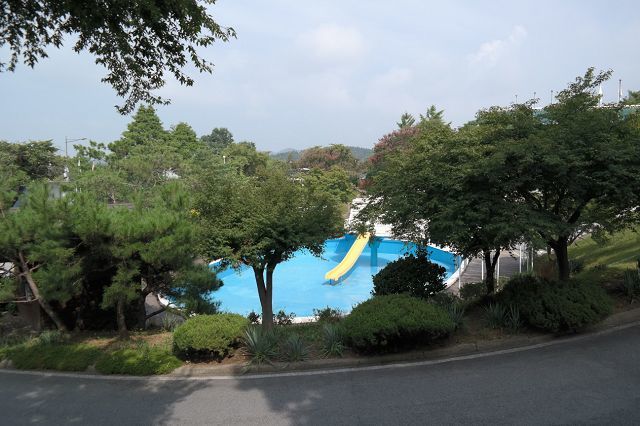 While going to the pension after check-in, I saw a swimming pool. The blue part is not water. Don't dare to jump; you might have to go to hospital instead.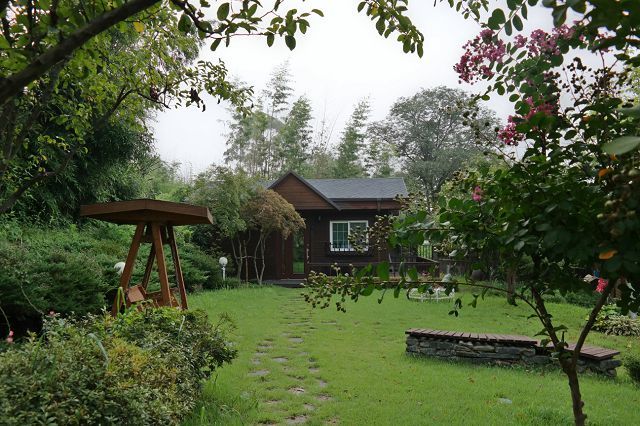 The house you see in front is where we'll spend our night. There are swing and beautiful garden in front, too. I was very much satisfied by its environment.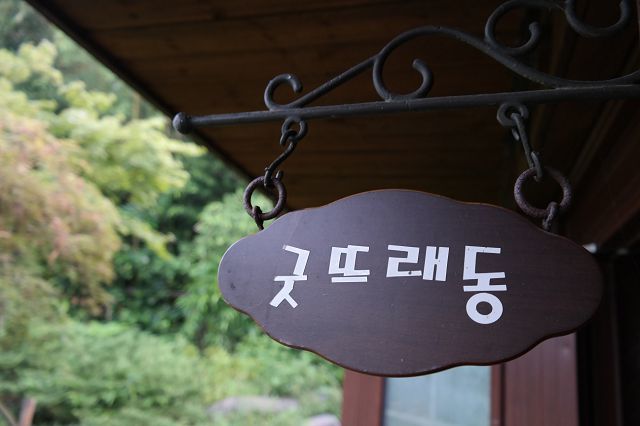 Size of rooms was big enough like 43m2, 50m2, and 60m2. The smallest was 26m2 and this was separated from other rooms.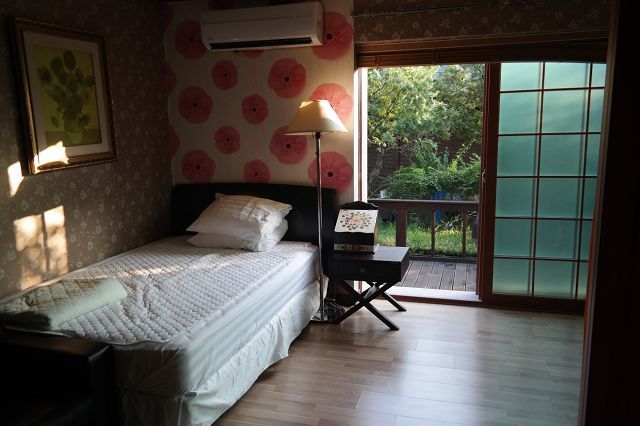 It looked a bit small, but it was neatly arranged.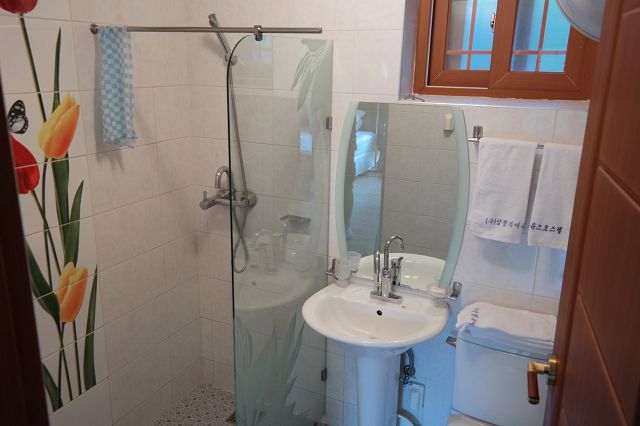 Compared to a room, the bathroom was big enough. There is a water heater also.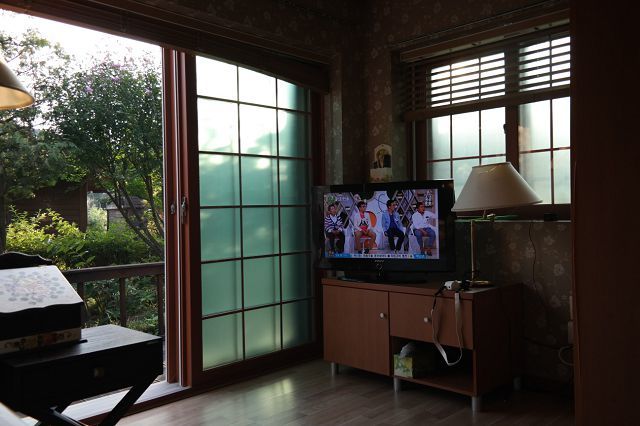 Basic things were inside the room like aircon, TV, refrigerator, kettle, electric range, microwave, stand, and etc.
However, there were only few outlets. I had to give up charging some gadgets.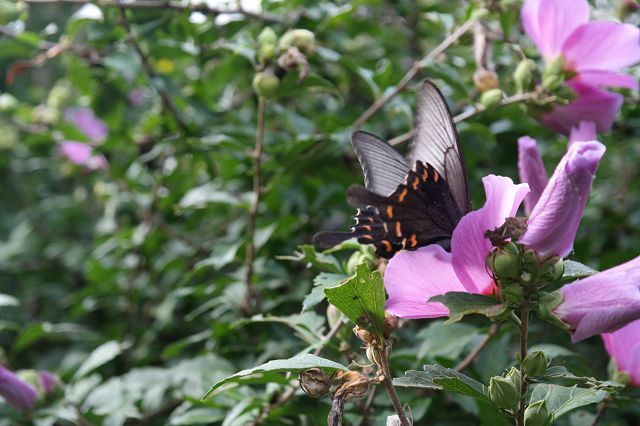 When I went out for a while in veranda, I saw butterfly and humming bird busily flying around rose of Sharon. I was kinda worried about insects because it was surrounded by trees and grass.
But there was a strong mosquito net so there was no problem. There is a mosquitocide inside just in case.
Address: 105-1, Gugyo-ri, Buyeo-eup, Buyeo-gun, Chungcheongnam-do, Korea (충청남도 부여읍 구교리 105-1)

Telephone: 041-835-3101~5

Open hours: Open throughout the year

Homepage: http://www.buyeoyh.co.kr