For this trip, I went to Ilsan, the core of Gyeonggi-do's northwest, and Paju, one of the nearest places to North Korea.

Ilsan was created as a bed town of Seoul and developed as the center of Gyeonggi-do's northwest in residence, fashion, game, and etc. Ilsan and Paju are connected side by side; thus, I decided to visit both places in a day. Since Paju is near to North Korea, there are many tourist spots like unification hill, Imjingak, and etc. But I planned a different route to travel around.
First day: Ilsan one mount mall – Lunch (Ikuae Tonkatsu) – Snow park – Jijihyang check-in – Provence – Lodging

Second day: Check-out – Paju publication complex – Kart land – Hyeri art village – Paju premium outlets – Robin's forest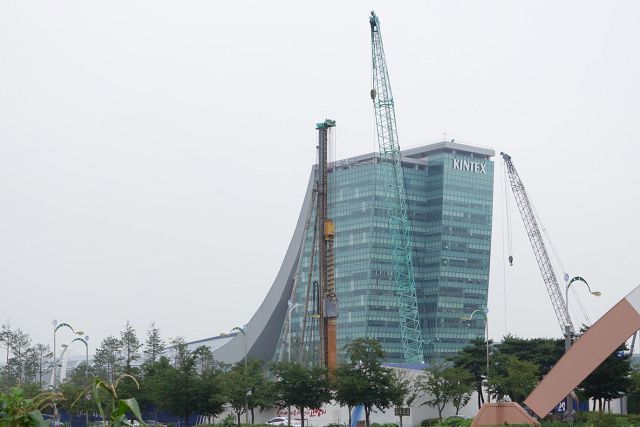 Before we go to Paju, I went to Ilsan and KINTEX served as a landmark for Ilsan.
Together with Coex in Seoul, they hold lots of events, exhibition, fairs, expo, and etc. here. It's the biggest area (108,556㎡) in Korea and is considered as Korea's main exhibit convention center.


It's still under construction as of now. But Korean wave world near it is completed so it's a good tourist spot for those who like and are interested in Korean wave.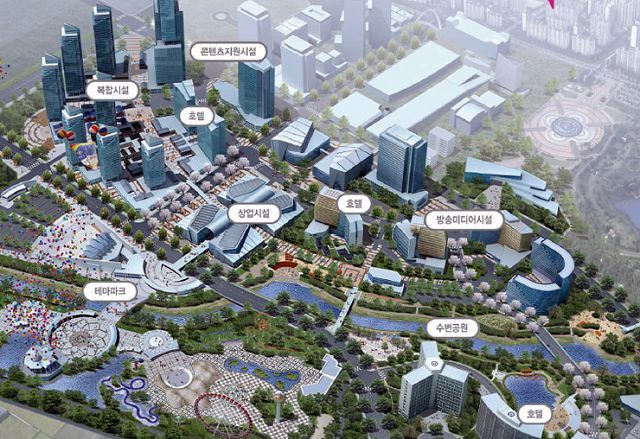 It's not a simple Korean wave world; there are lots of facilities ready with packages. Hence, I guess it will have a great synergy effect.
I arrived at One Mount Mall which has both Water Park and Snow Park beside KINTEX.
Can you see the water rides below? That's where One Mount Mall is.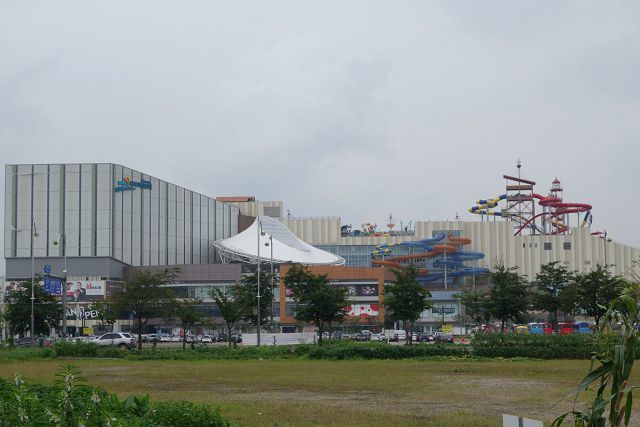 It's a complex cultural area. There are various facilities such as Water Park, Snow Park, shopping mall, restaurants, and huge sports center where music video of Psy's Gentleman was shot. But if you like shopping, I suggest you to go shopping in Sinsegye or Lotte outlets near it rather than here. It's more of eating and playing here.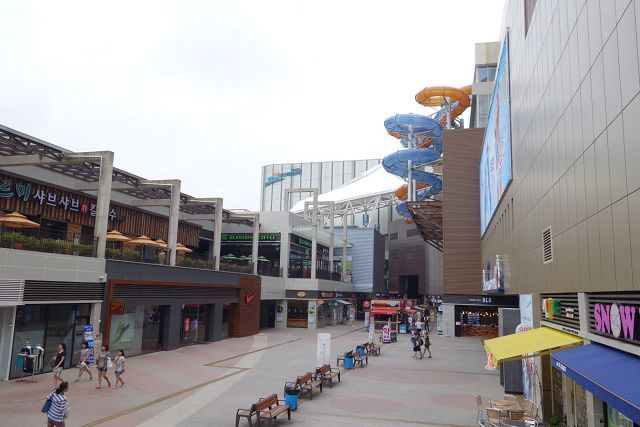 This is a theme park where both summer and winter are present throughout the year.

There were more things to play in Water Park, but since I had no enough time, I went to Snow Park instead. It's like enjoying winter during summer.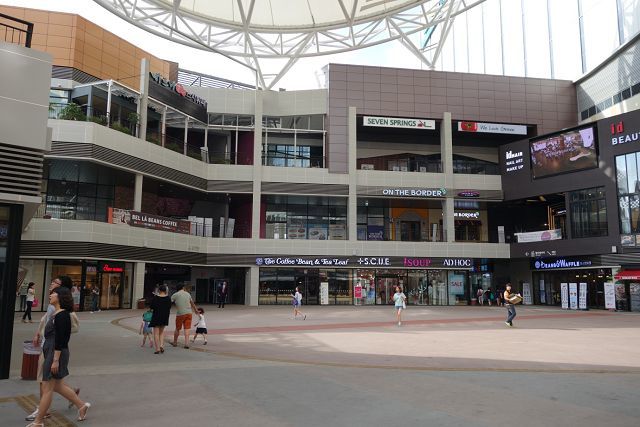 Before I go inside Snow Park, I went to eat first in a unique Tonkatsu restaurant, Ikuae.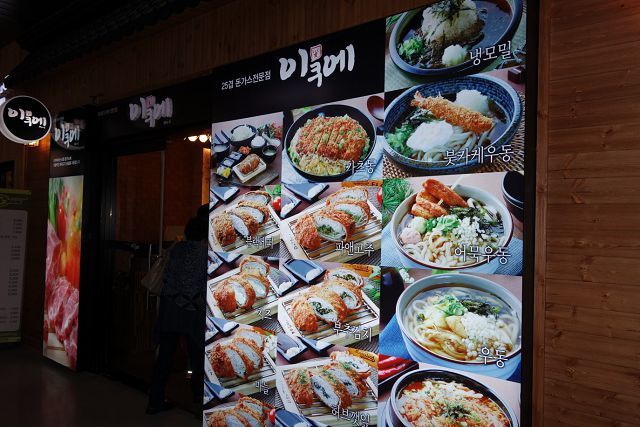 It has a good and clean interior design. There are pictures of different Tonkatsu to catch the attention of people. I think it's a good way to promote the restaurant by putting pictures of food outside.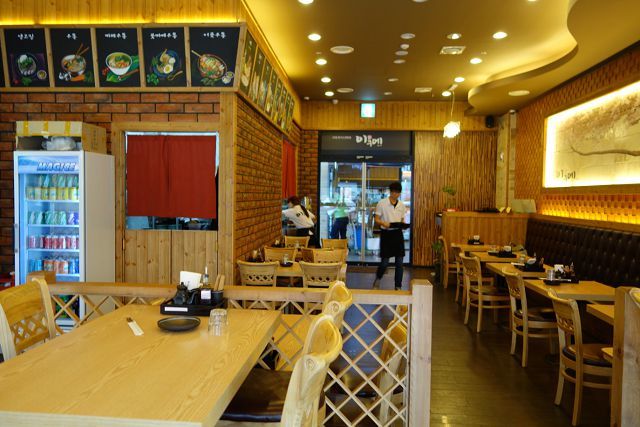 It's a bright, clean, and Japanese-style interior design. Ikuae, restaurant name, is a Japanese word meaning layer upon layer. Tonkatsu is made in layers here.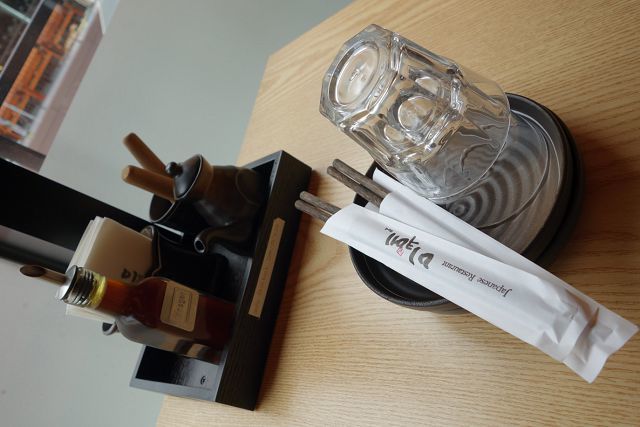 In the menu, it says that they are using no. 1 Korean sow as an ingredient. Aside from Tonkatsu, there are Udon, soba, katsudon, and etc. The special thing about here is their 25 layers of Tonkatsu and Tonkatsu with various toppings like cheese, pepper, garlic, and etc. I was curious about what 25 layers Tonkatsu is so I ordered it together with cheese tonkatsu and katsudon.
The difference from other Japanese restaurants was that they serve rice in a big bowl, not like rice in each meal. Aside from that, there was nothing different from others. I'm going to check out these three tonkatsu in earnest.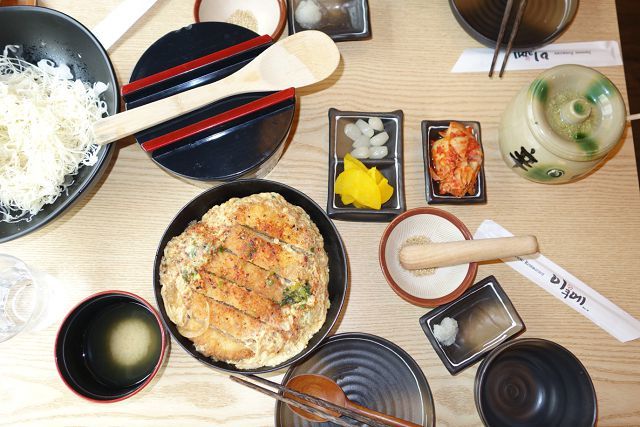 First food that was served was Katsudon. It wasn't salty and delicious enough. But I could not see and taste its special layered tonkatsu because of its sauce and egg.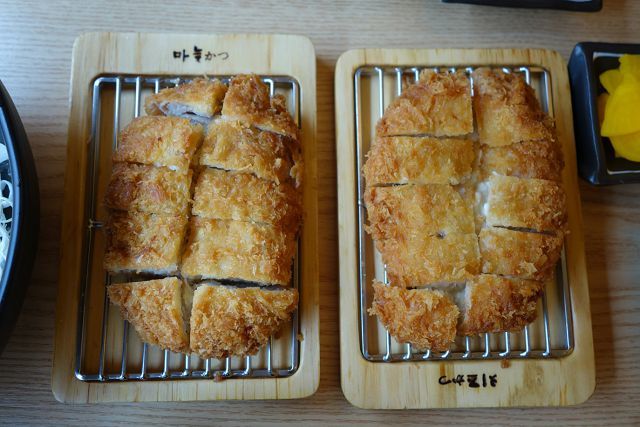 These are 25 layered tonkatsu and cheese tonkatsu. The taste was definitely different from other tonkatsu. It was softer and not too chewy.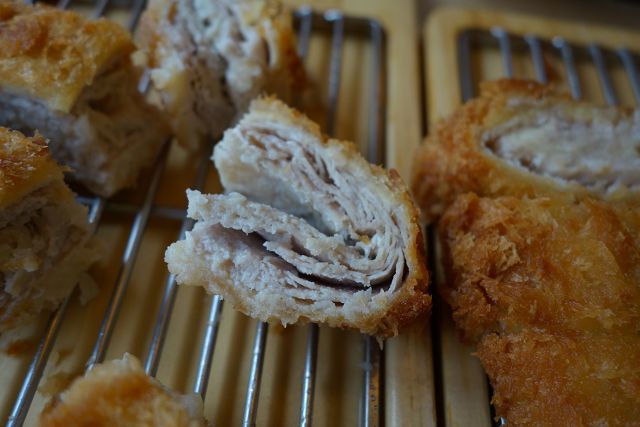 Generally, tonkatsu is fried in a big meat shape, but here, it was fried with lightly sliced meat in many layers. That was unique. I could not count if it was really 25 layers, but I believed that advertisement was true.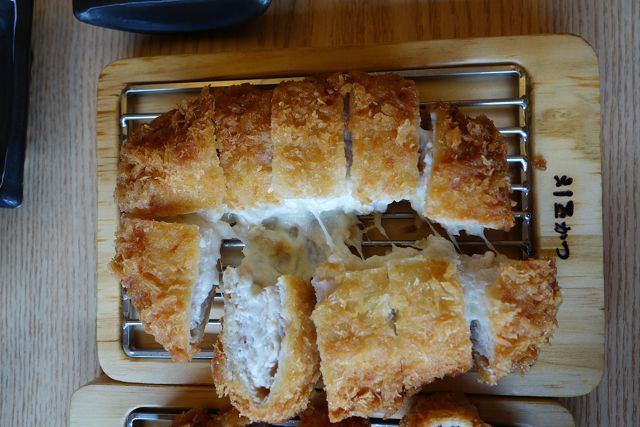 This is cheese tonkatsu. Doesn't it look delicious with that cheese? Cheese is in the middle of the layers and it's a really good combination with meats.
Since it's a layered tonkatsu, I think there is an advantage that they can put many kinds of toppings in it. I think tonkatsu became softer because of its layers.
It was a good meal to try. It's different and unique from other restaurants, and it's good because you can choose many toppings you want. I would like to try garlic and pepper tonkatsu next time.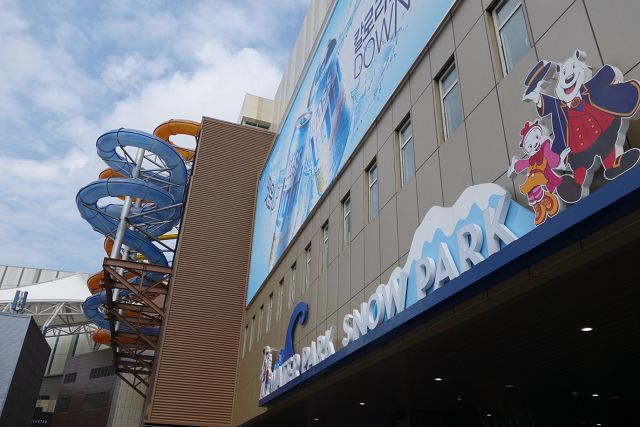 It's time to play!

There are both Water Park and Snow Park here. You might have to think a lot about where to go if you don't decide ahead.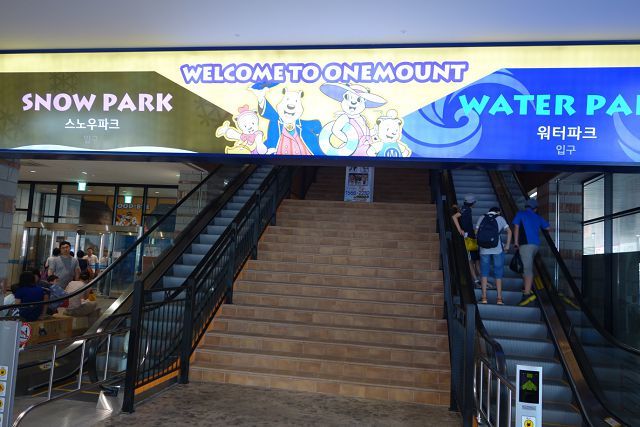 Their entrances are the same. When you go up to the second floor, there is Snow Park on the left and Water Park on the right.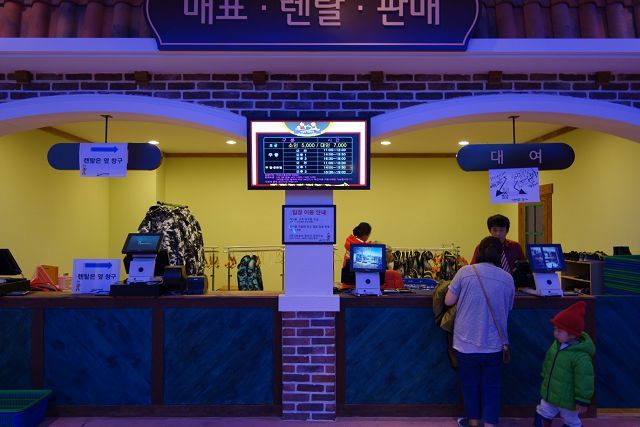 There is another ticket booth inside.

You can rent sled, skate, winter clothes and shoes if you are not prepared. If you are a foreigner who never experienced and saw snow yet, you should rent some clothes and gloves.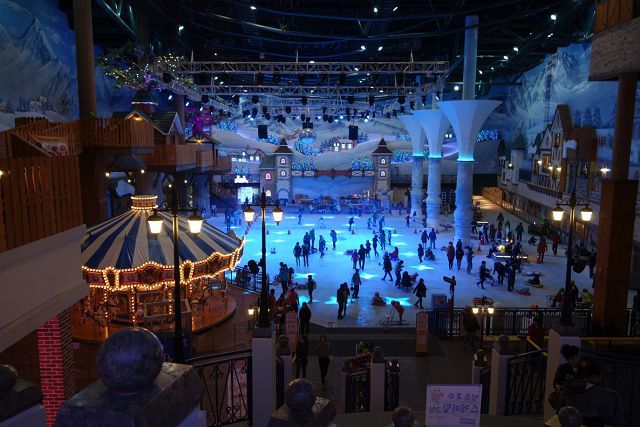 It's the inside of Snow Park. It was well designed. These fantastical lights made it more like winter. There is a square in the middle where you can enjoy ice skating, and there is snow sledding site ready in a separated area.
Since you have to play around ice, for your safety, helmets and gloves are compulsory. Helmets are free, but you have to bring your own gloves or else, you have to rent.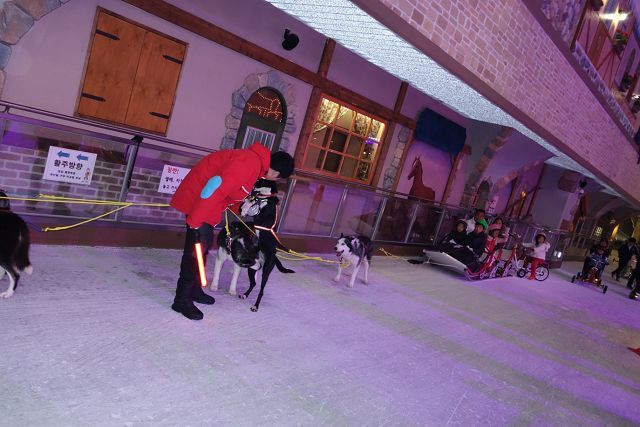 It's an animal sled. It's a real dog sled. These dogs are really good in running. I think they are trained very well.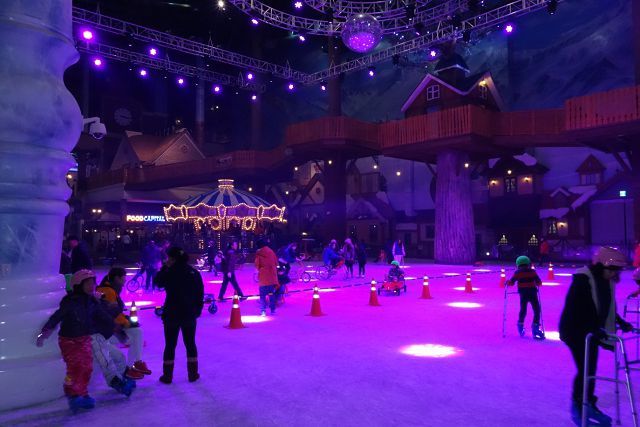 It's separated into two parts in the middle. where you can just walk by and where you can enjoy ice skating. There is a skating walker so even though it's your first time skating, it'll be safe. Moreover, you can enjoy various sleds for free in the other area so it's fun to be on the ice.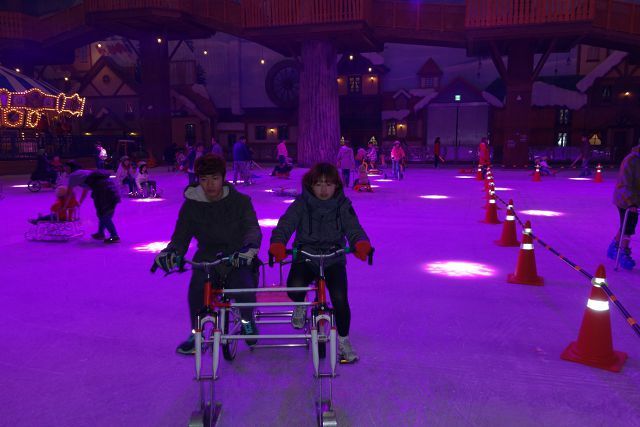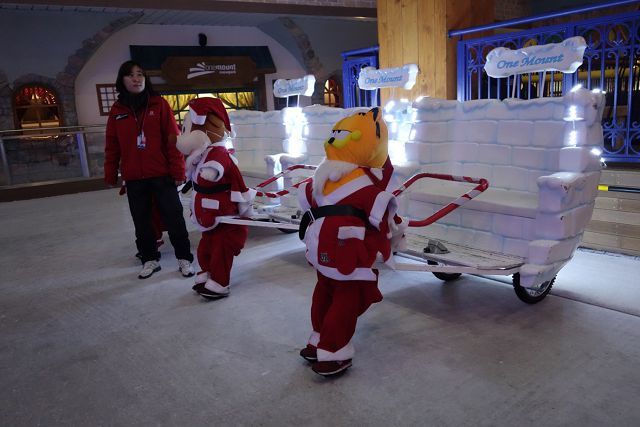 This sled is pulled by animal robots for children.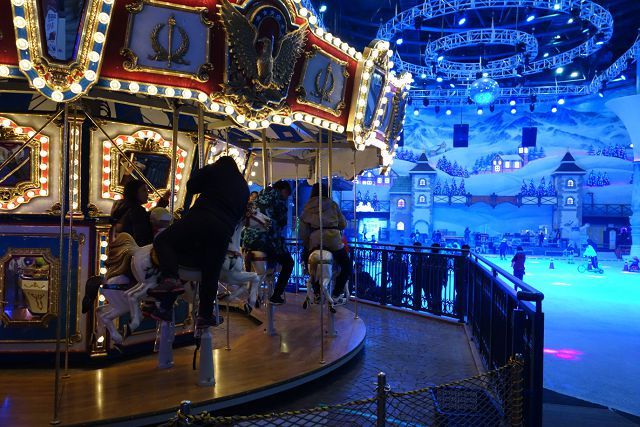 There is a carousel on the other side. You might want to try to look around the Snow Park.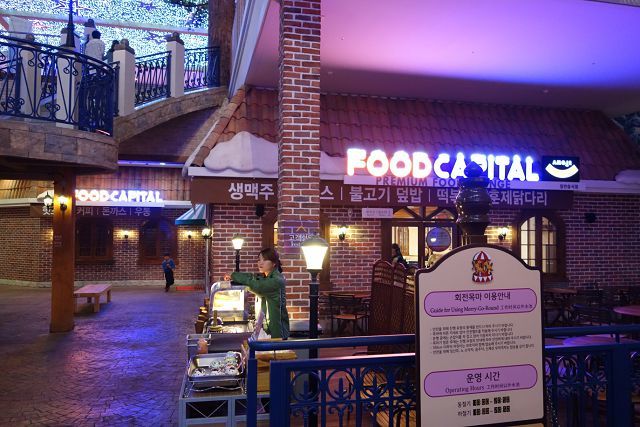 There is a small restaurant where you can eat lightly and have some coffee or drinks.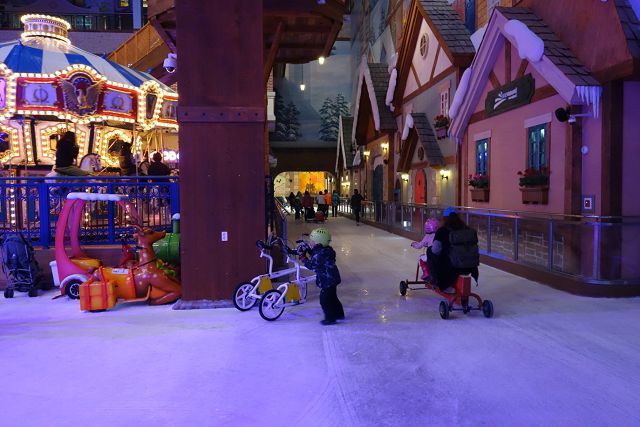 There is a track where you can go around with skate or sled. The ice skating rink in the square is for beginners while this track is for those who know how to skate well. A dog sled also follows this track.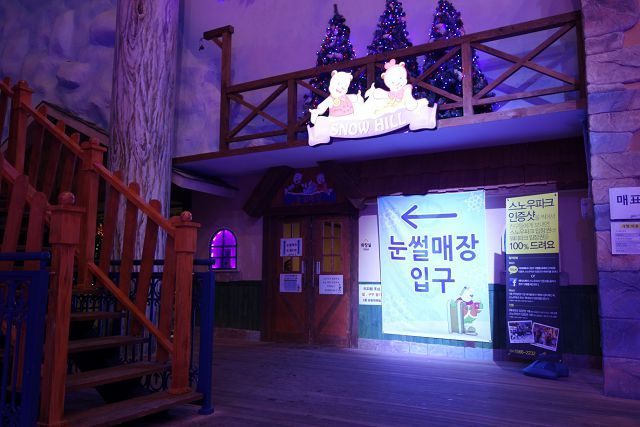 This is a entrance to the snow sledding site. You have to look closely because it's at the corner so you might miss it easily. I suggest you to go here.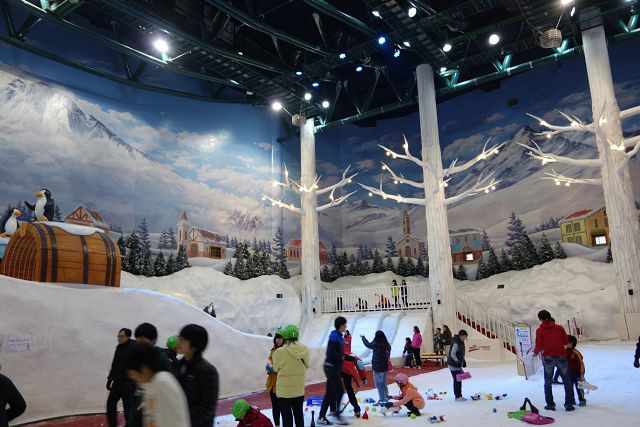 It's a snow sledding site. It's a snow place while the square is more on ice. You can make snowballs and enjoy snow sleds.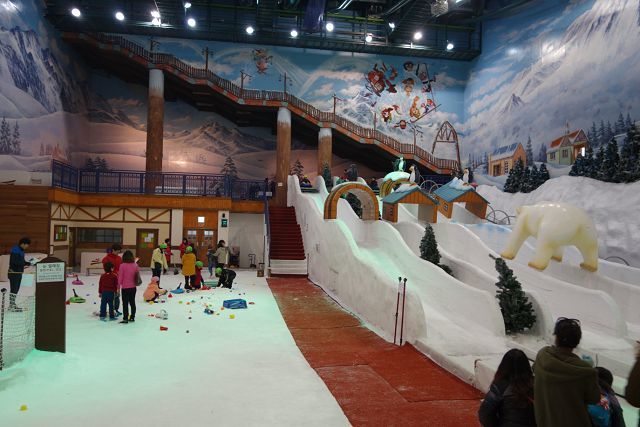 The length of this site is not too long. But I think it's good for having fun with your children. There is an automatic machine which automatically brings your sleds to the top/start line.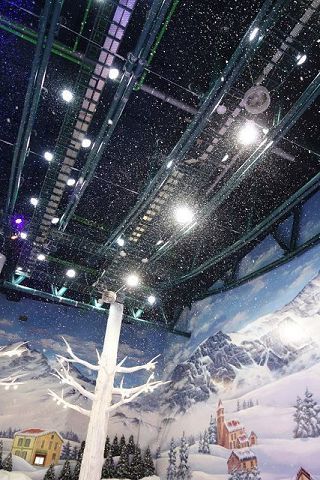 For me, the highlight of Snow Park is the artificial snow. It snows with a notice and I think it will be good for those who never see and experience snow yet. It also happens in the square area.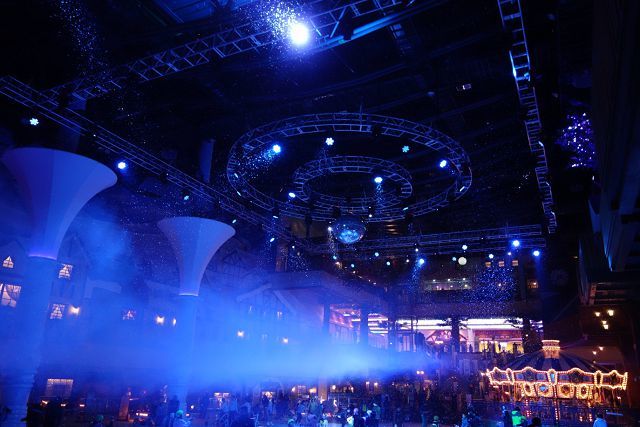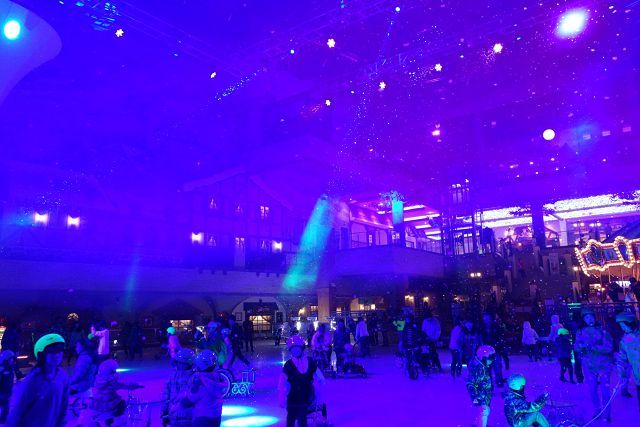 A dog sled goes around for only once. It was wistful. It was really fast; I hope they would go around twice. It's hard to experience for even Korean people so I think it's a must thing to experience here.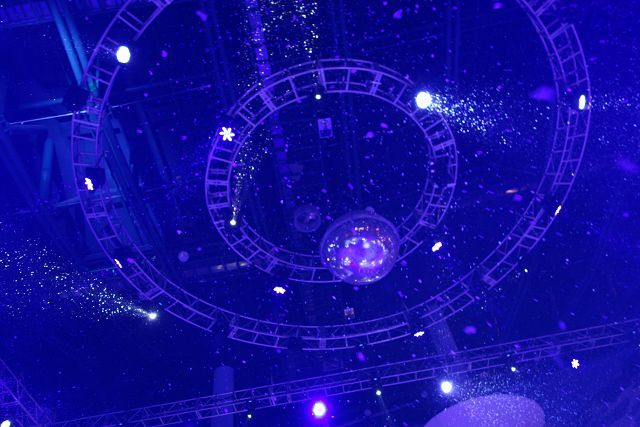 When it snows, it creates a fantastic mood with its lights.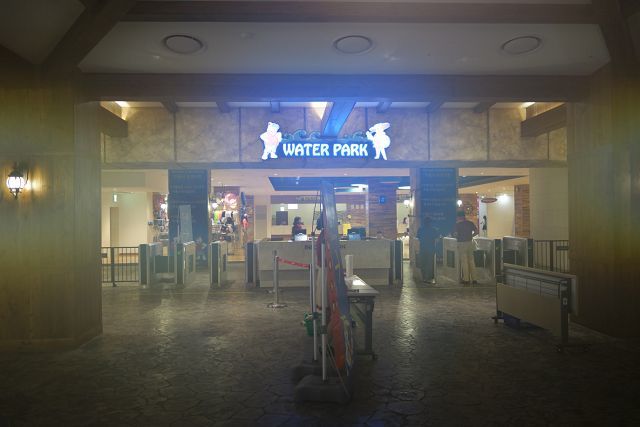 You can see Water Park entrance as you exit. It looked foggy because of its chill from Snow Park. You must wear long sleeves, pants, and gloves or else, you might not be able to stay in. Of course, you can rent, but I think it's better to wear my own clothes.

Enjoying winter during summer; it's not a boring thing. It was a unique experience. If you don't know or experience snow and winter yet, you MUST and MUST visit here!
Address: 2606, Daehwa-dong, Ilsanseo-gu, Goyang-si, Gyeonggi-do, Korea (경기도 고양시 일산서구 대화동 2606)

Telephone: 1566-2232

Open hours: 10:00 ~ 21:00

Homepage: www.onemount.co.kr