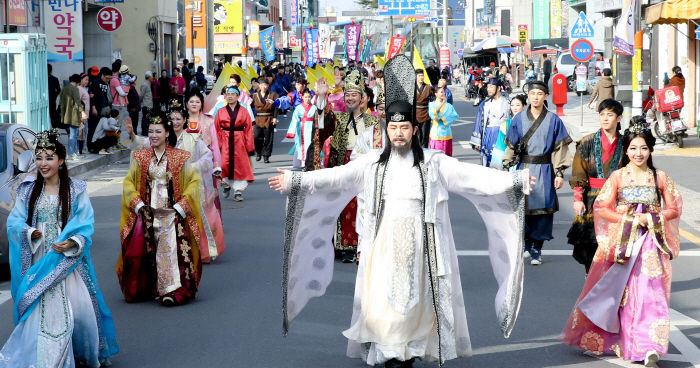 Introduction
Daegaya (AD 42-562) was a nation that inhabited the Korean Peninsula around the 4th Century. The nation was a sophisticated nation that even at this early age possessed extremely high standards of culture. They created the Gayageum (a twelve-stringed traditional Korean harp). Through the relics found in the area, the nation was thought to be a powerful force in the area (now Gyeongsangnam-do). This festival offers various interactive programs to experience the nation with relic exhibition, wooden boat-making and others. Also, tourists can experience the farming culture like harvesting strawberries from the nearby rural village.
Admission/Participation Fees
Varies by program (Some programs are free of charge)
Duration of Performance
Varies by program
Transportation
[Bus]
From Seoul Nambu Terminal, take an intercity bus to Goryeong Intercity Bus Terminal.


[Taxi]
Approx. 5min from Goryeong Bus Terminal.



Homepage
tour.goryeong.go.kr/fest (Korean only)
Period
04.11.2019 ~ 04.14.2019
Address
Daegaya-ro, Goryeong-gun, Gyeongsangbuk-do
경상북도 고령군 대가야읍 대가야로 1216
Location
Areas of Daegaya Historical Theme Park and Daegaya-eup
Telephone
• 1330 Travel Hotline: +82-2-1330
(Korean, English, Japanese, Chinese)
• For more info: +82-54-950-6424
Period
04.11.2019 ~ 04.14.2019
Address
Daegaya-ro, Goryeong-gun, Gyeongsangbuk-do
경상북도 고령군 대가야읍 대가야로 1216
Location
Areas of Daegaya Historical Theme Park and Daegaya-eup
Telephone
• 1330 Travel Hotline: +82-2-1330
(Korean, English, Japanese, Chinese)
• For more info: +82-54-950-6424
<iframe src="http://english.visitkorea.or.kr/common_intl/gis_mini_od.kto?lang=1&posx=46174272&posy=12858143&cpname=Goryeong%20Daegaya%20Festival%20(%EA%B3%A0%EB%A0%B9%EB%8C%80%EA%B0%80%EC%95%BC%EC%B2%B4%ED%97%98%EC%B6%95%EC%A0%9C)" width="100%" height="100%" frameborder="0" scrolling="no" name="Goryeong Daegaya Festival (고령대가야체험축제) - map"></iframe>
Go to map


Referred from : KOREA TOURISM ORGANIZATION http://visitkorea.or.k