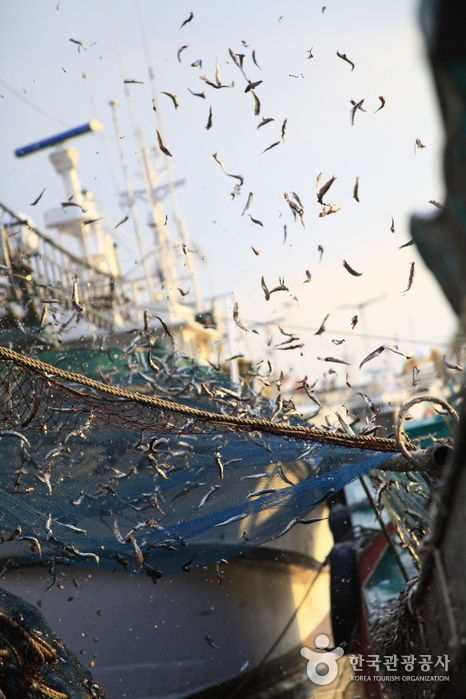 Canon EOS 5D Mark II | f/5.6 | iso 3200 | 2014:03:20 17:33:28 | Flash did not fire, compulsory flash mode | 135mm
Introduction
Daebyeonhang Port, located in the beautiful port city of Busan, sees the richest harvest of anchovies in Korea, especially in the months of April and May. It therefore holds the Busan Gijang Anchovy Festival during this period. Daebyeonghang Port is also one of the filming locations for the 2001 box office hit movie "Friends" featuring Jang Dong Gun and Yu Osung. The scene where Jang Dong Gun reminisces about his childhood memory of swimming in the ocean near a lighthouse while smoking a cigarette was filmed at this very location. The beautiful clear sea decorated with a lighthouse is not only popular during the Anchovy Festival, but is also a popular tourist attraction all year round.
Duration of Performance
Varies by program
Transportation
[Subway + Bus]
Centum City Station (Busan Subway Line 2), Exit 6.
Transfer to Bus 181 and get off at the entrance of Daebyeonhang Port.
Homepage
www.gijang.go.kr/tour (Korean only)
Period
04.25.2019 ~ 04.28.2019
Address
Daebyeonhang Port, Gijang-eup, Gijang-gun, Busan
부산광역시 기장군 기장읍 대변항 일원
Location
Areas of Daebyeonhang Port in Gijang-eup, Gijang-gun
Telephone
• 1330 Travel Hotline: +82-2-1330
(Korean, English, Japanese, Chinese)
• For more info: +82-51-721-4063
Referred from : KOREA TOURISM ORGANIZATION http://visitkorea.or.kr