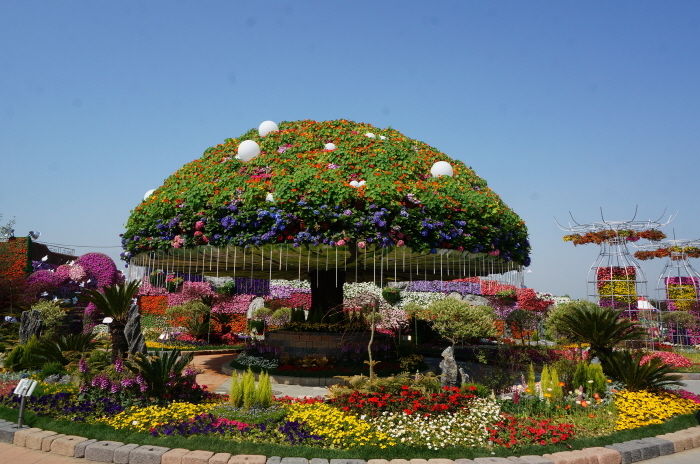 NEX-5R | f/13.0 | iso 125 | 2018:05:10 09:47:27 | Flash did not fire, compulsory flash mode | 16mm
Introduction
First held in 1997, International Horticulture Goyang Korea, an international flower exhibition, has attracted over 6.2 million visitors so far. The event is considered to be Korea's representative international flower exhibition. The festival takes place at Ilsan Lake Park in Goyang from April to May with nearly 300 related organizations, groups, and companies from 36 countries showcasing flowers and various products made with flowers. Also, unique and rare plants exhibition, indoor garden decorated with flower art pieces, outdoor theme parks, making of flower plant experience, flower arrangement contests and other cultural events and performances are planned to add more joy to the flower festival. At night, lighting garden, LED performance, K-POP performance and other exciting events will also entertain visitors, creating the ambience of a joyful flower culture festival.
Performance Times
Weekdays 10:00 - 19:00, Weekends 09:00 - 19:00
Admission/Participation Fees
Pre-reservation: 8,000 won / On-site ticket 12,000 won / Special discount & foreigners 8,000 won
Duration of Performance
Varies by activity
Additional Events
Performance events: K-Pop dance, traditional dance, popera, orchestra concert, magic show, flower parade, etc.
Flower-related events: Flower drawing contest, flower arrangement contest, Preserved Flower Cup Competition, etc.
Program Details
Hands-on program: Making a personal flower base, making a flower bouquet, traditional activity, etc.
Discount Information
Special discount: Groups of 30 people or more, people using public transportation (subway, bus), children (age 3) to high school students, senior citizens (ages 65 and older), foreigners, people with disabilities (lv.1-3) plus one companion, etc.
Transportation
[Subway]
Jeongbalsan Station (Seoul Subway Line 3), Exit 1 or 2
- Pass through Ilsan Cultural Park towards Ilsan Lake Park (500 m).


[Bus]
Get off at Lake Park Bus Stop.
- Bus: 33, 88A
- Intercity Bus: 3000
- Airport Bus: 7300, 7400



Homepage
www.flower.or.kr (Korean, English, Japanese, Chinese)
Period
04.26.2019 ~ 05.12.2019
Address
595, Hosu-ro, Ilsandong-gu, Goyang-si, Gyeonggi-do
경기도 고양시 일산동구 호수로 595
Location
Ilsan Lake Park and Wondang Flower Complex
Telephone
• 1330 Korea Travel Hotline: +82-2-1330
(Korean, English, Japanese, Chinese)
• For more info: +82-31-908-7750
Referred from : KOREA TOURISM ORGANIZATION http://visitkorea.or.kr