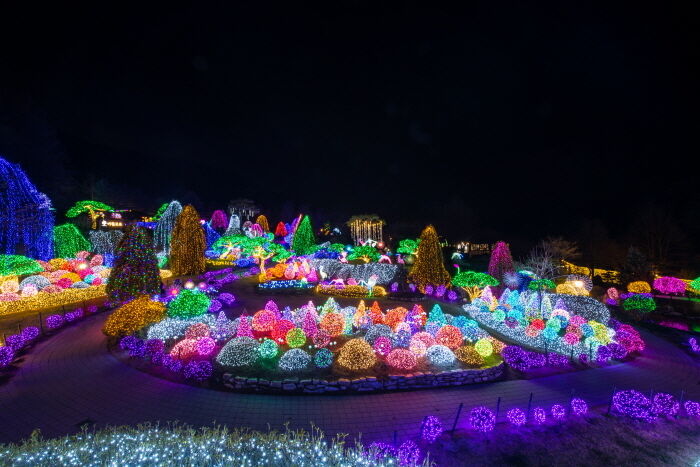 NIKON D850 | f/13.0 | iso 100 | 2018:12:05 18:15:03 | Flash did not fire. | 14mm
Introduction
Held at the Garden of Morning Calm, the Lighting Festival is the biggest festival of lights in Korea, covering 100 thousand pyeong illuminated by 30,000 lights. The gleaming lights add a festive glow to the garden during the winter season. The main gardens are Hakyung Garden, Hometown House Garden, Bonsai Garden, Moonlight Garden, Sky Path and Garden of Eden, with colorful lights adorning the trees. In the event of inclement weather, lights may be turned off for safety.
Performance Times
[Lighting time] After sunset


[Operating hours]
Weekdays & Sundays 11:00-21:00
Saturdays & Public holidays 11:00-23:00



Admission/Participation Fees
Adults 9,500 won
Teenagers 7,000 won
Children 6,000 won
* Children (age 3 to elementary school student) / Teenagers (middle & high school students)
Duration of Performance
1 hour 30 minutes
Age Limit
Open to visitors of all ages
Transportation
[Bus]
From Sangbong Bus Terminal or Dong Seoul Bus Terminal take a bus bound for Cheongpyeong Bus Terminal.

Or,

Take bus No. 1330 at Cheongnyangni Transfer Center (in front of Lotte Department Store).
Get off at the Cheongpyeong Bus Terminal.
From Cheonpyeong Terminal, take a bus bound for The Garden of Morning Calm.


[Subway]
Cheongpyeong Station (Gyeonchun Line), Exit 1.
Go left until you reach the 3-way intersection and turn right.
Continue straight toward the Cheongpyeong Catholic Church.
Pass by Cheongpyeong Elementary School, turn left, and you will see the Cheonpyeong Bus Terminal.
From the terminal, take a bus bound for The Garden of Morning Calm.


Alternatively, take the Gapyeong City Tour Bus.



Homepage
www.morningcalm.co.kr (Korean, English, Japanese, Chinese)
Period
12.06.2019 ~ 03.22.2020
Address
432, Sumogwon-ro, Gapyeong-gun, Gyeonggi-do
경기도 가평군 상면 수목원로 432 (상면)
Location
Main gardens
Telephone
• 1330 Travel Hotline: +82-2-1330
(Korean, English, Japanese, Chinese)
• For more info: +82-1544-6703
Referred from : Visitkorea http://visitkorea.or.kr