I visited Daegu for Chusok after a long time since the last time. It was national holiday so I had time to take a look around everywhere in Daegu. Daegu, well-known for its hot weather, has a long history, cultures and food to enjoy than I had expected.

The downtown in Daegu is the area around Jungangro next to Banwoldang Station where 1st and 2nd subway lines meet. First place to visit in Daegu was Jungangro Station.
Around the station, there are memorial enterprise of movement in compensation for national debts, park, Yakjeon Alley, Lee Sang-hwa's old house, Gyesan Cathedral, Dongseong-ro, and Daebaek which allow me to see the past and present of Daegu. I could enjoy both of the traces of Korean modern history remained in Daegu and the street full of the young.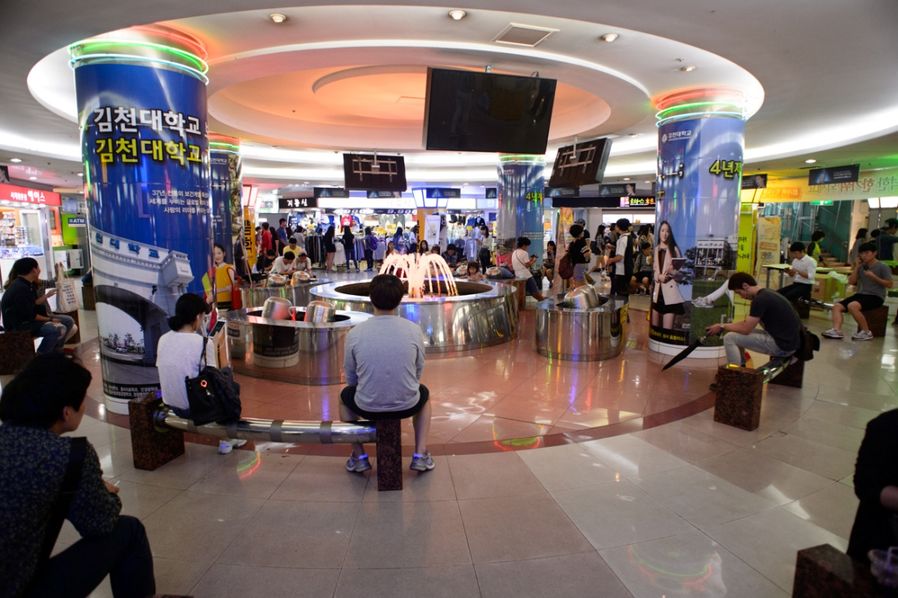 I went up from the Jungangro Station crowded with people and stores like Gangnam Station in Seoul, and headed for memorial park of movement in compensation for national debts. The road that leads to memorial park of movement in compensation for national debts is called Gukchaebosang-ro.
The people's spirits are still remembered who wanted to be a small light during the dark and depressing age under Japanese rule. Movement in compensation for national debts with Seo Sang-don as a key person starts in Daegu and then spread to all of other cities in Korea.
I could feel how much people were proud of him and Daegu citizens assuming from the name of this road. Walking on the Gukchaebosang-ro for 15 minutes then you'll see the memorial and the park.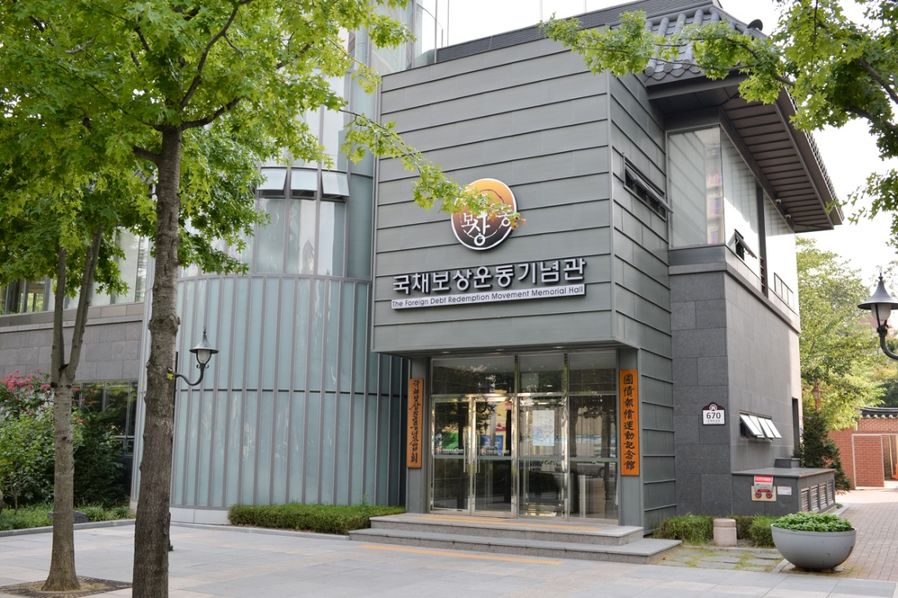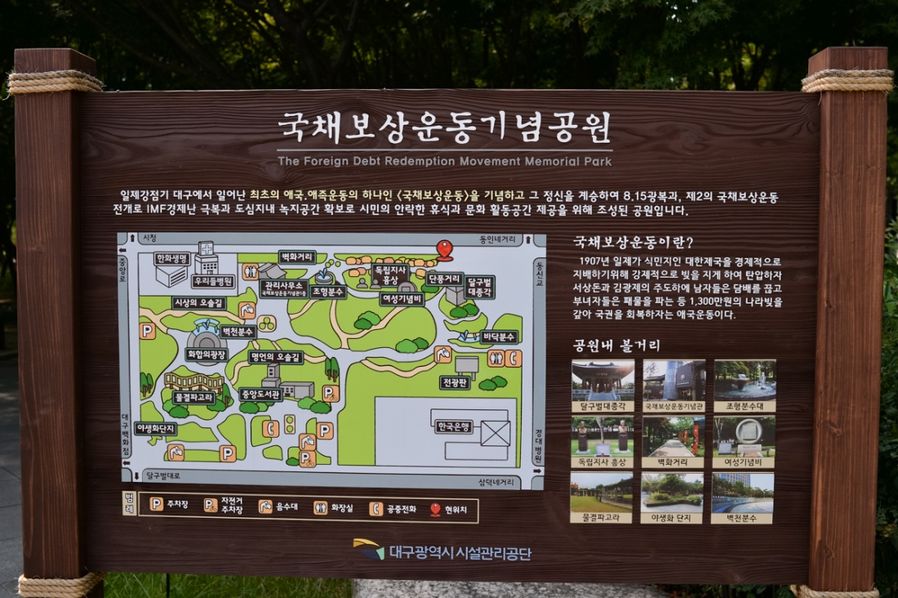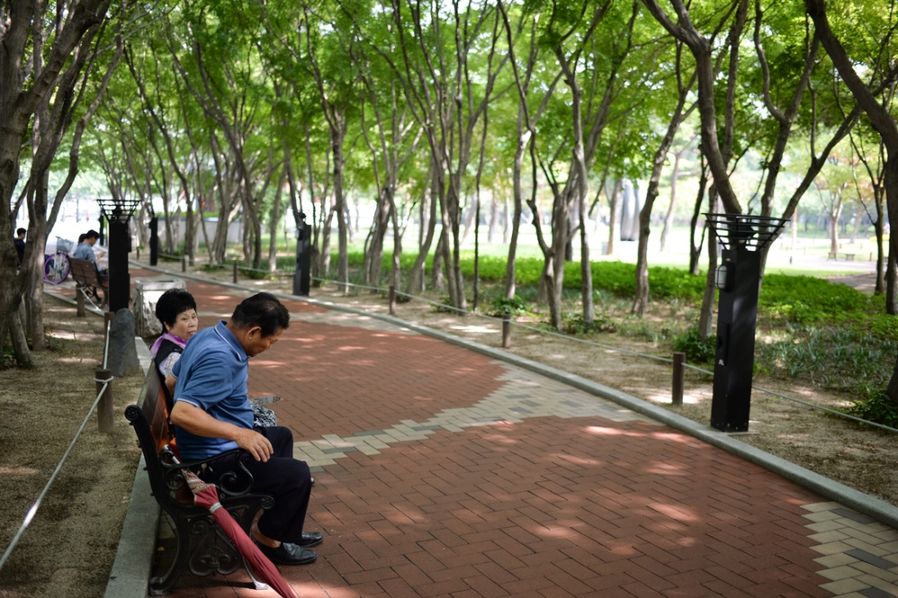 I couldn't go inside because it was a holiday so I just went to the park instead. Memorial park of movement in compensation for national debts was built clean and green for the citizens.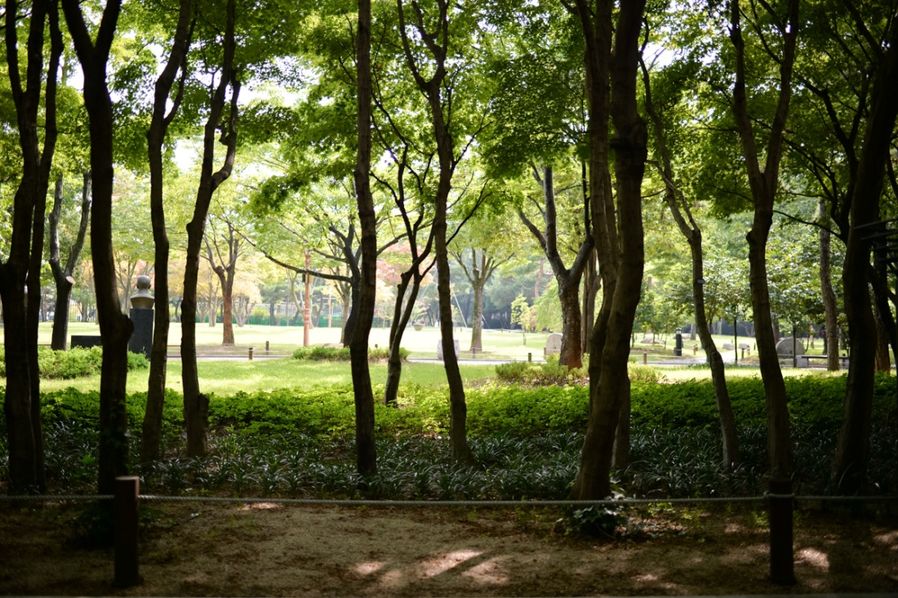 When I was about to relax for a while after a walk under the strong sunlight in autumn, I looked up the sky and the sky was covered with leaves.
This park was like an oasis in the middle of desert like Daegu, the hottest city (劇暑地) in Korea full of high buildings. It was reported that the average temperature dropped 1 degree since the Urban Green Policy.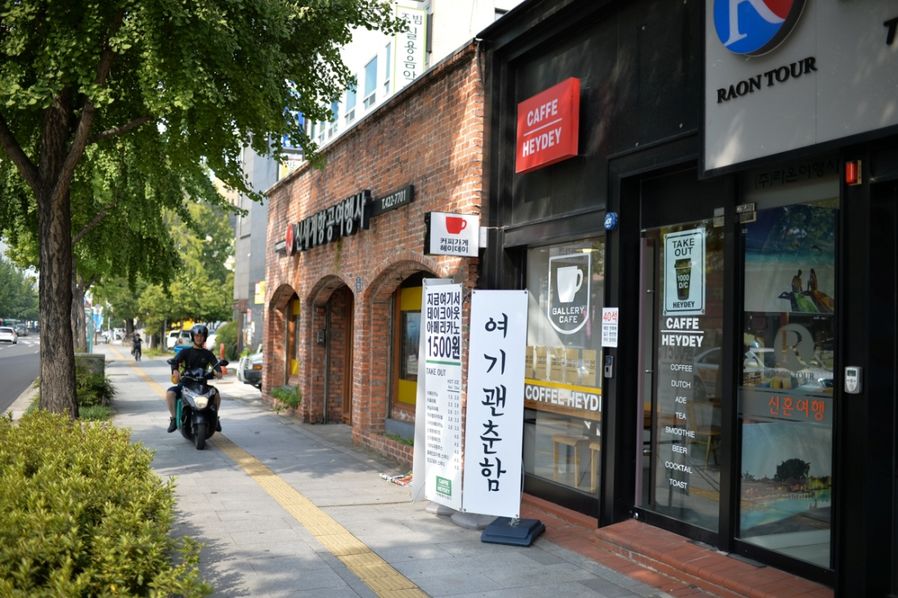 A sensible cafe sign that I saw on the way to bingsu restaurant "여기 괜춘함~(Yeogi Gwaenchunham; meaning this place is good)" was where the price was 'nice' just like its name.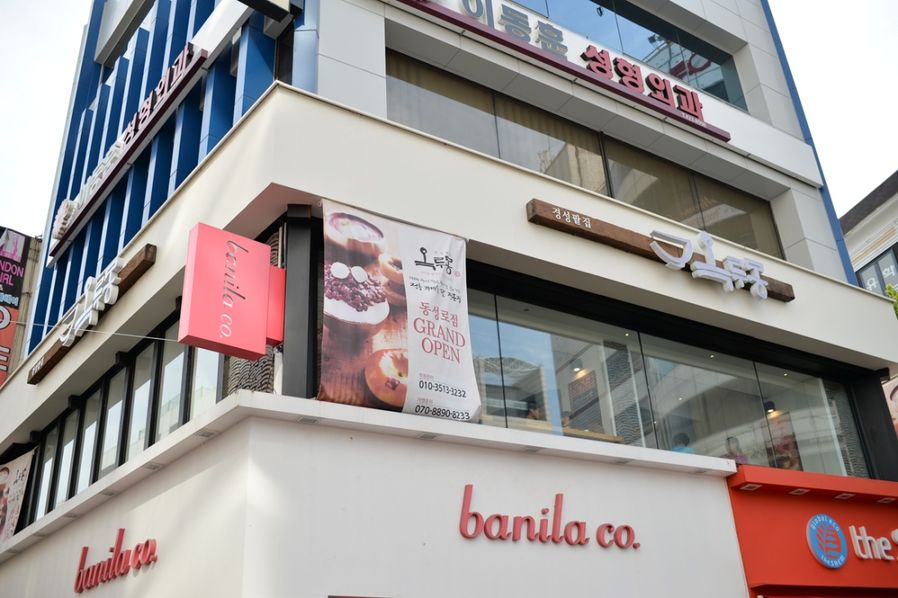 I walked back to Gukchaebosang-ro and arrived at the Street of Youth, Dongseong-ro, which is the main street.
Passing by numerous cosmetic stores, clothing shops and restaurants, I was looking for Gyeongseong adzuki beans restaurant <옥루몽; Okrumong> in order to eat patbingsu(adzuki beans ice flakes with syrup). I was told that Dongseongro branch opened recently.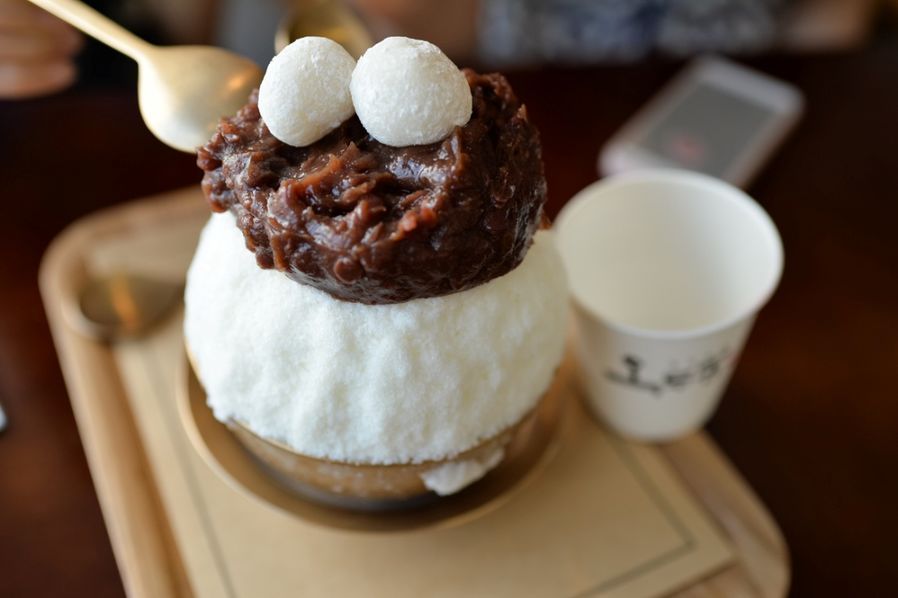 This is simple bingsu with grinded ice of milk, adzuki bean past boiled in an iron pot and ddeok decorated on ice. But the taste was never shabby. You would want nothing else but soft texture of milk ice that goes together with sweet and simple taste of adzuki beans.
Frozen and cold bowl adds the flavor. Okrumong's bingsu seems like the original form of patbingsu. As bingsu got famous in hot summer these days, there have been novel, unique and colorful bingsu but this place has kept the basics and its fame as well.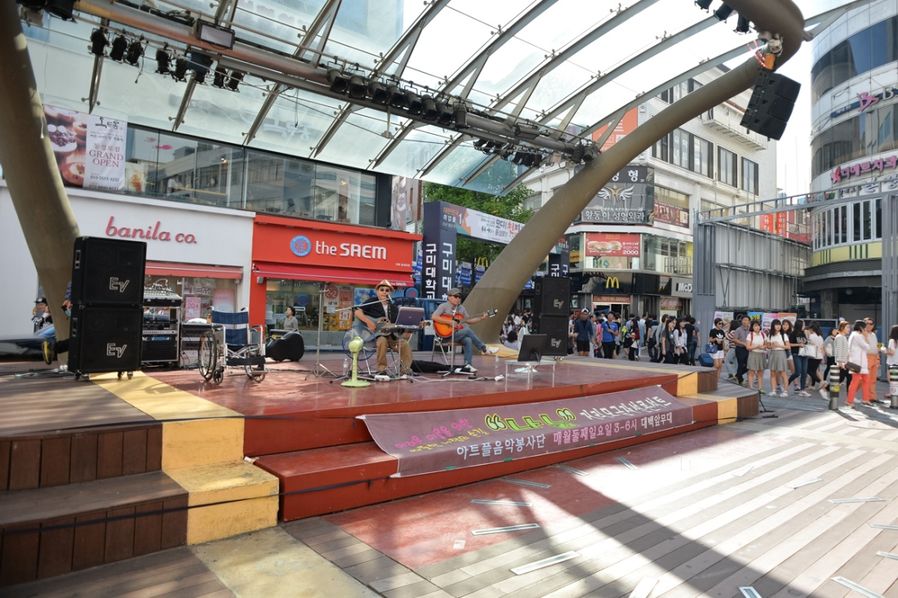 Looking outside from the cafe, I saw the Daegu Department Store and people busy with preparing performance on the outdoor stage.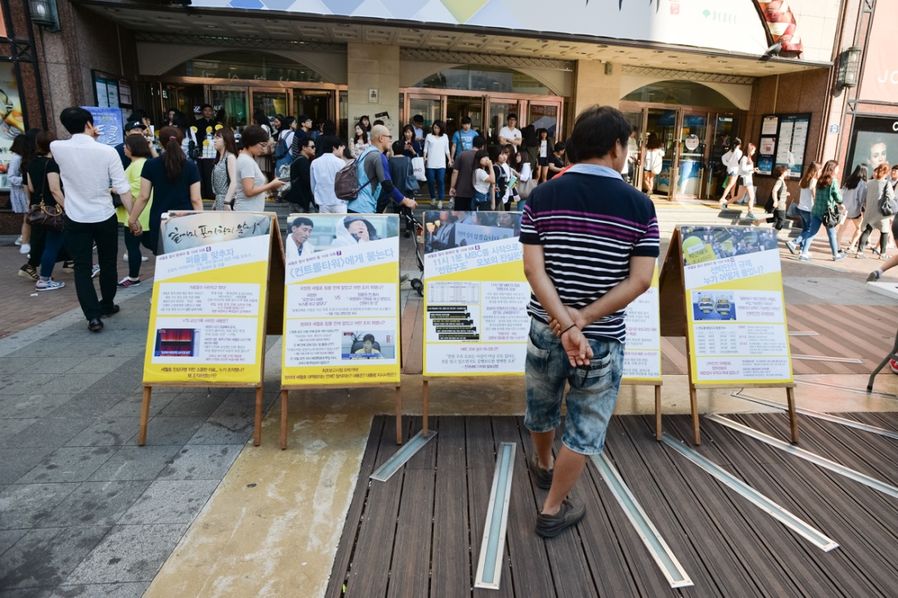 On the outdoor stage for free performance in Dongseong-ro, there were advertisements for the need to investigate the truth about the unforgotten accident of ferry Sewol. Watching the yellow ads of strong arguments with sweet and sorrowful songs by Gim Gwang-seok gave me a mysterious feeling and impression.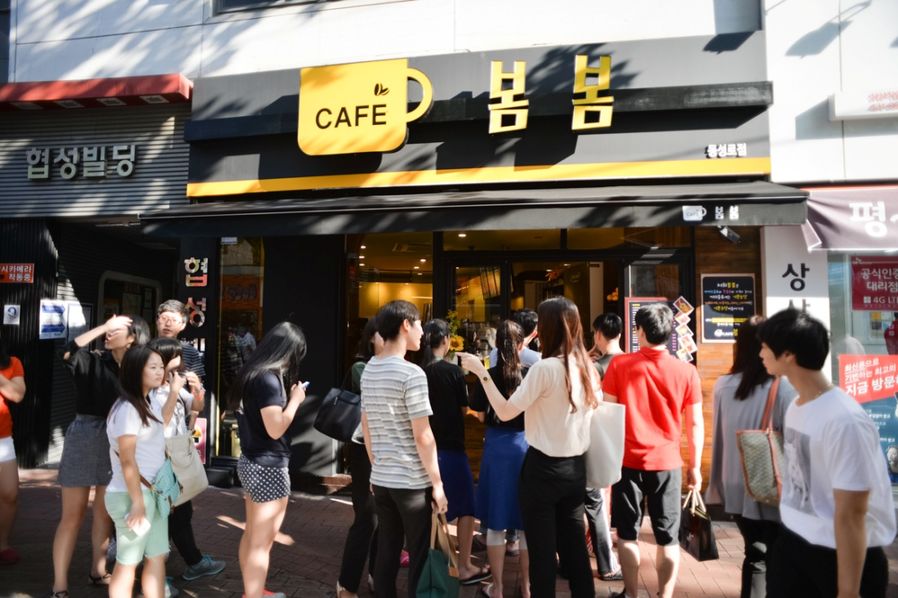 Something must've been so famous in this cafe to see that there are so many people lining up. I could see Dongseongro has so many specialties.


Getting away from the crowd in Dongseongro, I was walking toward Banwoldang Station. The representative tourism program in Daegu is called modern alley tour. I could find a nap easily in the downtown displaying a cover titled <근대路의 여행; journey to modern streets> and explaining 8 different tour routes by themes.
This is something I newly discovered that Daegu has remained historical spots from enlightenment to Korean war in the city. As I add the word 'alley' to the name of those traces, I feel like there would be many attractions here and there. I was also told that this was selected as the 'best place in Korea in 2014' by Korea Tourism Organization.


As I was looking for the Lee Sang-hwa's old house, I entered the Yakjeon Alley. Daegu is famous for herbal shops as it even has a big medicinal herbs market called 'Daegu Yangnyeong Market '.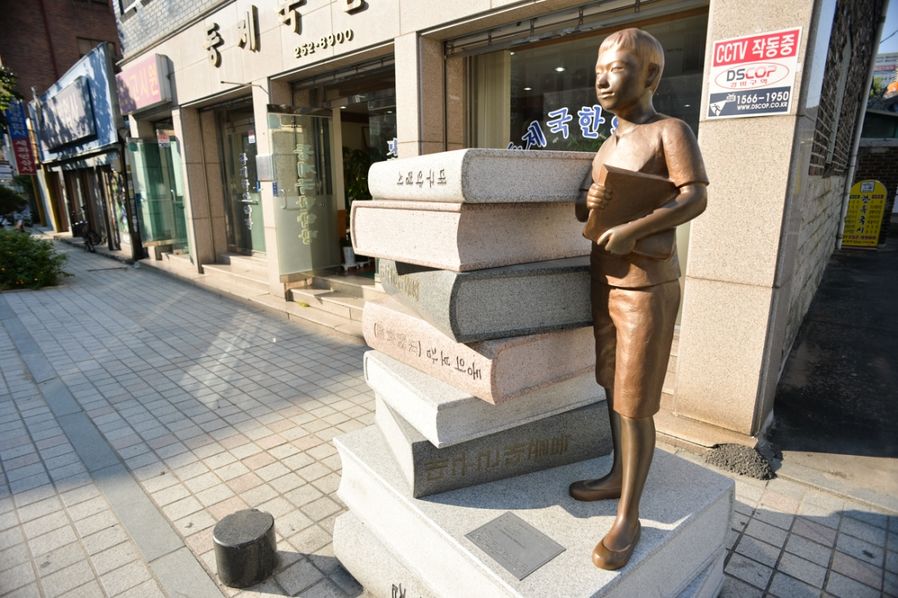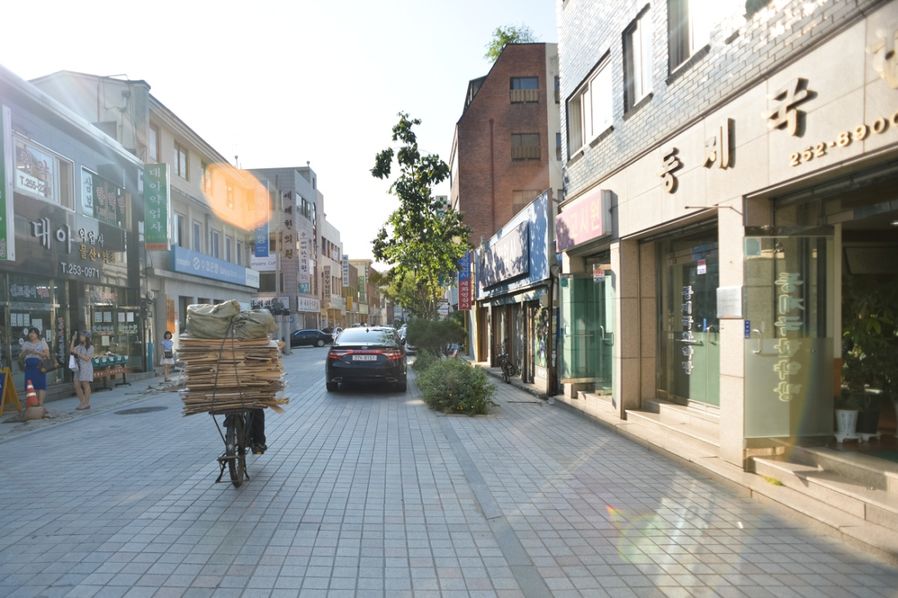 The Yakjeon Alley is still full of numerous herbal shops. The sweet and bitter smell of medicinal herbs speaks for itself.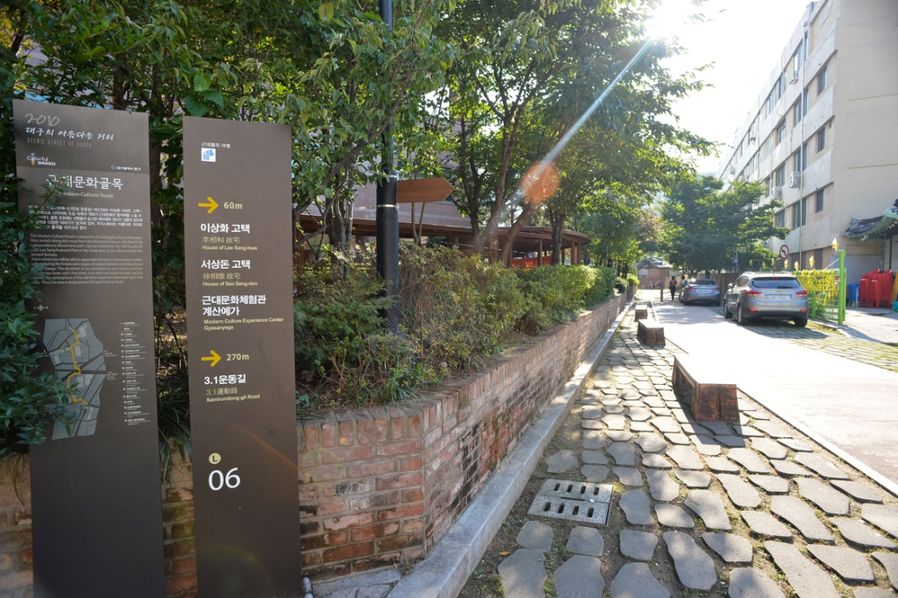 At the end of the Yakjeon Alley, this is the street corner to Lee Sang-hwa's old house. This is a cute alley that looks so good with sunlight in fall.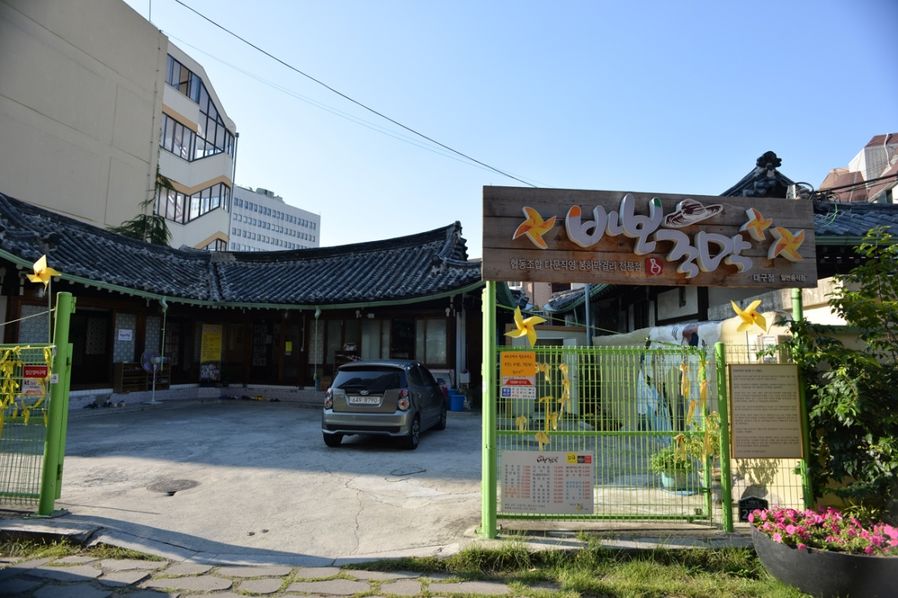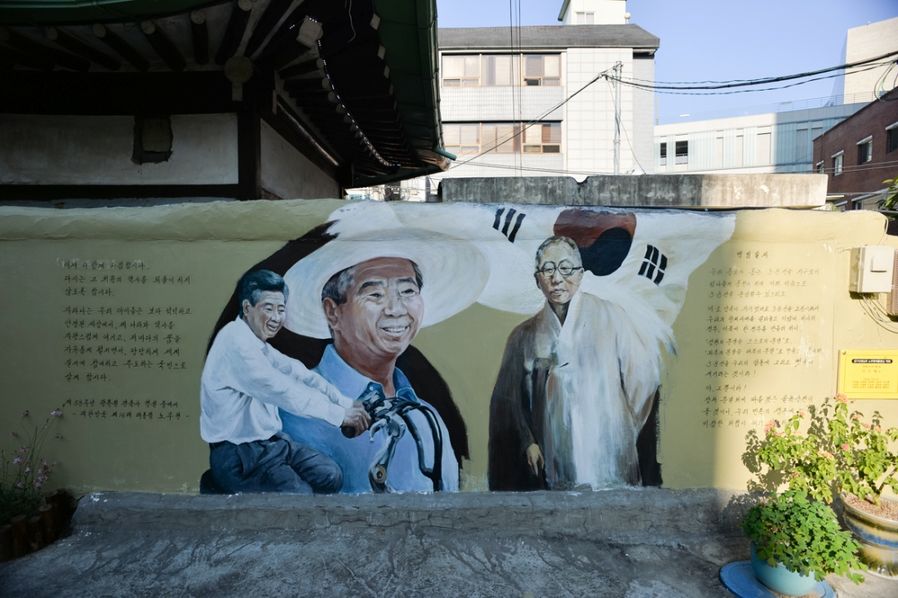 This is '바보주막(babo jumak)' located at the end of alley to Lee Sang-hwa's old house. It looks like an inn that commemorates the former President No Mu-hyun.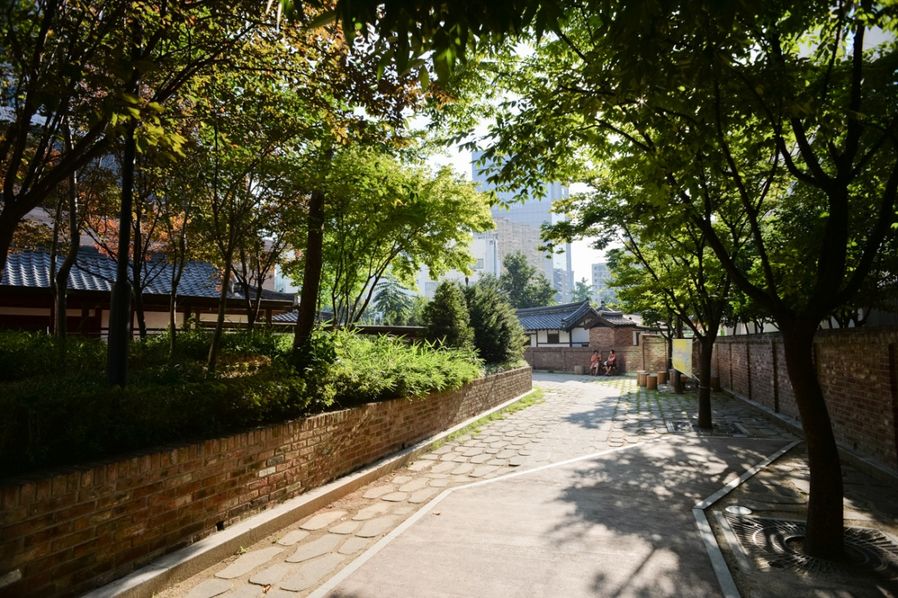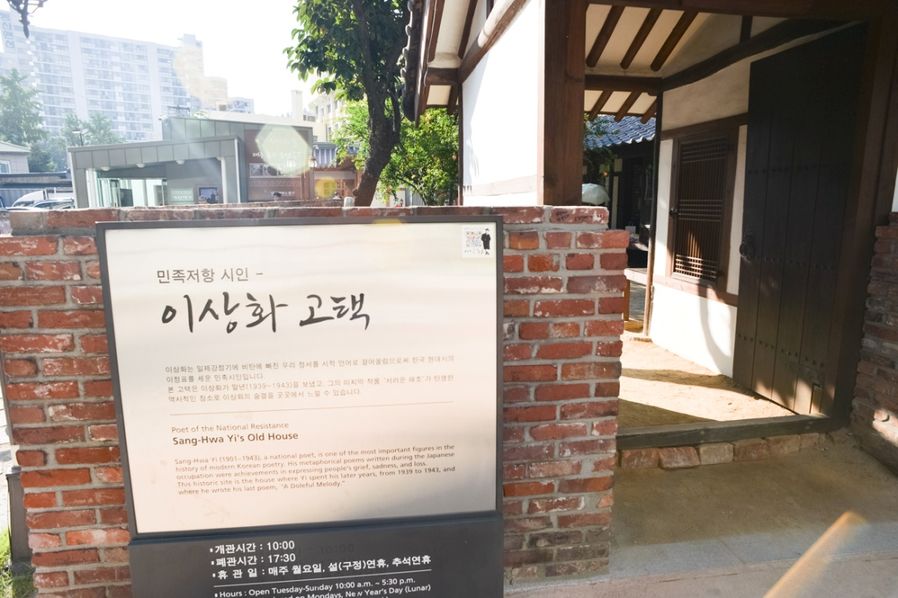 Let's go back to the modern times along the quiet street with tile-roofed houses on both sides. The old house of Lee Sang-hwa who was a representative poet of resistance and fighter for independence during the time under the rule of Japanese Imperialism is small and quiet.
The poet wearing fedora painted on the wall at the entrance caught my eyes.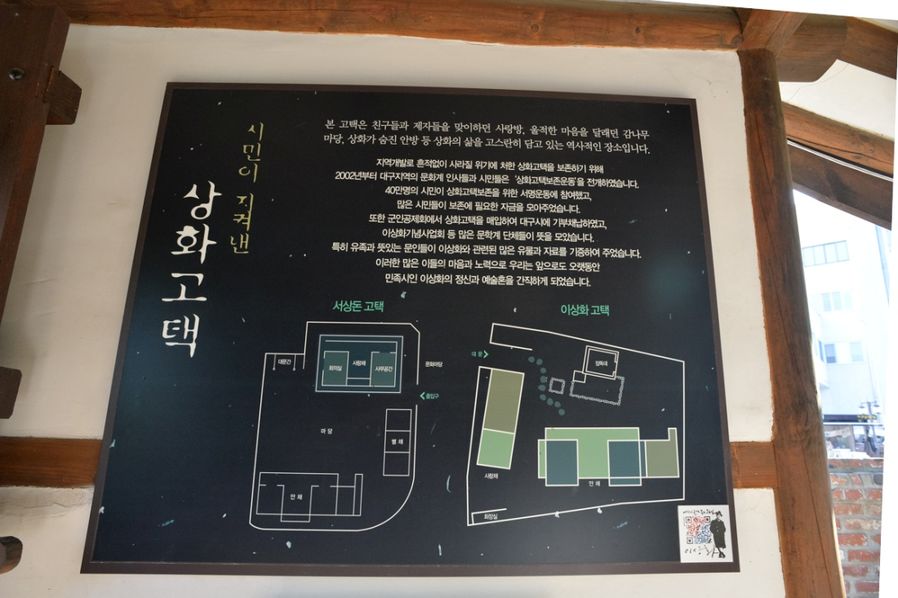 I heard that the historical place was in danger of getting demolished during the redevelopment but the citizens of Daegu put efforts to keep it. It became a famous place where numerous tourists visit now.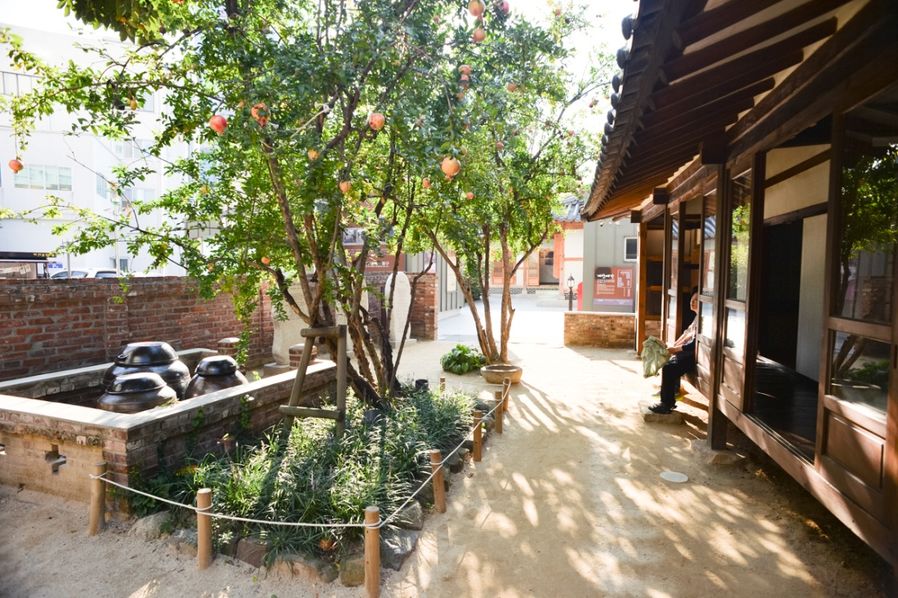 In the front yard, you could see pomegranate trees and jangdonkdae(platform for crocks of sauces and condiments).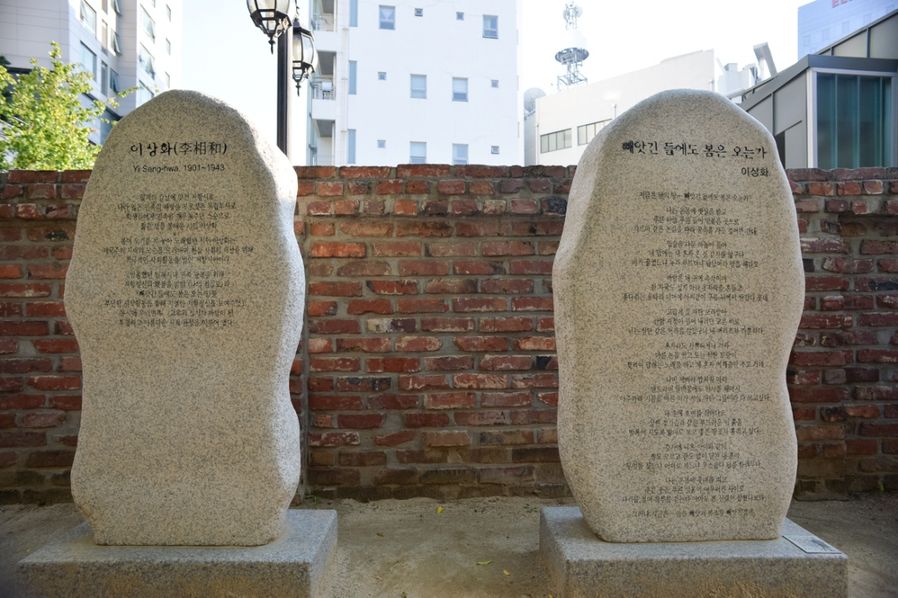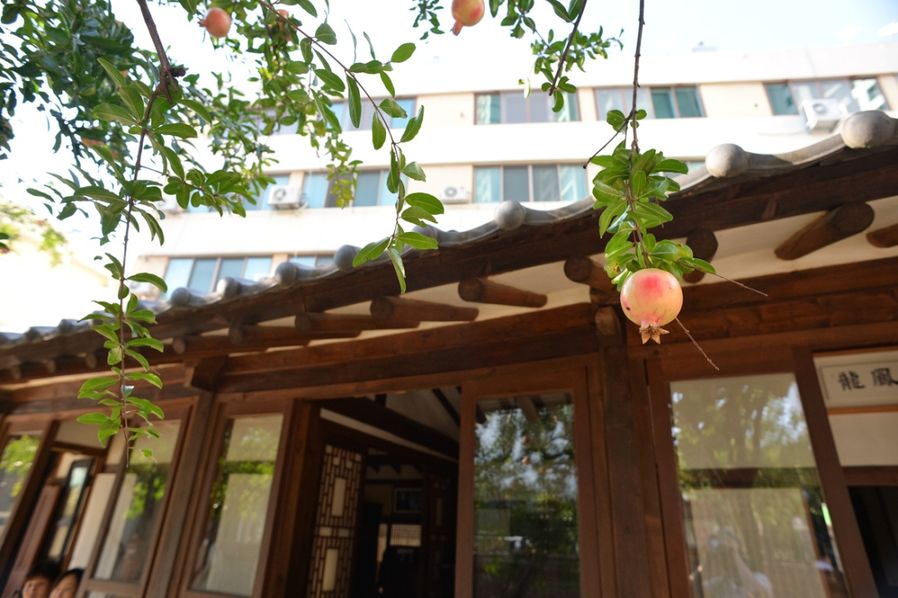 Memorial stone with the poet Lee Sang-hwa's best work, <빼앗긴 들에도 봄은 오는가; Will spring come to the lost field> and his life story written on was welcoming the visitors. Pomegranate ripen under the autumn sky looks like red lamp.
Do you think the poet Lee Sang-hwa was also inspired by these pomegranates when he was working on his poems while welcoming his pupil?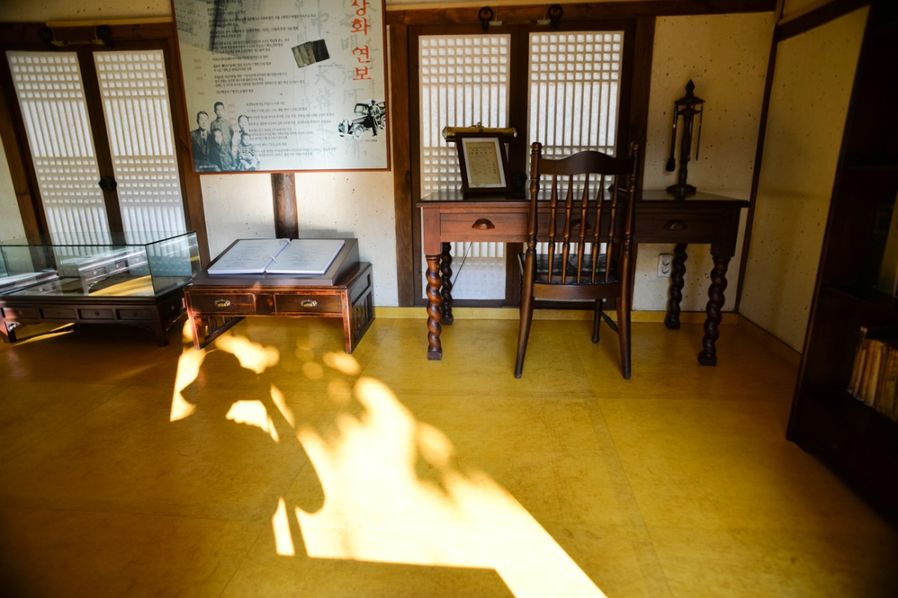 In his room where his life is reflected, I could find detailed chronological listings and description of his works that made my visit more meaningful. I could draw him sitting on a chair, writing and reading a book in my mind.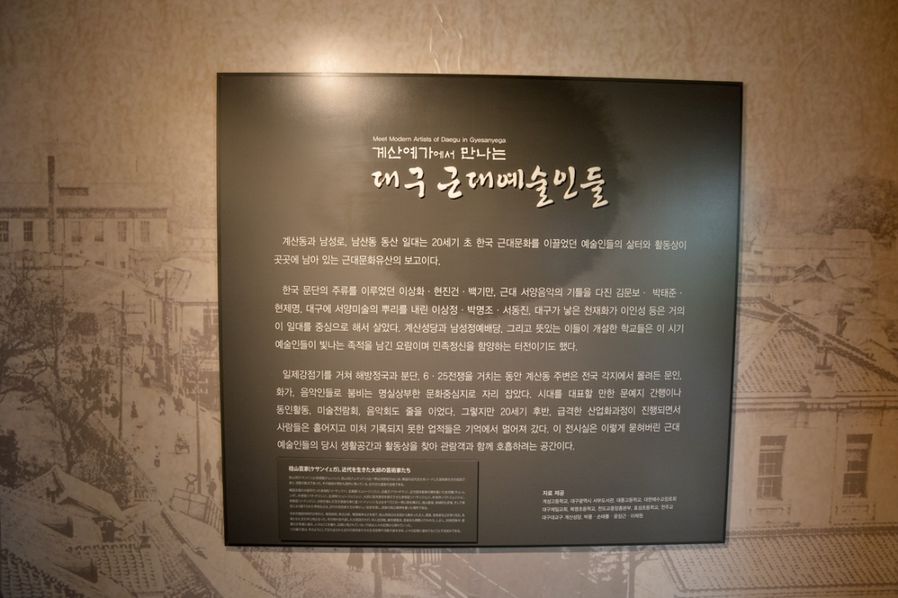 In the newly built Modern Culture Experience Center Gyesan Yega next to Lee Sang-hwa's old house, we could see the modern history and facilities of Daegu at a glance. Gyesan-dong area used to be the center of cultures when the art like literature, arts and music of modern period was bloomed.
Writers including Lee Sang-hwa and Hyeon Jin-geon, musicians like Park Tae-jun and Hyeon Je-myeong, and artists including Lee Sang-jin and Park Myeong-jo are the modern artists that we've heard of even though we don't know them very well. But I didn't recognize they are all from Daegu until now.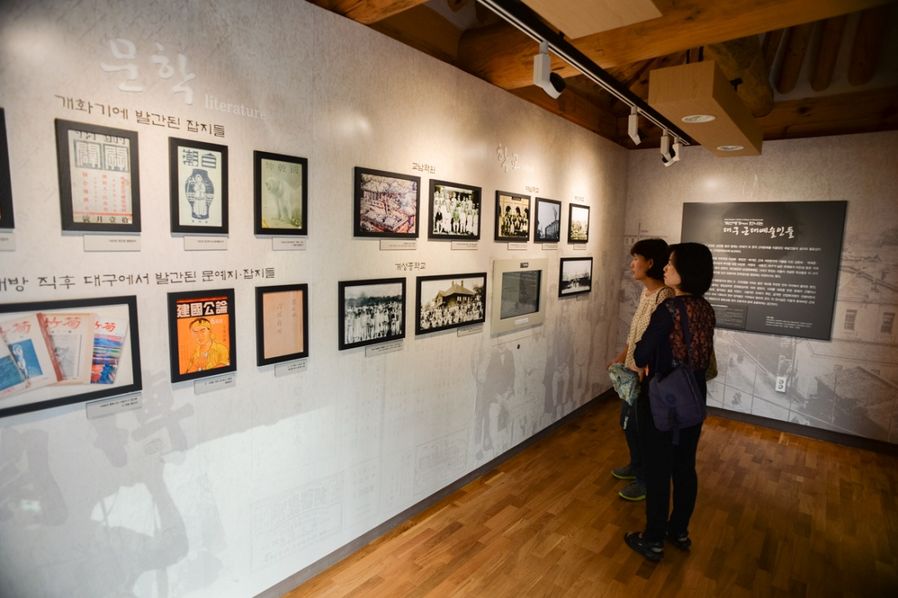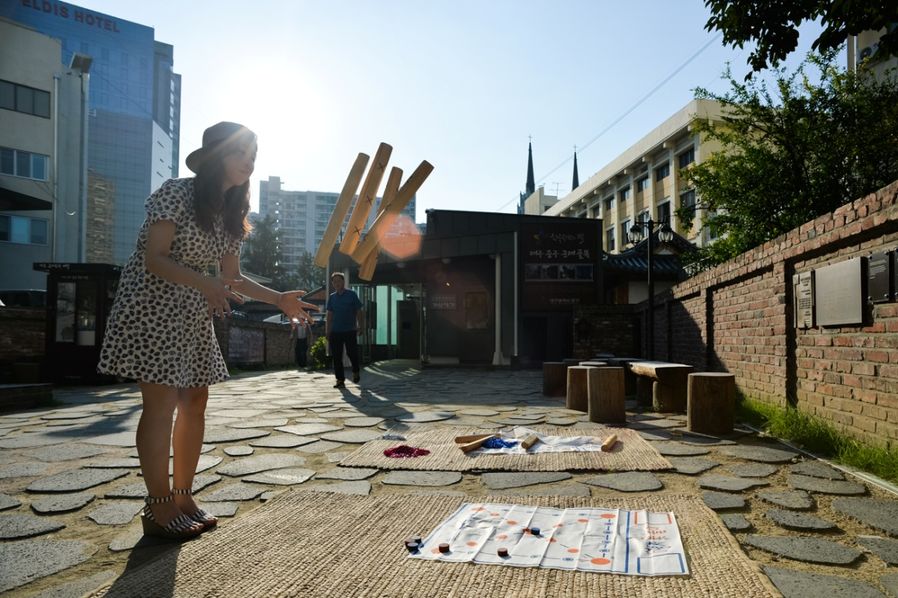 In Gyesan Yega, various cultural traces are displayed including literary magazines published mostly in Daegu from 1910s to 1940s.
There were games and quiz for kids and Experience Center for people to take photos wearing Hanbok. I found traditional game experience hall such as a game of yut which would be best for the family with young kids to check out.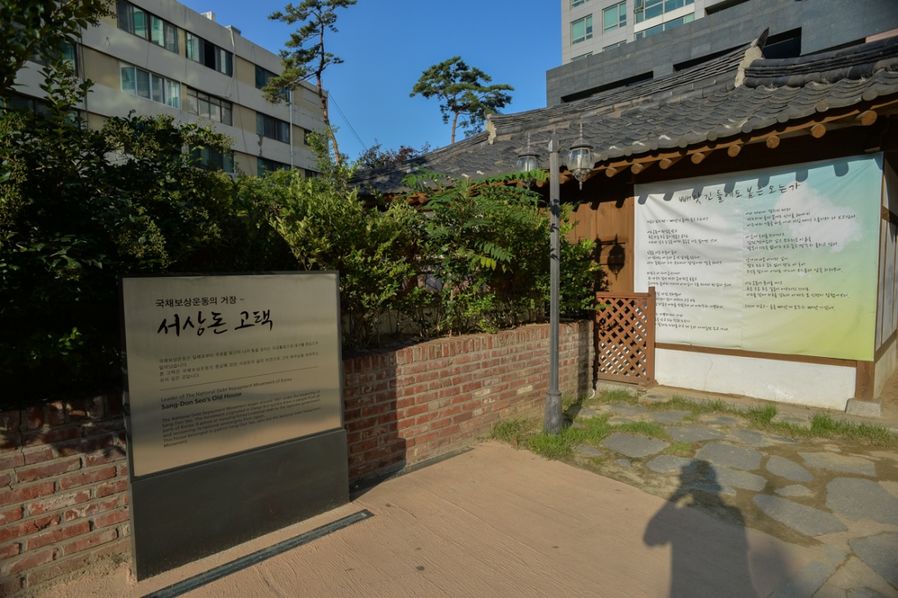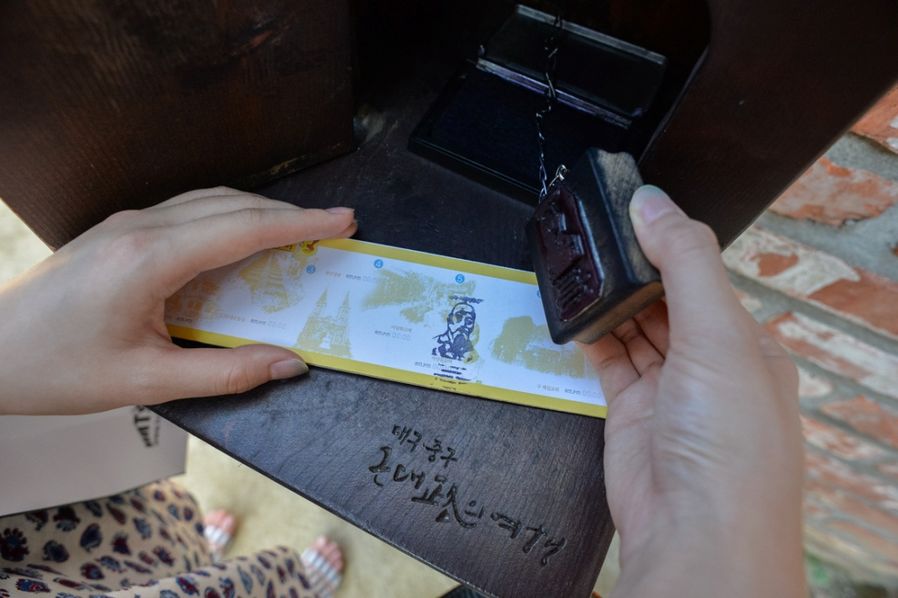 Right next to the Experience Center, there is an old house of nationalist, Seo Sang-don, who started a movement in compensation for national debts. After you finish looking around his old house feeling his straight and firm spirit, you could find a small stamp box.
You would see a stamp for Stamp Tour which is one of the Alley Tour, and if you collect stamps from all 8 historical places in Daegu you could get a discount at some restaurants and cafes so you might as well try that. Each stamp indicates each place so all of them could be one special souvenir.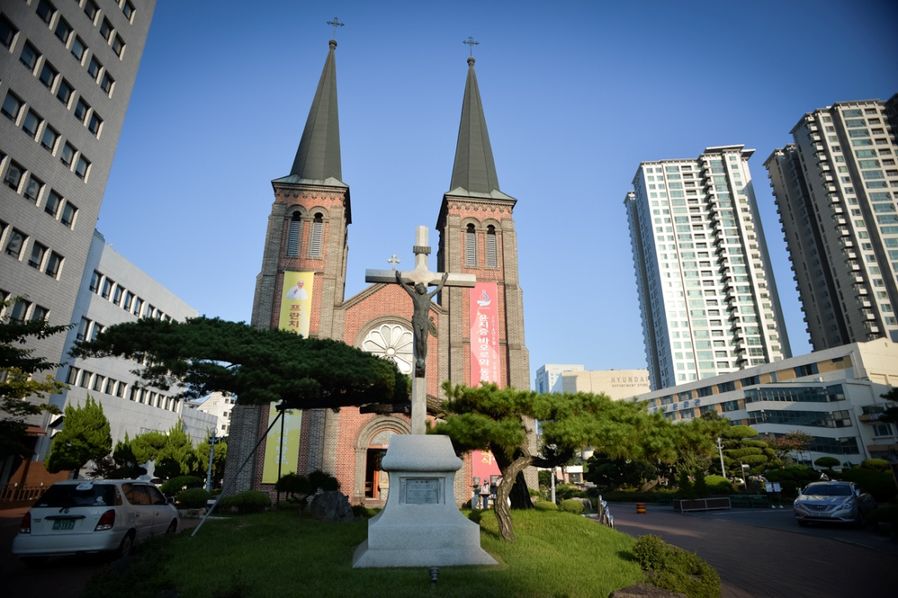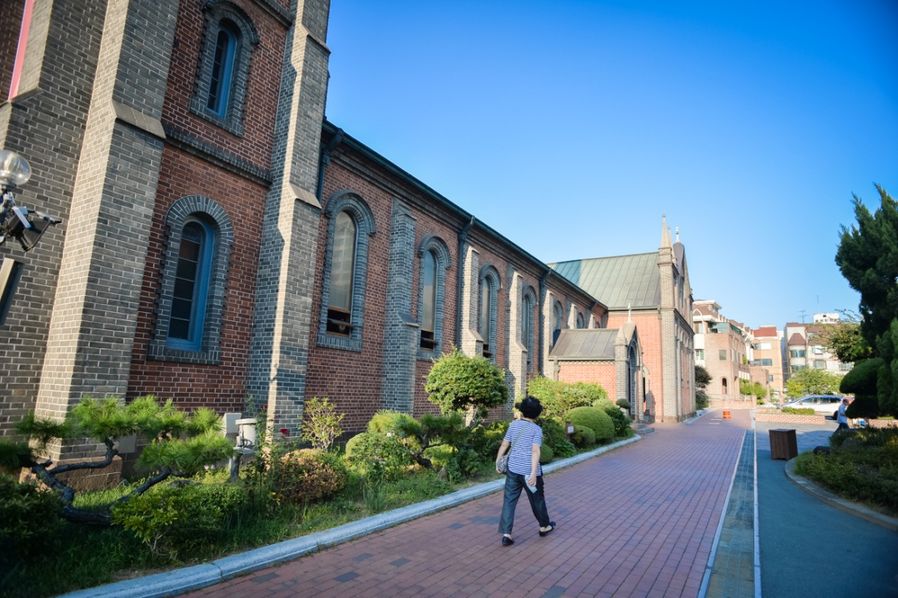 If you leave the small valley of old houses and walk for 10 minutes more, you'll see Gyesan Cathedral. Gyesan Cathedral built in 1902 is a Romanesque style architecture combined with Gothic form.
It was originally eastern architecture of cruciform shape combined with dancheong (traditional multicolored paintwork on wooden buildings) but the magnificent Gothic cathedral was built after it was burnt to ashes.
On the front side, a bell tower and big rose windows stand out and people used to call this church '뾰족집(bbyojokjib)' because of those two sharp belfries. Normally cathedral is built on high location that looks down the village or the whole town but when Gim Bo-rok, father Robert, was looking for the land for the church in 1897, believers, especially the old believers thought it's not fair to build it on empty plain hilly district so there it is now. So even now, Gyesan Cathedral welcomes people on the most flat land in downtown of Daegu.
As long as its history, it has many stories shared including the former President Park Jeong-hee's marriage with Yuk Yeong-su and Pope Johannes Paulus II's visit in 1984.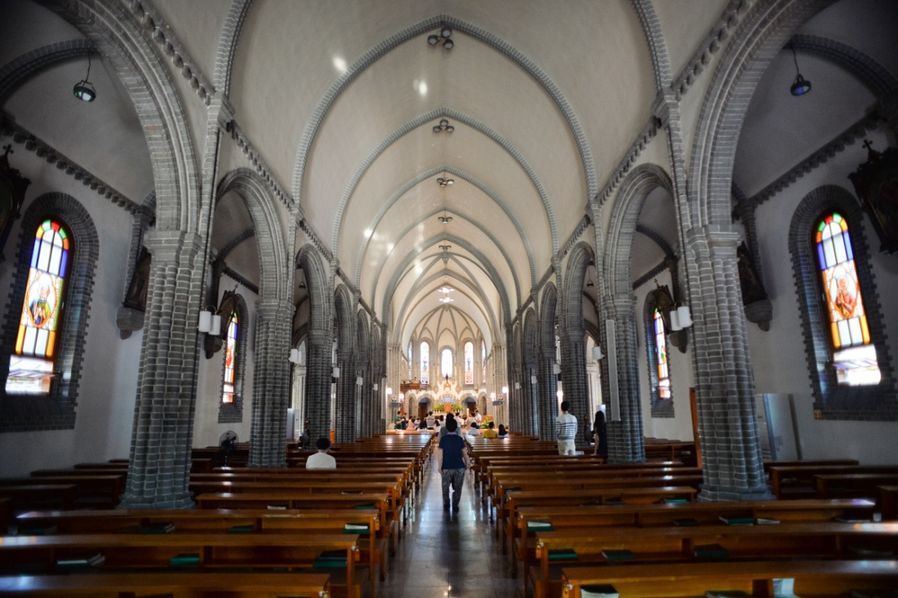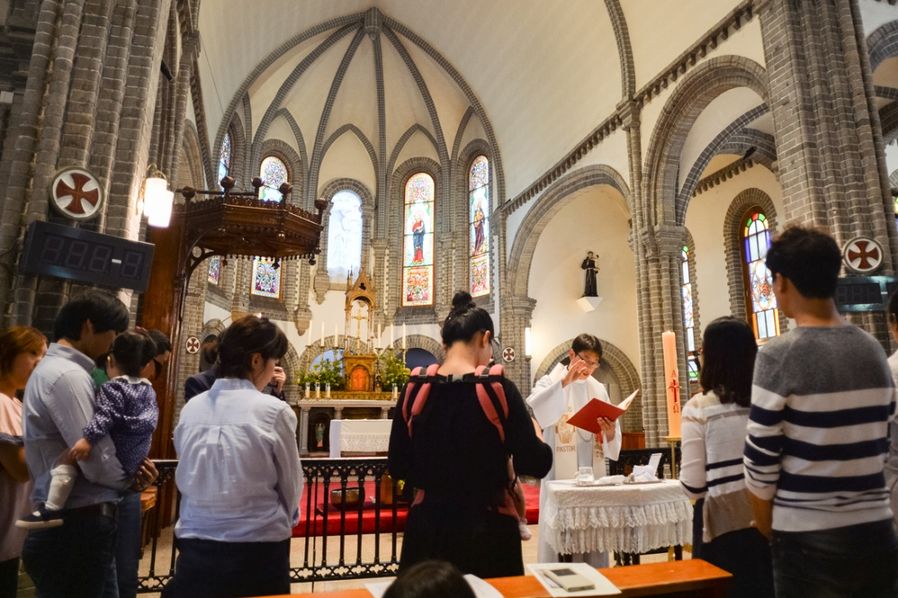 Inside the church, I could see the Latin cruciform, beautiful stained glass. If you look at it closely, you could see Korean missionary other than original saints.
Watching the painting of people in Hanbok on colorful stained glass was very novel and beautiful. By the time I walked in, they were in the middle of rites of baptism for infants.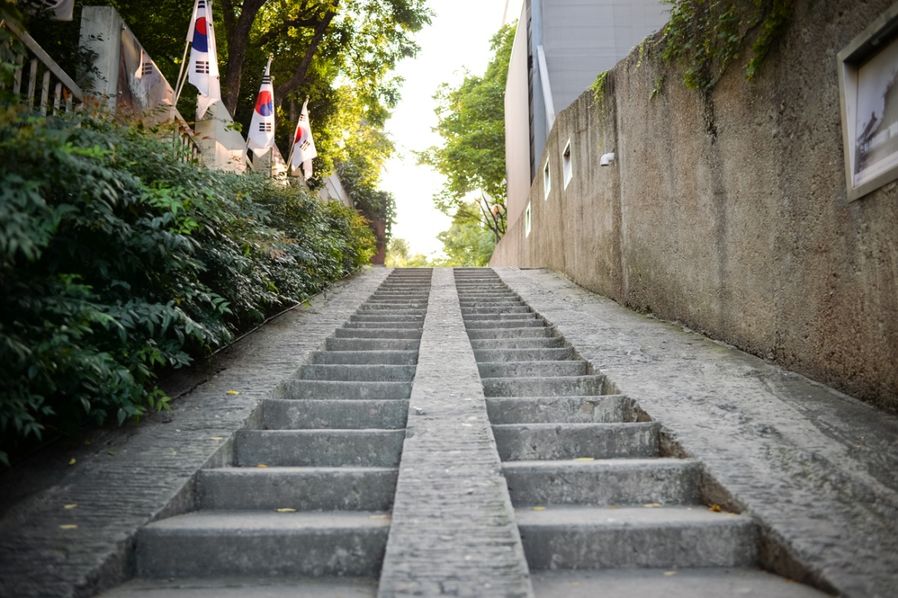 The altar surrounded by stained glass looked holy and beautiful. I saw two young ladies traveling together kept taking photos of the altar as well.
The fact that Pope visited this Gyesan Cathedral surprised me.


I crossed the street from Gyesan Cathedral and climbed Cheongna Hill. The steps that I could not even count are leading to Cheongna Hill.
The hill in the middle of Gyesan is made for bicycles. On the side wall, there were photos that you might as well assume the history of Daegu, and the one looking down the downtown from Cheongna Hill was impressive for me.
It made me realize Gyesan Cathedral standing high in the middle of low thatched-roof houses and tile-roofed houses in historical dramas is the fourth Catholic Church in Korea and historical site representing the history of Korean Catholics.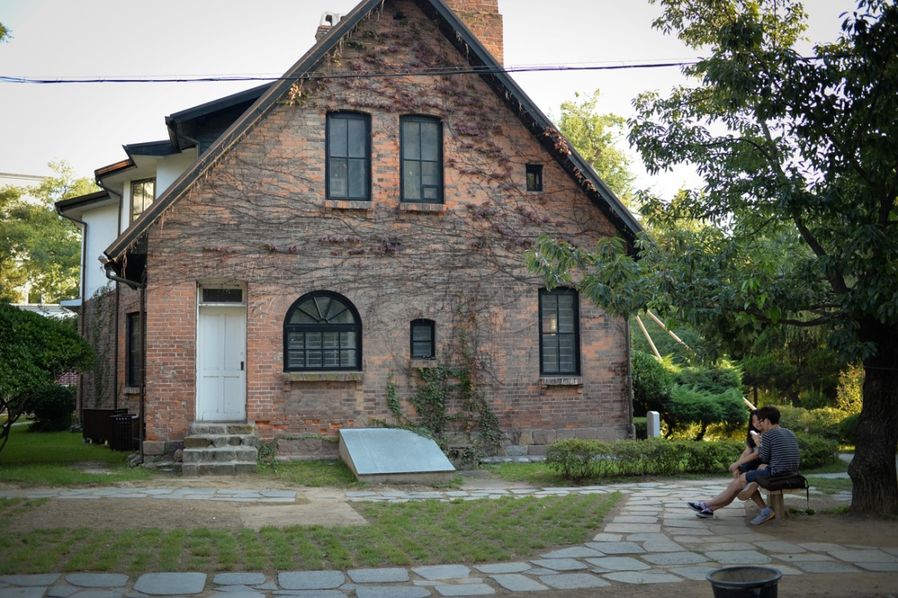 When you finally step on the last step, there are zelkova trees, juniper trees and cherry trees lining up on both sides of the road, and western buildings at the end of the road. They are the houses built for US missionary to live.
House of American Christian Missionary Chamness is 'bungalow' style architecture built with the stones brought from demolished Daegu-eupseong (Daegu-principality fortress) as base and red bricks set up.
It's used as a museum of election and for medical reasons nowadays as I've heard. They say it reappears the style of architecture of Southern California at that time which made me think how big and novel this house would've been to Daegu citizens when they see westerners with white skin living inside this new style of architecture.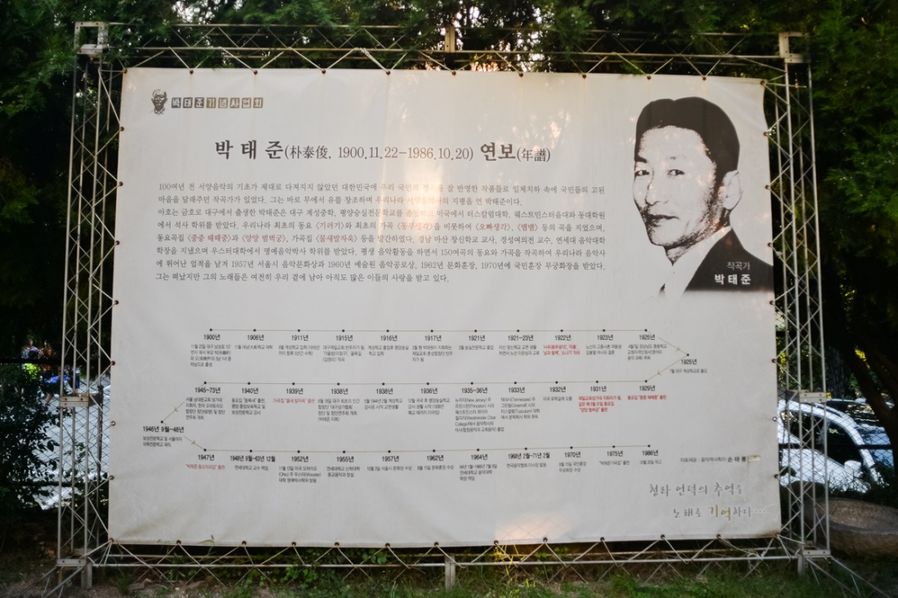 This hill was called 'dongsan' to indicate that the mountain in the east of big market (Seomun Market) but since the lyrics of Park Tae-jun's song titled Dongmusaenggak, it became Cheongna Hill. 'Symphony of spring is echoed / when the lilies bloom on Cheongna Hill...' this part indicates this hill. I heard that blue ivies mean the hill densely covered with ivies.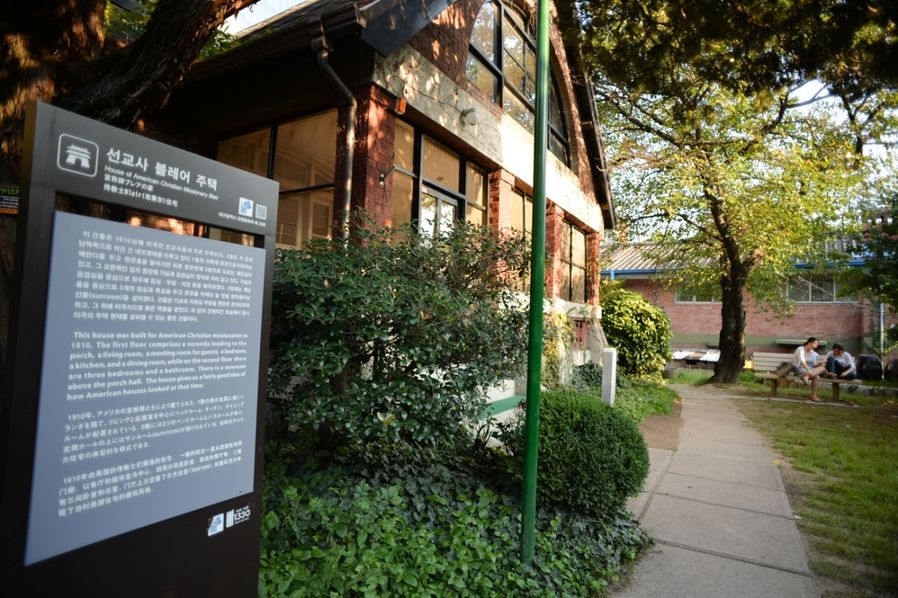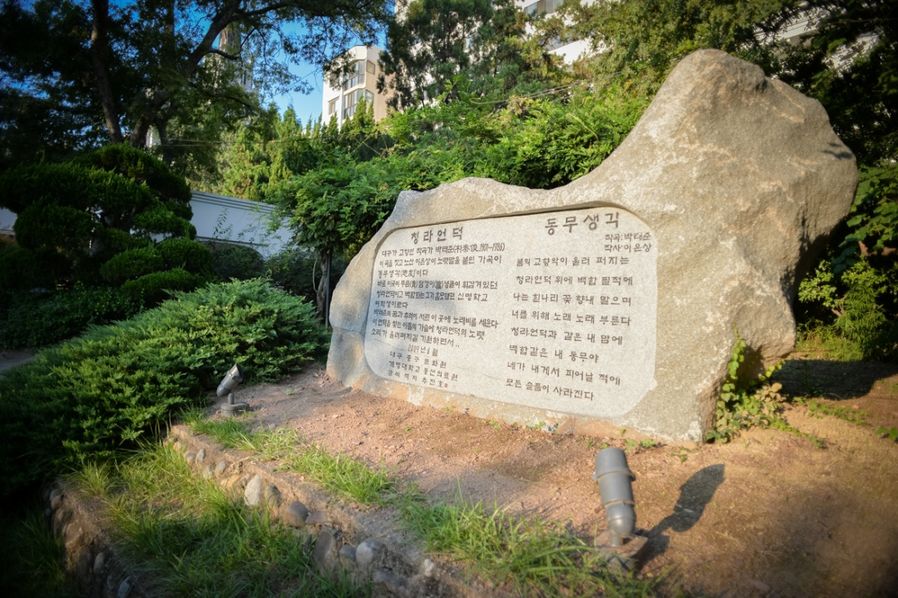 On Cheongna Hill, there's a tombstone built with the lyrics of Dongmusaenggak (thought of friends) written on it and missionary mansion covered with blue ivies on red bricks.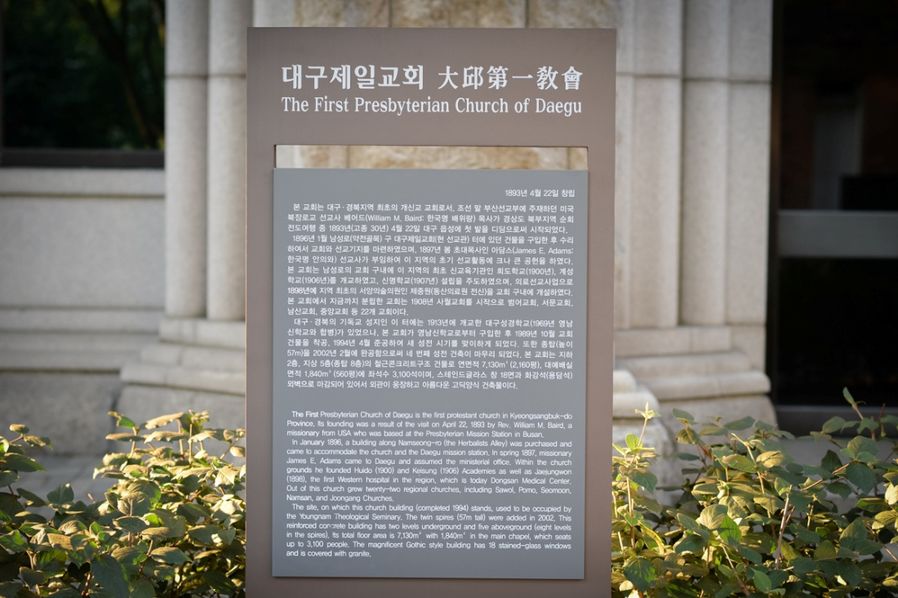 The architecture that looks down the downtown from Cheongna Hill is the First Presbyterian Church of Daegu.
This one was built in 1994 and tourists are overwhelmed by the size. You could find the smaller, antique and older the Presbyterian Church than this one in the Yakjeon Alley. After taking a rest while enjoying the breeze on the bench in front of the First Presbyterian Church of Daegu, I got a rustle on.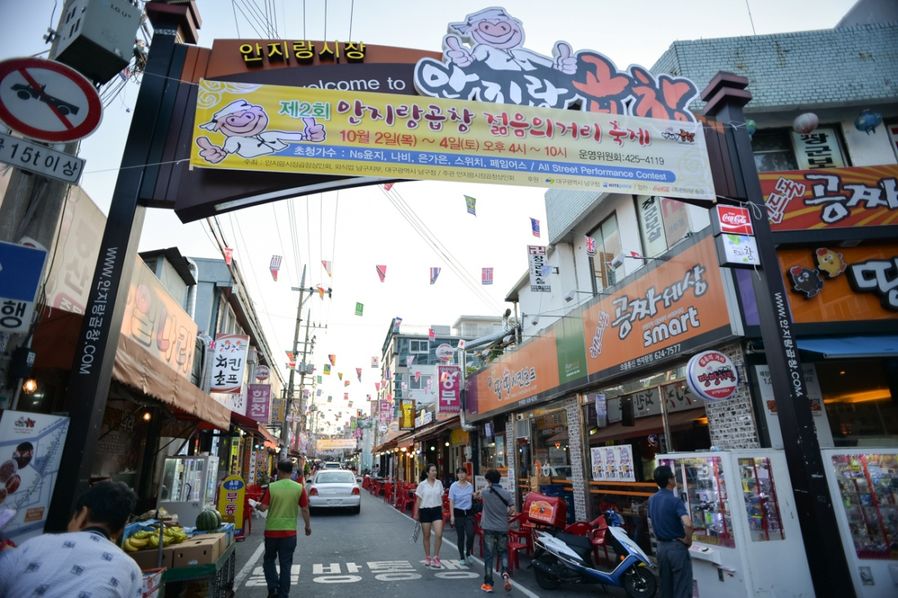 On my way down from the Cheongna Hill, I saw a couple who were taking wedding photos by themselves in different places in Daegu. Two people who decided to make it on their own looked so beautiful.

It became an evening so I headed to Anjirang Gopchang Alley. I walked all day so I deserved a proper dinner with famous dish in Daegu. Anjirang Gopchang Alley has about 60 restaurants that specialize in Gopchang dish at reasonable price which is famous 'food' alley on the internet. In the evening, every restaurant smells Gopchang attracting people who pass nearby.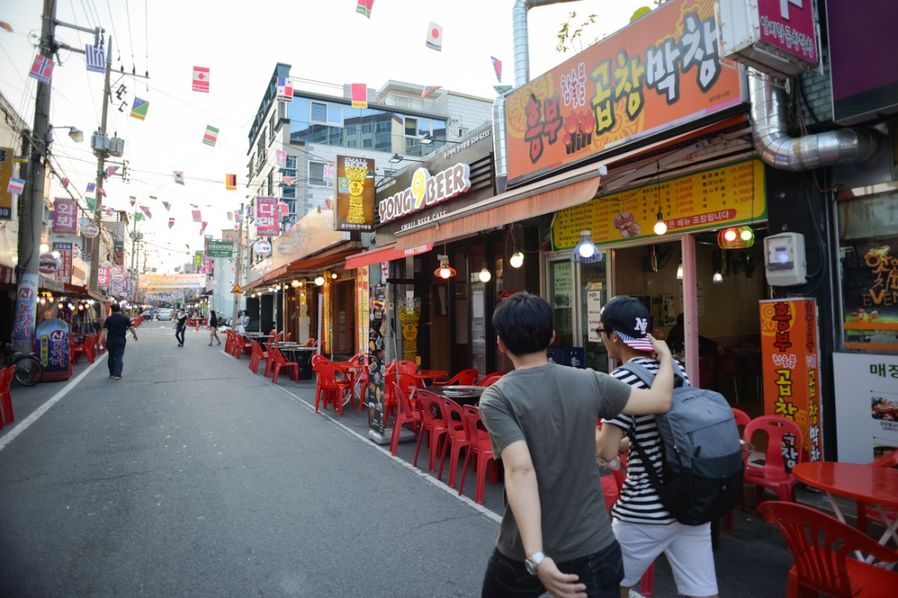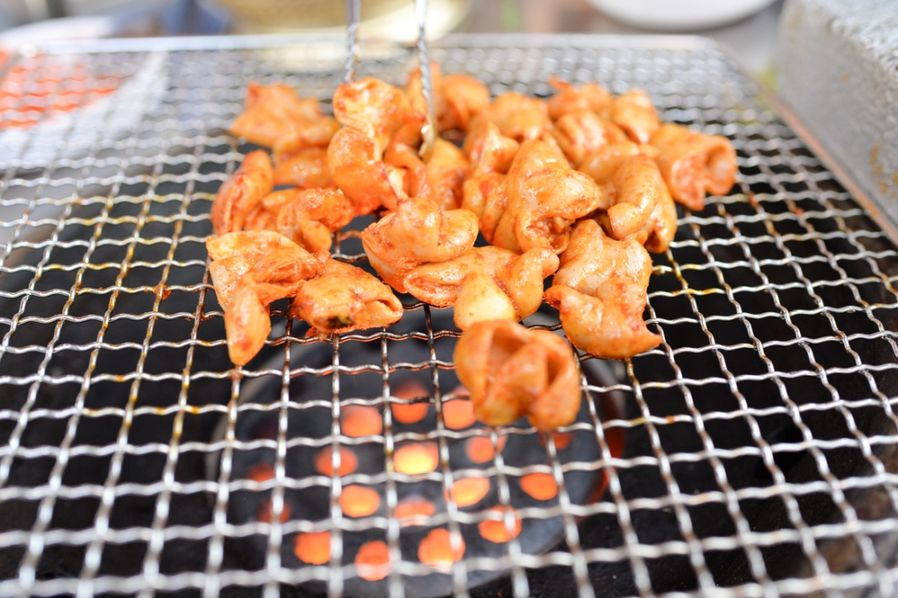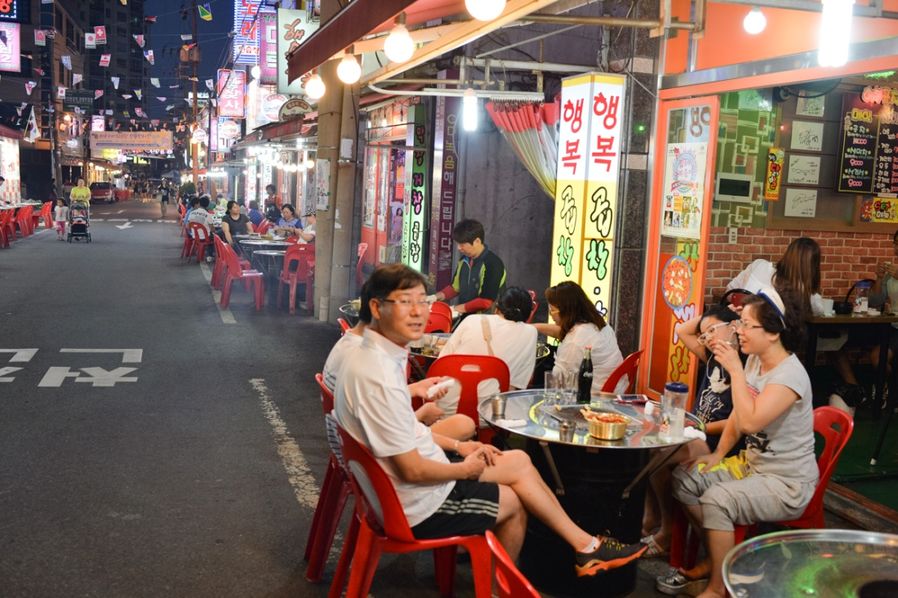 As the owner's suggestion, I ordered a bowl of Gopchang. Gopchang is small intestine of cows or pigs, which contains rich iron vitamins and good for diabetes, alcohol addiction or detoxification. It's easy to think that Gopchang is food that makes you fat but it is actually a high-protein, low-cholesterol food.
It's seasoned with spicy and salty sauce, does not smell of fat because it's cooked with briquette fire, and tastes better the more you chew. Eating it with Chamsoju made in Daegu is better than any other expensive food. Due to its cheap price, the street is full of young students.