1. Ingredients
- Main ingredients: rice, beef soup

- Side ingredients: egg, green onion and laver
2. Taste Evaluation

- Spicy taste: ☆☆☆☆☆

- Salty taste: ★☆☆☆☆

- Sweet taste: ☆☆☆☆☆

- Sour taste: ☆☆☆☆☆

- Aromatic taste: ★★★☆☆
3. Introduction to Tteokguk(rice-cake soup) 떡국


January 2016 has been over. So your new year's plan might be fizzled out. But Korean new year gets started right now.
The western countries use solar calendar, but Korea has used lunar calendar for a long time. Nowadays, Koreans generally use solar calendar in their daily lives. But they use lunar calendar when celebrating traditional holiday or birthday.
So, Korea's new date in 2016 is 8th February in lunar calendar. People call the day as "Seol".
In "Seol", all family members gather and worship their ancestors. And they have "Tteokguk(rice-cake soup)" during the period.

Tteokguk is the soup that is made of "tteok(rice cake)", the traditional Korean food. There are various kinds of tteok, but Tteokguk is made of "bar rice cake". It is round and long, and it is light and chewy.
Tteokguk is made of chopped bar rice cake and beef soup.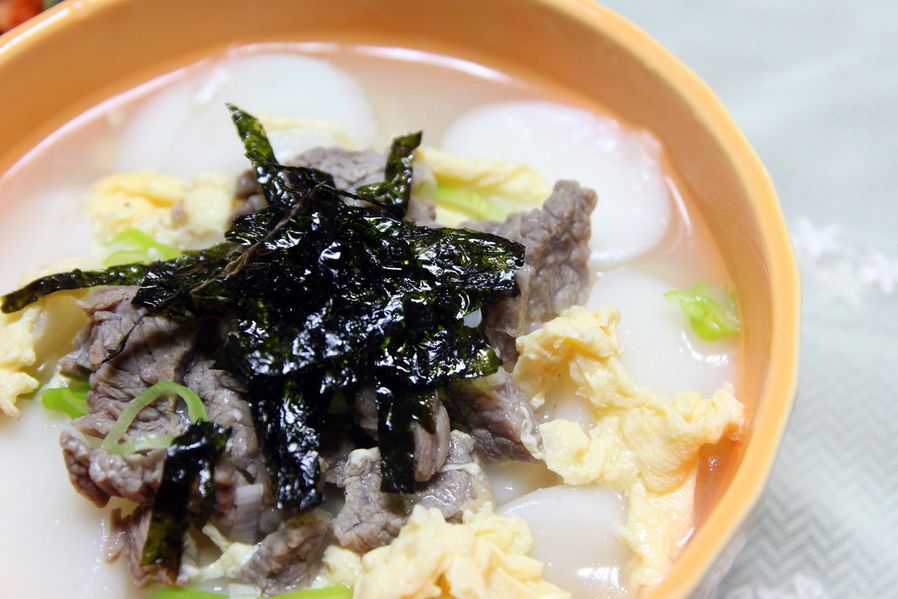 Korean people have eaten Tteokguk while worshiping their ancestors for a long time.
Firstly, bar rice cake, the main ingredient of Tteokguk, is very long. It means that they want to live healthy and long.
Secondly, people chop bar rice cake, the shape of coin, when they make Tteokguk. They wish to be wealthy having a lot of money.
Thirdly, white rice cake means a brand new start after forgetting about the past.

You get older after having a bowl of Tteokguk that has various good meanings. Foreigners usually like rice cake, and Tteokguk is made of it and beef soup. So it is easier to have than other spicy Korean foods.
Korea's new year has got started now. I hope you to be healthy and wealthy in 2016 after having Tteokguk in 8th, February.



4. The kind of Tteokguk

Basically, people eat Tteokguk with egg, green onion and laver. But here is the one made of regional product. It is maesaengi tteokguk of Jeolla region, which is made of seaweed fulvescens.

5. The way to enjoy more delicious Tteokguk

Tteokguk is simple food, which is made of beef soup and rice cake. You should be careful of hot rice cake! You'd better blow on it to cool it down before having it. Rice cake is chewy when it is hot, but hard when it is cool. You must keep that in mind. So the taste of hot Tteokguk is soft and chewy. But cool one is solid and chewy. You should eat on your taste buds.
Personally, I think the combination of Korean meat broth and kimchi is out of this world!
Why don't you enjoy the soup, rice cake and kimchi altogether when you have Tteokguk? That
would be perfect.