Daereungwon Ancient Tombs
Gyochon Village 교촌마을


To say the most famous villages of Gyeongju, 'Yangdong Village' and 'Gyochon Village' are always said.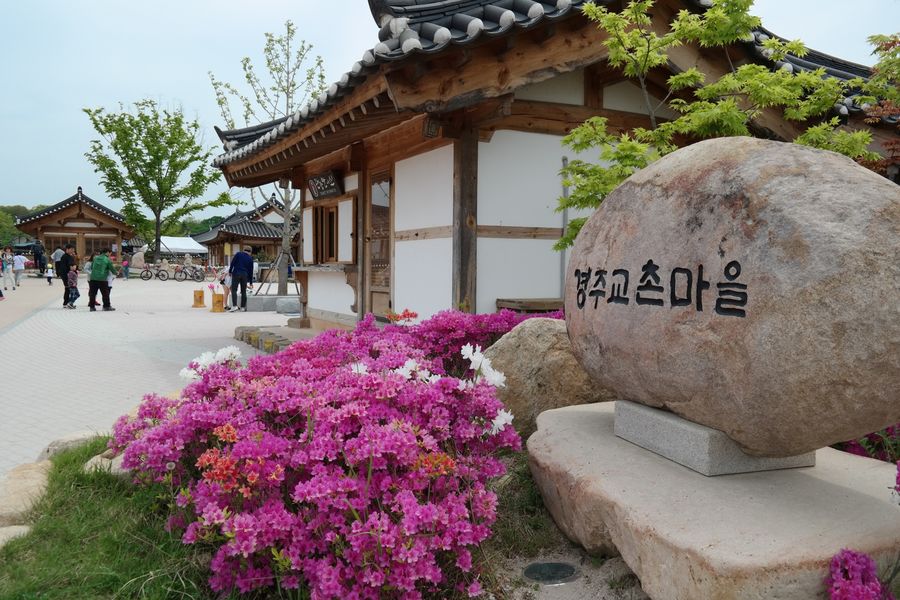 In this trip, we visited 'Gyochon Village', which is more close to Gyerim. Gyochon Village is located left to Gyerim and Woseong which is south to Gyeongju's downtown area. So the transportation is quite comfortable.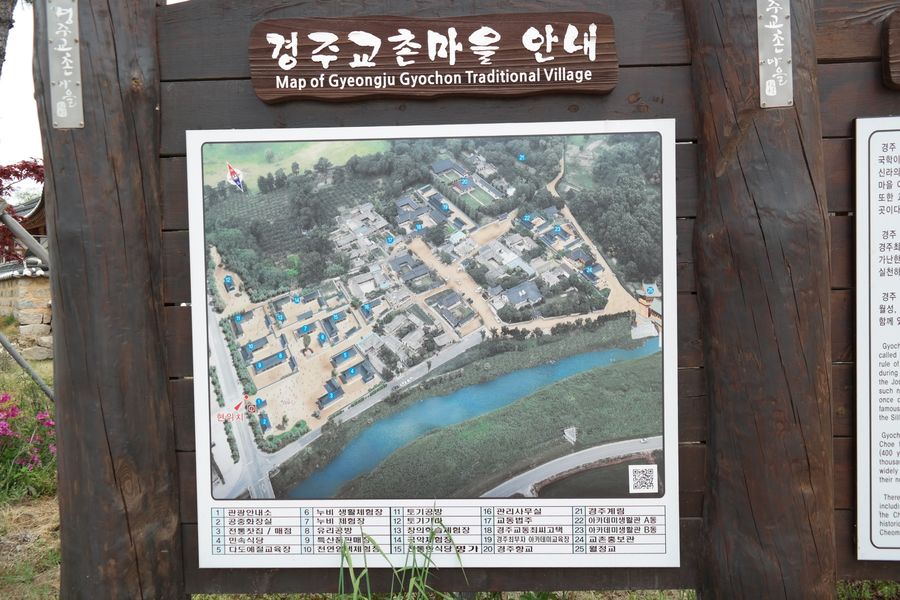 At the front of the village, there is a information map of the entire village. The structure of the village is not that difficult, but if you don't check the map, you might miss some places to go, so it's better to take a look.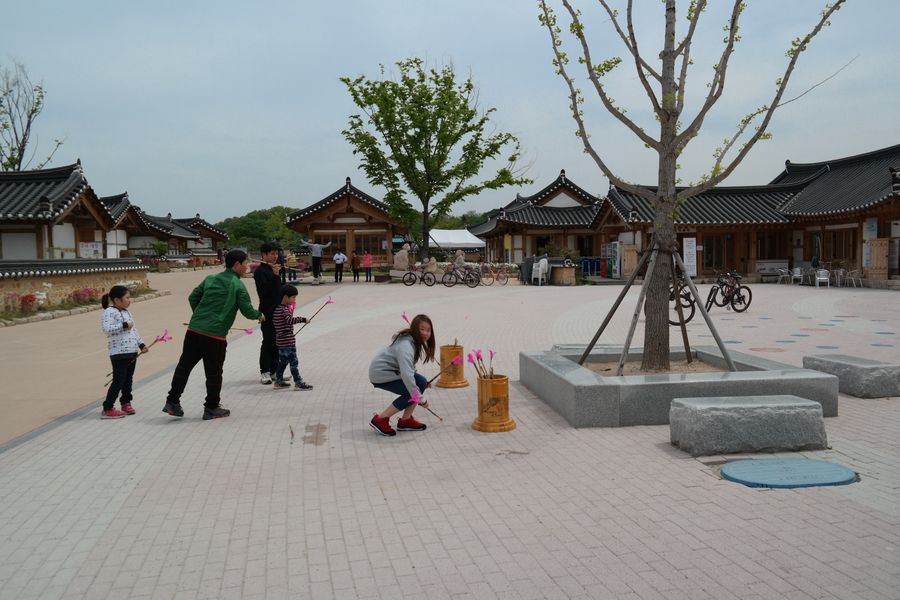 At the plaza of the village, on special days there are traditional performances and various events opened. Also supplies for Tuho, driving hoops, Jianzi, Neolttwigi, playing yut are all provided without charge.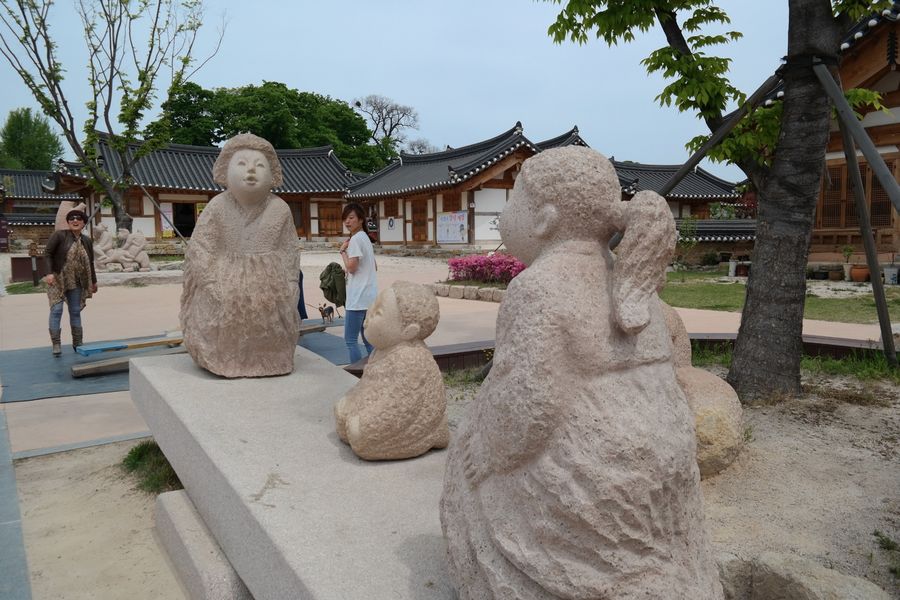 I jumped on the plank for in a long time, but I couldn't jump like those sculptures, maybe because I got fat… I gave up after trying a few times…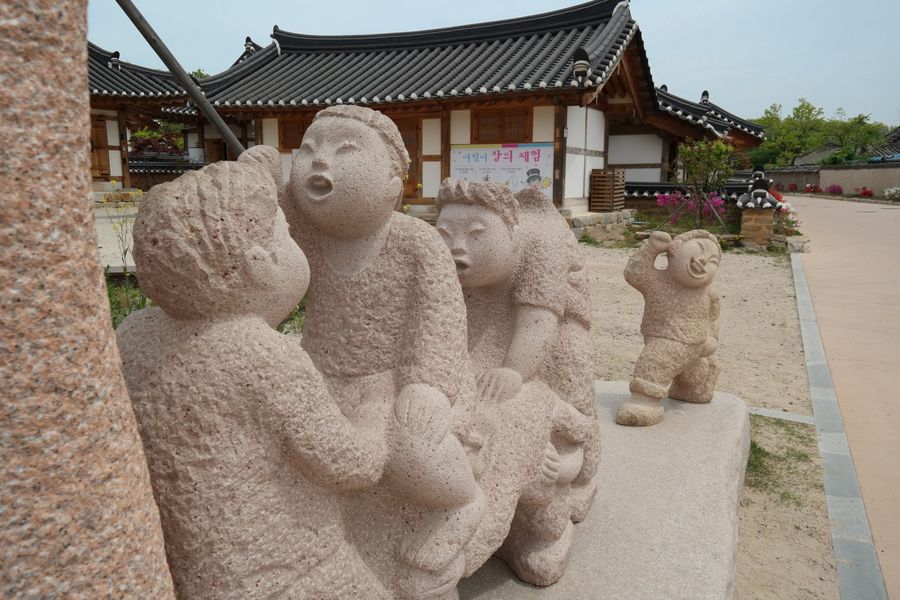 Piling, which I played a lot when I was a elementary student. The lively expressions on them are expressed well. The faces of them give me the memory of our childhood.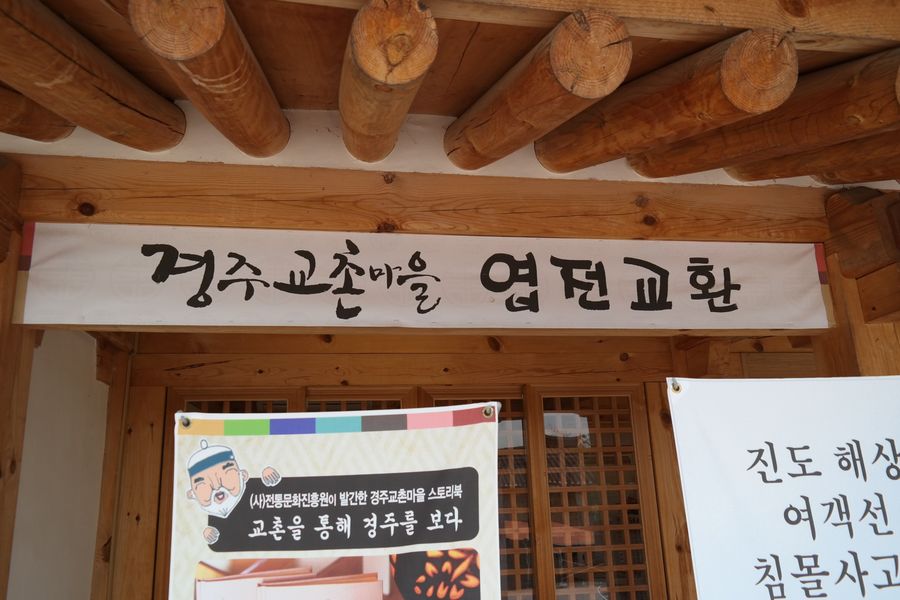 Gyochon village's folklore experiencing has their own coins that are similar to the coins our ascendants had used. There are three kind of the coins: 1,000, 5,000 and 10,000.
You can exchange them at 'Baekshin store', that is in the inner side of the village plaza. But when we had visited, I don't know whether the program didn't exist or the time wasn't right, anyway 'Baekshin store' was closed. So we couldn't check the coins.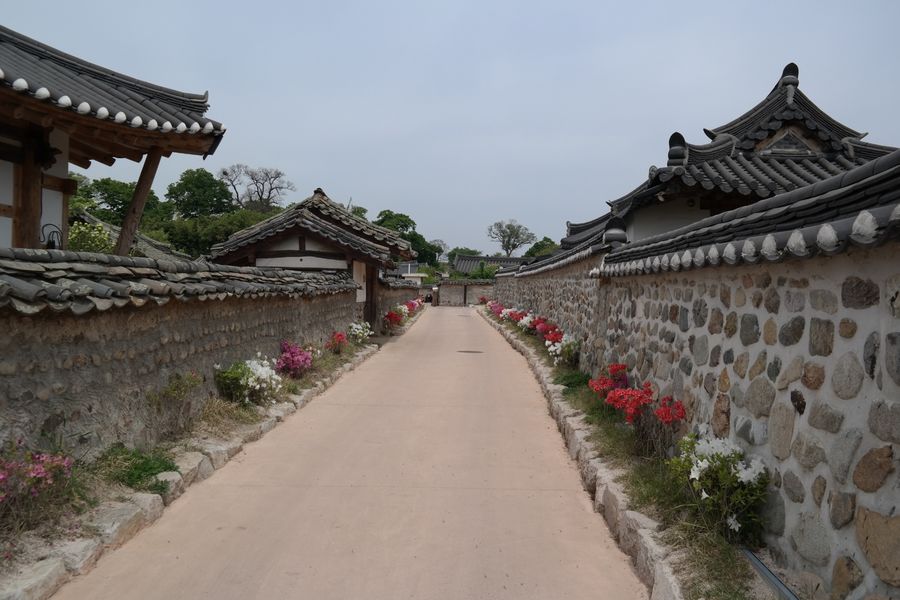 When you go in to the village deeper, a low Doldam-gil comes out with Korean-style houses on both side. These Korean-style house are used as restaurants or experience halls, or actual residents lives in them.
The experience halls that are prepared in parts of the village are operated as gukak, natural dyeing , quilting, tea manners, glass works, earthenware works and etc.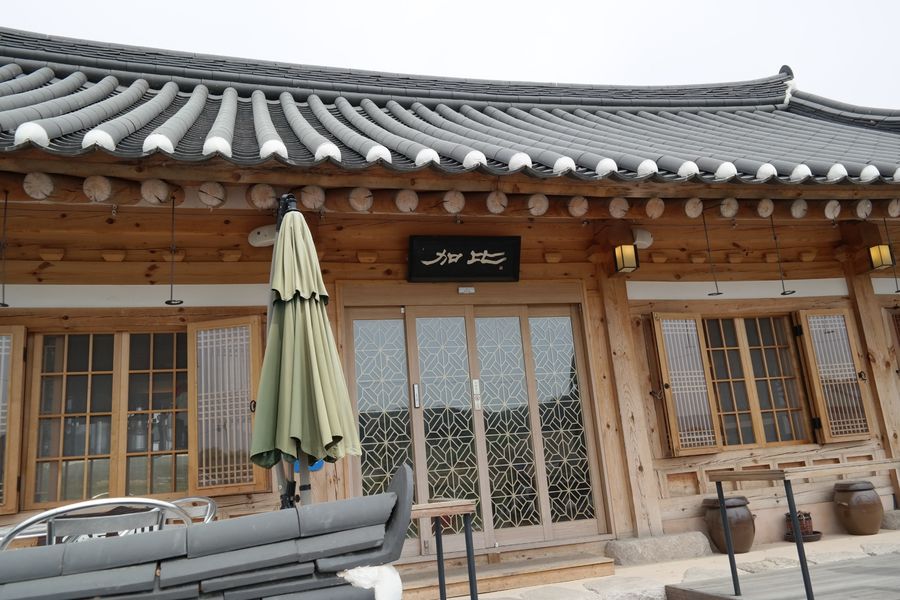 A coffee shop that it's name is written 'Gabi' in Chinese character. It's a bit awkward that a Korean-style house is selling coffee, but because the nearby shops are all Korean-style house, it goes along quite well.
This shop was also unavailable to use because it was not opened. According to the menu, the price is between 3,500~6,000, similar to other cafes.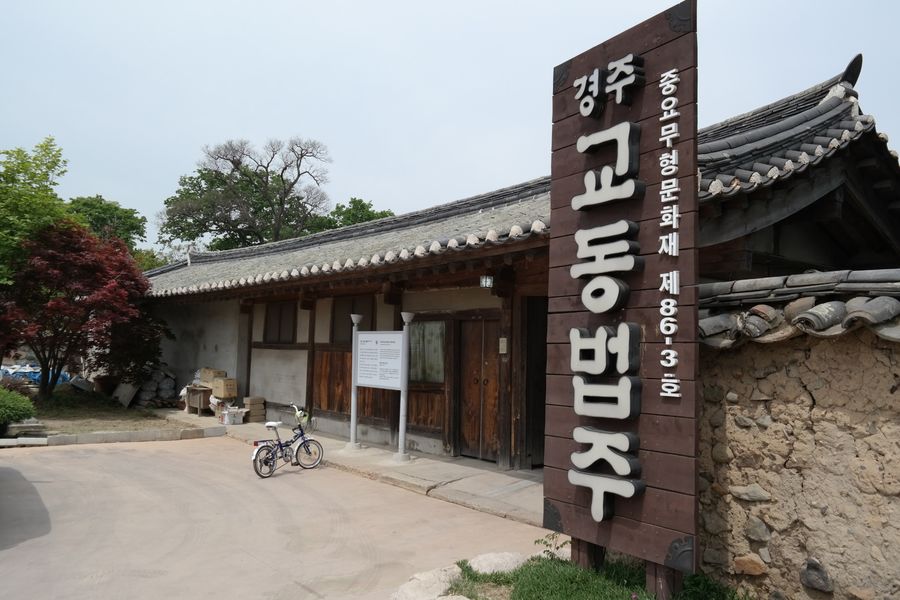 It's also able to sightsee the place where Gyeongju Kyodong the Buddhist alcohol and Kyodong soybean paste are made, also able to buy.
As the place where the speciality of Gyochon is made, the old Korean-style house buildings give a feeling that the food are made from a master artisan with tradition.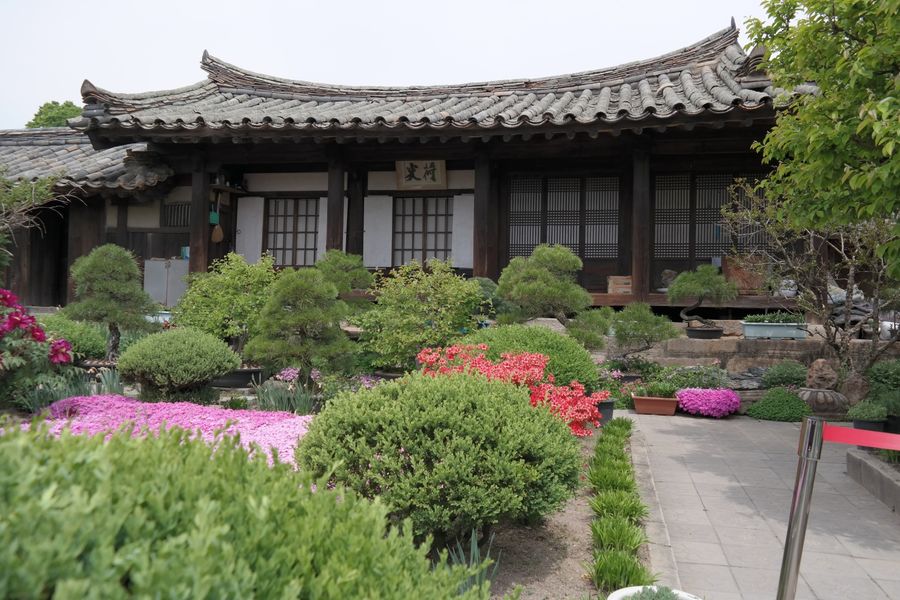 This Gyochon village is famous for it's geographical location, but a family has made the village even more famous.
'Gyeongju Choi wealthy person' family owns the core houses that has 99 rooms, which is the maximum house able to have, right next to the king.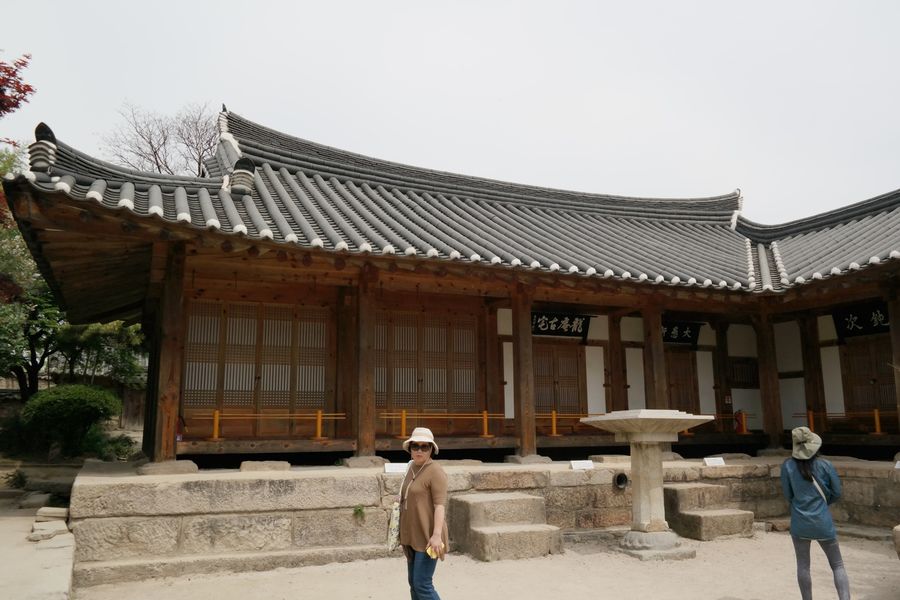 Gyeongju Choi wealthy person family became famous because of their contribution. They have a good reputation for having many people who have only passed the first examination for office for 9 generations, along with their fortune that came down for 400 years.
The family had prohibited from going over than the first examination for office, and not to gather fortune over 10,000 bags of rice and to help the starving people who are in 39.3km all around. This family is a model of Korean Capitalism.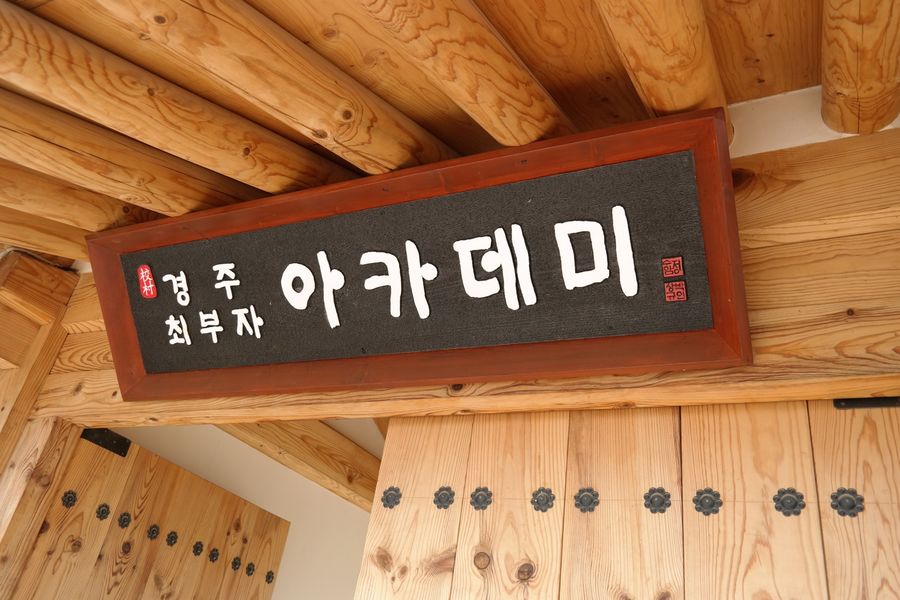 And during the time under the rule of Japanese imperialism, they founded 'Baeksan store', which helped supply war funds for the independence fighters.
Gyochon village is operating a 'Choi wealthy person Academy' and participating in many lectures to succeed the spirit of Choi wealthy person's Korean Nobless Oblige.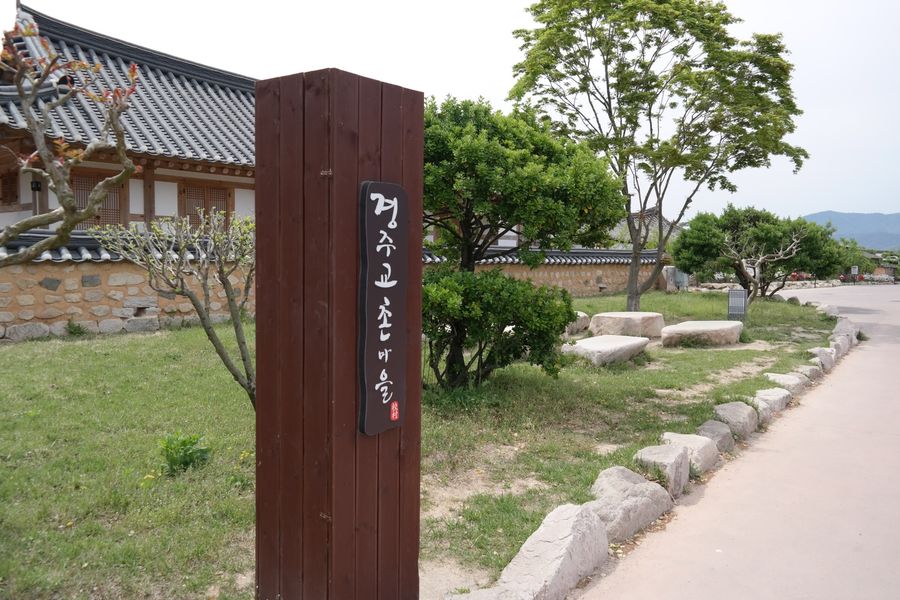 At the end of Gyochon village's Doldam-gil, there is Gyeongju Hyanggyo Confucian School that is consisted of several buildings in a large site. This place is known to be the place where national institute, the national university of Silla(King Sinmun) had been.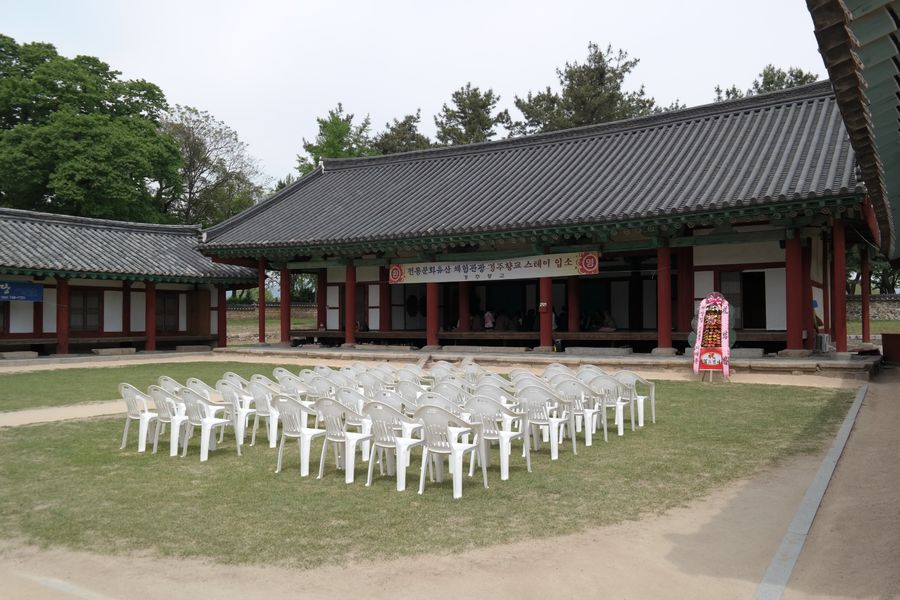 This place is used very frequently even nowadays, though the usual usage changed a bit, as a place where traditional weddings and 'Confucian School Stay'.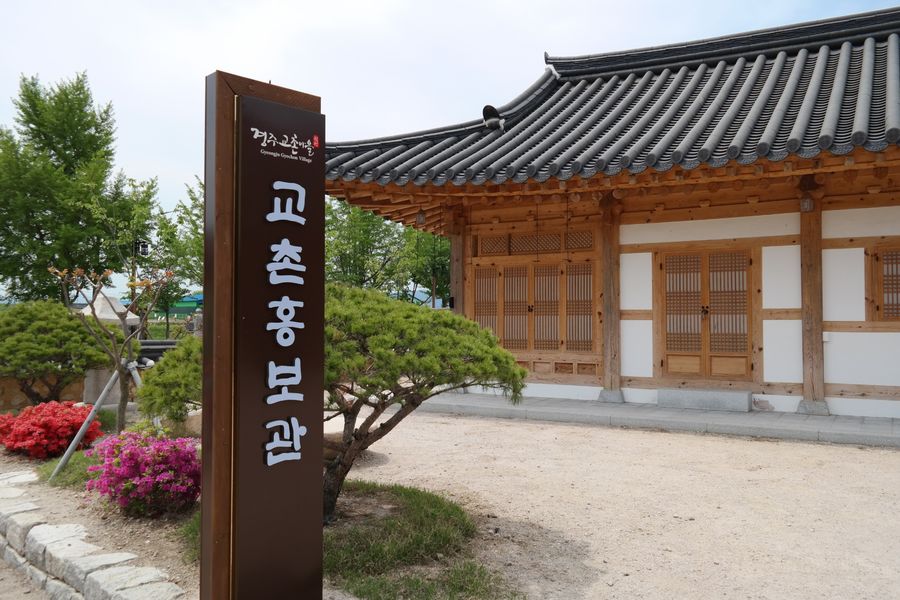 There is a 'Gyochon Promotion Hall', kind of a small museum for Gyochon village at the south road of Gyochon Confucian School.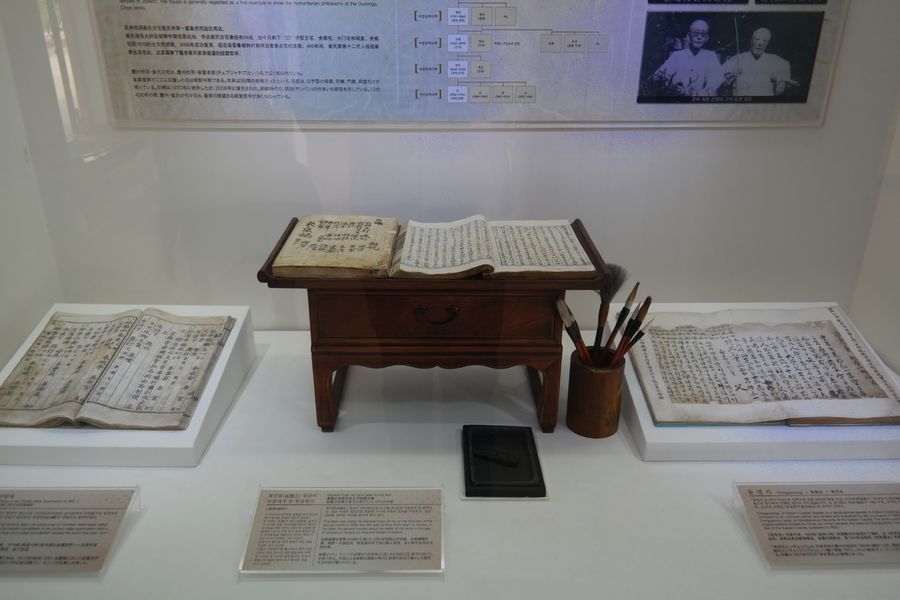 There are the things that Choi family had did and their family tree and their keepsakes are also displayed at the Promotion Hall.
The person who was managing the place wasn't a professional manager, just a local resident. When we arrived, the manager was working outside with a hoe, but came along smiling and asked us "Would you like to watch the image materials?".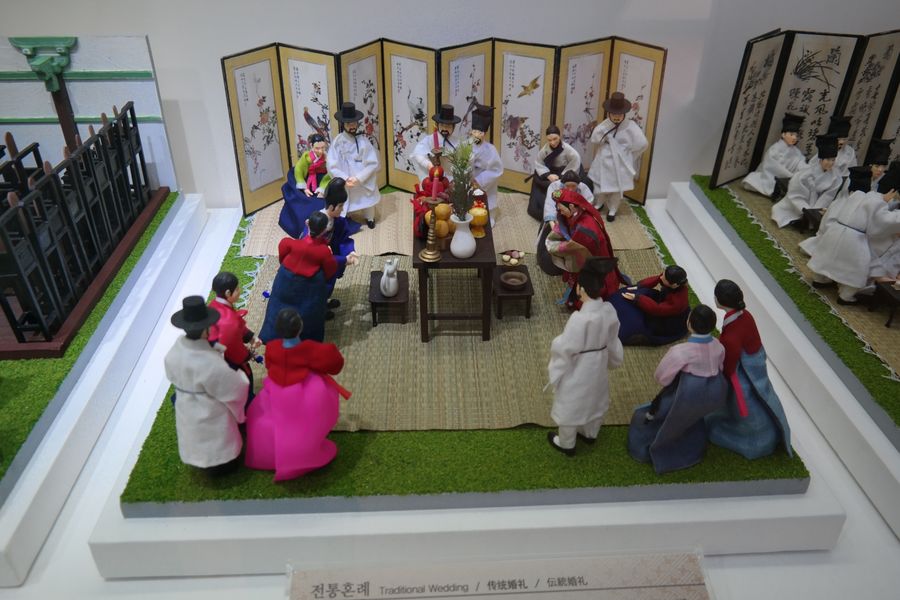 At one side of the Promotion Hall, there is a set of dolls expressing the scene of traditional wedding and the Confucian scholars having their Confucianism lesson.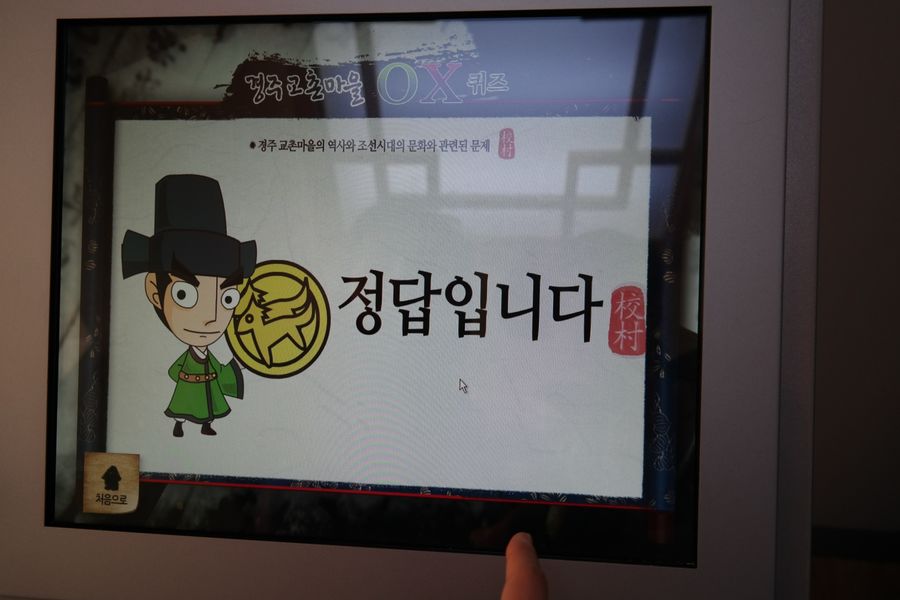 At the exit gate, there is a OX Quiz session, with the 10 questions based on the facts displayed in the Promotion Hall. And to those who gets all the 10 questions correct, they give certificates. But oops~ I failed for three times in a row!!!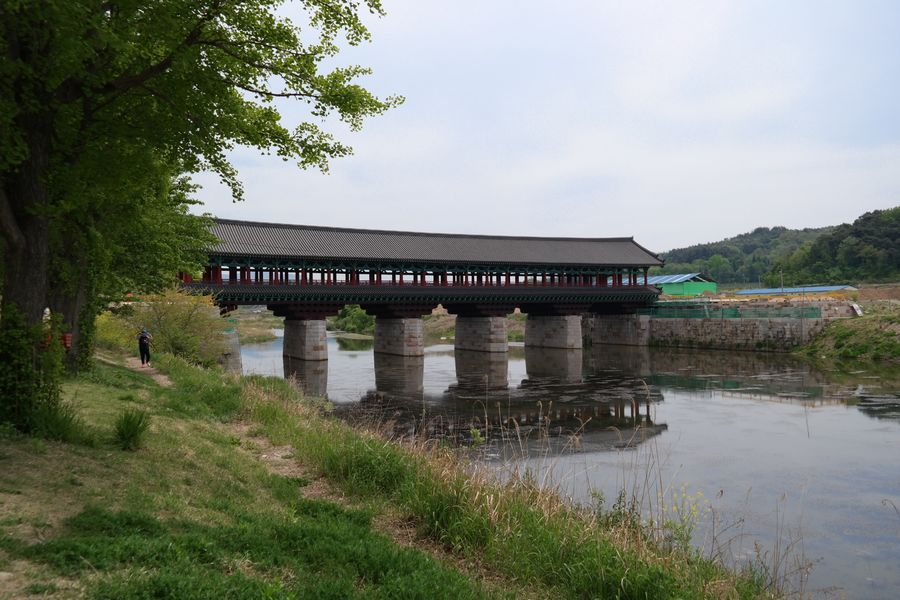 The east west side of the village is the place where Weoljeong bridge used to be, the bridge that Silla era's Saint Wonhyo had crossed to bring princess Yosuk. It's a mystery that they made a 70 meter wooden bridge that stands the roof tiles that weights over several hundred tons.
Currently, the Weoljeong bridge is under construction to restore. Only the bridge is finished and if the buildings that are like a gateway at the both end of the bridge are compete, Weoljeong bridge will be open to public in this year(2014).


Address: Gyeongju, Gyeongsangbuk-do gyochon road 39-11
Phone Number: 054-742-2524


Gyeongju Samaso & Jaemaejeong 경주사마소 & 재매정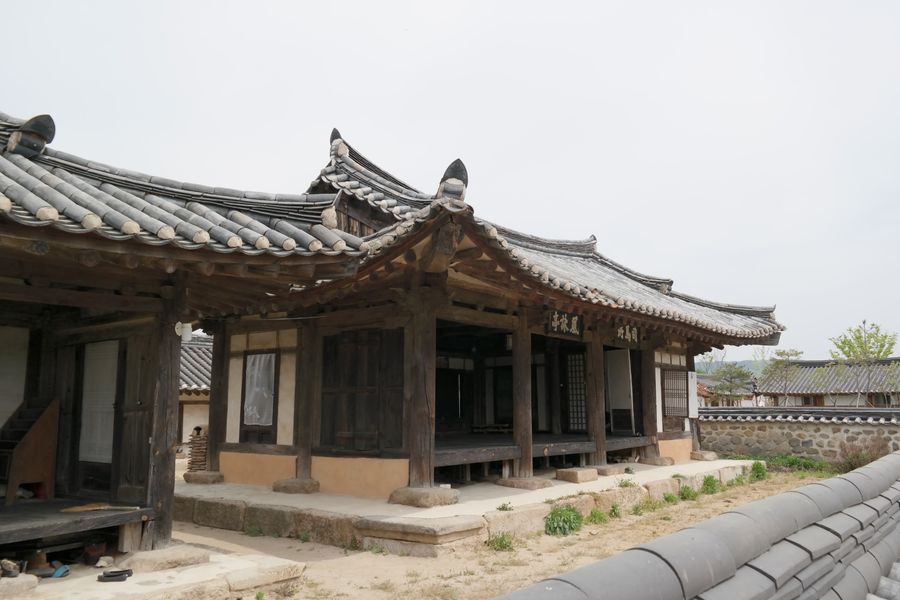 When you cross the road at the west end of the Korean-style house village, an old looking building comes out. 'Gyeongju Samaso', where Joseon's Esq. and the people who have only passed the first examination for office discussed ant taught about Confucianism.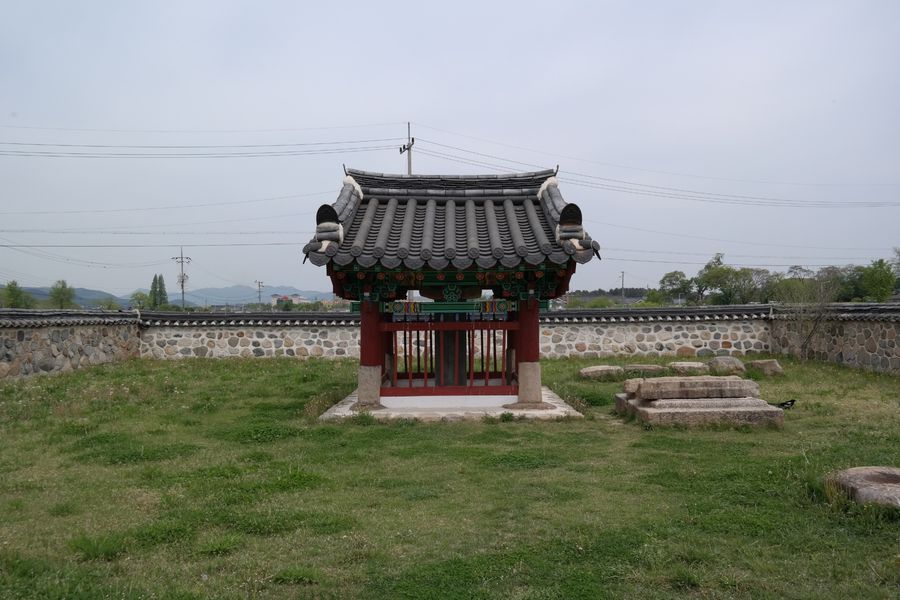 When you go down a little more down than Samaso, there is a small monument at an empty glade.
This is the place that is estimated as the housr site of Kim Yu-sin, the main character of the unification of three nations. Now there only the well Jaemaejeong(depth 4.7m) and the foundation stones messed up at the place. Jaemaejeong's Jaemae is the name of Kim Yu-sin's wife.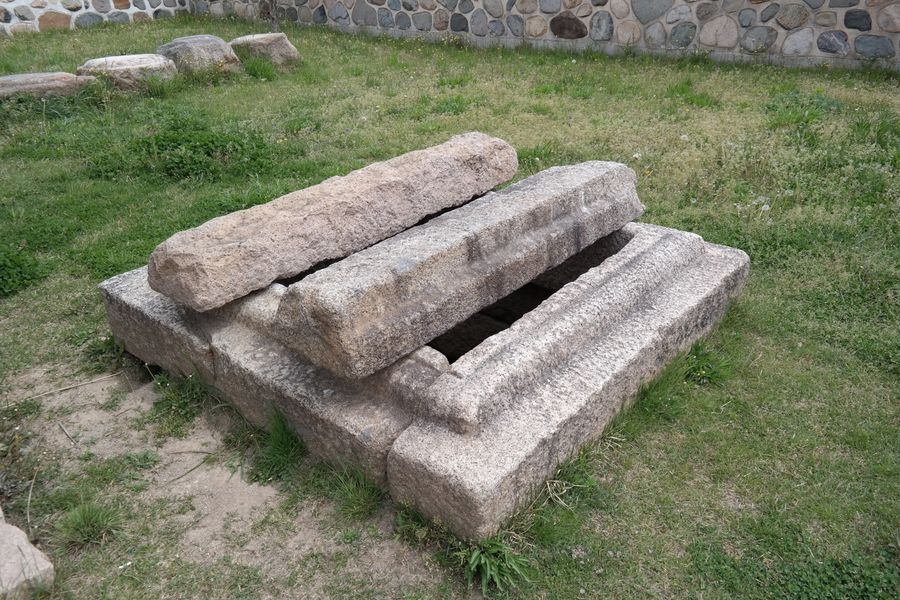 In The Chronicles of the Three States, it is recorded that after the victory from the war with Baekje, Kim Yu-sin couldn't come back to home and had to go to another war place.
So he told his man to bring his well water. As he drank it he said, "The water's taste of our house is always the same." And went back to the war place.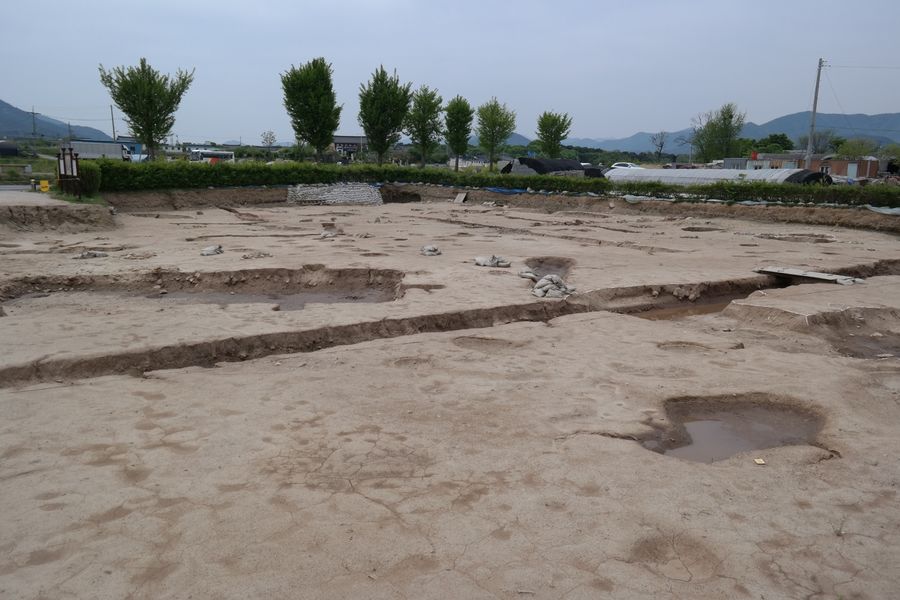 Around Jaemaejeong and Samaso there is only an empty lot and the excavation work is not complete, so there not many thing t look around but because this is the place where famous Kim Yu-sin general's house was, once the excavation is complete and when we come back next time, I expect here to be a good tourist sight.
But for now, this isn't a place that is on the Gyochon village map, as a bit low attraction, so I recommend to just walk around a bit.

Address: Gyeongsangbuk-do Gyeongju Gyo-dong 89-7 (경상북도 경주시 교동 89-7)

Gyori Gimbap 교리김밥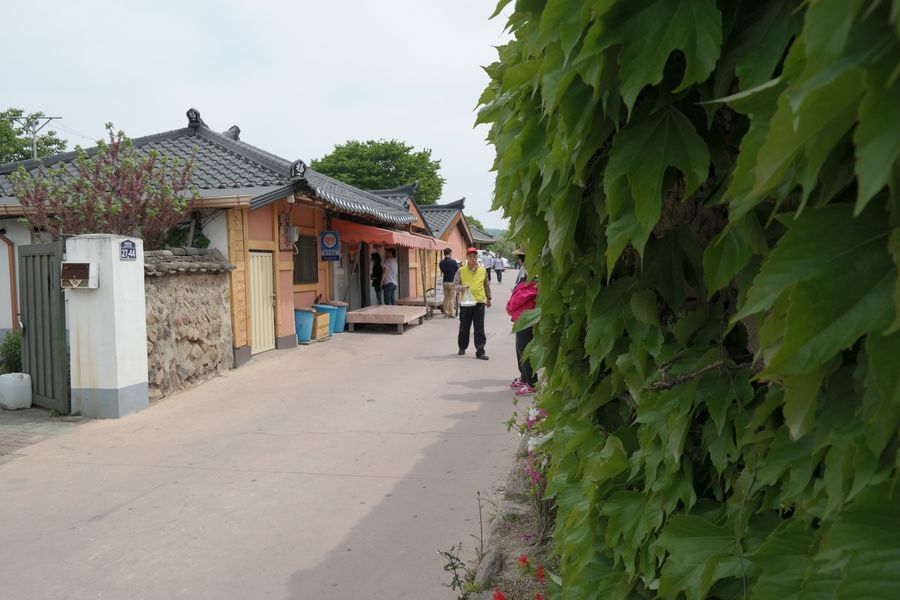 At a famous tourist site, there has to be a famous restaurant. And there is one also around Gyochon village. Gyori Gimbap, called as one of the 3 Gimbaps of our country.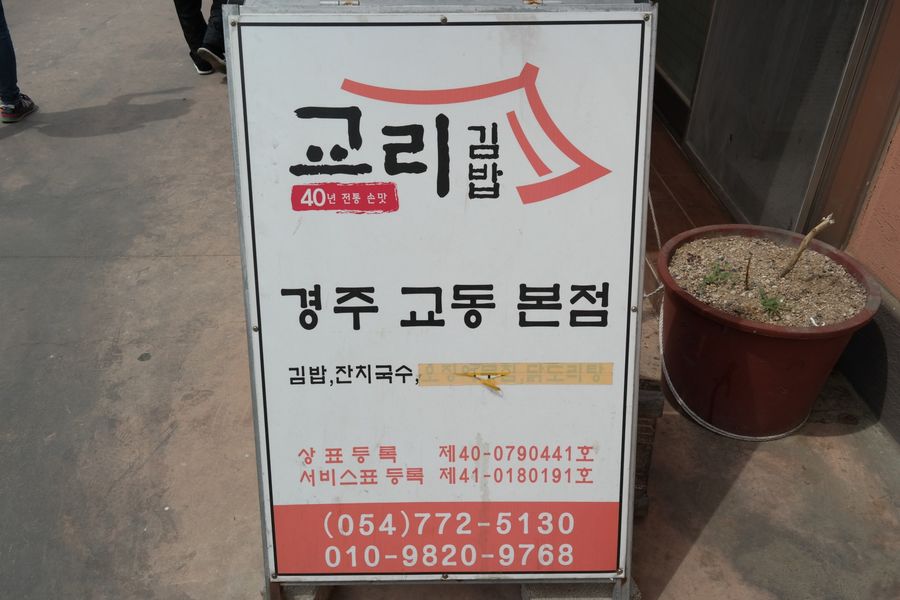 The main shop of Gyori Gimbap is located not far from Gyeoungju Confucian School, and is always crowded with people, even the place looks a bit rusty. Gyori Gimbap doesn't uses seasoning and has a 40 years tradition.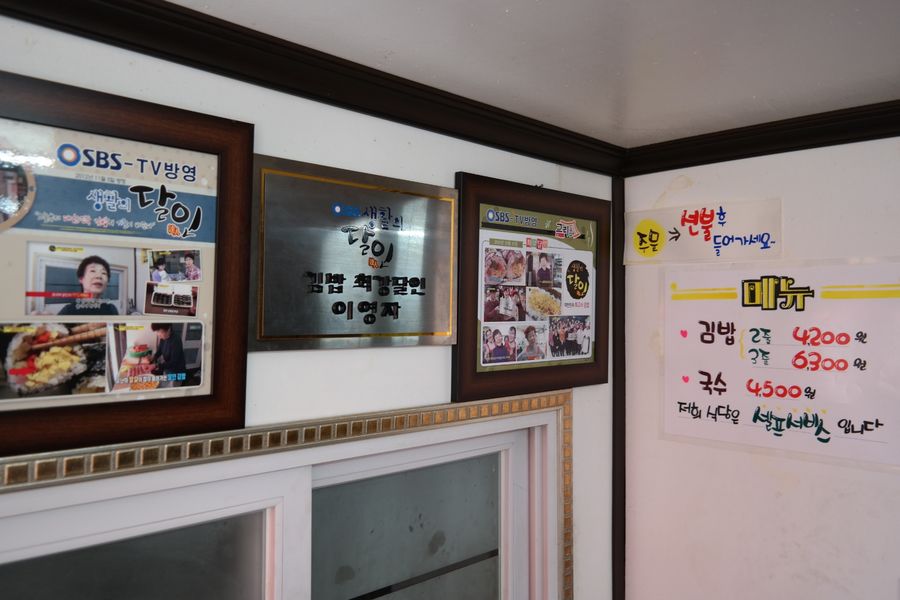 This restaurant has been on-air a lot, but the menu has only 2 kinds, gimbap and noodle. Even though, to eat here during lunch time, you have to wait a loooong line to eat here.
In the restaurant there are some tables, but unless those who eat noodles most of the people take out the food. Also there are many people so it's hard to take a seat.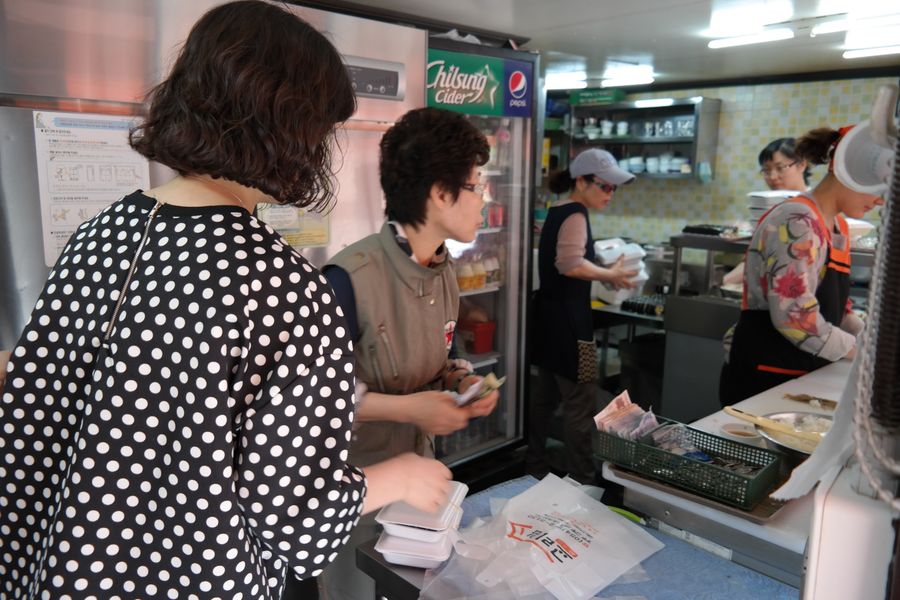 The gimbap are sold two rows each, and it's a bit more expensive than other gimbaps. But because we came to Gyochon, we will try Gyori gimbap. We bought 2 rows and came out.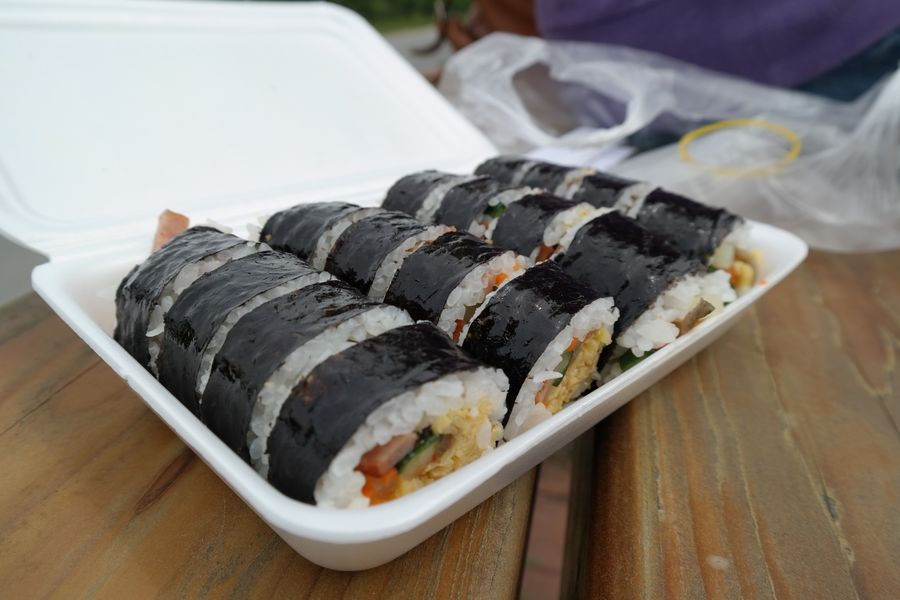 We sat down at a bench near the village and found the gimbap's ingredient is different from others. Instead of spinach or other stuff, the gimbap only had thick slices of yellow things.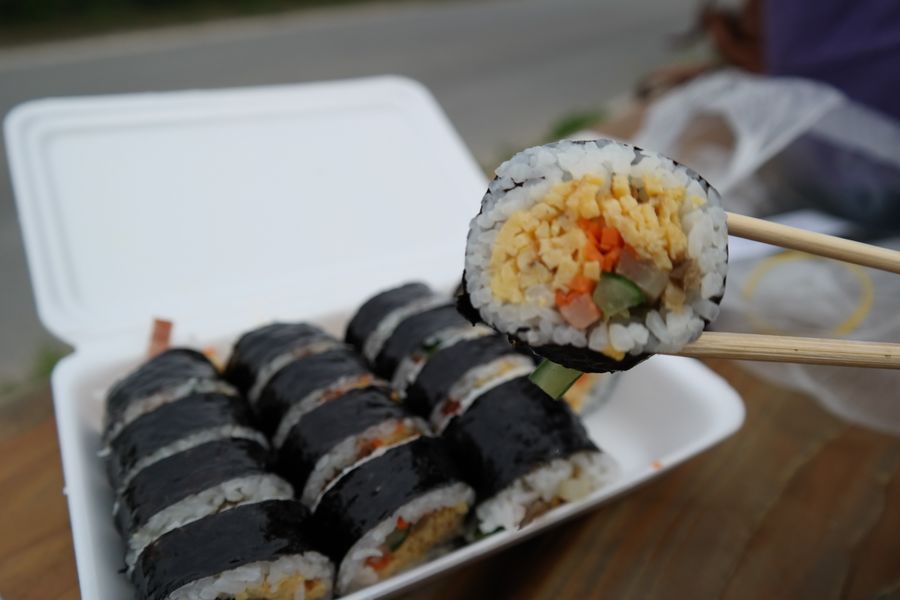 It's simple than I thought, there are yellow egg Jidan sliced in small pieces in the gimbap. And it tasted soft.
While tasting the gimbap, an elementary student next to me said seriously with gimbap stuffed in his mouth,

"I think Gyeoungjus speciality is chicken. Gyerim's 'Gui(鷄)' means chicken, and Kim Alji is born from an egg, Gyori gimbap is full of egg also~"
'Hmm~ I think that's right. This guy is persuasive…?'
"Maybe Gyochon chicken came out from here???"
'Wow~!!!'

I ate up all the gimbap while thinking about it. It totally feels like a picnic~!!
Address: Gyeongsangbuk-do Gyeongju Gyo-dong 69 (경상북도 경주시 교동 69)
Phone Number: 054-772-5130
Opening hours: 06:30 to 20:00