Since the Daejeon-Tongyeong expressway was built, Tongyeong is not a city that is far from the capital of Korea. Before the expressway was built, it took 3 hours even from Busan. Today, it takes only 1 hour from Busan and 4 hours from Seoul, which is relatively close. From Seoul, it is 70km closer to Tongyeong than the distance between Seoul and Busan.
Thanks to that, the number of foreign tourists from Gimhae Airport Busan, Incheon and Gimpo International Airports has been increased as well as the number of Korean tourists. Fortunately, Tongyeong has become very energetic. So today, I'm going to introduce you the city that makes you miss the sea and nature, Tongyeong


To Mt. Mireuk where the Hallyeo Waterway is within sight


A 461m mountain stands in the middle of Mireukdo Island, north of Tongyeong port, and that's the Mt. Mireuk. As one of the 100 famous mountains in Korea, it is famous for its amazing view on the top where you could see Tongyeong port and the archipelago. However, it is a very difficult to climb since the trail is very rough and steep, but don't worry! Because we have Tongyeong cable car.


Tongyeong cable car is an automatic revolving gondola and it is the longest tour cable car in Korea which is 1,975m. Plus, although it is the longest distance, the system is eco-friendly with only one pillar installed that supports the cable cars in the middle and the passengers hardly feel car swaying.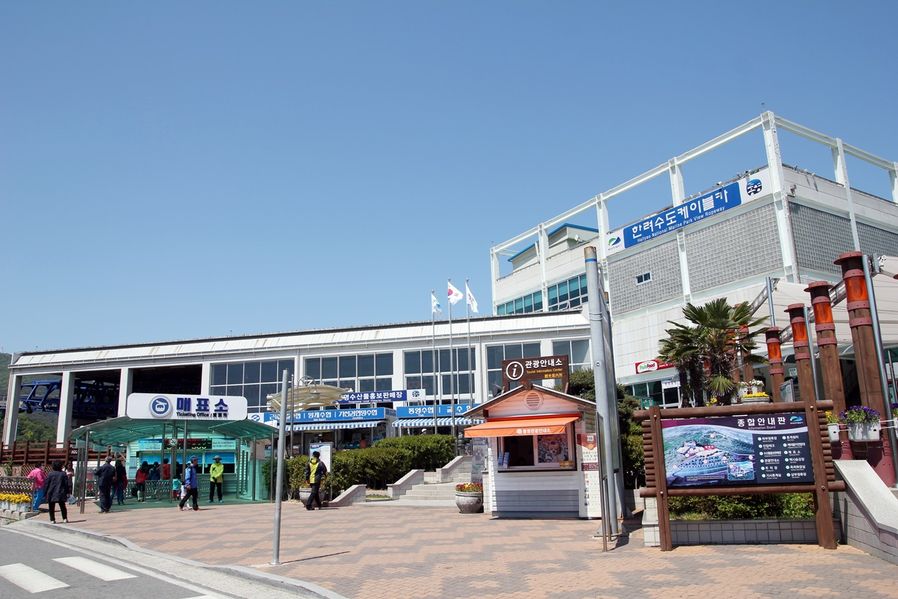 Wow, it's really good weather to take a cable car today. Okay then, let's get in there and go to the top of the Mt. Mireuk.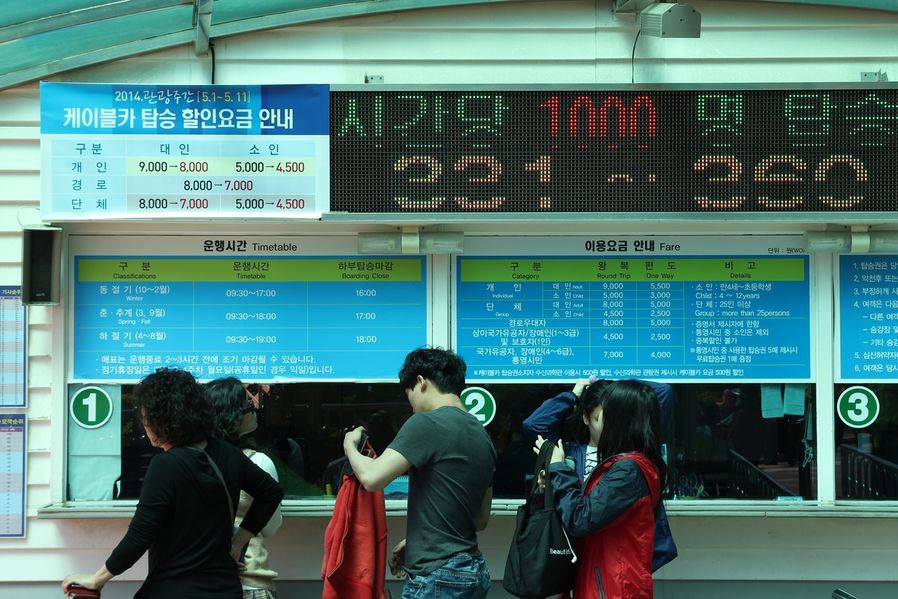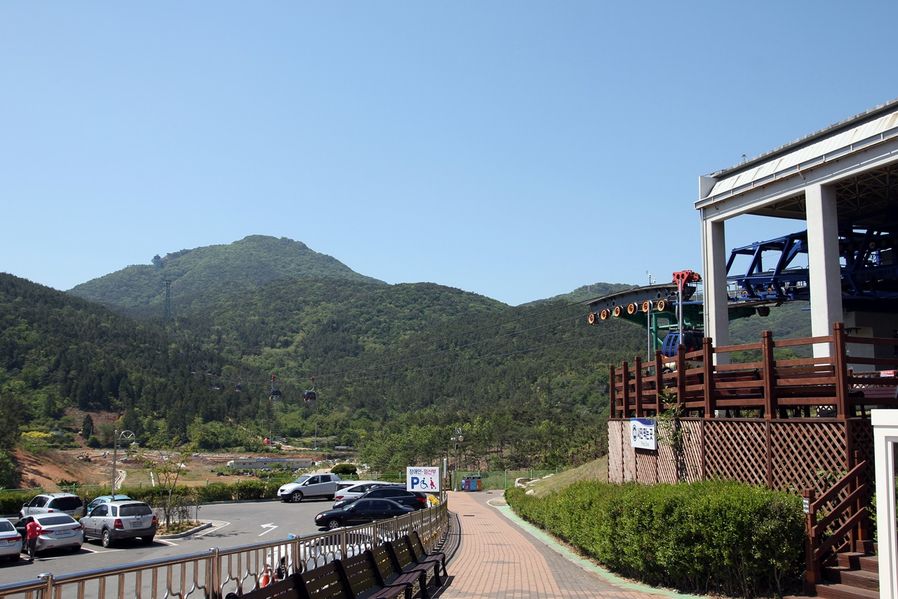 That peak over there is the top of Mt. Mireuk.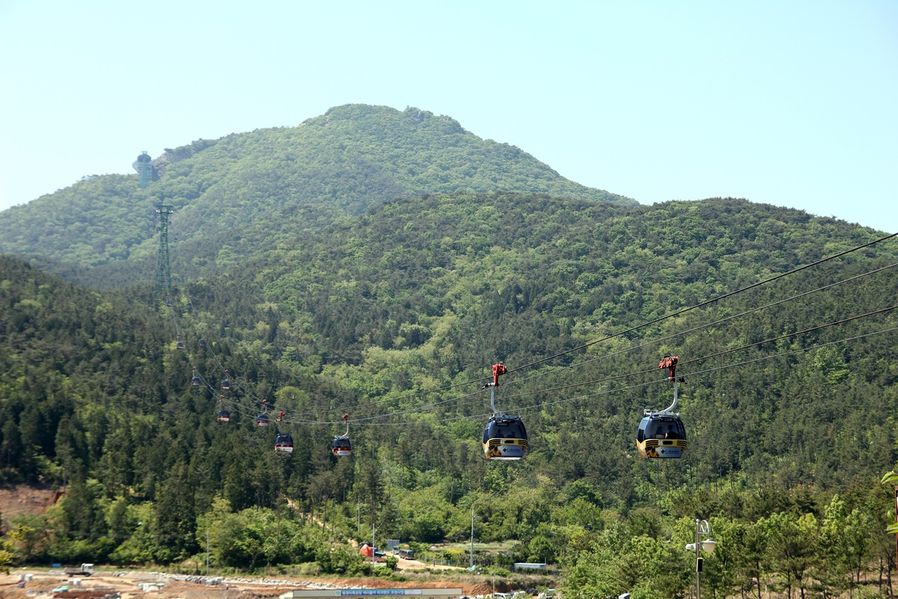 I haven't even stepped on the cable car but I am already excited. Actually this is my first time. :)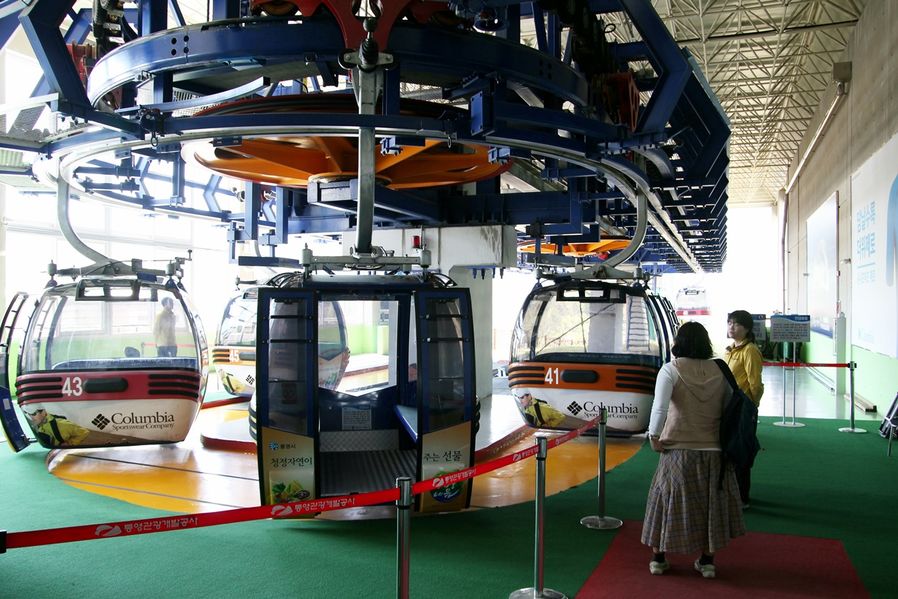 I heard that one cable car can carry a maximum of 8 people. But unless it's a special occasion, they put each party in one. I had one company so our cable car carried only two people and went up.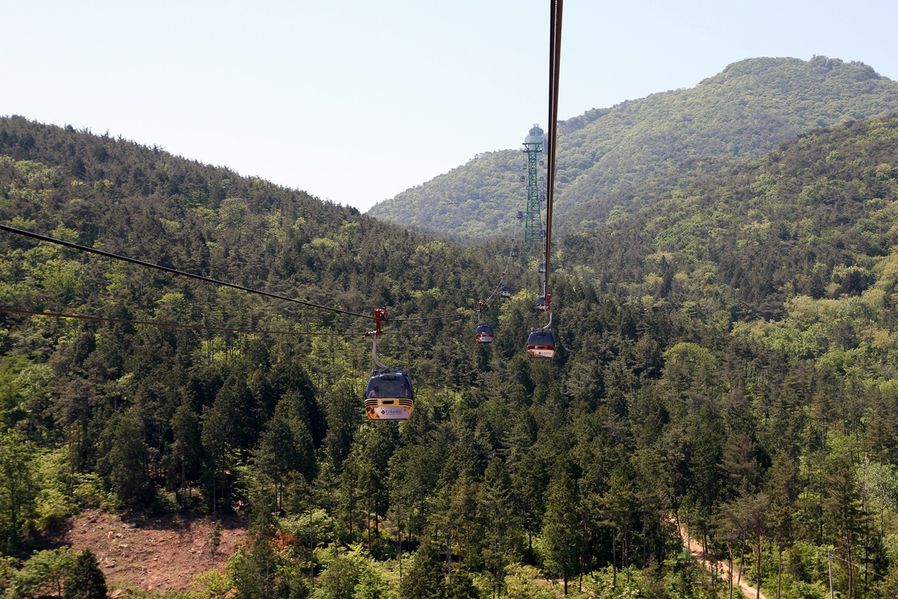 My cable car started to move! There's only one support in the middle so nothing disturbs our sights and it was very comfortable that we hardly felt the car swaying. But it's a little scary to look down.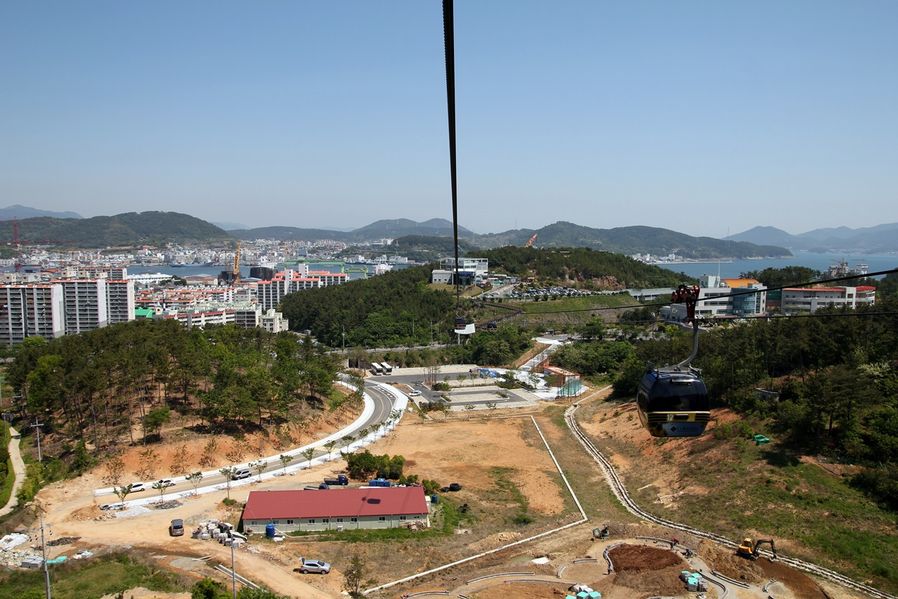 We're going far from the starting point and reaching to the top. The difference of altitude between upper and lower stations is about 337m, and it takes about 10 minutes for one-way.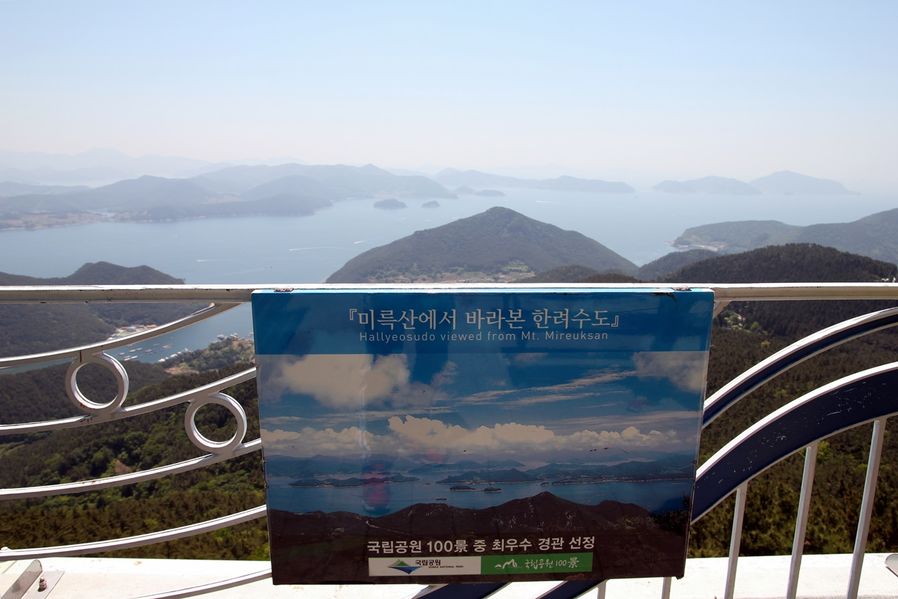 After 10 minutes, you could see the whole Hallyeo Waterway on everywhere as soon as you get out of the cable car. It is a spectacular view but this is not the top yet so I'll go up a little more.
For your information, Hallyeo Waterway is a sea route that connects Hansando Island of Tongyeong and Odongdo Island of Yeosu, and Hallyeo is named after both cities' first letter, which is also called Hallyeo Haesang National Park.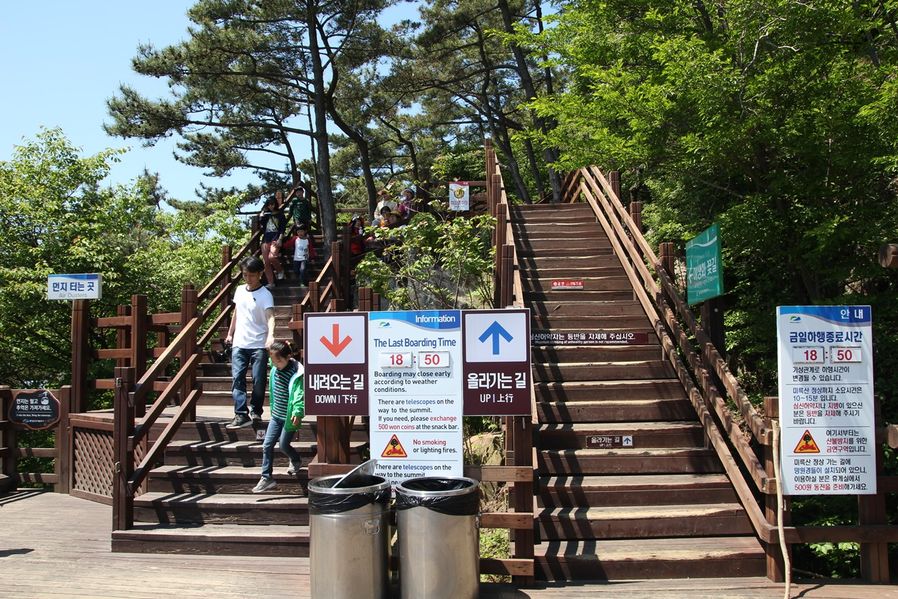 There is a deck road that you don't have to step on dirt on your way to the mountaintop. It takes about 15 minutes on foot so it wouldn't be so hard. The road is clean that you won't have problem with high shoes.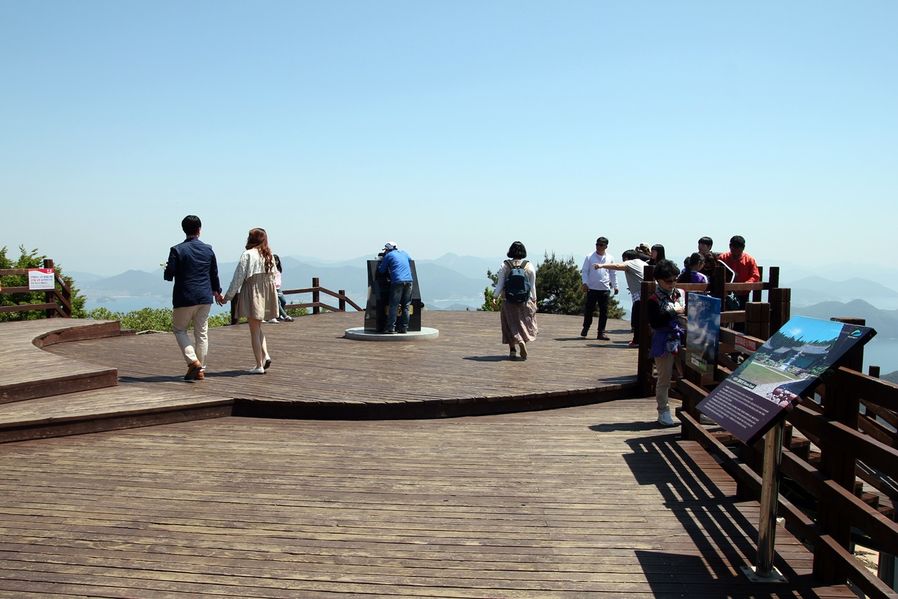 After walking about 5 minutes, we arrived at Sinseondae Observatory right under the mountaintop. As we are at the observatory, we might as well take a look around.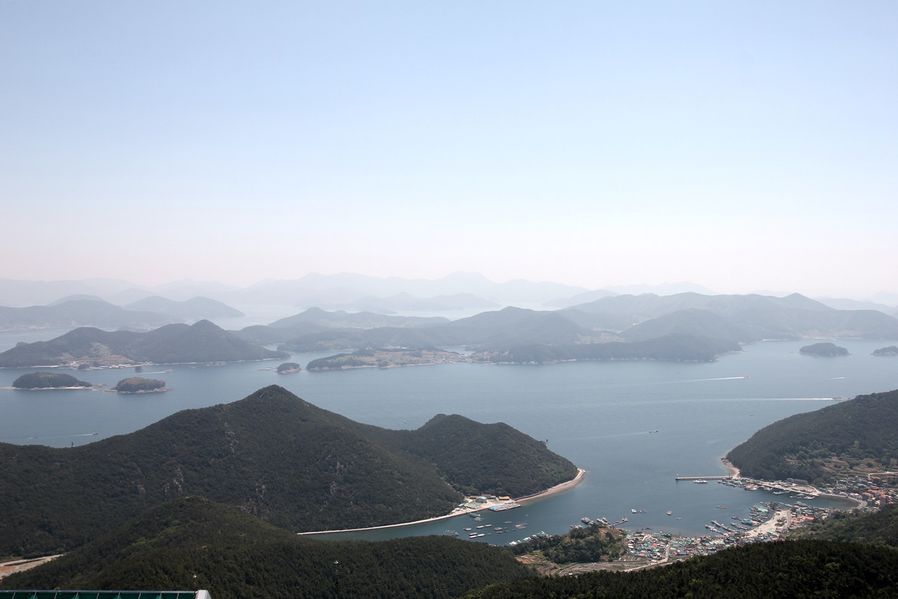 Wow, I could really get the whole view of Hallyeo Waterway. That day, the weather was good but there was a little fog so we couldn't see far from the mountain. In the above picture, you could see Geojedo Island far away, Hansando Island where we visited the next day, and Daemado Island of Japan vaguely on the upper right side.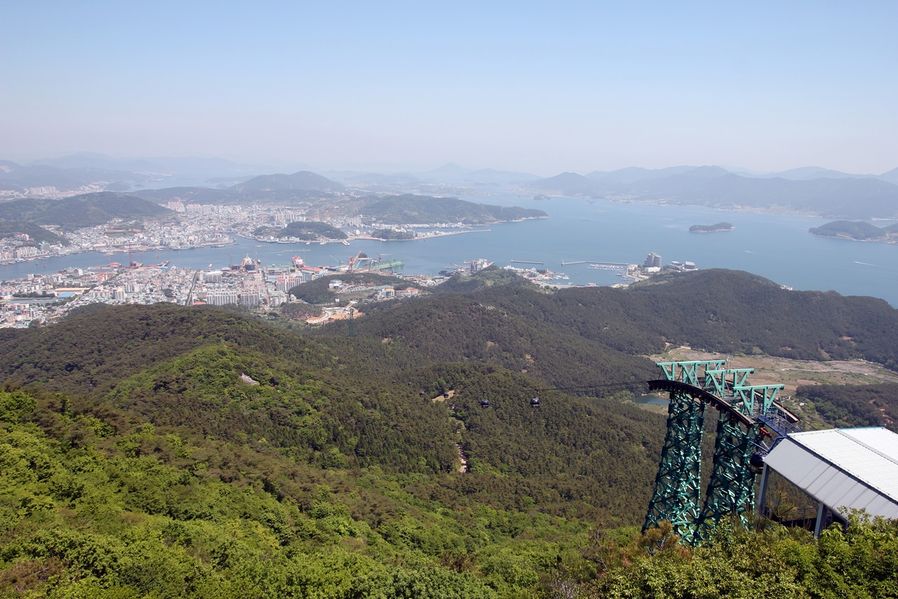 To the other direction, I could see the cable car that we just took and the whole view of Tongyeong downtown. It made me feel so fresh. The blurred mountain in the upper left corner is Mt. Masan and Goseong city, and that's how far you could see.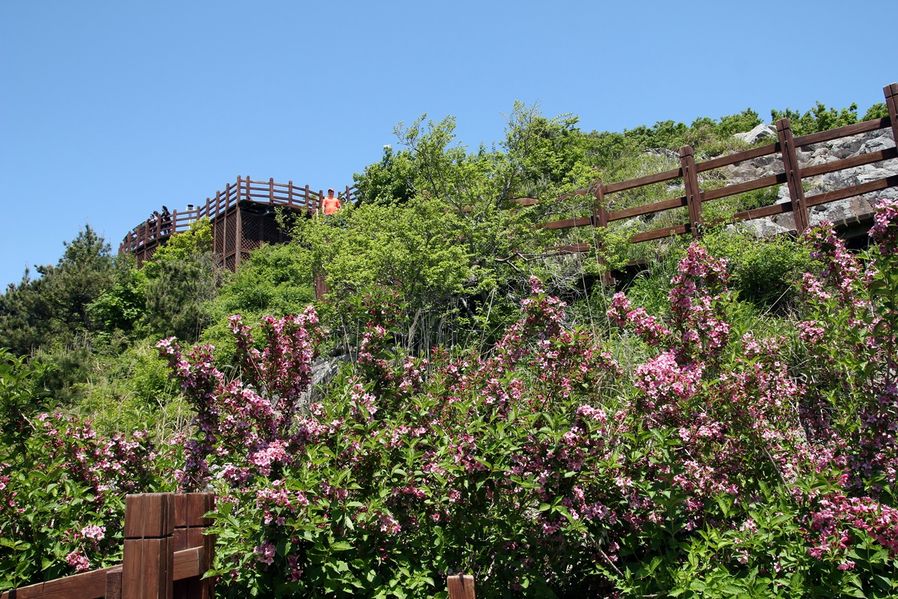 Walk along the deck road a little more then you could get to the top and see beautiful flowers on the way.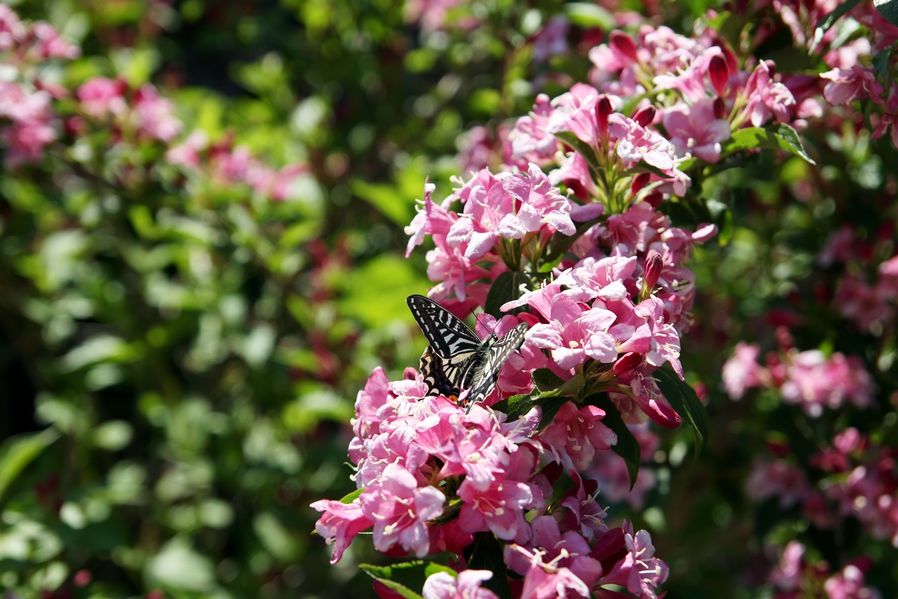 This is weigela, a special plant which grows only in Mt. Mireuk of Tongyeong. It is unusual flower that changes the color from olive to red in spring and the size of leaves is bigger than the ones in other cities but the color is beautiful. It is an endangered plant species so don't touch it, just watch it.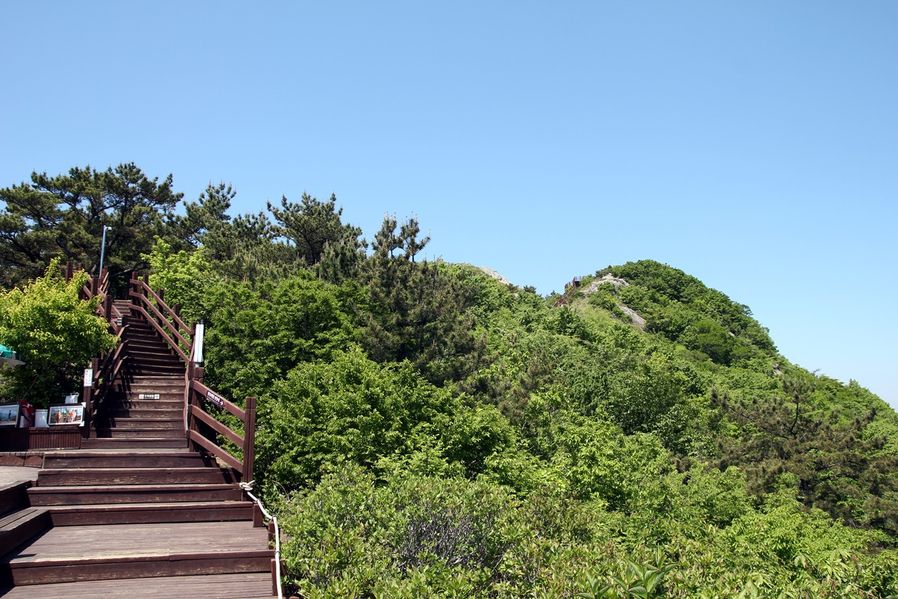 The peak on the right is the mountaintop of Mt. Mireuk. We're almost there, only 5 minutes left until you get there.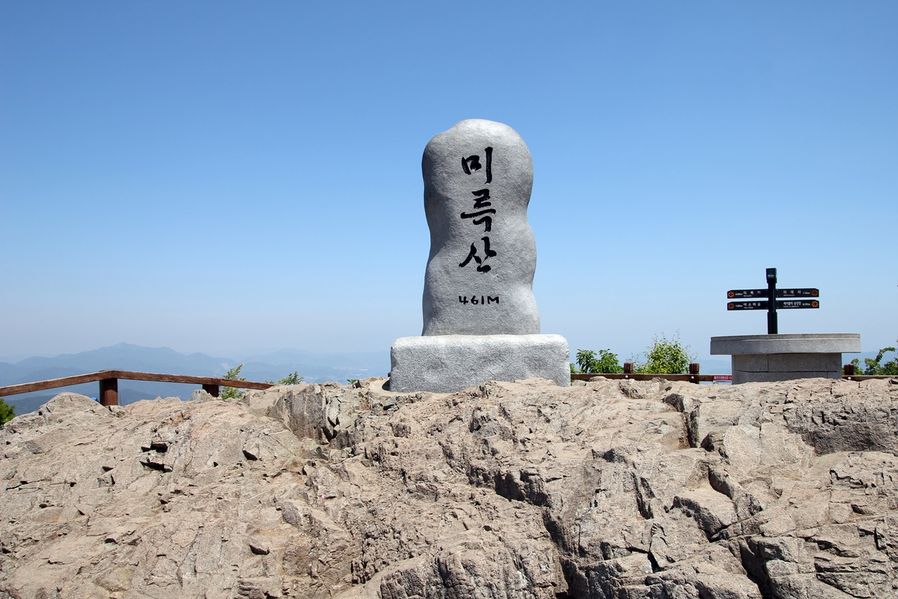 Just in a second, we arrived on 461m high mountaintop. The road was well paved so we didn't get sweat a bit. :)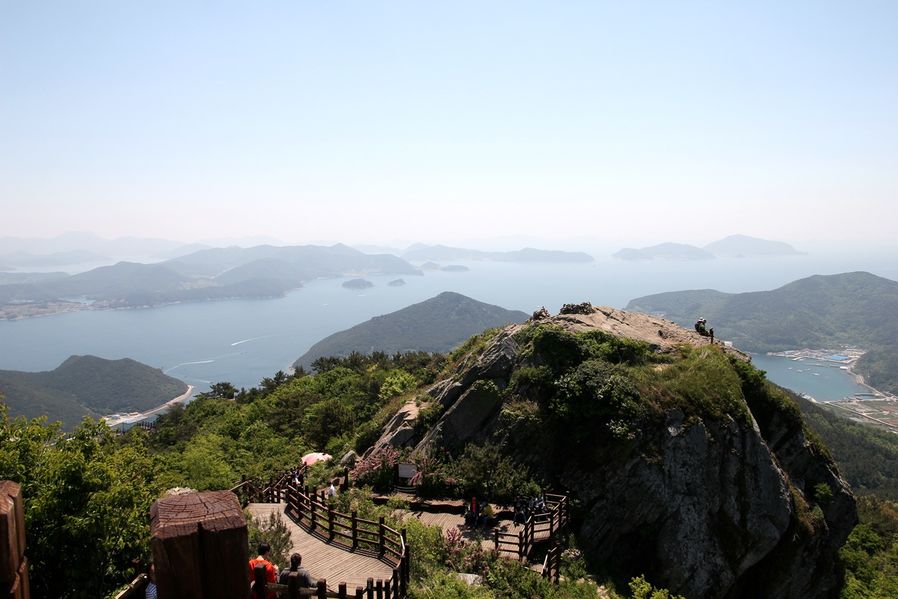 It's not so high but you could see far because there is nothing but the sea. If I flew a paper airplane, it would've gotten to Japan!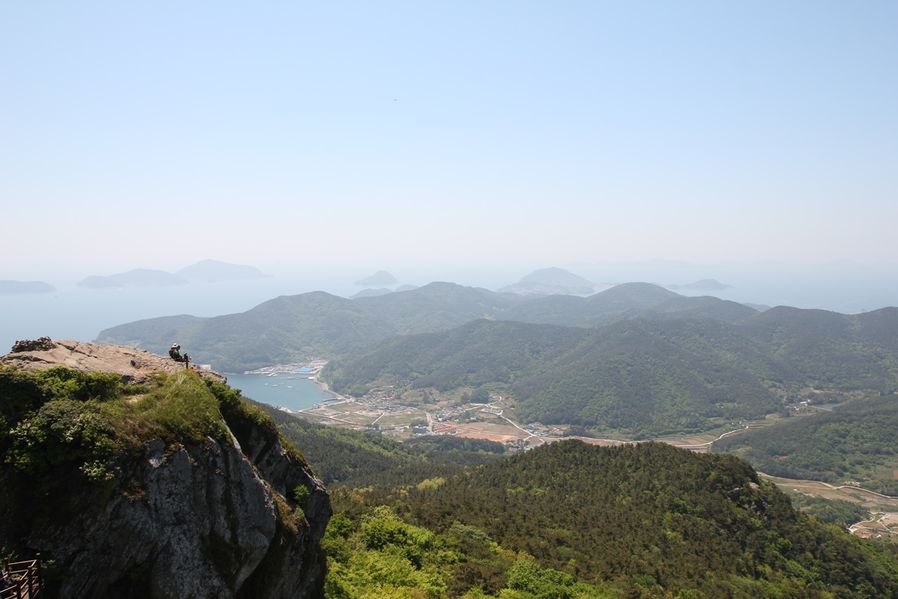 On the small rock before me, there's 100-Gil Cliff and I guess people don't find it scary at all. Of course it's not forbidden area, actually there is a path.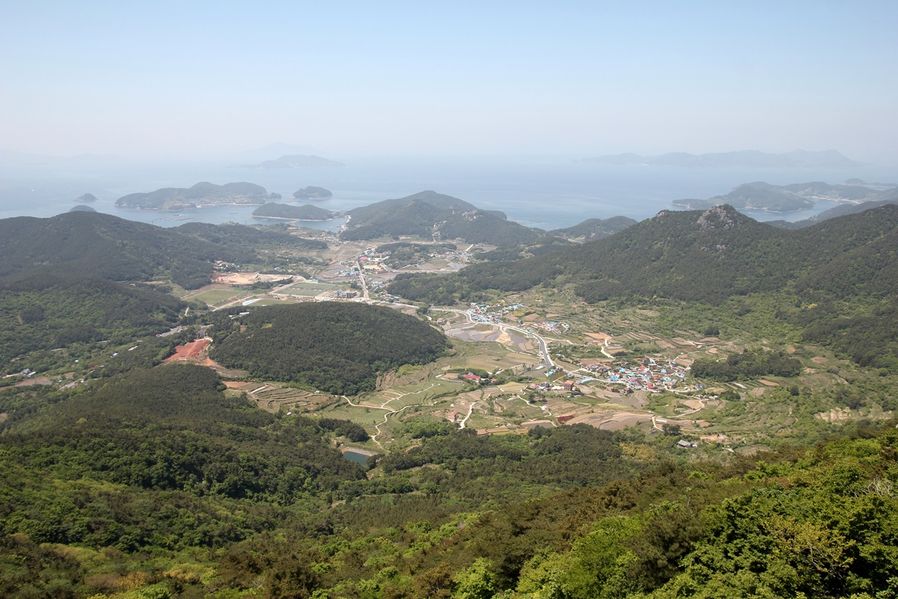 The countryside town was quiet and beautiful surrounded by fields and paddies.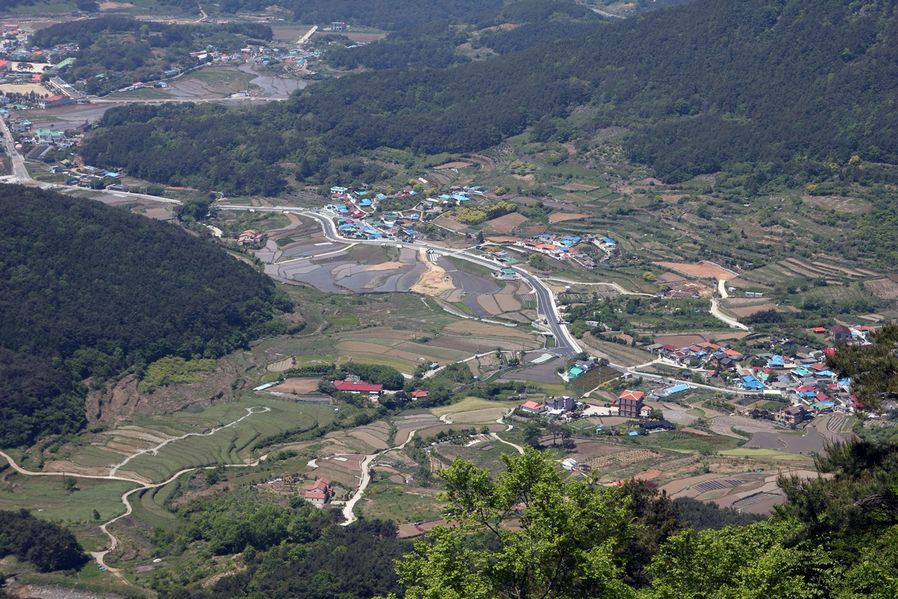 The terraced farms on the hillsides of the mountain look beautiful from far. It's a busy season planting rice.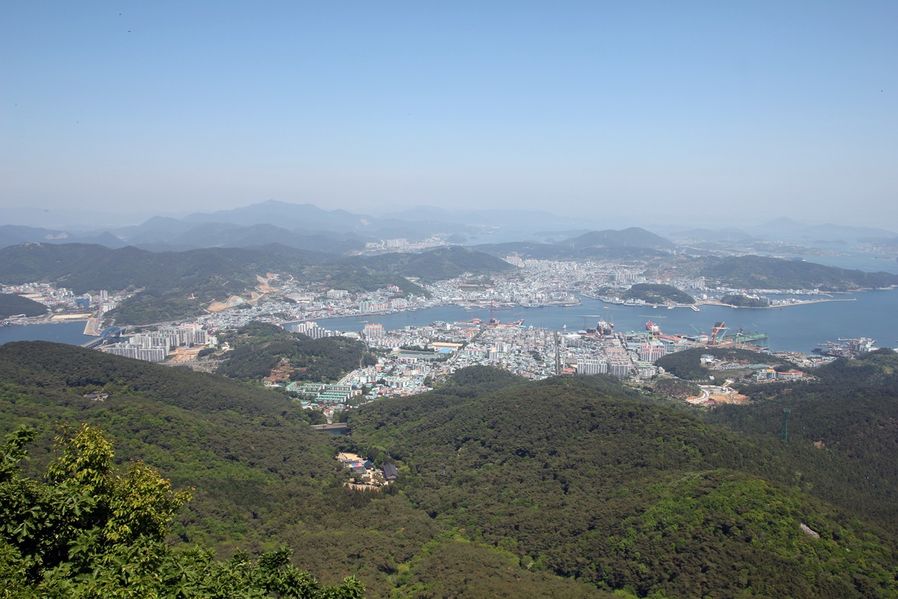 From the top of the mountain, the whole different view from the observatory unfolds before my eyes. What we are seeing is the whole city of Tongyeong.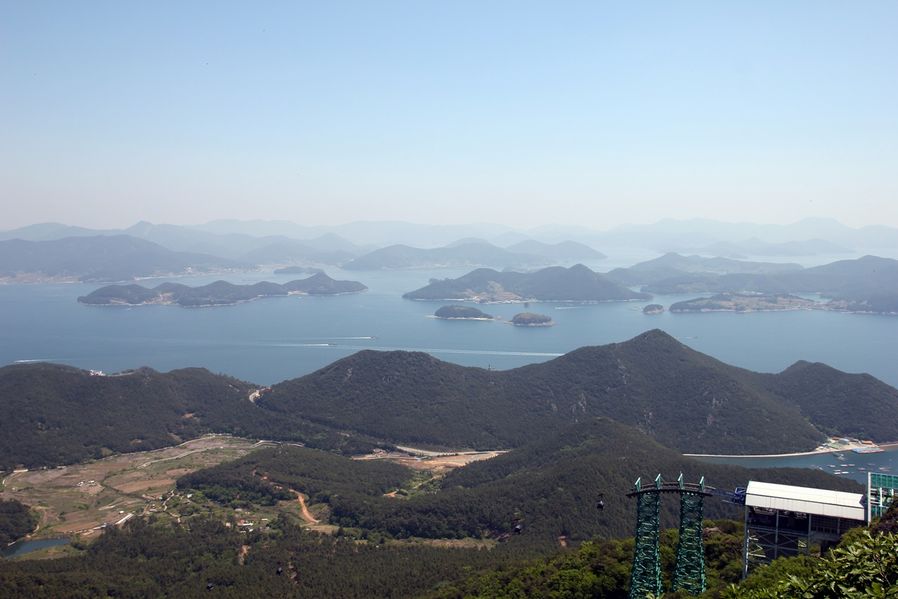 I wish I could make you feel the cool breeze and freshness that I felt there. The sky was a little foggy since it is spring but I assume I could see even the end of the earth in summer and autumn. The view of Hallyeo Waterway looking at the mountaintop was spectacular.




I took a picture to remember the moment on those small hills over there. It's not a touch course so I would like you to go there and take a photo with such great view in the background if you are in Tongyeong.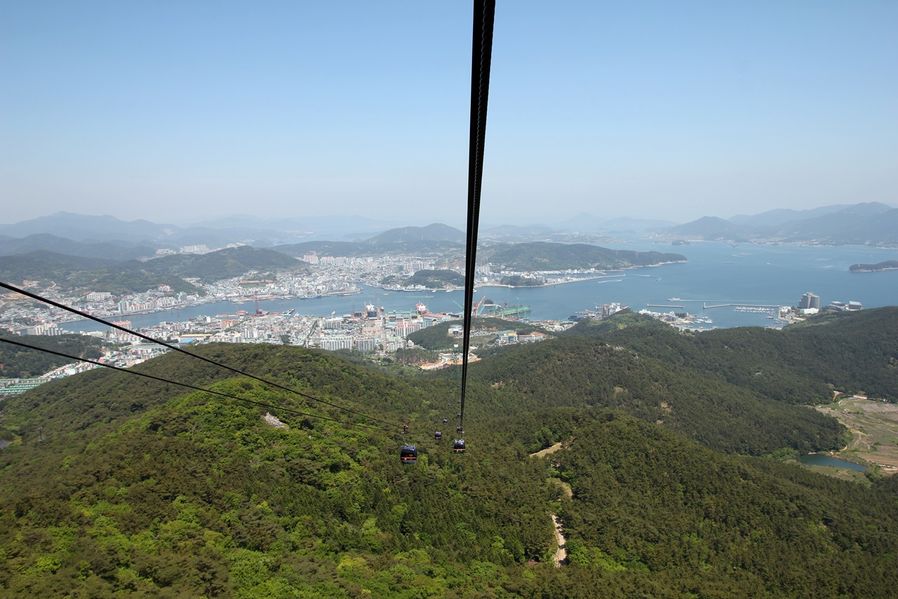 I didn't want to leave Mt. Mireuk as soon as I got there but it's time to leave and head to a small yet beautiful temple, Miraesa Temple located on the mountain-side.

Mireuksa Cable Car 미륵산 케이블카


Address : 205, Balgae-ro, Tongyeong-si, Gyeongnam (Donam-dong 349-1)
Telephone : 055-649-3804
Regular Holidays : 2nd and 4th Mondays every month (If it is a holiday, it is closed on the next day)
Official website : http://cablecar.ttdc.kr