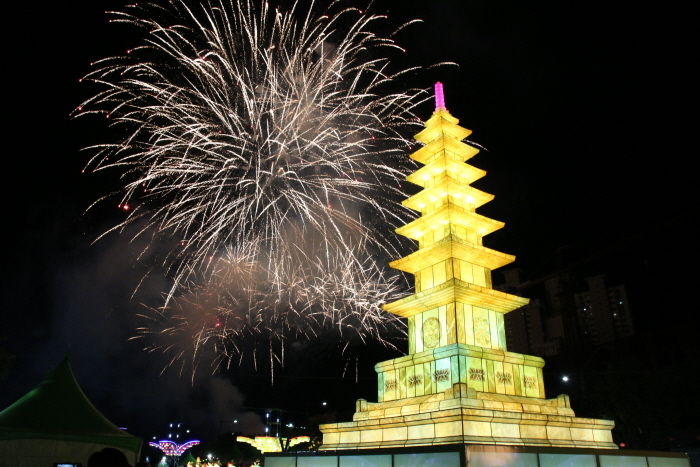 Canon EOS 100D | f/6.3 | iso 2000 | 2015:05:01 20:41:35 | Flash did not fire, compulsory flash mode | 17mm
Introduction
The Busan Lotus Lantern Festival is an annual tradition that provides visitors with an opportunity to experience Buddhist cutlure through the many activities offered. To celebrate Buddha's birthday, splendid lotus lanterns in different shapes and sizes will be on display.


About a month before the festival, the festival committee, supported by the Busan Buddhism Association, starts to invite temples and individuals to participate in the festival. Around 1,700 temples, groups, and related organizations prepare diverse programs such as making lotus lanterns, sharing traditional tea, eating temple food, and celebratory performances.


The main events are the Grand Buddhist Ceremony and the Lotus Lantern Parade, both of which attract a lot of spectators regardless of their personal religous beliefs. The Lotus Lantern Parade, followed by the Buddhist ceremony, will take place from Busan Station, Gudeok Playground, and Gwangbok-dong.



Programs
- Opening Ceremony (Lighting of lotus lanterns)
- Busan Lotus Lantern Cultural Festival
- Busan Lotus Lantern Parade
Performance Times
[May 4] 16:00~
[May 6-12] 18:00-22:00
Duration of Performance
Varies by program
Transportation
[Subway]
Busan Station Square
Busan Station (Busan Subway Line 1), Exit 4, 6, 8, 10.


Gudeok Playground
Dongdaesindong Station (Busan Subway Line 1), Exit 1 or 2.


Gwangbok-ro
Nampodong Station (Busan Subway Line 1), Exit 1. Walk approx. 350m.
Jagalchi Station (Busan Subway Line1), Exit 7. Walk approx. 520m.



Homepage
www.bba48.or.kr (Korean only)
Period
05.01.2019 ~ 05.12.2019
Address
73, Simingongwon-ro, Busanjin-gu, Busan
부산광역시 부산진구 시민공원로 73 (범전동)
Location
Busan Citizen's Park
Telephone
• 1330 Travel Hotline: +82-2-1330
(Korean, English, Japanese, Chinese)
• For more info: +82-51-867-0501
Referred from : KOREA TOURISM ORGANIZATION http://visitkorea.or.kr