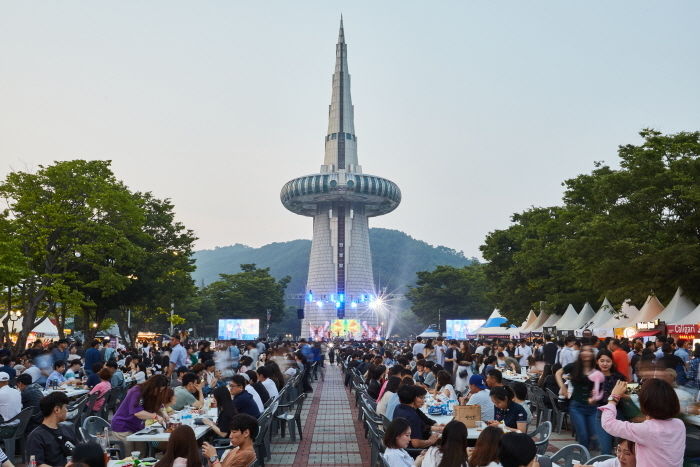 Canon EOS 5D Mark IV | f/16.0 | iso 800 | 2018:06:08 19:50:34 | Flash did not fire, compulsory flash mode | 35mm
Introduction
Daejeon Craft Beer & Music Festival, which first started in 2016, is co-hosted by Weizen Haus and Daejon MBC. Visitors can enjoy up to 100 varieties of craft beer, delicious local cuisines, and performances by popular music artists.
Performance Times
15:00-23:00
Admission/Participation Fees
10,000 won
Age Limit
Age 19 & over
Ticket Reservations
Purchase on-site
Transportation
Daejeon Government Complex (Daejeon Subway, Line 1), Exit 3.
From Dunsan Police Station Bus Stop, take Bus No. 705 and get off at KOTRA Exhibition Center.
Walk to Hanbit Tower Plaza at Expo Park for approx. 330 m.
Homepage
www.weizenhaus.com (Korean only)
Period

05.30.2019 ~ 06.02.2019



Address

480, Daedeok-daero, Yuseong-gu, Daejeon
대전광역시 유성구 대덕대로 480 (도룡동)



Location

Expo Park's Hanbit Tower Park



Telephone

• 1330 Travel Hotline: +82-2-1330
(Korean, English, Japanese, Chinese)
• For more info: +82-1661-5869
<iframe src="http://english.visitkorea.or.kr/common_intl/gis_mini_od.kto?lang=1&posx=45860392&posy=13094891&cpname=Daejeon%20Craft%20Beer%20&%20Music%20Festival%20(%EB%8C%80%EC%A0%84%20%EC%88%98%EC%A0%9C%EB%A7%A5%EC%A3%BC&%EB%AE%A4%EC%A7%81%ED%8E%98%EC%8A%A4%ED%8B%B0%EB%B2%8C)" width="100%" height="100%" frameborder="0" scrolling="no" name="Daejeon Craft Beer & Music Festival (대전 수제맥주&뮤직페스티벌) - map"></iframe>
Referred from : KOREA TOURISM ORGANIZATION http://visitkorea.or.kr