Boeun Beopjusa Temple as a Museum of Korean Culture and Art 법주사

Beopjusa Temple has a long history on the foot of Songnisan Mountain built in the era of King Jinheung in Silla. It still has 3 national treasures and 12 treasures and used to keep 60 royal palaces and 70 small temples but most of them were removed during the war with only 30 of them left. Along with Palsangjeon, the prototype of wooden tower, it's fun to look for treasures and national treasures one by one. Shall we go see what you can find here?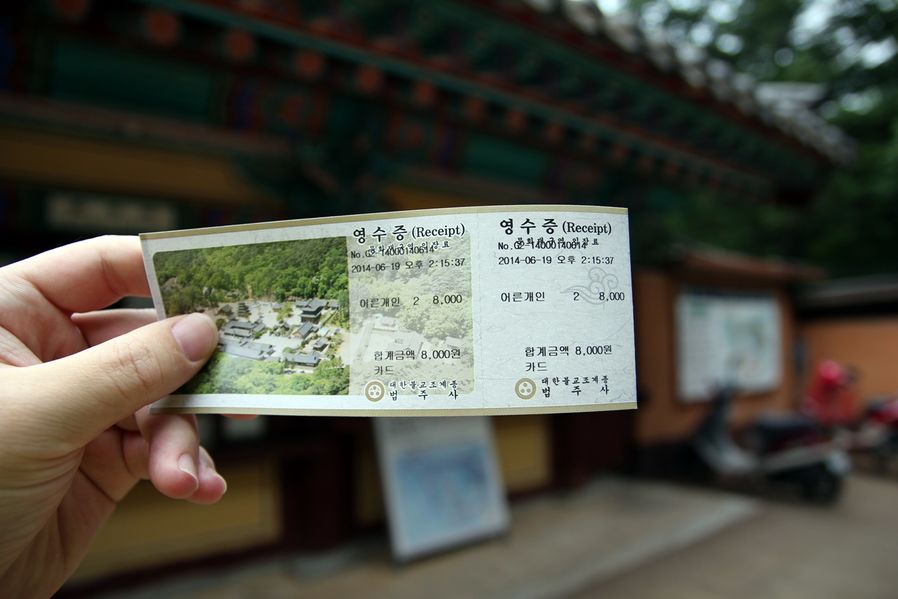 If you want to go inside, they will charge you 4,000 won for one adult.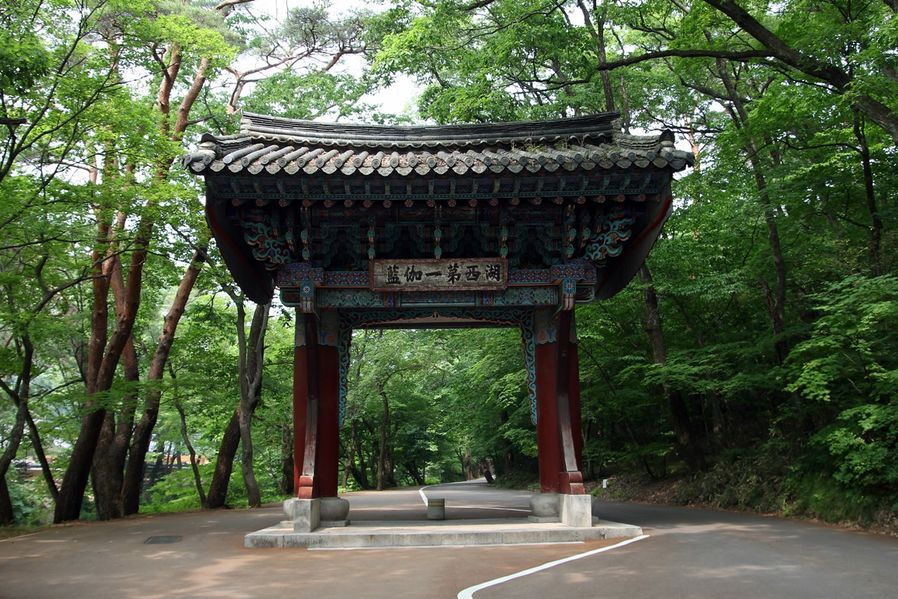 There's a signboard that has Hoseojeilgaram(湖西第一伽藍) written on One Pillar Gate in Beopjusa. It means this one is the best Buddhist temple in Chungcheongnam-do and Chungcheongbuk-do provinces. Let's see if it's correct.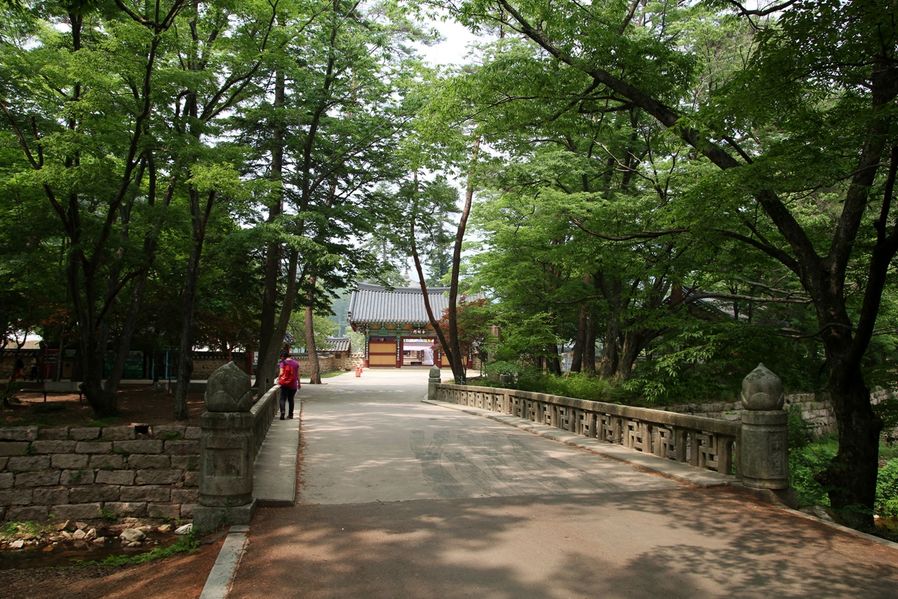 After walking about 900m from the ticket office, you'll see the entrance. Cross this bridge, then you'll get to Beopjusa Temple.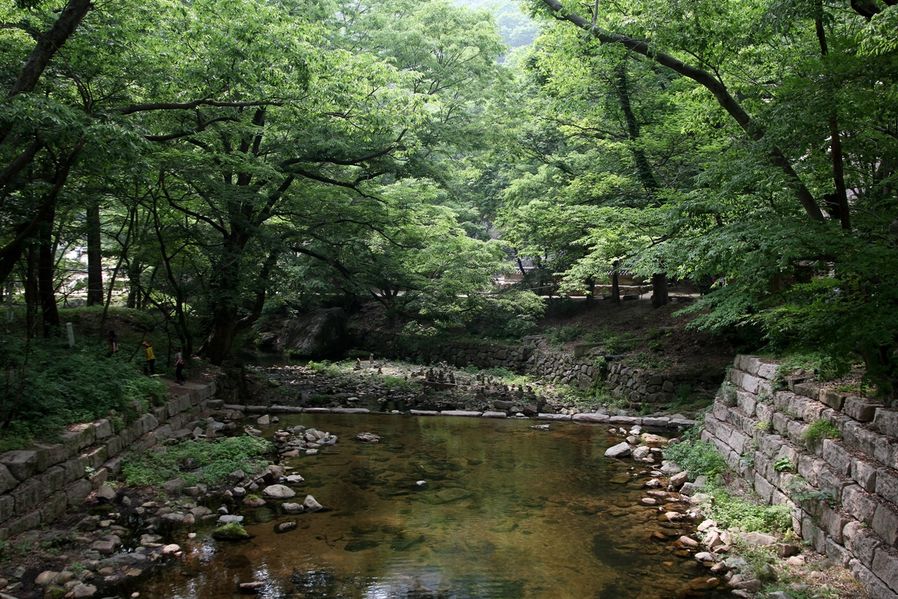 All of brooks around this area are not accessible by people but only the brook in front of the temple is allowed to visitors. However, you might have to pay for the penalty for catching fish or marsh snails just like I explained about Songnisan Tracking.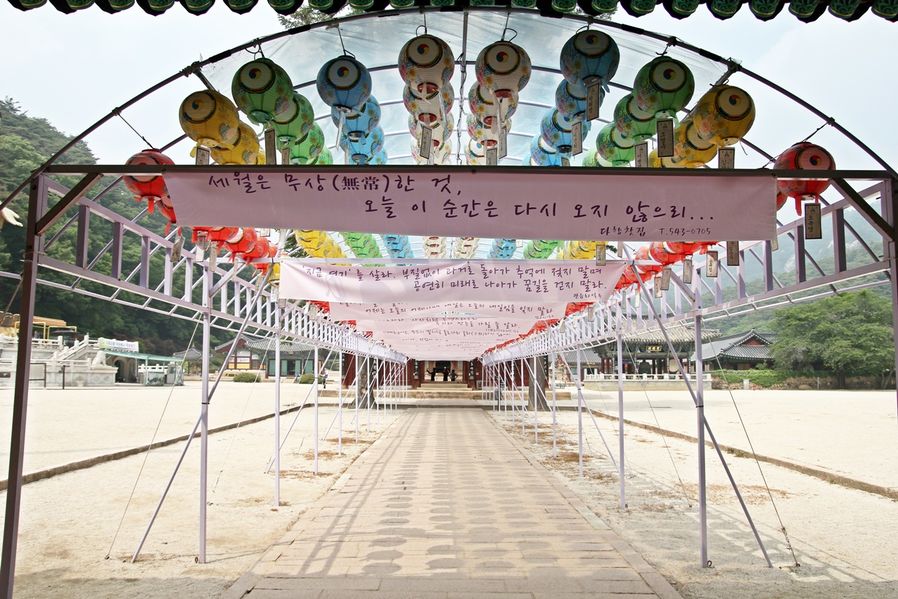 As I entered the temple, the colourful lotuses connecting to the temple gate dedicated to the Four Devas were hanging up in line.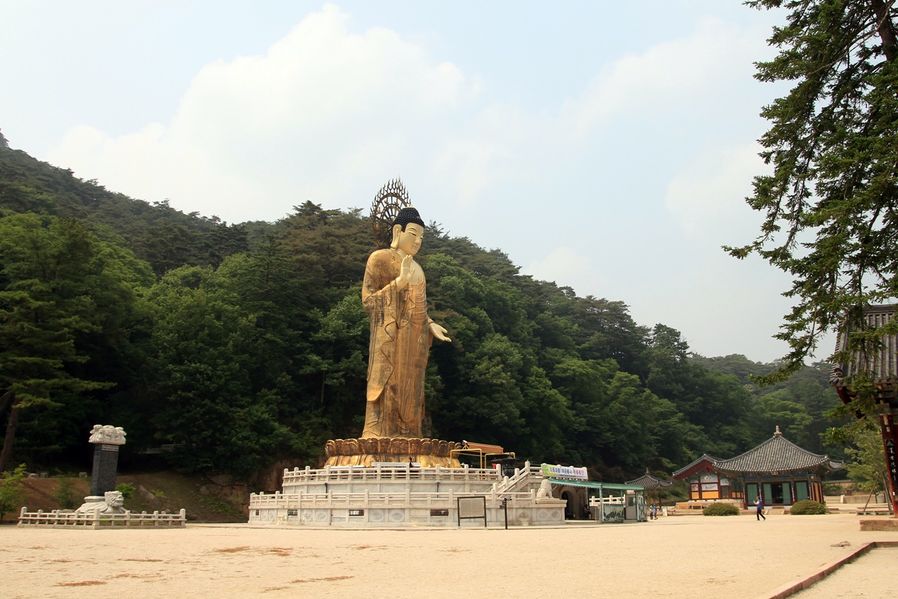 Plus, the enormous GeumdongMireukDaebul(金銅彌勒大佛) Buddha statue is on the left. This is the biggest Maitreya standing statue in Eastern countries which is 33m high. You will be stunned to see the size.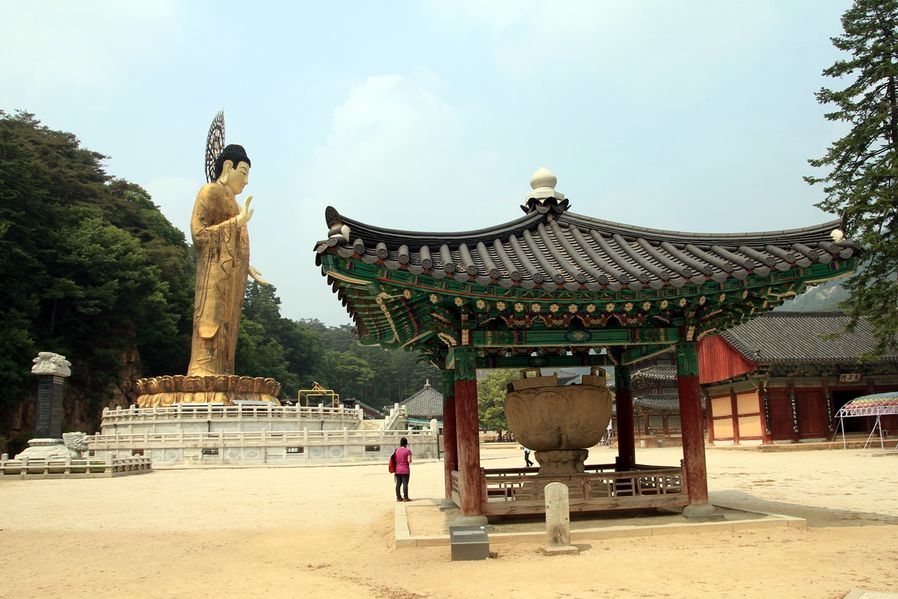 On the right side of GeumdongMireukDaebul, you could see a small Seokyeonji(石蓮池) that looks like a lotus which is designated as a national treasure No.64. Seokyeonji is a small pond looking like a lotus made in the era of the King Sejong, Joseon Dynasty. The lotus is floating on the pond because it signifies the paradise in Buddhism so you'll see many forms in temples that copied this shape.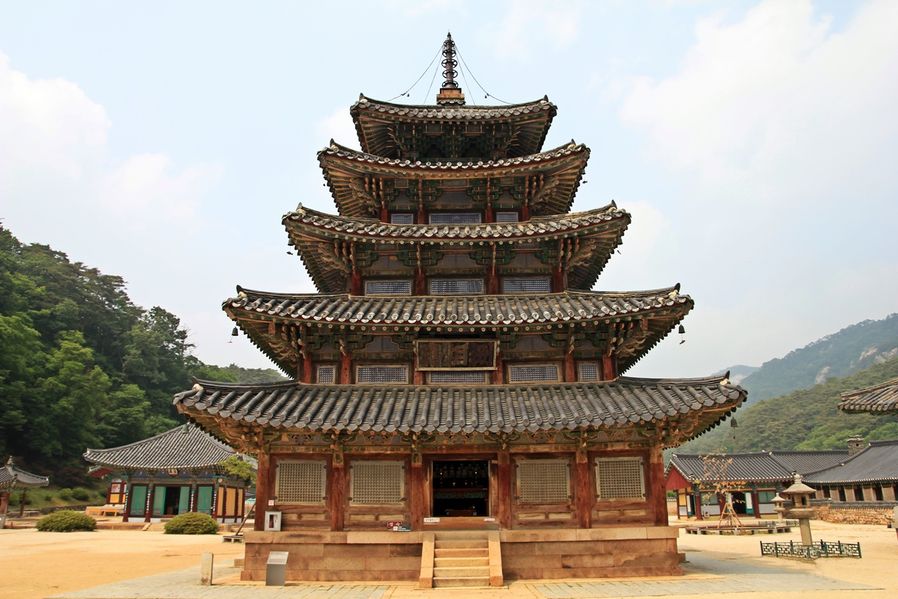 The most impressive place in Beopjusa Temple is this building called Palsangjeon(八相殿). This building was built in the era of the King Jinheung of Silla which was damaged during the Japanese invasion of Korea but then rebuilt in the King Injo period of Joseon. It's forbidden to take pictures inside so I couldn't but if you go inside, there are 8 paintings portraying the life of Sakyamuni on 4 sides of the wall and that's how it was named 'Palsangjeon'. It's the only example of Korean wooden tower and the highest tower with 22.7m height.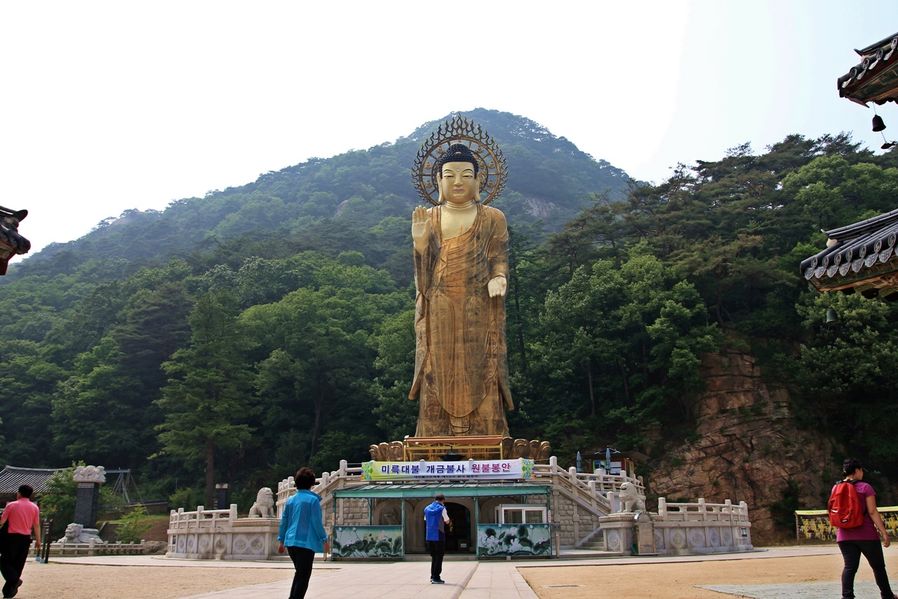 I wish all the happiness and the best for all the people who are reading this.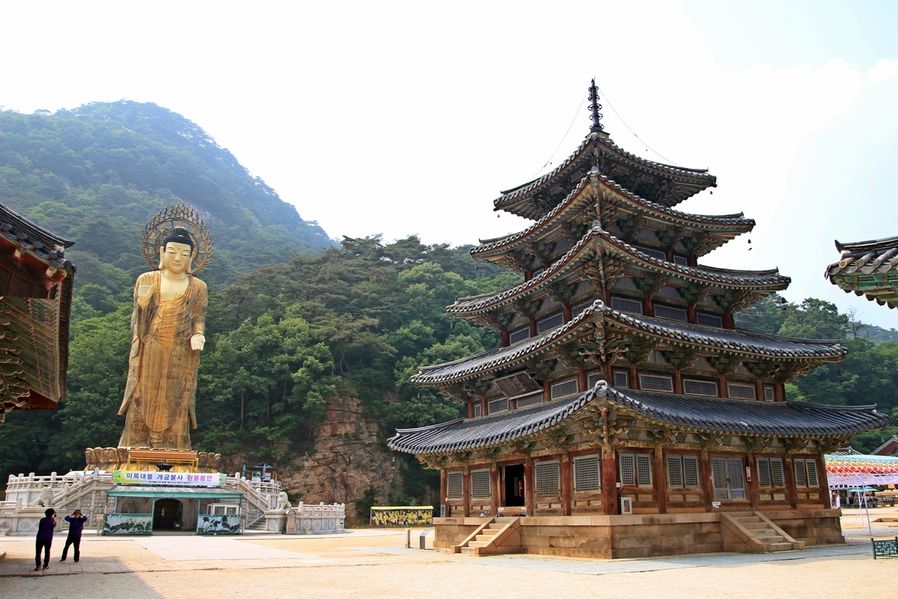 Palsangjeon and GeumdongMireukBosal look pretty good together, don't they?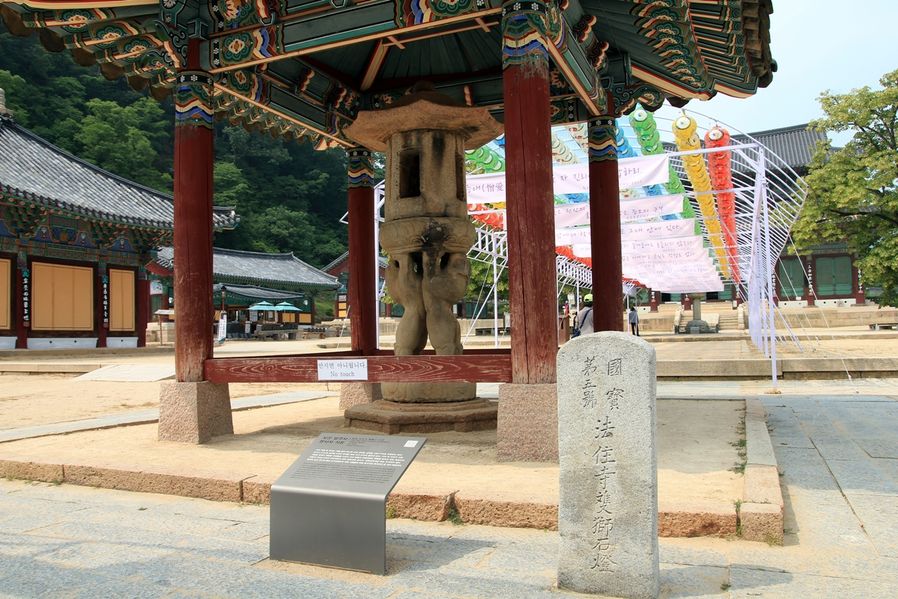 You should look at the small structures on the yard carefully. This small a stone lantern is called Ssangsajaseokdeung(雙獅子石燈) which is the national treasure. It's built in the period of united Silla and the lion is supporting the stone lantern. Among the relics that carve lions, this is the oldest and rarest one.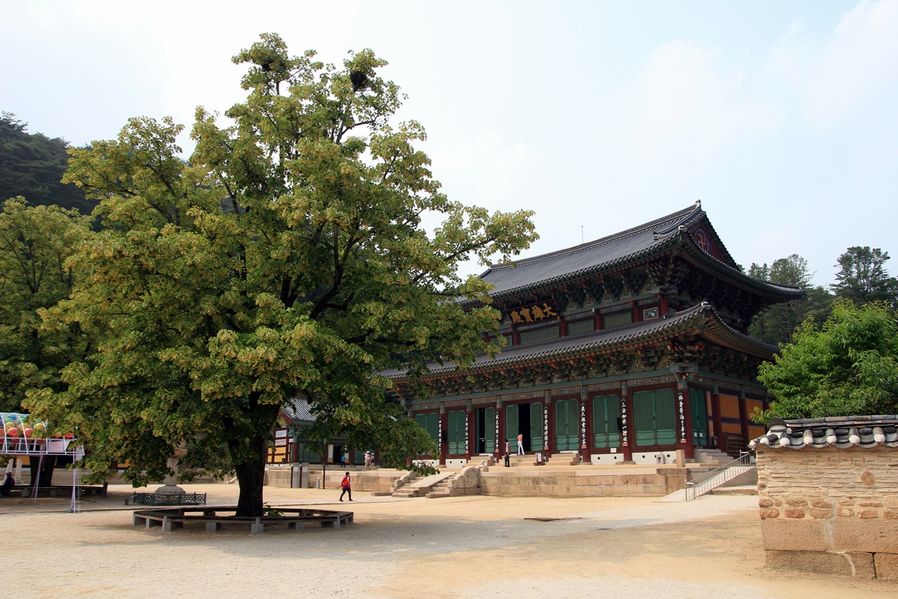 Behind the oleaster where the Buddha found enlightenment, I could see Daeungbojeon(大雄寶殿).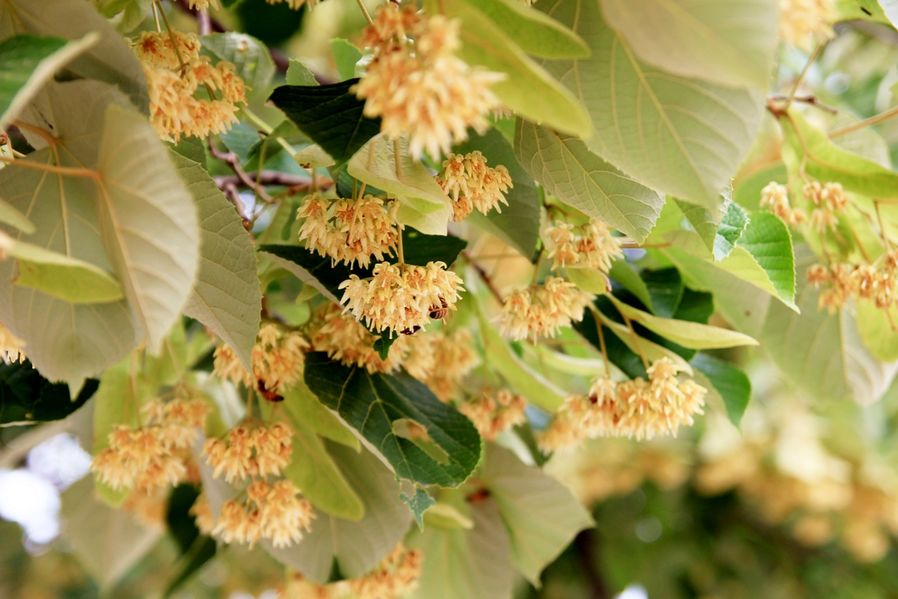 The flowers bloomed on the autumn elaeagnus and a bunch of bees were hanging on the two enormously big trees. Going under the trees, I could hear bees buzzing. That was a quite unique experience.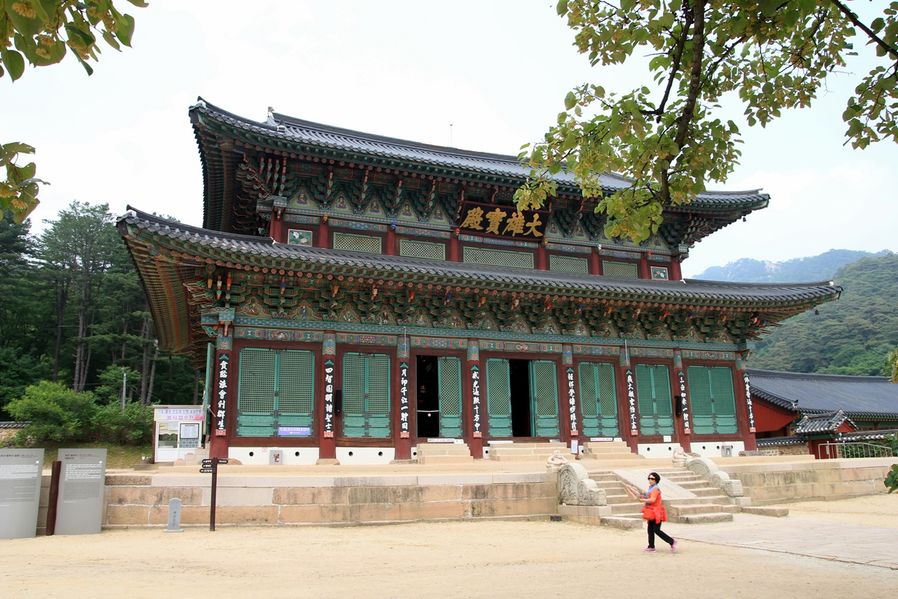 Daeungbojeon is designed as treasure No.915. Just like Palsangjeon, it was built in Silla era but burnt during the Japanese invasion of Korea and remained until now since it was rebuilt in the second year of the King Injoin Joseon Dynasty era. It's a 19m tall building and one of three representative Buddhist sanctums in Korea along with Guekrakjeon(hall of Paradise) of Muryangsa and Gakhwangjeon of Hwaeomsa. Inside it, there's 5.5m high Sojobuljwasang(塑造佛坐像), treasure No. 1360. There's a treasure inside another treasure!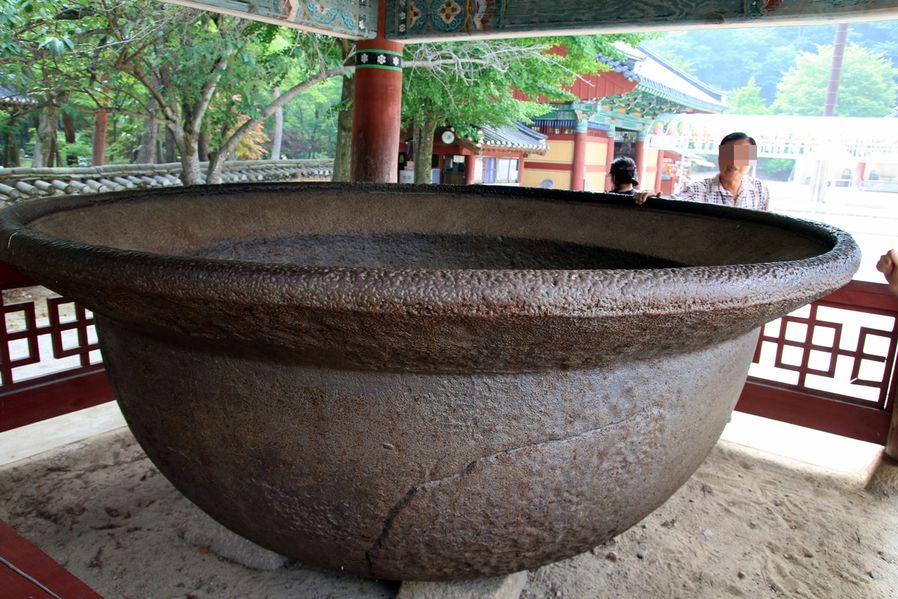 What do you think this is? There's a big bowl made of cast iron in the temple yard. This is an extra-large sot(Korean traditional caldron made of cast iron) called Cheolhwak(鐵鑊) which was used to boil clear soybean soup for 3,000 monks who used to live when the Beopjusa Temple was flourishing.This is from the period of unified Silla as the biggest temple in Korea(height 1.2m, diameter 2.7m, circumference 10.8m). Oh, Cheolhak has been designated as treasure No. 1413.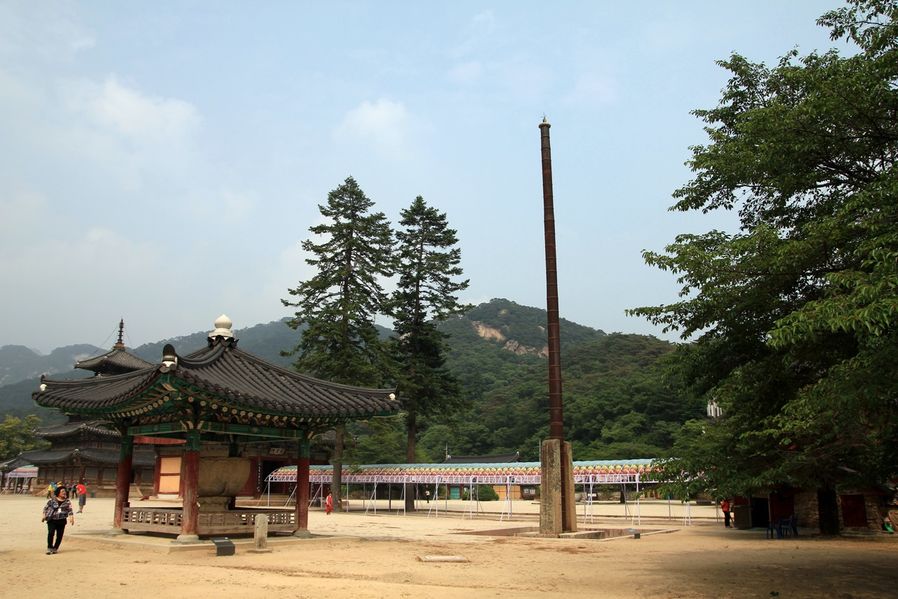 In the yard, however, there was a pillar that looks like a stick standing high towards the sky out of blue again. This is called Dangganjiju(幢竿支柱), and Danggan means Chal(刹; temple) and temple is called Sachal(寺刹; Buddhist temple). That is, 'Chal(刹) =Danggan'is built on a Jeol(寺), which means a Buddhist temple 'Sachal'.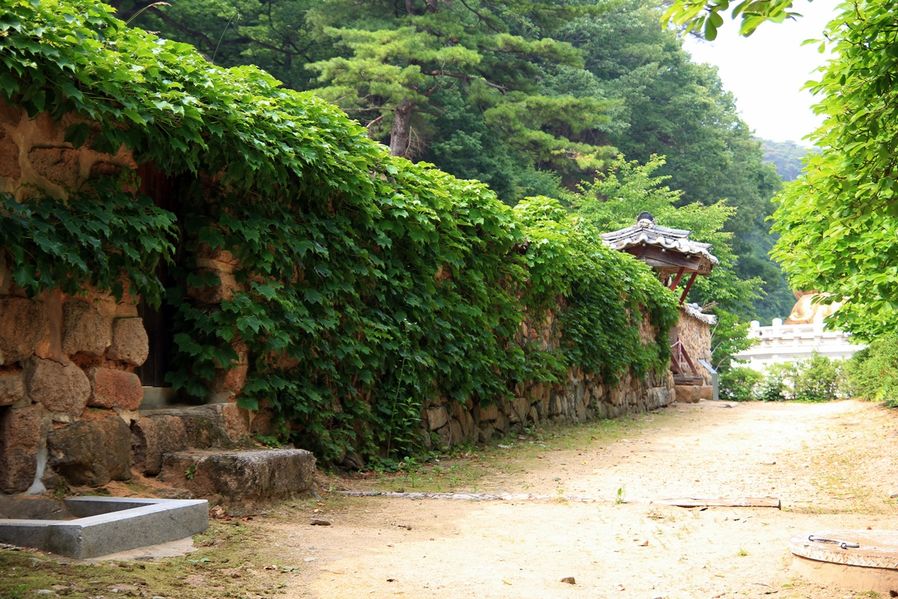 Let's take a walk in the quiet and beautiful temple. It has so many treasures and national treasure that I cannot take another step without looking at anything.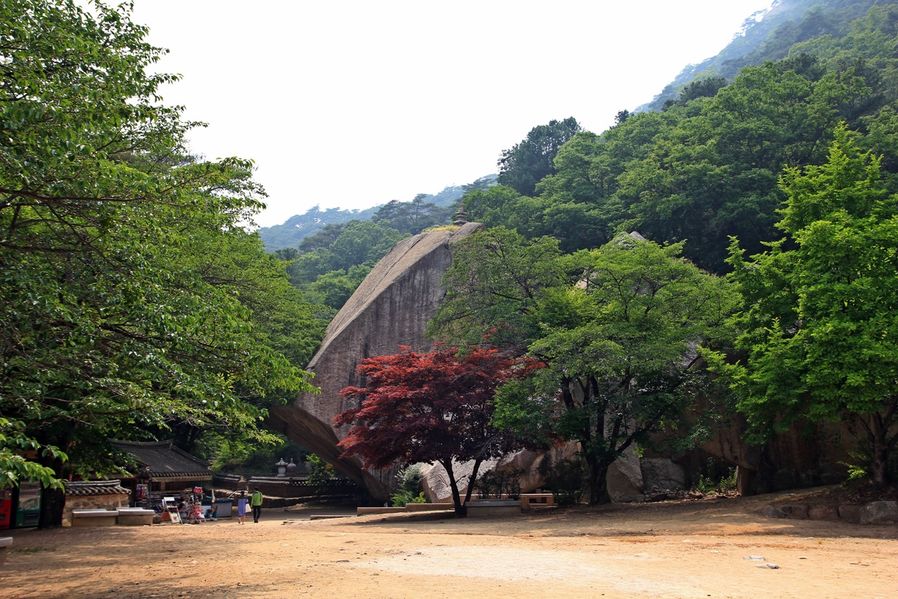 There stood a big rock in the middle of that forest. If you look at the person in it, you could guess how big it is.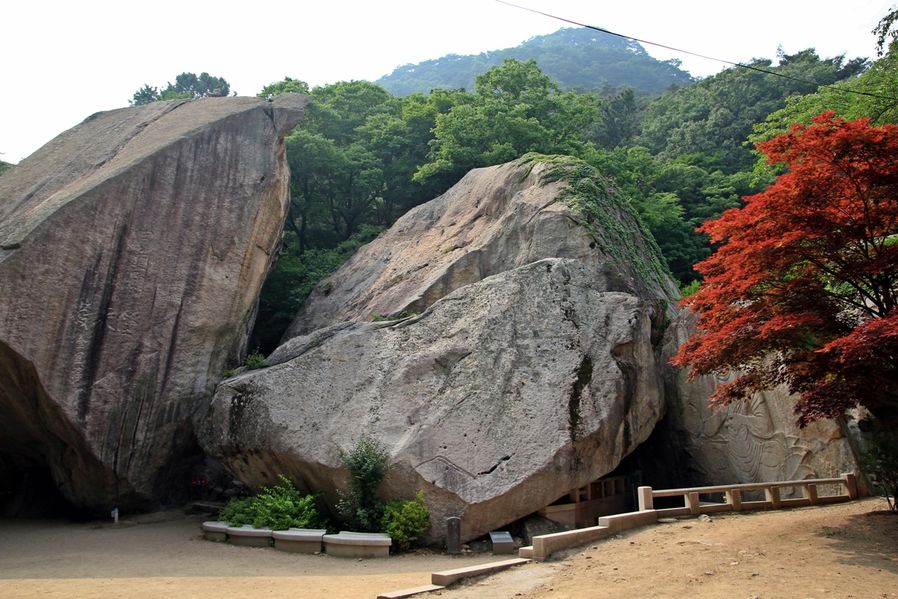 It feels like there's something in those big 3 rocks. I have no religion but I try to pray a little and put some money in the box in each religious institution so this is not an exception.
I found a 5m high mural on one side of the big rock. This is Maeyeoraeuisang(磨崖如來倚像), treasure No.216. This is the representative Maitreyasang painted in the Koryo Dynasty, the Buddha image carved on natural bedrock. Sitting opposite to each other on lotus was impressive.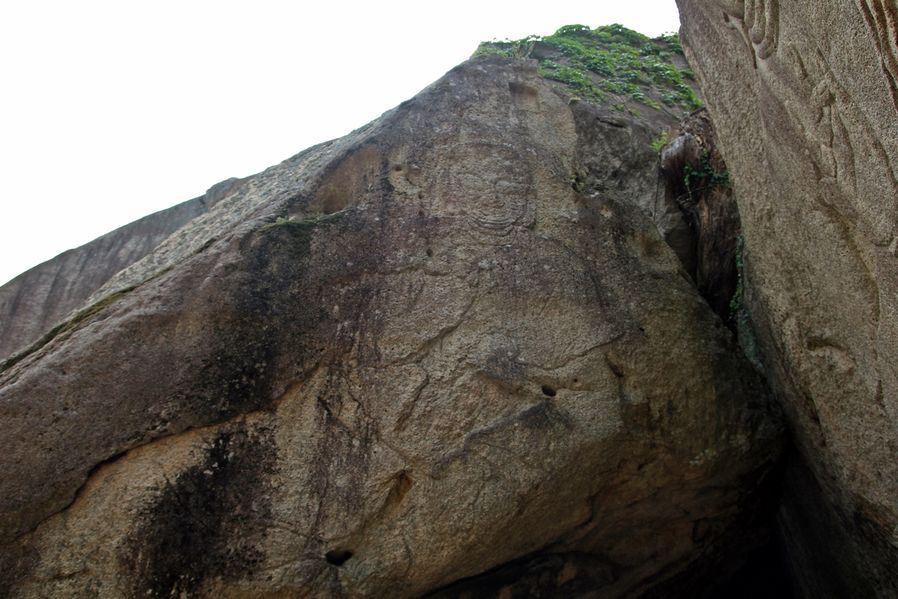 Jijangbosalsang(地藏菩薩像) was engraved on the rock leaning on Maeyeoraeuisang. Jijangbosal is a Bodhisattva that rescues the mankind suffering in hell. If any of you have ancestors who might be suffering in hell, you should pray for them to be rescued with all of your heart like I did for you.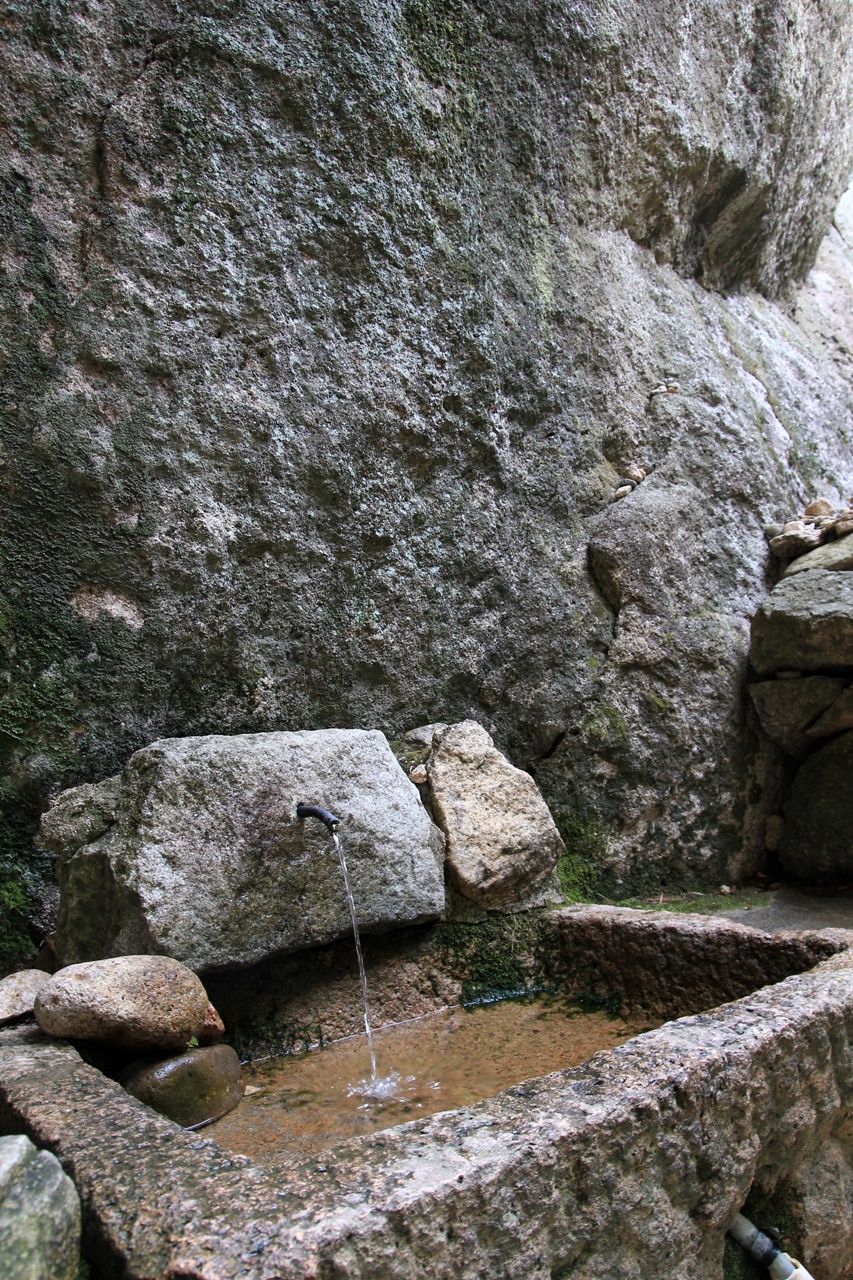 There were three rocks and I saw mineral water flowing from the gap between the rocks. The water was so cool that I guzzledit. I was quite thirsty so that the water tasted so great.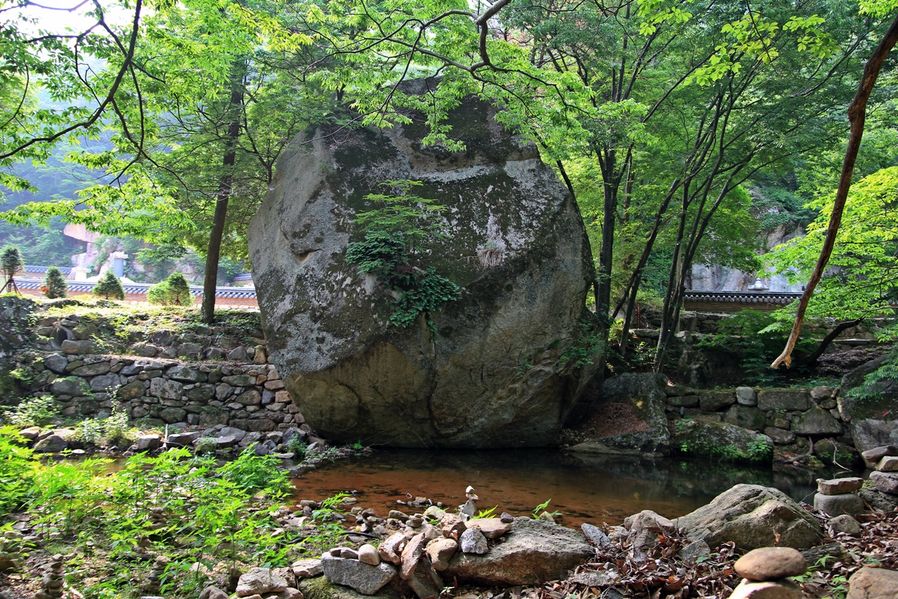 I don't know where they came from but there are a lot of strange rocks and bizarre stones standing high out of blue around Beopjusa Temple. The mysterious and magnificent spirit makes me realize humans beings are so trivial compared to the mountain and nature. If you are tracking on Songnisan Mountain or Boeun trip, you should definitely drop by. I would really like you to visit there.


Address : 209, Sanae-ri, Songnisan-myeon, Boeun-gun, Chungcheongbuk-do (충청북도 보은군 속리산면 사내리 209)


Amazingly tasty YonggungSundaeGukbap and OjingeoBulgogi, Must-eat restaurant in Boeun, 'Yonggung Sikdang'' 용궁식당

When you google must-eat restaurant in Boeun, the most popular restaurant is this Yonggung Sikdang, and the food is actually delicious but it got more popular as it was aired on a popular TV show as well. So this is the branch of Yonggung restaurant in Yonggung-myeong, Yecheon-gun, which was well-known for Sundae, and since we tried it in Yecheon last year, we decided to visit again here in Boeun.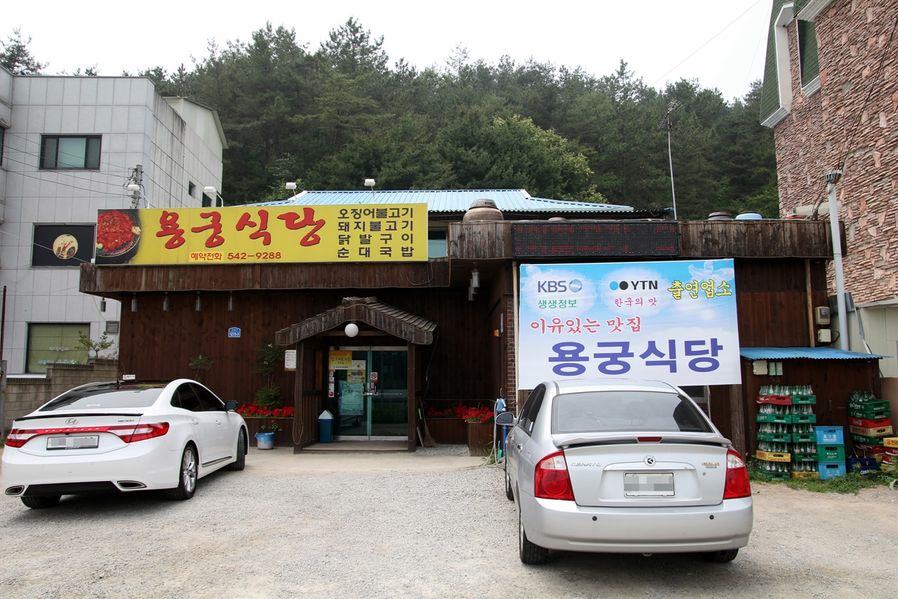 Yonggung Sikdang(restaurant) is located in Balsin-ri, Suhan-myeon, Boeun-gun, and it's a bit far away from Songnisan National Park, the famous tourist attraction in Boeun, or from the downtown.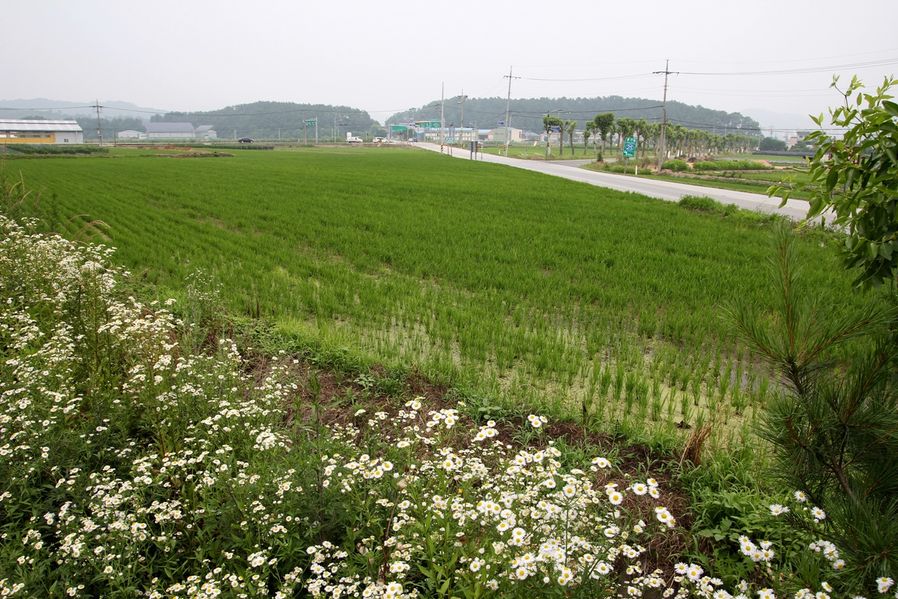 It's famous yet located in a quiet and calm place in the country so you'll have to look for the sign carefully. The restaurant is hidden in the middle of farmland so it's difficult to see it from the roadside.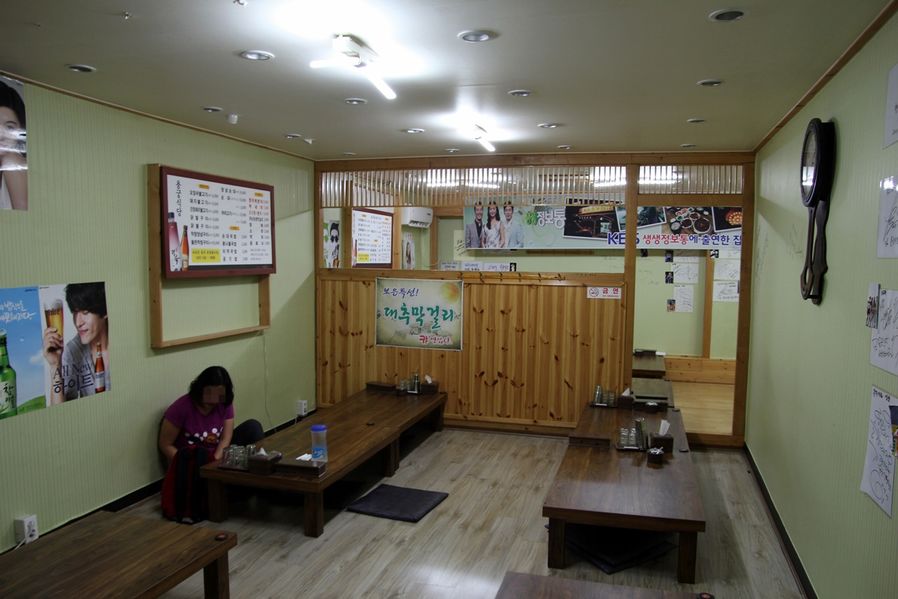 A weekday with no tourist! Plus, we arrived there around 3 p.m. so the restaurant was empty, and the restaurant did not smell of fat that you could smell at other Sundae restaurants.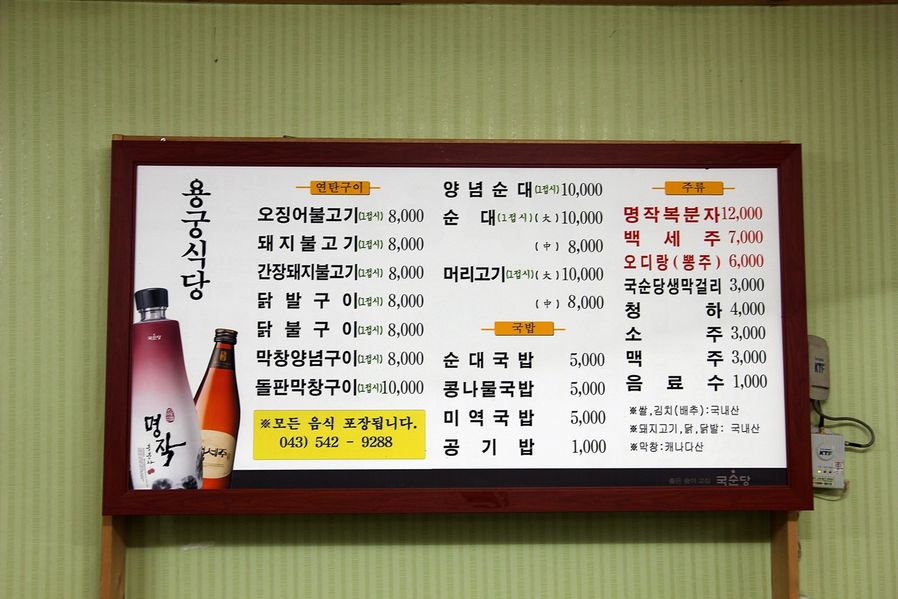 This is the menu at Yonggung Sikdang. The main dishes were Yeontangui which squids, meat and pork entrails are roasted and served and Sundae which is made of Yonggung noodles from Yecheon-gun. So we ordered 1 dish of THE Ojingeobulgogi and 1 bowl of Sundaegukbap.
The common dishes were neat. One or two more dishes served than normal Sundaeguk(Korean sausages soup) restaurants.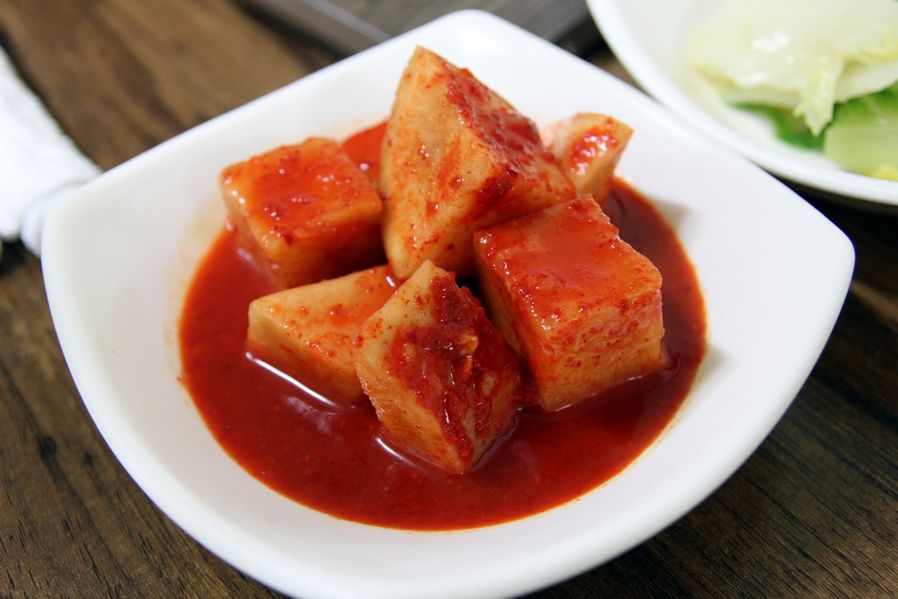 What I liked the most of common dishes was kkakdugi. Kkakdugi cannot be missed when we order seolleongtang, galbitang or sundaegukbap which all of them have white soup.
Properly spicy and cool kkakdugi with a little bit of sweet taste was amazing.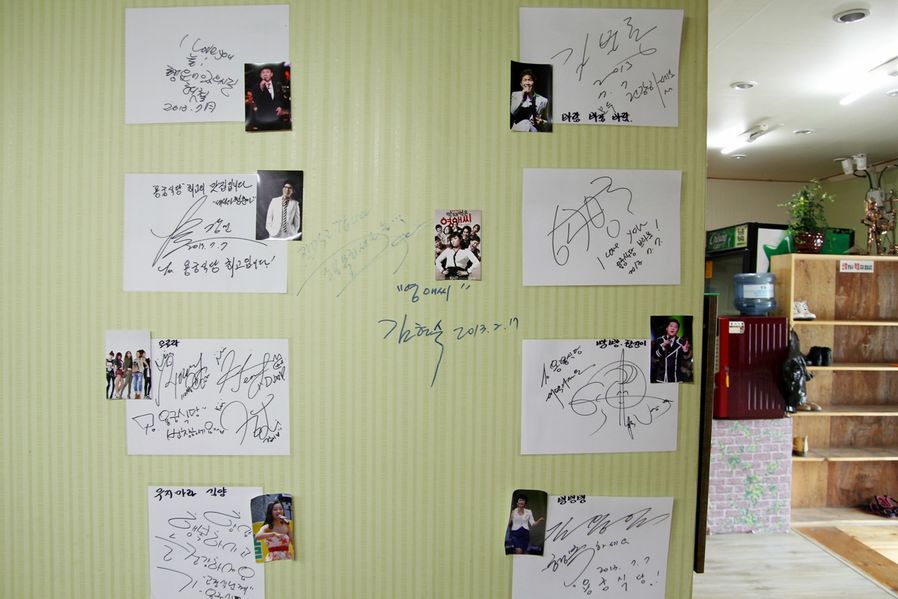 While we were waiting for the main dish after the common dishes were served, we took a look around the restaurant and found the traces of famous people who've been to the restaurant. The actress from my favourite TV drama 'Rude Young-ae', Gim Hyeon-suk, was here as well. It makes me more convinced about the taste.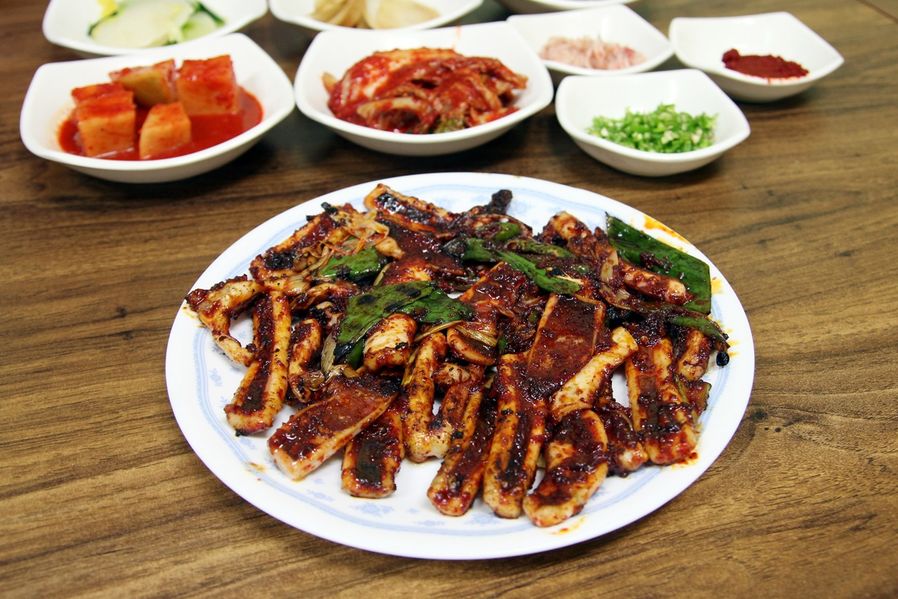 Firstly served main dish was Ojingeobulgogi. I thought it was not enough for one person from the look of it but most of the ingredient was squid with less of vegetables so if you order one extra bowl of rice, you would believe it even if it's for 2 people.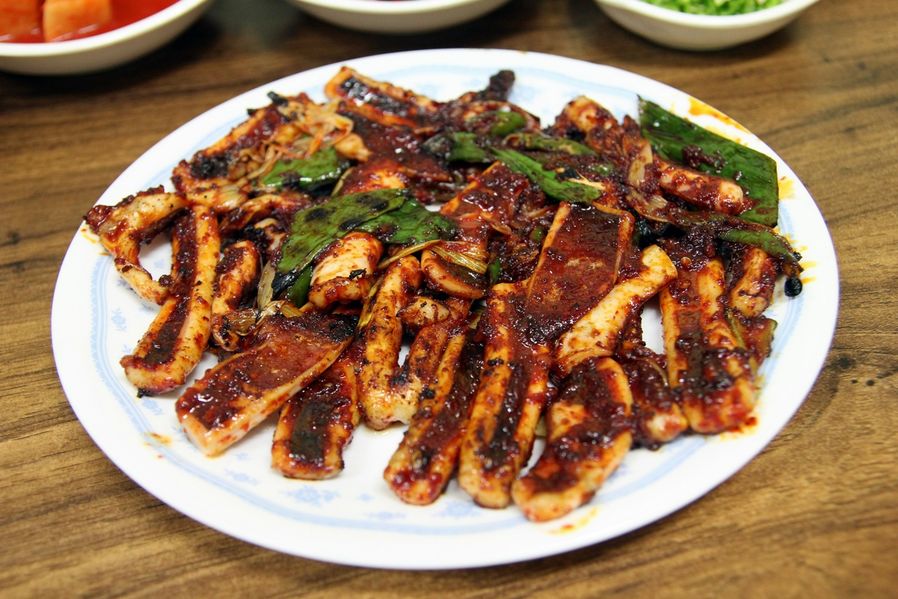 The reason why this restaurant is famous for gui(roasted food) is because they roast it with briquet fire. I didn't even take a bite but the smell of sauce roasted with briquet fire made me drool.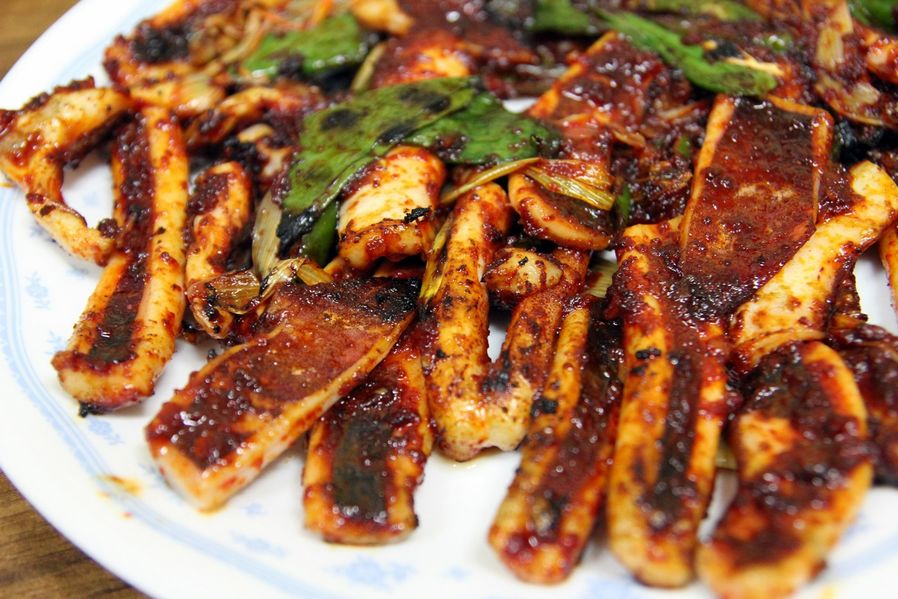 When you fry it on a fan, it produces liquid but this did not have any sauce but well seasoned with spicy, sweet and a little salty sauce probably because it was fried with briquet fire. And squid gets too thick when you fry it too much but this one was properly fried, soft and delicate. Most of all, I cannot express the taste of squid fried with briquet fire, it was just…great!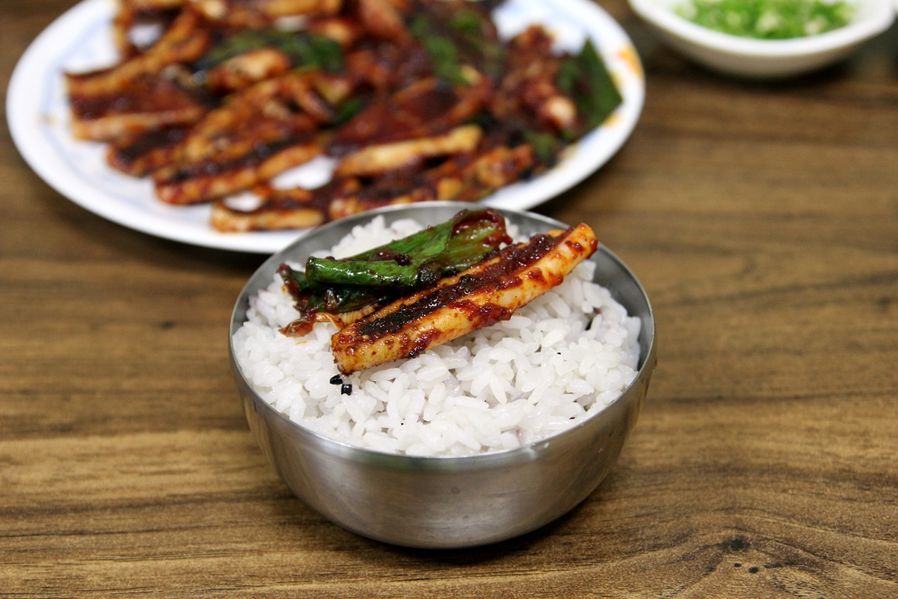 Kkakdugi and kimchi was also delicious in this restaurant so that I finished one bowl of rice with just Ojingeoyeontangui on the properly cooked rice on a spoon.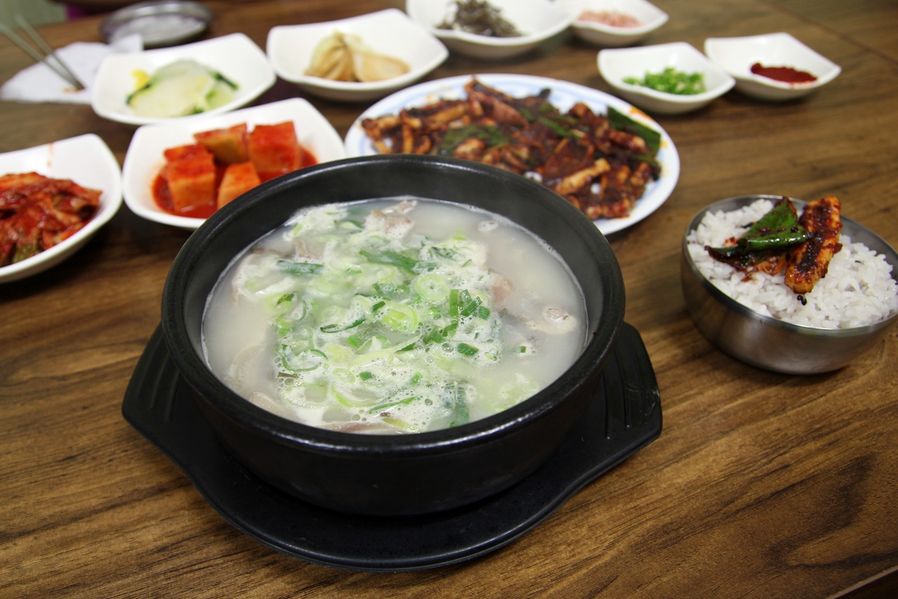 Secondly served dish, Sundaegukbap. Originally, Yonggung restaurant is famous for Sundae but Yeontangui suddenly got more popular.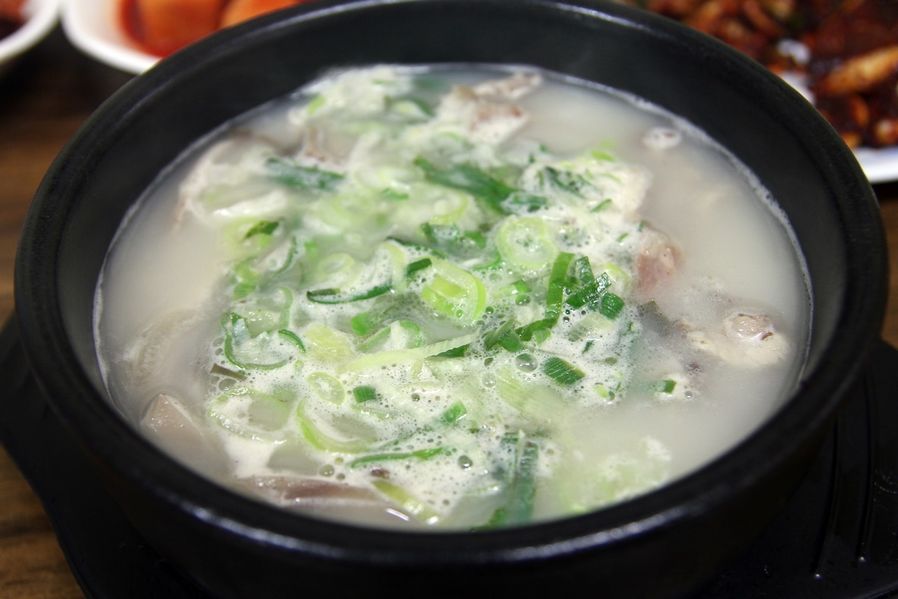 It smells like pig's intestines a little so some women might find it disgusting. However, if you think it's disgusting food, you wouldn't have ordered it!! Milky soup tasted deep, neat and flavory.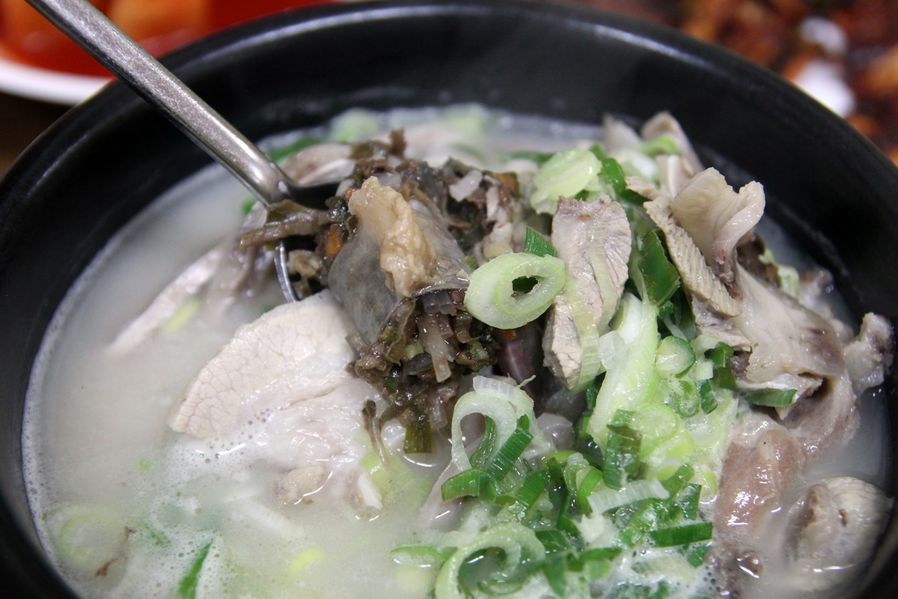 I checked the inside the soup and it was full of Sundae, ox head slices and other ingredients. Considering the price was 5,000 won including a bowl of rice, they were generous.
You know that Sundaegukbap tastes great when you salt with fermented shrimp, right? I put one spoon of seasoned red-pepper sauce which was served with the soup to make it spicy and put a bowl of rice to mix it, which tasted perfect. Properly boiled meat was soft and Sundae inside the soup was chewy, not to mention the deep taste of the soup.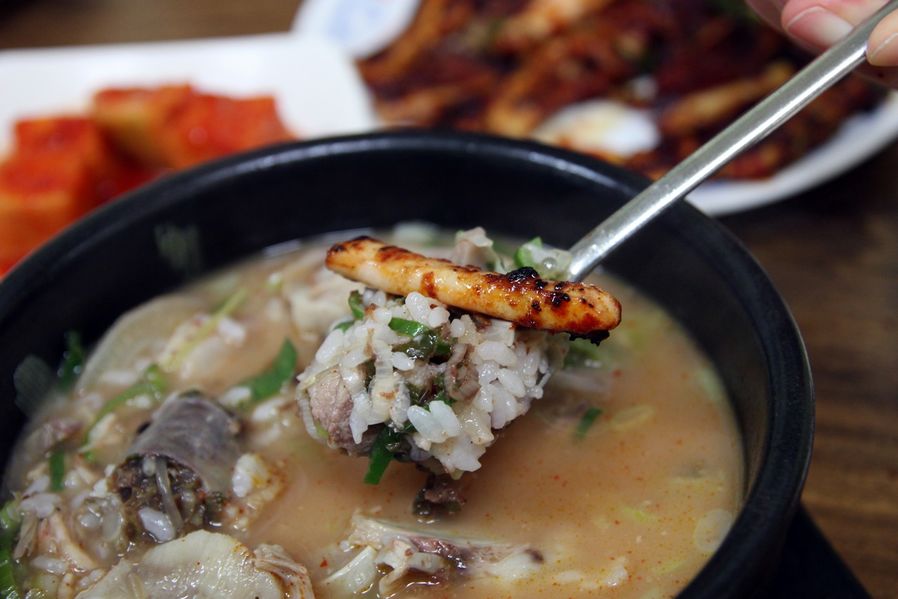 Delicious food is tasty whether you mix it with other food or eat it alone. With one spoon of Sundaegukbap with a slice of Ojingeo Bulgogi made my day.

I bet Yonggung Sikdang is loved by everyone because we can eat tasty food until we are full at a reasonable price. Sundaegukbap is neat and filling but I suggest you to try Yeontan Jikhwagui(roasted using briquet fire) here that you cannot taste in a big city lately.
Address : 99-4, Balsan-ri, Suhan-myeon, Boeun-gun, Chungcheongbuk-do (충청북도 보은군 수한면 발산리 99-4)
Telephone : 043-542-9288
Opening Hours : Closed on 2nd and 4th Mondays, break time from 3 to 5 p.m. to prepare the tables when the restaurant is busy including weekends/national holidays so make inquiries on the phone before you visit.