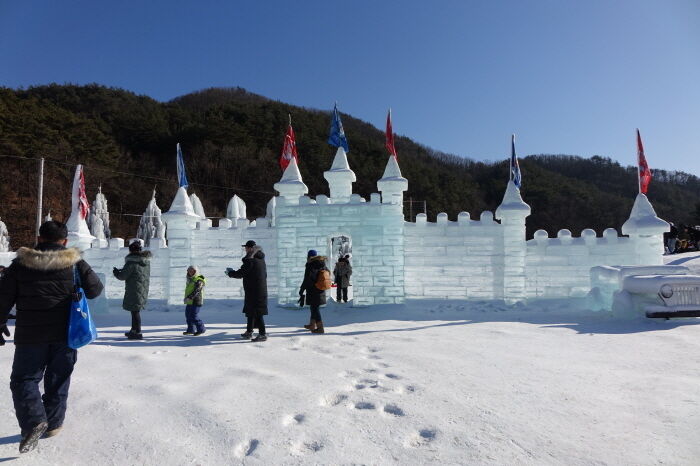 DSC-RX10 | f/5.6 | iso 125 | 2018:12:30 14:02:25 | Flash did not fire, auto mode | 8.8mm
Introduction
Baegungyegok Valley Dongjanggun Festival in Pocheon offers various hands-on programs for families. It is located along the highway between Sejong and Pocheon, making this festival easily accessible. In addition, Pocheon is famous for I-dong galbi and I-dong makgeolli, as well as Il-dong Oncheon District, Sanjeong Lake, and Pocheon Art Valley.
Programs
Themed food town, Ice Land & Snow Land, winter food, trout ice fishing, snow sledding, traditional games, and more
Performance Times
9:00-17:00
Admission/Participation Fees
Free. * Fee vary by experience programs, check the official (website for details
Age Limit
Visitors of all ages welcome
Transportation
[Bus]
From Dong Seoul Bus Terminal, take an express bus bound for Baegun-dong.
Homepage
www.dongjangkun.co.kr (Korean only)
Period
12.28.2019 ~ 01.27.2020
Address
2381, Hwadong-ro, Pocheon-si, Gyeonggi-do
경기도 포천시 이동면 화동로 2381
Location
Areas of Doridol Village
Telephone
• 1330 Travel Hotline: +82-2-1330
(Korean, English, Japanese, Chinese)
• For more info: +82-31-535-7242
Referred from : VisitKorea http://visitkorea.or.kr