Jeondong Catholic Cathedral
Tteokgalbi 떡갈비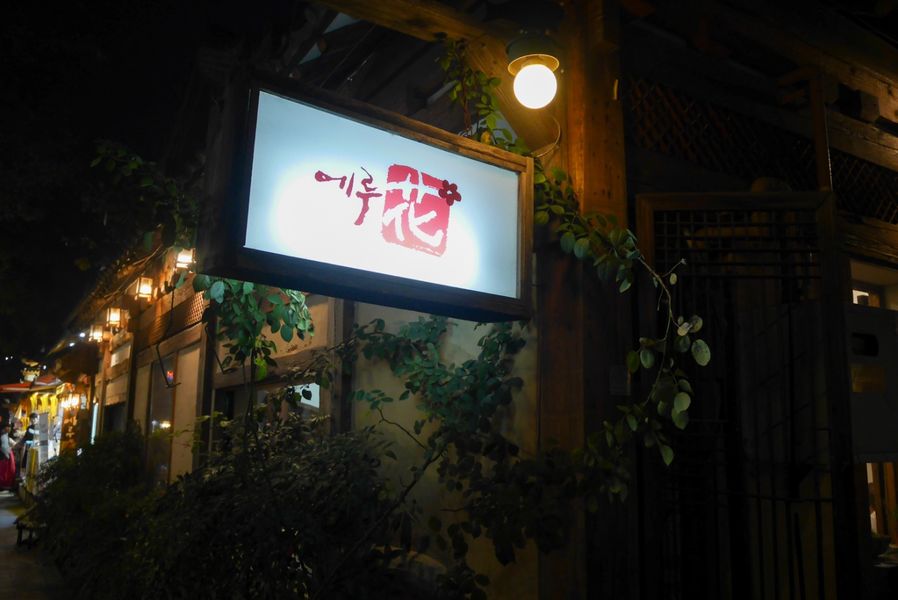 This restaurant is called Eruhwa that specializes in cooking tteokgalbi (grilled short rib patties). I have been missing it for the last five years since I first tried it then now I couldn't resist but try it again as I see Hanok Town branch opened. I almost gave up in the early afternoon because I saw how many people were waiting in line but in the early evening, I didn't have to wait so long so I went inside soon.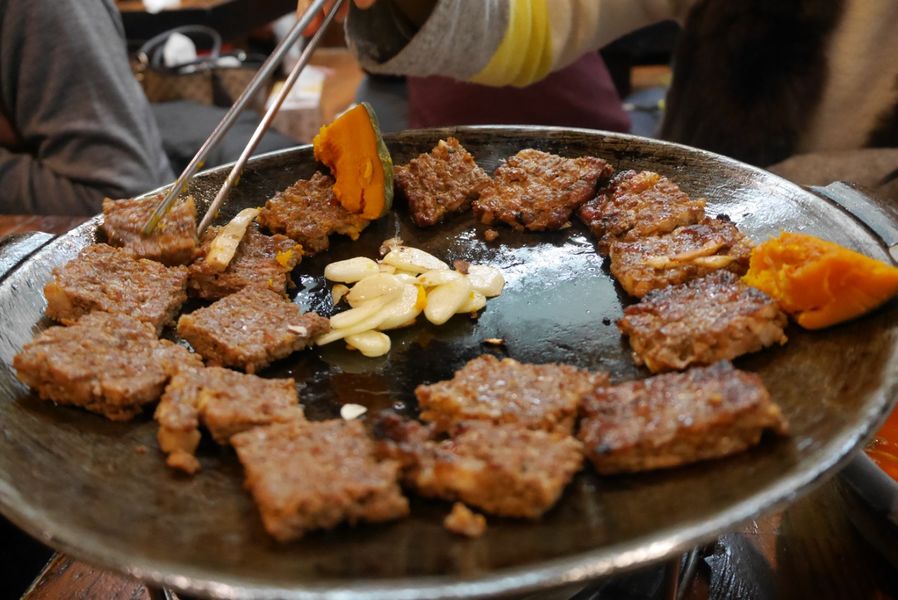 Tteokgalbi here does not smell of fat, only sweet, and that's what I like about it. It costs 9,000 won for 1 person and you could eat it when it's still warm because it's served on an iron plate that looks like a caldron lid placed upside down.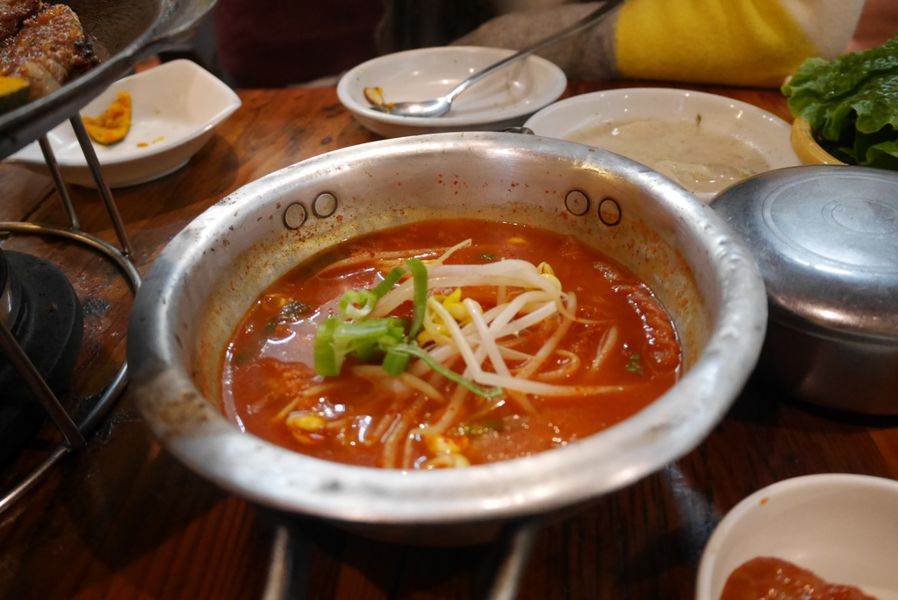 I ordered gimchijjigae as well. It was 3,500 won so I did not expect much and it was OKAY. It's better with dongchimi guksu(radish water kimchi noodles) or bibimbap with it on the menu.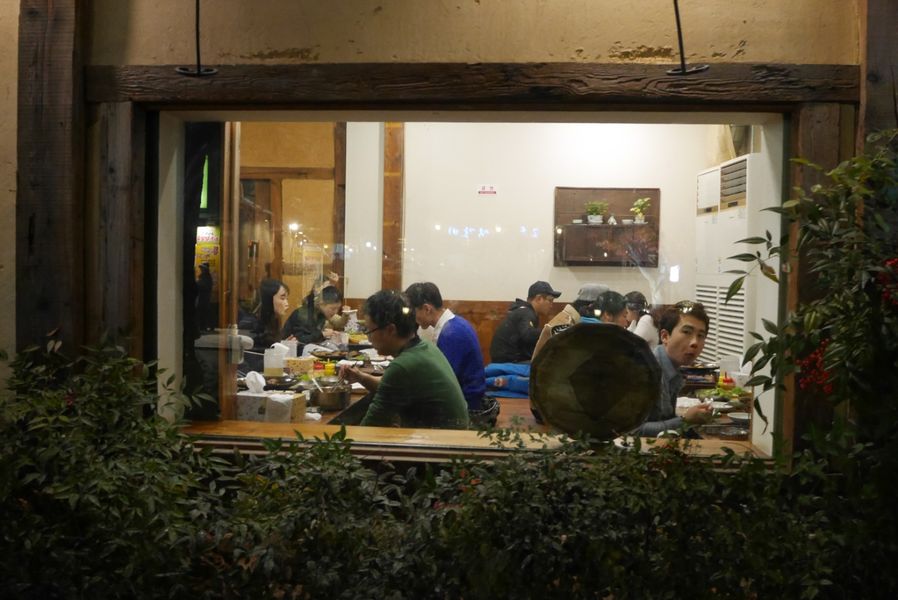 I took a photo of customers dining at Eruhwa on my way out after finishing ddeokgalbi. It was so popular that I could not see even one empty seat on Sunday evening.



Address : 70-6 Gyo-dongWansan-gu, Jeonju, Jeollabuk-do (전라북도 전주시 완산구 교동 70-6)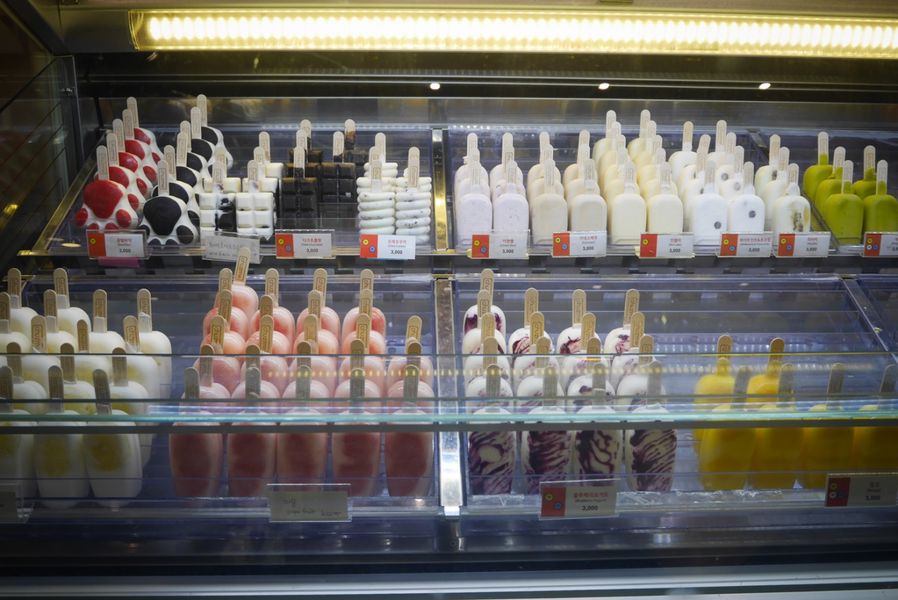 I saw a fruit ice cream shop and it had also so many people for they sell different flavors such as mango, strawberry, kiwi, beer and other flavors.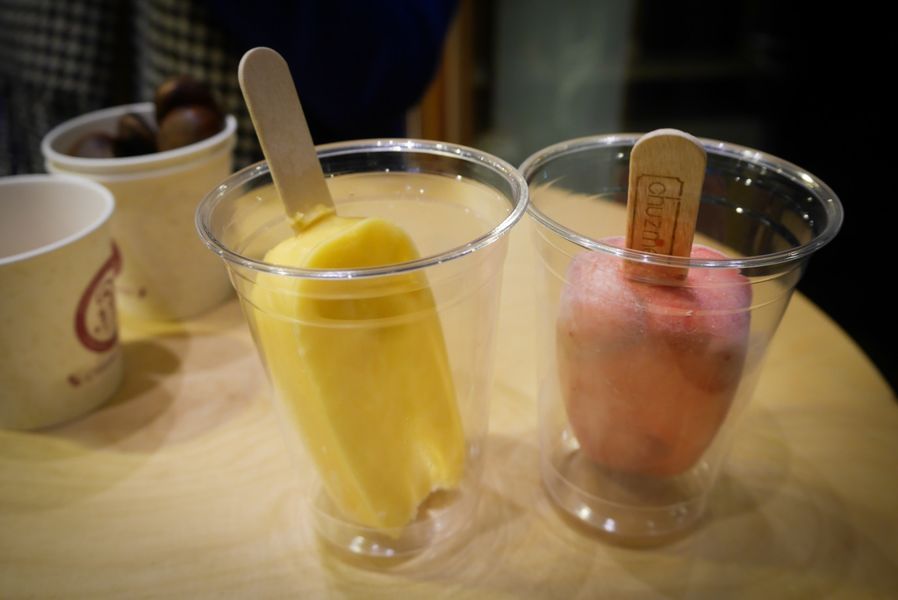 That's mango and strawberry ice cream.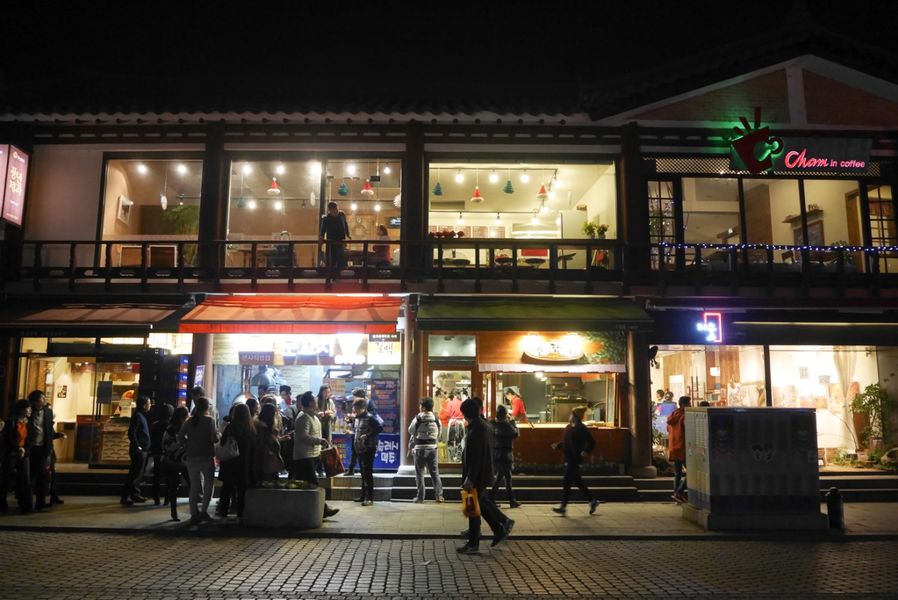 Hanok Town was full of couples who were walking on the street looking for tasty food and romantic view late at night.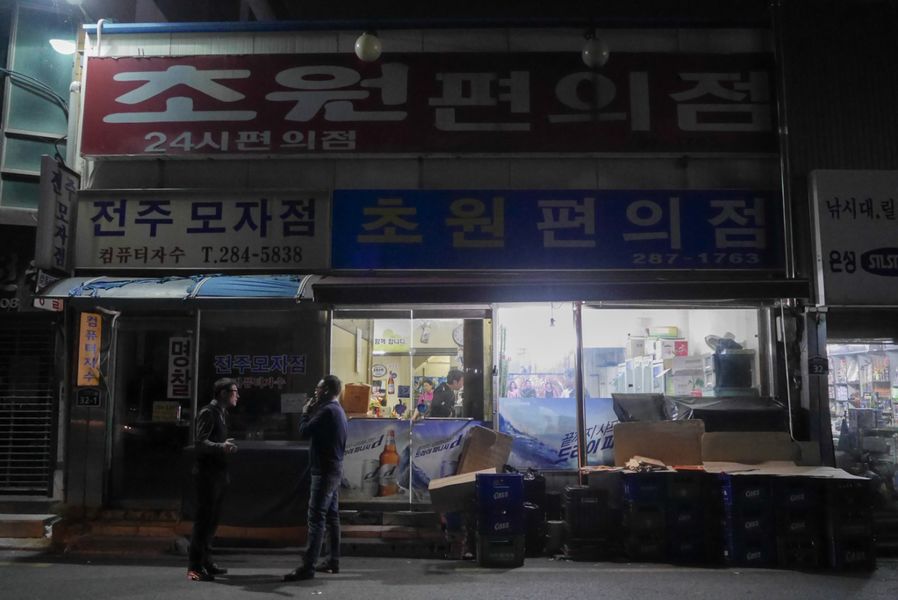 The best food that I tasted in Jeonju was of course this Hwangtae Yeontangui(grilled dried Pollack). I could not believe I could taste this great appetizer for drinks at a regular convenience store. You will be able to easily find Gamaek (beer at convenience store) where they sell beer and simple appetizers served with beer at a supermarket, and I heard that the best ones are this Chowon convenience store on the backstreet of Wansan Police Station and Jeonilgabo.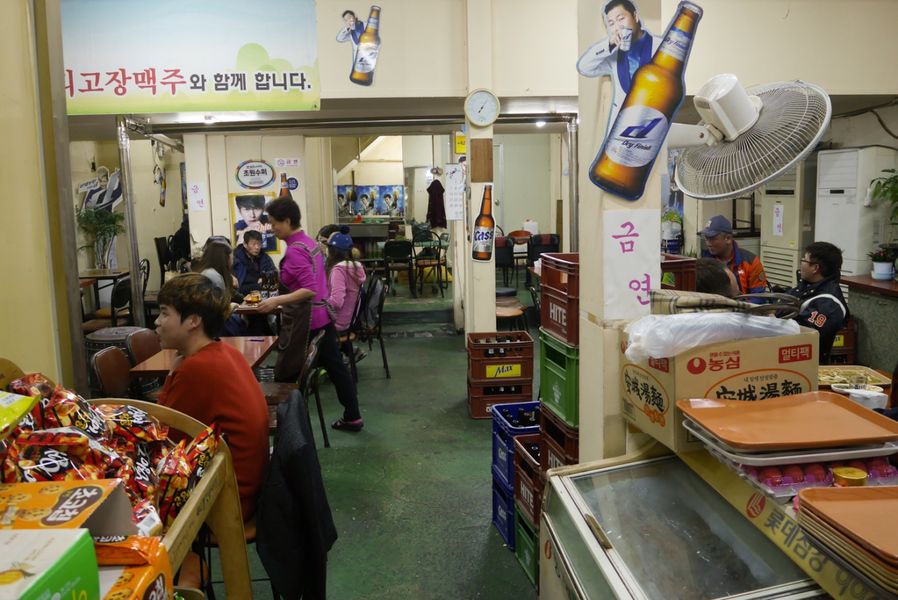 Customers came inside without hesitation, took snacks while drinking beer, opened another bottle of beer from the refrigerator and made themselves at home. I felt like it's heaven on earth where you could drink a bottle of beer with dried Pollack for 15,000 won.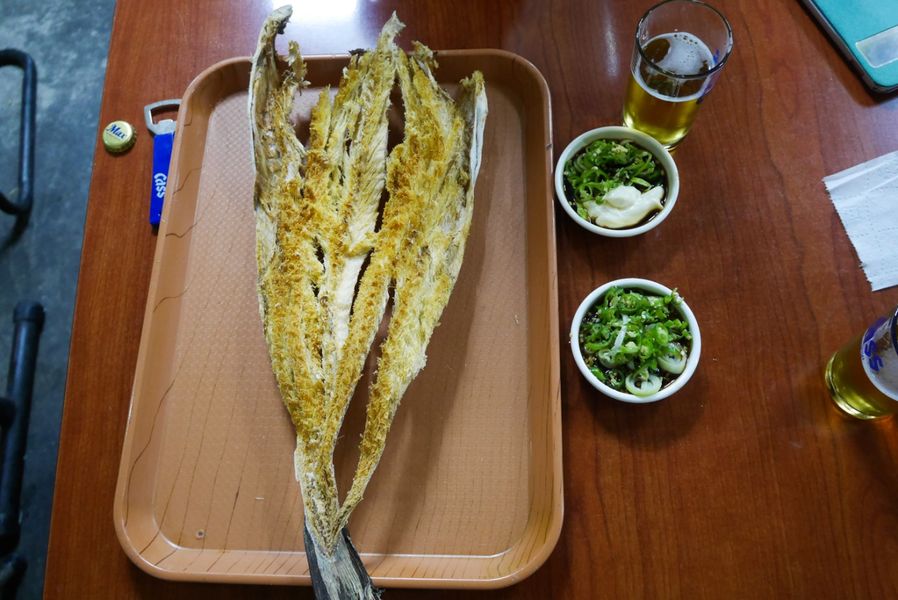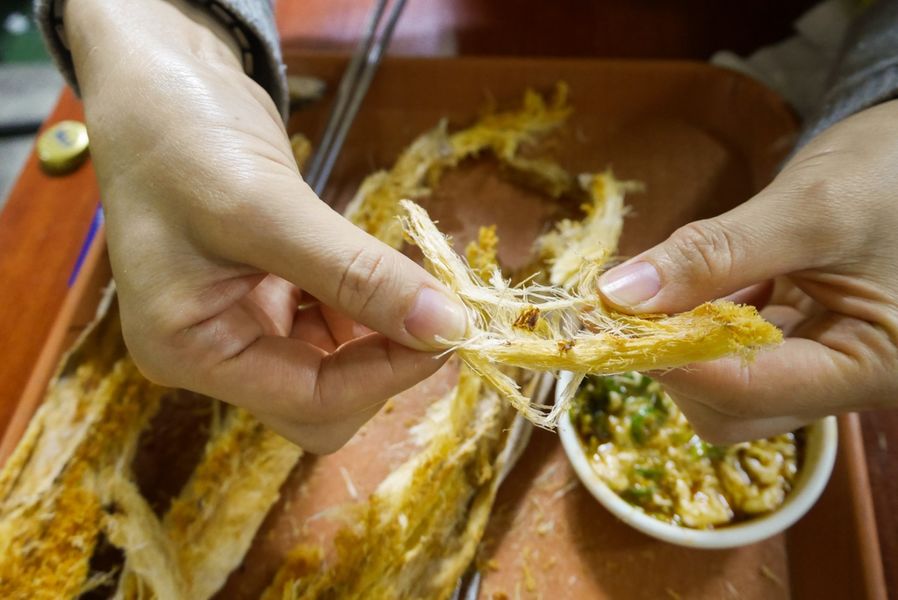 I still cannot forget the unique taste of soft Hwangtae gui(grilled dried Pollack) that comes untied like threads when the old lady who owns the restaurant beat it with a hammer all day.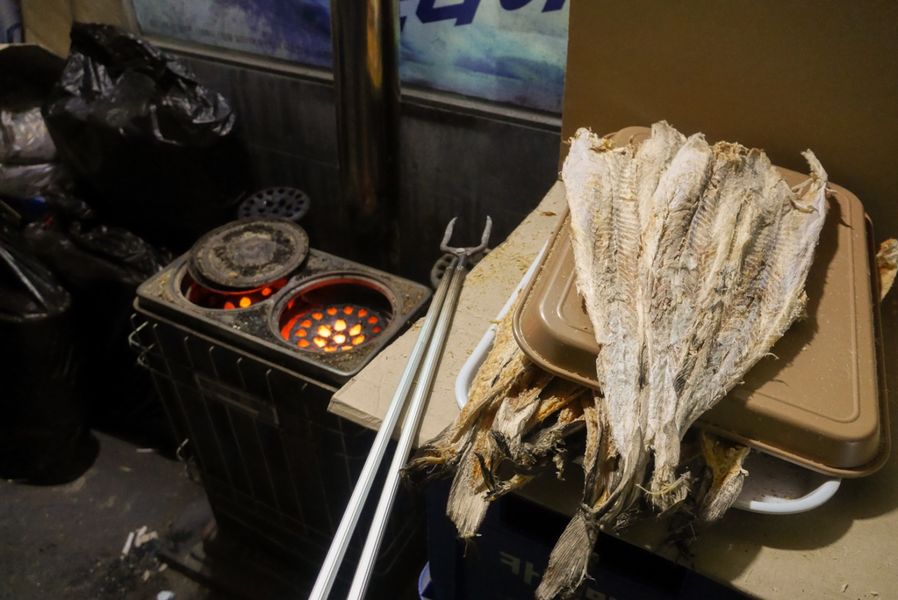 The more surprising thing was that they fried it with bottom of burning coal briquette after I had ordered.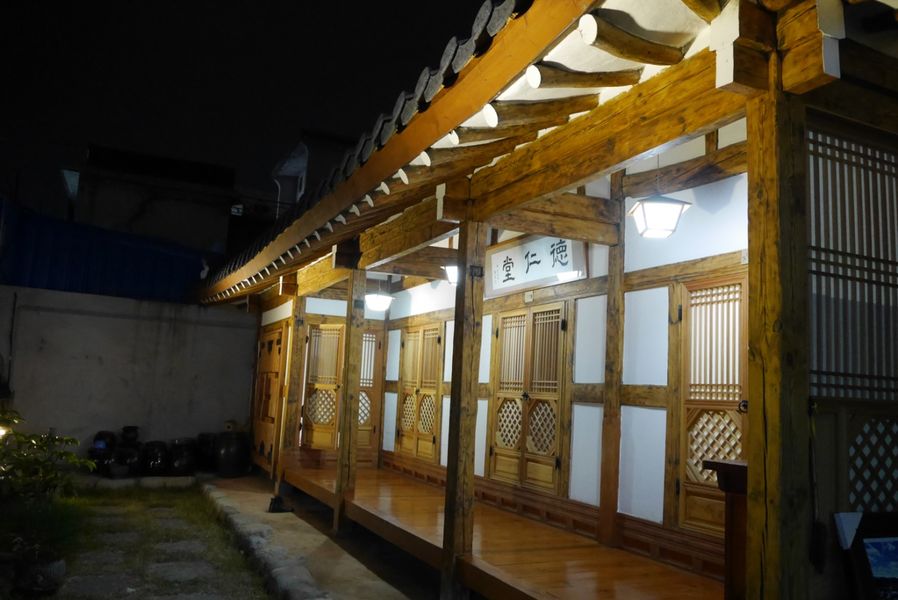 As I returned to homestay house, I could see that they put more attention to night lighting in Deokindang. The picture looks more romantic than you see for real.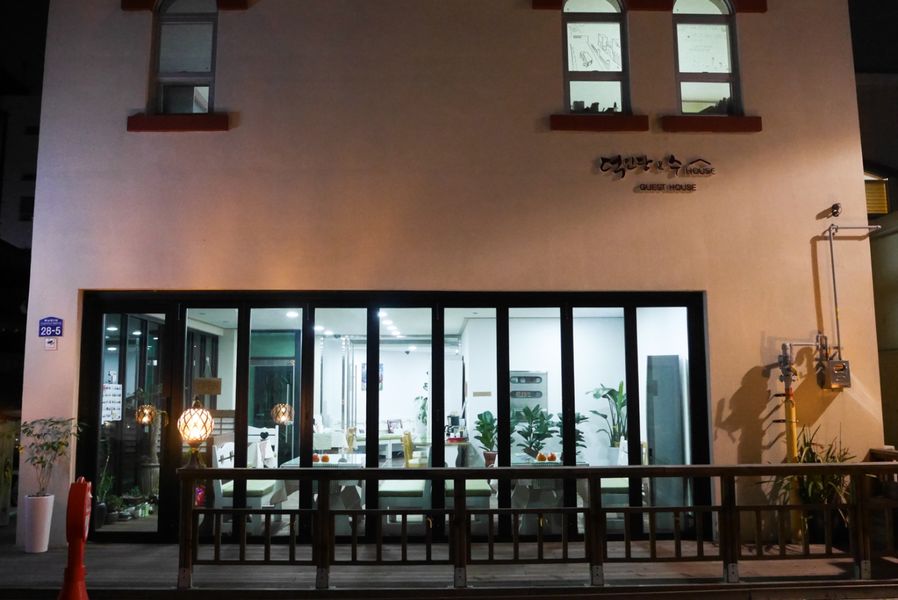 Deokindang is Hanok house where families tend to use but I saw young people probably in their 20s were staying in another homestay house next to Deokindang named 'Su' because it provides you with a room with a bed.

Poongnyon Bakery 풍년제과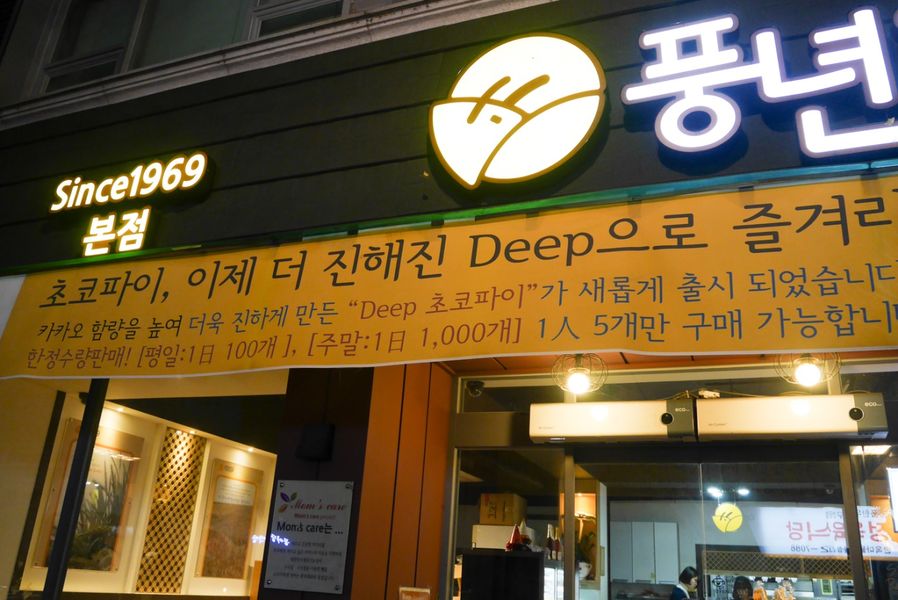 If Gunsan has Yiseongdang Bbangjib (bakery) and Daejeon has Seongmidang, Jeonju has Pungnyeonjegwa. The special menu here is the famous chocolate pie. The breads baked here are made following the bake-and-sell-in-one-day rule and the ones that are not sold each day are donated to the orphanage. I guess we shouldn't buy all of them. haha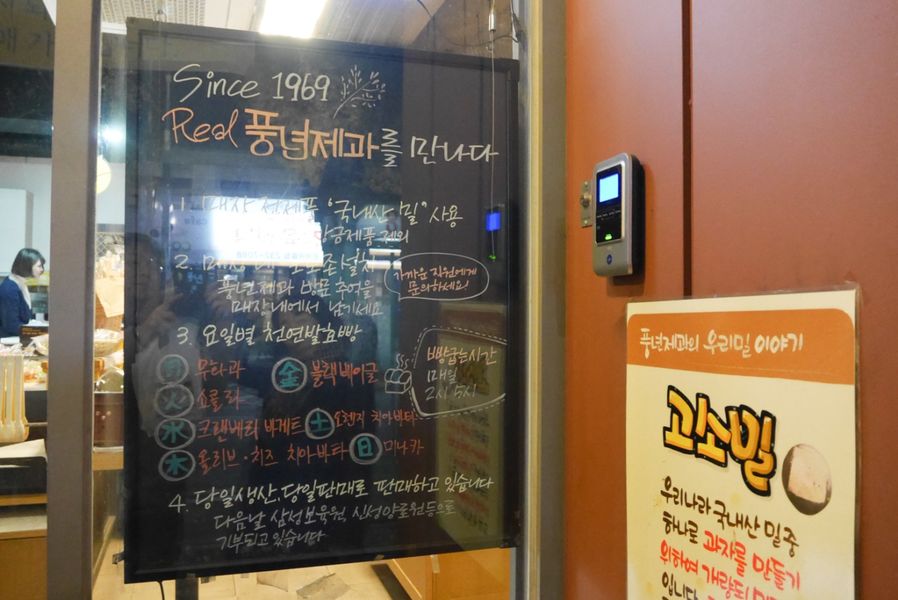 I bought some bread, snacks and chocolate pie at Pungnyeonjegwa. All of them are made of wheat from Korea, and I believe they taste good not to mention they are healthy food since all ingredients (peanuts, jam, etc) are from Korea.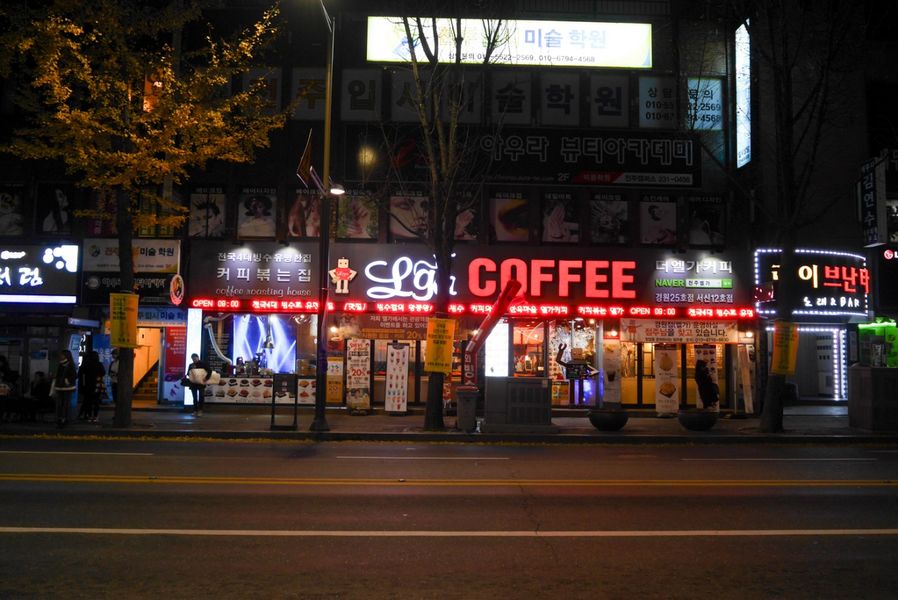 Next to the main shop of Pungnyeonjegwa, there was a coffee shop that gives you impression that they roast coffee with their pride. If you give them a receipt that you got from Pungnyeonjegwa, they will give you a 20% discount so you could buy coffee bean cheap.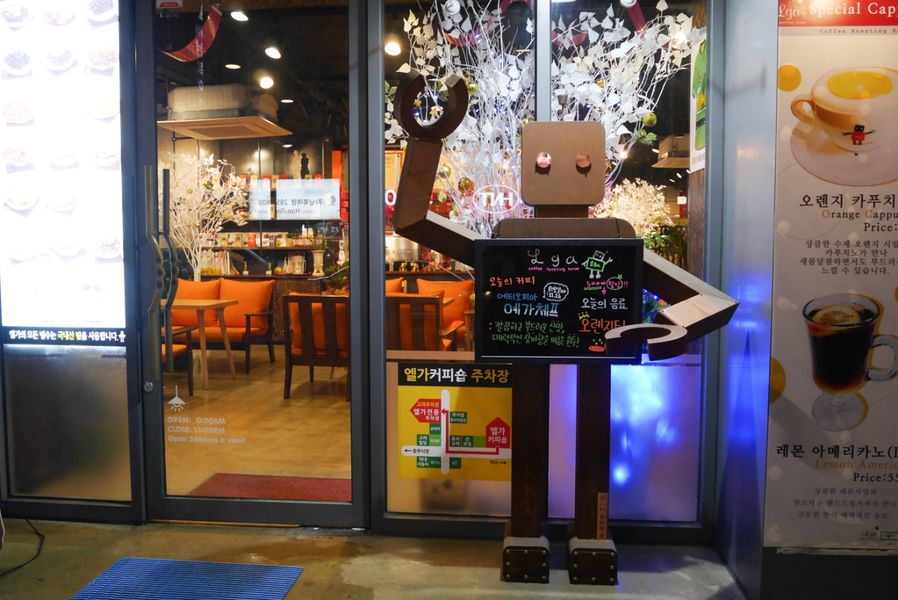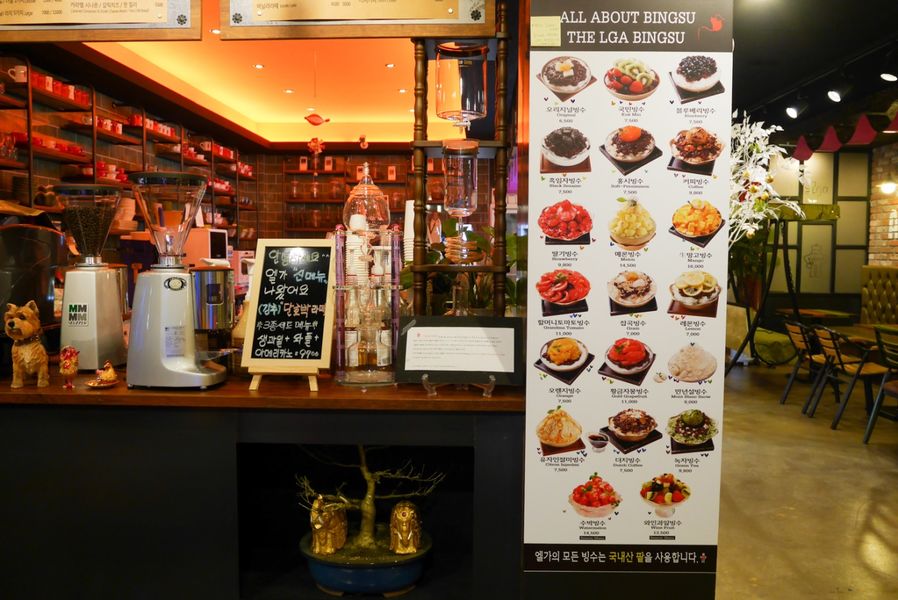 They serve various kinds of bingsu and they all look attractive that I would like to taste all of them.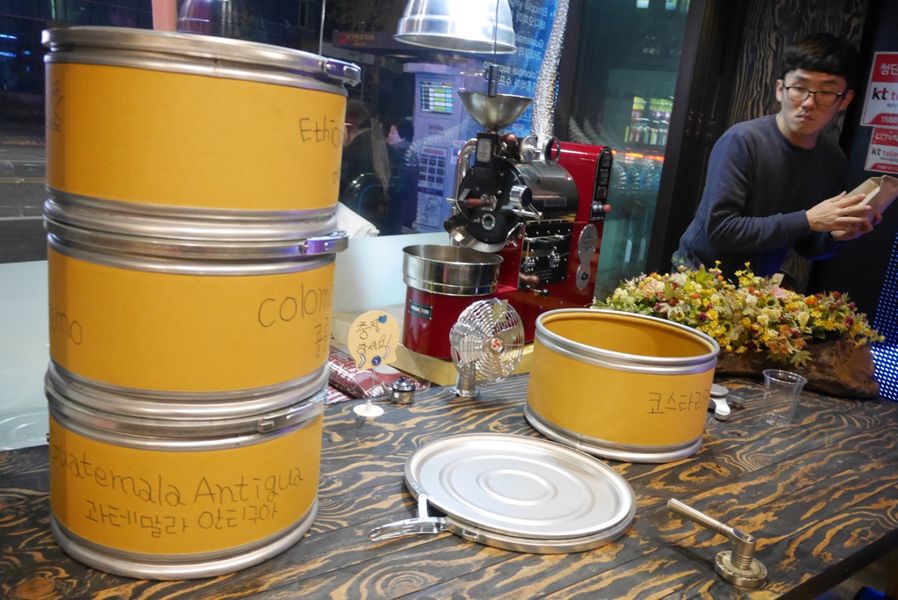 In order to pack 200g of coffee bean, they removed the sealed package and packed it with extra coffee bean again.



Address : 125-8 Jeon-dongWansan-gu, Jeonju, Jeollabuk-do (전라북도 전주시 완산구 전동 125-8)
Deokjin Park 덕진공원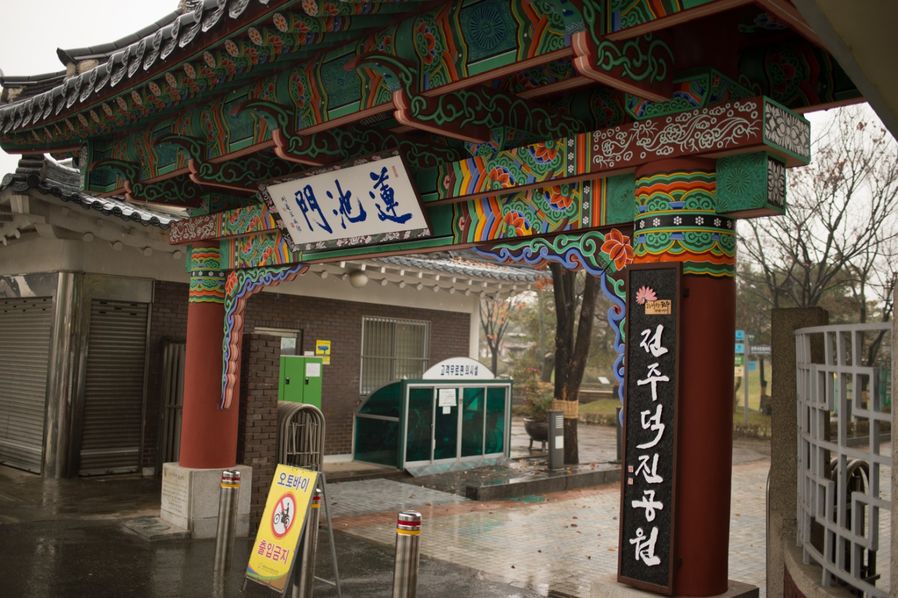 Deokjin Park becomes the most beautiful park in the world when the lotuses are blooming in full in August. It's a park built around Deokjin Lake and on the right side of the bridge that is traversing the lake, there are lotus stems bent that look like they are missing their glamorous prosperity in the past.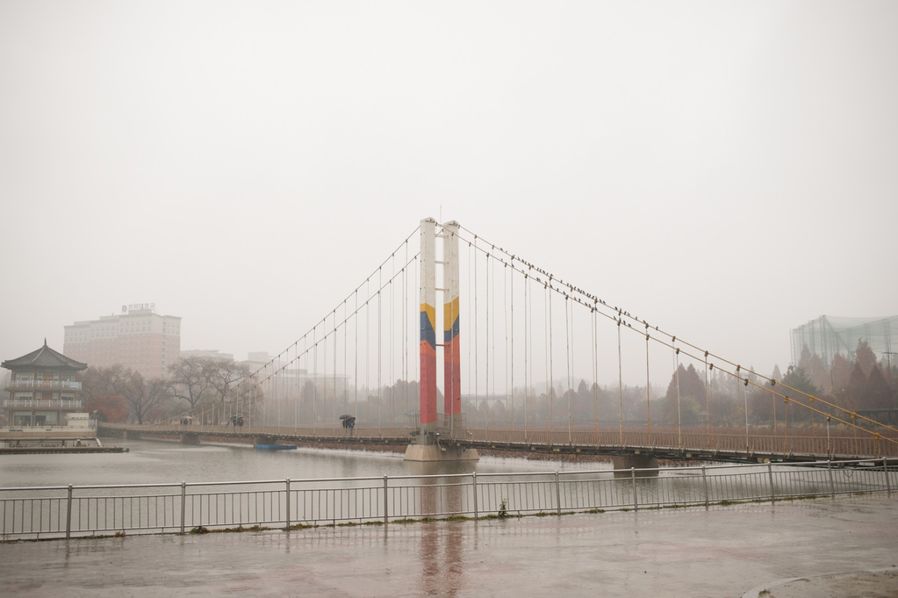 On the steel rope on the bridge, there were birds sitting in line that remind me of Hitchcock's movie, The Birds. I started to cross the bridge wondering the reason they were not looking for eaves even when it was raining in cold winter.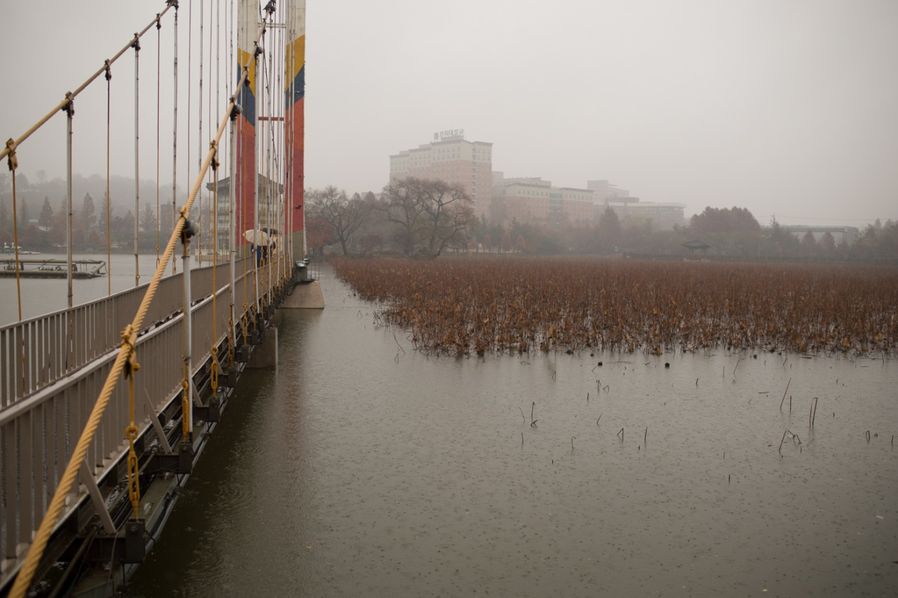 If you search for good courses for a date in Jeonju on the search server, Naver, one of things that pop up is this duck boat on Deokjinho (lake) so this amusement park is very popular. It says it costs 10,000 won for one hour.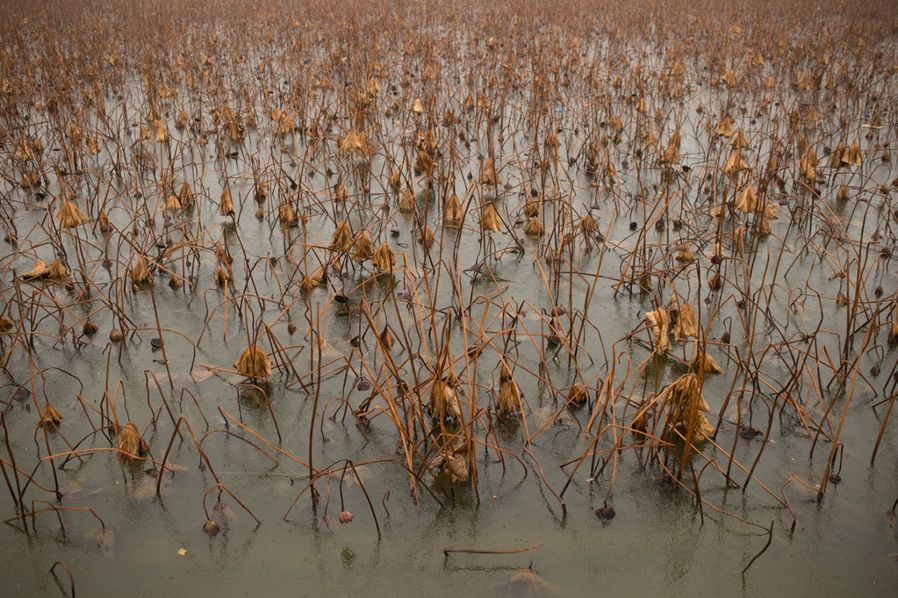 Although this bending lotus stem is a perennial plant, it makes me stay in solemnity.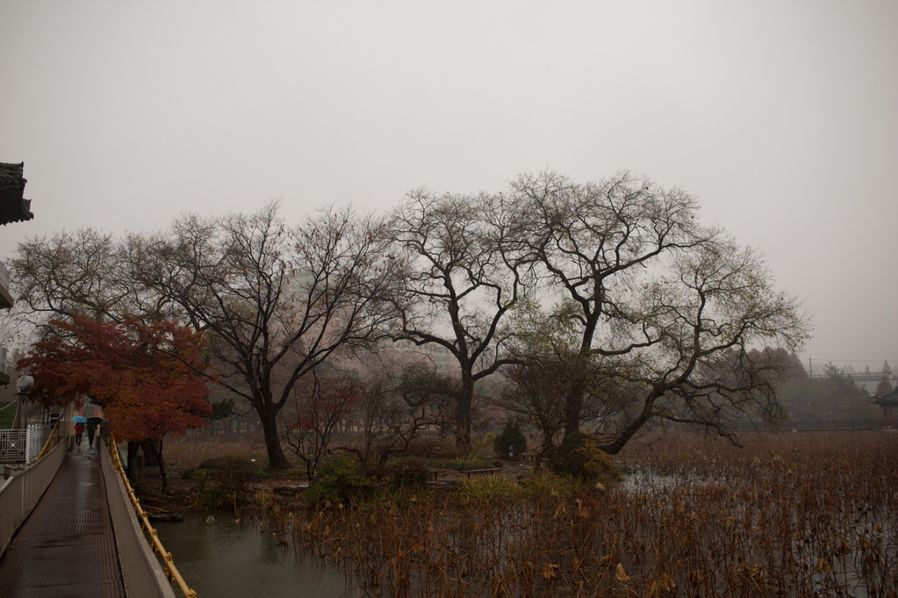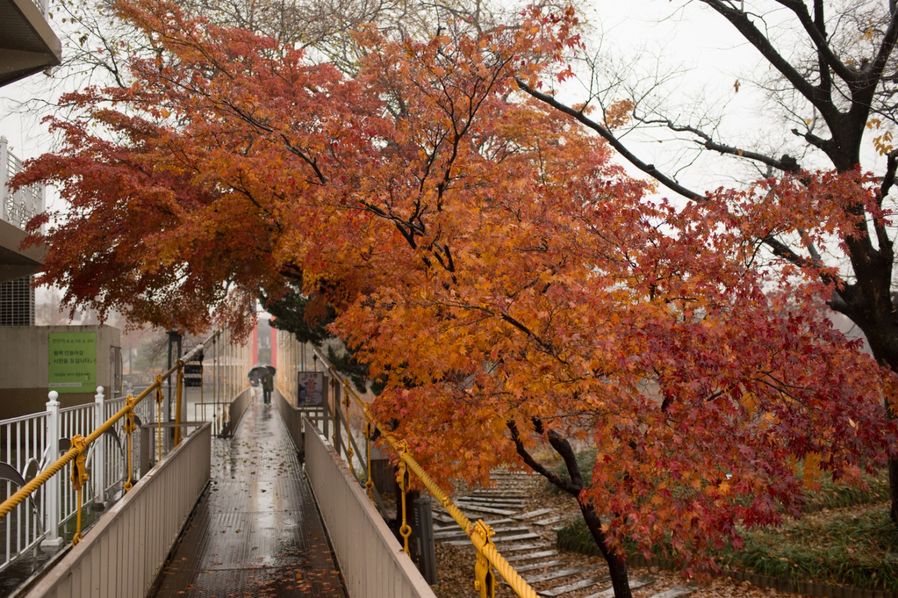 I saw these broadleaf trees in the middle of the bridge. I could imagine how great it would look with autumn leaves everywhere.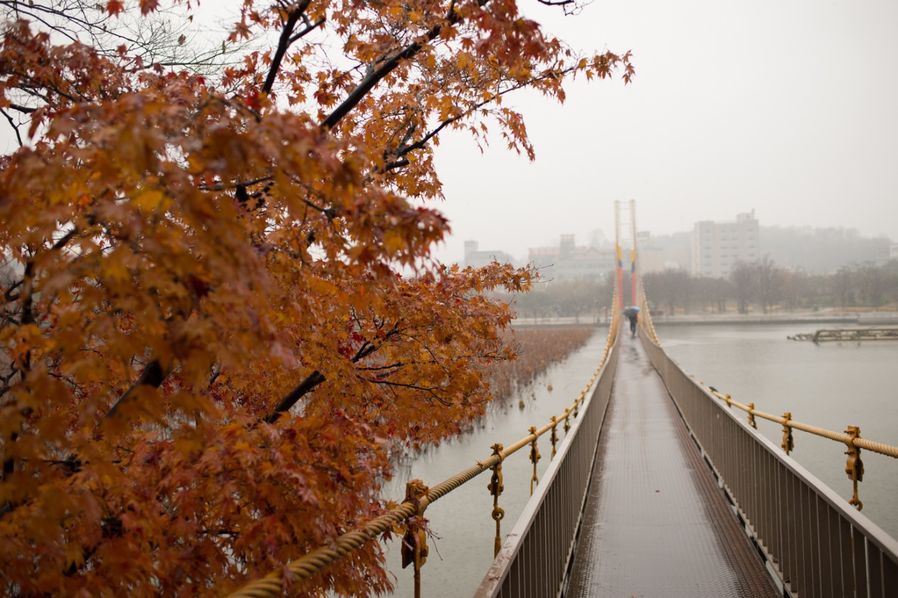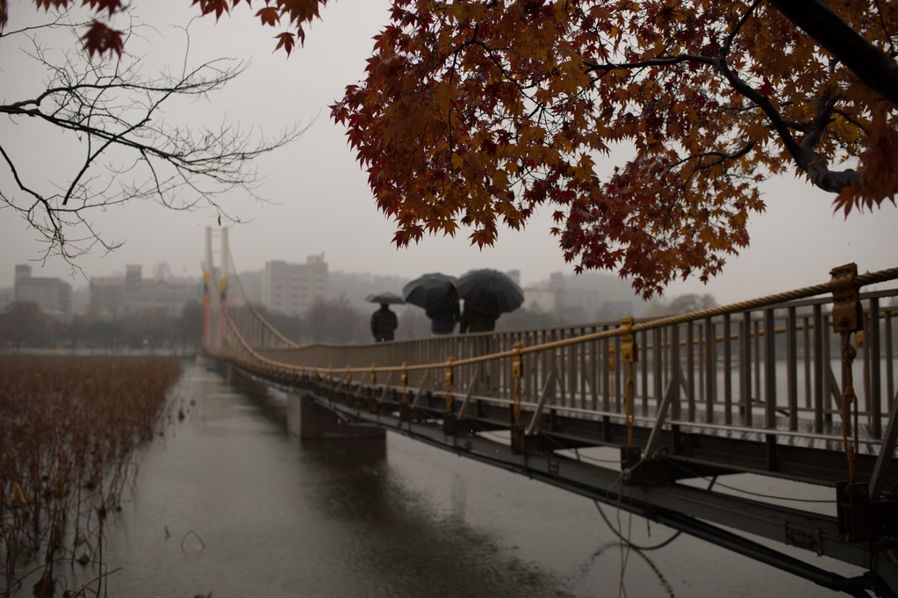 Boys from high school crossed the bridge by one or two and gathered in some place across the bridge. It seemed like they were gathering for outside activities from school on Monday morning but it would be difficult because of rain. I had been watching it but the students who had arrived earlier than the others had to wait at least 30 minutes. Teachers normally ask their students to gather by 9 and check the attendance at 10. haha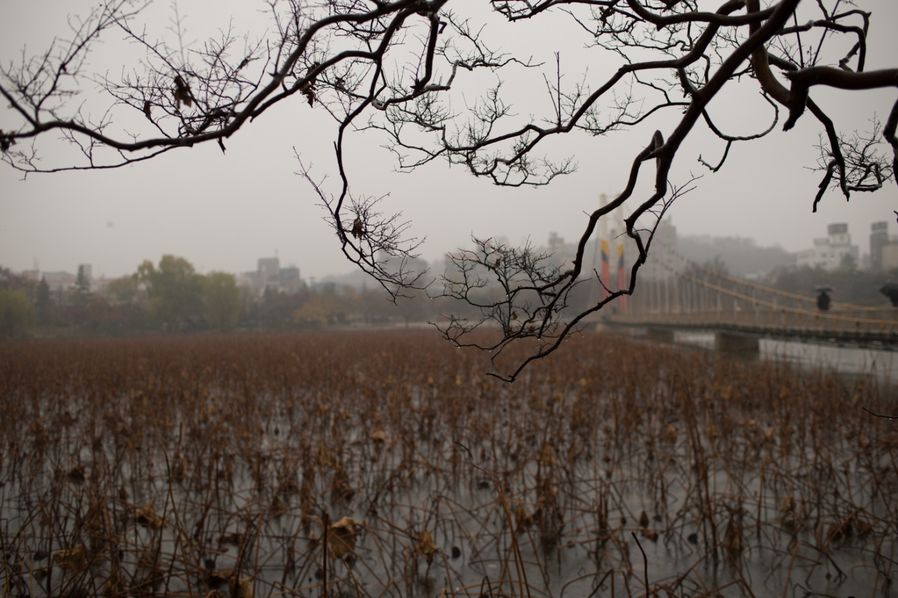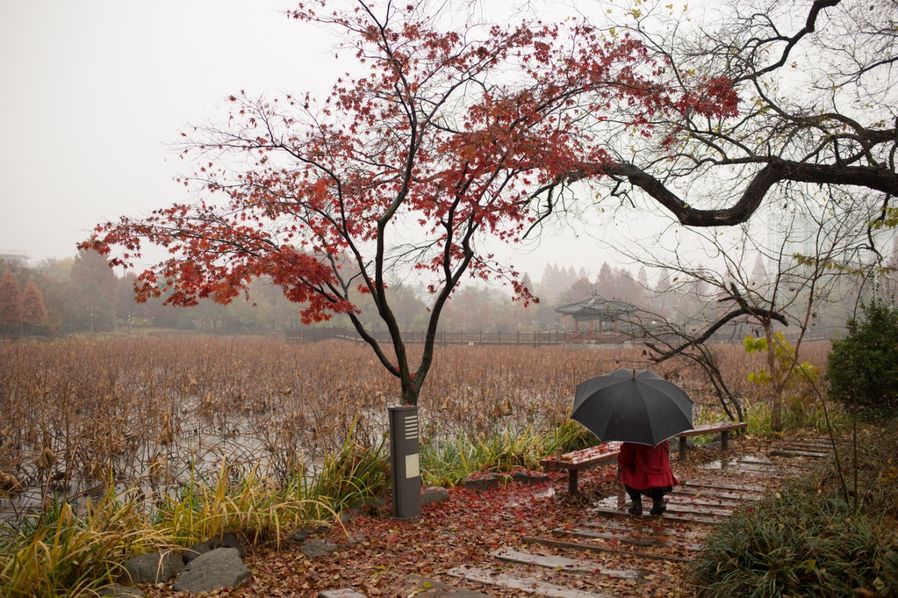 There is a place like an island in the middle of the lake where you could watch lotus closer. It was raining but I could feel the quiet atmosphere in the late autumn.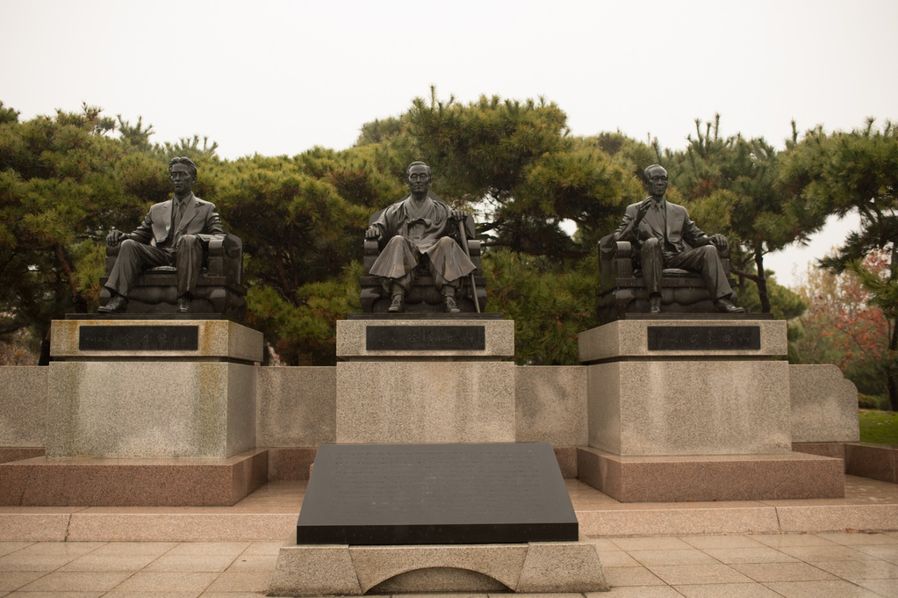 I could see bronze statue (seated statue) of three people sitting side by side in one corner of Deokjin Park in Jeonju downtown. This statue was built in November, 1999 in order to pay a tribute to the deeds of great 3 judicial officers from Jeonbuk and they are called Beopjo-3-seong (聖), which means 3 saints in judicial circles.

Three great judicial officers are Gim Kim Byeong-ro who used to be the first Chief Justice of the Supreme Court (Sunchang, Jeonbuk), Kim Hong-seop (Gimje, Jeonbuk) who used to be called apostle (使徒) judge, and the former Seoul Supreme Prosecutor General, Choi Dae-gyo (Iksan, Jeonbuk), who used to be known as conscience of the prosecutor. It's rare for judicial officer to receive Order of Merit for National Foundation but Gain received one for his pro bono services defending people who fought for independence under Japanese Imperialism, and the Judge Kim is known that he practiced love for human beings in the trial who returned to Catholicism. The last one is Choi Dae-gyo (崔大敎1901~1992), Supreme Prosecutor General. He is the symbol of prosecutor who's straight as an arrow in legal circles.



Address : Deokjindong 2(i)-gaDeokjin-gu, Jeonju-si, Jeollabuk-do (전라북도 전주시 덕진구 진동2가 1914-4)


Jeonju is usually regarded as the hometown of tasty food to Koreans. I remember it's only 5 or 6 years ago when Jeonju was known for bibimbap and south market style Kongnamul-gukbap so that to see how Jeonju Hanok Town has changed was quite a surprise for me. It resolutely overcame the past trend that used to seriously watch historical relics and it now attracts family tourists and tons of new people by providing new street foods, various activities and friendly & high quality Hanok homestay services. New textbook that fairly and squarely announces what kinds of changes are needed for local tourists is being written in this old city, Jeonju.