GaCheon terraced paddy field
Spring of Gyungnam NamHae

Wouldn't the word NamHae be the next butterfly filling word after Jeju for Koreans? But since it is a region that is 380km away from Seoul and needs to be travelled for 5 hours by car, it sure is farther than Jeju Island.
When would be the best time to visit this distant place? It is beautiful at all seasons but in NamHae, blooming pink cherry blossoms on late March or early April alerts the start of spring. In mid April, yellow rape blossoms alerts the end of spring.
NamHae was still an island before when the bridge that connects HaDong and NamHae called NamHaeDaeGyo Bridge was built on 1973. It was a symbolic representation of public works and numerous Koreans felt self-esteem and were proud just by looking at it.
In 2003, a bridge that connects NamHae and SaCheonSi named ChangSeon SamCheonPo Bridge was completed making the traffic smoother and further resulted tourists to visit the place.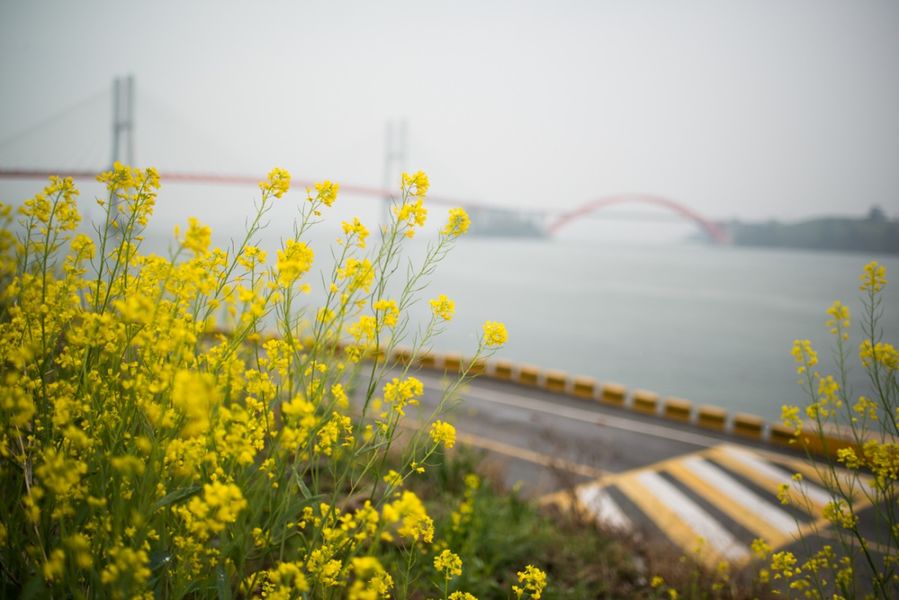 Before crossing the ChangSeon SamCheonPo Bridge, the rape flowers welcomed us. We could not hide our excitement because we never imagined to witness thousands and thousands of rape flowers which are very rare to see in Seoul.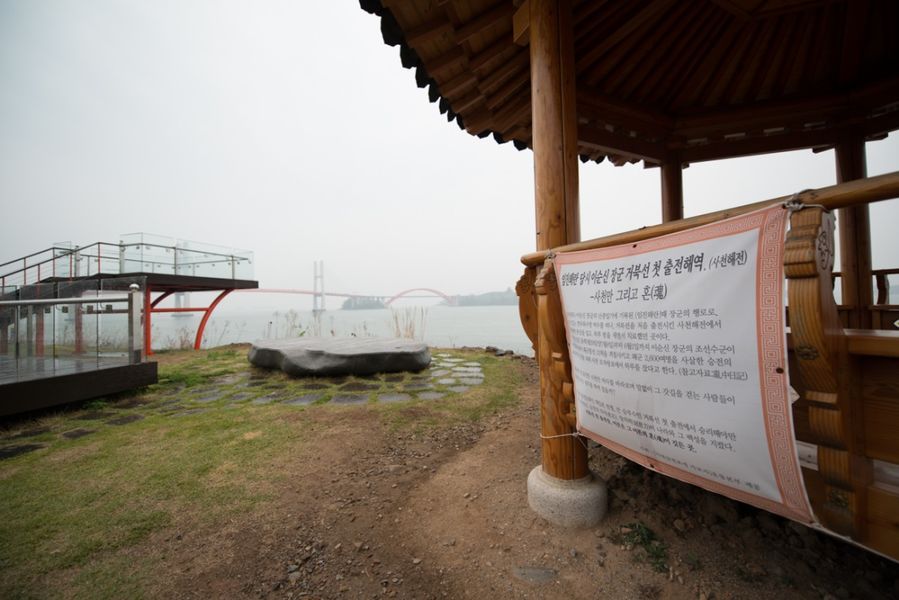 Baegane anchovy Ssambap house 배가네 멸치쌈밥집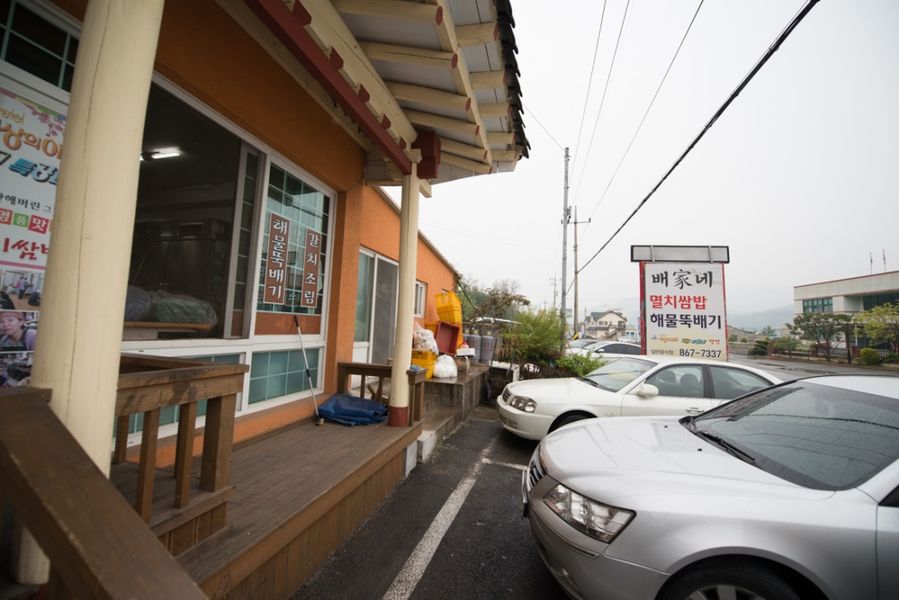 Having departed Seoul at 6:45 am, it was noon when we arrived here in NamHae. The place where we went with the help of internet search engines was Vega's anchovy house.
To pick some menu which are a must try during spring are the following: anchovy Ssambap and anchovy sashimi, flounder Ssukkuk, and Cold sashimi soup.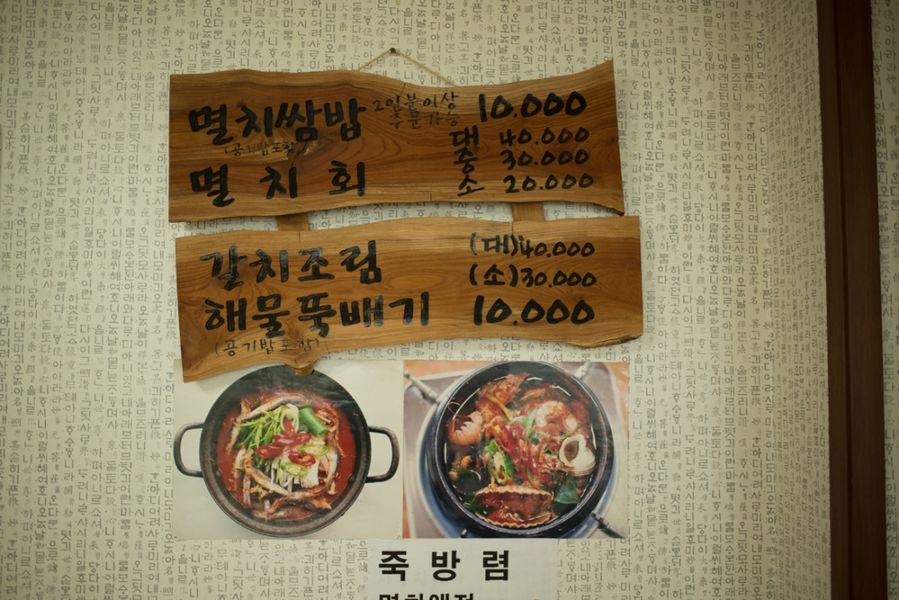 The anchovy Ssambap which costs 10000 won per serving was only allotted for two or more orders so we did. And for the anchovy sashimi, we ordered a small one(20000 won).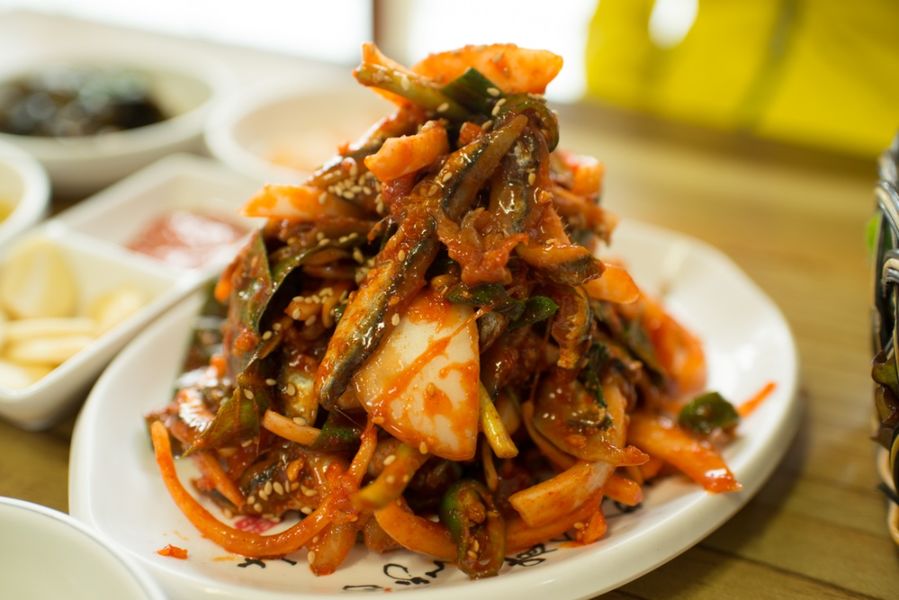 Anchovy sashimi is a combination of vegetables and fresh anchovies caught in JungBangRyum prepared into sashimi like how spicy raw fish salad is made.
Anchovy Ssambap is cooked with bones like how braid fish is prepared. The anchovy sashimi was very appetizing indeed not only because the taste was sweet and sour but also the anchovy was in its freshest state.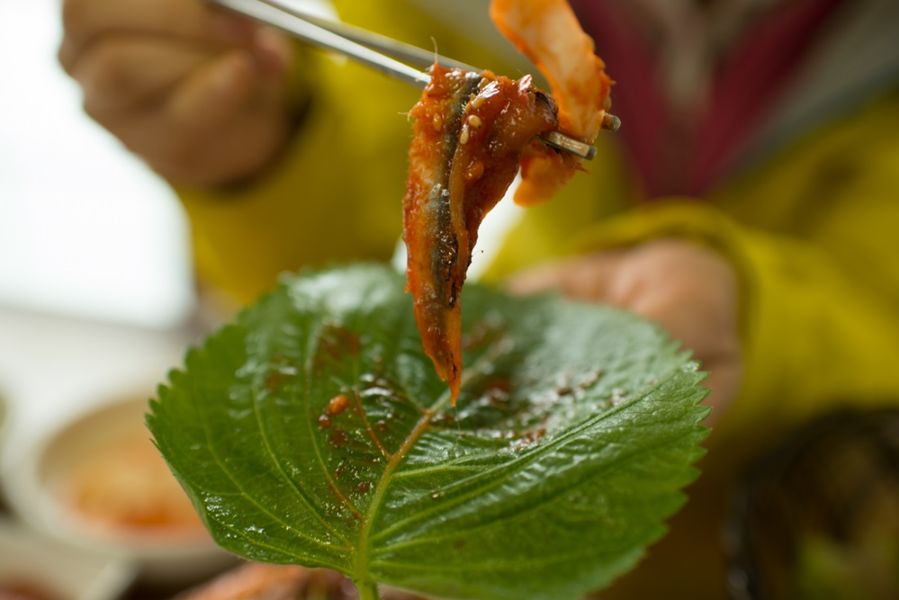 But for the anchovy Ssambap, we thought that the hard bones may make customers to lose appetite if not appropriately cooked which will leave a fishy stench.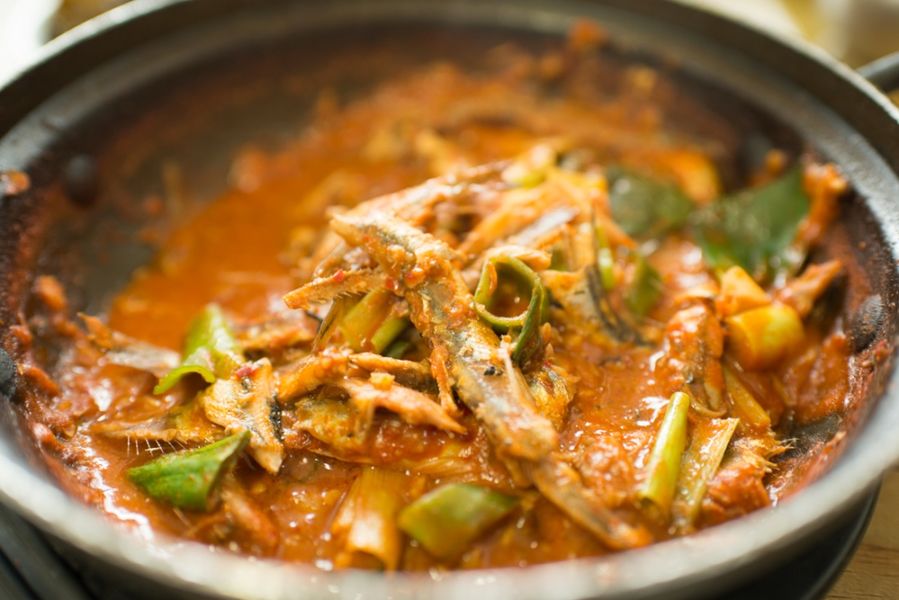 We concluded that Vega's anchovy Ssambap house rather did a well planned marketing that to be a specialty restaurant.
Going into any restaurants after crossing the SamCheonPo Bridge will assure you a taste like Vega's Ssambap house. The best way to know more is ofcourse to ask the locals who reside there.
Address: GyungSanNamDo NamHaeGoon SamDongMyun GeumSongRi 1400-1 (경상남도 남해군 삼동면 금송리 1400-1)
German City 독일마을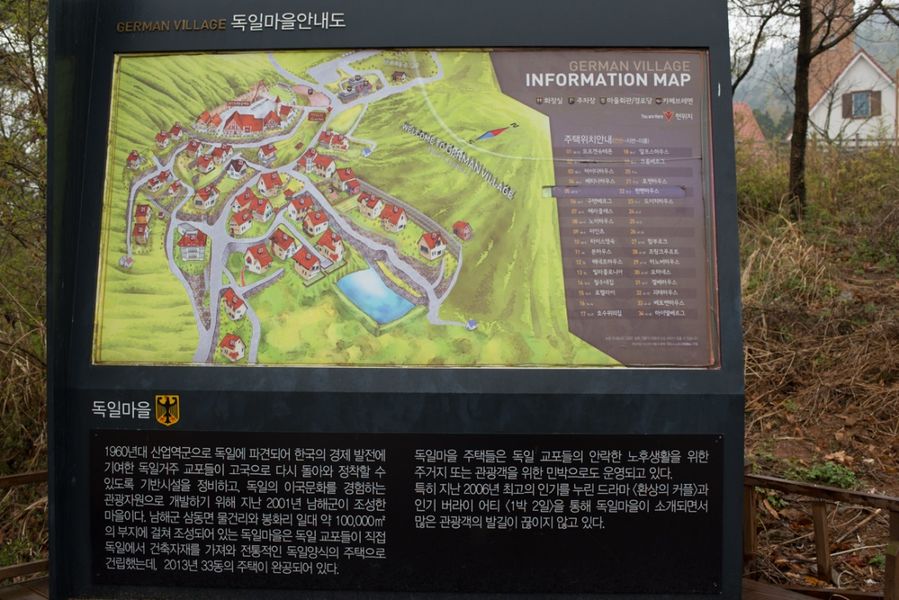 On our way to NamMyeon after lunch, we spotted German city along the coastline. It is a site where overseas Koreans returned from helping the economic growth of Korea in 1960 when they were dispatched in Germany.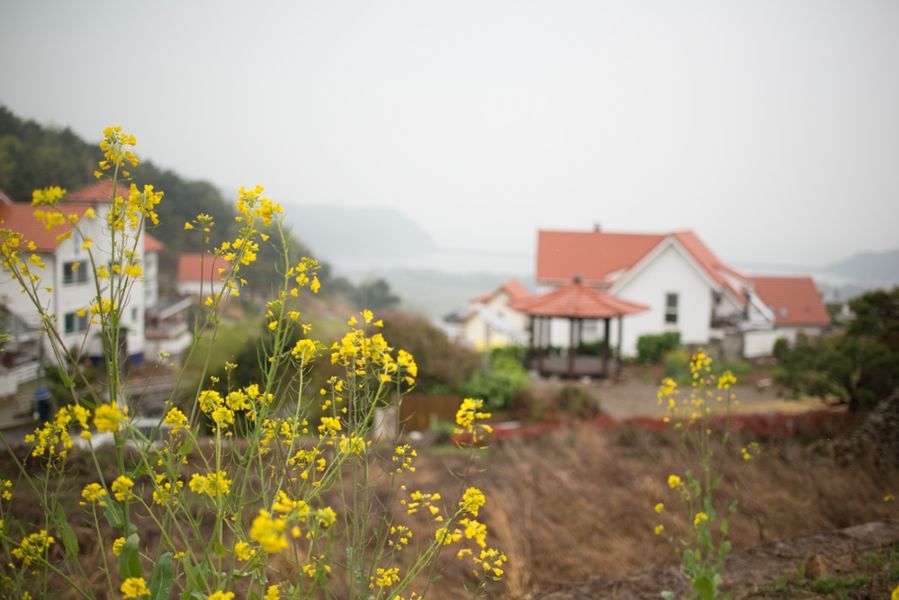 Germany styled houses were mainly for tourists. They were used as a home stay facility and the heartily gardened landscapes were really gorgeous also giving an exotic impression. We thought that staying in this place will present you amazing memories to keep.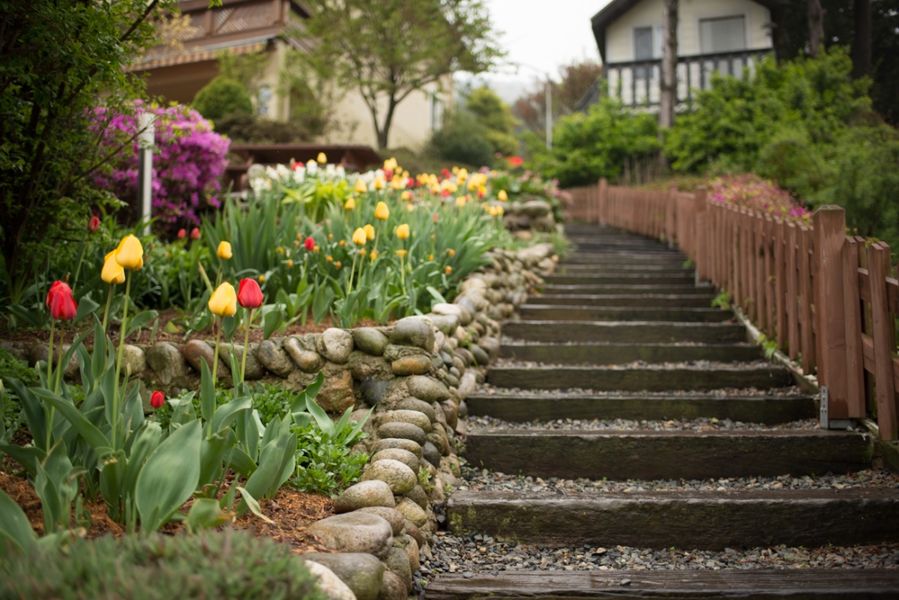 In a home stay garden with delightful tulips and Naccissus, we could truly sense at one sight how passionately the owner raised the flowers.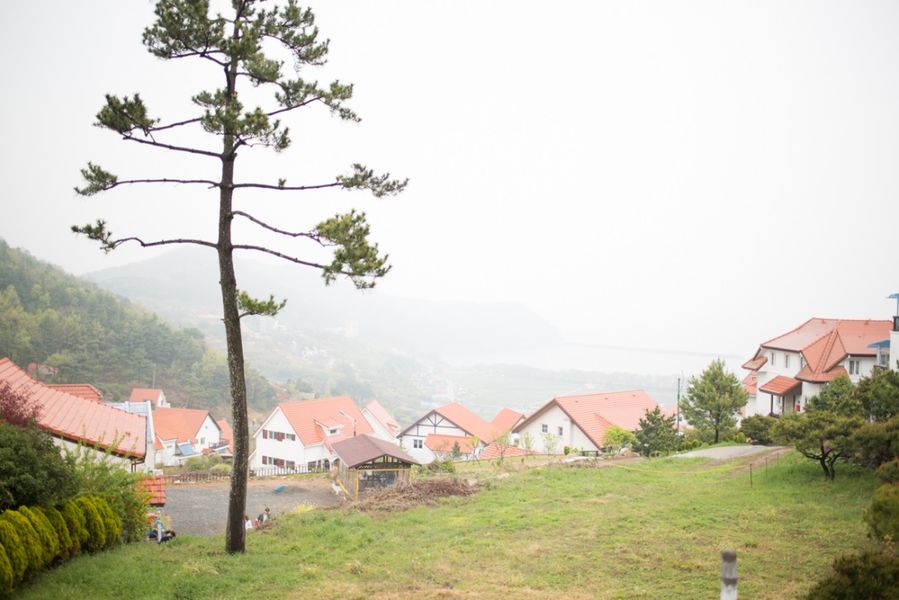 Far down, there are villages where you can enjoy the spectacular scenery of Namhae since it is built on a valley. What we could say about the over inclined roof is that it is structured just like the ones in Germany.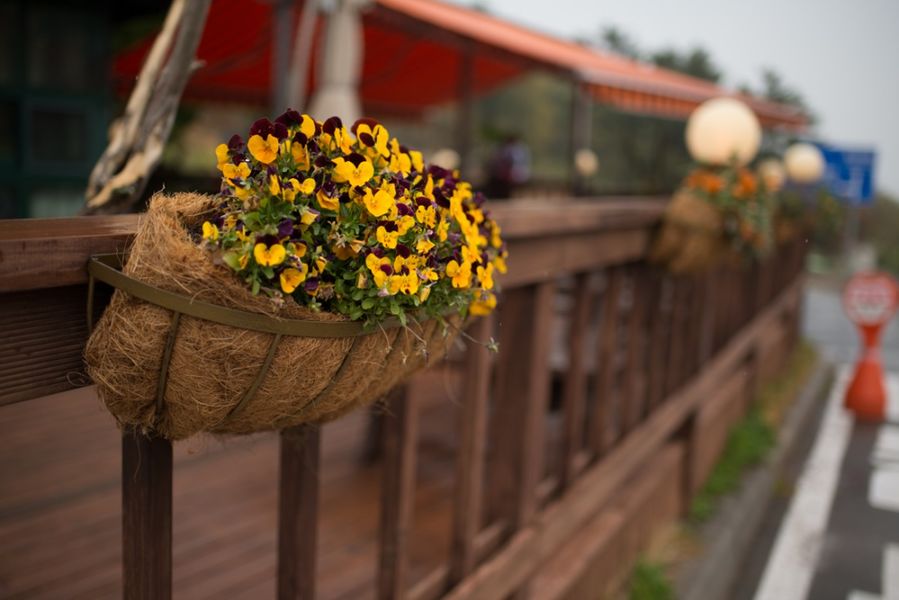 Address: GyungSanNamDo NamHaeGoon SamDongMyun MulGeon-Ri 1074-2 (경상남도 남해군 삼동면 물건리 1074-2)
Homepage : http://xn--q20b22d63gstp7hax35e.com
Mulgeon Bangjo Eoburim natural forest 물건방조어부림
It is a place where there are millions of dense trees standing by the coast which makes you feel as if you are walking in a forest by a coast in the prehistorical times.
Our ancestors probably used and developed these methods to block sea breeze centuries ago. We promised to visit this place again once the skies are bright and blue and turned our way.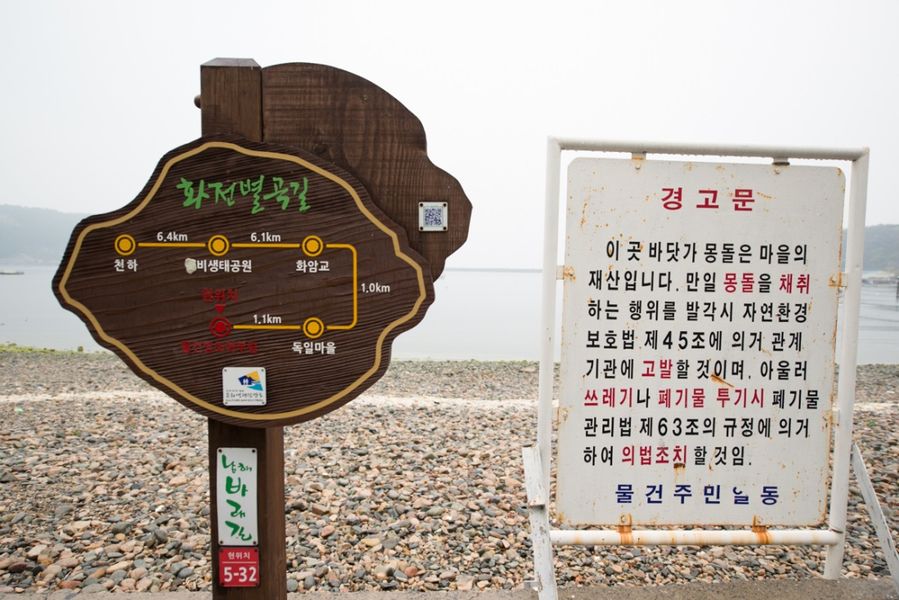 We were able to notice Mongdol instead of sand in the shore. Furthermore, we saw a warning saying that one shall be punished if they try to take them from the shore.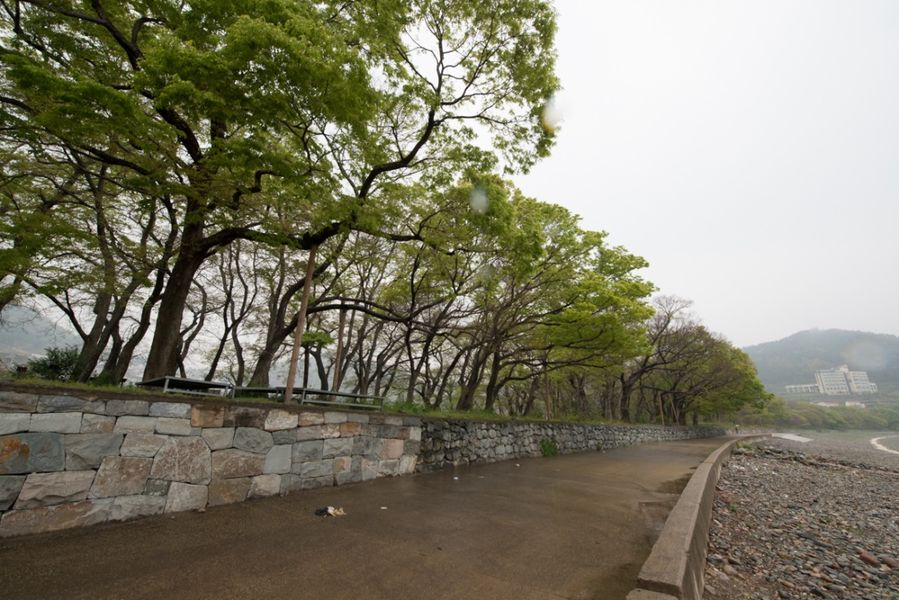 The walking exercise that started from Jeju Olle Route has been encouraging the efforts to look for trails in every village in the whole nation and make them tourist attractions.
This place known as "Hwajeon Byeolgok Gil" provides a well built pathway from German City to a butterfly ecological park.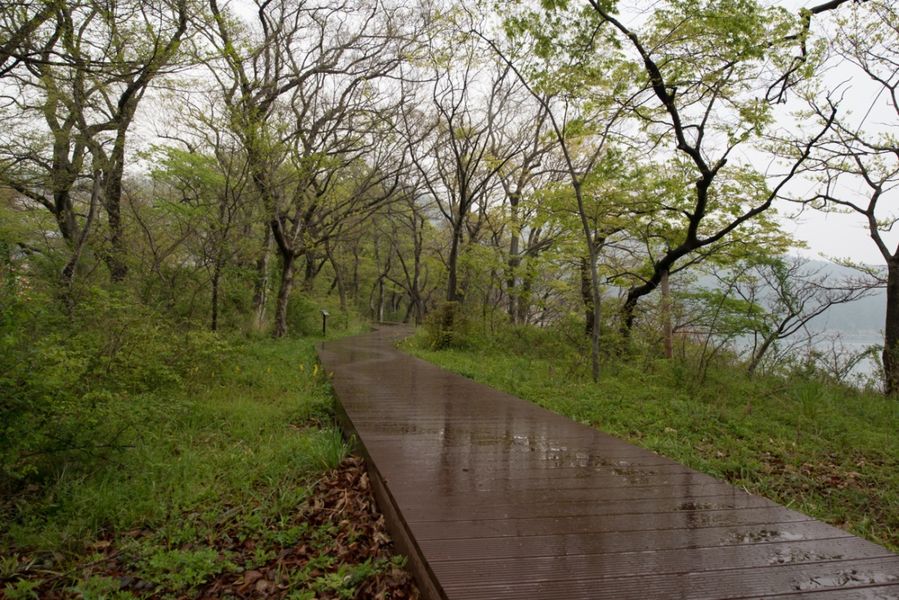 Haebeach Pension 해비치펜션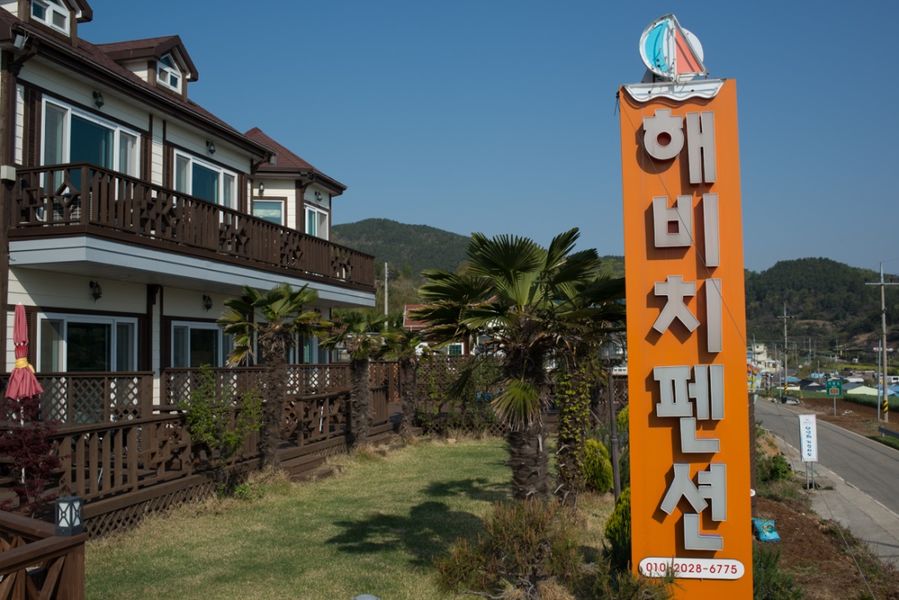 Haebeach Pension is located on the waterfront where you can observe the beautiful sunrise from your room through the window.
Till the end of April, not only they were giving out 50000 won worth of barbeque sets, beef sirloin, and pork neck, but also they gave a 40000 won worth of discount from 150000 won if you visit during the weekdays.
Moreover, we were able to have a nice two days stay with a good deal since they offered a bottle of Italian wine to customers who stays for two or more days. Our overall satisfaction was great seeing that the pension was neat because it was built only three years ago.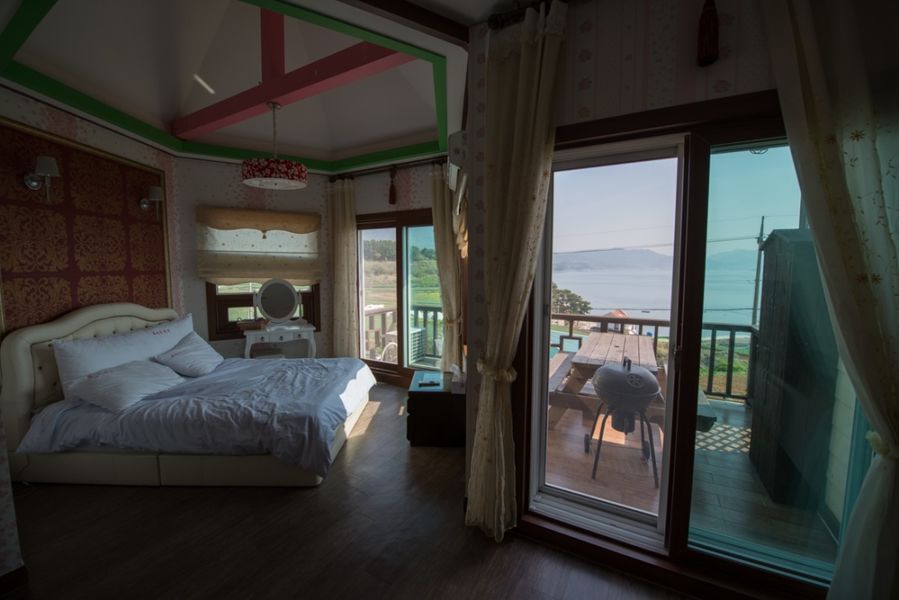 We were able to view the stunning field of rape blossoms when looked through the dimensional designed veranda window.
A lot of people experience back pain as they travel. But for us, we didn't experience any problems regarding back pain caused by bent mattresses since their mattress had some sort of hard surface rather than the soft ones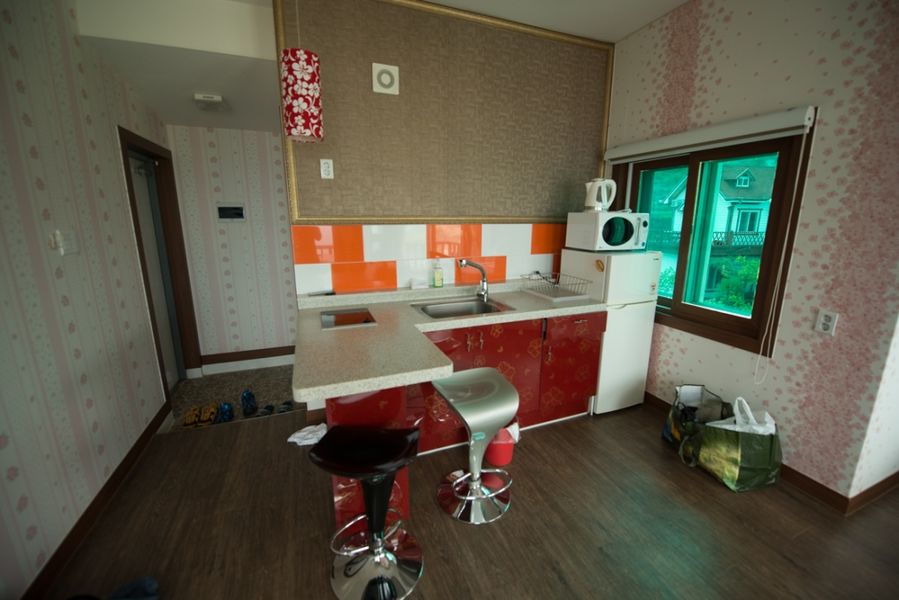 For the kitchen facilities, it was fine for preparing simple food since it had microwave ovens and a ceramic electric stove.
It was too bad that the plates and bowls were made up of plastic. It would have been better if they were made of glass.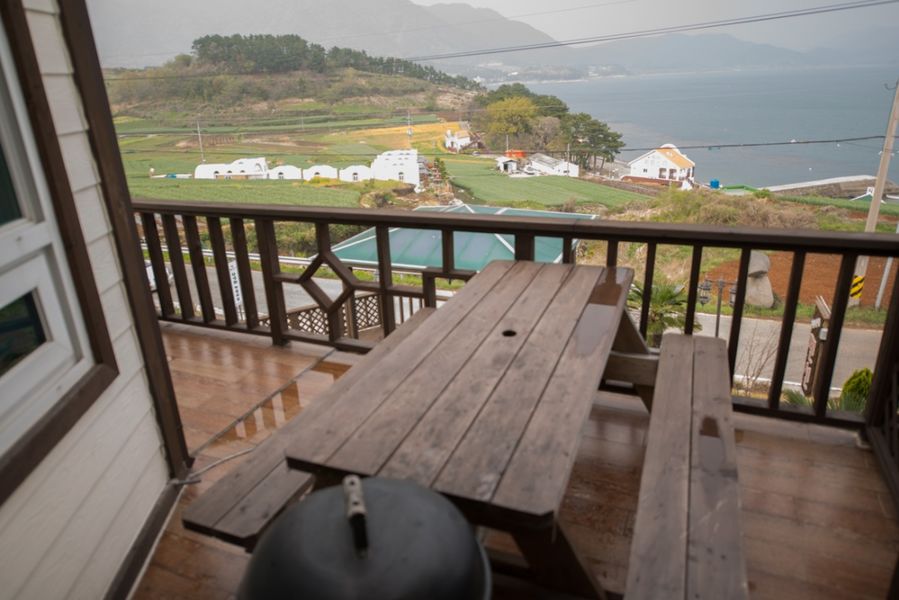 In front of the pension lies a coastal road but when the night begins, you won't be able to hear any noise since there will rarely be any cars till dawn.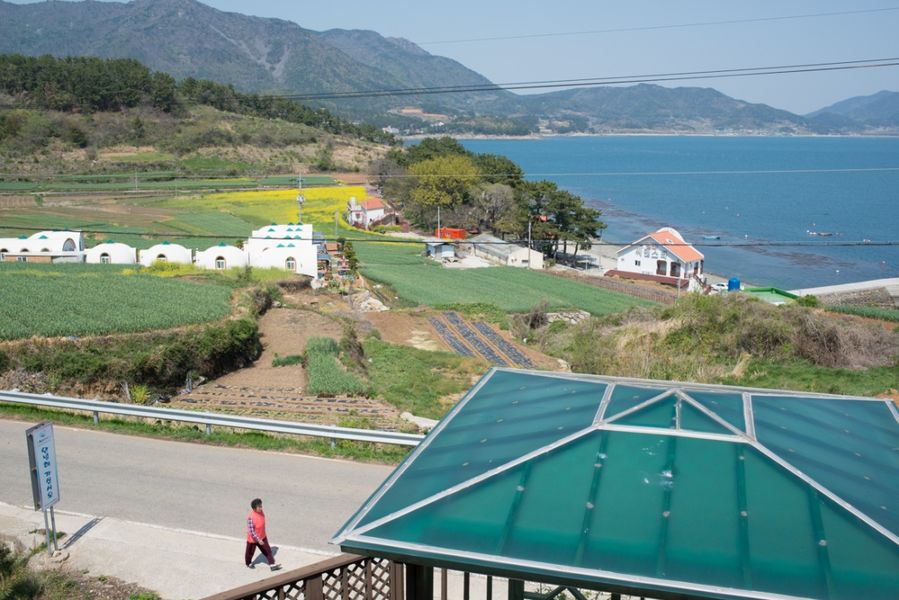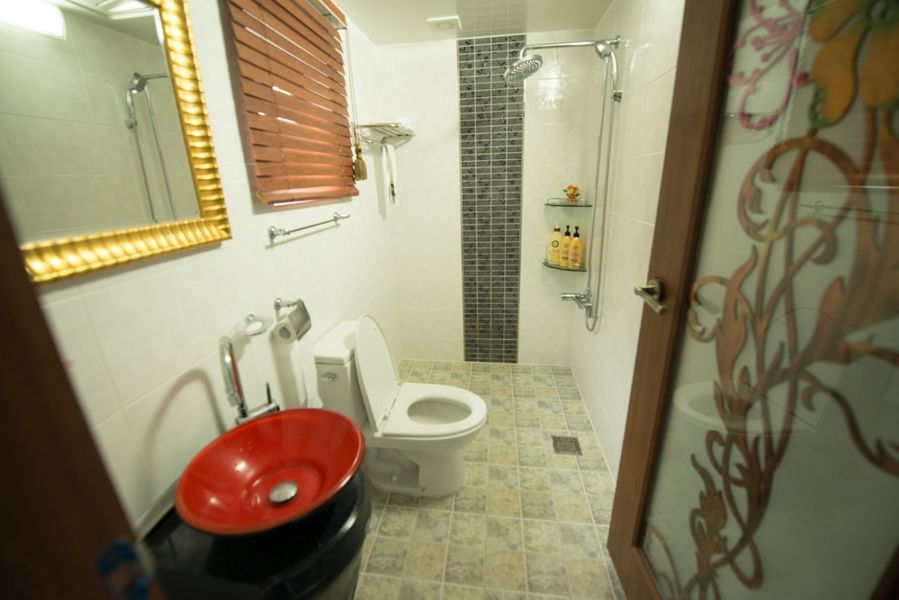 Also, the comfort room of the lodge was also considered as one of the good points. The tidy interior and the facilities were above the standards especially the body shampoo, shampoo, conditioner and the likes.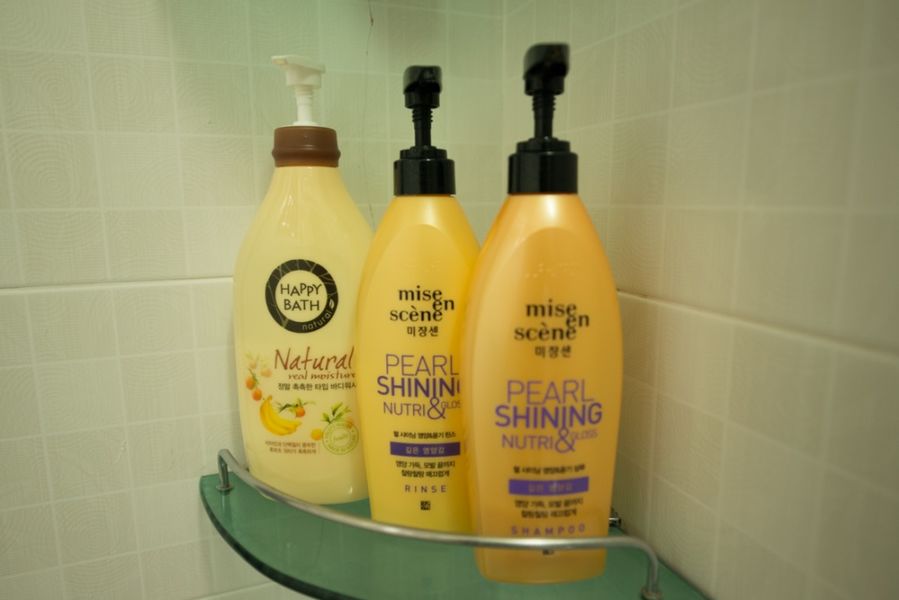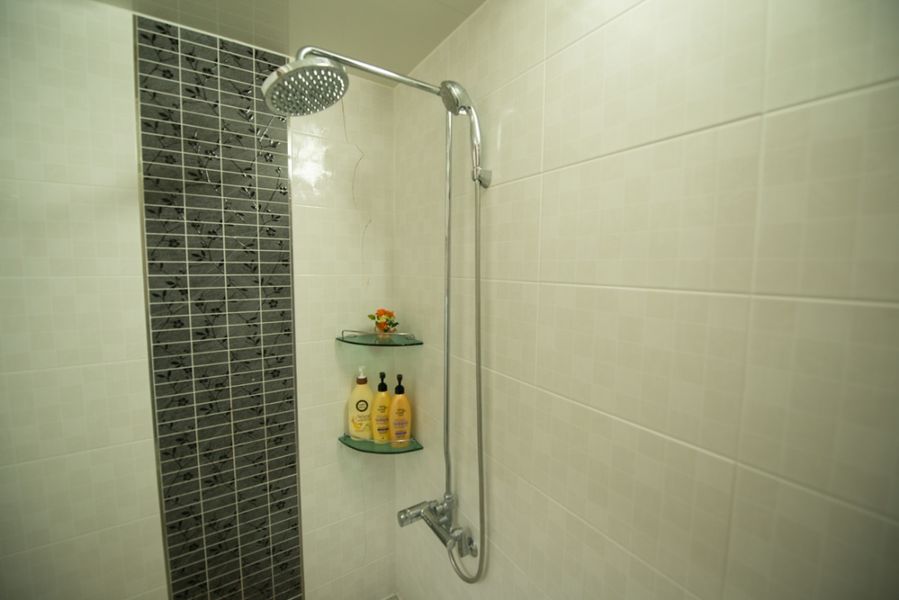 It felt great to take a bath in the pouring rain-like vertically flowing shower.
Adress: NamHaeGoon NamMyun HongHyunRi 396-3 (남해군 남면 홍현리 396-3)

Homepage : http://www.sunbeachps.com