Walking along the Haean-Nurigil(Coastline trail) watching Hansando Island – Amphibious coastal trail


This was not in my original plan but I had to visit there 'cause it looked sooo beautiful from Mireukbuk in Mireuksa Temple. Haean-Nurigil refers to the road with beautiful nature selected by Ministry of Oceans and Fisheries and Korea Maritime Foundation, and amphibious coastal trail in particular is also known as the site of 'Battle of Hansando' during Japanese Invasion of Korea in 1592 where Admiral Yi Sun-sin, Duke of Loyalty and Warfare, took an active role in the battle.

I had to get back because I had a car so I had to go to Samchingyi Bokbawi(rock) and came back. If you walk from the place in the photo below, it's about 2.6km for a round-trip so it takes about 40 minutes.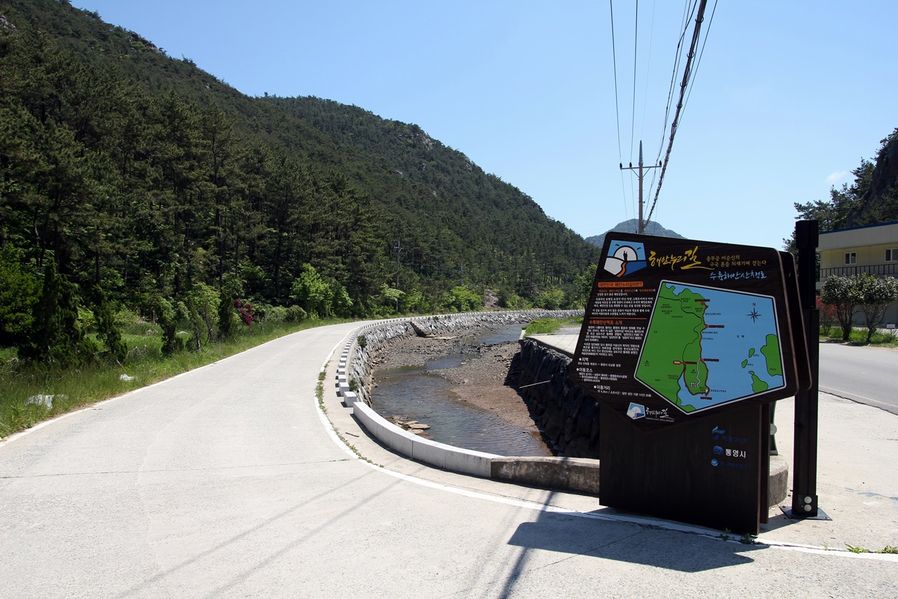 There's an amphibious coastal trail beside a narrow road of 1 lane for each direction. It was a really quiet country road with few tourists or residents.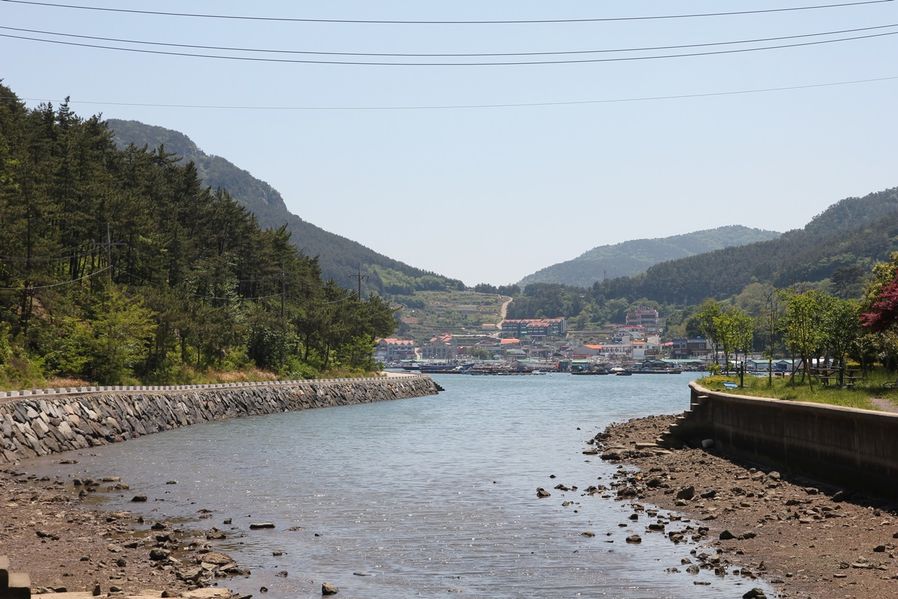 The starting point must be where the ocean and river meet. Wherever I see, there's only clean nature.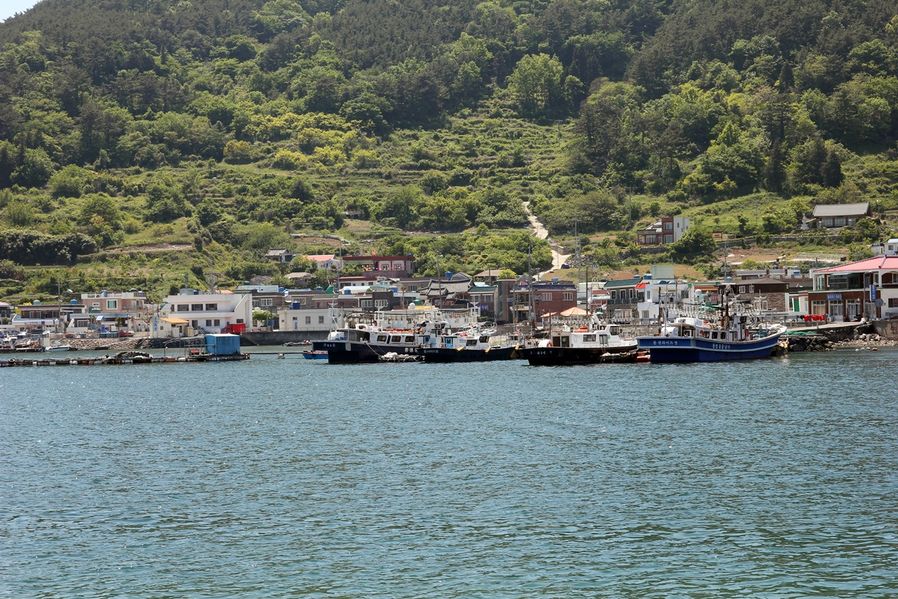 If you walk in a little, there's a village with small houses gathering across the ocean. The small boats are anchored towards the village like puppies looking for mom's milk. It's relaxing and beautiful.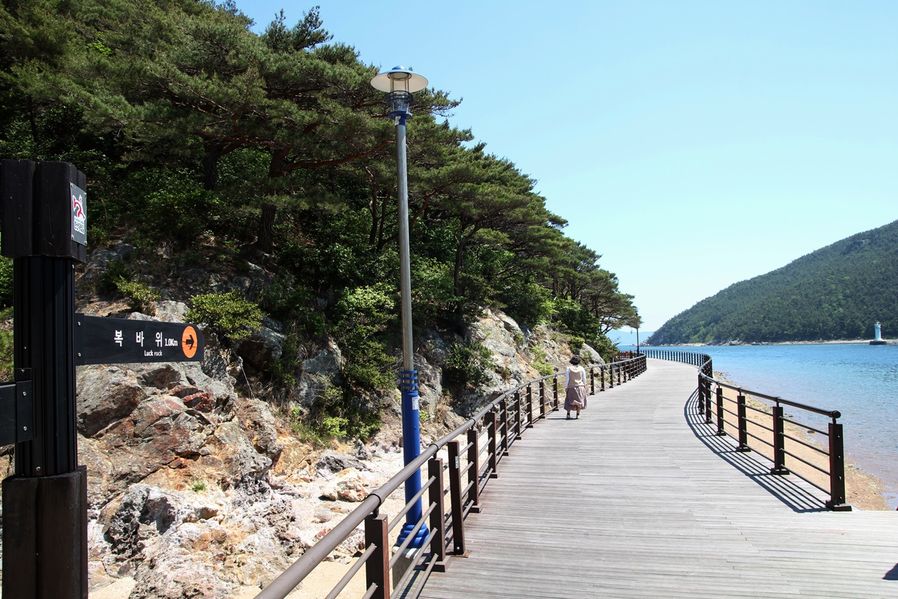 When you get out of the concrete road, there's a wooden deck road. Bokbawi(rock) is 1km away from here.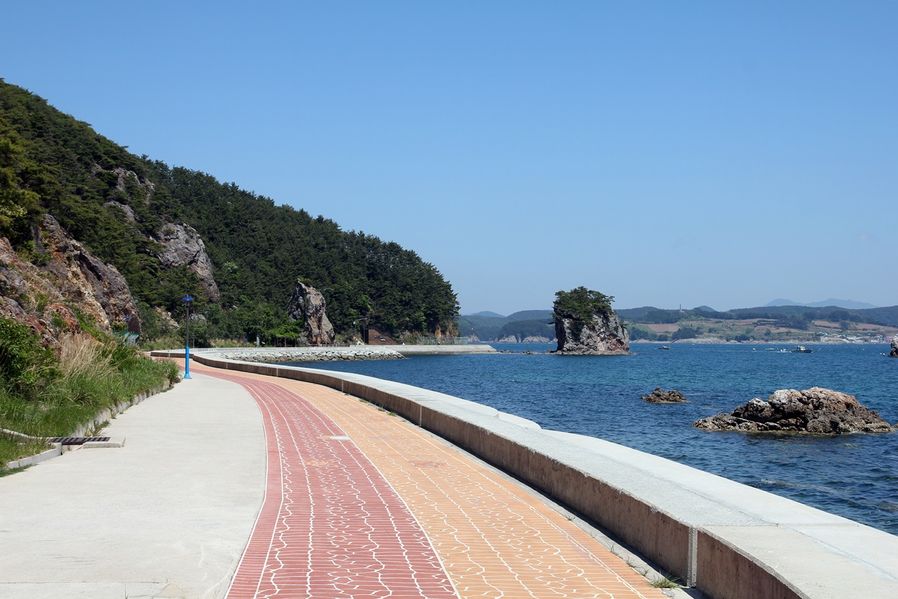 Walk along the coastline a while and you will see bicycle road, and I saw a few people riding towards us. I should bring my bicycle next time. It seems fun to me. Over there in the middle of the ocean, the Bokbawi(rock) is floating. I was really wondering what it's like to see it from Mireukbul and I can't wait to see it.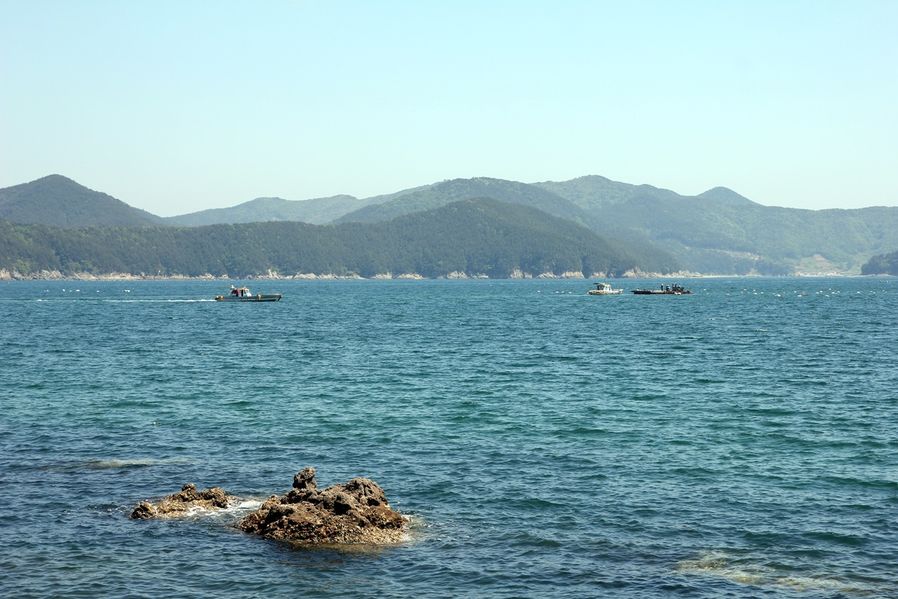 There was the perfectly clean sea before my eyes and I felt really fresh. The sunlight was a little strong but I couldn't feel more refreshing with the sea breeze of salty smell. The blue sunshine reflected on the ocean, seagulls flying over our heads freely and small fish boats are wandering around busy. I took a break and started to walk slowly along the winding road.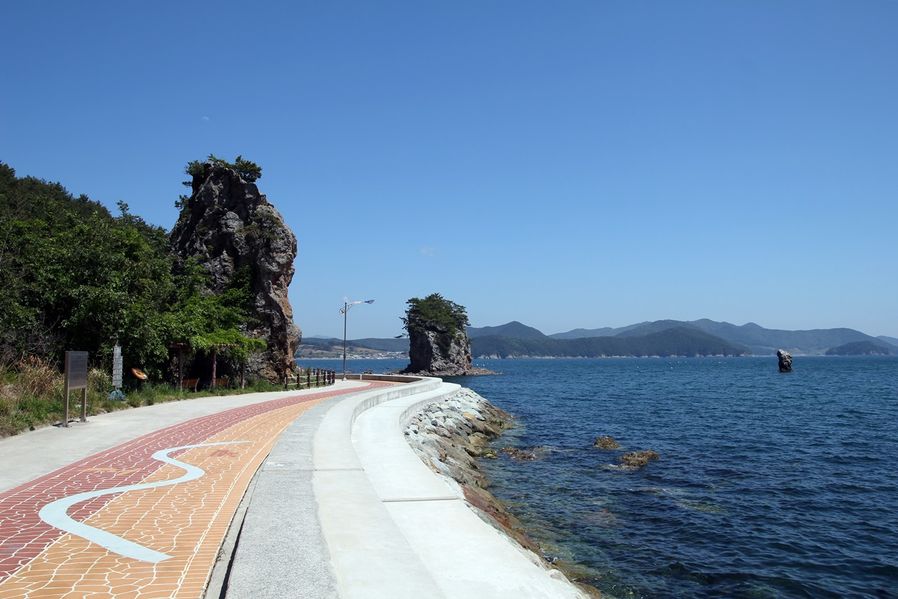 As I took a closer look, there were trees over the head of the rocks on the seashore.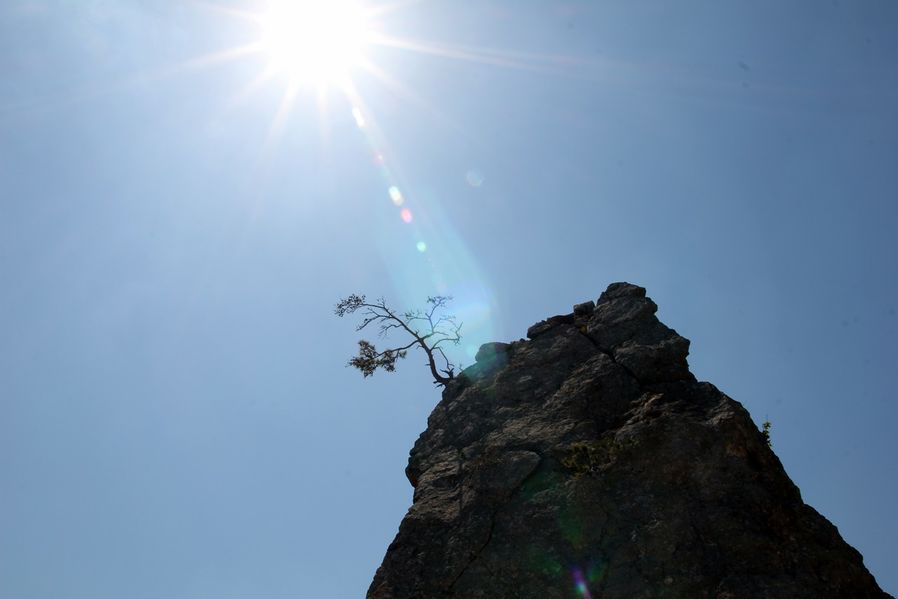 It was mysterious and admiring to see it survive on the rock with no dust at all.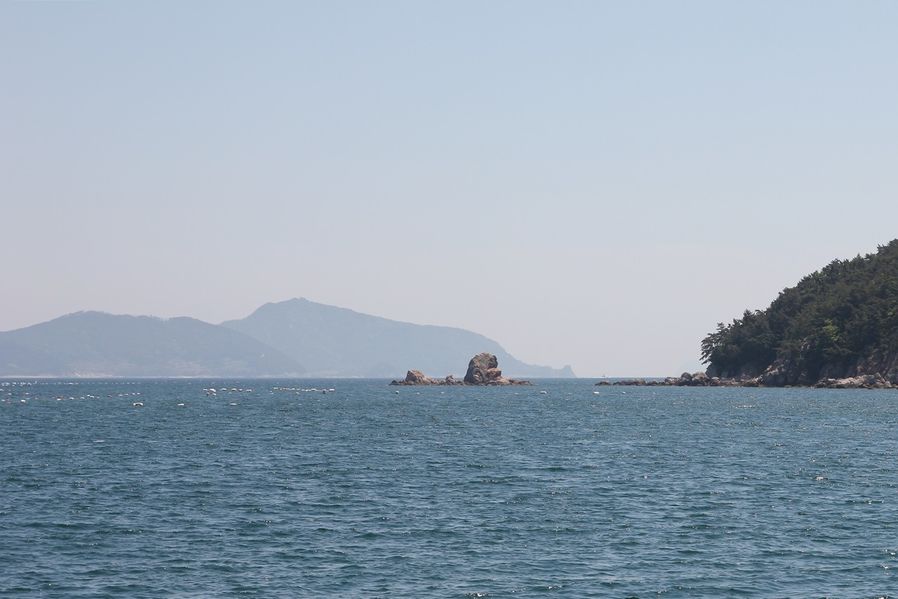 That small rock floating on the sea is a rock island called 'Dotdanyeo'. Yeo is a pure Korean word for a rock. That rock is where the Righteous Armies, Admiral Tak Yeon who beat the Japanese naval forces in Tongyeong and Goseong provinces during Japanese Invasion of Korea in 1592, hung a big sail on it anchoring small boats around it and made it look like a large vessel was encamping to deceive the enemies. Dotdanyeo still stands there even after a few hundred years.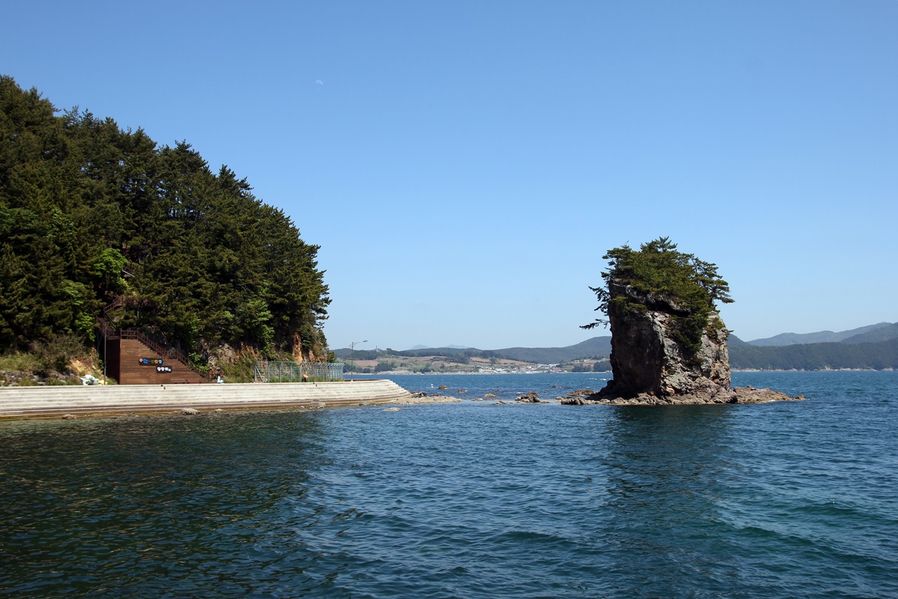 It looks like the middle parts of a long island have been removed. There's a legend about Bokbawi (rock) that looks like floating in the water. They say that Great Jade Emperor caught a fairy and royal guard of him in love behind his back and gave them lightens and thunders that turned them into a rock at that spot. 'Samchingyi Bokbawi ' is famous spot of this trail. I could see Hansando Island across the sea where I was planning to visit the next day.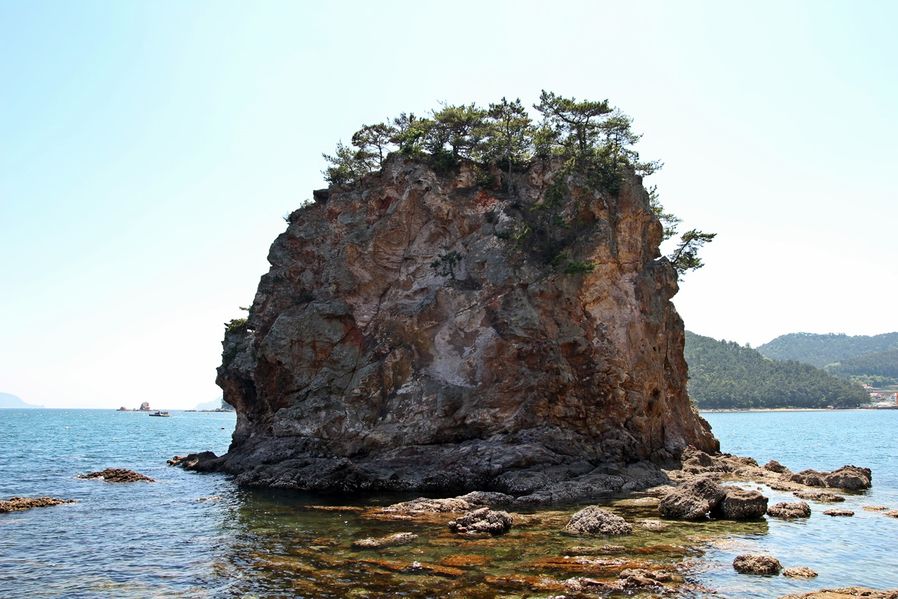 It looks like somebody cut the end of the mountain and left it just like that, which reminds me of the power of the nature again. To see that floating in the middle of the ocean, I feel like it's an art. It also looks like a man's head looking at the sea.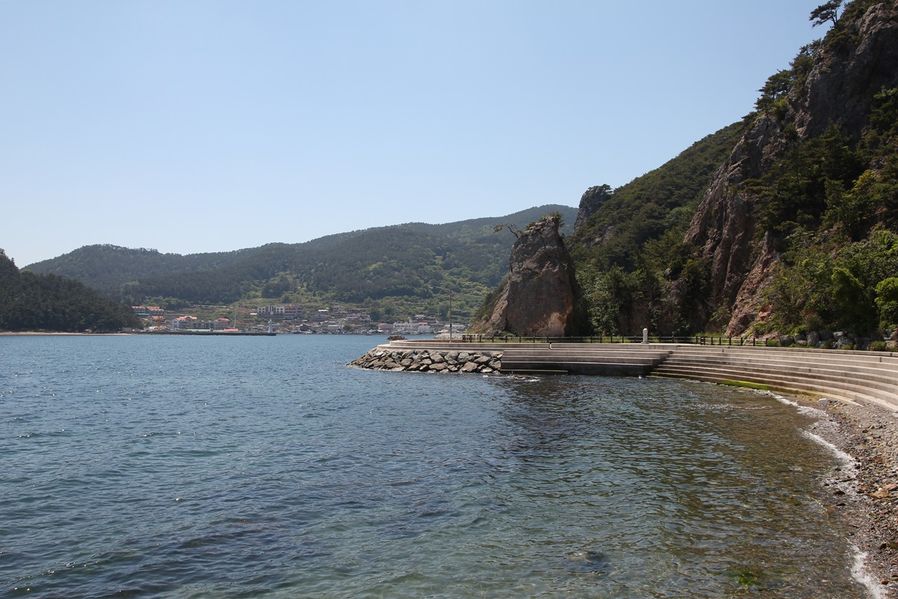 To show you around some other place, I went back to three-way intersection where I had parked my car. Riding a bicycle along the road while watching the emerald colored ocean sounds like a great idea. This is a road for bicycles. I guess I should take a self-assembly bicycle and ride it there.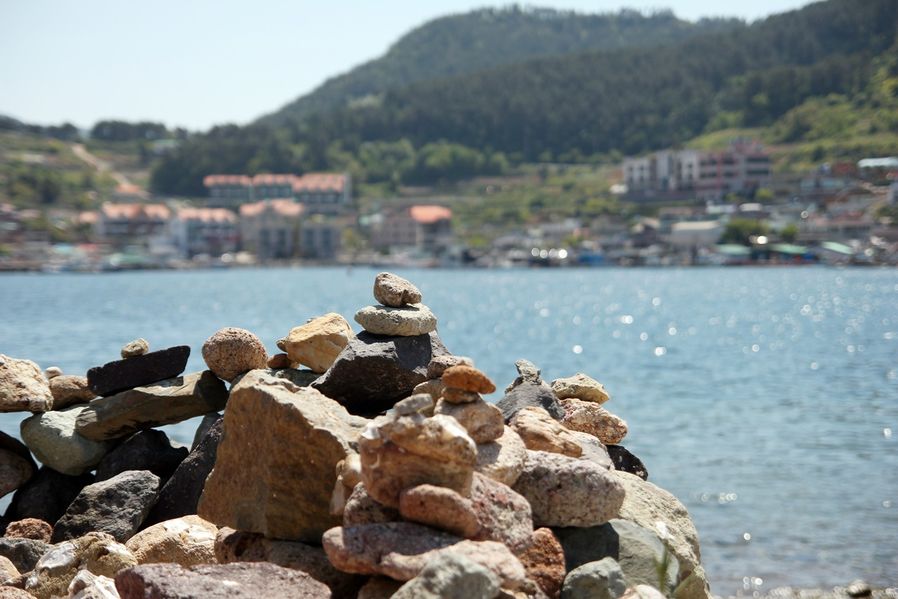 I saw somebody built a stone tower on the beach, I put one stone and made a wish. As a person without a religion, I should have to pray in every religious facility and pray even if it's an incantation such as praying to a stone tower. Pooh, I am hungry now so I should get going to eat something. Yay~
Collaboration of oysters and pork! Gul-duruchigi - Tongyeong-Sikdorak 통영식도락

The first food that comes into your head would be 'oyster' when you hear about Tongyeong. There are people who think that you could eat oysters only in winter but they are available four seasons. However, they tend to be firm and tasty a little better in winter and that's why people assume that they can get it only in winter. Anyways, oysters are eatable for all seasons so I think you need to try if you go to Tongyeong. I'll show you Tongyeong-Sikdorak which is famous for oysters and seafood recipes in Tongyeong.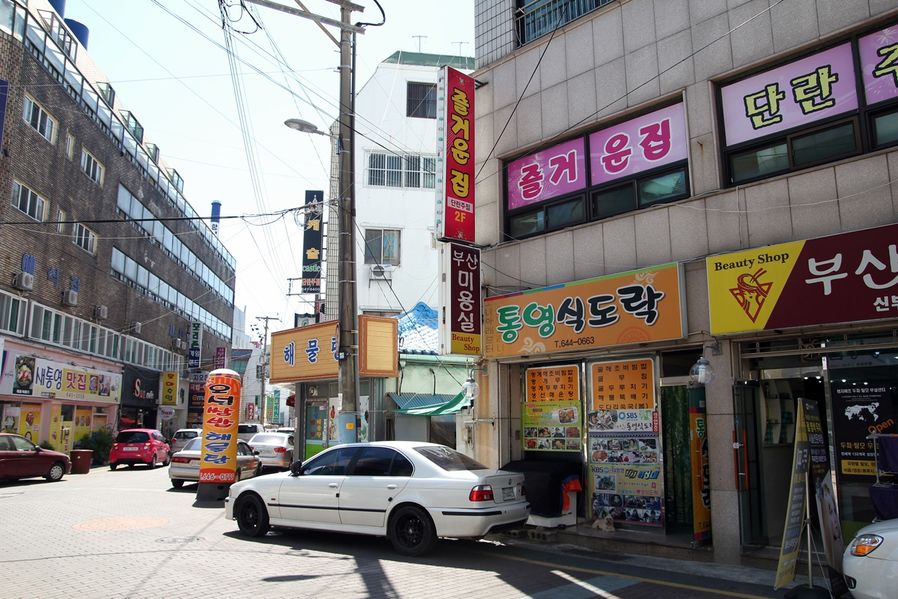 Tongyeong-Sikdorak has been running for 30 years mainly providing with fresh seafood and it is one of the most famous restaurants that had been aired on TV often. On weekends, you're going to have to wait at least one or two hours in a line but the appearance is so simple.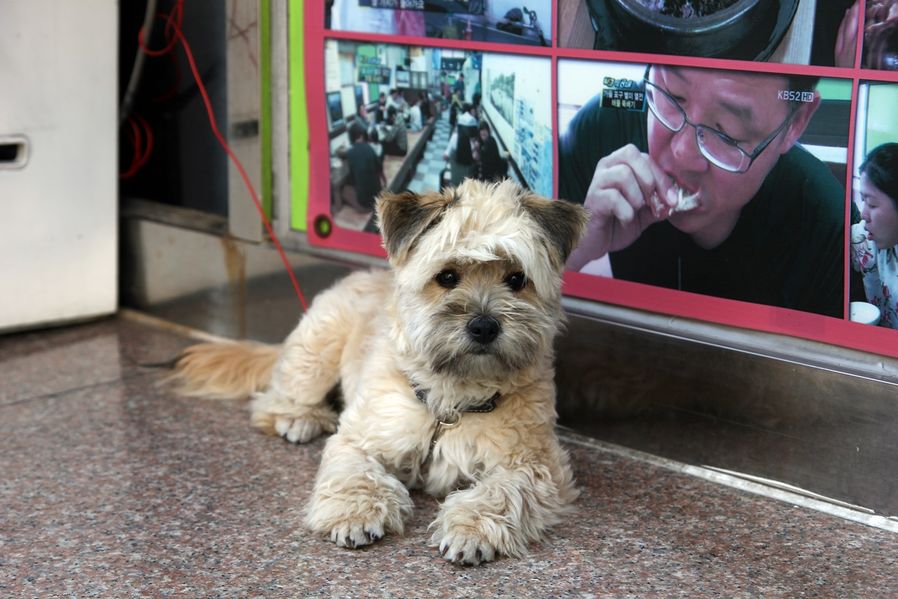 Before I entered the restaurant, a cute puppy named Dalja welcomed us with curious eyes. She's playful so when you play with it, it acts cute so why don't you pet it before you pass by?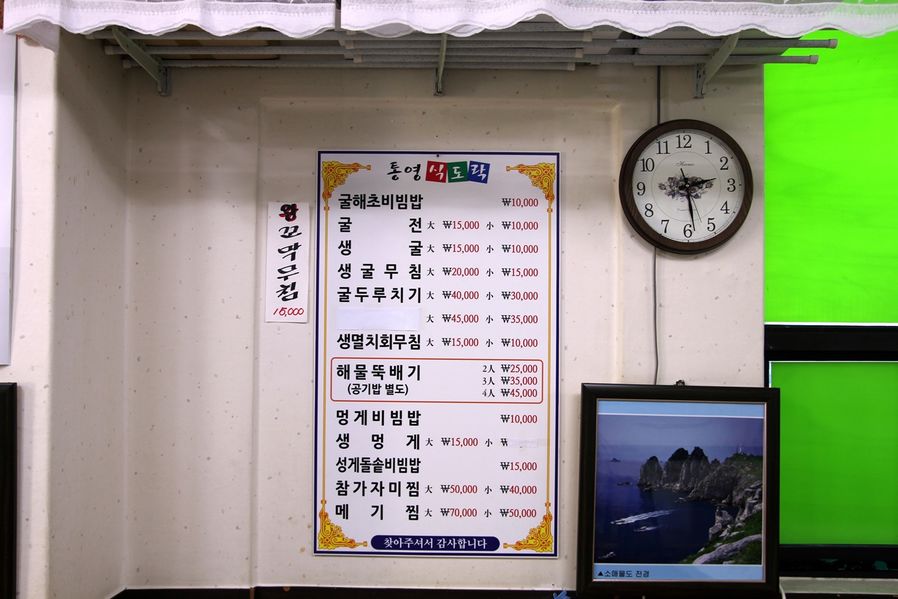 Okay, what should I eat? As it specializes in seafood, I can see the menu is seafood, and the special menu is Haemul-Tukbaegi. But this is regular dish just like Haemul-tang(Spicy Seafood Stew) in other restaurants so I ordered something that has oyster in it, small sized(小) 'Gul duruchigi'. The dish was 30,000 won and you have to order rice separately.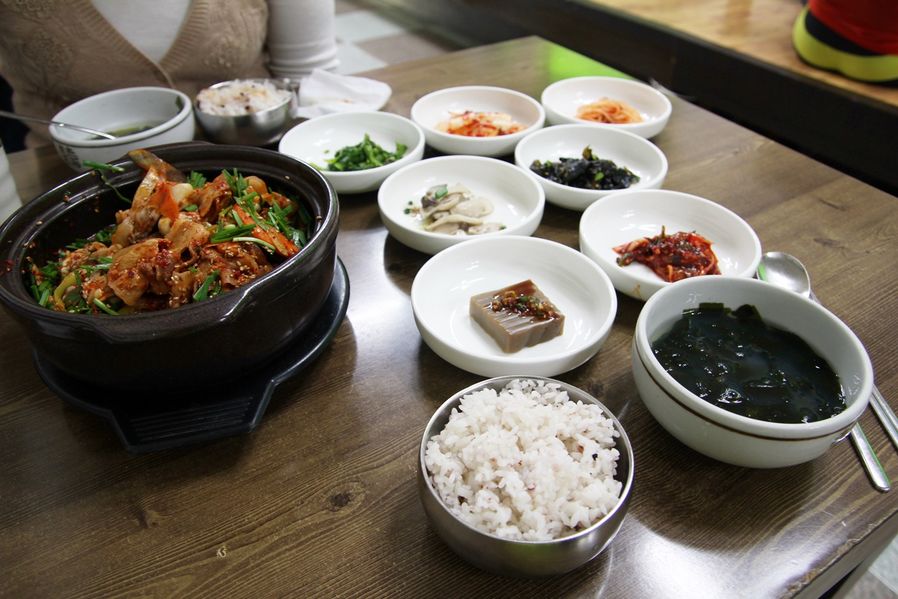 As a blogger who travels in off-seasons, I went there avoiding busy hours so I could be served quickly. I had 7 common dishes and soup. Every dish tastes neat.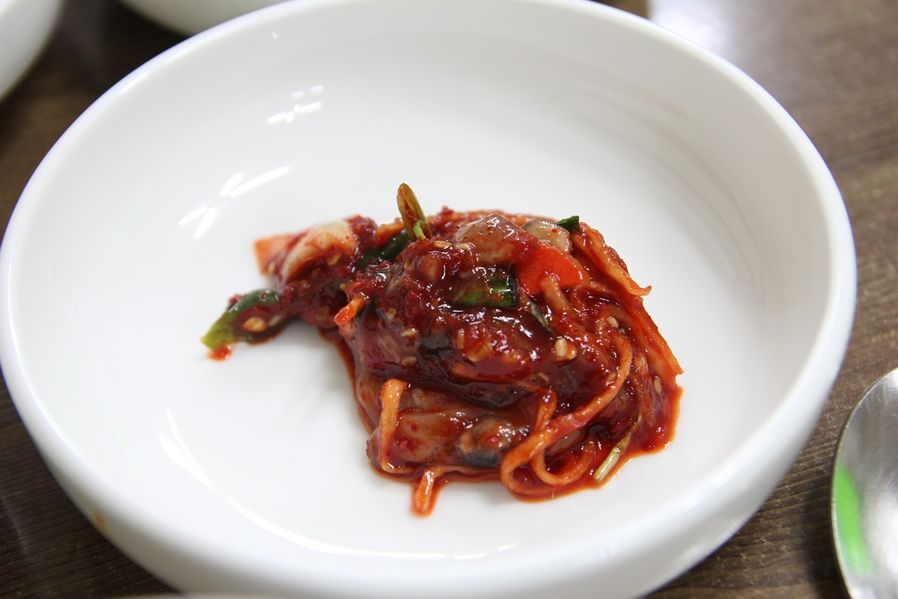 The best one among the common dishes was Ggolttugi-jeotgal(salted baby octopuses), which is also called Horaegi-jeotgal. It looks like a squid but it's not chewy as much, soft, moderately spicy and salty that I could eat a whole bowl of rice with this one dish.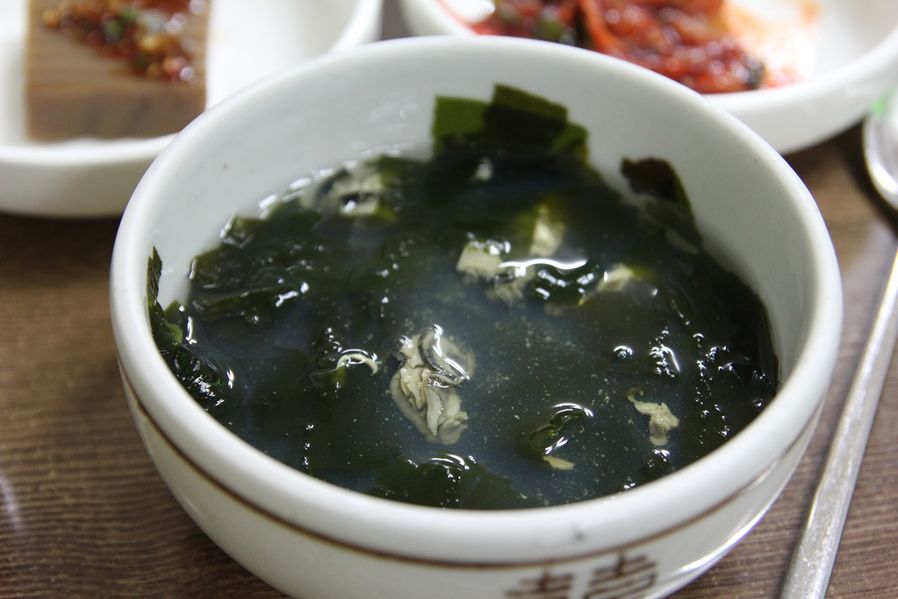 Not only that, Miyeokguk (sea mustard soup) was as delicious as Ggolttugi-jeotgal. Gul duruchigi (oyster bouillabaisse) that I ordered was quite spicy and it was cool and refreshing enough to neutralize the spicy taste. Normally, sea mustard could taste nutty or greasy when it's fried with sesame oil and mixed with meat but they boiled it, not fried, with oysters which made it smell like the ocean and fresh.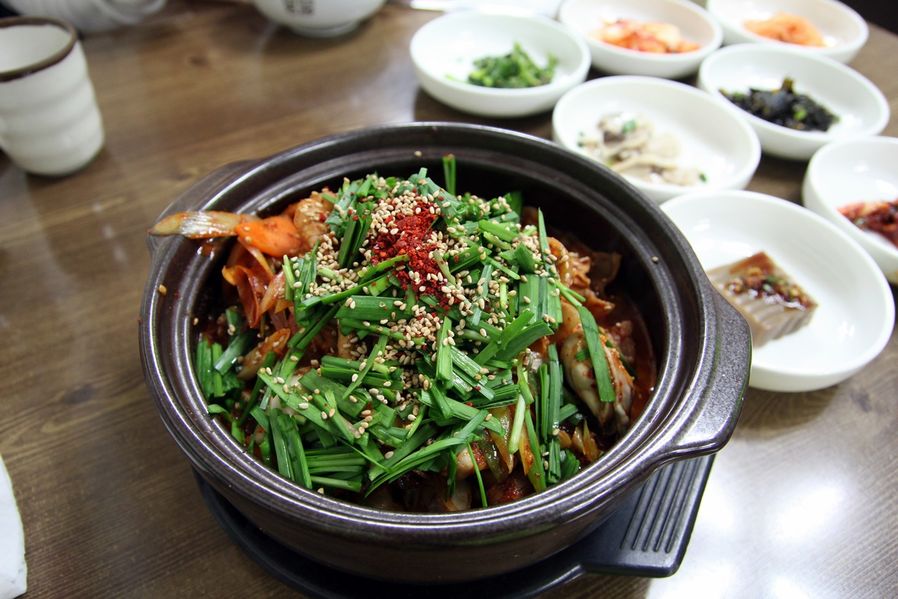 This is called Gul duruchigi (oyster bouillabaisse) with chives on it. In Gyeongsang-do, people usually put chives in food, especially in spring, because it is highly nutritious as it is called restorative herb medicine with strong scent that stimulates people's appetites. I didn't even taste it and makes my mouth water.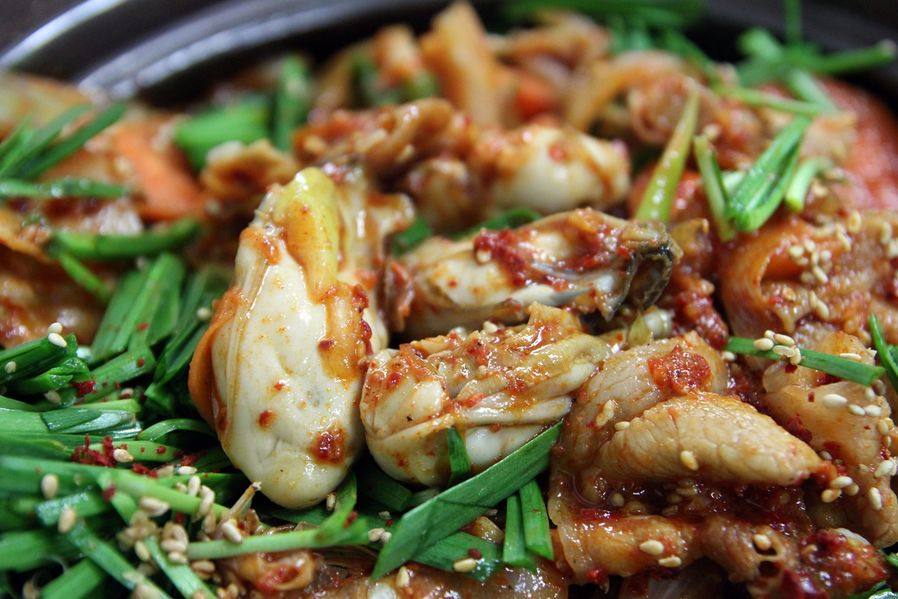 Duruchigi is seasoned with spicy and salty sauce with proper amount of soup but fried.
Gul-duruchigi is served in a big ttukbaegi (eastern pot) with big oysters and sliced pork after it's fried with spicy sauce and boiled in it.
It's quite new to you, isn't it? Normally, you get either meat or seafood, not together, but this oyster fried with pork and seasoned that taste like the fresh ocean and something oily and heavy which was strangely harmonized and tasty.
The small size is supposed to be for 2 people but I think it's has enough oysters and pork meat for 3 adults.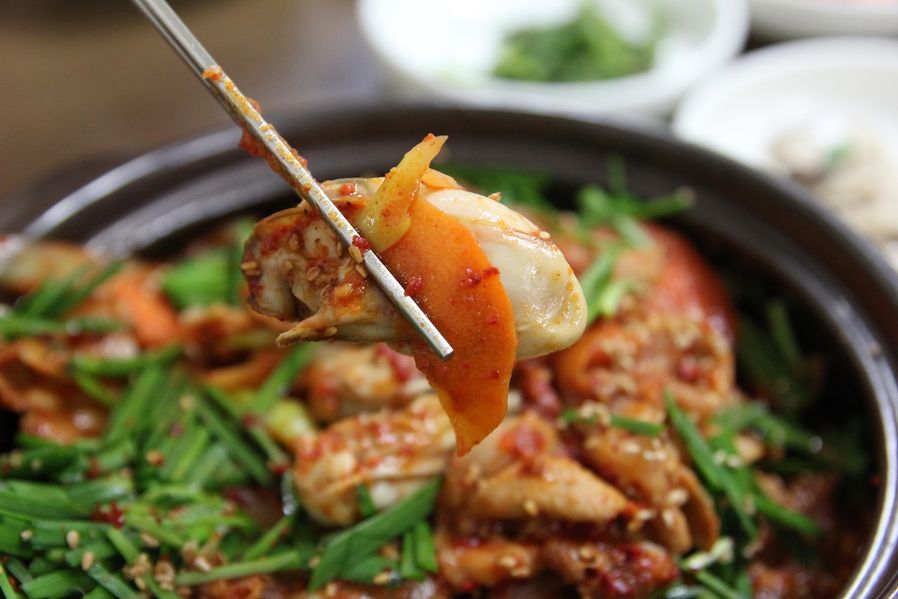 Oyster which is a principal product of Tongyeong not only look fresh but also plump and full bodied. Oysters should be this big to feel the taste of the sea in your mouth and soft texture of them in your mouth. While I was eating, I couldn't stop counting how many of them were in the soup so I couldn't stop being surprised.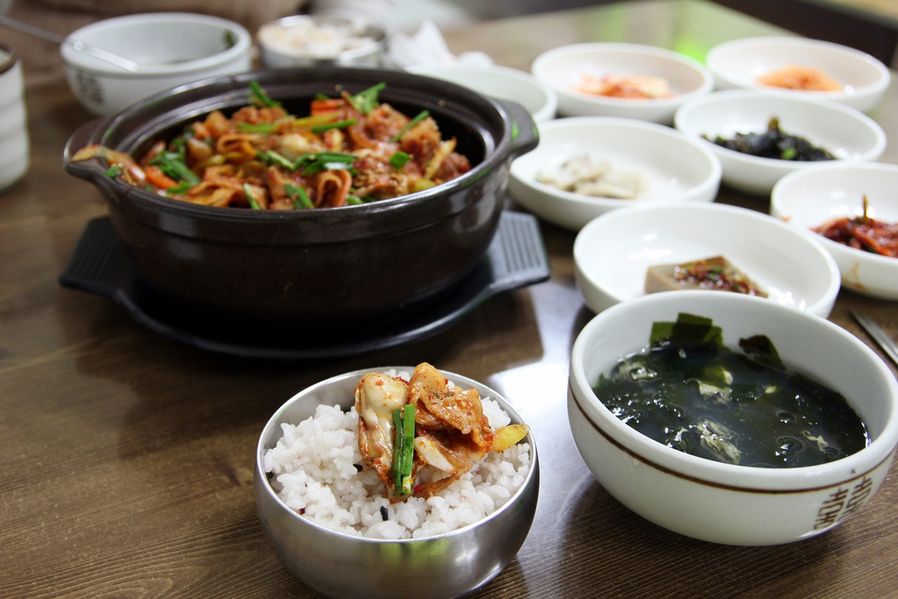 Eating big oysters is one thing but putting it with meat on white rice and putting it in your mouth is another thing, I ended up ordering one more bowl of rice. While I was in Tongyeong for two days, I kept eating seafood somehow. In case you are not a fan of seafood or tired of seafood, I suggest you to try Gul-duruchigi at Tongyeon-Sikdorak. And for those who like seafood would love these oysters that make you taste the sea.


Address : 177-1, Hangnam-dong, Tongyeong-si, Gyeongsangnam-do
Telephone : 055-644-0663
Opening hour : 08:00 a.m. - 09:00 p.m.