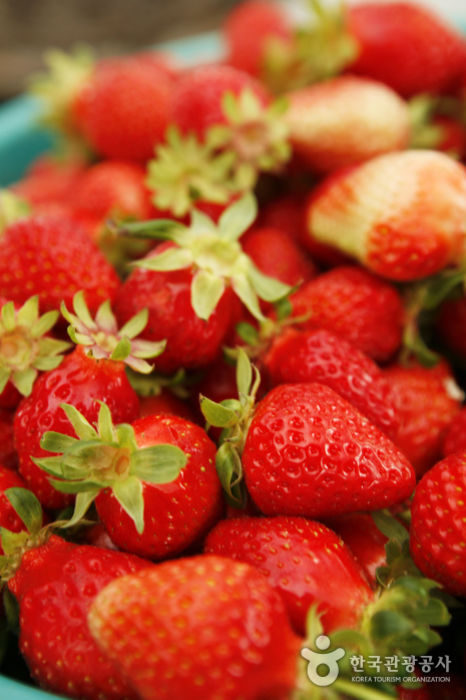 Canon EOS 5D | f/4.5 | iso 200 | 2009:04:13 13:20:43 | Flash did not fire, compulsory flash mode | 70mm | Manual WB
Introduction
Nonsan Strawberry Festival is held in Nonsan, the largest strawberry production region in Korea. Its rich soil and clean water and air give the region a perfect environment for growing excellent quality strawberries. It has been making its mark as a strawberry producer for 90 years, including 50 of which had full-scale production and shipment. The festival here helps elevate the regional economy and also functions to establish better communication among cities. Also, the festival is thought of as one of the most well-known festivals in Chungcheongnam-do, attracting a lot of domestic and overseas visitors. The festival takes place in the vicinity of Nonsancheon Stream and strawberry fields, and will feature various experiential programs like strawberry picking, strawberry cake baking, strawberry jam making, and other strawberry products events.
Programs
[Main event]
Pre-ceremony
Opening ceremony, celebrating performance, fireworks
Performance (gukak, band, etc.)
Strawberry event
Nonsan artist event
Event for residents of Nonsan
Closing performance


[Permanent event]
Special zone of Nonsan strawberry
Harvesting strawberry
Making strawberry cake and jam
Experiencing strawberry products and sales
Strawberry making programs, etc.


[Promotional event]
Well-being strawberry products
Promotion and sales of products in Nonsan



How to Particpate
Strawberry Picking Program
- Participation is limited to approximately 1,000 people per day.
- Application for the program is available onsite. Phone reservation is highly recommended.
(Click here to see the list of strawberry farms and phone numbers.)
- Shuttle buses are available to take participants to and from the designated strawberry farms.
Transportation
[Express/Intercity Bus]
From Seoul Central City Terminal (Honam Line), take a bus to Nonsan (논산).


[Bus]
From Nonsan Bus Terminal, cross the road.
Take Bus 515, 516, 601, 602, 701 or 712 to Daegyodong (대교동) Bus Stop.
From the bus stop, go straight for 100m to arrive at the Nonsan Stream and Strawberry Field.



Fax
+82-41-733-9591
Homepage
nsfestival.co.kr (Korean only)
Period
03.20.2019~03.24.2019
Address
522, Jungang-ro, Nonsan-si, Chungcheongnam-do
충청남도 논산시 부적면 백일헌로 3
Location
Nonsancheon Stream and Strawberry Field
Telephone
• 1330 Travel Hotline: +82-2-1330
(Korean, English, Japanese, Chinese)
• For more info: +82-41-746-8386~9
Referred from : KOREA TOURISM ORGANIZATION http://visitkorea.or.kr