1. Ingredient

-Main ingredients: Bone and flesh of pork
-Side ingredients: Noodles and green onion
2. Taste Evaluation

-Spicy taste: ☆☆☆☆☆
-Salty taste: ★☆☆☆☆
-Sweet taste: ☆☆☆☆☆
-Sour taste: ☆☆☆☆☆
-Aromatic taste: ★★★★☆
3. Introduction to Noodle Soup with Pork
I think the most popular city of Korea for foreigners would be Seoul. And the next would be Jeju or Busan.
Most Korean people love Jeju island. Foreigners love it, too because of the beautiful natural scenery.
So I want to introduce Jeju traditional food for foreigners. The first menu is "Noodle soup with pork".
Korean traditional food usually use by-products of cow to make meat broth. However, Jeju people enjoy "noodle soup with pork" that is made of pork and pig bones.
This food is made of pork broth, thick noodles and meat. Its taste and ingredients are like Donkocheu ramen of Hakada in Japan. Foreigners would be familiar with noodle soup with pork as there are similar foods in China, Thailand and Viet Nam.
The staple food of Korea is rice, and people have raised rice. However, rice farming was impossible in Jeju due to soil. So people cultivated wheat instead. Naturally, Jeju people have enjoyed noodle and it has become Jeju's staple food.
Moreover, pork of Jeju is famous all around the country since it does not smell, but has aromatic taste. So Jeju's famous foods are "Suyuk(Boiled Beef or Pork Slices)", "Sundae(Korean sausage)"
and "Noodle soup with pork" which are mainly made of pork. People has called pork as Dombe meat, so enjoyed Suyuk(Boiled Beef or Pork Slices). They made Sundae(Korean sausage) with pig guts and blood. And pig bones and leftovers were turn to broth, and then they put noodles on it.


Koreans ate noodles in feasts like wedding and birthday. While Seoul people ate noodles with anchovy stock, Jeju people ate noodle soup with pork.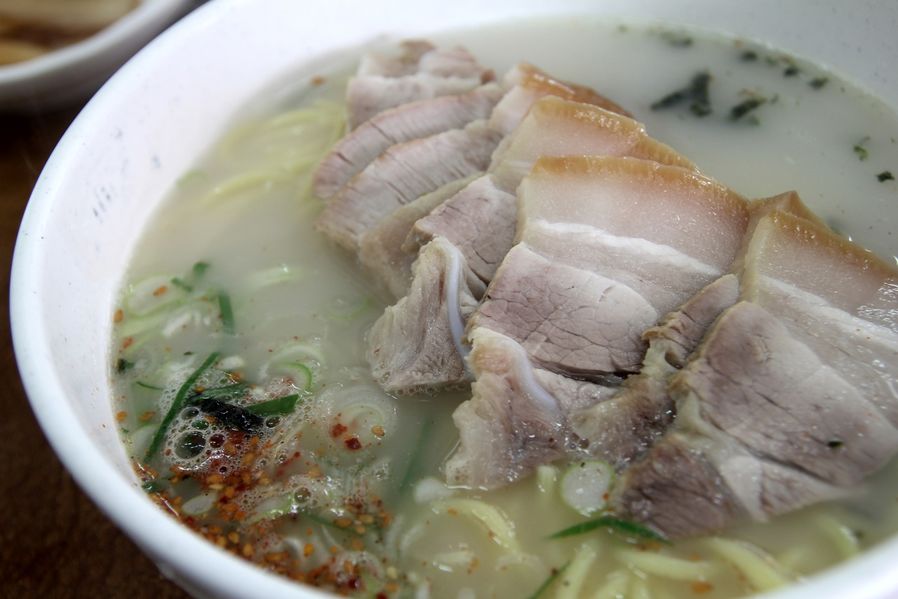 To make noodle soup with pork, you should boil pork and pig bones for long without spice. So the soup is deep, but light and clean.


Jeju people use thick noodles, different with that of other regions. The taste is chewy and heavy. At last, Jeju people put sliced meat and chopped green onions on the noodles.
Korea's staple food is rice. So some people would think noodle is not enough to be a meal. But Jeju's noodle soup with pork is made of deep broth and meat, so it is the best meal.


It just takes 10 minutes from Jeju airport to Samdo-dong. And there is the noodle street full of famous noodle soup with pork restaurants.
Have fun in Jeju. And why don't you enjoy delicious Jeju noodle soup with pork lastly?
2. The kinds of Noodle soup with pork
Noodle soup with pork is made of white pork broth, thick noodles and sliced pork. But sometimes, the soup is mixed with the broth of anchovy or chicken to make different taste.
It is hard to eat hot soup in summer. So people eat bibim noodle soup with pork, which is seasoned with hot gochujang(red pepper paste) without broth.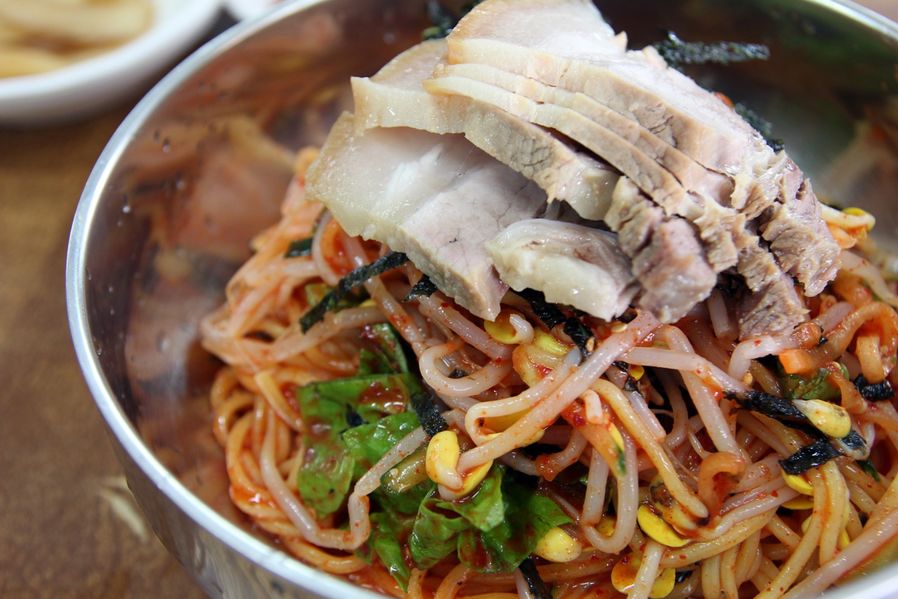 5. The way to enjoy more delicious noodle soup with pork
Jeju people do not peel the skin of pig when they eat noodle soup with
pork. Foreigners who don't eat the skin of meat may be repulsed by
it. But just try it. The combination of chewy skin and lean meat is
out of this world!
Kimchi is always served with noodle food in Korea. It is newly made kimchi,
not sour(over-fermented) kimchi. It is very crunch. Noodle soup with
pork is well matched with crunch kimch.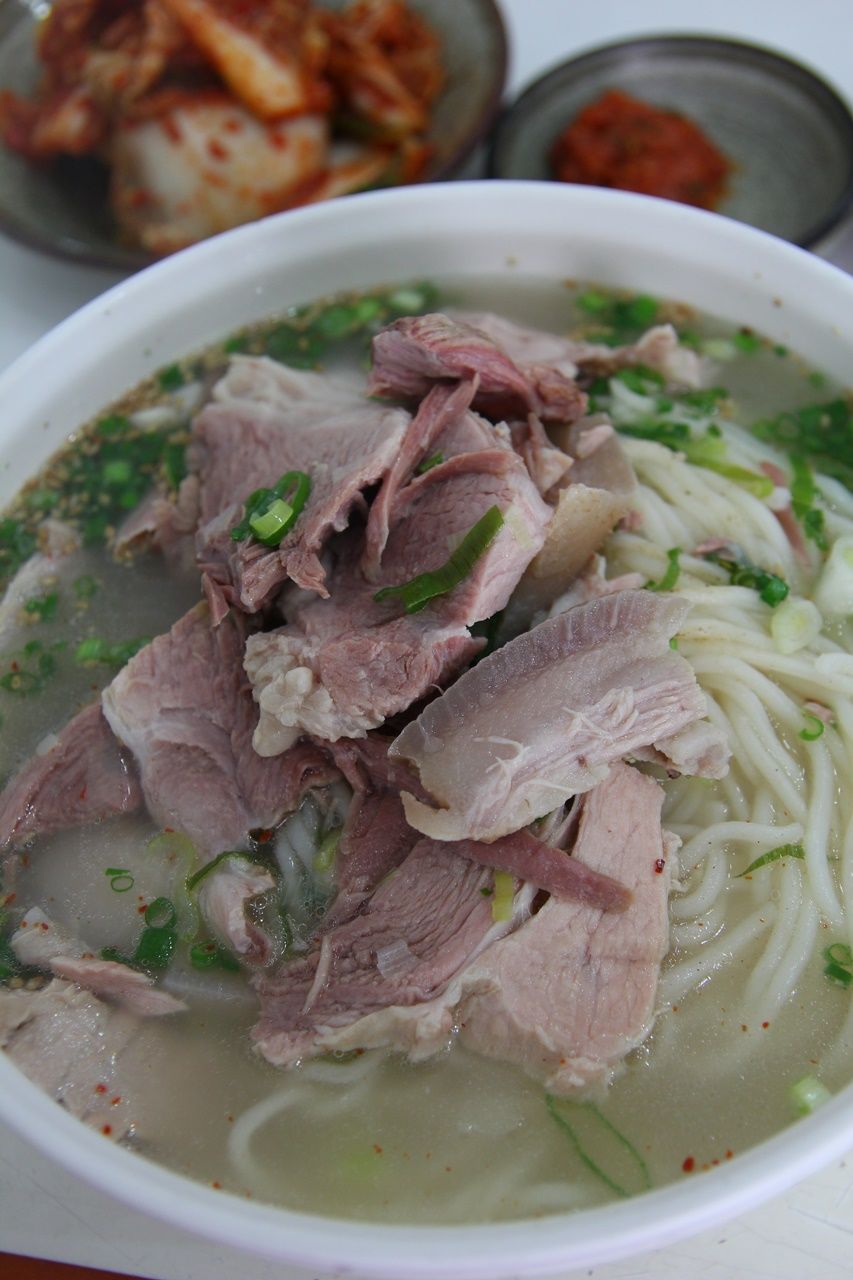 Canon EOS 550D | f/4.0 | iso 500 | 2011:10:12 13:40:11 | Flash did not fire, compulsory flash mode | 29mm