Buyeo Hall of Korean traditional music

Revival of Baekje's history
Kungnamji 궁남지

It was called Kungnamji because it was at the south of palace. It's one of the best tourist spots in Buyeo. We didn't go straight to Kungnamji; we went more inside of parking lot.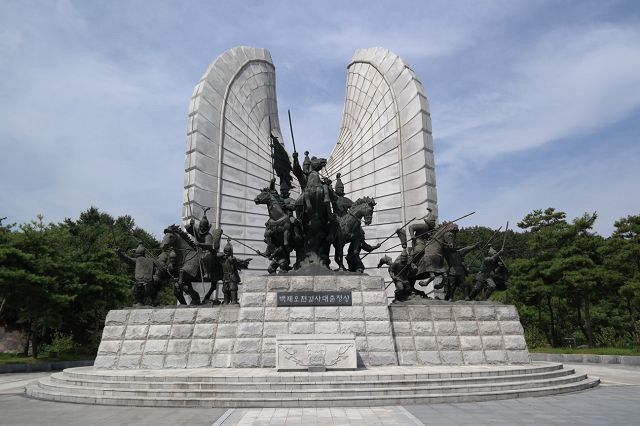 The reason was that there was Ocheongyeolsadaechunghon tower here. People do not know much here. It's a model to cherish the memory of General Gyebaek and other 5,000 people who joined the last battle of Baekje, Hwangsanbeol battle.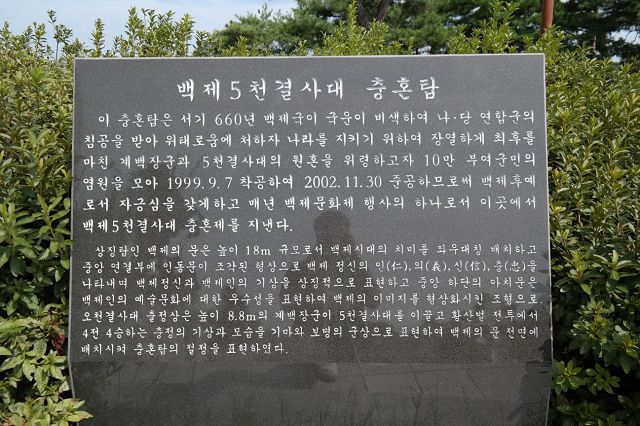 I gave a silent prayer here for a while.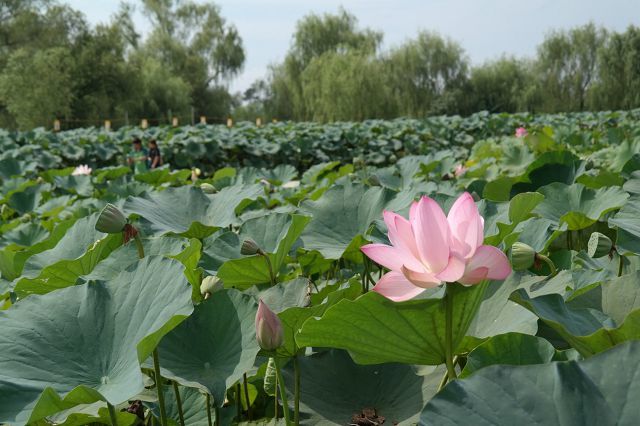 There are many lotus and willow trees around here. Sadly, all lotus were fell off because it was already end of August.

You could see that its big and beauty area.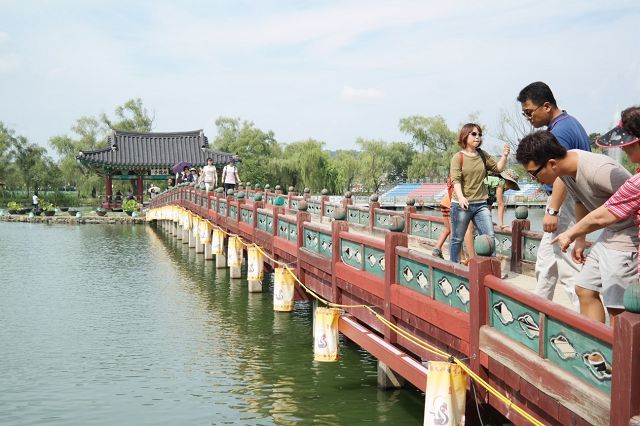 The man-made lake and small island in the middle were a great and peaceful scenery. Kungnamji was the best man-made park and Nojagong taught this landscape architecture to Japanese.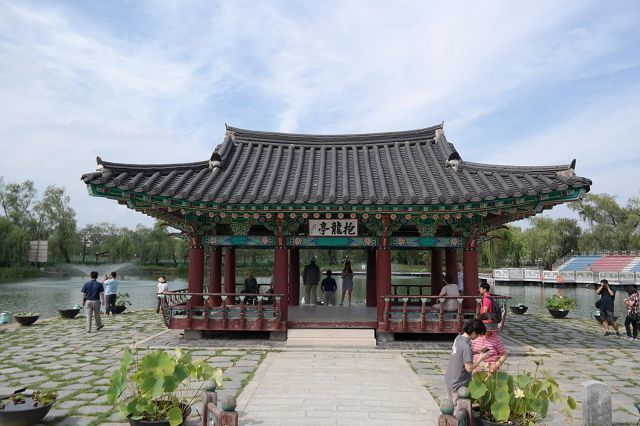 There are fancy lights around Kungnamji at night so it becomes more beautiful.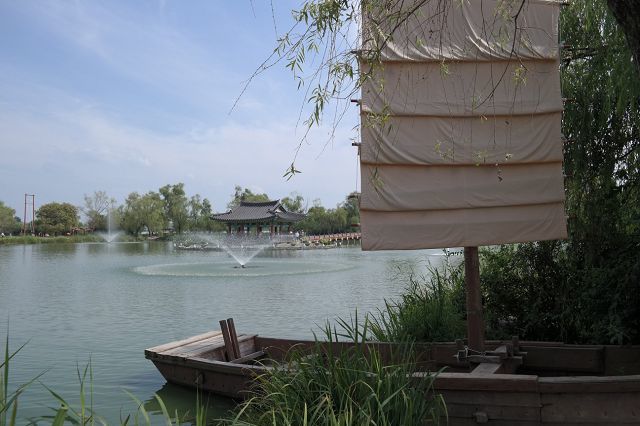 There are sailboats on the side. You can take a picture with it to recall the memory of the past.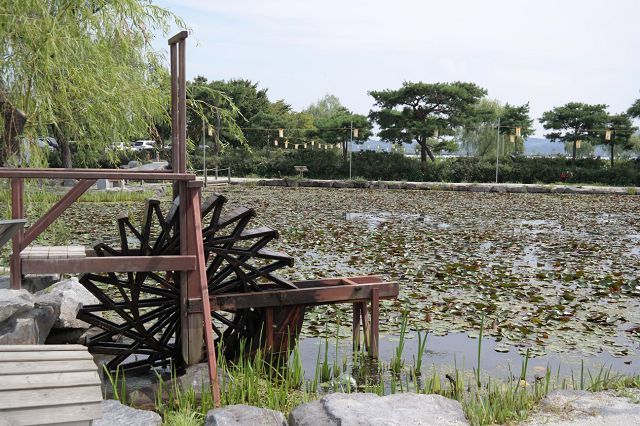 There are rest area, spinning wheel, and summerhouse around. Kungnamji also has a story of Seodong and Princess Seonhwa; thus, there are characters and books of them here.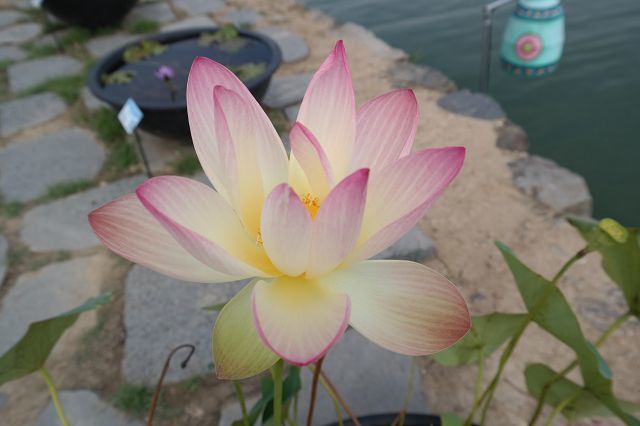 Every July, there is a "Seodong lotus festival" here. So you can see beautiful lotus if you visit in July.


Address: 117, Dongnam-ri, Buyeo-eup, Buyeo-gun, Chungcheongnam-do, Korea (충청남도 부여군 부여읍 동남리 117)
Telephone: 041-830-2512
Operating hour: Open throughout the year
Baekjehyang 백제향
I saw lots of lotus and willow trees here in Kungnamji. Lotus can be a good food so I decided to try. Lotus leaf rice is a native food.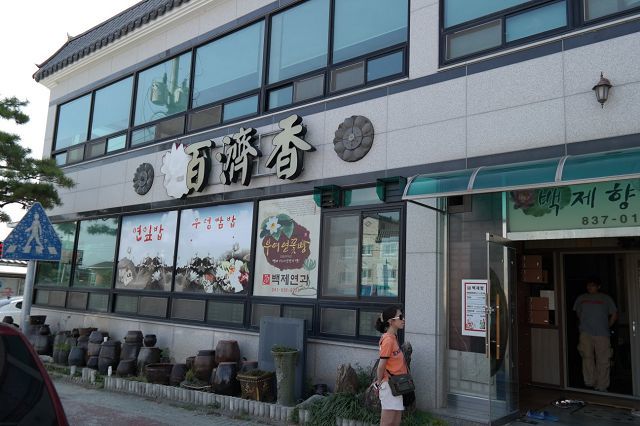 There are many restaurants, but Baekje's house in front of parking lot and Baekjehyang around Kungnamji are the most famous ones. So I went to Baekjehyang near Kungnamji. There are many seats ready, and lotus and freshwater snail are the main dishes. Lotus leaf rice is 11,000won, but the server told us that Baekryenhyang lotus rice has more various dishes so we ordered the latter one.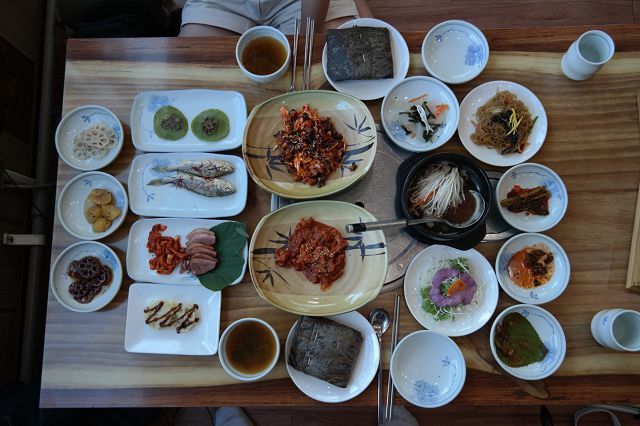 Since there were not many people at this time, the table was set fastly. If you order lotus leaf rice, everything will be served the same except fish, bulgogi, pork, and roasted duck.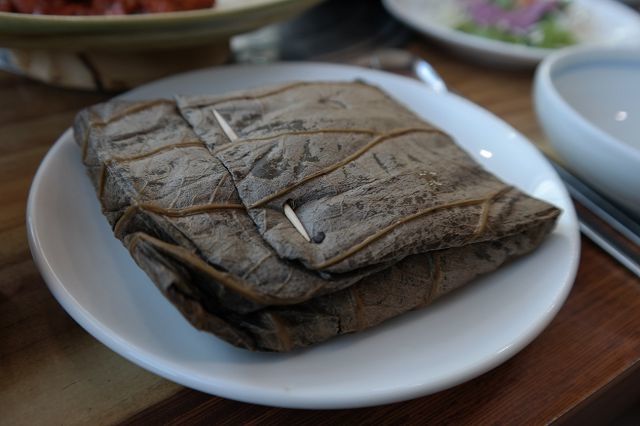 I was so curious about the lotus leaf rice. It's rolled beautifully like this. Three lotus leaves are covering the rice.


There were lots of things inside aside from lotus leaves. It was nutricious rice. It was very chewy and delicious. I tore the lotus leaves because rice sticked to it.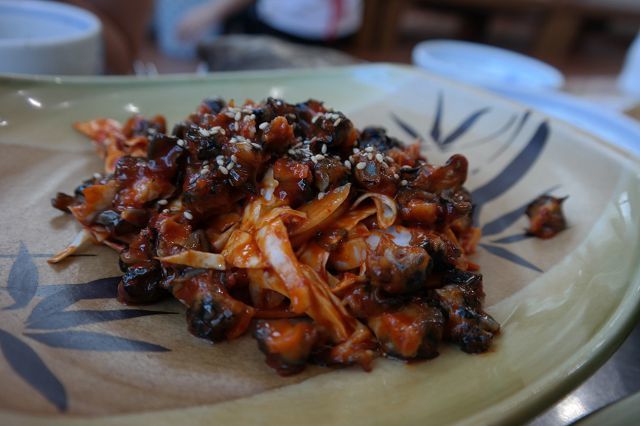 This is a seasoned freshwater snail. It's chewy and delicious.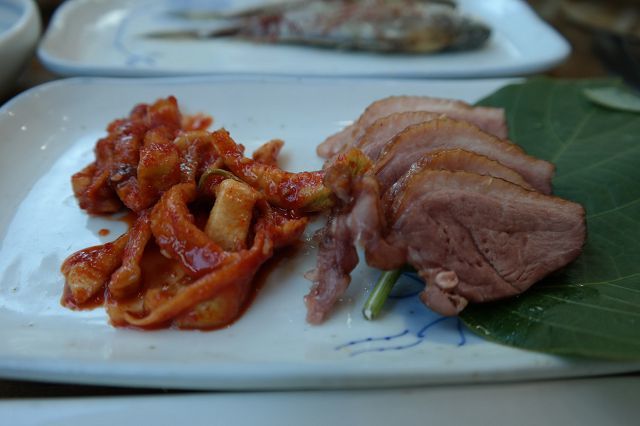 This is roasted duck.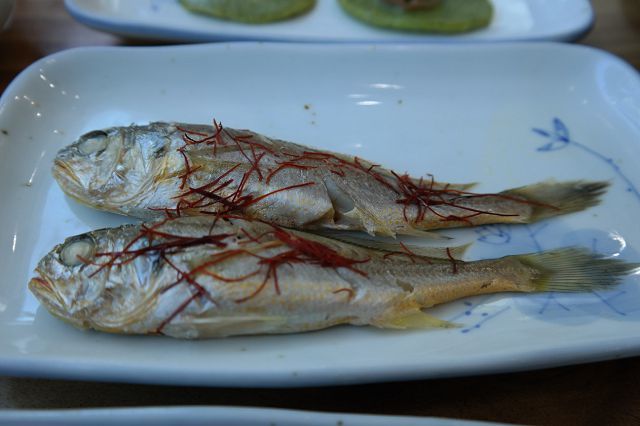 It's yellow corbina. It was delicious, but there was a fishy smell.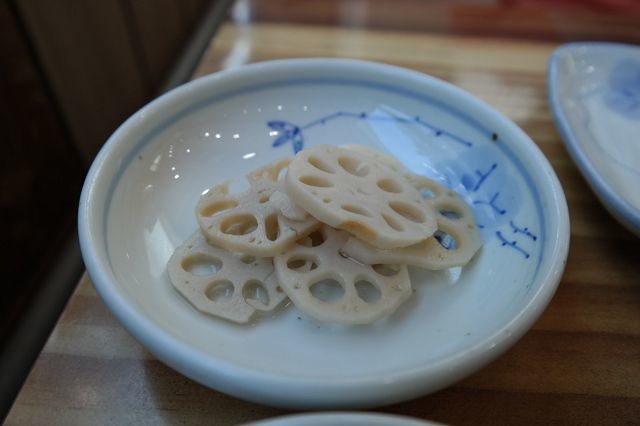 This is the best side dish I chose! It's salted lotus root.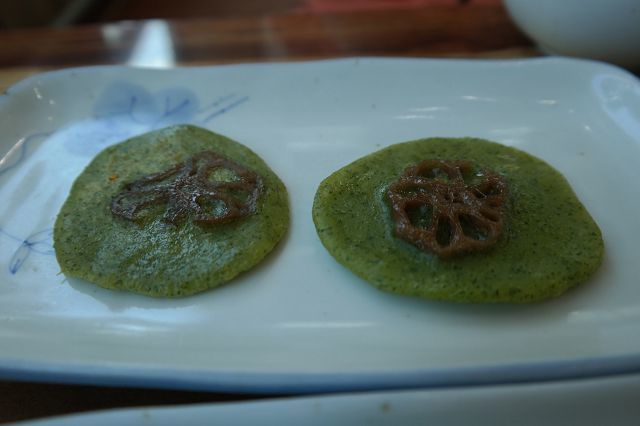 It's lotus root pancake. There is a seasoned lotus root, too.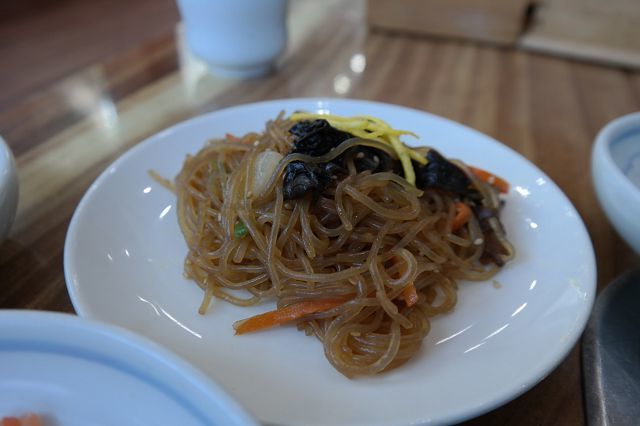 This is Japchae. It looked dry, but was good.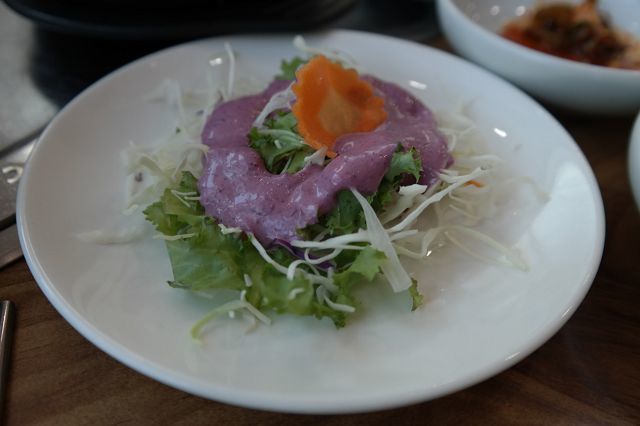 It's salad with lots of dressings.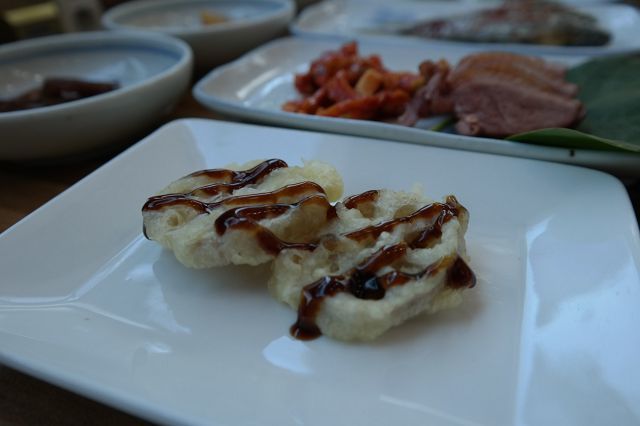 It's good as a dessert. They fried the lotus root and put sauce on it. Side dishes were all delicious in general, not too salty or sweet. Aside from meet, all side dishes were made out of lotus and lotus root. I suggest you to try the lotus leaf rice if you visit Buyeo. You might feel very healthy.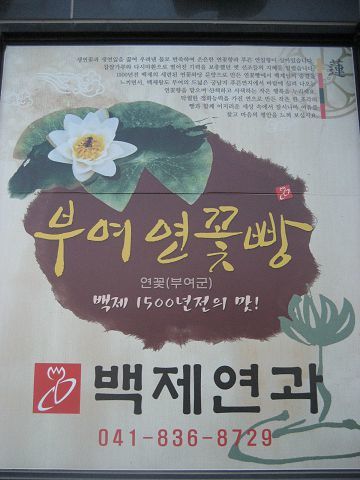 Canon DIGITAL IXUS 65 | f/2.8 | 2013:09:01 16:21:38 | Flash did not fire, compulsory flash mode | 5.8mm
At the side of entrance, they bake Buyeo lotus bread. However, they were already sold out. I was so curious about its taste from 1500 years ago. I should try this next time. They also sell it through package service.
Address: 653-1, Dongnam-ri, Buyeo-eup, Buyeo-gun, Chungcheongnam-do, Korea (충청남도 부여읍동남리 653-1)
Telephone: 041-837-0110

Open hours: 11:00~21:00