Unknown attraction of Tongyeong to tourists, Miraesa Temple and Retinispora Forest

Driving away from the Tongyeong cable car about 10 minutes, there is a small but peaceful temple called Miraesa Temple surrounded by retinispora forest and a cute pond on the southern hillside of Mt. Mireuk. It is rarely known to tourists from other regions so this quiet place would be the best place to take a walk for those who don't like crowded places. Plus, it is the only temple that has a trail made of retinispora forest in Korea.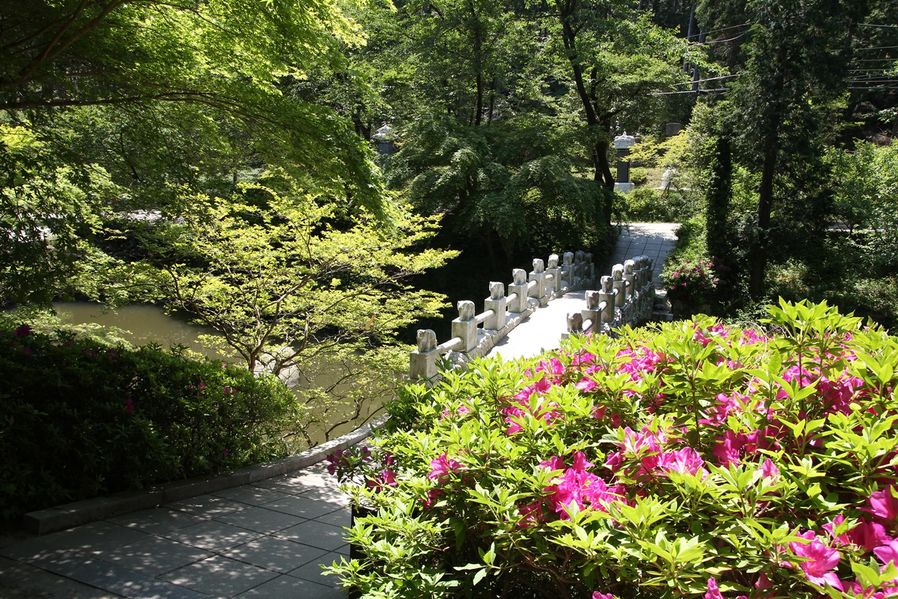 There are beautiful flowers on both sides of the way and after you cross the cute stone bridge over a small pond with fish inside, you get to enter Mirae Temple.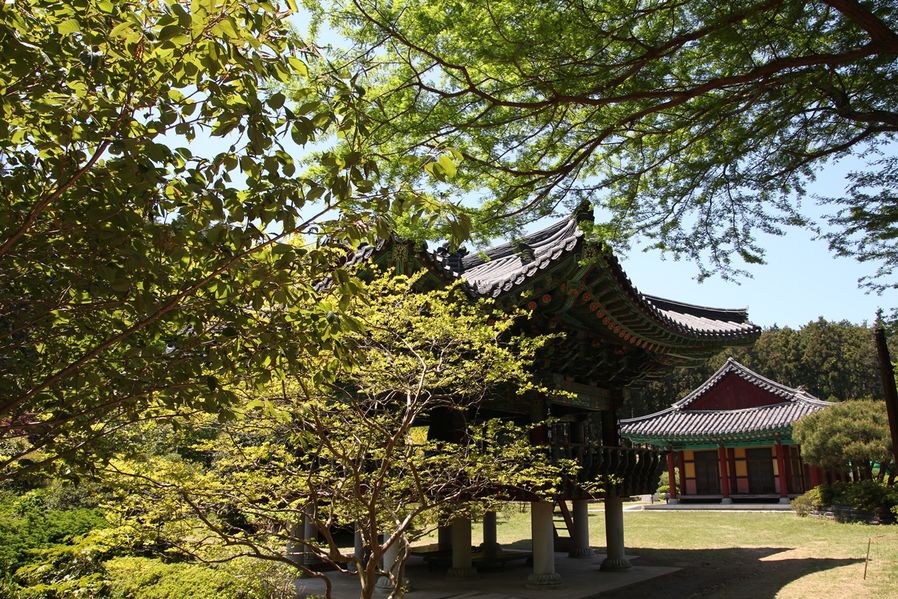 Miraesa Temple is hidden on the hillside of Mt. Mireuk that gives you the impression that it's completely isolated from the world.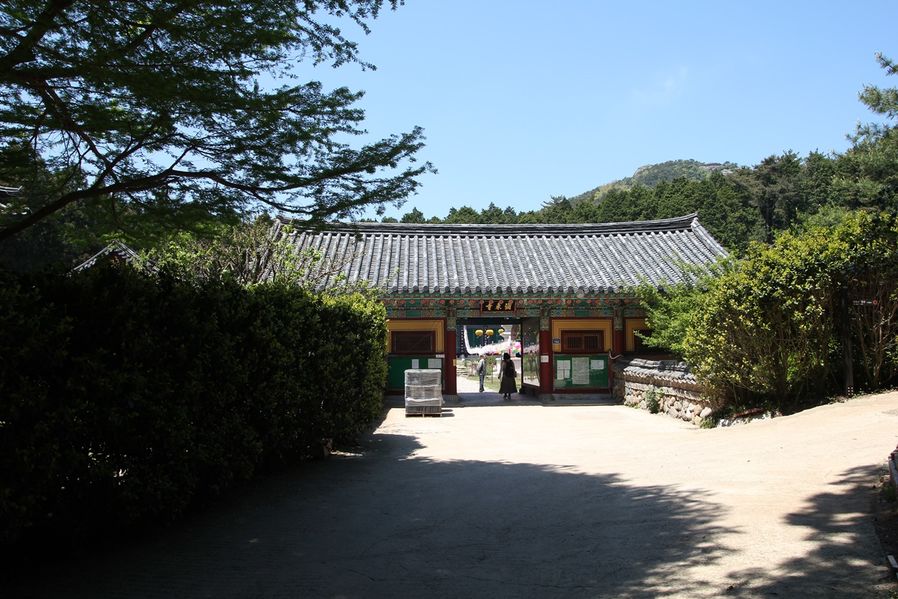 The temple is so small that it doesn't even have one pillar gate(Iljumun Gate) and you will get to the front yard of Daeungjeon as soon as you cross the signboard written 'Miraesa(彌來寺)' on it.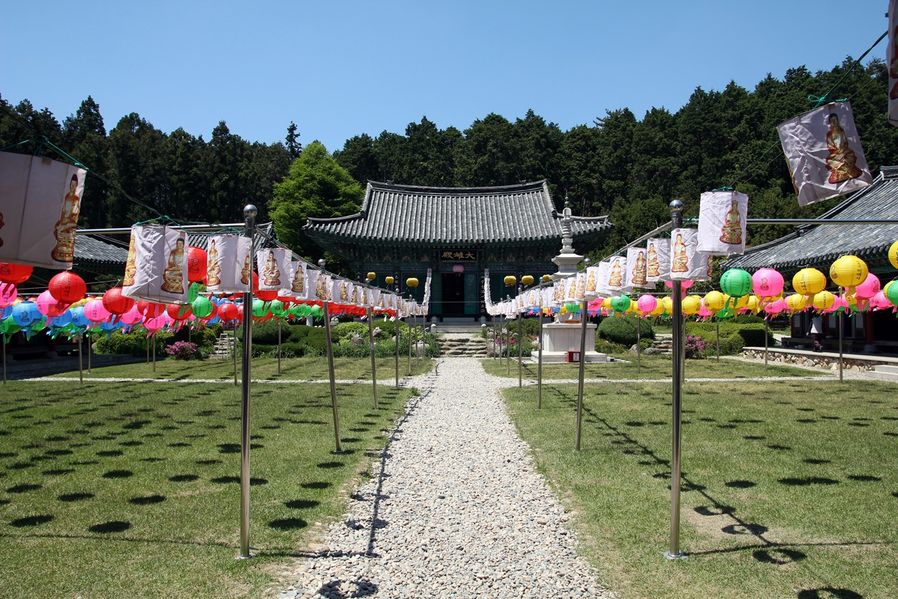 Uniquely, there is a cruciform gravel road on the square yard and the rest is decorated with lawn grass. A yard full lotus lanterns dangling in the yard is a special scenery that you can only see in spring. They are all gone when it starts to rain in summer.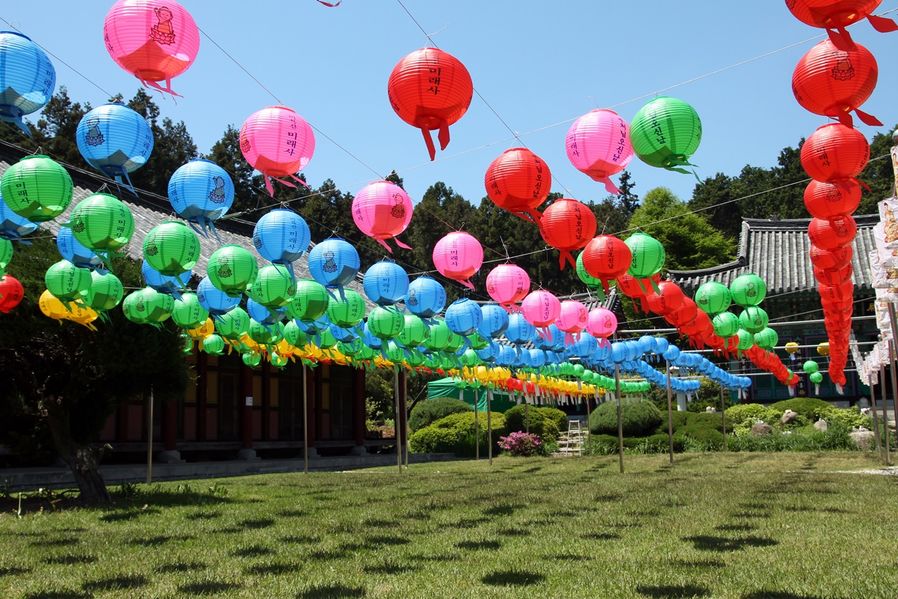 Different types of hopes and wishes with different colors are hanging up in the sky. I also wish that you all get everything you wish for.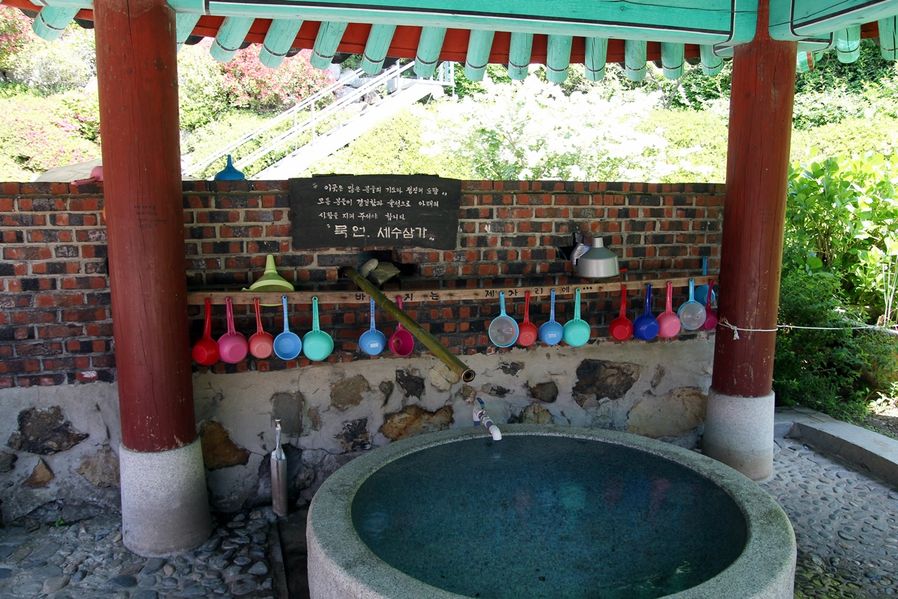 I think I should drink a sip since it is clean flowing from the mountain.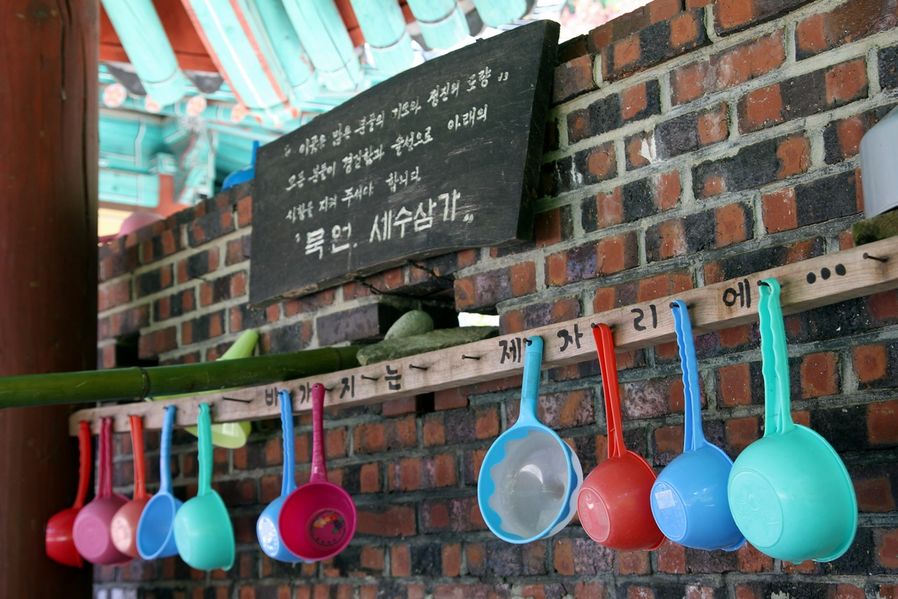 Bowls hanging up side by side look cute. I should warn you that you need to be quiet around because monks are practicing ascerticism and please do not wash your face or anything with this water 'cause it's only for drink. :)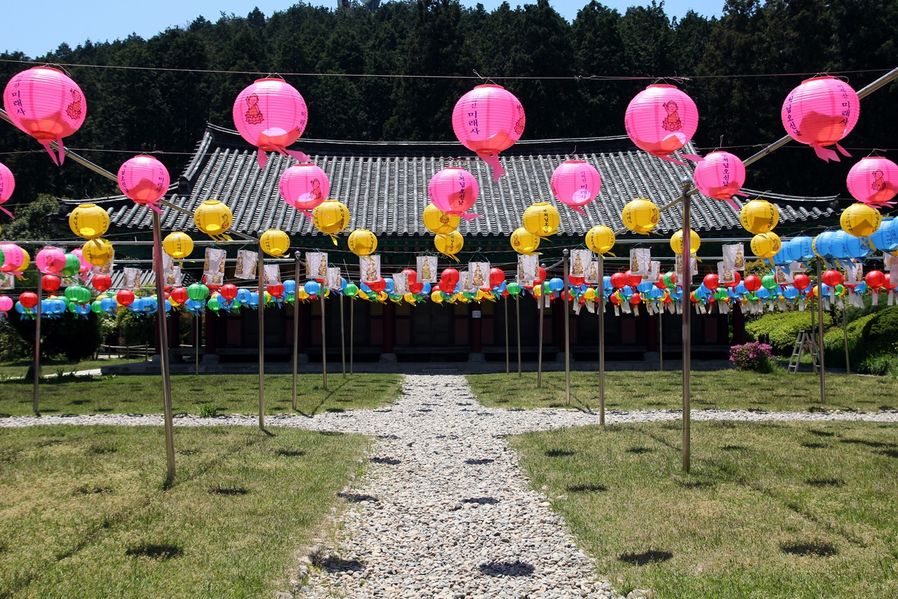 I didn't count them all but I have been to more than 200 temples in Korea and abroad, but I must say this one gives me mysterious vibes. I felt some spirit that's so holy. Anyone who visits here would know what I'm talking about.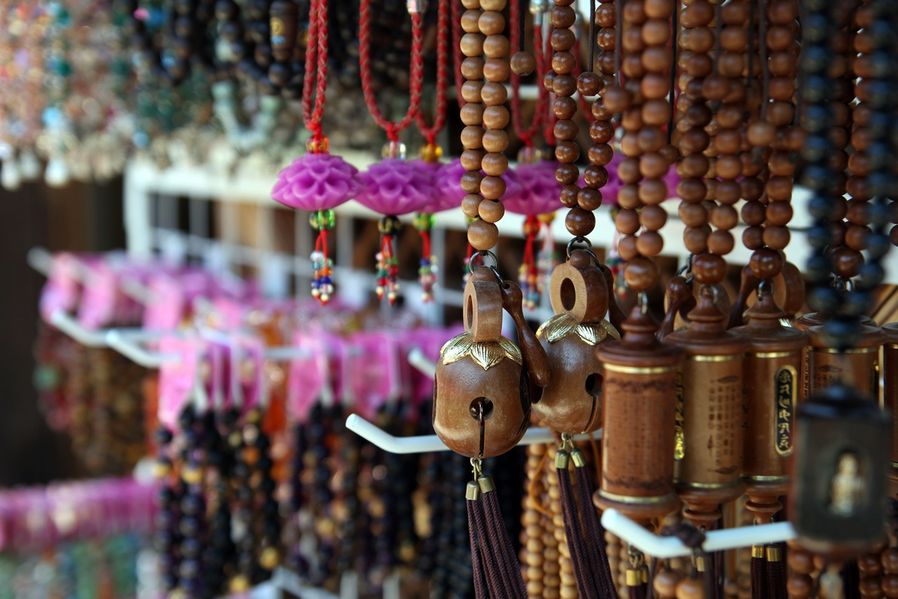 In one corner, there is a display table selling small items related to Buddhism, which is quite a different view from other temples in Korea. It makes me feel like I'm in a small shop in the 70s and I must say, I feel like this temple is different somehow.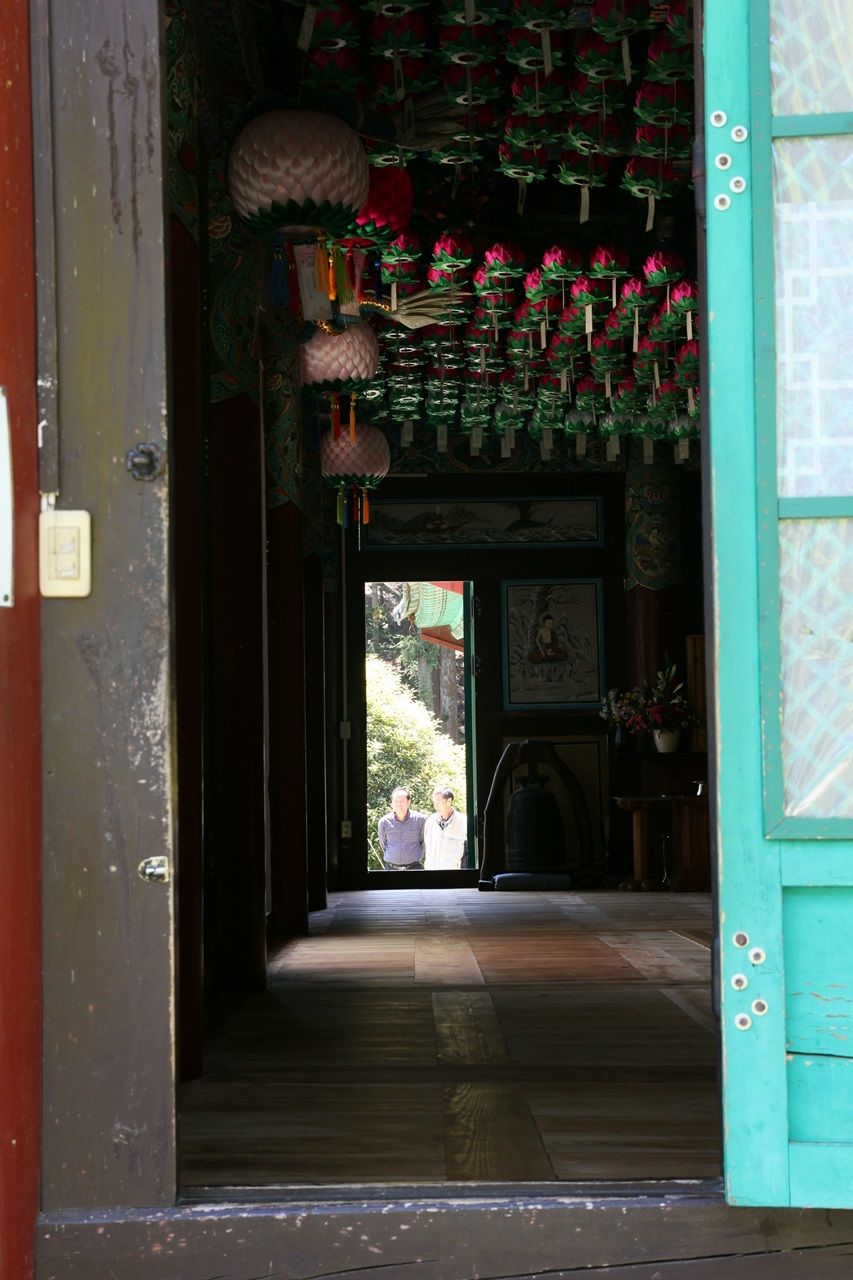 I don't have a religion but I love looking around religious buildings including churches, catholic churches, temples or mosques, and when I'm there I try not to forget to pray. I do it because I want to pay my respect to their religions. I had a great time for free here as well so I put some cash into the donation box as my prayer and my fee.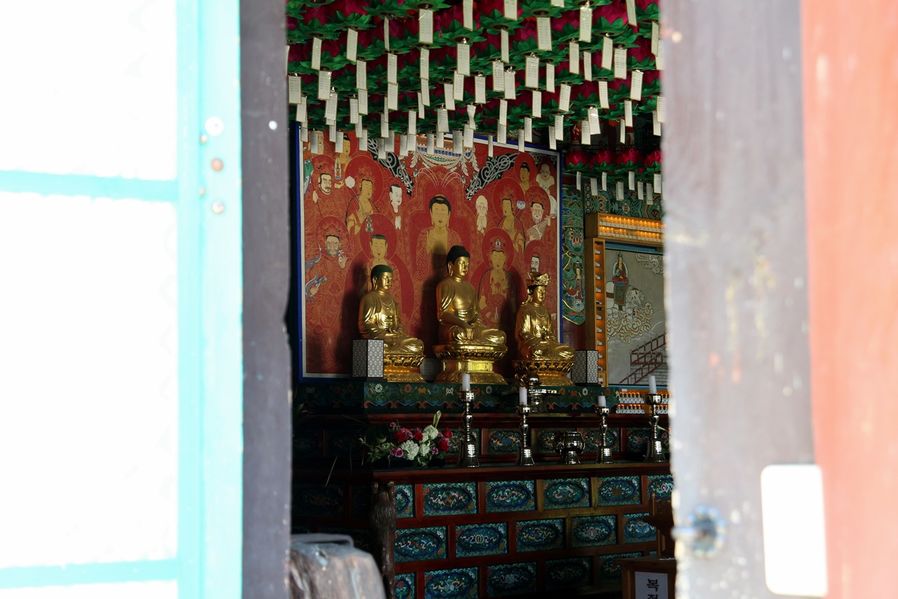 To all Gods in this world, now that I paid my respect and my prayed, why don't you answer my prayers? :)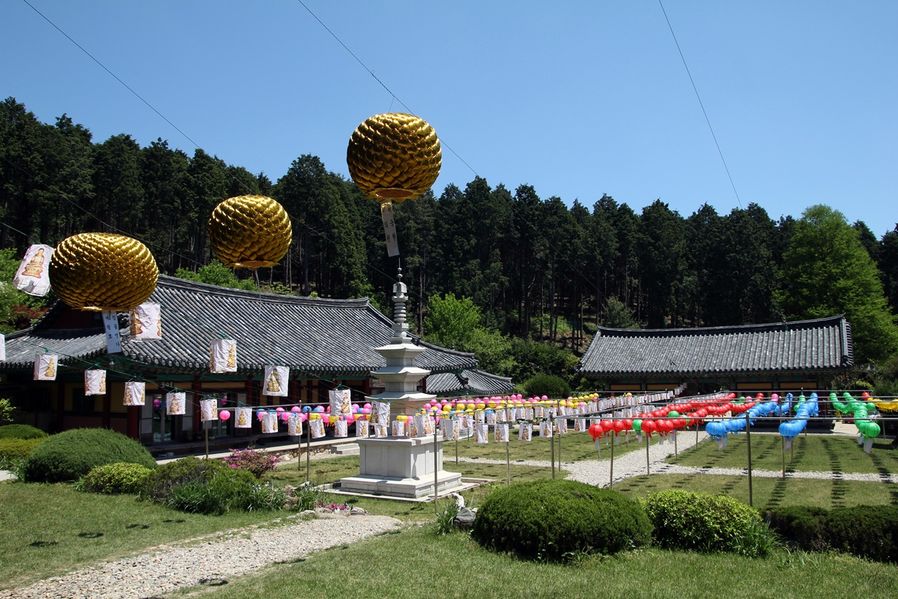 I see that even lotus lanterns are divided into rich ones and poor ones. I can see lotus lanterns plated with gold on table stone in front of Daeungjeon. Plus there is Sinjinchiasa of Buddha is enshrined in the 3-storied stone tower in the front yard, so why don't you pray there? Who knows? Buddha might answer your prayer just like that?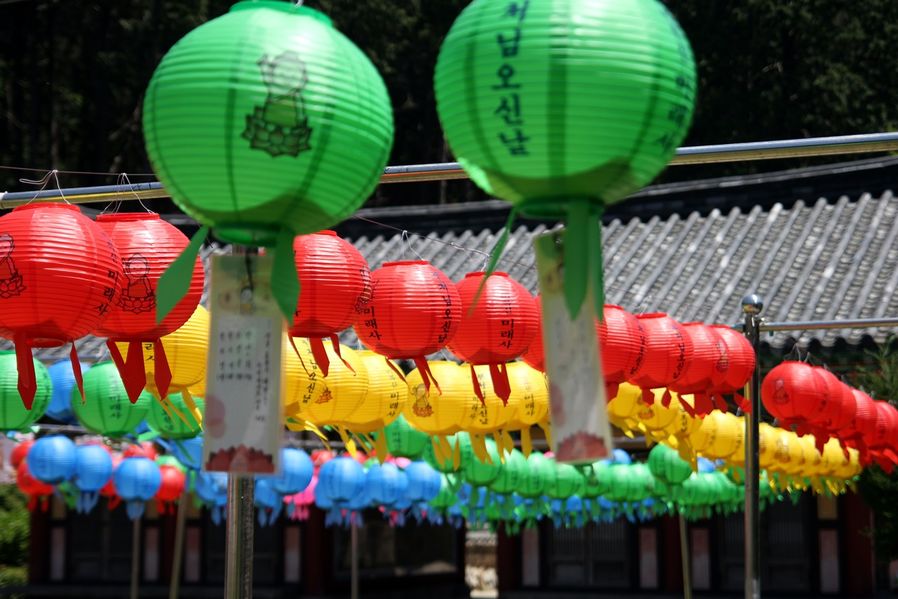 Under the lotus lanterns, there are tons of messages wishing the wellbeing of people's families.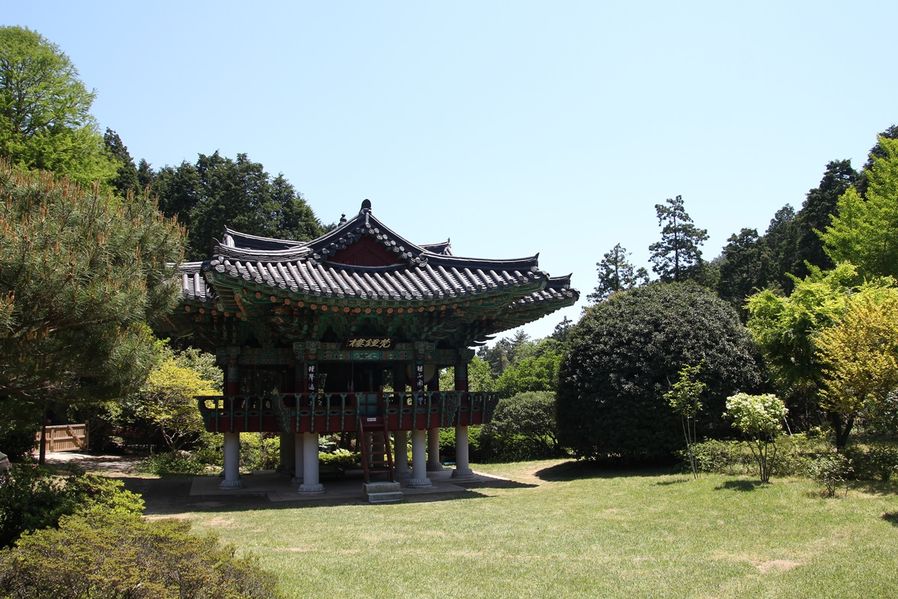 By the way, Beomjongru where the the bell hung from looks quite unique. If you look at the roof, the cruciform Paljak roof spreads all direction and I must say, SipjaPaljakNugak (cruciform paljak tower) building is hard to find even in Korea. Moreover, I was told that 3 Jinsin relics of Buddha from Tibet are enshrined here, and I assume that its miracle will be distinguished.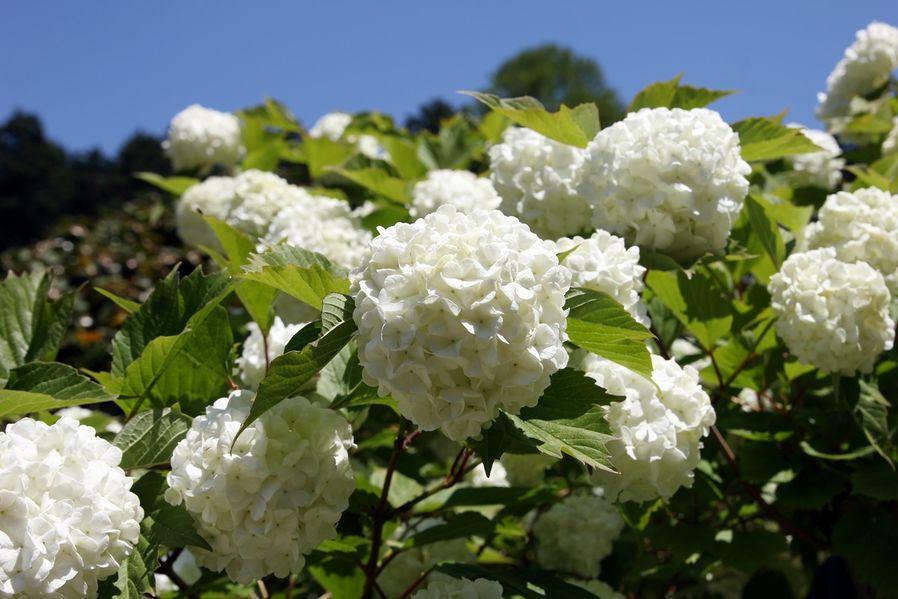 On the right of Beomjongru, there are sargent cranberrybush viburnum (佛頭花) bloomed altogether. Buldu is named for its shape that looks like the head of Buddha, and it blooms around the Day of Buddha's Coming in spring every year. The leaves bloom green at first, turn into white when they're in full bloom, and change to yellow before falling off. They look like hydrangea, don't they?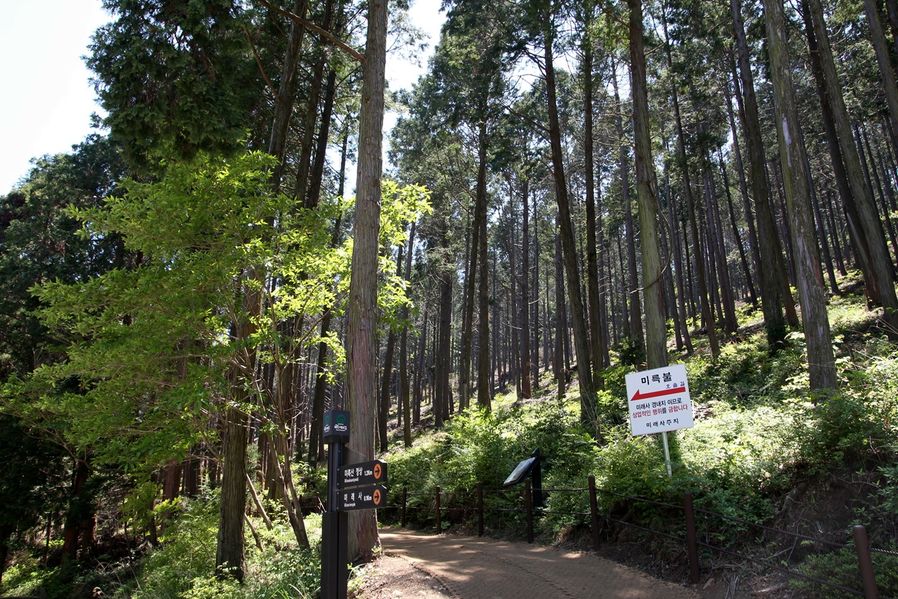 I'm going to walk along the path through the retinispora forest from the entrance of Miraesa Temple and finally go to Mireukbul.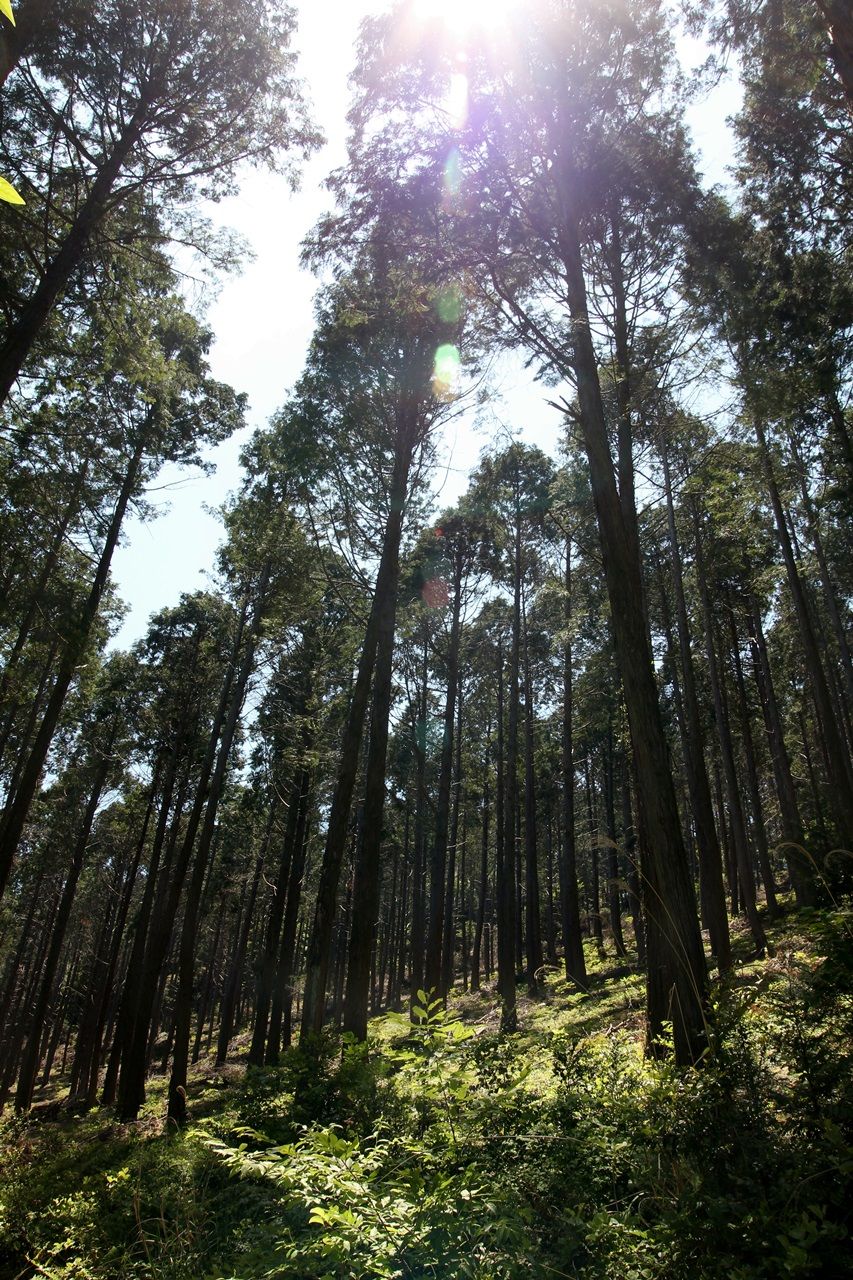 You could just walk 200m of flat road in the forest with full of trees so it is not exhausting at all. Take deep breathes while you walk.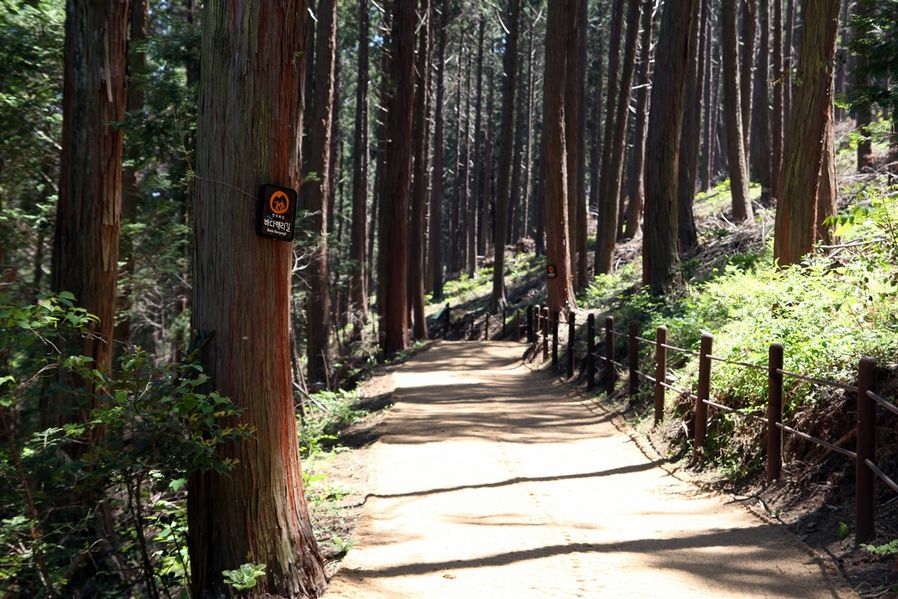 This woodland path is one of the 'Hallyeo Waterway Bada Bangni Gil' of Tongyeong just like the one in Jejudo Island, and this acts as a bridge of 6 islands that connect the Tongyeong ocean. There's no artificial bridge among Bada Bangni Gil (paths connecting the ocean) with some of them were used to support families by the residents in island while the others used for cutting firewood.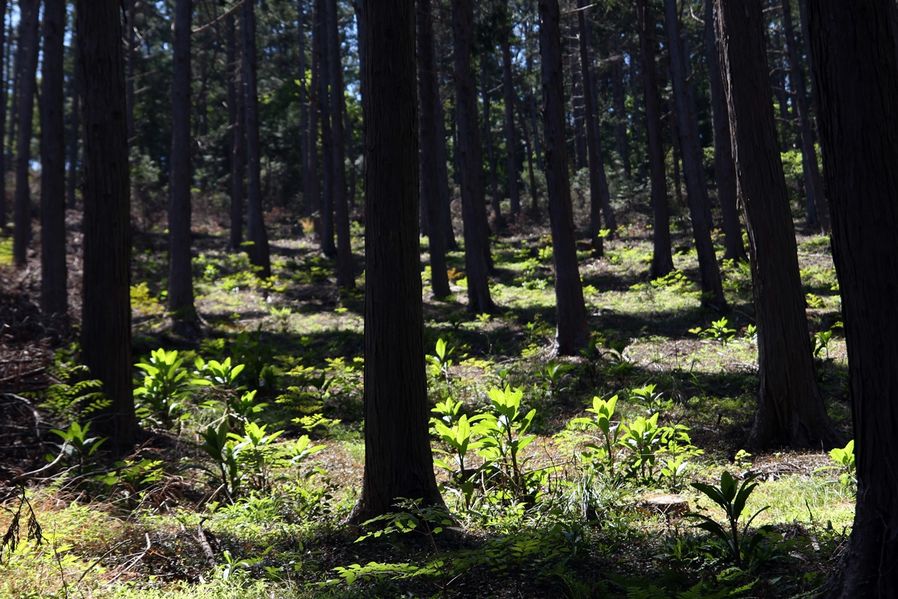 Retinisporas in this forest were planted by Japanese about 70 years ago and after Korea was liberated from the colonial, Miraesa Temple has bought the land and maintained it.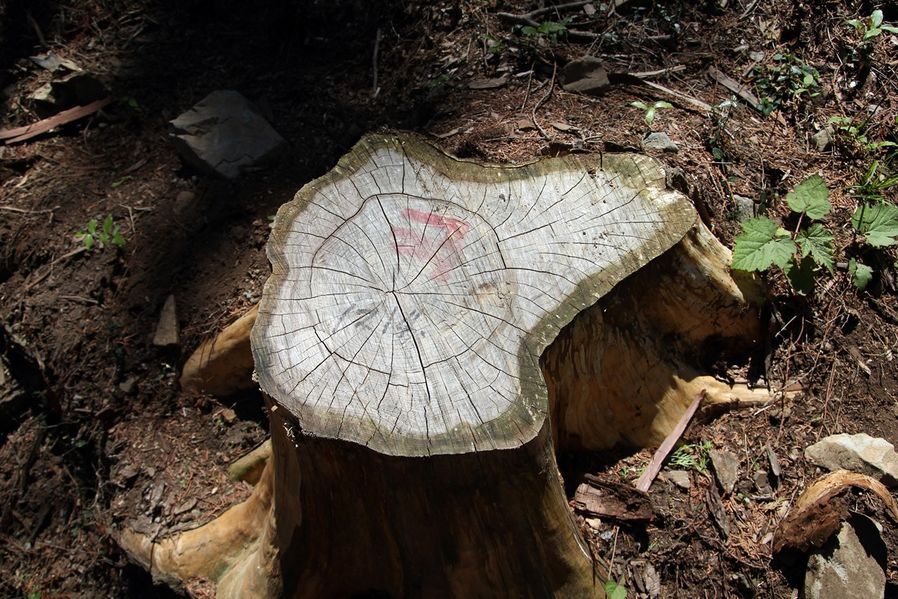 The tree stumps made for the sake of ecology even look beautiful. They have been here 70 years but had to disappear for the sake of other trees.




Walking along the path in the forest about 200m, you could see Mireukbul facing towards the sea at the end of the path.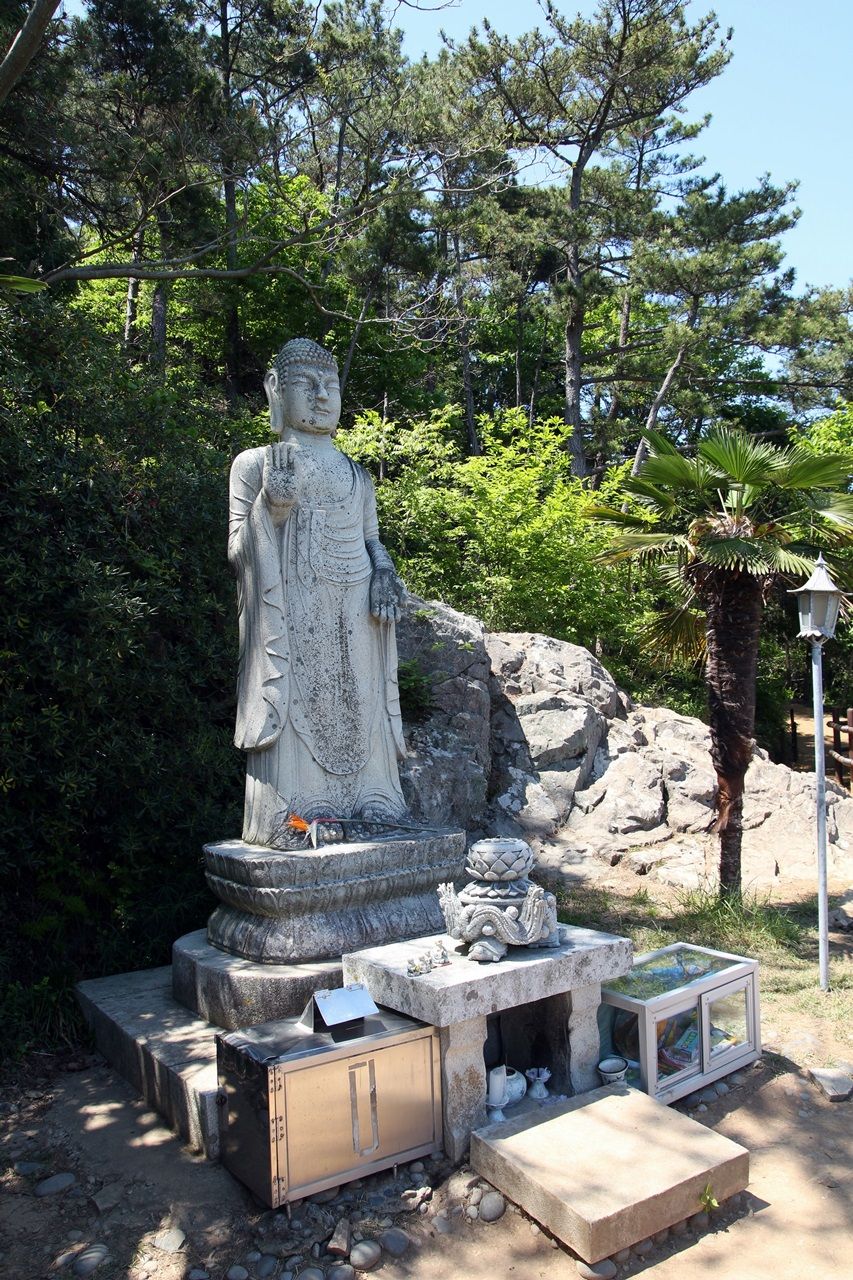 I see people who visit here light a candle, burn incense and pray. I also prayed for us all to get what we wish for, for good health, and for everything good in our lives.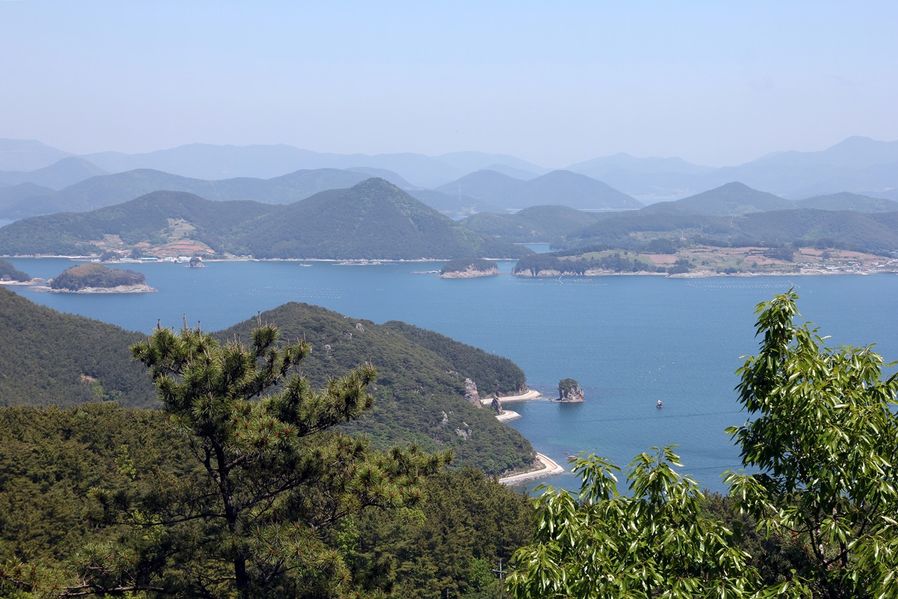 Mireukbul was looking this way. This was not in my plan but I should get going to see that unique rock island where the Mireukbul is looking at. I'll show you soon, follow me this way!

Miraesa Temple

Address : 192, Mireuksan-gil, Sanyang-eup, Tongyeong-si, Gyeongsangnam-do (경상남도 통영시 산양읍 미륵산길 192)
Telephone : 055-645-5324
Operating hour: 09:00 a.m. - 06:00 p.m.