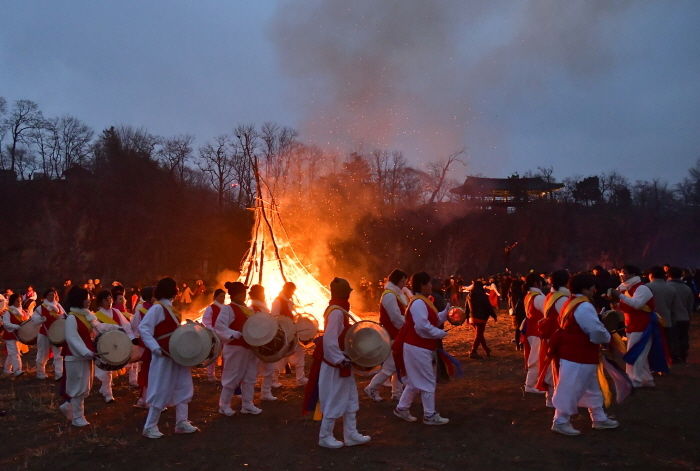 NIKON D500 | f/2.8 | iso 2800 | 2018:02:24 18:22:14 | Flash did not fire. | 16mm
Introduction
Samcheok Jeongwol Daeboreum Festival is a festival that blends gijuldarigi, Samcheok's local game of tug-of-war designated as Gangwon-do's Intangible Cultural Heritage, with other traditional customs of Jeongwol Daeboreum. The festival aims to preserve and develop both national and regional customs and traditions as well as to promote local economy and provide an opportunity to bring the community together.
Programs
[Cultural Events]
- Sulbinori - Sokdak Gijuldarigi
- Medium Gijuldarigi
- Large Gijuldarigi


* Programs subject to change.



Transportation
[Bus]
From Dong Seoul Bus Terminal, take an express bus bound for Samcheok Bus Terminal.
- Walk toward Samwon Tower, which is across the street from the bus terminal, and continue walking straight for 450m to arrive at Samcheok Expo Square.
Homepage
fullmoonfestival.or.kr (Korean only)
Planned
02.2019
Address
45, Expo-ro, Samcheok-si, Gangwon-do
강원도 삼척시 엑스포로 45 (성남동)
Location
Expo Square, Jukseo-ro Road
Telephone
• 1330 Travel Hotline: +82-2-1330
(Korean, English, Japanese, Chinese)
• For more info: +82-33-571-3225
Referred from : KOREA TOURISM ORGANIZATION http://visitkorea.or.kr