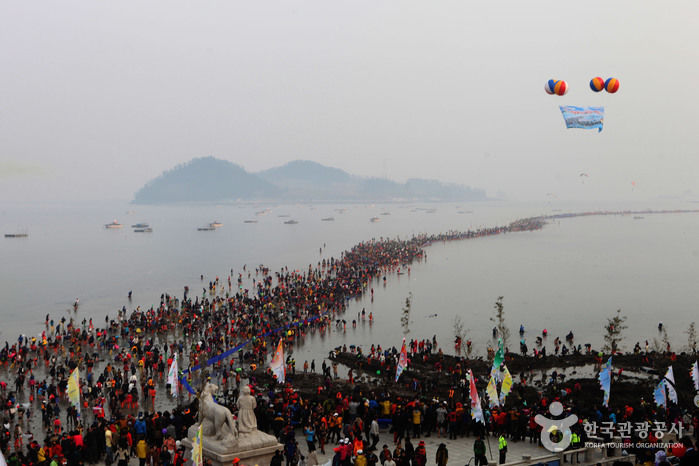 Canon EOS 5D Mark II | f/7.1 | iso 200 | 2015:03:21 16:58:15 | Flash did not fire, compulsory flash mode | 46mm
Introduction
Once a year at Jindo Island in Jeollanam-do, the sea mysteriously parts and visitors can walk through the sea from the main island to a smaller nearby island. This phenomenon is due to the buildup of pebbles and sand created over time with the tide, creating a 2.8-kilometer-long road measuring 40-60 meters in width that appears at extreme low-tide.


The Jindo Miracle Sea Road Festival takes place at the same time as this phenomenon. Visitors can enjoy walking along the sea road, gathering abalone and various other fun activities that make up the festival program. The spectacular sight of the sea parting is widely known and about half a million visitors flock from all over the world just to witness this amazing event.



Programs
[Main Programs]
- Miracle sea road walking experience
- The sea road beacon light parade
- Grandmother Ppong, Legendary Story of Grandmother Ppong reenactment


[Hands-on Experience Programs]
- Travel Jindo Experience (Learning Jindo Arirang, Gugak, and Poetry Paintings) at Gagye hands-on experience booths
- Jindogae Dog Experience (Searching for Jindogae Dog, various acrobatic performances) at Gagye hands-on experience booths
- Jindo Hongju Experience (Jindo traditional alcohol tasting) at Gagye hands-on experience booths


[Performance Events]
- Jindo Intangible Cultural Assets performance
- International Festivals showcase
- Celebration Night performance


[Other Events]
- Haesangseonbak (Seaboat) parade
- Haesangpungmul (Korean folk music tradition) boating
- Go! Scoop Golden Abalone! - abalone catching experience


* Please note that events and programs offered may differ each year.



Admission/Participation Fees
Free
Duration of Performance
Varies by program
Age Limit
Open to visitors of all ages
Transportation
[Express/Intercity Bus]
Take a bus from Seoul Central City Terminal or Dong Seoul Bus Terminal to Jindo.


[Bus]
From Jindo Bus Terminal, take the Gagye-Hoedong or Songgun-Hoedong bus
Get off at Hoedong (회동).
Go 40m along the sea to reach the festival venue.



Homepage
tour.jindo.go.kr (Korean, English)
Period
03.21.2019 ~ 03.24.2019
Address
Hoedong-ri, Jindo-gun, Jeollanam-do

전라남도 진도군 고군면 회동리
Location
Area of Hoedong-ri, Gogun-myeon, Jindo-gun
Telephone
• 1330 Travel Hotline: +82-2-1330
(Korean, English, Japanese, Chinese)
• For more info: +82-1588-9601
Referred from : KOREA TOURISM ORGANIZATION http://visitkorea.or.kr