HwangGeumRyung Burger 황금륭 버거

I always wanted to try an super-size galchi gui(grilled cutlassfish) that is long as 1m so we headed to Sunshiminae close to Mount Songak.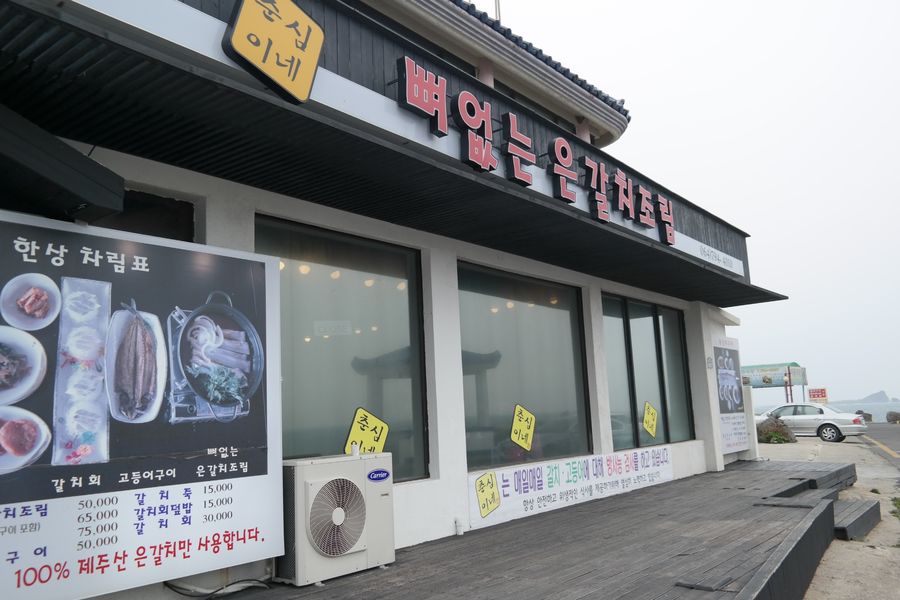 As I was about to get into the entrance, the employee came out and told us they sold all of cutlassfish they had for the day.
Ah…that's so sad. I really wanted to see 1m long cutlassfish … So we had no choice but to turn back before even sitting on a chair.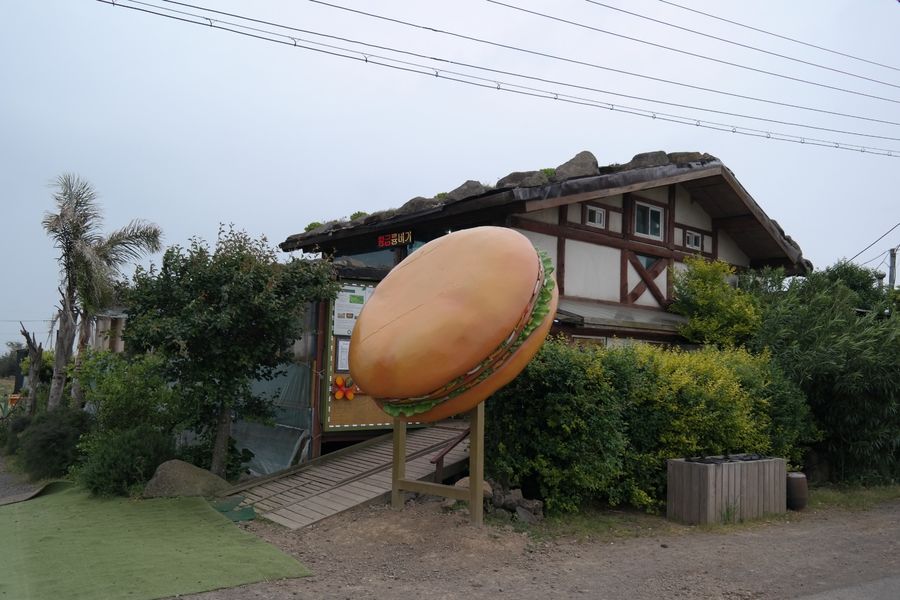 "Let's just eat a hamburger or something." As an alternative, we went to HwangGeumRyung which used to be popular in Jeju once.
It's a plain hamburger but they kinda have a motive of healthy ingredients so they make everything organic themselves.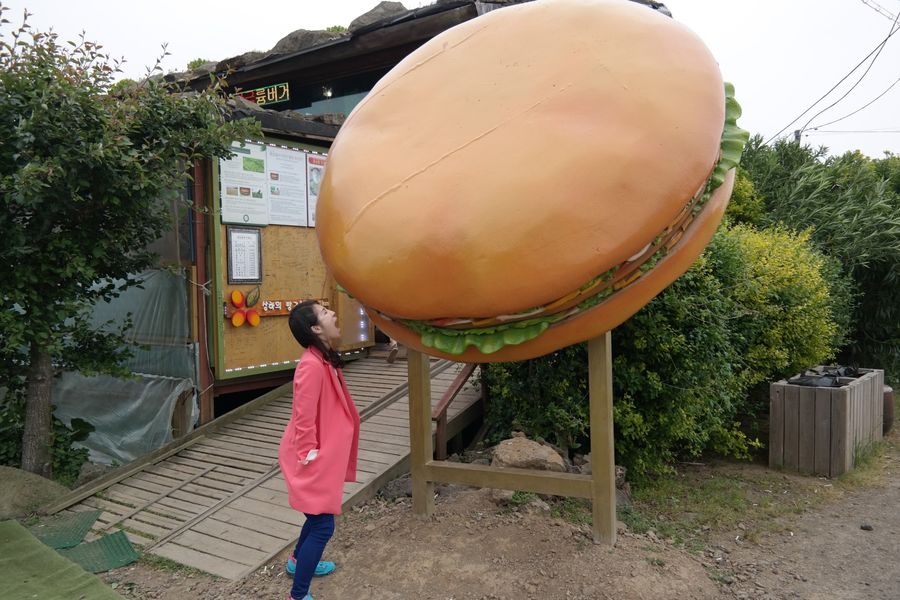 The burger model standing in front of the restaurant says this is burger shop. The elementary schooler who's disappointed from cutlassfish restaurant looks like he could even eat that model.
"Hey, it's not food!!"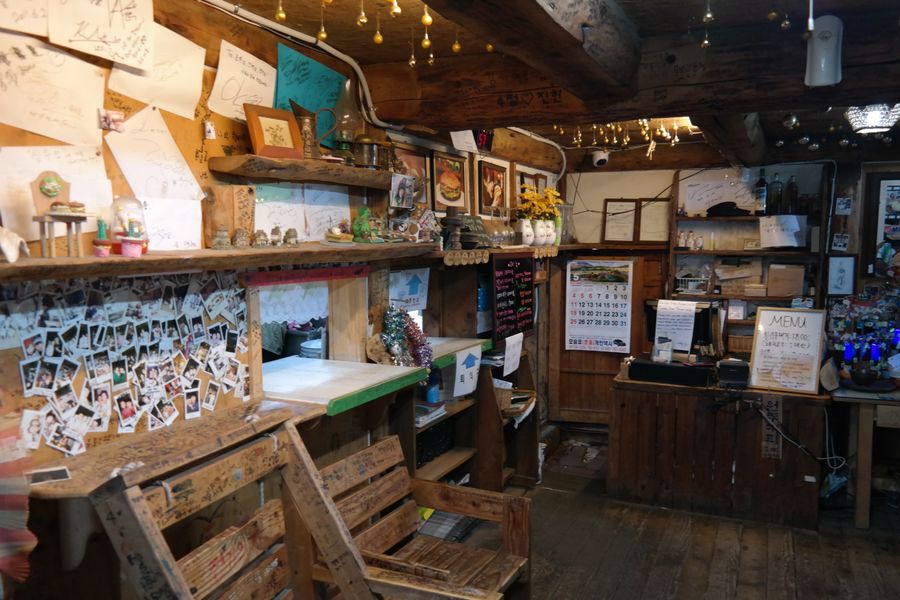 As soon as we entered the shop, the scribbles and pictures on the walls caught our eyes that proved it's an old and famous shop.
Here you're going to have to pay when you order and everything is self-service. We took a look around a little bit and ordered at the counter finally. ganic themselves.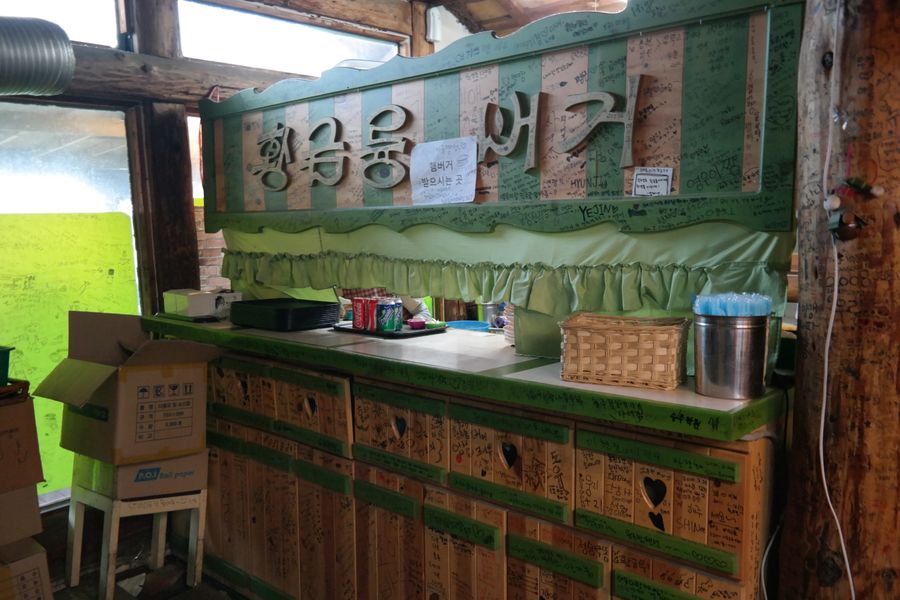 We got a waiting number ticket, and when we walked inside one step there was a kitchen but still the same walls covered with people's scribbles.
This made me want to try it as well. I wanted to write that I could even eat this restaurant but I'm a civilized man so…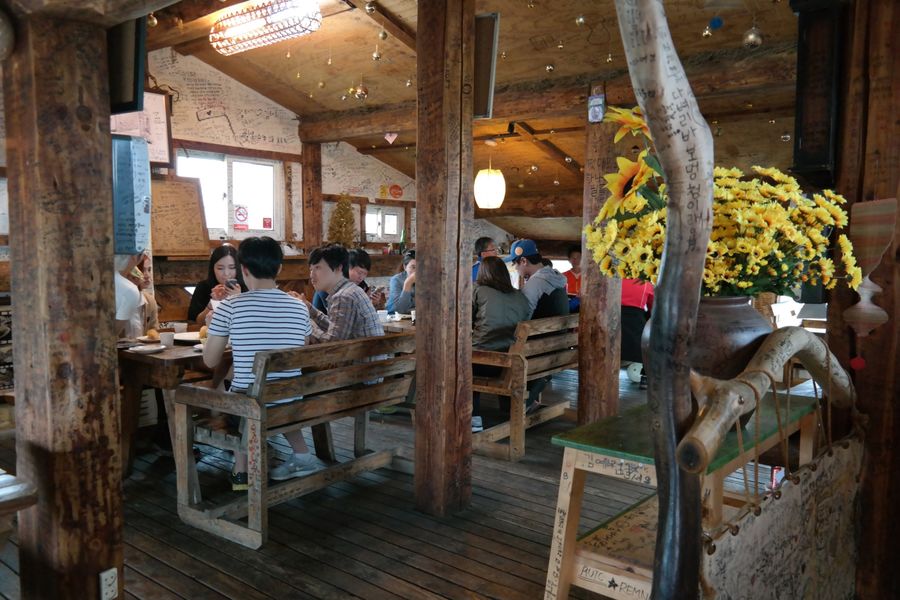 There's an attic on the second floor but it was full of people already. Most of them were young tourists. Everybody was taking pictures at first.
Then we heard that our hamburgers are ready so we almost snatched them and went to the table.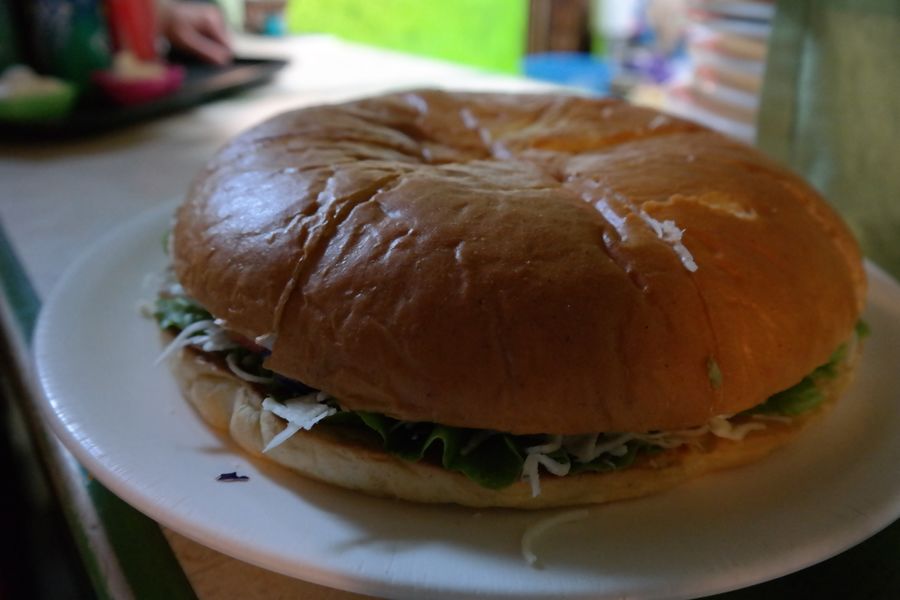 Voila! This is THE Jeju HwangGeumRyung burger. Can you notice it's good for desert?
The buns are made of organic wheat with rosemary, lemon grass, laurel, basil and lemon tea tree powder, and inside it had cucumber, raw vegetables, red pepper, cabbage, paprika, tomato, onion, apple and carrot as well as delicious mustards, fruits and white meat sauce.
Plus the patty was made of Jeju black pork for which Jeju is famous.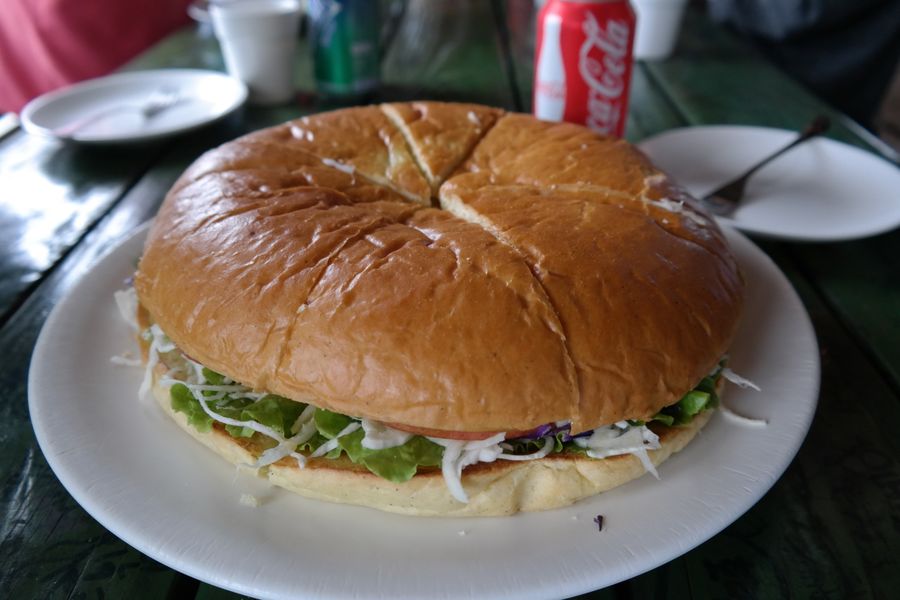 The big size caught my eyes and the buns were not too thick, nor unpleasant, they were moist and sweet so I couldn't stop eating.
I and my friends finished 3 plates of big-size burgers and the table we usedwas messy when we left.
The burger we ordered was 8-piece plate for 3 to 4 people. They also had a 4-piece plate for a couple.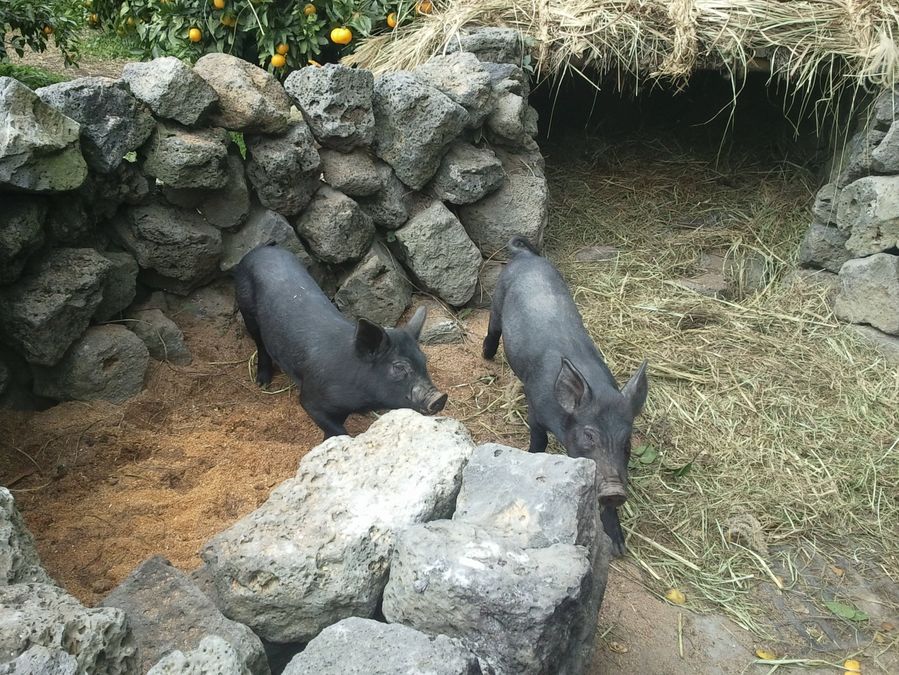 We ate a lot that made us feel like Jeju black pork and woke up to get to the next destination one by one.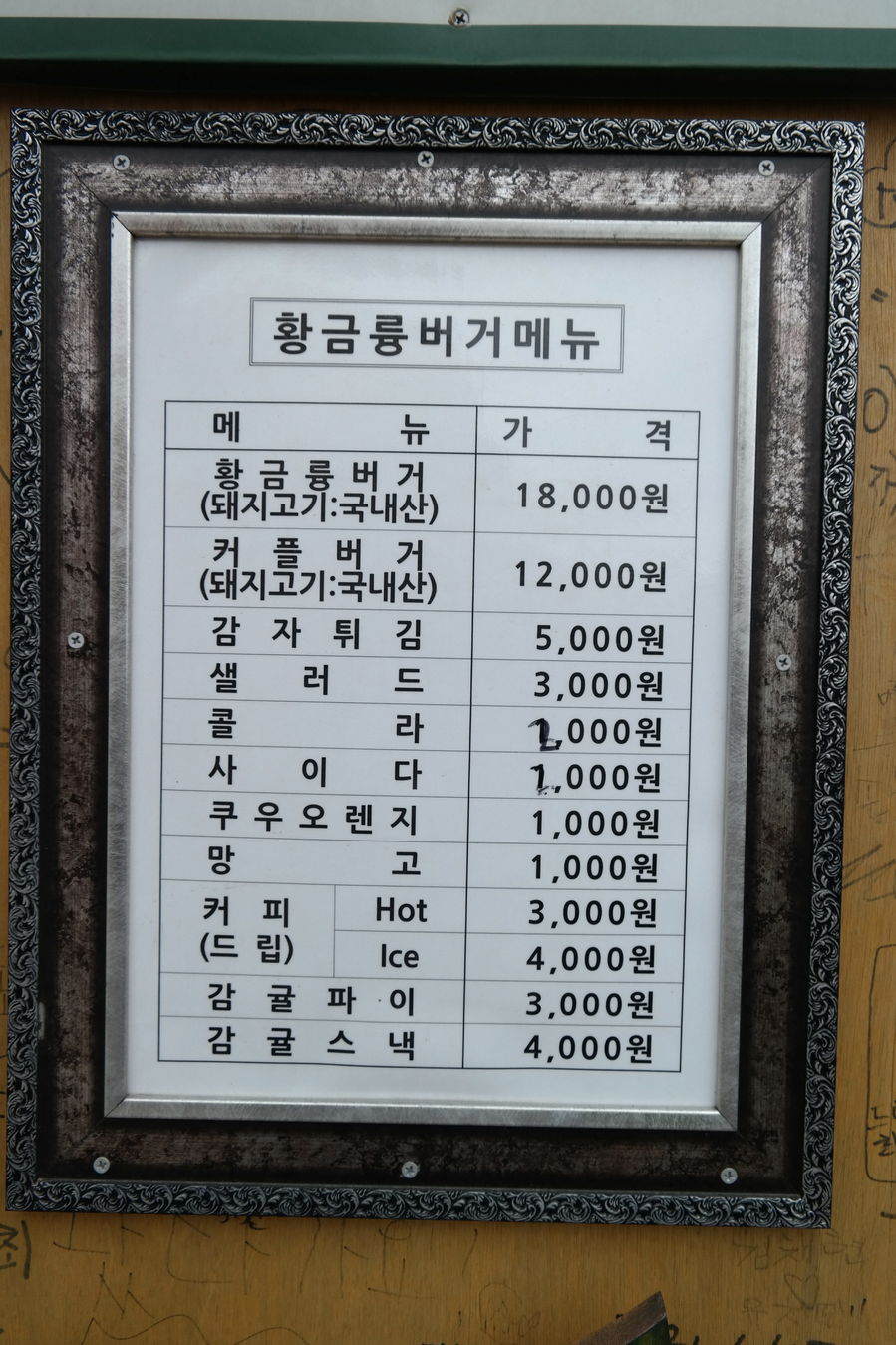 NX300 | f/4.5 | iso 100 | 2014:05:12 00:25:34 | Flash did not fire. | 18mm
HwangGeumRyung burger tasted fresh as it was a hand-made burger, not an instant food, but the price was quite high for me.
Especially, they only had canned beverage or slush so the more people you are, the more expensive it would costbecause one beverage alone costs 2,000 won.
However, it would be worth to try at least once in your life so I guess this wouldn't be a problem for young couples or tourists as a date course.
Address : 10, Sindo-ri, Daejeong-eup, Seogwipo-si, Jeju-do (제주특별 자치도 서귀포시 대정읍 신도리 10번지)
Telephone : 064-773-0097
Operating Hour : 9:30 a.m. - 7:00 p.m.
Website : http://cafe.naver.com/jejuhgr
Haneulbit Resort (Former Green Island) 하늘빛 리조트

Everybody has a fantasy about staying at a pension where they can see the ocean in front when they go to Jeju Island but we chose to stay at Haneulbit Resort close to Seogwipo where you get a part view of the ocean.
In this high-class European style resort that is equipped with an outdoor pool, seminar room and outdoor barbecue room, you will find the barbecue room and grass in the middle and subtropical plants between a wooden swing and a pool.
You can check in by 15:00, check out by 12:00, and the Family Room is on the 1st floor, Deluxe Rooms on the second and the Suite Rooms on the third floor.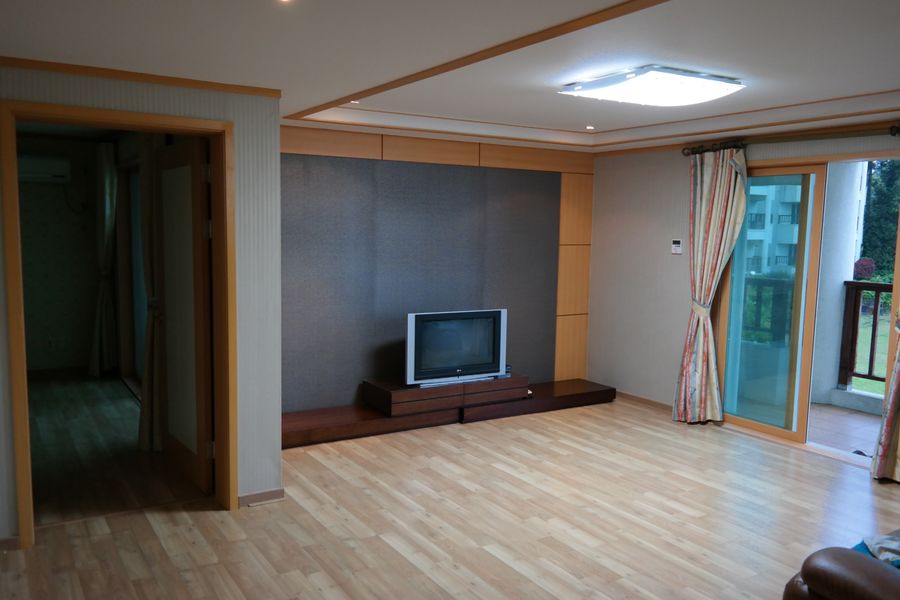 The room we booked, Deluxe Room(6 people / 132m2) with two rooms, two bathrooms and a wide living room, was big enough to occupy 10 people and the kitchen was clean and as big as a living room of regular pension.
The air conditioner and other electronics were prepared but it had only one TV in the living room. To think about it, TV is just for checking the weather on trip.
Ah, I was disappointed that the building we stayed did not have any wifi, which is vital to tourists these days.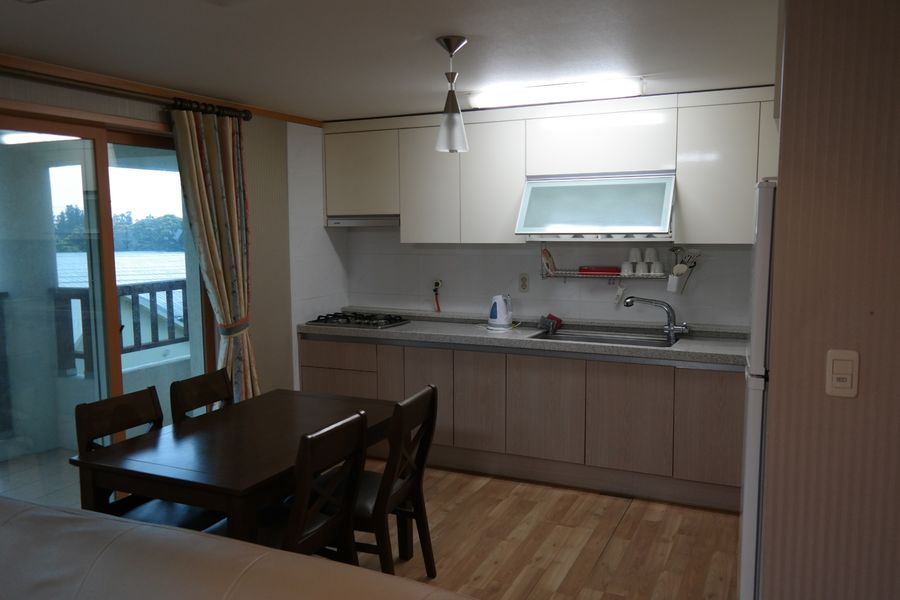 The kitchen was equipped with a table for 4 people, simple cooking utensils, cups, a refrigerator, a microwave and even a washing machine on the veranda.
It was during the week so the price was cheaper than similar pensions here. The room we made a reservation, Deluxe Room, was 110,000 won.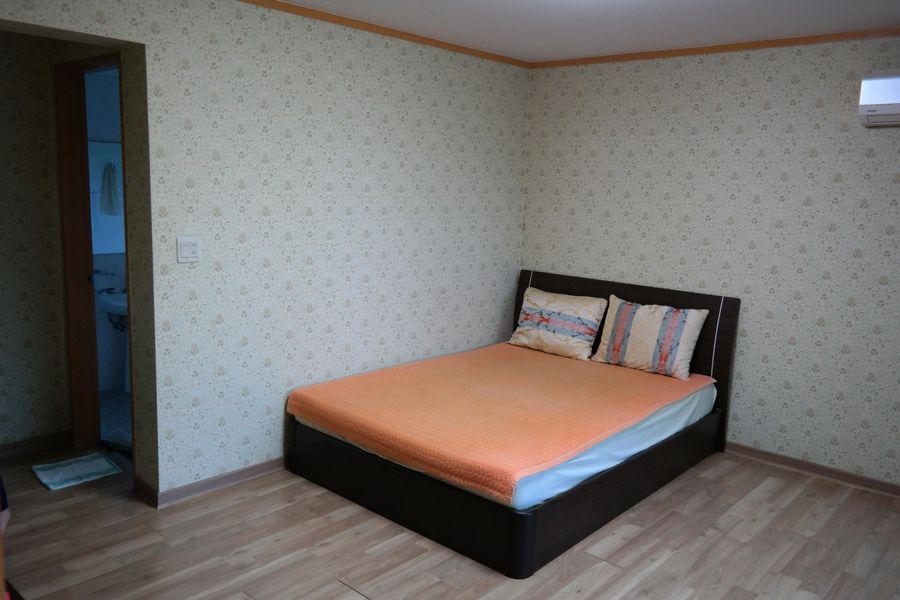 The blankets and bedding were prepared in the smaller room, and the bigger room had a dressing table, a double-size bed and a bathroom inside it.
One side of the wall of each room was a big window connected to the veranda so the room was warm with the sunlight.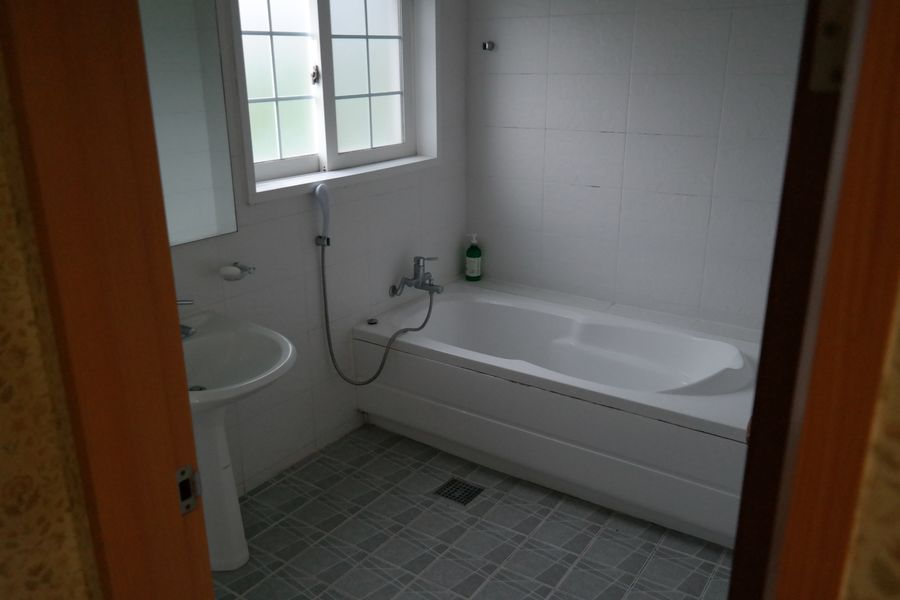 The bathroom in the room was old but well-maintained with towels of different sizes but we could not find any other toiletries except a soap and shampoo so you're going to have to take them if you need.
Each room has a heating control system and hot water is always available so it's a perfect place to spend a night.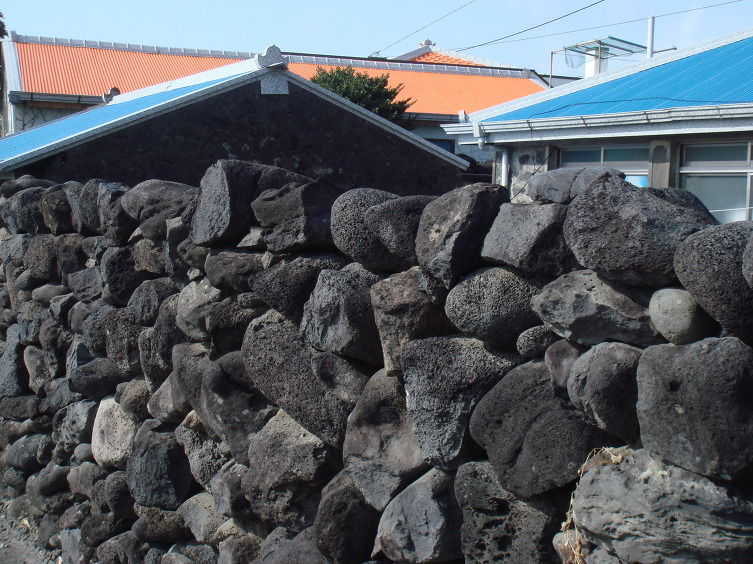 DSC-T10 | f/5.6 | iso 125 | 2010:01:22 12:13:53 | Flash did not fire, compulsory flash mode | 7.7mm
Except the fact that we can't get the ocean view, this place is great to spend a night but there's one thing that I miss so much.
The truth is that there's nothing but tangerine farm and stonewall walkway near the resort. So don't forget to take anything you need from outside before you get in!
You won't find any convenience store within 6km distance. Instead, you could quietly relax while you enjoy the night sky on Jeju Island darker than in the city because there's no lights around the pension.
In short, if you are looking for somewhere quiet where you could enjoy Jeju night sky at a reasonable price, I suggest you to stay at Haneulbit Resort.


Address : 3364, Wimi-ri, Namwon-eup, Seogwipo-si, Jeju-do (제주특별자치도 서귀포시 남원읍 위미리 3364)
Telephone : 064-748-0890
Prices : Family Room 102,000 won / Deluxe Room 113,000 won / Royal Suite Room 125,000 won (Extra charges for barbecue: 25,000)
Seopjikoji (Entrance) 섭지코지

The weather was okay this morning. We drove along the coastline from the hotel slowly so it took an hour to get to the eastern of Jeju, Seopjikoji.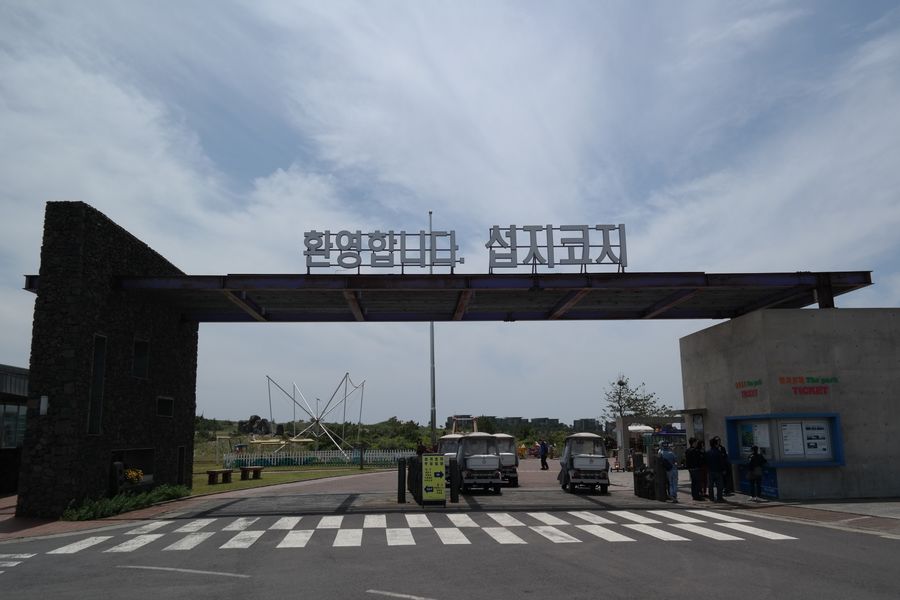 Seopji means topography that produced lots of men of talents (才士) and Koji is a Jeju dialect for a cape which is famous for ending scene in drama titled [All In] that was a boom in Korea as well as a place where the son of the Great Jade Emperor who fell in love with fairies turned into a rock according to the legend.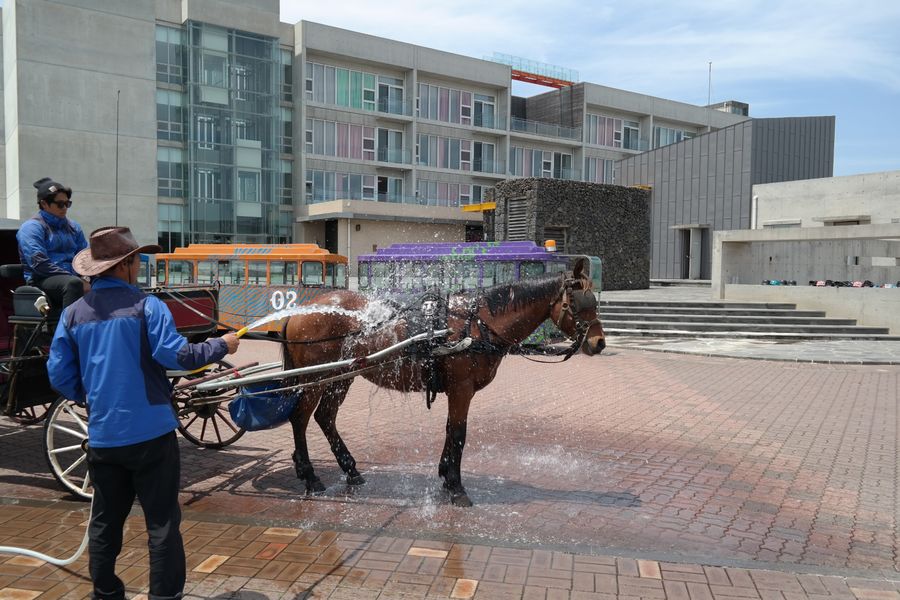 As soon as we entered, the weather reminded us we were in Jeju. When the wind got weaker, the sun started to shine like in summer so that the horses that often have tourists on their backs were having a shower in cold water.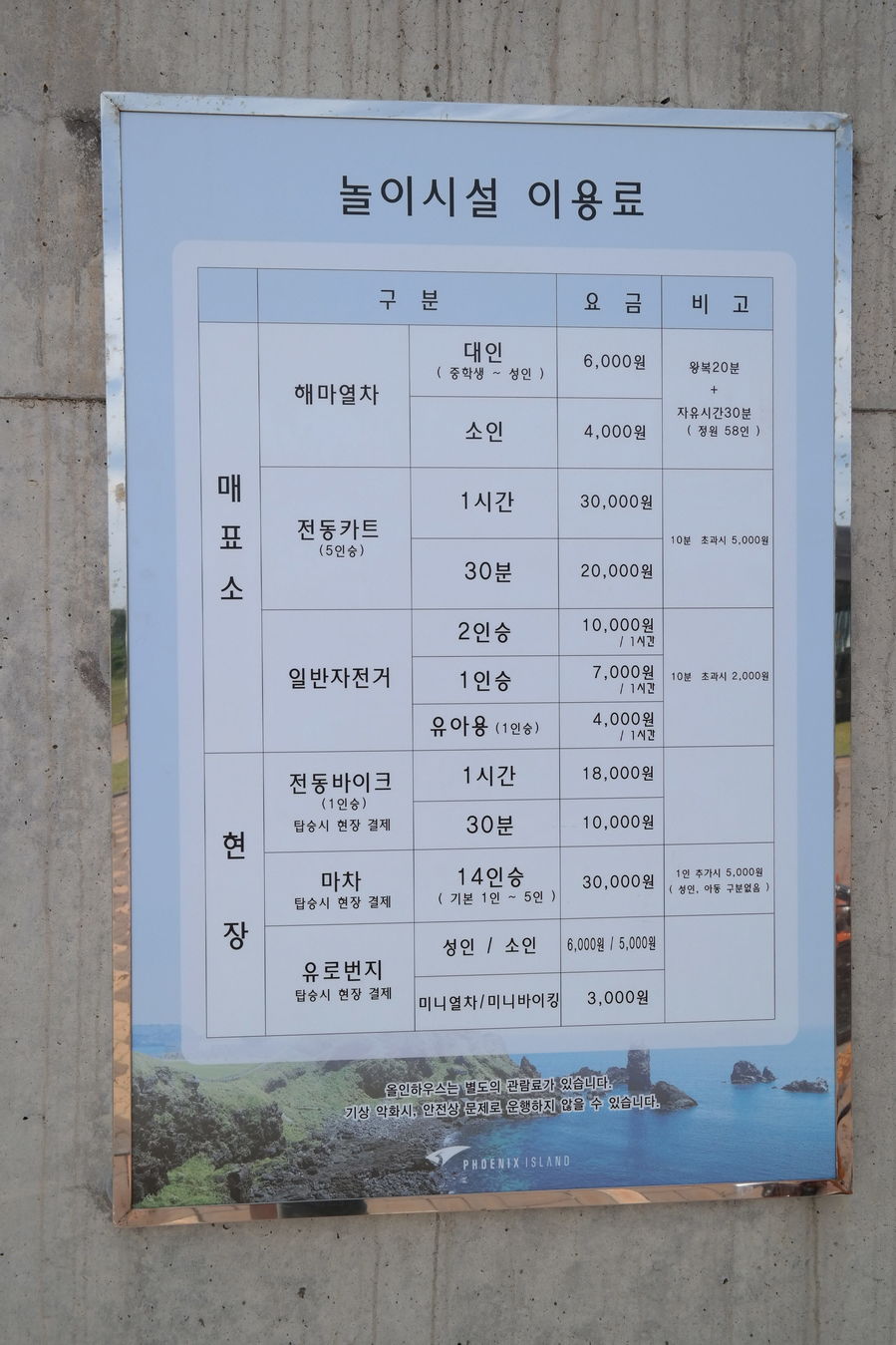 NX300 | f/7.1 | iso 100 | 2014:05:12 21:42:28 | Flash did not fire. | 18mm
There are different vehicles in the parking lot including carriage, train, electric bicycle and bicycles for 2 people but they were quite expensive.
Even before we took a look around Seopjikoji, we had a problem. It actually takes 90 minutes to take a look.
Sadly, we had to give up due to our flight to Seoul that day and the number of people of our group and promised to visit there again.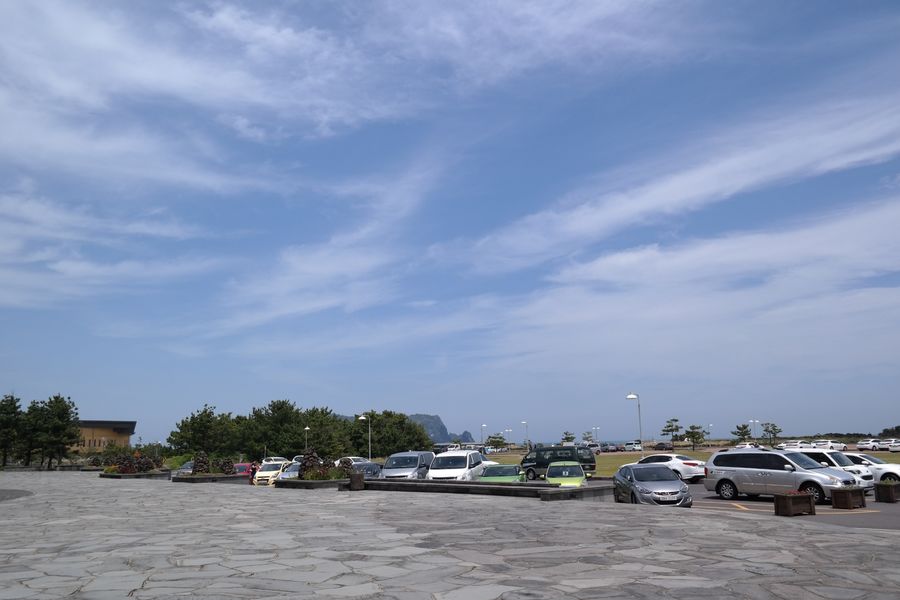 The sky was blue and weather was great but we were disappointed to give up on our first tour… My friend from Jeju had no idea that the rules were changed because it was allowed to drive the car inside a long time ago.
We had no choice but to watch Seongsan Sunrise Peak at the Seopjikoji parking lot so we got on the car again.
I found out later that for those who are short of time to sightsee, you could turn right at the forked road right before you entered Pheonix Island where Seopjikoji parking lot is located, and go straight to the ticket office at the seashore then you could take a look around without any transportation.


Address : 62-3, Goseong-ri, Seongsan-eup, Seowuipo-si, Jeju-do (제주특별자치도 서귀포시 성산읍 고성리62-3)
Telephone : 064-782-2810
Opening Hour : 09:00 - 18:00