Now you're going to travel Suwon, Gyeonggi-do with me this time. If you're living in the capital city, you might consider this big city as a tourist attraction. But Suwon-si is quite popular among travellers from Korea and other countries. It has everything including cultures, histories, nature, shopping and food so it's especially popular among foreigners. I won't be able to show you all sides of Suwon today but I picked a few placed to introduce you. So shall we move on?
Gwanggyo Reservoir Trail 'Gwanggyo Marugil' and 'Gwanggyo Park'
First place I'm going to show is an amazing place where you can take a walk in nature. That is Gwanggyo Reservoir trail called Gwanggyo Marugil and Gwanggyo Park. The trail is 3.4km long that's paved across Gwanggyo Park and around Gwanggyo Reservoir. There's no uphill or downhill so 1 hour should be enough. You can do it right?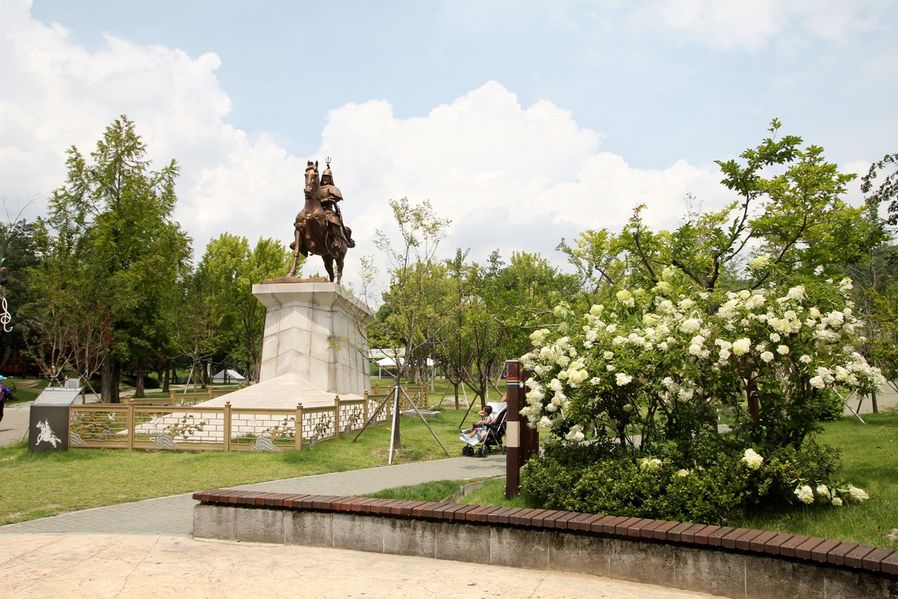 As I entered Gwanggyo Park, beautiful flowers and the statue of the General Gang Gam-chan, the hero of the Great Battle of Guiju in Koryeo era, were welcoming us. But the General Gang Gam-chan has no relations to Suwon-si. If anything, he studied in a lecture hall for two years in Hwaseong, Gyeonggi-do, which is close to Suwon. This statue was built in Suwon Hwaseong Fortress to make us respect and learn his patriotism during the Park Jeong-hee government but it was moved to the entrance to Gwanggyo Park.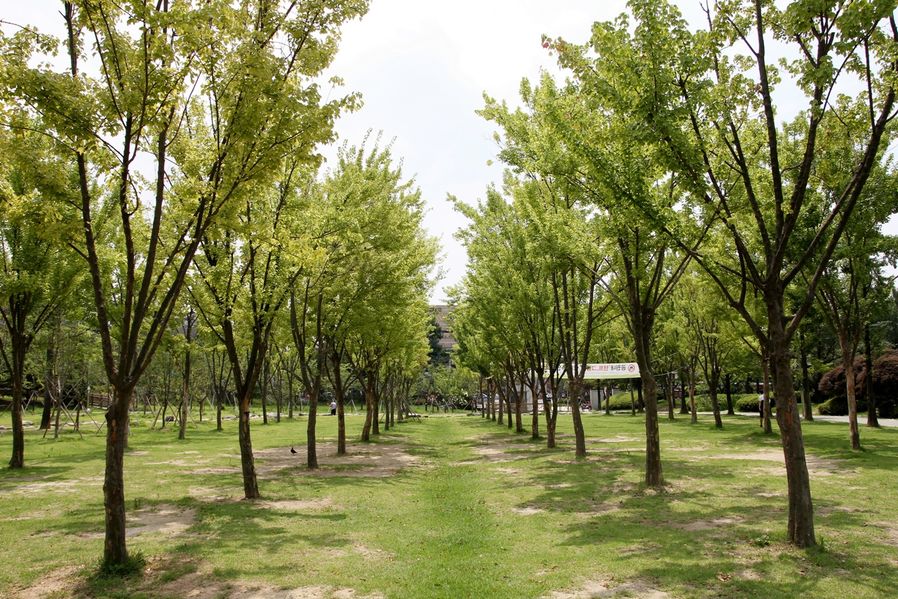 The grass was planted in the yard of the park, and you can set up a tent under the tree to rest. Nobody can say anything about setting up a tent or a mat so you can just enjoy. BUT, you can't cook here.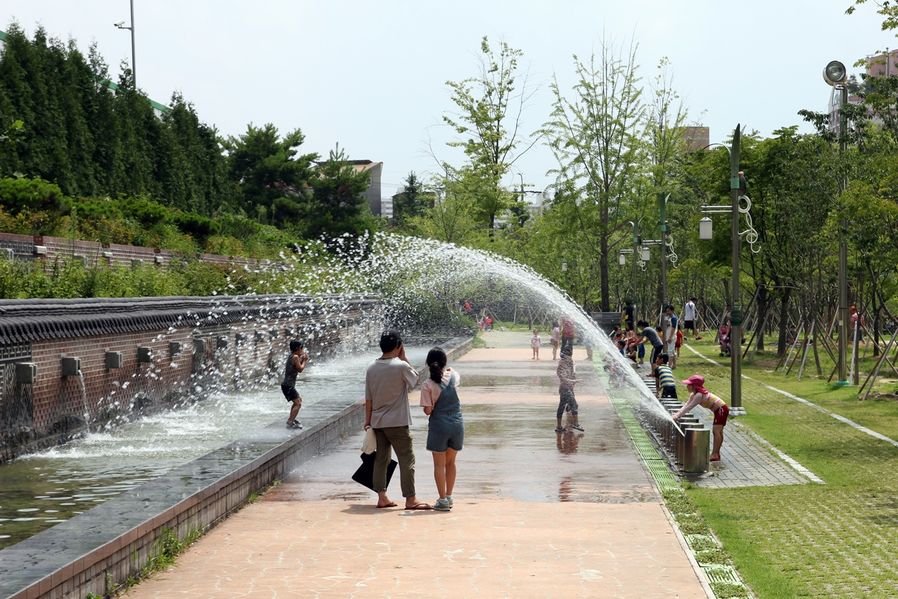 There's a fountain tunnel next to the trail. You can see this tunnel every hour for 40 minutes followed by 20 minutes of break. Just on time, the water started to shoot so be careful not to get your clothes wet.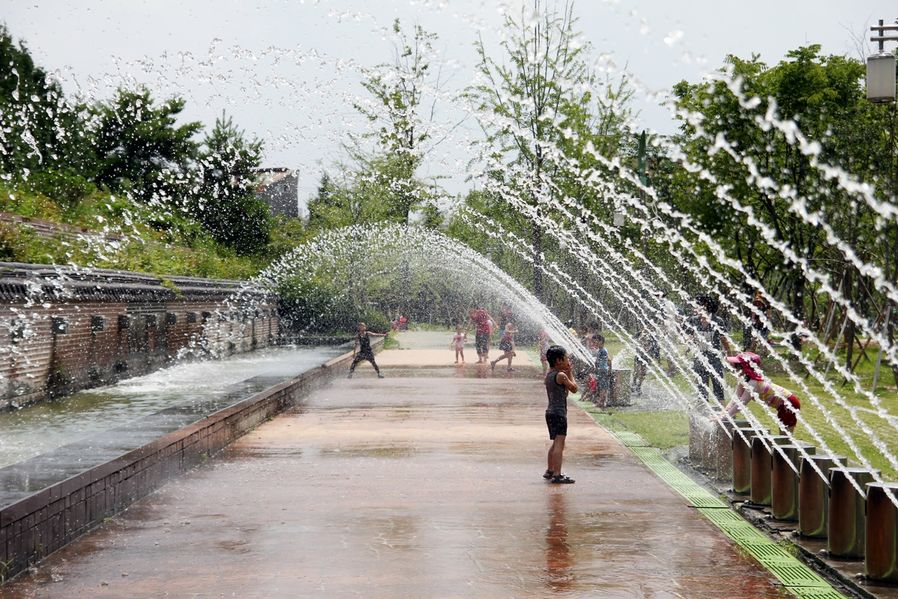 You can't miss kids when it comes to water. Kids were so into playing in the water. If I didn't have my camera, I would've jumped into the water. It was bloody hot!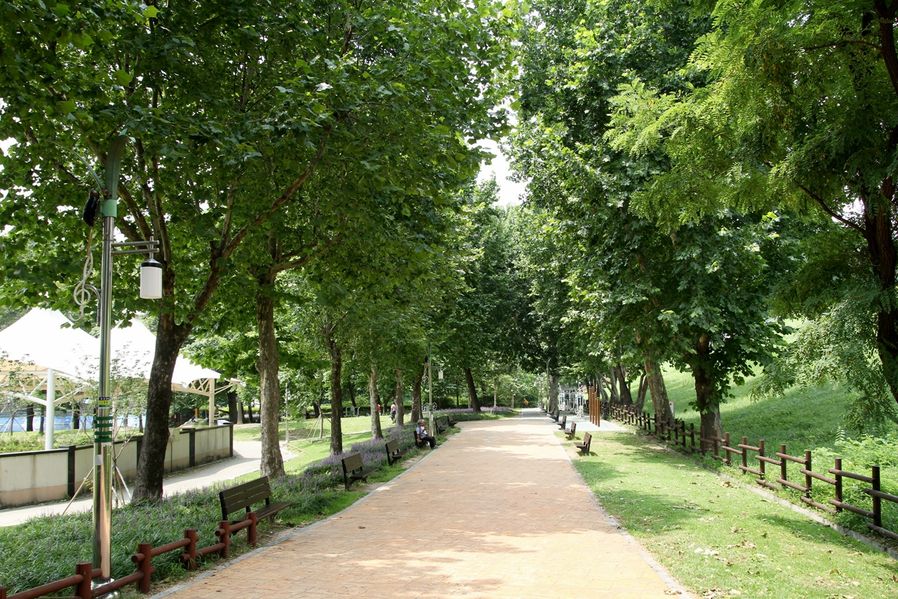 Now, I'll show you the trail around Gwanggyo Reservoir. Walk between gigantic trees a little and you'll see the entrance.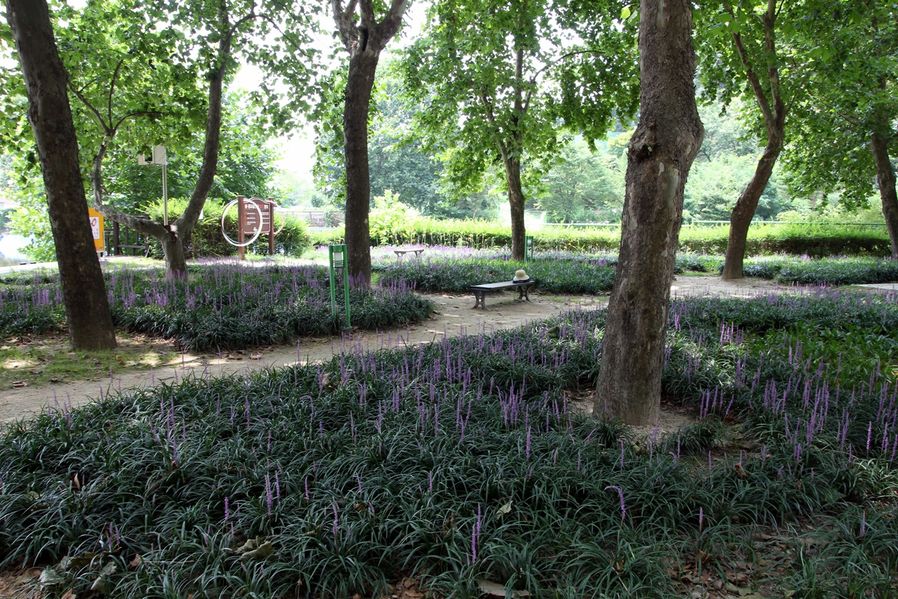 Wow~The path was decorated with purple snaked beards everywhere. They look beautiful in summer as well but more importantly, it's used as medicinal herbs as well. Well, they look beautiful to see on the street like this.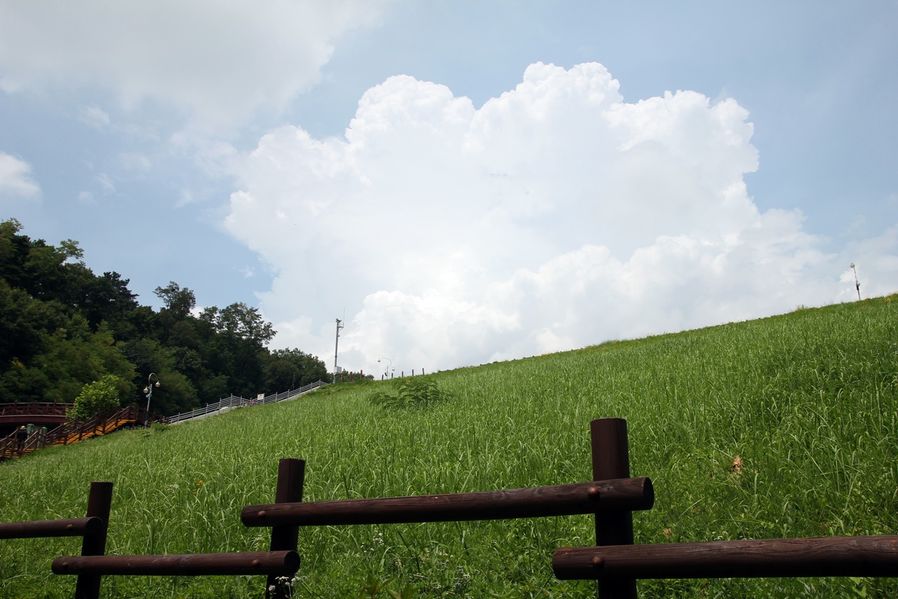 These high structures are a bank that keeps the water in the reservoir. That day, the sky was blue and hot but it's supposed to be hot in summer even when you take a walk, right?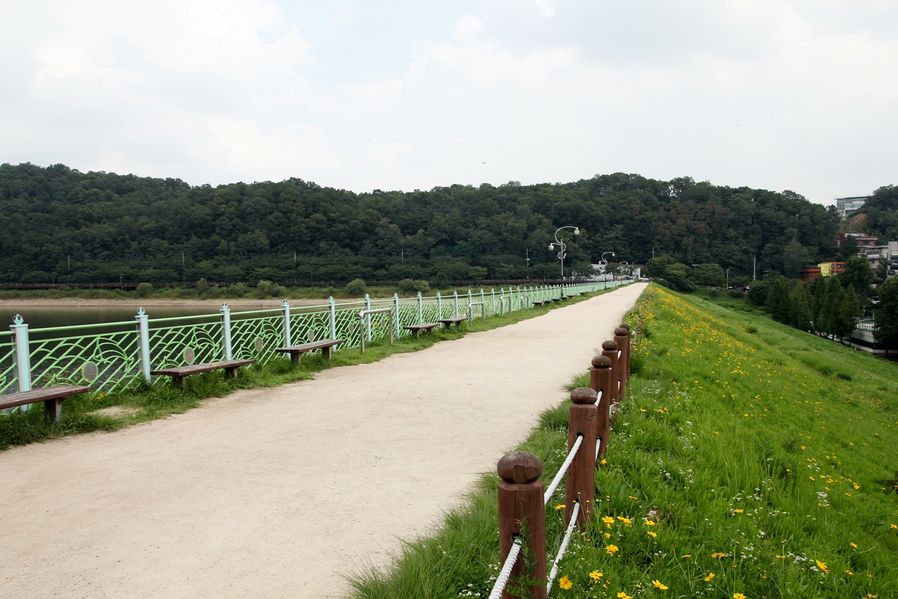 On the bank, flowers bloomed on one side of the road and you get the sight of Gwanggyo Reservoir on the other side.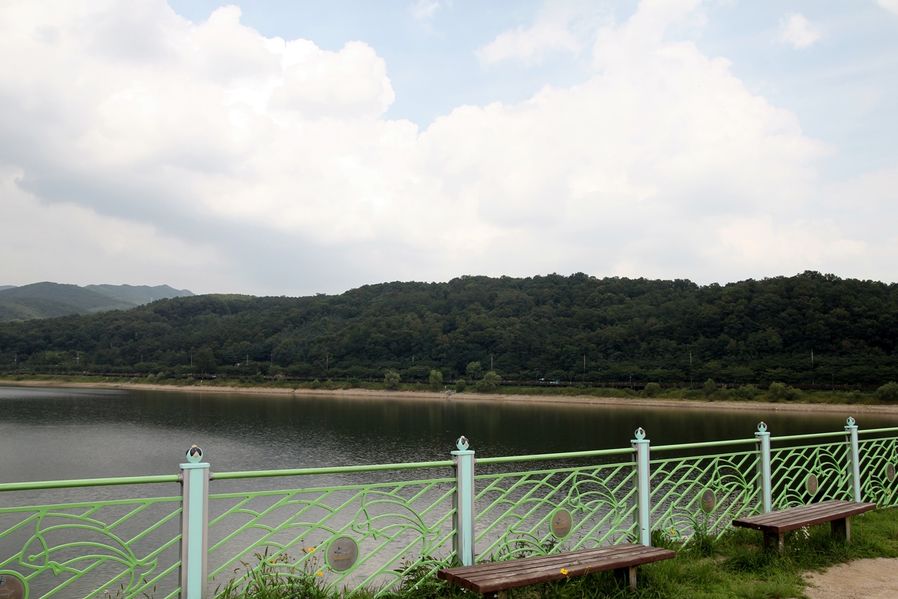 The trail I'm going to walk is leading to the path in the mountain, around the reservoir and coming back through the path across the reservoir over there. It's 3.4km long course, which is not so far.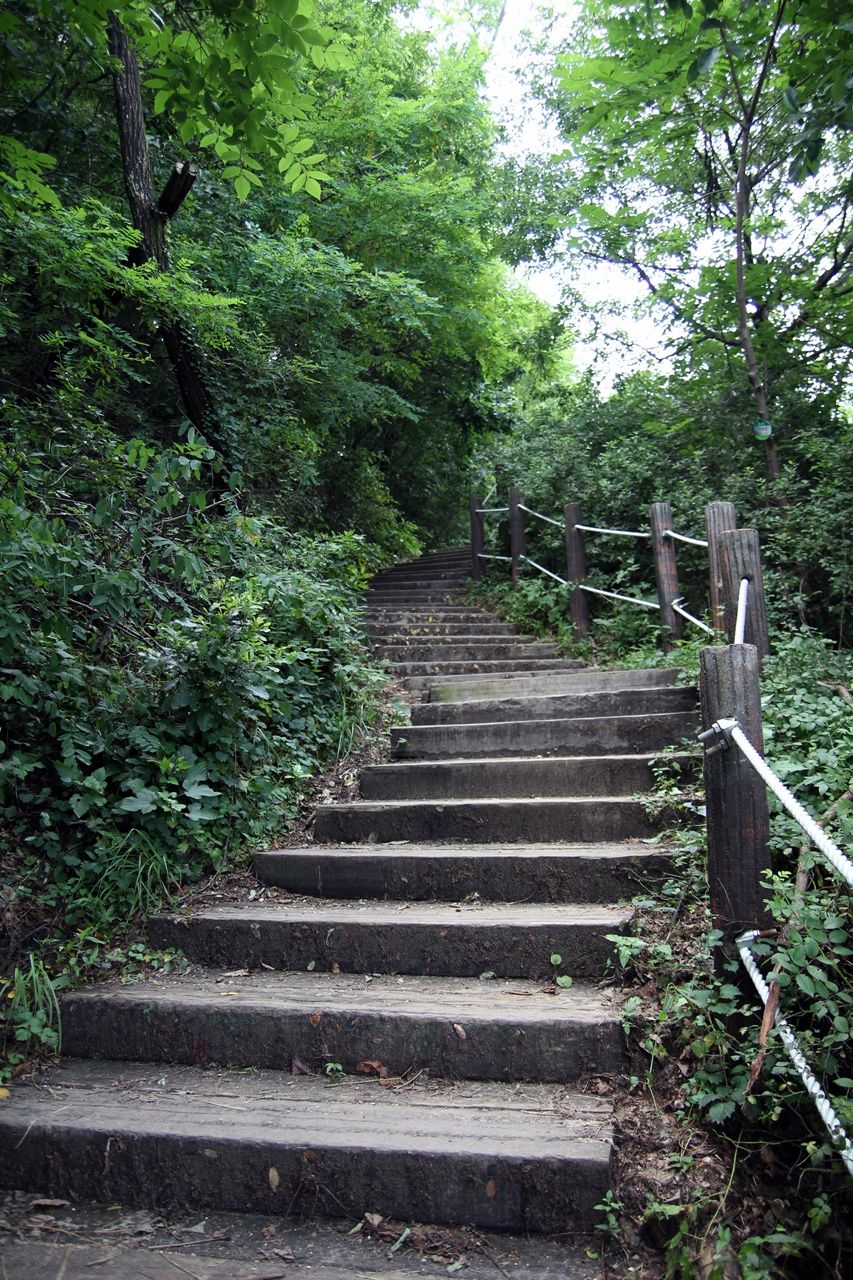 This forest path is 1.9km long, and across the reservoir there's a 1.5km long wooden deck. Just like in the photo, only about 30m from the entrance is uphill and the rest is almost flat so you shouldn't worry.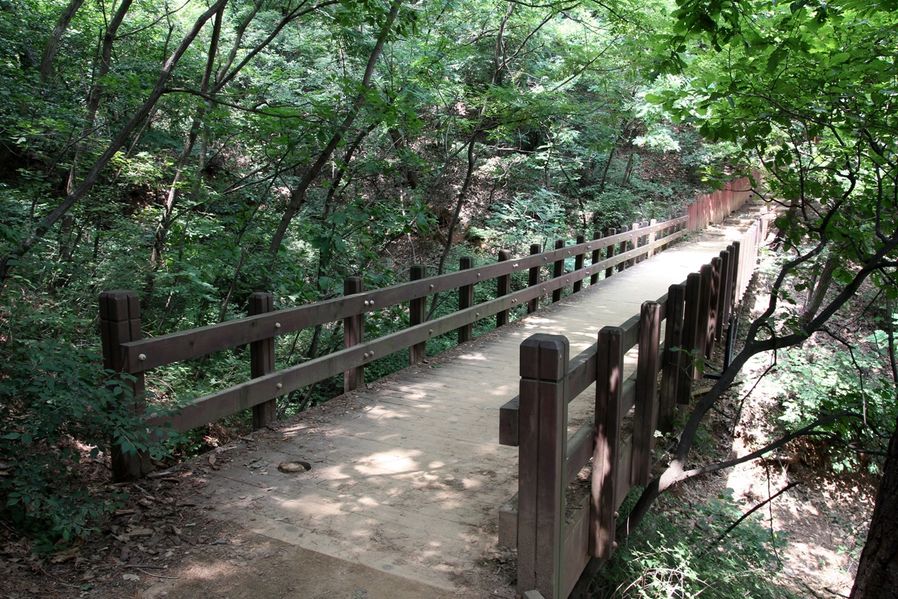 When you walk among the densely planted trees, you can feel fresh inside. Most of the path was comfortable with a bridge and stairs. Whereas the wooden deck across the reservoir is for stroller or wheelchair, this path would be hard to walk for those who have physical difficulties.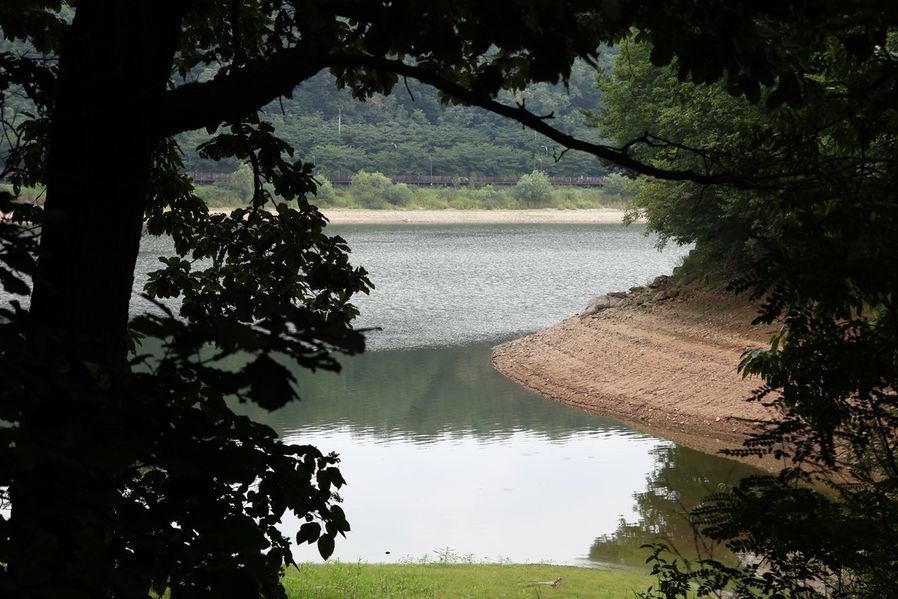 There's a reservoir next to the forest path so the breeze was cool. The news said there's going to rain soon but the level of water was quite low.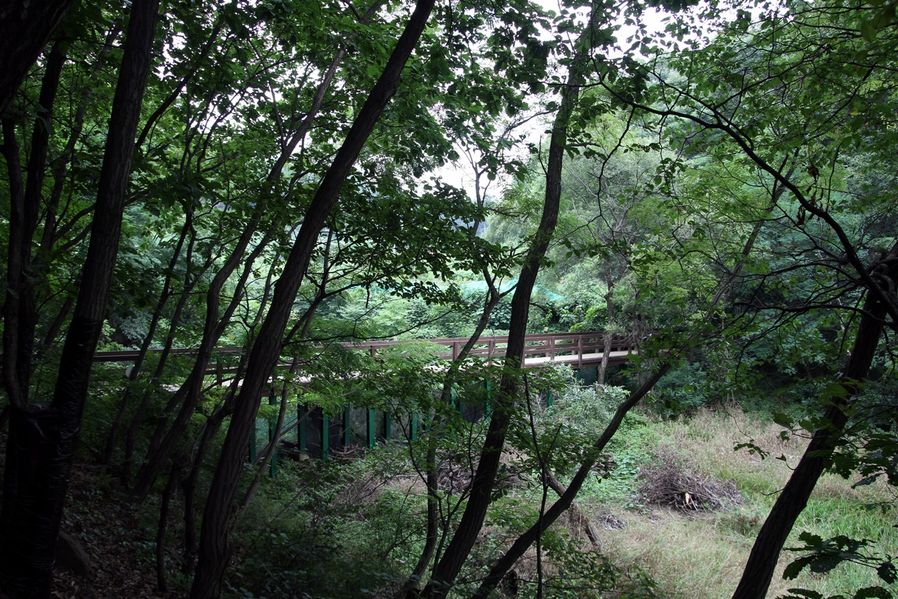 Suwon-si must've made deck bridges for convenience. Thanks to that, it was really easy for us to take a walk. All you have to do is just breathe!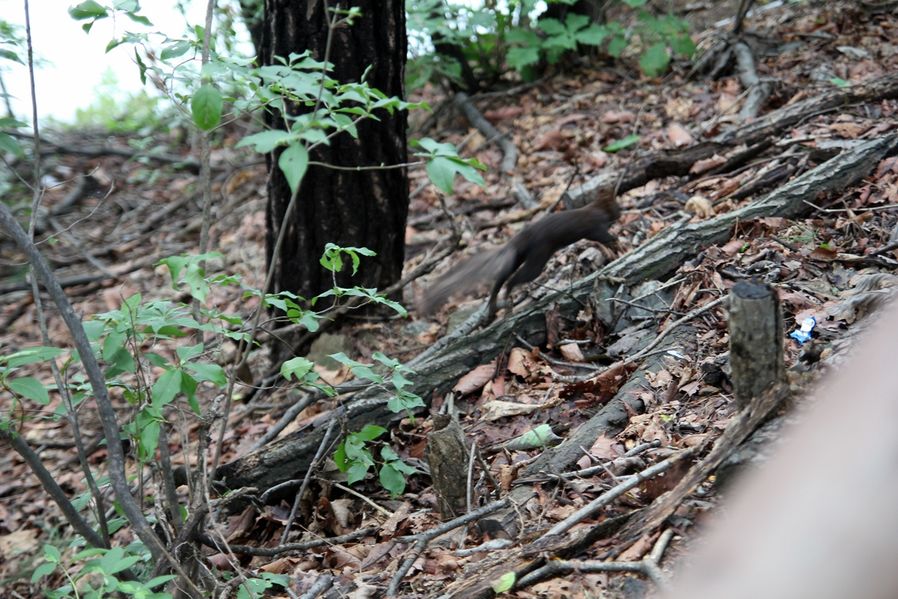 Oh, my gosh! A sciurus along the road saw us and ran away. You are the one who scared us, man….You'll bump into squirrels and sciurus on the road.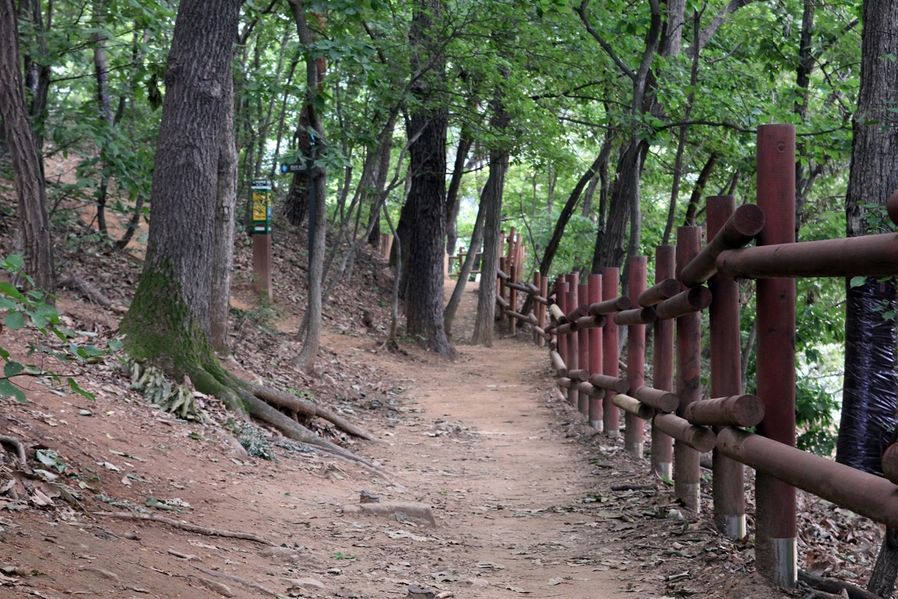 Unpaved roads are hard even in the rain so it's good for walking. From time to time, you'll see benches and places where you could lay down so take a rest if you want.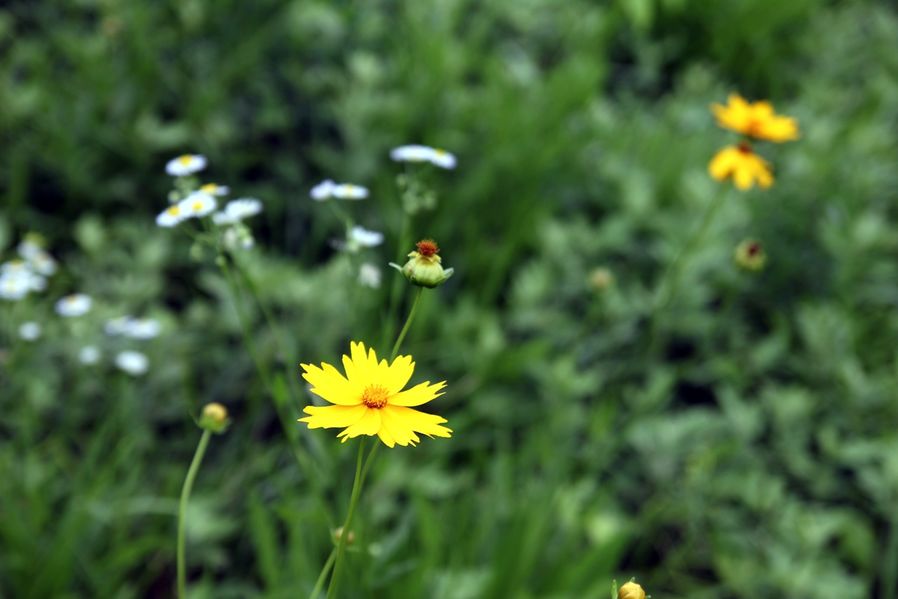 By the wayside, the flowers blossomed to steal women's heart. The road is filled with cherry blossoms and royal azeleas in spring, and in winter, the road is covered with snow and Gwanggyo Reservoir gets frozen.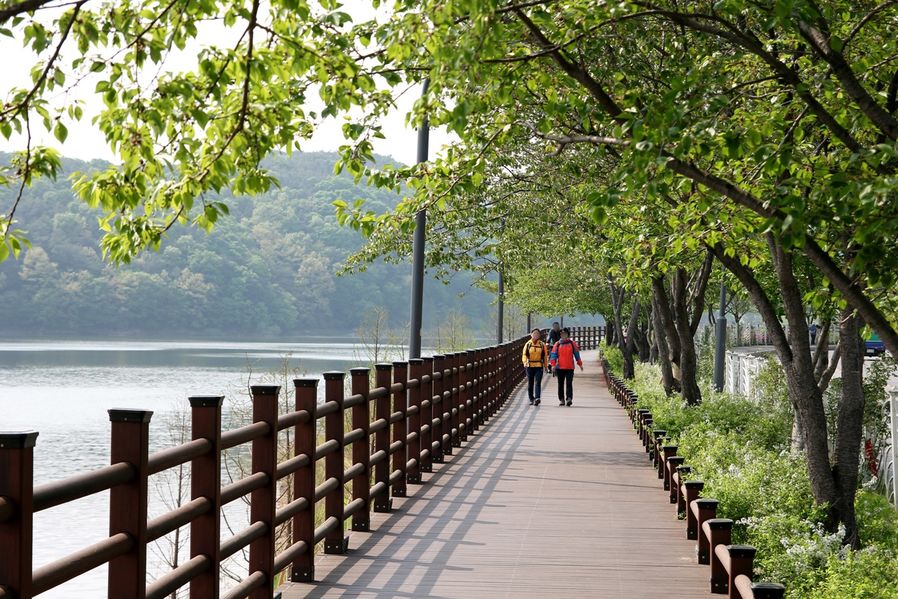 The forest path has ended so we had to turn back and exit to the opposite side, and we got to the deck road. This is a completely flat 1.5km long road so if you're uncomfortable or carrying a stroller, you'll have to use this road.


I've been to this road in every season but I like it any time. It's close to the city with easy access to public transportation including bus or you can take your car.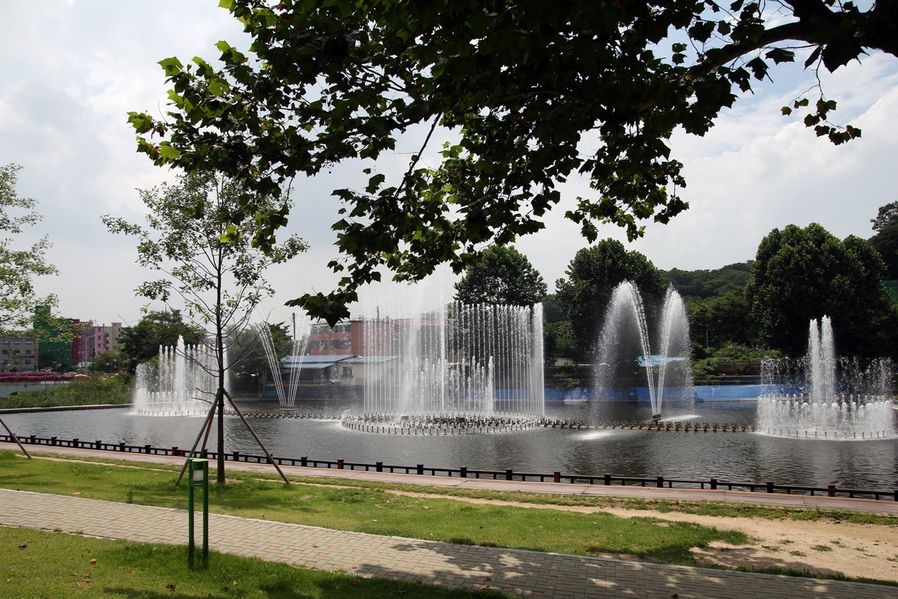 As we left Gwanggyo Park, yay, the fountain turned on music somewhere in the park. The water was dancing to the beautiful sound of music.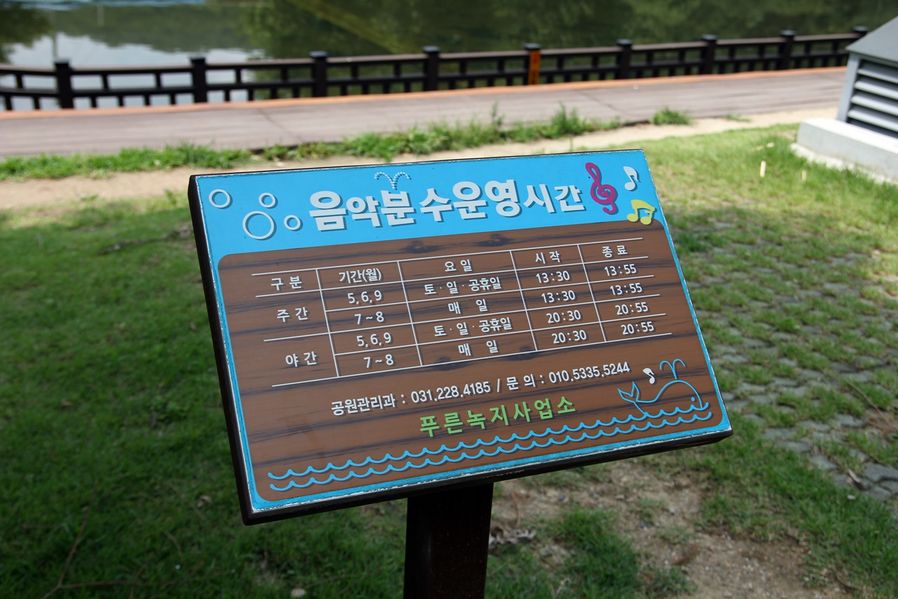 The operating hours are as follow. Two times a day, only for 25 minutes, and I was back from my walk along Gwanggyomarugil right on time. LUCKY~!


With beautiful music and lovely narration, the fountain looked more awesome. The cool sound and cool breeze makes it the best place to rest in summer. Around the area, there's a trail in Gwanggyo Mountain so people who enjoy tracking pass by this area and I want you to do the same. It's an amazing place.
Address : 159, Gwanggyosan-ro, Jangan-ro, Suwon-si, Gyeonggi-do (경기도 수원시 장안구 광교산로 159)